Places to Visit In Gwadar
Gwadar is a clean and stunning city in Pakistan. It has remained an unnoticed place in the province of Baluchistan. Still, recently, its immense importance has been brought to light with the commencement of the China-Pakistan Economic Corridor (CPEC) project. The beautiful Gwadar lies at the southern end of the Balochistan province, and to its other side is the vast Arabian Sea. Due to its exposure to the coastal area of the Arabian Sea, it has emerged as one of the most critical economic and geographical sea port options in the South East Asian region.
As a result, many development projects have been launched to improve the infrastructure of the city and the adjoining areas. Apart from its economic importance and strategic port option for Pakistan, it holds our writing of tourist attractions and recreational places. Gwadar's beautiful beaches, rocks, and desert attract hundreds of national and international tourists.
When Should You Travel To Gwadar?
Although Gwadar is open for tourists all year, there are certain times when its beauty is at its peak. According to the visitors and locals, the best time to visit Gwadar is between September and March. During this time, the tide is low, and tourist conditions are very favorable. However, December to February in Gwadar are the coldest months, with temperatures dropping as low as two centigrade. The peak season for traveling to Gwadar is September, October, November, and March.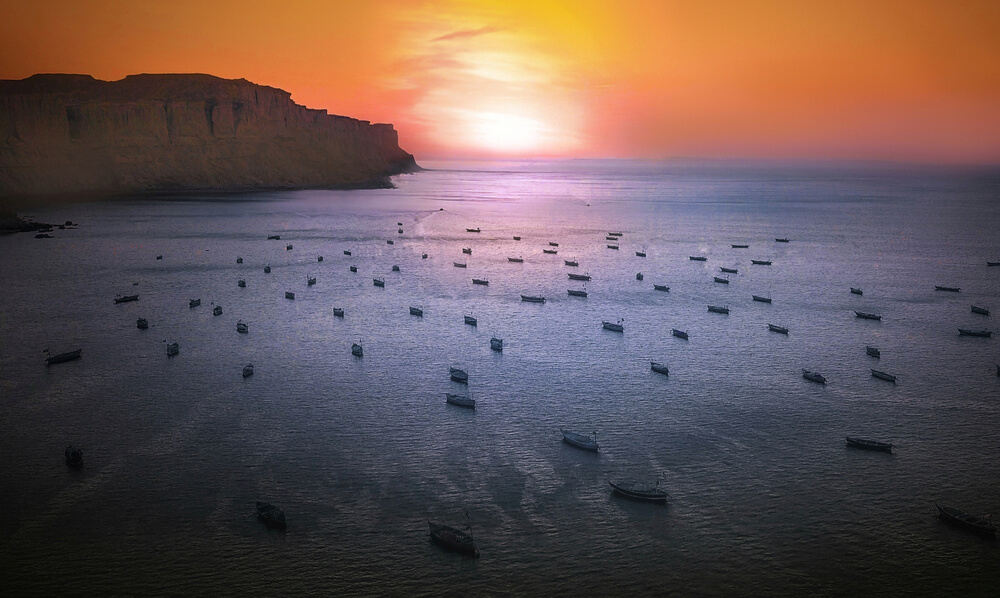 How To Reach Gwadar?
As more and more people are becoming interested in visiting Gwadar's fantastic sunsets and sandy beaches, we see an influx of visitors to this area. If you are also interested in traveling here, it will take you 8 hours to drive from Karachi to Gwadar. From Karachi, you will be traveling along the hub and Makran highway. During this 8-hour drive, you will pass through Kund Malir beach, Hingol national park, or Ormara beach. All the roads are well paved up to the Marine drive of Gwadar, where most resorts and motels will be found.
27 Places To Visit In Gwadar, Pakistan 2022
Gwadar is a hidden beauty packed with various places for tourists to visit and enjoy. Read on to know the top places to visit in Gwadar.
Akara Kaur Dam
Akara Kaur dam also called Ankara kaur dam is located in Balochistan near Gwadar. The dam was built in 1995 with a total expenditure of 24 million. The barrier aims to supply water to the famous Gwadar region and nearby villages. This water body stretches over 6900 hectares and is 27 square miles.
The dam is filled with clean and pure water making it a unique attraction near Gwadar. People from all over the Balochistan province are drawn to this magnificent and stunning water body near Gwadar. It offers a lot of opportunities for recreation for the visitors.
Marine Drive
Marine drive in Gwadar is a beautiful road constructed along the Arabian Sea west of Gwadar City. This great road is known as Marine drive, built according to international standards in the middle of the wilderness. The spectacular view of the pristine beach from this great road is breathtaking. As a result, many societies, real estate projects, and housing schemes have also been connected to this road. The view of the road and the nearby Arabian Sea is very charming, especially at night when the floodlights and street lights are on, and the cool breeze and waves give you a fantastic experience.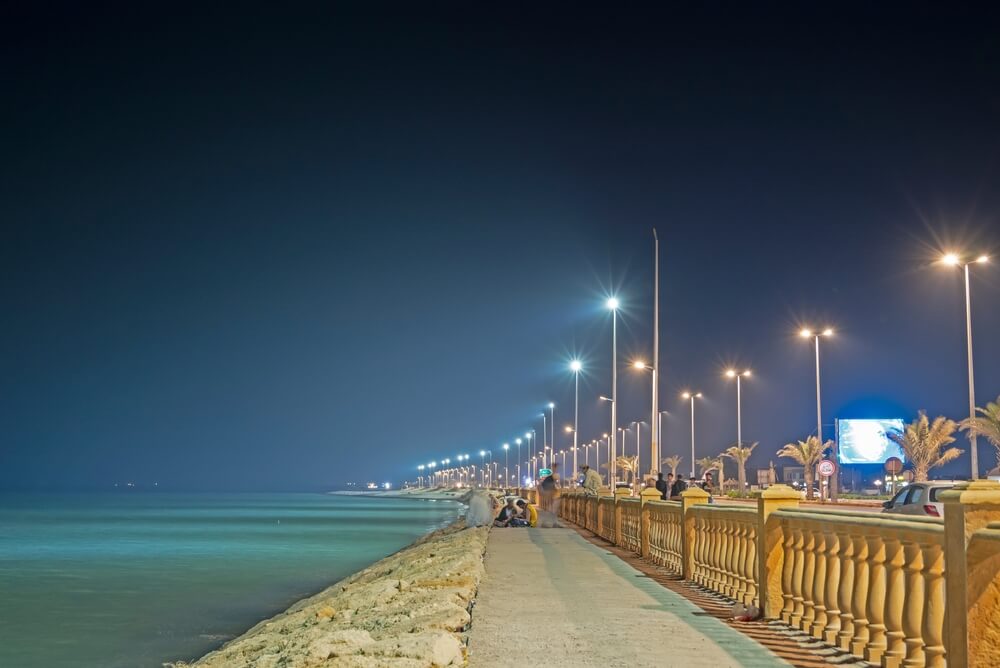 Koh-e- Batil
It is another beautiful attraction of Gwadar. Koh-e Batil, with an altitude of 475 meters located south of Gwadar. The 2-kilometre-wide and 10-kilometre-long hills give a beautiful view of the city and the nearby hammerhead peninsula when standing at the top. This experience is only for the adventurous because you need to climb up 700 steps to reach the top. People looking for a great experience here should reserve their place in a pearl continental hotel open at the top of this mountain.
Gwadar Cricket Stadium
Being a cricket-loving country, how can we forget building a cricket stadium near Gwadar? With all the new development projects in Gwadar, the government has also invested in building a beautiful cricket stadium. It is a lovely cricket stadium for international cricket matches. Construction started in 1998 and it was inaugurated in 2020. Currently, it is used for local and national-level games. It is made in a garden with international standards with a lot of space for spectators, teams, and other organizers. As it enjoys a place near the sea in Gwadar, it is considered one of Asia's most stunning and picturesque stadiums. The lush green stadium with a background of the beautiful White Mountains and clear blue sky attracts everybody to this stadium.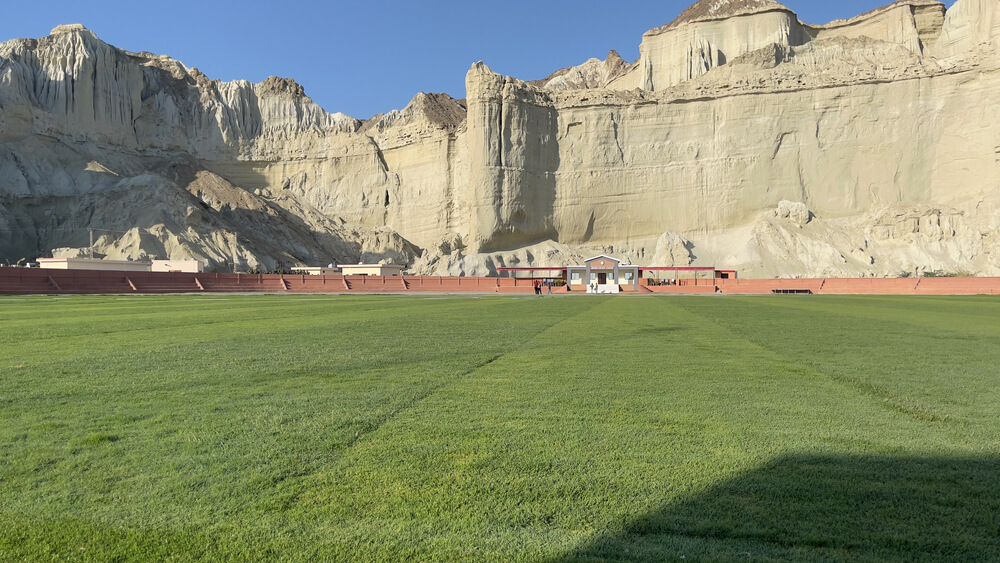 Sunset View Park Gwadar
The newly developed Sunset View Park is located at the tip of the Hammerhead peninsula. It is one of the most praised tourist destinations in Gwadar that provides visitors with a stunning view of the sun setting in the Arabian Sea. Sunset in this location is unique every day and people visiting Hammerhead peninsula feel obligated to see and enjoy the evening here.
Mishkan Beach
Mishkan beach (also referred to as Pishukan) is one of the least visited beaches in Balochistan despite having untouched sandy beaches and golden dunes. It is a 45 minutes drive from Gwadar city and a 9-hour nonstop drive from Karachi. This beach is definitely for visitors who love hills and rocky mountains, adventurous beaches, and rock clay hills. They can enjoy a bonfire with friends and family on the golden sand. They can hire a boat from a local fisherman to explore the beautiful Arabian sea.
Gwadar port
Gwadar Port is a newly built port in Gwadar city, Baluchistan. This economically important deep sea port is located at a distance of 700 km from Karachi. Previously it used to be a fishing village but now, after the development of a port and modern facilities, people from all over the country come here to enjoy the pristine views of the port. Visitors are also attracted to fishing and Boating in the blue water of the port. It is economically significant because it links Pakistan to the Middle East and Central Asia.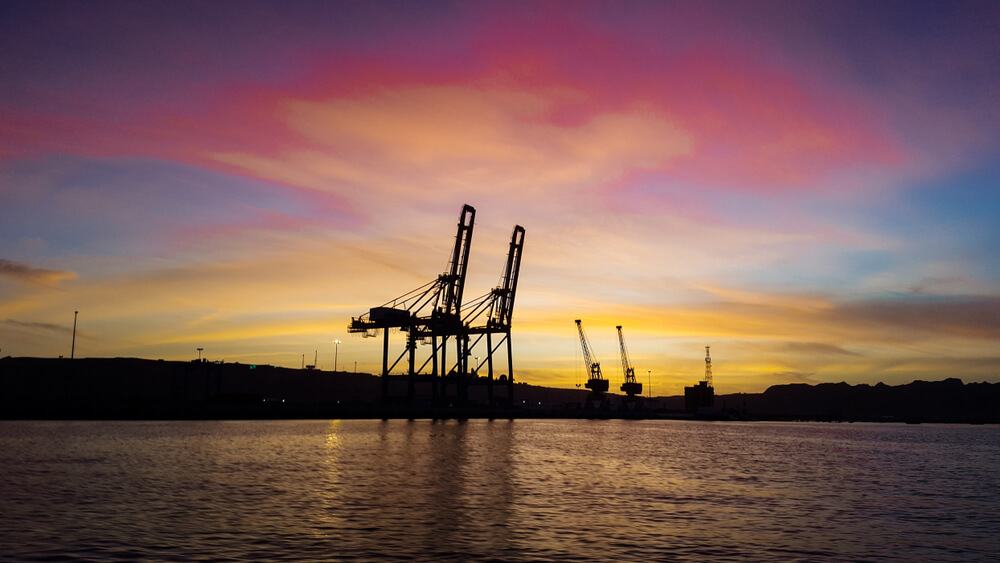 Astola Beach
Astola beach is another magnificent beach location near Gwadar. It is an offshore Island located near Pasni. This uninhabited Island is the largest offshore Island and the underrated beauty of Balochistan. This beautifully secluded place with pristine water, incredible waves, and stunning scenery is a beautiful experience for travelers. You can fish, dive, camp or walk on the beach bare feet and enjoy your time.
Ormara Beach
Ormara beach is another pretty beach located between Gwadar and Karachi on the Makran highway. It takes 5 hours by car to reach this beach from Karachi. Two things that make it most important are that it was once a famous resting stop for Alexander the Great and his army, and now it is one of the main naval bases of Pakistan. It is a great tourist hotspot with its pristine golden beaches and clean and clear water of the Arabian Sea. Tourist also enjoys the aircraft carriers that can be seen from the beach.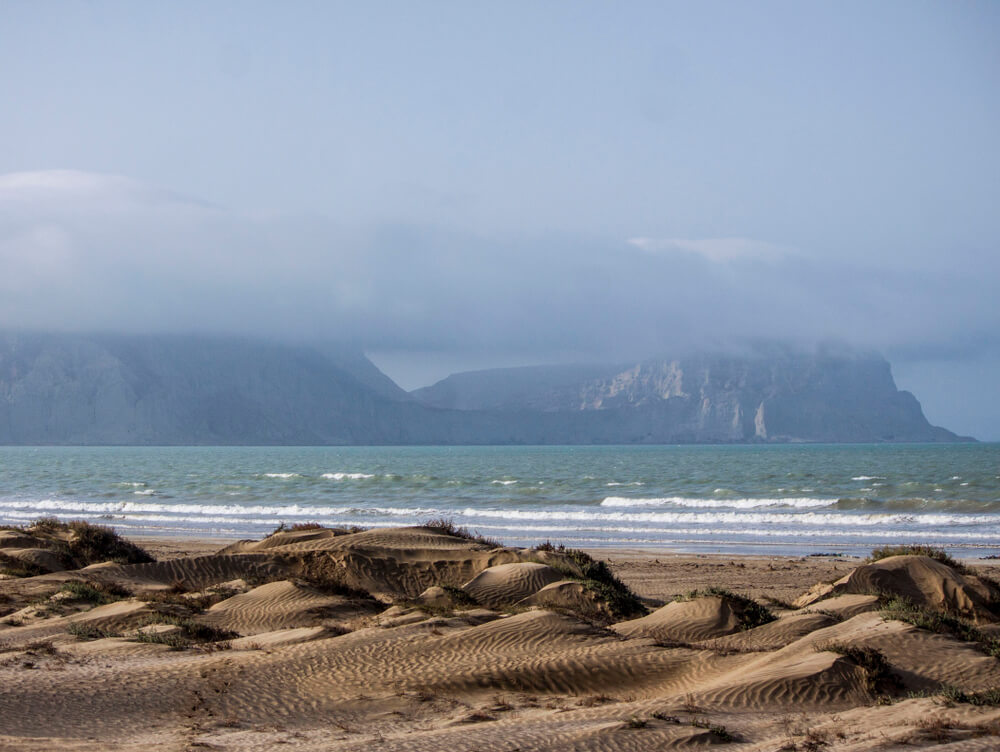 The Sphinx
Many people travel to Egypt to witness the beauty and magnificence of the Egyptian sphinx and other such formations. Can you believe that Gwadar has its own naturally occurring sphinx resting and the top of a mountain resembling an artificial sculpture? Yes, such a formation attracts tourists from around the world is present here. People capture many photos of the place and are astonished at the natural wonders in Gwadar.
Jiwani Beach
Jiwani is a commercial port and town situated along the Gulf of Oman. The beach is best known for angling and drifting; additionally, it is a good spot for a journey trip. One side of the beach is along a mangrove forest, extending towards the border of Iran. It is home to a wide variety of wildlife, the close-to-extinction green turtles and Olive Ridley. Several export-oriented fish-freezing plants are located in Jiwani.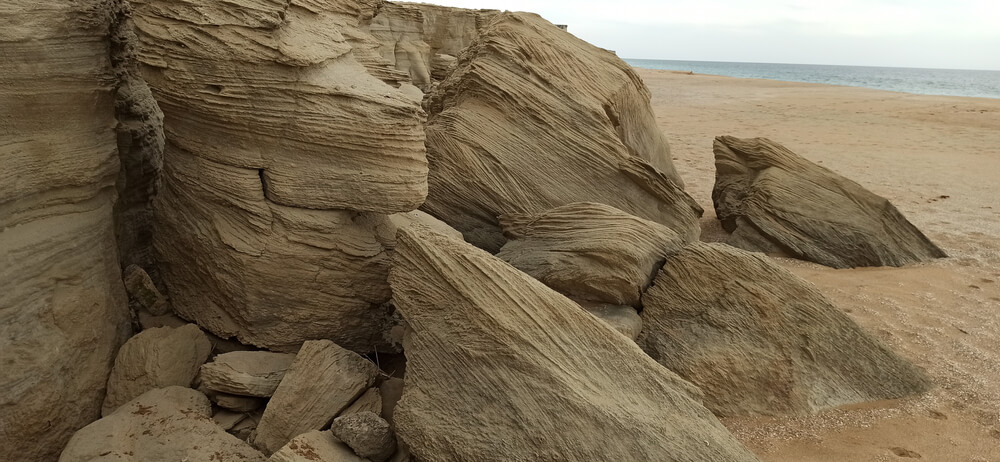 Princess of Hope
Princess of Hope is believed to be an artificial formation of prince ling. It is a statue located in Hingol National Park, 190 kilometers from Karachi. Some locals also believe that it is a statue of a princess standing high in the middle of mountains, giving it an impressive look due to its enormous size. It is a must-visit attraction for visitors of Gwadar city due to its eye-catching appearance.
Buzi Pass
Buzi Pass is another spectacular place in Gwadar, drawing many visitors. People using Makran coastal highway can enjoy the stunning views on each side of the road that will give you the fondest memories of your visit to Gwadar.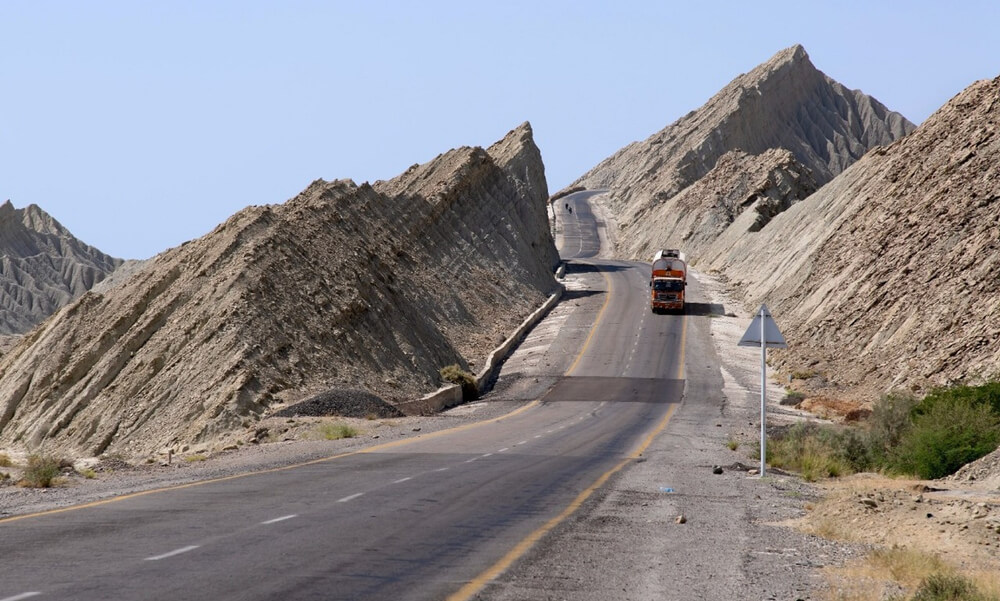 Hingol National Park at Gwadar
Hingol National Park is the most significant national Park in Pakistan. If you are a fan of a wide range of animals and exotic plants, it will surely be an enjoyable place for you. The 640 square miles were built in 1988 and had 250 species of plants and 185 species of birds. You can also spot some rare reptiles and mammals because over 100 species of these phyla are present in the National Park.
Akara National Park
Akara National Park is another beautiful national asset located in Gwadar. It is also one of the best attractions for tourists who enjoy wildlife, the natural beauty of the landscape, and the clean atmosphere of the park.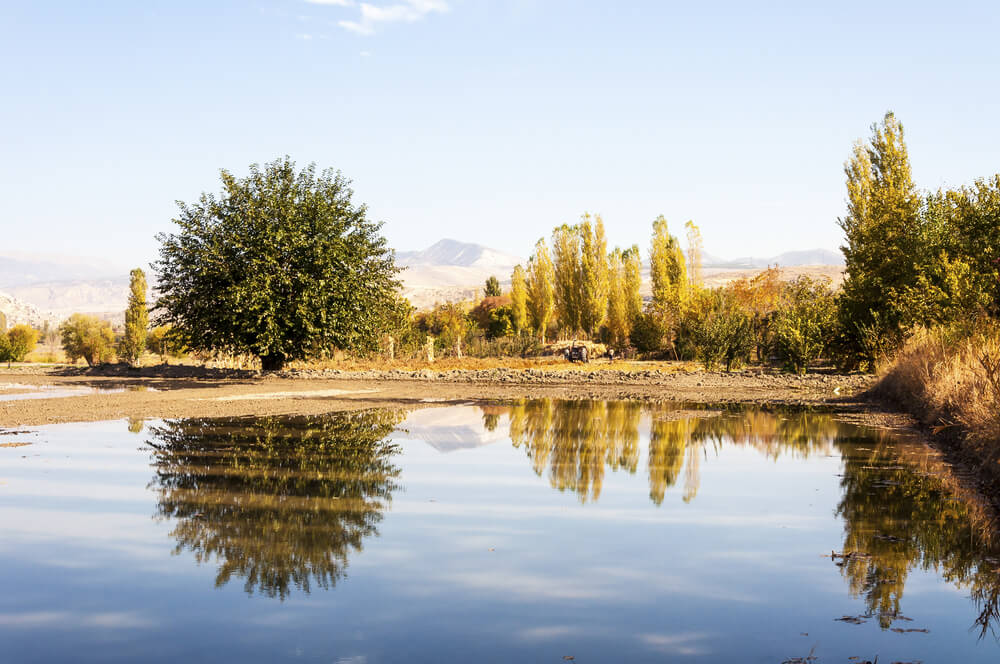 Daran Beach at Gwadar
Southern Coast is known for its beautiful beaches accessible through Makran Coastal Highway. One of them is Daran Beach. Due to turtle nesting here, it is a WWF-protected area. This is why it is unknown to commoners though it is a few minutes Drive from the coastal highway. Annually after July, hundreds of turtles dig the sandy beach to lay eggs and then leave. After two silent months, newly born turtles slowly pace back to sea.
Ganz Beach
Ganz beach is located near the border of Iran, the western corner of Balochistan. A famous attraction of this beach is the mountains nearby which are shaped in a pallet-like structure. The surf-forecast website and many others have recommended this beach for surfing because of its fantastic surfing waves and consistent tides.
Baba Chandrakup
Baba Chandraup, also Chandragupta, is a muddy volcano located in the province of Balochistan. This unique volcano does not erupt sizzling lava, but soft, cool mud erupts from it. It is essential for Pakistan's Hindu community as they regard it as a sacred location. Each year many Hindus come here to seek forgiveness for their sins and pray to their gods.
Kund Malir at Gwadar
Kund Malir is another fantastic beach in Balochistan located in Hingol National Park, about 93 miles from the zero point on Makran highway. If you plan to visit Kund Malir, the route is so unique and all inspiring that it feels like a scene from your dreams. Due to the remoteness and cleanliness of the beach, visitors always considered it the first option to spend the night camping here. Even if you don't plan to visit Malir exclusively if you are going to Gwadar, you can still take some time out on your way to see the beach.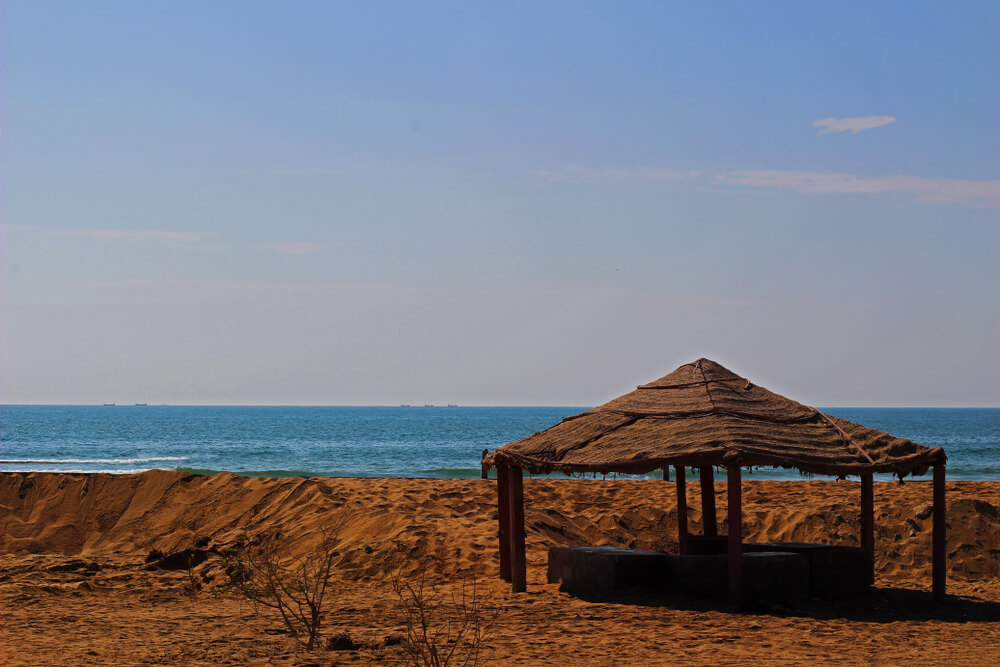 Pasni Beach
Pasni is a fishing port and small town in the district of Gwadar. It is a destined fish harbor. The new and pristine beaches provide fascinating scenery. This beach has beautiful golden dunes and clean sand, increasing the worth of this place. The open sky gives you a glimpse of Arabian nights.
Gwadar Desert
While crossing the river bridge of Hingol National Park, visitors can enjoy the beauty and splendor of Gwadar's coastal desert. It is an ideal place to experience the fun and enjoyment of the desert safari. It is an epic place to enjoy the beauty of the desert, for which visitors usually have to go to Middle Eastern countries.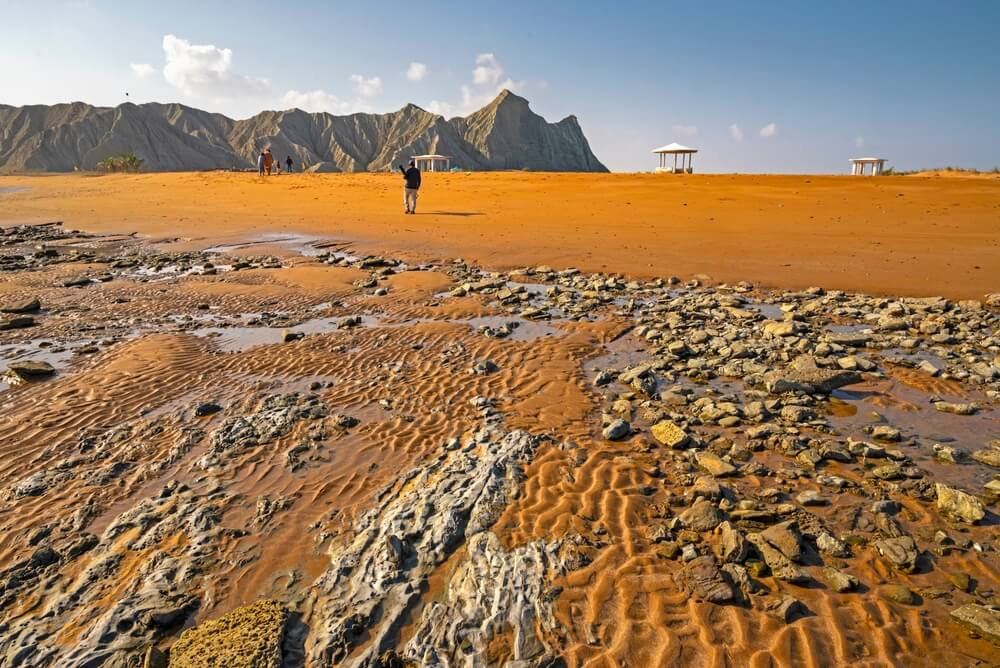 Zalzala Island
Zalzala is an Urdu word that means earthquake. This Island was formed off the coast of Pakistan after a 7.7 magnitude earthquake in 2013. A mud volcano pushed the soil up from the seabed. Now, this Island has been submerged by the sea. Sometimes it is visible beneath the waves. Recent satellite pictures have shown a short lifespan island has been mapped out. Island was 90 meters wide and was never expected to last this long. This is an example of a short-lived formation.
Shahi Bazar
Shahi Bazar in Gwadar is one of Asia's large bazaars, with a length of about 2km. It starts from Pakka Qila and ends at Market Tower. The Shahi Bazar is famous for Pakistani and Indian food items and other commodities offered here.
GDA Central Park at Gwadar
GDA Central Park in Gwadar is located on Jinnah avenue. It is a beautiful location with many swings and rides for the kids. The last stretches of open land of the park are perfect for families to come here and enjoy their time.
Hammerhead
Hammerhead is a rocky mass that was created by mud volcanoes. As a result, this structure protrudes out of the sea and resembles the shape of a Hammerhead shark. Gwadar is situated on this Hammerhead-shaped peninsula that forms semicircular bays on either of its sides. It is a beautiful location for visitors to enjoy. Along this hammerhead mass, tourists can enjoy many famous beaches and other attractions.
Gwadar Bay
Gwadar bay is located in the Gulf of Oman on the border of Iran and Pakistan. It is an inlet of the massive Arabian Sea that indents the Makran coast at the border between Pakistan and Iran. It is 20 miles long and 10 miles wide. From the NorthEast, the Dasht river and the northwest Dashtiari river flows into Gwadar Bay. The famous port town Jiwani is situated at the end of Gwadar Bay. It enjoys a strategically critical location because 30 miles east of this bay, Gwadar port city is located, while another important port city, Chabahar, is 62 miles west of it.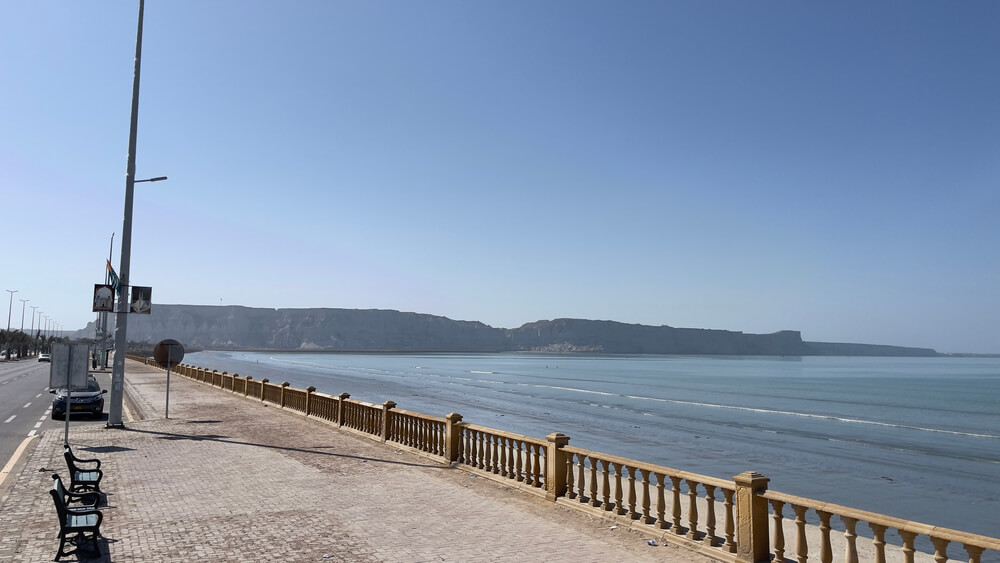 Sapat Beach at Gwadar
Sapat beach is an incredible tourist destination in the Lesbela district of Balochistan, some 15 km off the Makran highway. Visitors enjoy breathtaking views of mountains and water, a serene environment, and scenic views of the beach. The beach is famous for camping, stargazing, and Swimming.
FAQs
Which place is Most Famous in Gwadar?
Gwadar is a very serene and beautiful city near the coast of the Arabian Sea. It has a lot of potential for attracting tourists to its many famous destinations, such as the Marine Drive, Gwadar cricket stadium, the shahi Bazar, and many beaches along its coast. However, one of the most famous places in Gwadar is the Hingol National Park which houses attractions in the form of Rock formations, a diversity of flora and fauna, and deserts and bridges. If you plan to visit Gwadar shortly, don't forget to check out the Hingol National Park.
Why is Gwadar famous?
Until 2001 Gwadar was a small city in Baluchistan with very little importance and popularity. Under the many Pakistani governments, nobody could determine Gwadar's true potential; to act as a primary deep water port of Pakistan and adjoining countries. However, in 2001 it was considered to be upgraded into a dock with immense potential for harboring heavy ships. Its status and popularity changed overnight. From then onwards, many mega projects worth millions of dollars have been inaugurated and completed to transform this small fishing village into a goldmine for the country's economic stability. Another reason it is famous is that it offers sea to land route to one of the world's leading superpowers, China. Moreover, due to Gwadar's attention to CPEC, people have now explored areas in its vicinity and discovered its immense tourism potential. Thousands of people are attracted yearly to its famous attractions, such as the Gwadar Port, different beaches, and land formations.
Is Gwadar worth visiting?
Anybody who loves to travel around and explore the attractions accumulated in a single locality should visit Gwadar in Balochistan. This port city of Pakistan, located on the tip of South Balochistan, has added vibrancy, vitality, and splendor thanks to its many famous attractions. So, visiting Gwadar and experiencing these beautiful locations makes a visit to Gwadar well worth it.
What are the Best things to do in Gwadar?
People often think that the northern areas of Pakistan are only praiseworthy, but the coastal area of Pakistan in the south is also equally mesmerizing. With beautiful scenery, beaches, deserts, and the vast Arabian Sea, Gwadar is also beautiful. Some of the best things to do in Gwadar are:
sightseeing
· Beach walk
· Boating
· Swimming
· Desert safari
· Off-roading
Is Gwadar beautiful?
The province of Balochistan is packed with golden deserts, islands, natural beaches, and mountains. Among many regional destinations, Gwadar is considered the epitome of beauty because of its diversity of reputational goals. A few notable and beautiful spots in Gwadar; are Hingol National Park, Astola Beach, Ormara Beach, and Gwadar Desert. Marine Drive and Sapata Beach.
Conclusion
Gwadar is a beautiful tourist destination located at the tip of Balochistan province. Due to the recent spotlight on this area, many development projects have produced high-quality modern infrastructure. Moreover, it has also led people to discover the many tourist attractions in Gwadar. If planning your next holiday, make sure it is in Gwadar.