Princess of Hope
Princess of Hope is a tale of a beautiful mud statue deserted in the Lasbela District of Balochistan, approximately 190 km from Karachi. It is a natural rock formation carved by strong winds to a tall, elegant standing princess beyond the horizon over time.
Princess of Hope History
Princess of Hope! What do you imagine when you hear it, some ancient Roman empress who used to resolve people's problems with hope and enlightenment? Or maybe it is something related to the famous Egyptian image of the Sphinx as it somehow resembles it.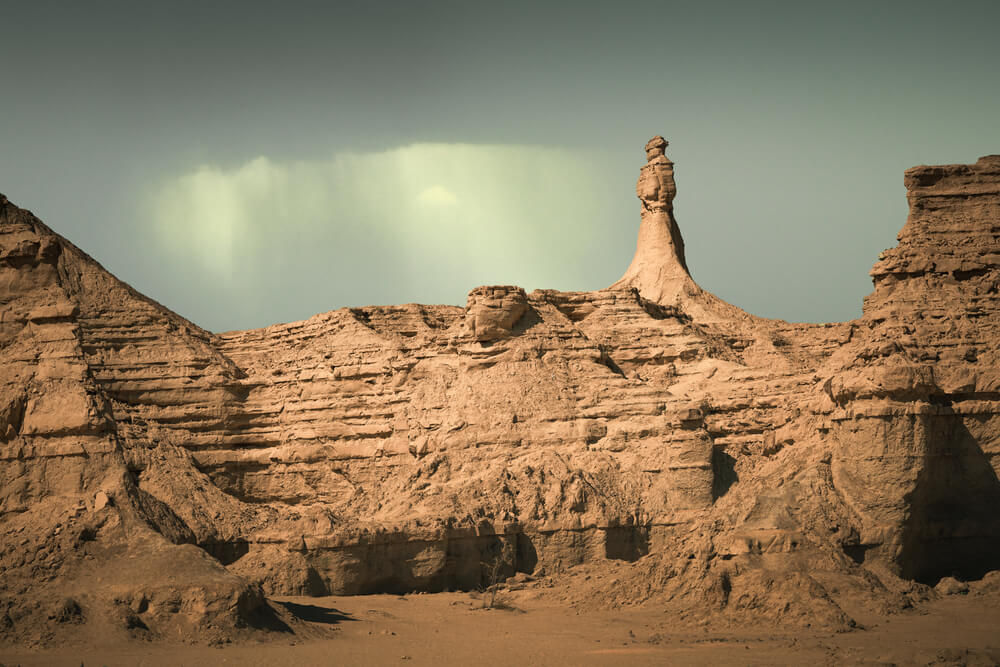 Well, hold your imagination right there and start dreaming of reality! Because the story of Princess of Hope is quite different yet interesting from fiction.
Who Has Given the Name of Princess of Hope?
In 2002, the famous Hollywood Actress and UN Goodwill Ambassador of that Time "Angelina Jolie" visited Pakistan. On her visit to Hingol National Park, she saw a tall statue looking similar to a princess hoping for something. She named that day statute princess of hope as goodwill for the people of Balochistan.
Soon after, the name gained prominence, and the story spread like fire. Now, it is one of the most spectacular sites visited by tourists. According to the study, the statues are 750 years old and have historical significance.
Why Is It Called A Princess of Hope?
Balochistan has many coastal places and beautiful beaches, but this majestic sculpture standing still in isolation is one of its kind. Princess of hope is situated in the mountain range of Makran Coast, famous for its alluring beauty. It was named Princess of Hope because it stands with a Torch of Hope, spreading light widely.
What to Pack for Princess of Hope?
The long road to this fantastic place lacks basic facilities, and the destination is remote. Therefore, you should be fully ready with food and water supplies, safety kids, and extra fuel if you run out of petrol.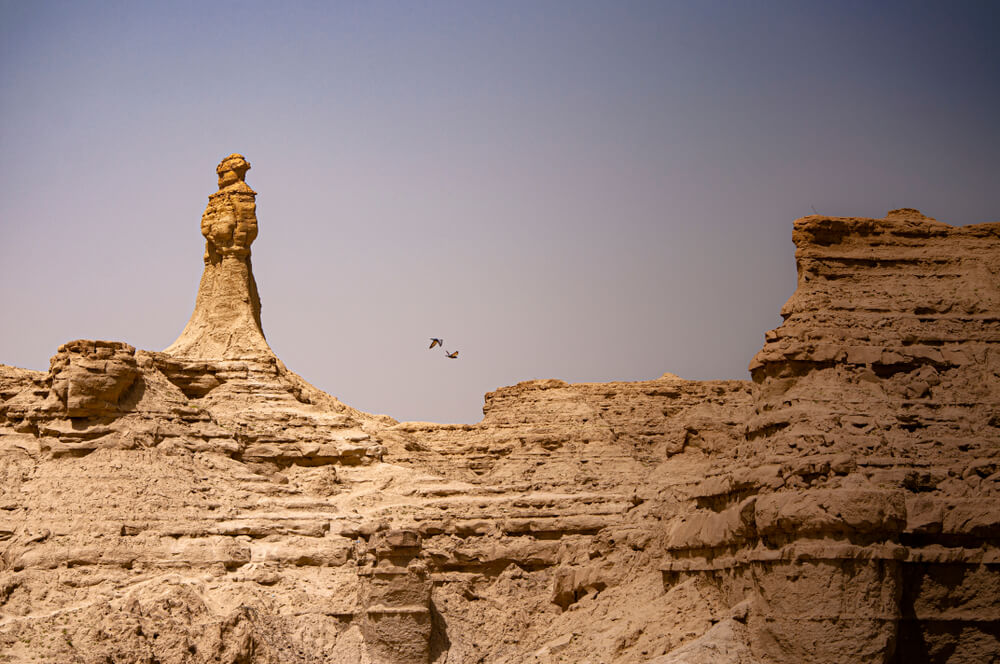 Other necessary things include trekking boots, joggers or comfortable shoes, camps, backpacks, torches, hand sanitizers, sunglasses, wipes, and sunblock. Often, beautiful roads lead to beautiful destinations, and Makran Coastal Highway is one of them. The road trip is difficult, but you will enjoy it.
Attractions
It is a great tourist destination, and people worldwide come to see the Princess's beauty. Many other fascinating sites are adjacent, calling nature lovers to explore. Let's talk about those places one by one.
Princess of Hope
If you want to see the Sphinx of Pakistan, a natural wonder of its kind, you should add Princess of hope to your adventure list. You will be amazed to know this Sphinx is waiting for you by the roadside with all its natural might and awe along the Coastal Highway from Karachi. For a long time, this Princess kept silent and waited for travelers to see its majesty; one explored it, and the other named it Princess of Hope.
Desert
When we think of deserts, the first thing that comes to our mind is vast areas of sand. Almost all the deserts are covered with sand, but each environment is unique. The desert of hingol national park, where the Princess of hope is often an overlooked environment, and its true beauty is not appreciated. The desert often invokes images of a timeless space, vast expanse, longing, wonder, and beauty. So keep your eyes sweeping open because you will see incredible and awe-invoking sights in the desert near Princess of Hope.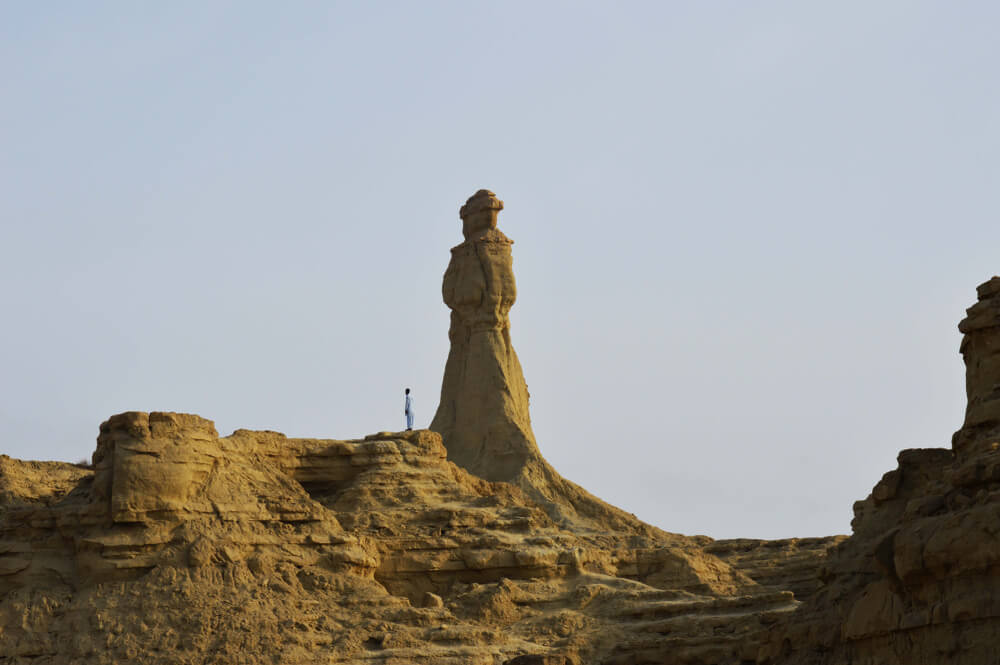 Golden Beach
Kund Malir is a beach with golden sand and has a vast amount of natural beauty and the potential to be the World's best tourist destination near the Princess of hope. The beach is so calm and beautiful and located at a remote location.
It is clean and is still in a maintained state, truly a place for sunbathing. It is located along the Makran Coastal Highway, 240 kilometers from Karachi. Regarding photography and tourism, Kund Malir is voted one of Asia's 50 scenically pleasing beaches. It is the closest beach to the Princess of hope.
Different Shapes of Rocks
The coast of Makran has muddy and rocky hills with strong blowing breezes throughout the year. These strong winds cut through the muddy hills and mountains carved into the different and unique shapes of rocks. Hence, the entire area is covered with mud, gravel, and many rock formations, such as the Princess of hope.
Hingol National Park
Hingol national park is the area where the Princess of hope is located. Hingol National Park is one the most significant and best national parks in Pakistan, covering an area of 6,100 square kilometers. It was declared the most important natural reserve in 1988. This place is a worth-watching destination for tourists as it is widely spread and mostly deserted.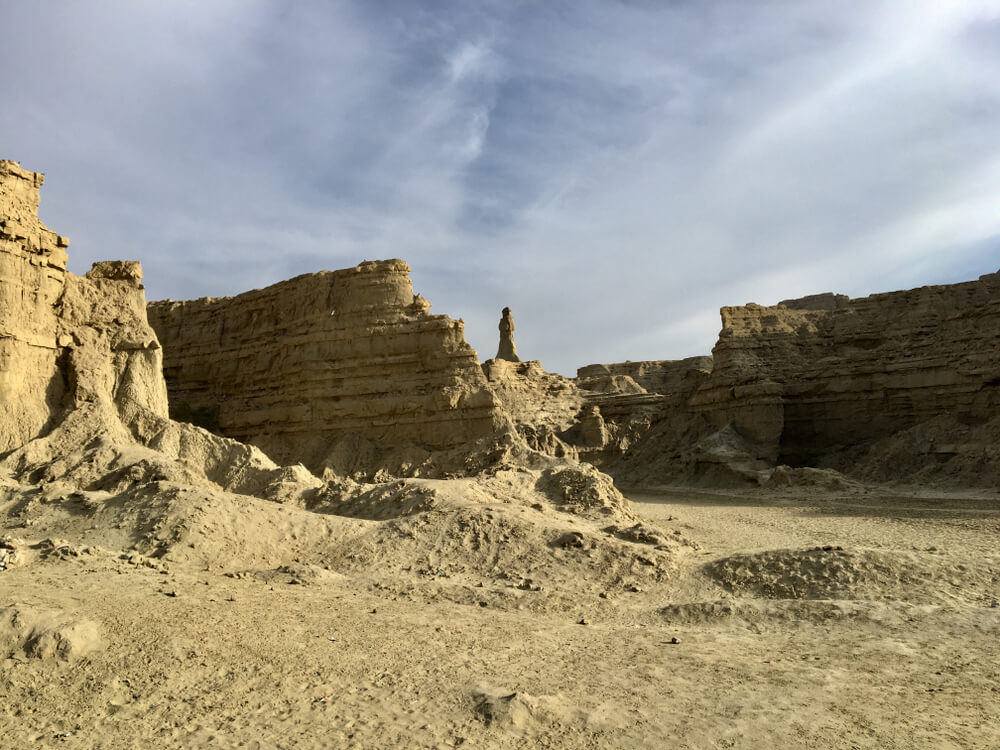 It has resided at the boundary of Lasbela, nearby the famous Princess of Hope. Park is named after the southern part of the Hangol River, which flows along the shores of the Arabian Sea. Hangul National Park contains six distinct ecosystems making it unique. It is home to about 257 plant and 289 animal species, including 35 mammals, aquatic animals, amphibians, reptiles, and migratory birds, including rare species.
ACTIVITIES
Many exciting ventures and adventures await you at this Princess of Hope Baluchistan. You can do photography there along with swimming and mountaineering. This place offers many exciting places to capture moments with loved ones and make beautiful memories to cherish later in life. Nothing is better than having a good time with your friends and family. One can do so many activities at this place, two of which are mentioned below.
Mountaineering
Princess of hope is an excellent place for cliff hiking and climbing, as it has many small rocky mountains that are easy to mount. One can then have a look at the widespread from the hills. Climbing is a great and healthy exercise for the body, as a healthy body can only achieve a sound and peaceful mind.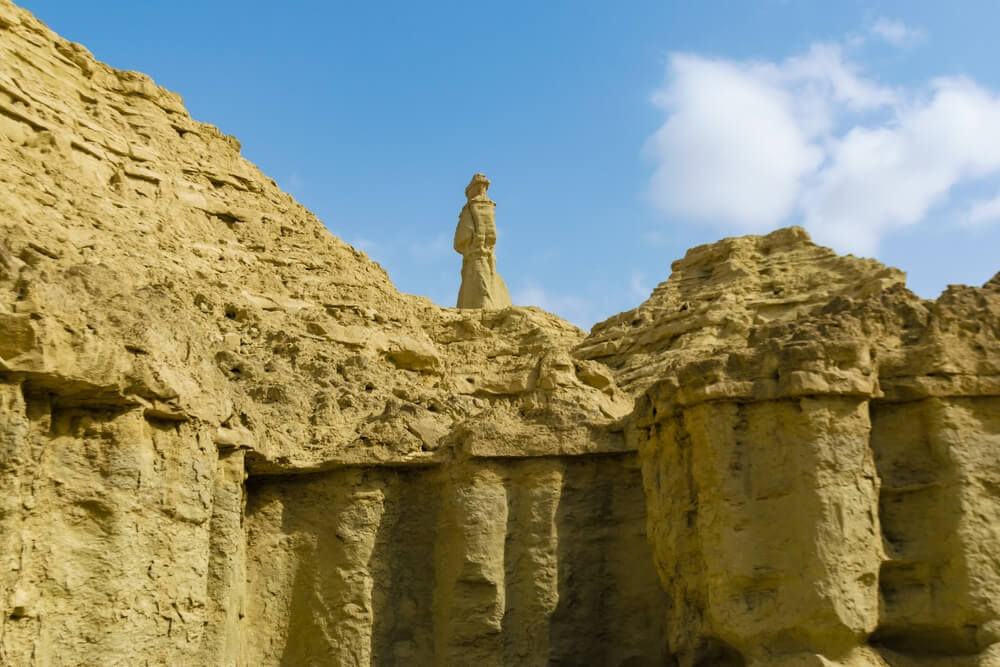 Swimming
Swimming is another good expedition near Princess of hope, and it is a healthy activity for releasing stress and well-being. The golden beach near the Princess of hope provides fun, and you can enjoy yourself in calm and soothing pristine water.
Camping
Can you imagine a better activity than a camping trip to Hingol National Park? During this trip, you can enjoy the beauty of many rock structures scattered in the area, such as the Princess of hope and Sphinx. Don't forget to pack camping essentials to get the best out of the trip. You can also enjoy the nearby beaches and dip in the nearest one. If you wish to camp here and enjoy flora and fauna of the place, get there early in the morning. For safety reasons, don't plan to spend the night here and leave before sunset.
How to reach Princess of Hope Baluchistan?
Princess of hope is a statue in the Hingol National Park in Balochistan. If you are interested in history or archaeological objects, you must visit the Princess of hope. The curious figure is located 4 hours away from Karachi.
There are two ways to reach the national park where the statue is. Either you can drive yourself or book a trip with a travel operator. The travel operators usually charge 3500 PKR from Karachi to the National Park. The package includes travel costs for both sides in an air-conditioned vehicle with refreshments, breakfast, and lunch. They also offer tour guides and professional photography services to make your trip memorable. You can also drive on your own and take this 4-hour drive to this attractive statue.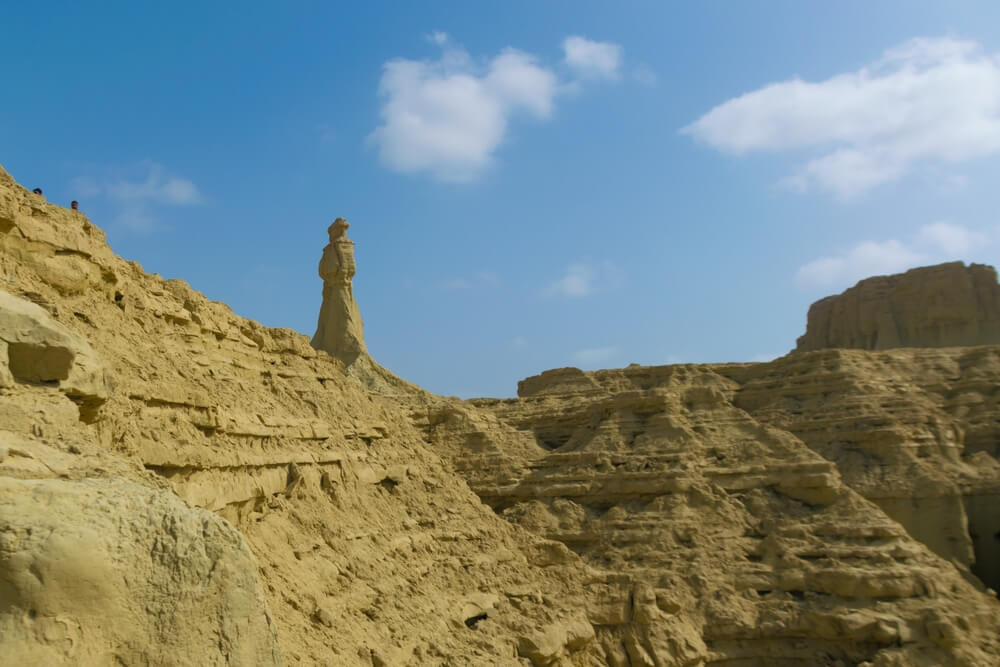 Your journey will start from Karachi, and after reaching the Hub, you have to move towards zero point. From here, you must drive towards Makran coastal highway, a beautiful highway constructed along the Arabian Sea. Along the way, enjoy active mud volcanoes and views of changing landscapes. After reaching this beautiful National Park in no time, you will be standing in front of this statue.
Karachi to Princess of Hope Distance:
Princess of hope is a natural Rock formation located 120 miles away from Karachi, the capital of Sindh province. It takes 3 hours 38 minutes to reach Princess of hope from Karachi.
Where is the Hope Statue?
The World has many hope statues, including one in New York, United States, and the other in Glasgow, United Kingdom. However, the hope statue in Pakistan is called the Princess of hope. It is a naturally formed sand statue figure in the beautiful Hingol National Park.
FAQs
Is Princess of Hope Natural? 
The Princess of hope is a famous tourist attraction in Gwadar Balochistan for many reasons. The first reason is its unusual standing in the middle of the desert. Observing it feels like somebody has sculptured it; however, the rock turned into this shape because of strong winds and climatic effects.
When did Angelina Jolie visit Pakistan?
In 2002 Angelina Jolie visited Pakistan as a UN goodwill ambassador. Visiting many unprivileged areas of Pakistan, she also came across the Hingol National Park, where she found rock carvings in the middle of the mountains. She described this figure as a royal woman, a Princess standing alone in the desert and hoping for something. She suggested it should be named Princess of Hope; since then, the statue has been called by this name.
Conclusion
The province of Baluchistan, especially Gwadar, is loaded with beautiful valleys and mountains that cannot be compared to any other place in terms of beauty and attraction. We cannot forget the Princess of Hope close to the Makran highway. If you are interested in rock formations, don't forget to check out this beautiful destination soon. We bet you won't be attracted to Egyptian sphinxes after visiting them.