Kund Malir
Deserts, mountains, and oceans have all been integrated into a single frame by nature at Kund Malir. One must visit to see what such a blend of natural landforms is like. It is located along the Makran Coastal Highway around 240Km from Karachi. In recent years, tourism at Kund Malir has become famous as many visit such a unique place. It was originally a town of fishermen located on top of a hill with the sea below it. White sand and blue water pull the spectators close to it. It has also ranked among Asia's 50 most beautiful beaches concerning tourism and photography. Many people go there to spend a day and come back in awe of the nature in our country.
Kund Malir Gwadar, Attractions and Location
Kund Malir is a stunning beach in Balochistan located some distance from Karachi. It takes 5 hours and 30 minutes to reach this beach from Karachi. On the way, the landscape around the road is very scenic and mesmerizing. This fascinating beach is the perfect place for enjoying holidays for the people of Karachi and Balochistan. This coastline with blue sea, cool breeze, and no pollution is ideal for enjoying holidays. Visitors can enjoy a splendid view of sea tides and the blue sea.
When is the Best Time to Visit Kund Malir?
Tourists can visit any time, but people usually head toward beaches in the summer. June to August is the high tide season, so to prevent any accidents, it is good to visit Kund Malir during the low tide season, between October to February. The best time to visit this fascinating beach in summer is 5:00 AM to 10:00 AM. In summer, the temperature becomes high after 11:00 AM, and there are chances of heat stroke. While in winter, it is good to visit between 10:00 AM to 4:00 PM when there is less severity of a cold. If someone wants to see the alluring sunrise scenes, arrive early in the morning.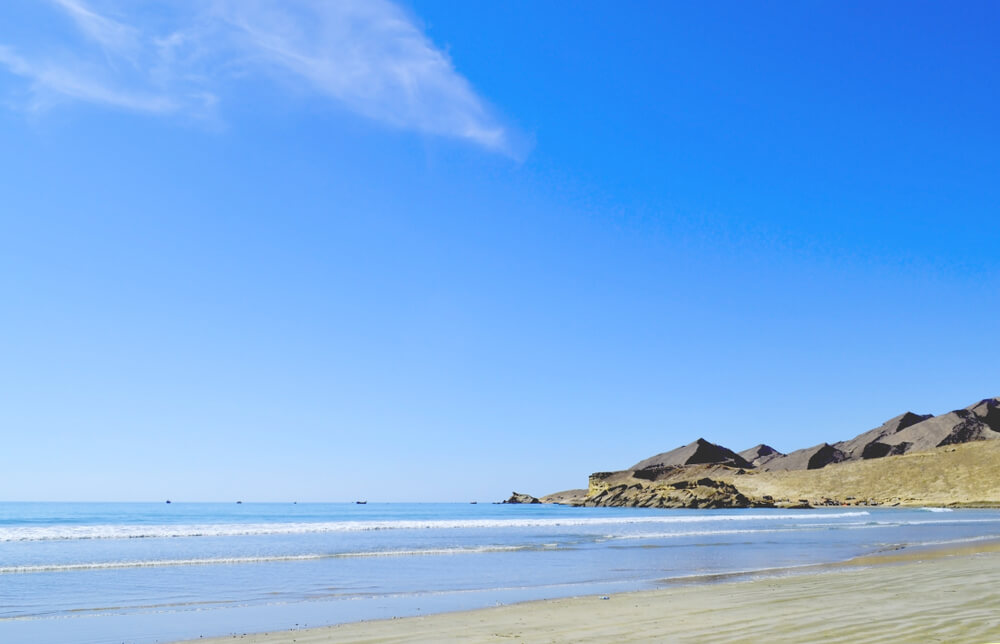 Recommended Gears
Visitors should take the following things with them to visit this beach.
Trekking shoes
As Kund Malir is a hilly area, people can enjoy trekking here. So it is good to pack and take trekking shoes with you when you set on a visit.
Sunglasses
Sunglasses are necessary to protect your eyes from dangerous UV rays and can also add to the charm of someone's personality. Polarised sunglasses are suitable for beach use because they contain proper coatings, shades, and UV protection. So pack a pair of sunglasses with you. In addition, caps are necessary to complete the beach look. Moreover, caps protect against heat stroke.
Water bottle
Water bottles are necessary to prevent dehydration at Kund Malir beach. Although beaches have excess water, no one can use it for drinking. Packing food and eatables to enjoy a beautiful picnic is also good. This beach does not offer many food items, so you must fill and take food.
Attractions at Kund Malir
Kund Malir is a beautiful and sensational tourist point. In 2018 it was among the top 50 beaches in Asia. Moreover, it contains many attractions for tourists. People can enjoy the sea, the mountain, and the desert in a single place. The green-blue sea and clean light-gold sand present a mesmerizing view. Some visitors also catch a glimpse of the dolphins jumping in and out of the water. Tourists from across the world visit to enjoy the night sky next to a bonfire while setting up camp at the beach.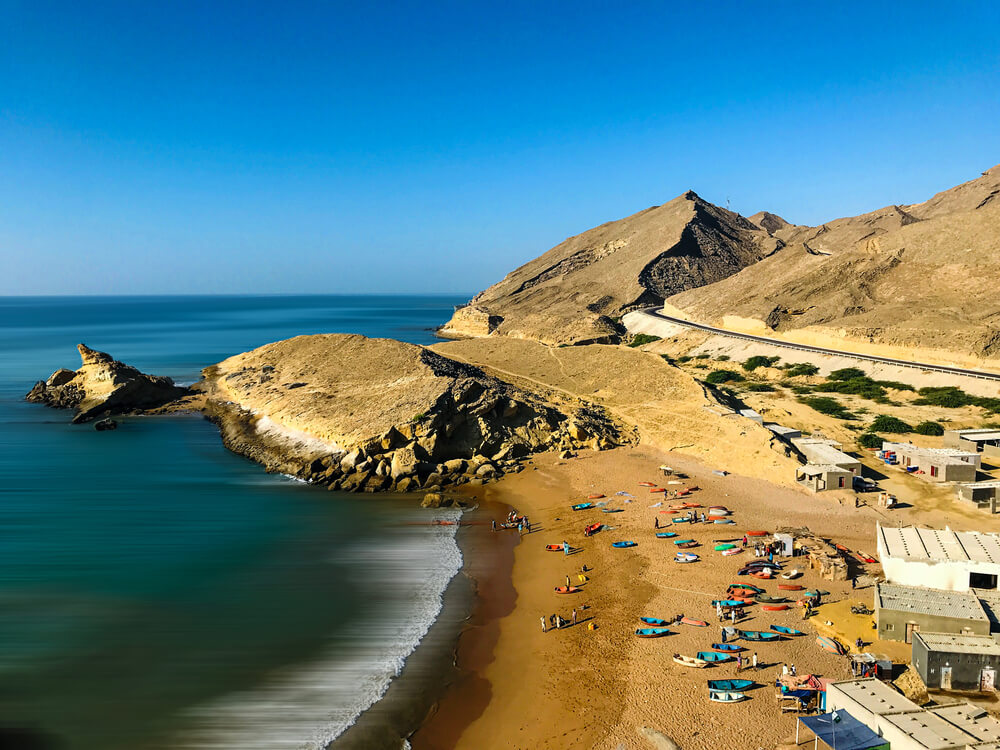 The beach is the favorite place of thousands of people as they can find peace and calm. People do not hesitate to spend nights here as it has a safe atmosphere and many check posts.
Scenic View of Sunset
The sky changes every minute at sunset, from orange to yellow to pink. The reflection of the sky and the sun on the waters of the Arabian Sea will surely calm anyone. One cannot stop gazing at the skies until it gets dark. The campers and visitors often stay till the sky becomes violet and the golden sun disappears into the sea.
Beautiful Rocks and Mountains
The terrain of Balochistan is not just rocky but looks as if an artist has put his magic into it. This kind of topography is hard to find anywhere else in the world. The mountains are shaped uniquely due to wind erosion over millions of years. The beauty of Kund Malir is a recent find and not disturbed by artificial buildings preserving it just like God created it. The Princess of Hope and Sphinx of Balochistan is the unique rock structures that can be seen nearby. The mountains look like an ancient city and fascinate every passerby.
Kund Malir Beach
The pristine beach and crystal clear water pull every visitor towards itself. The sea bed is not too deep, so families dive in to enjoy the water fearlessly. As the place is getting recognition, a few tuck shops have also opened to serve tea and snacks. The beach's serenity away from the city's crowds is soothing and calming for the tourists. Families can stay overnight at the rental huts near the shore and experience the unruffled nighttime at the beach. A walk along the coast and feeling the unique sand is the simplest and most energizing thing to do at Kund Malir.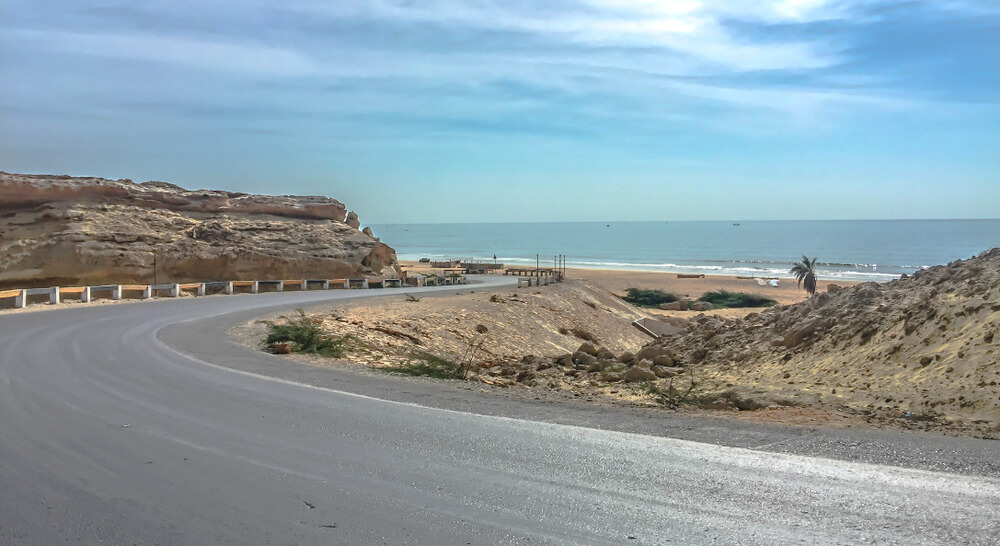 Family Picnic Spot
The beach is a spotless, calm, and beautiful destination for enjoying a picnic day with your friends and family. The beach gives you a perfect setting with water on one side and dunes on another side to enjoy your favorite food with your famous people.
Desert
Kund Malir combines beaches, mountains, and desert, marking Pakistan's natural wonder. A range of mountains and cliffs on the shoreline stretches to join the desert. The integration of both landforms so close is rare. One can climb on the ridge to look over the sea or take a walk along the fine sand of the desert at the same time.
Fantastic View of Blue Ocean
The views of the Arabian Sea at Kund Malir leave everyone speechless. The deep blue water slowly rises and then crashes at the golden shoreline. The calming hum of the ocean creates a serene environment, soothes the nerves, and touches the heart and soul.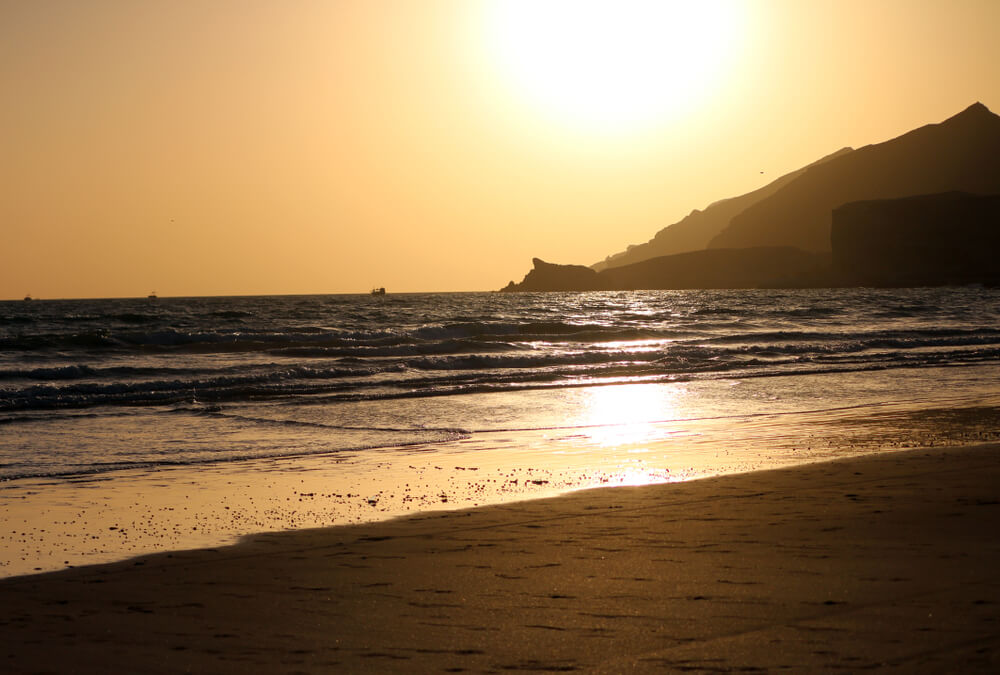 Stargazing at Kund Malir
Nighttime at Kund Malir is perfect for spotting a meteor in the sky. The pitch-dark sky with millions of stars glittering is the ideal opportunity to spot the milky way and experience astronomy.
Things to do at Kund Malir
Camping
Travelers can book a camping trip from Karachi. The organizers will provide equipment, food, and a secure spot to spend the night at the beach. Watching the sunrise here is unforgettable and leaves one captivated by nature.
Off-roading
A skillful driver with a suitable vehicle will enjoy off-roading at Kund Malir due to its curvy terrain and can ride in the desert or over the hills.
Photography
Tourists and photographers try to capture the beauty of Kund Malir through their lenses. The perfect time is the sunrise or sunset when the sun's rays have toned down, so the brightness is just right to picture the beautiful shore or mountains.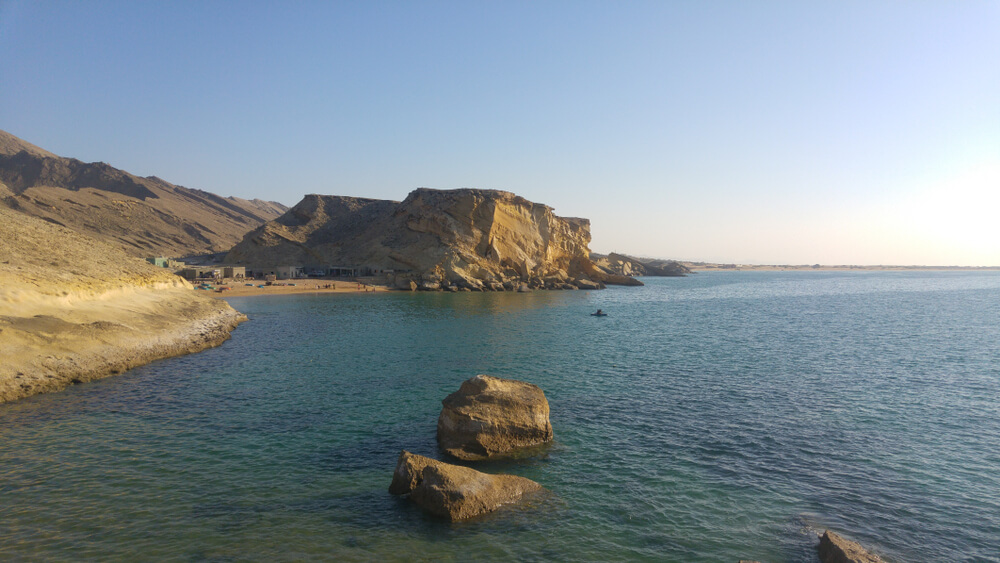 Swimming
If you are fond of swimming in the sea or ocean with the beautiful backdrop of the desert, you must check out Kund Malir beach. Make sure to wear a life jacket and swimming pads when you go out there to swim. If you suspect the water to be rough, don't forget to bring floaters.
Fishing
For any fishing enthusiast, you will not get a perfect setting to practice your favorite fishing techniques other than at Kund Malir beach. Grab your fishing essentials, such as fishing rods, fishing reels, and hooks, and with a bunch of baits, you can catch a rewarding amount of fish at this beach.
How to Reach Kund Malir?
Kund Malir is about 250 kilometers away from Karachi. Visitors from Karachi start their journey from the Sindh Industrial Trading Estate area. Karachi Northern Bypass, or M-10, takes them to the periphery of Karachi. The M-10 fuses with N25 at the toll plaza before Hub in Balochistan.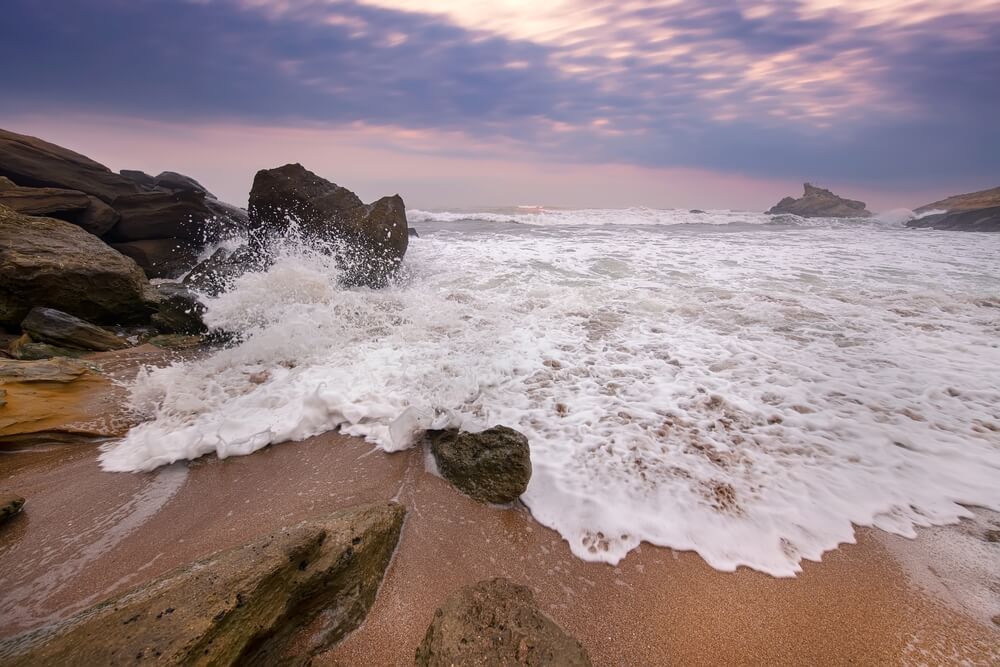 Now reach Zero Point, which is the beginning of Makran Coastal Highway. The highway will take you to Hingol National Park, where the crystal clear waters of Kund Malir is present. This drive can take 4 hours easily, but if you stop somewhere on the way for a break, it can take more time.
Facilities at Kund Malir Beach
The Government of Balochistan arranged good plans for providing facilities like a sitting place, prayer place, and clean restrooms. But, tuck-shop and Petrol pump facilities are available after Zero point. With the rise in people visiting this beach, some mobile networks are now providing their services in Kund Malir. Tourists from across the world visit to discover the hidden beauty of nature.
Resorts and Huts
There are many resorts and Huts at Kund Malir. These are pretty comfortable and affordable. Usually, resort room charges are 6000/- per room, and five persons can stay in one room. Double beds and attached baths are available in all resorts. If you plan to visit, set a booking five days before to get good huts or lodges.
Restaurants
Many new restaurants in Kund Malir have opened in recent years. They have equipped with all sorts of things anyone demands during a stay. They are open 24 hours to provide services to tourists.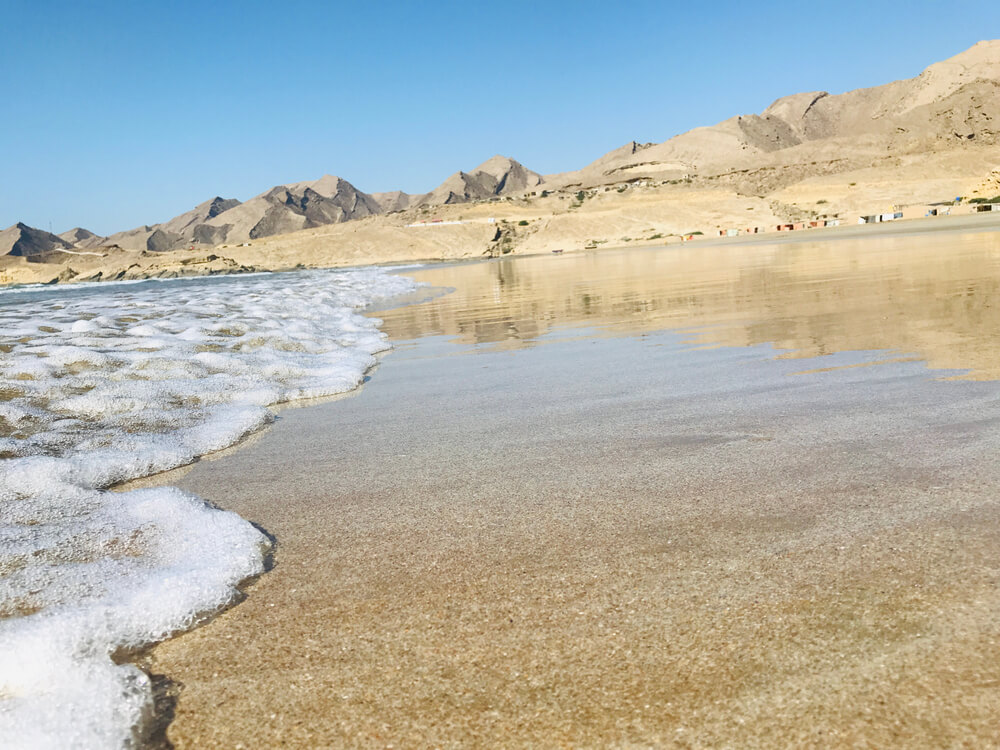 Sitting Arrangements on Beach
The Balochistan government has made beautiful seating arrangements to attract tourists. Attractive and robust chairs with the table are available under umbrellas and tents.
Parking Area
A good parking area with security is available in Kund Malir. There is no need to take the tension of safety of your automobiles. Just park them in the parking area and enjoy a beautiful visit to the beach.
How Much is the Distance to Reach Kund Malir from Gwadar?
Kund Malir is 388km from Gwadar, and it takes about four and a half hours to cover this distance by car. By air, you can cover this distance in an hour.
Location of Kund Malir Gwadar:
Kund Malir Gwadar is located in Hingol National Park. It is approximately 150 km from zero point and situated on Makran Coastal Highway.
FAQs
Is there any resort at Kund Malir beach?
Kundli has many high-quality Beach resorts equipped with modern facilities for tourists. Visitors can enjoy their stay at Kund Malir Beach resort, the government resort Kund Malir beach, and Baloch Beach resort Rasool Bakhsh Abad Kund Malir.
Is it safe to go to Kund Malir?
If you are interested in Kund Malir beach near Hingol National Park and are concerned about the place's safety, don't worry. It is a safe and secure place that doesn't involve any travel agent to arrange your trip or make it safe. But you must remember to start your journey as early as possible after visiting the beach and leave it before sunset.
Conclusion
Kund Malir is a famous desert beach along the coast of the Arabian Sea with characteristic deep blue water. The beach's refreshing and crystal-clear water is the tourist's main attraction. Apart from that, the beach also has several giant dunes that complement the area's natural beauty. If you are visiting Gwadar, don't forget to visit Kund Malir beach, located in Hingol National Park on the Makran postal highway.