Valleys in Pakistan – The Most Beautiful Valleys of Pakistan
If you've read about Pakistan other than through those news channels, you must know how beautiful this country is. It's one of Asia's most naturally beautiful countries and has lots to offer regarding tourism and learning. Pakistan has abundant natural beauty, and many magnificent valleys have become tourist attractions. Thousands of tourists from around the world visit the beautiful valleys of Pakistan to explore mother nature every year.
So one of the major attractions in Pakistan is the stunningly beautiful valleys. These stunning valleys offer something for everyone, from awe-inspiring mountains to mesmerizing lakes.
Valleys are the beauty of a country, and Pakistan has some of the most stunning valleys in the world. If you plan a trip to Pakistan, you might explore nearly 40 valleys in this country, each with its charm.
In recent years, the rising tourism in Pakistan has given way to these valleys being recognized worldwide, which were hidden gems before someone explored these. So it's an excellent opportunity to catch a glimpse of such beauty. One such valley is the Haramosh Valley.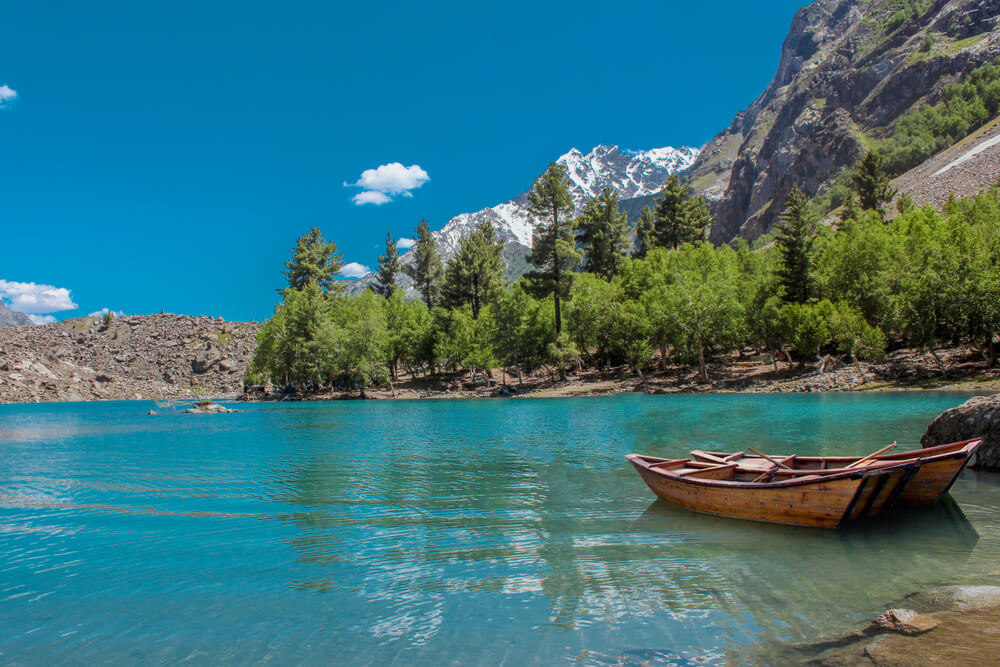 Most valleys are located in the Northern areas of Pakistan and are extremely cold during the winter. However, the spring and summer temperatures are perfect for exploring this beauty.
Although one can visit these valleys at any time of the year, one should choose the right weather and be equipped to make the most of a trip. In addition, it's always a good idea to accompany friends and family on such tours.
Let's get into this article's detail to explore 25 of the most beautiful valleys of Pakistan.
What Are Valleys Known for?
Valleys are known for their beauty, lush green meadows, glaciers, snow-capped mountains, and awe-inspiring views. They are also known for their unique cultures, which are often characteristic of the respective areas. For example, most valleys in Pakistan are home to animals such as ibexes and markhors.
Another thing valleys are known for is their importance in terms of hydrology, tourism, and trade. The rivers that flow between mountains form the headwaters of many major rivers, such as the Indus, Jhelum, and Chenab. Valleys are also natural conduits for trade and communication between different areas of the country.
Lastly, these valleys are important sites of natural beauty and are home to some of the most spectacular scenery in Pakistan. From emerald green fields, rugged mountains, and lush vegetation to snow-capped peaks, there is something for everyone.
Why is A Valley Important?
The importance of a valley is undeniable; they offer spectacular views, provide rich vegetation, and is home to several endangered species. A valley can also be necessary for a country's tourism industry and economy.
Valleys are essential to the local ecosystem, providing safe breeding grounds for many wildlife and fish species. They also provide shelter from torrential downpours, which can cause devastating floods in their respective areas, and protect against other natural disasters like earthquakes, landslides, and avalanches.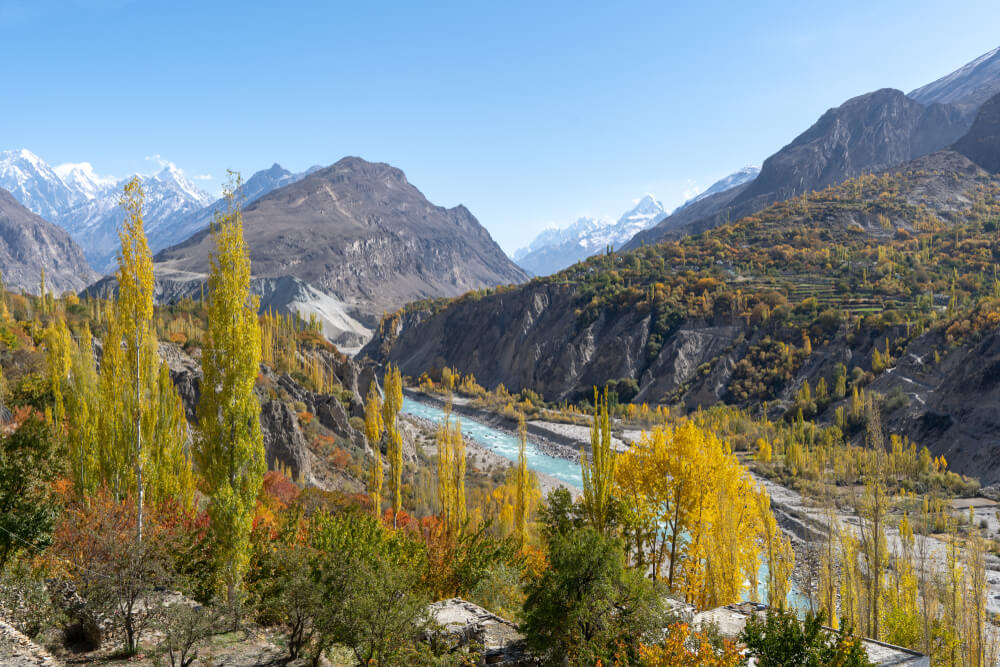 Valleys are important because they often act as a buffer between various climate zones, allowing people to take advantage of different climates and provide valuable resources. Valleys also act as a corridor for transportation between areas, helping people to travel from one location to another safely and efficiently.
25 Beautiful Valleys of Pakistan
Pakistan is richly blessed with mesmerizing and lush green valleys, and there are so many that you'd be spoilt for choice. The valleys are scattered around the country, but most are clustered in the Northern areas.
Here's a complete list of valleys in Pakistan that offer spectacular sights and activities.
Hunza Valley
Hunza valley is an ancient valley in the Northern part of the Gilgit-Baltistan region of Pakistan. This mountainous valley redefines beauty and charm, and it's home to many farmers and a famous tourist spot.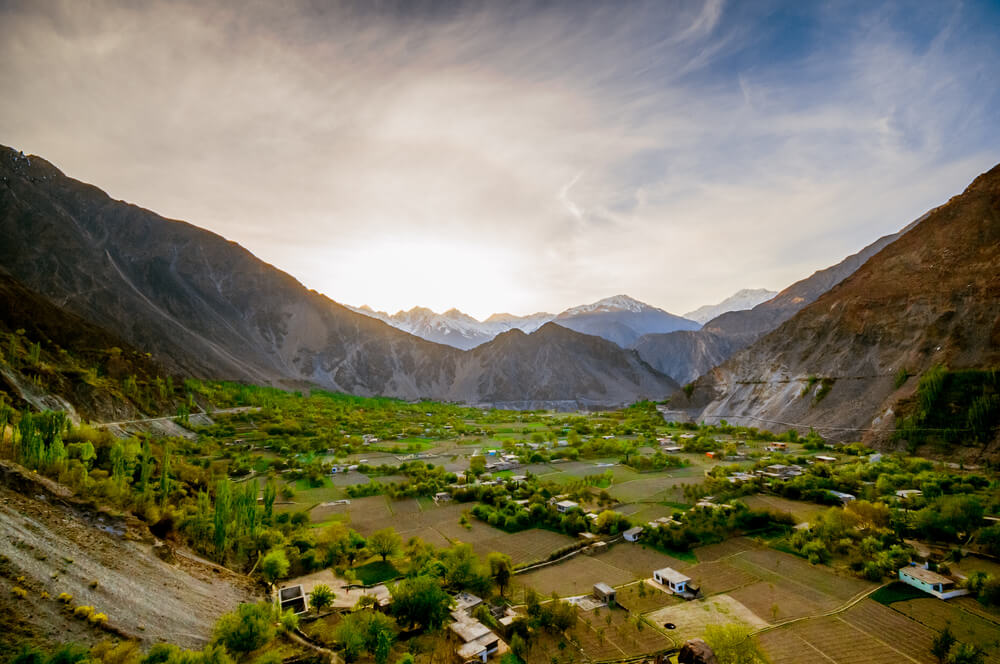 Hunza valley will indeed wrap you with nostalgia when you encounter Tibetan architecture and Buddhist inscriptions on the walls and mountains. In addition, a beautiful Attabad lake is formed by the massive landslide in the mesmerizing Hindukush range.
The primary reason so many people visit it yearly is that its white snow-covered mountains touch the sky; it's a sight to behold!
Kalasha Valley
Kalasha Valleys are different small valleys in the Chitral district in Northern Pakistan and are some of the most famous valleys in Pakistan. It's widely known for its Kalash people, who practice their own cultural and religious traditions and follow an ancient form of Hinduism.
These valleys have a unique combination of natural beauty, traditional culture, and architecture, making them some of Pakistan's most visited tourist spots. Kalasha is known for its lush green valleys, snow-capped mountains, and crystal-clear rivers.
Kumrat Valley
Kumrat Valley is a beautiful valley situated in the Upper Dir District of Khyber Pakhtunkhwa, Pakistan. This valley is a hidden gem and has remained unexplored and untouched by tourists for many years. However, in recent years, the valley has been spotlighted for its dense pine trees, green meadows, and massive rivers.
The valley feels like a fairytale when you step in and see those green and tall pine trees and a turquoise blue sky over your head; you'll be taken aback by the beauty!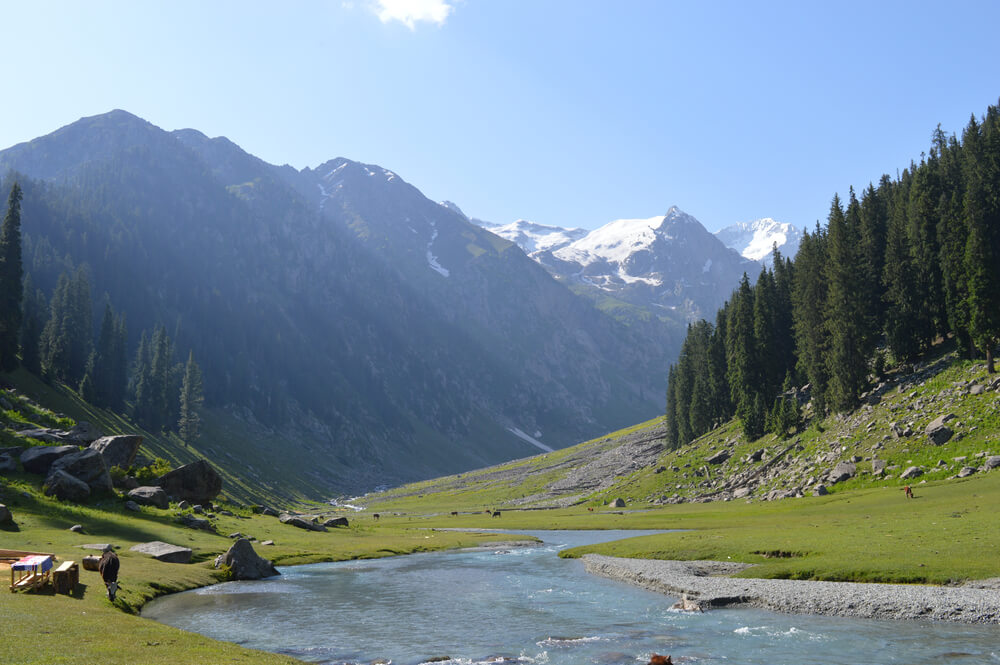 The people of Kumrat valley are hospitable and welcoming. They will grant you a warm and traditional welcome if you decide to go there. Furthermore, there are some of the best trekking routes in this valley, so if anyone is interested in experiencing an unforgettable journey, Kumrat Valley should be on their list!
Neelum Valley
Neelum valley, also called the Paradise of Pakistan, is a beautiful valley in Azad Kashmir, Pakistan. The unmatchable beauty of Neelum valley makes it a perfect spot for tourists to find solace and peace.
People visit this valley to see the lush green meadows and sky-high hills worldwide.
If you take a walk in this valley, you'll find yourself surrounded by tall pine trees and meadows – something that will make your heart skip.
Astore Valley
The Astore Valley is also located in Azad Kashmir, Pakistan, and is one of the most enchanting valleys in Pakistan. This valley is filled with lush green meadows, snow-capped mountains, deep gorges, fast-flowing rivers, and sparkling springs, making it a paradise for nature lovers.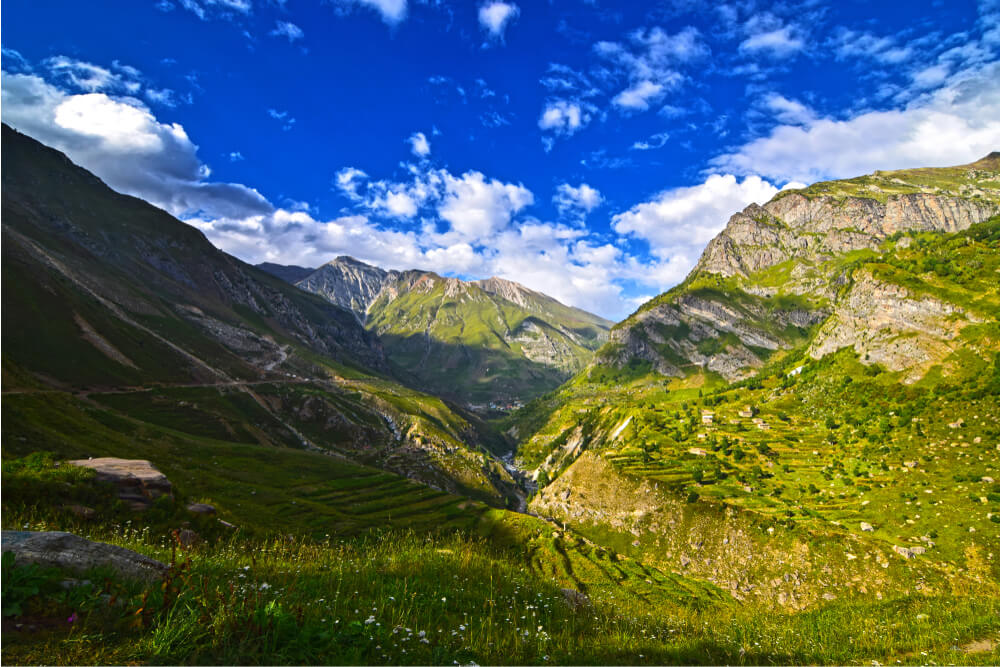 The Astore Valley is a great place to find peace and tranquility as you can enjoy a peaceful stroll through the meadows and hills or spend some time fishing in its rivers.
Baboon Valley
The Baboon Valley is known for its picturesque landscape and breathtaking views. Located at an elevation of 12700 feet on the upper side of Keran and Jagran valley, this valley is truly a heaven on earth.
The lush green valley is relatively untouched by tourists and is a hidden gem in Neelum valley, Kashmir. The valley has some picturesque views you'd want to capture for a lifetime.
Baboon valley is home to many waterfalls, springs, lush green meadows, glaciers, and snow-covered peaks.
The valley is great for hiking, camping, and exploring nature's beauty. With its beautiful scenery and amazing views of snow-covered peaks, the Baboon Valley is one of Pakistan's most beautiful valleys.
Chitral Valley
Kalash valley and Chitral district also have another worth-exploring valley called Chitral valley, which holds the cultural heritage and exquisite beauty. The valley is beautiful and holds historical importance for Pakistani people, which is why it's called "the pearl of Pakistan's north."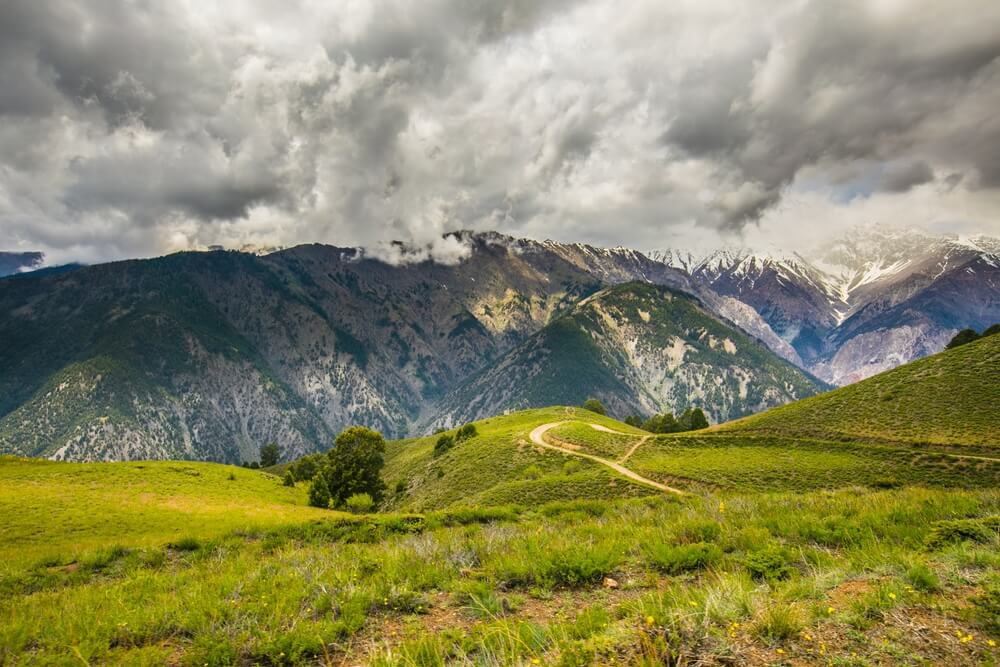 There's a museum in this valley named Chitral museum that showcases the antiques and old weapons of the Chitrali people. The fort of Chitral is another attraction in the valley that displays its culture, heritage, and history.
Kaghan Valley
Kaghan Valley is full of mesmerizing beauty and has an enormous charm and picturesque views. Situated in the Mansehra district, this valley has a lot to offer. The lush green meadows and beautiful mountains of Kaghan valley make it a perfect location for camping, hiking, sightseeing, and fishing trips. In addition, Kaghan valley has gorgeous flora and fauna that one must explore.
The temperature of this valley in the summer season attracts tourists from the rest of the country to cool off, relax and beat the heat!
Kalam Valley
Kalam valley is located in the upper region of Swat Valley, Khyber Pakhtunkhwa. The height of the valley is about 2001 meters above sea level, and it has many glaciers with small lakes scattered around them. The valley is also known as the "Switzerland of Pakistan" because of its mesmerizing beauty.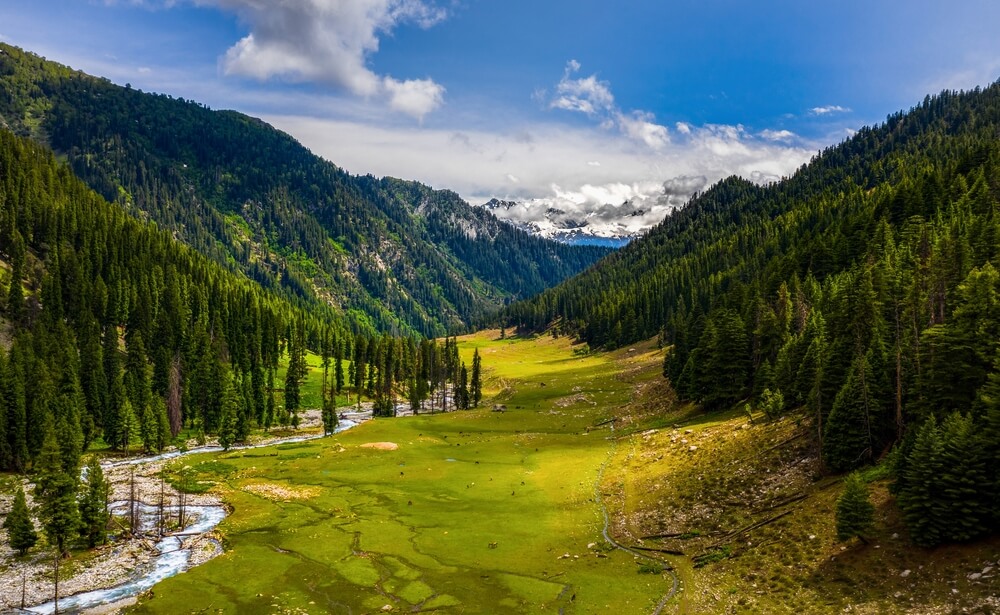 The mesmerizing beauty of this valley can be seen from atop its mountains which house a range of wildflowers and lush green meadows in the summer season. The valley is also home to beautiful lakes like Mahodand Lake, Daral Lake, Kundol Lake, etc.
Leepa Valley
Leepa valley is one of the most hidden gems in Pakistan, which you might have yet to hear about. But it is a beautiful valley that catches the attention of any visitors who come here.
The valley is 95 kilometers away from Muzaffarabad and is surrounded by high mountains to give it an extra touch of serenity. However, the most notable thing about Leepa Valley is its picturesque landscape, making it one of the most delightful places for tourists.
It's a historic valley, and the roads are steep and thrilling. Moreover, it has many forest areas that are full of pine trees which will leave you awestruck by their beauty.
Naltar Valley
Naltar valley is one of the most famous valleys in Pakistan and is situated in the Gilgit-Baltistan area of Pakistan. This heaven-like valley is accessible by jeeps and is one of the safest tourist destinations in the country.
The valley is 40 km long and has some of the most dramatic mountain sceneries with thick forests and snow-capped peaks. Tourists can explore the valley's skiing slopes and various lakes; the valley is famous for its three lakes, i.e., Blue Lake, Satrangi lake, and Bodlok lake.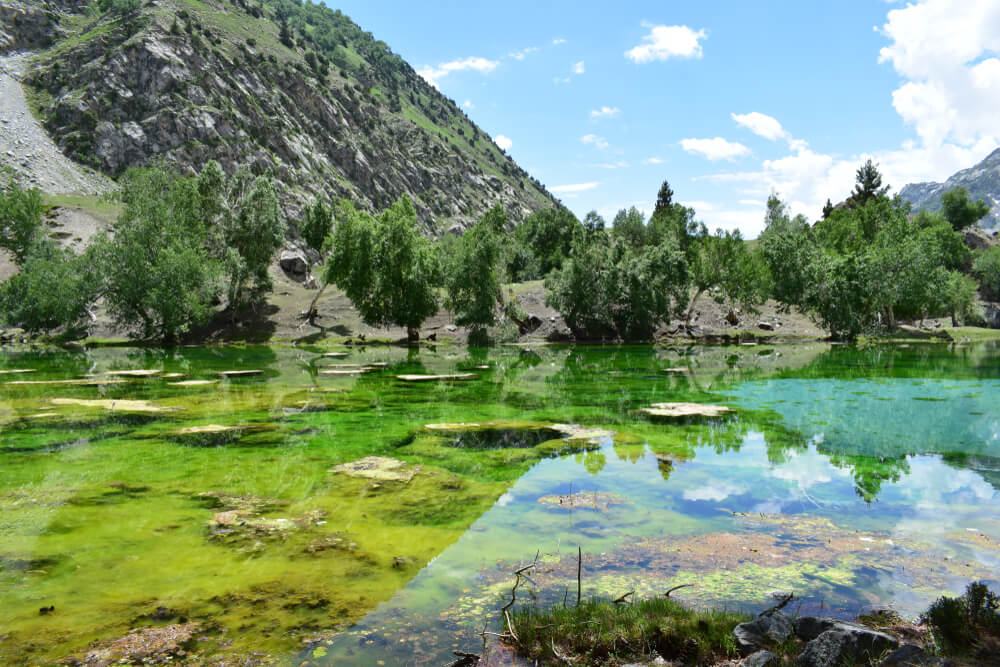 You can also enjoy trekking in the Naltar Valley and exploring its fantastic beauty. Annual ski competitions are held at Naltar Ski Resort, so hurry up before it's too late!
Phander Valley
Phander Valley is located in the Gupis-Yasin district of Gilgit-Baltistan, it's a less explored tourist spot with limited facilities, but the views are to die for!
The best time to visit this valley is from April to October; other than these months, you might find all the hotels closed, which could be problematic in a tour, so plan your trip accordingly.
The valley sits along the highway from Chitral to Gilgit so that you can catch this valley through that route.
Phander valley is where one would want to sit and watch the time running and not get into a detailed list of Things To Do. So pack some snacks and eat while you're lost in the beauty of this valley.
Siran Valley
This valley is located in the Mansehra district of Khyber Pakhtunkhwa and is unknown to people. Unfortunately, Siran valley is one of those areas badly affected by the destructive earthquake of 2005. But the beauty of this valley brought back life to it.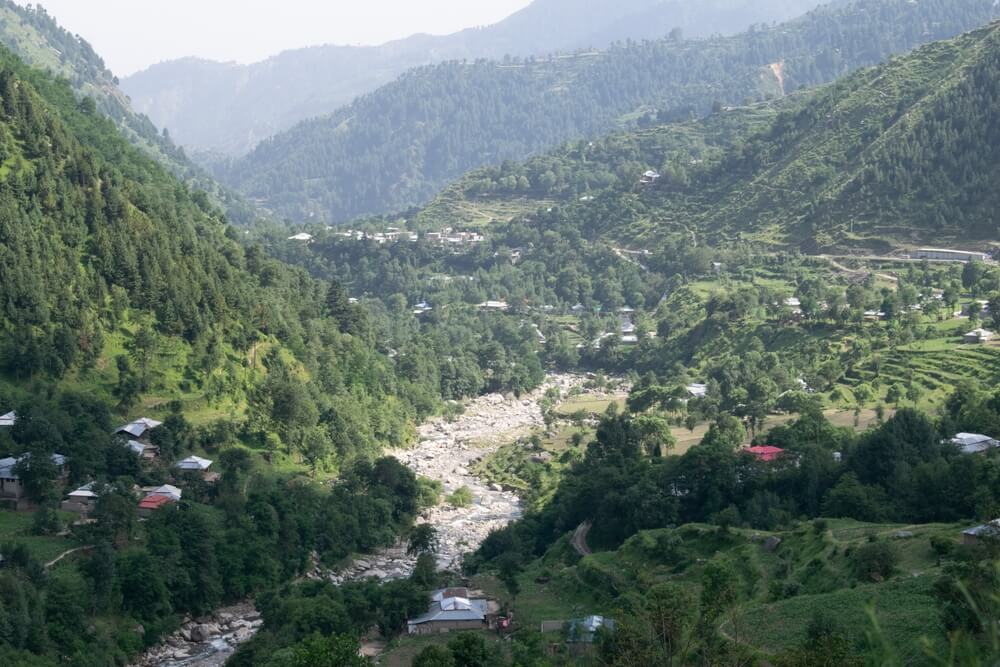 Siran valley got its name from the river Bogarmang that flows through it. The older name of the valley Dara Bogarmang was derived from the village Bogarmang, centrally situated in the valley.
The lush green forests of Siran valley attract many tourists, and the gorgeous waterfalls make it even more beautiful. The Kunali meadows in Siran valley are worth exploring, and the landscapes are perfect for capturing, so remember to bring your camera.
Skardu Valley
Skardu valley is located in Gilgit-Baltistan and offers serene beauty. The valley sits along the Indus river, which separates the Karakorum range from the Himalayas. This valley has lustrous lakes, gigantic mountains, and picturesque waterfalls that make it one of the most beautiful valleys in the world.
You can trek to Kachura Lake and Shangrila from Skardu city, which is mesmerizingly beautiful. The dunes in this valley are also captivating.
Skardu valley is also called "Climber's Paradise" as its surrounded by three famous mountain ranges, i.e., Himalaya, Karakorum, and Ladakh. Moreover, the valley serves as the trekking hub for the world's highest summits: Broadpeak, Gasherbrum – 1, Gasherbrum – 2, and K-2.
Skardu valley is famous for its spectacular mountains and fascinating views; there are so many mountains that are still untouched, and we are waiting for climbers to explore them!
Soon Valley
Soon valley lies in the Khushab district of Punjab. This valley is known for its beautiful lakes, forests, and mountains. It's a perfect place to visit if you need a break from the hustle and bustle of city life. Many tourist attractions, like Uchalli Lake, Kanhatti garden, and Sakesar resorts, attract many people yearly.
The starting point of this valley is from Padhrar village, and then it ends in Sakesar, which has the highest peak of the salt range; the length of soon valley is 35 miles.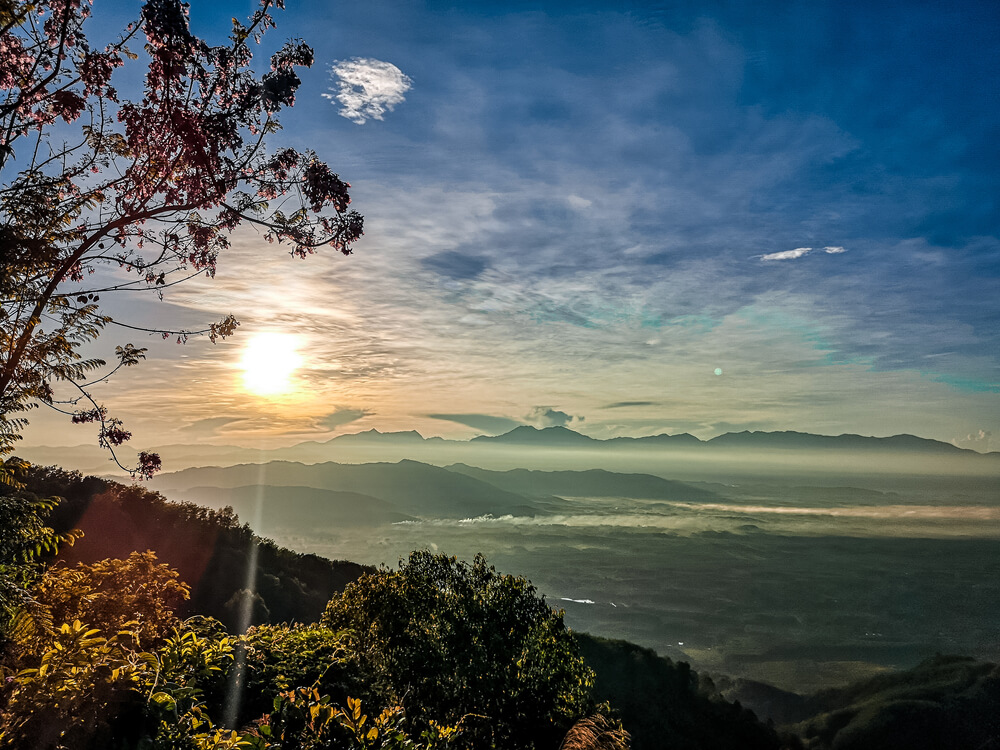 Soon valley is a perfect spot to take a break from your daily life and feel lost in the beauty of mother nature. So pack your bags and get ready for an unforgettable adventure.
Swat Valley
Swat valley, a stunning and popular tourist attraction, is situated in the Upper North region of Khyber Pakhtunkhwa, Pakistan. The valley is known for its exceptional beauty and rich history. This beautiful valley has many rivers, streams, lakes, waterfalls, and beautiful spots that attract thousands of tourists yearly.
The valley has a mesmerizing history that dates back to 2000 years ago; the civilization is still well preserved and thus attracts foreign tourists as well.
It is also called the Switzerland of Pakistan due to its picturesque views and lush green valleys.
Tirah Valley
Tirah valley is a spell-bounding tourist destination that will surely capture your attention because of its extraordinary beauty. The valley lies between the Khyber pass and the Khanki valley. The locals or inhabitants of this valley are the Orakzai, Afridi, and Shinwari tribes of Pashtun.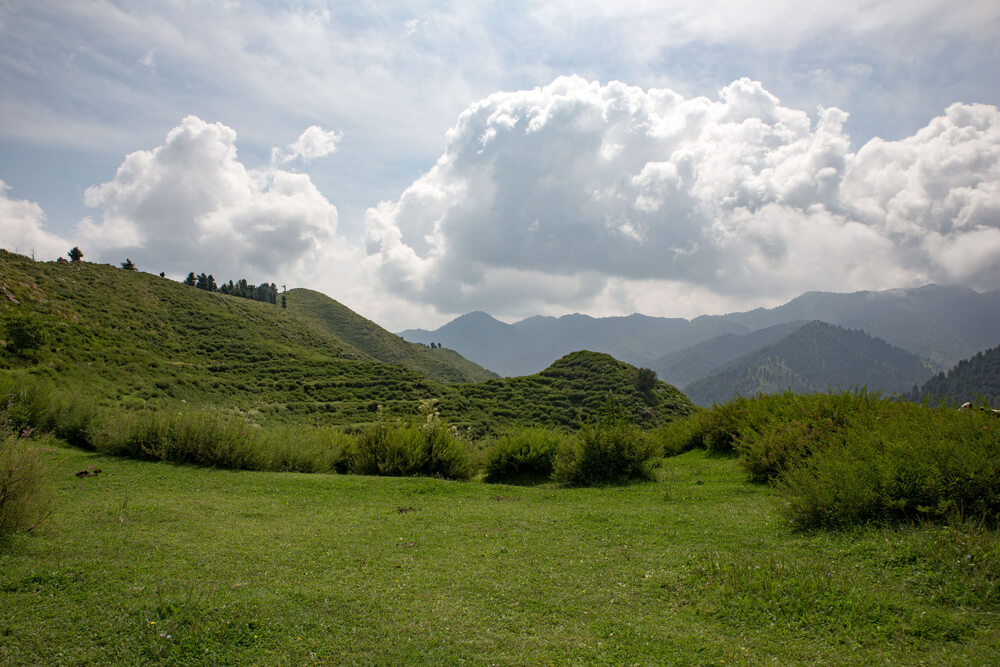 Tirah valley was once a battleground of the militants, but this beautiful yet remote valley is now coming out of war ravages. The valley now attracts hundreds and thousands of domestic visitors and foreign tourists who come to admire the mesmerizing views of this untouched valley.
Jhelum Valley
Jhelum valley is another beautiful valley with so much to offer tourists regarding scenery and activities. The Jhelum river passes through the valley and ends at the river of the Neelum valley.
The valley is filled with lush green meadows and snow-capped mountains, making it one of the most stunning places in Pakistan. Jhelum valley is helping to increase Pakistan's tourism and economy.
Khaplu Valley
The Khaplu Valley is situated at an altitude of 2,600m and is located in the Gilgit-Baltistan region. This beautiful valley offers breathtaking views, making it a popular tourist destination. The valley is filled with lush green meadows, scattered villages, orchards, rivers, and snow-capped mountains.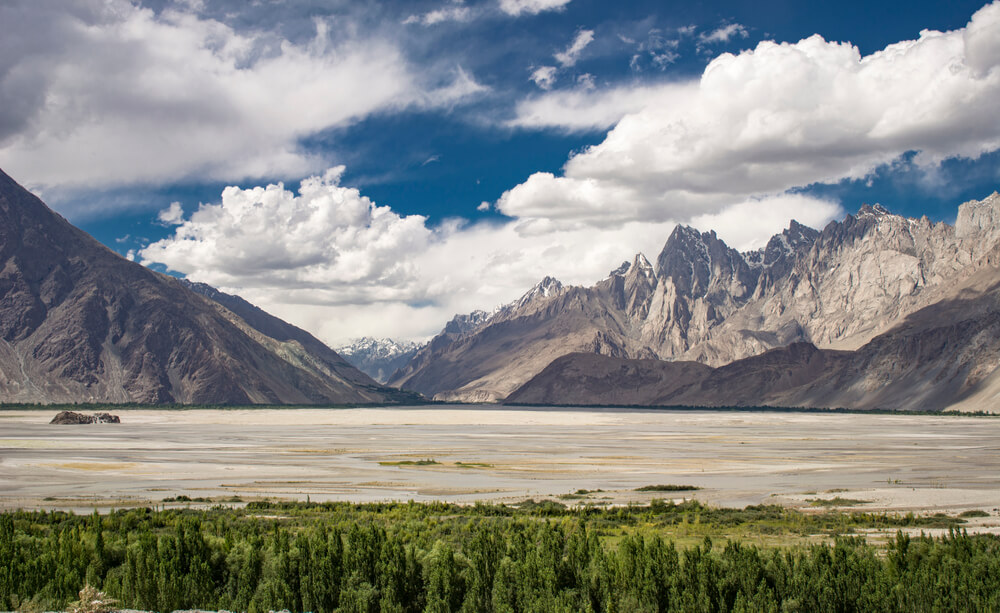 Khaplu valley is a settlement on the bank of river Shyok, and its inhabitants are warm and loving as they were centuries before. Khaplu valley is most famous for its fort, known as the Roof of the World.
Nagar Valley
The Nagar Valley lies in northern Pakistan, southeast of Gilgit. This stunningly beautiful valley is perfect for visiting from April to September, as the climate during these months is gratifying.
Nagar valley is as loved as its mesmerizing; people who visit Gilgit-Baltistan make sure to have a trip around this mesmerizing valley.
Shigar Valley
If you love trekking, Shigar Valley is the place to visit. The valley has a lot of luscious spots, such as hot springs, high peaks, and glaciers, which makes the journey all the more adventurous.
The valley is unique compared to the other valleys in this article because it shows a beautiful cold desert called Sarfaranga.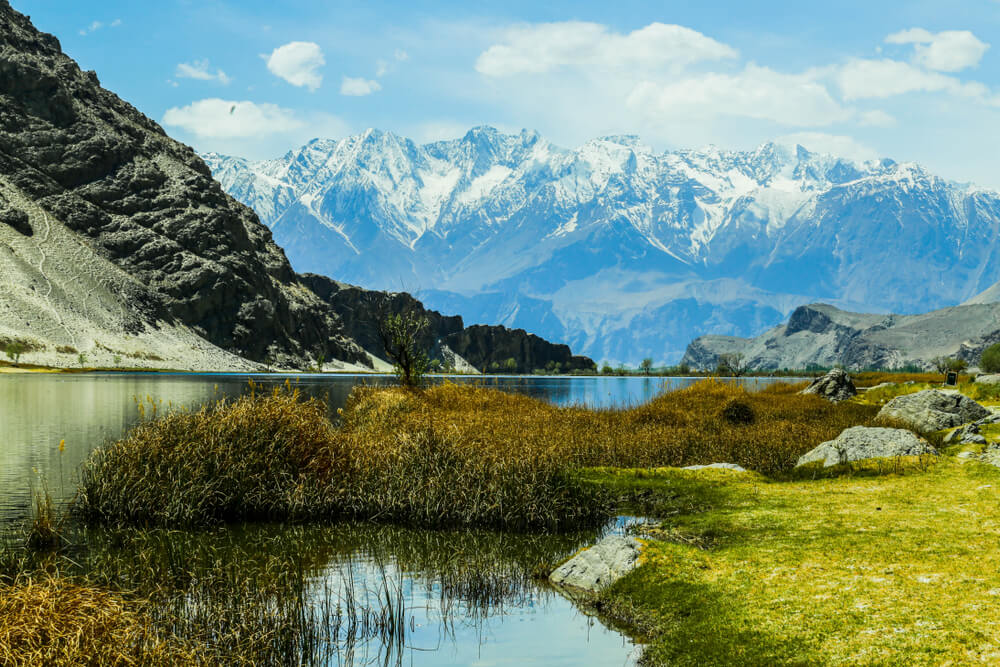 Shigar viewpoint is where you can get a bird's eye view of the entire valley of Shigar.
Shimshal Valley
Shimshal is the largest valley in Gilgit-Baltistan and covers almost entire of the Hunza District. Shimshal valley is remote, around 3 hours east of Passu in Gilgit Baltistan, Pakistan.
It serves as a route to the Shimshal pass, a popular trek with avid trekkers and mountaineers. Moreover, Shimshal valley is a peaceful retreat and a perfect spot to relax for a few days.
Yasin Valley
Yasin valley lies between the Hindukush mountains and is a majestic setting that will blow your mind forever. The valley is in the northwestern Ghizer district of Gilgit-Baltistan. Ghizer Valley is nearby as well.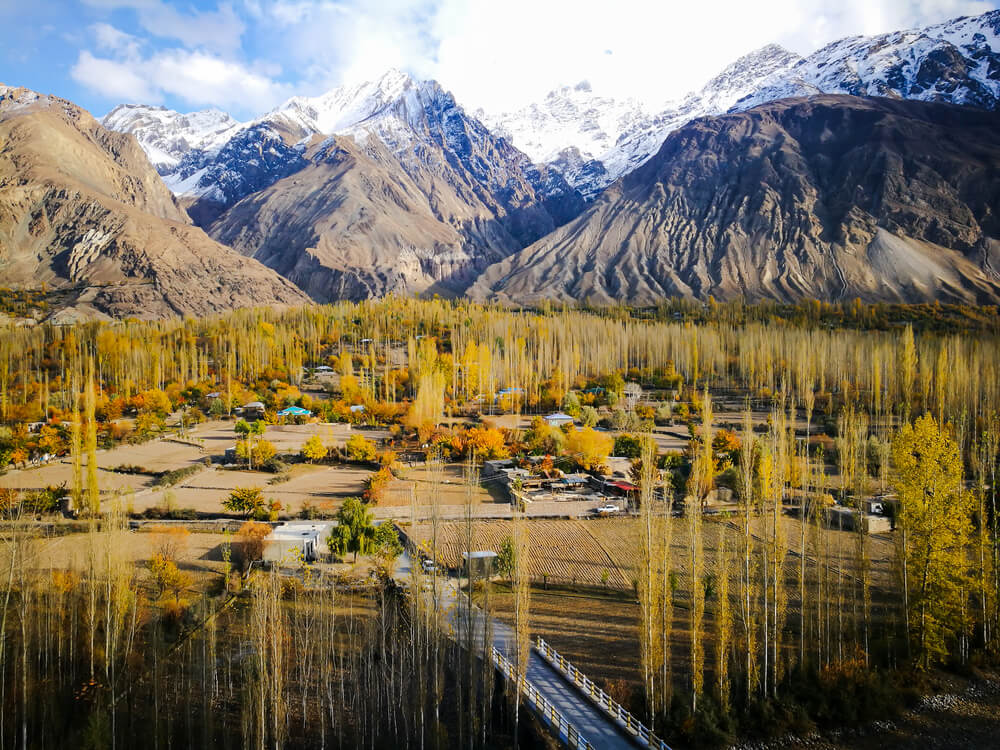 Yasin valley, also known as Worshigum or Babaye-i-Yasen, is a high mountain valley 148 kilometers from the city of Gilgit. It's known for lush green meadows and the crystal clear flowing water streams making your sight very alluring.
Basho Valley
Another picturesque and beautiful valley on this list is the mesmerizing Basho valley. The Basho valley lies in the Roundu division of the Skardu District. It's one of the most remote valleys in the region and is situated between two high mountain ranges.
This valley gives endless trekking opportunities to visitors and is heaven for trekkers!
Chunda Valley
Chunda valley is a breathtakingly beautiful valley in Skardu and is one hour from the central city. The valley has a unique landscape that consists of green pastures, meadows, springs, and streamlets.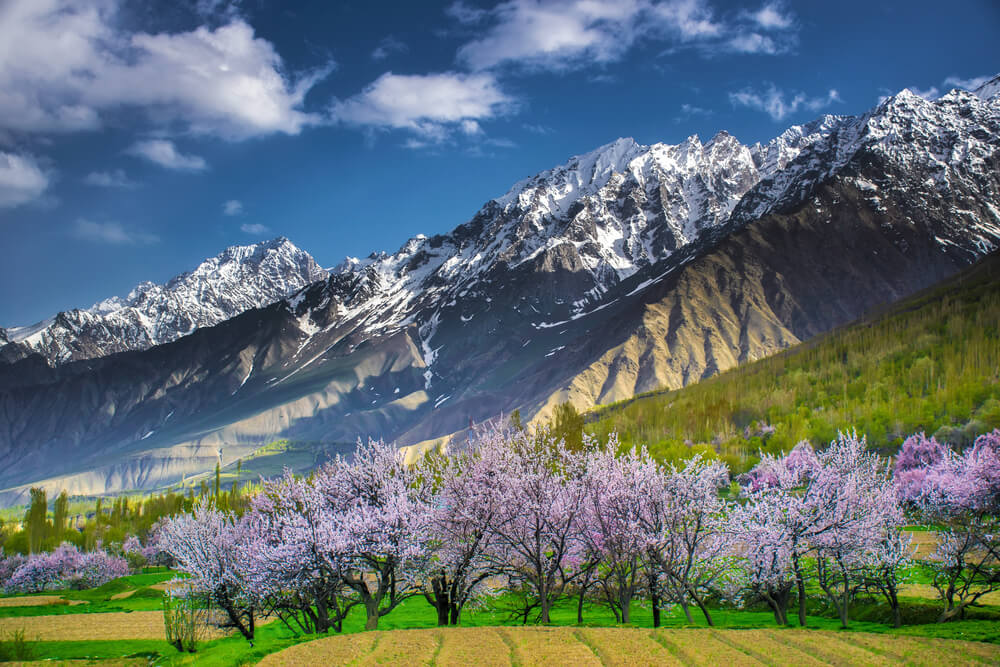 The valley is on the raised ground providing you with a spectacular view of the entire Skardu city. Even you can have an incredible view of the Skardu airport and enjoy the takeoffs and landings of international and domestic flights.
Frequently Asked Questions
Which is the biggest valley in Pakistan?
The Hunza Valley is the biggest or the largest in Pakistan. It is located in the Gilgit-Baltistan region of Pakistan and is one of the most popular tourist destinations in the country.
What are three facts about valleys?
The interesting facts about valleys are:
Valleys can provide a conducive environment for plants and animals to thrive.
Valleys often have water sources, such as rivers or streams, which are essential for sustaining life in the area.
Valley landscapes are often quite picturesque, with lush vegetation, colorful flora, and sometimes snow-capped mountains surrounding them.
What is the characteristic of a valley?
The typical characteristics of a valley include steep sides, an enclosed floor, and often a river or stream flowing through it. In addition, valleys are typically more expansive at the top than at the bottom, creating distinct topographical features such as ridges and peaks. The sides of valleys may also be layered with various types of rocks or soil, creating a unique and beautiful landscape.
Pakistan valleys are some of the most eye-catching things in the world. From snow-capped mountains to lush greenery, the valleys in Pakistan feature a range of topography that is truly breathtaking.
For example, the Kalash Valleys are known for their deep ravines, while the Hunza Valley is famous for its emerald green waters. Other valleys, such as Kaghan, Kumrat, and Naltar, offer beautiful views of forests, rivers, and mountain peaks.