Shigar Valley
Pakistan has abundant natural beauty, and it's a fact that the most beautiful valleys lie in Pakistan; no one can deny this fact. The natural beauty, picturesque valleys, turquoise lakes, and snow-covered mountains make this country eye-catching. Before we discuss the beauty of Pakistan, let's stick to the point and talk about one such lush green valley in Gilgit Baltistan; the Shigar Valley. It's truly the epitome of beauty as it is situated in northern Pakistan. Moreover, it's surrounded by high mountain ranges, which makes it a perfect tourist destination for adventure enthusiasts and nature lovers.
It has a rich history and an architectural heritage that is worth exploring. The inhabitants of this valley are straightforward, honest, and friendly, and that's a big reason why so many people love to visit here. Also, the valley serves as the gateway to one of the world's highest peaks, K2, and the picturesque landscapes in Gilgit-Baltistan.
The weather of Shigar Valley is pleasant during springtime, so if you're looking to go there, planning your trip between March and April is the best time for sightseeing and exploring the valley.
There are plenty of places to visit that you'll definitely love and cherish forever in your memories. All these places offer something unique to make your trip even more memorable. Some of the most popular places are Sarfaranga Cold Desert, Khilingrong Mosque, Amburiq Mosque, and Blind Lake.
This valley in Gilgit Baltistan has loads of activities to enjoy, and one should explore most of them. Let's read about the major tourist attractions there.
Shigar Valley Weather
The valley has a freezing and temperate climate, with significant rainfall observed. Even during the driest months of the year, i.e., May, June, and July, the valley experiences a lot of precipitation.
The average temperature ranges from around 20°C in the summer, the warmest time of the year. So if you're looking for the most generous time, you should go in July or August. The temperature rarely drops below 18 degrees at night.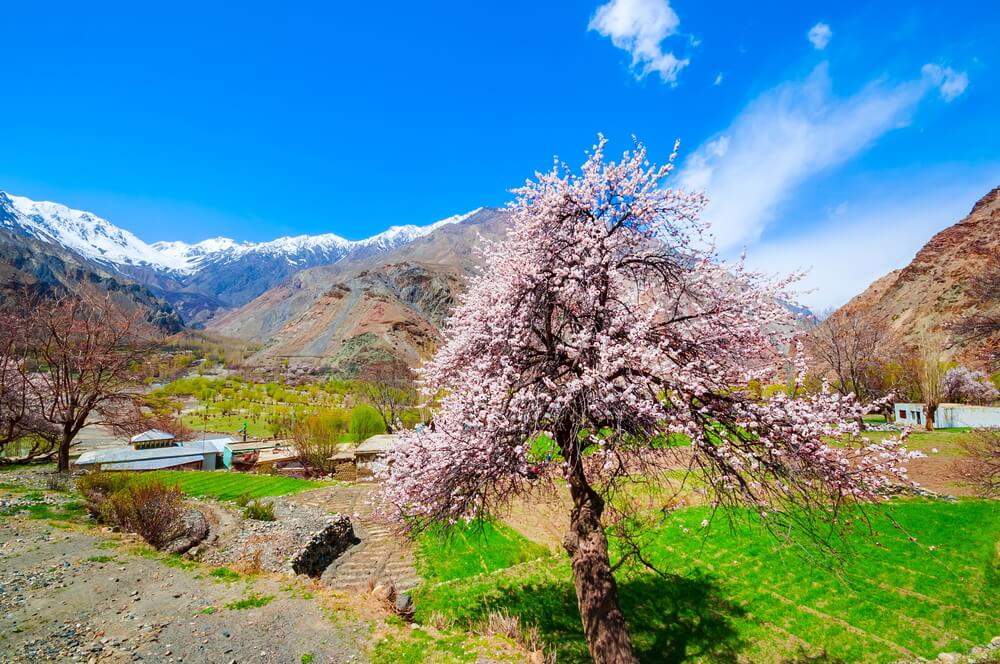 The coldest month is January, with an average high temperature of -17 degrees and an average low temperature of -29. So if you're looking for the coldest time to visit, you should go in January.
Geology of Shigar Valley
Shigar valley is home to a variety of gemstones being mined there. These minerals and gems are unique and are highly valued in the market. Aquamarines, Tourmaline, Topaz, Garnet, Fluorite, and Metamorphic rocks are the most common gemstones and minerals.
The Valley has fossiliferous sedimentary rocks, like siltstone, formed by the uplift in the Himalayas.
Wildlife of Shigar Valley
The unique geology has created a diverse environment for numerous wild animals and plants to thrive.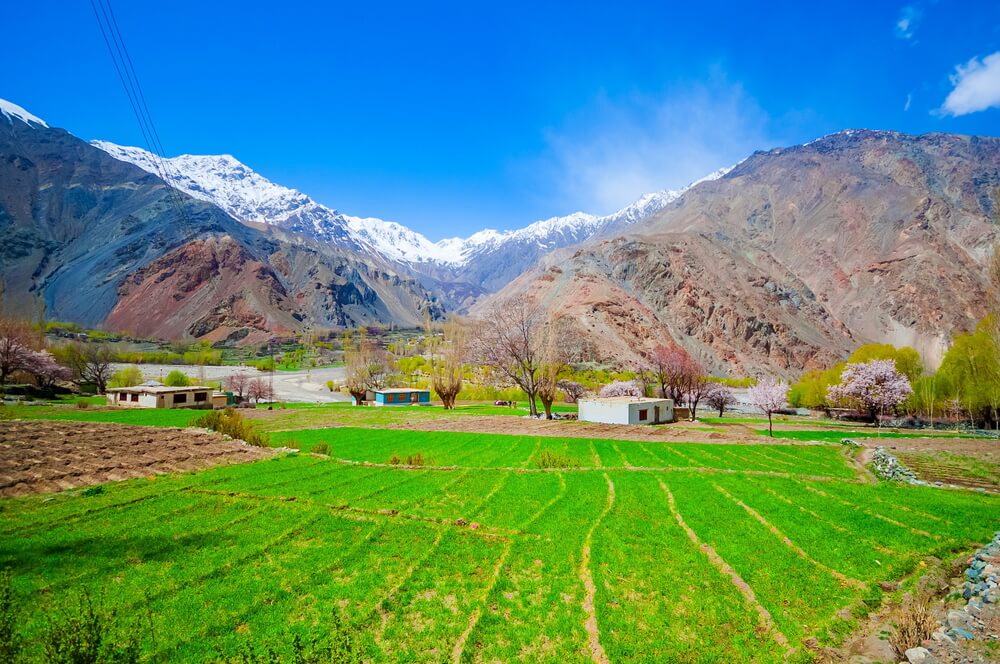 The valley is also home to various birds, such as Golden Eagles and Lammergeier Vultures. Also, so many plants in the valley have medicinal value and are used by locals of the valley.
When is the Best Time to Visit Shigar Valley?
The best time to visit Shigar Valley is during the summer months, i.e., from July to August, when the temperature is warmest and the days are longer. The average daily temperatures during this period range from 13°C (min) to 20°C (max).
Apart from summer, it is an excellent place for winter sports like skiing, snowboarding, and sledding. Unfortunately, the temperatures during winter are freezing, with average high temperatures of -17 degrees and an average low temperature of -29 degrees.
Top Places to Visit in Shigar Valley
This is a picturesque heaven, with every spot of this valley uniquely representing its beauty. The lush green meadows, beautiful lakes, and eye-catching landscapes are all a treat to the eyes, and you'll be awestruck the very moment you enter this valley. So, let's take a quick look at some of the most beautiful places.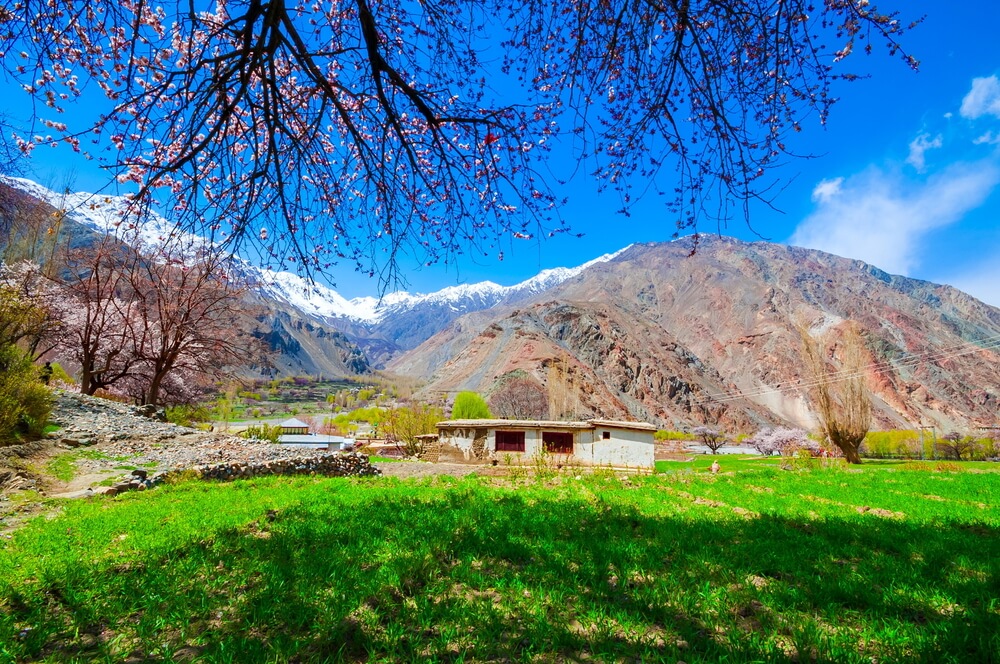 Sarfaranga Cold Desert
The Sarfaranga cold desert, also known as the Katpana desert or Biama Nakpo, is a high-altitude desert located in Shigar, Skardu. This tourist attraction is a must-visit for all adventurers and nature lovers. It remains covered in a blanket of snow during winter and is an ideal spot for snow activities.
Sarfaranga cold desert is famous worldwide because it's the highest desert in the world, situated at an altitude of 2226 meters. There's an annual jeep rally at this desert, which attracts many tourists worldwide.
Askole Town
That is one of the most beautiful towns in Shigar, Skardu, located at an altitude of 3040 meters. It is the last human settlement before you start trekking to K2 Base Camp. Askole offers immense natural beauty with lush green fields and crystal clear streams. It's located about 85 kilometers from Skardu and is the most remote and highest village in Pakistan.
Shigar Fort
Shigar fort is built on a hilltop that overlooks the valley. It was built in the 17th century by the Raja of the Amacha Dynasty and renovated in 2005 by Aga Khan Cultural Service Pakistan.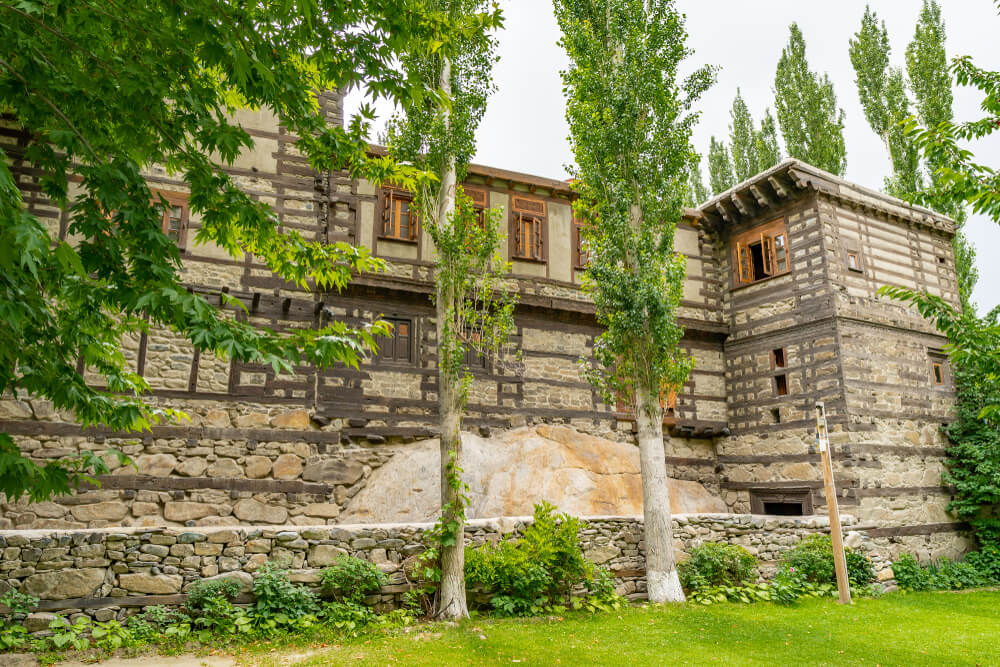 The fort is open to visitors and houses a museum showcasing the history of Shigar valley. Also, it houses a luxury hotel managed by Serena hotels.
Khilingrong Mosque
This mosque is located in Shigar town at an altitude of 2300 m. It's a wooden mosque near the Shigar fort and is older than 400 years. It's a unique two-story building, and the ground floor is used in winter while the first floor is used in summer.
The initial structure of the mosque was quite traditional, with stone and timber used in its construction.
Amburiq Mosque
It's a historical mosque located in Shigar, Gilgit Baltistan region. It's one of the oldest and most famous landmarks in the Gilgit Baltistan region; Syed Ali Hamdani built it. The mosque has beautiful Islamic architecture and was built in the 14 century.
It represents the first Islamic religious monument in the valley. The mosque was built by Iranian craftsmen traveling with Syed Ali Hamdani, a Kashmiri preacher.
The mosque underwent severe deterioration with time but was later restored, keeping the original structure intact.
Blind Lake
The blind lake, Zharba Tso, is a scenic and far-reaching lake. This lake is used as a water reservoir by the valley's inhabitants.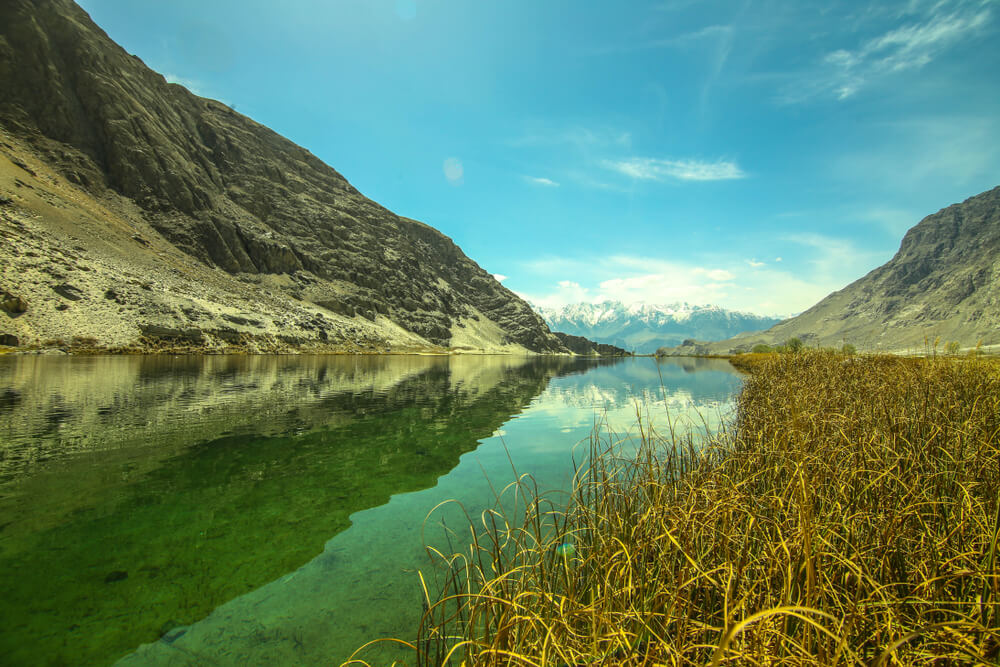 The Blind lake is situated at an altitude of 2700m and is surrounded by snow-capped mountains and lush green meadows; it's one of the popular tourist attractions in the valley. It's a natural freshwater lake with clear waters that can be reached by trekking from Shigar valley.
Things to Do in Shigar Valley
Regarding activities and entertainment, the valley leaves no stone unturned. There are great activities to do while enjoying the serene beauty of the valley, such as:
Trekking
The beautiful and adventurous trekking trails will give you an incredible experience you won't forget for a long time. You can explore the snow-capped mountains and the lush green meadows during your trek.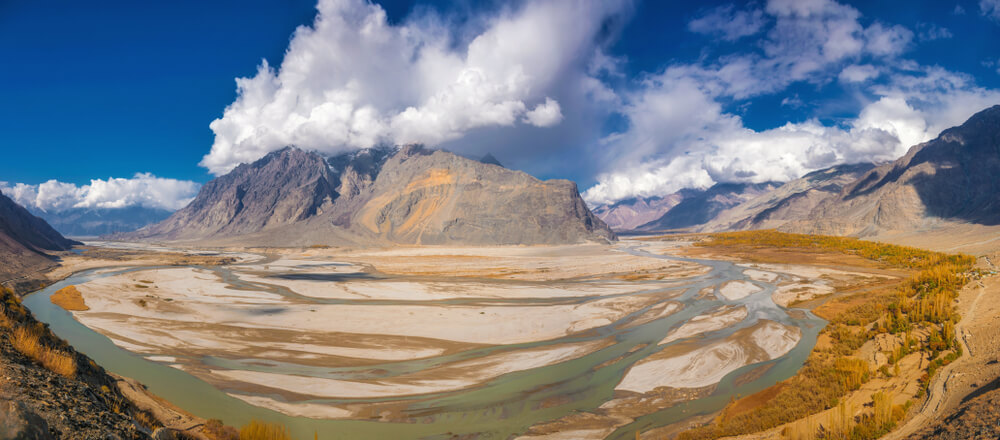 Trekking has always been a favorite activity for tourists exploring the Shigar valley. The mountains give many beautiful treks in the mesmerizing valley. For instance, one can trek towards the Baltoro glacier, the longest glacier; however, this trek is not for casual tourists visiting the valley and needs expertise.
Hiking
The trail is a great way to explore the beauty of this place. You can choose different levels and routes suitable for all kinds of hikers, from beginners to experts. If you are an experienced hiker, you can enjoy incredible views from higher elevations.
Mountaineering
The Shigar Valley is surrounded by some of the most majestic peaks in the Karakoram and Himalayan mountain ranges, such as K2, Broad Peak, and Gasherbrum, making it a paradise for mountaineers. Experienced climbers can explore these remote areas of the valley to experience its breathtaking beauty and challenging terrain.
River Rafting Shigar River
The Shigar River is one of the best rivers to go river rafting in Pakistan. The rapids on the river provide a great challenge for experienced rafters, while beginners can also enjoy the stunning scenery and exciting rapids.
The ideal time for river rafting is from July to September, as the winter months can be harsh. So book your trip ahead of time to make the most out of this experience.
How to Reach Shigar Valley?
The best way to reach here is by road from Skardu town. It will hardly take one hour and 30 minutes if you travel in a jeep from Skardu via Shigar road.
If you are traveling from Islamabad or Lahore, you can take a bus to Skardu and then a private jeep to Shigar Valley. In addition, there are one-hour scheduled flights between Islamabad and Skardu airports.
So you can also take a flight from Islamabad or Lahore to Skardu airport and hire a jeep to reach the valley.
What's the Best Place to Stay in Shigar Valley?
There are several great places to stay in the Valley. Not only do these places offer a comfortable and luxurious experience, but they are also quite budget-friendly.
Serena Shigar Fort
If you are looking for a luxury stay, you can try out the Serena Shigar Fort, located in the heart of the valley and offers stunning views of its surrounding mountains. Also, you'll enjoy the historical Shigar fort by staying inside it.
Space Hotel Shigar
If you want a traditional yet luxurious experience, you should visit Space hotel Shigar. It also features a restaurant and garden from where you can enjoy the mesmerizing views of the valley. Also, it is equipped with all the basic amenities.
Hotel River View Shigar
This hotel offers a classic and royal experience that you will remember for a long. It also features several activities such as camping, rock climbing, trekking, and bird watching to make your stay more enjoyable.
Plenty of small local guesthouses are available for budget accommodation in Askole Town. These places offer basic facilities such as beds, washrooms, and meals for a very reasonable price.
Location of Shigar Valley
Shigar valley is a beautiful valley in Gilgit Baltistan, Northern Pakistan. The valley is watered by the Shigar river and is centered in the middle of Shigar. The valley is about 170 km long and stretches from Skardu to Askole; it serves as a gateway to the beautiful mountains of Karakorum.
Frequently Asked Questions
Why is the Shigar Valley worth visiting?
It is a haven for nature and adventure lovers alike. The valley is best known for its snow-capped mountain peaks, lush green forests, exotic wildlife, crystal clear rivers, and mesmerizing views of the mighty Karakoram mountain range. Moreover, the valley offers an ideal environment for trekking, mountaineering, and rafting in the Shigar river.
The region is also home to several historical and archaeological sites, including Shigar Fort, Khilingrong Mosque, Amburiq Mosque, and the Blind Lake. All these attractions make the valley a must-visit destination for all travelers.
How Far is it between Shigar Valley and Skardu?
The Valley is located about 50 kilometers from Skardu, making it a convenient day trip for those already visiting the city. The journey between the two popular destinations usually takes around 2 hours by road.
However, there are other travel methods, like taking a direct flight from Islamabad or Gilgit. Regardless of the mode of transportation, this trip is worth taking for its stunning views and attractions.
It is a spectacular destination located in Gilgit-Baltistan, Pakistan. This area offers travelers unique attractions like the Sarfaranga Cold Desert, Shigar Fort, and Blind Lake.
In short, visiting this valley is a memorable experience. From trekking up the hills to rafting along the Shigar River, there are plenty of things to do in this gorgeous valley. Additionally, the ease of access and hospitable locals make it an ideal destination for tourists. So if you're searching for a place worth visiting, look no further than the Shigar Valley.