Ghizer Valley – A Picturesque Valley of The Ghizer District
Pakistan has a truckload of beautiful valleys; you must know this by now. The good part is that all these valleys are somehow accessible, and one can enjoy mother nature to its fullest while in Pakistan. One such valley that's waiting for explorers and adventurers is Ghizer valley in Pakistan. The valley is undoubtedly the most beautiful in Gilgit Baltistan. It would be justified to name it a paradise on earth because it looks like one.
Gilgit Baltistan is famous for its picturesque lakes, lush green fields, snow-capped mountains, and glaciers. In addition, some numerous stunning valleys and grasslands will take you to another world. But still, Ghizer valley tops the list.
It is situated in northern Pakistan, the Gilgit Baltistan province. This valley is surrounded by snow-capped mountains from all sides, which makes it quite eye-catching. The culture of the valley is vibrant. People here still follow age-old traditions and cultural customs like weddings, festivals, etc.
The inhabitants are the most polite, warm, and hospitable people you'll ever meet. Of course, it's a multi-ethnic place, and people speak different languages and belong to other cultures. But still, the air of the valley has honesty, friendship, and respect everywhere.
The Valley has plenty of things to do, like fishing, trekking, hiking, etc. So let's explore more about what to do when you're there.
History
Ghizer district is the westernmost part of Gilgit Baltistan and was formed in 1974. If we look back at the history of this place, the region was ruled by indigenous rajas (Brushay, Katuray, Khoshwatay). All these tribes were considered brothers as they had peace and harmony.
However, some Balti Mehtars also governed this region during Mehraja's period. Katur Dynasty took the most extended rule, and the governance got divided between Maharaja of Kashmir and Mehtar of Chitral.
In 1895, all the areas were taken over by the Gilgit Agency; then, the Gilgit agency was ruled by the British Government, not by the Kashmiri rulers.
The most central part of the district is Tehsil Gupis, and so many lush green places were also part of history.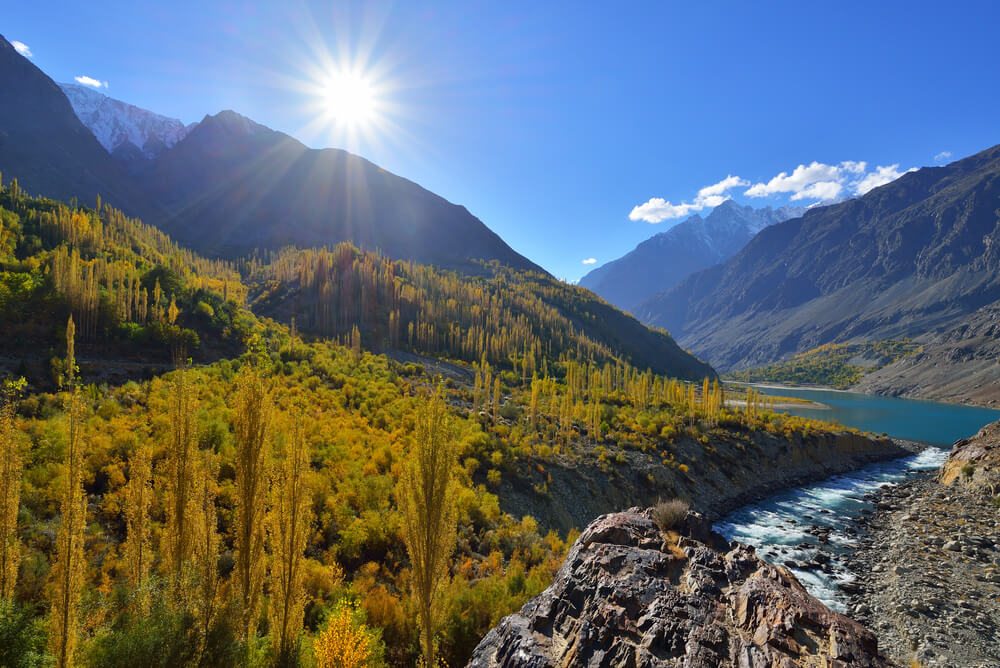 The Rajas of Yasin Suleman Shah and Gohar Aman extended or spread their power to Gilgit Bagrot by pushing back Dogras. At some specific point in history, they remained undefeated rulers from Yasin to Gilgit.
But later on, Raja Gohar Aman died due to internal conflicts and conspiracies, the Dogras of Maharaja Kashmir came to Yasin, and the Mudoori debacle occurred in Yasin. These Mudooris weren't only against the Mehtars and the Muslims of this region. The whole territory of the Ghizer district was under FCR from 1947 to 1972.
Weather
The climate is quite extreme, with freezing winters and mild summers. Heavy snowfall can often be seen in winter months. The average annual temperature nearby valleys are 19 degrees, with 429 mm of annual rainfall.
The weather conditions most of the year are ideal for outdoor activities such as fishing and trekking. Even during summer, the climate remains calm and pleasant with low humidity.
Geography
Ghizer Valley is located in the northernmost region of Pakistan, situated in Gilgit Baltistan province at an elevation of around 2362 meters above sea level. It's in the extreme north of the country, and the capital of this district is Gakuch.
Geographically, Ghizer borders the Wakhan strip of Afghanistan on its northwest and China on its Northern side. The Chitral of KPK is on the west, and the Gilgit district is on its eastern side.
Gupis is a district valley and serves as the connecting point between Yasin and Phander valley. It's the most central part of all valleys like Yasin, Poniyal, and Phander. The valley is nestled between the world's most incredible mountain ranges, Hindukush and Karakorum.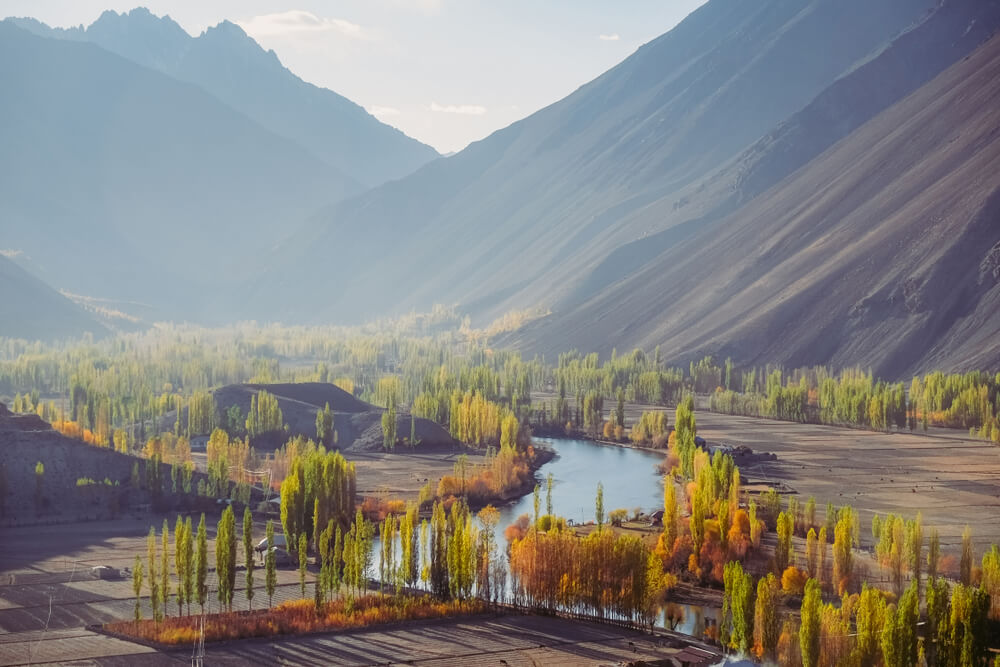 The highest peak of this district is Koyo Zam which is on the boundary between Chitral and Ghizer districts. Some of the beautiful valleys in this region are Golaghmuli valley, Ishkoman valley, and Yasin valley.
When to Visit?
The best time to visit the valley is between April and June, when temperatures are more pleasant and green valleys bloom. However, if you want to see this place in winter, you'll be welcomed by plenty of snow. But the routes are mostly blocked, and you might face inconvenience, so it's always better to go in summer or spring.
Remember to bring your necessary gear for fishing or hiking as the area is a bit remote, and you won't be able to find stuff there. Also, the prices are pretty high in such areas.
Culture of Ghizer Valley
Ghizer comes from "Gherz," which means refugees in Khowar. When the Mehtar of Chitral did injustice to their people and forced them out of the Chitral, they migrated towards Gupis and settled in an area between Chitral and Gupis called Gherz.
The locals' culture in the Valley is diverse, as people belonging to various ethnic groups are found here. However, the predominant language spoken here is Shina, while a few also speak Burushaski and Wakhi.
The locals are friendly, hospitable people. You'll find many colorful festivals, such as the Chilam Joshi Festival in May, the Jashn-e-Takham Razi, and the Shandur Polo festival in July. The Chilam Joshi festival is held in Chitral, which is quite close to Ghizer, so inhabitants here also participate fully.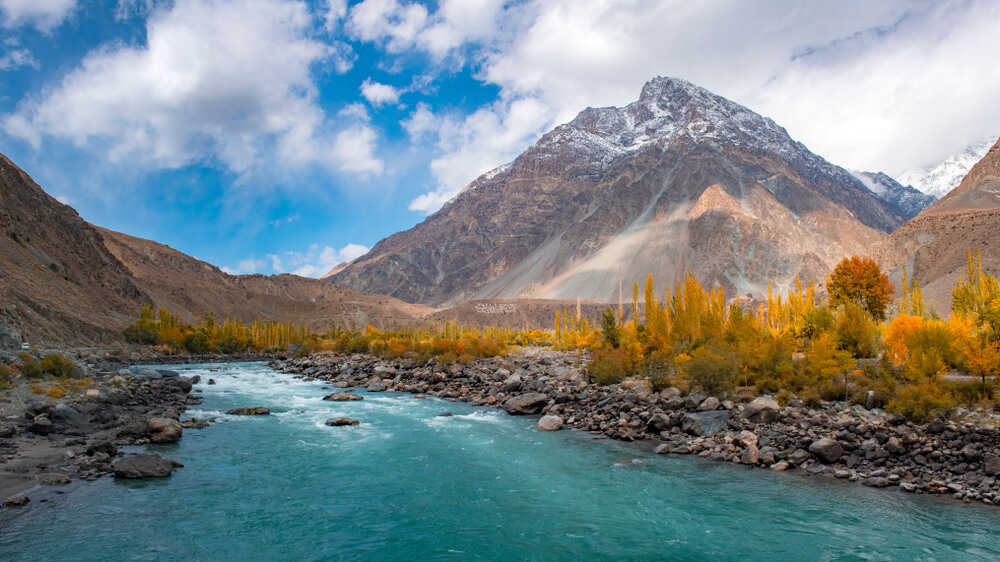 These festivals are the main attraction for tourists exploring this beautiful area. However, tourists can also enjoy traditional cultural activities such as music and dance performances, local games and races, food stalls, bonfires, and camping night stays.
Things to Do
Ghizer valley is a place full of activities where one can be entertained until they are tired and have lots of memories to take back home. The region is known for its lakes and landscapes, and one can enjoy the beauty of mother nature with lots of other activities. Here's an outlook of different activities.
Fishing at Ghizer Valley
Fishing is a popular activity in the Valley, and its waters are teeming with trout. This place is considered one of the country's best fishing spots.
You can rent a fishing rod or bring your own and prepare for fun-filled hours of catching trout. Then, set up your barbecue area and enjoy fresh fish grilled with perfect spices; that's food with a view.
Trekking at Ghizer Valley
The Valley offers breathtaking trekking trails with stunning views of the surrounding mountains and valleys. Trekking is one of the most popular activities, as it provides a perfect opportunity to explore the breathtaking landscapes of this region.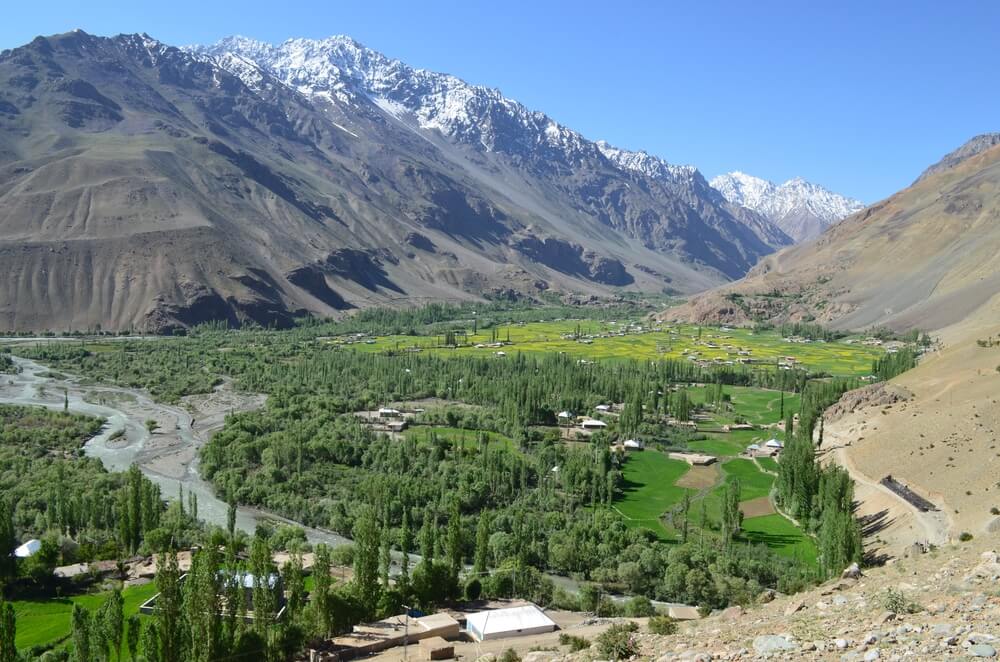 The mountains are covered in lush green meadows and snow-capped peaks, making it one of the best places to trek in Pakistan. Depending on your skills and fitness levels, you can choose from various trekking trails ranging from easy to complex.
Hiking at Ghizer Valley
Hiking through the lush landscapes of the valley is an unforgettable experience for adventure seekers. Therefore, you should come prepared with the right gear if you plan to hike in the valley.
However, the perfect time for hiking is during the summer months because, in winter, the snow can make it a challenge for you. So if you plan to hike in the valley, it's best to avoid November to March.
Ghizer Valley Popular Attractions
There are many spots to explore here, some untouched by tourists. For those interested in history and culture, there are plenty of attractions to explore in this area, including valleys, lakes, and mountains. So what are you waiting for? Let's explore some of the top places in the Valley:
Yasin Valley
Yasin is a picturesque valley situated in the northern part of the Gupis Yasin district. It has lush green meadows, streams, and forests, making it popular among hikers and trekkers.
The valley is also known as the "Land of Martyrs" and is around 148 km from the city of Gilgit. Hawaldar Lalak Jaan, who received Nishan e Haider for his bravery in the Kargil war, belonged to the Yasin region.
The main languages in this region are Brushishki and Khowar, which are adjacent to Chitral and Wakhan through Darkot Pass.
Phandar Valley
Phandar valley is a beautiful settlement and valley located in the Ghizer district of Gilgit Baltistan, Pakistan. It borders Afghanistan and is known for its picturesque landscape that consists of meadows, hot springs, and streams.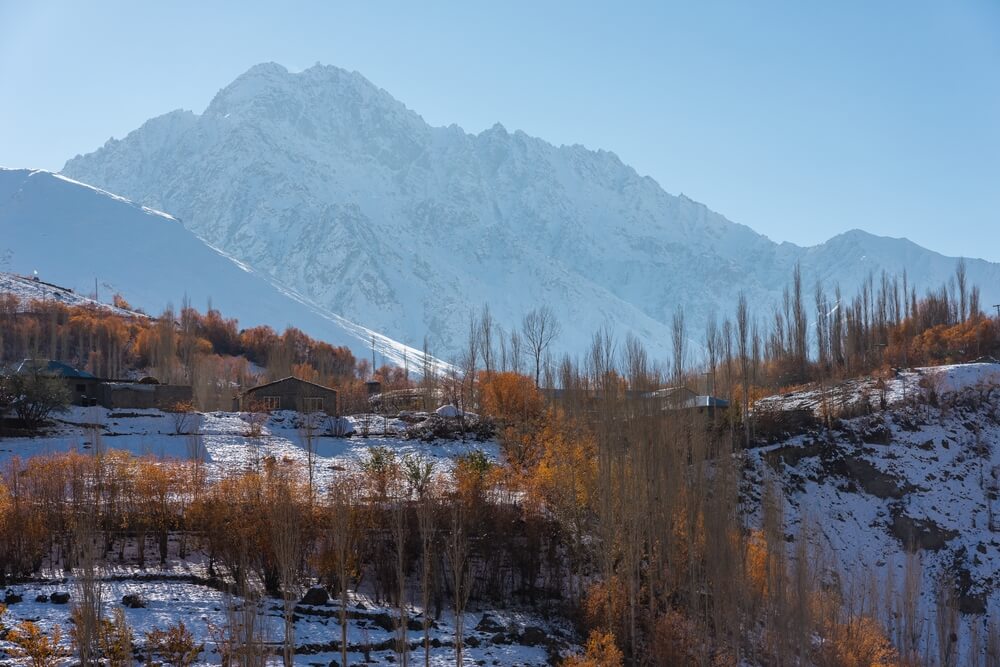 The Hindukush mountain embracing this place makes it a perfect spot for trekking and mountaineering and thus attracts tourists and climbers from all over the world.
Khalti
Khalti lake is located in the Ghizer district of Gilgit Baltistan, Pakistan. It is an alpine lake situated at an altitude of 2217 meters and surrounded by a lush green meadow. Khalti Lake is known for its breathtaking views and pristine waters, ideal for fishing and other water activities. The exact location of this lake is near Khalti village on a bend of the Ghizer river.
The Hindukush mountains stand near the lake, making it even more picturesque. Moreover, the area near the lake is known for its tranquility and serenity; one can hear birds chirping.
Hundrap Gupis
Hundrap or Handara lake is one of the most popular attractions in the Gupis Yasin District. It is a beautiful lake surrounded by lush green meadows and majestic mountains.
The snow-covered mountains add to their beauty and are of different shapes, like conical and cylindrical. This body of water provides an ideal environment for fishing and trekking. The surrounding area has plenty to explore, like numerous hiking trails and bird-watching spots.
Gilgit River
Gilgit River is a tributary of the Indus river and runs through the entire Ghizer Valley, Gupis Yasin, and Gilgit districts. This river has a history and is a popular destination for travelers looking to experience nature at its best.
The crystal clear water of this river provides a fantastic view, and the river begins from Shandur lake and joins the Indus river near the towns of Bunji and Jaglot. The three mountain ranges Karakorum, Himalaya, and Hindukush are also believed to meet, thus making it an important point.
How to Reach Ghizer Valley?
The valley is situated in the Gilgit Baltistan region of Pakistan and can be reached by road. However, the distance from Islamabad to Gilgit is approximately 520 km, and it would take a person 12 hours to get there via the N-35 highway.
But driving for that long time isn't possible, so one can take breaks in between with stays over different places that come in the way.
Location of Ghizer Valley
Ghizer valley is located on the westernmost point of the Gilgit-Baltistan region of Pakistan. The capital of this area is Gahkuch. It is also crossroads between Chitral and Gilgit via the Shandur pass and connects to China and Tajikistan via the Broghil Pass.
Frequently Asked Questions
What is Ghizer Valley famous for?
Ghizer valley is considered one of the most beautiful places in Pakistan due to its mesmerizing landscape, diverse flora and fauna, numerous high-altitude lakes and rivers, and picturesque villages nestled amidst meadows of wildflowers.
What is the population of district Ghizer?
According to the 2017 census, the population of the Ghizer district is approximately 230,000 people.
Most of the population are Gilgiti-Balti-speaking people who follow the Shia faith. However, there are also small communities from other ethnic groups like Wakhi and Khowar and religions like Sunnis and Ismailis. The district is home to various cultural practices, festivals, and languages that harmonize different communities. Tourists from around the world come to this valley for its captivating beauty and the traditional hospitality of locals.
Ghizer Valley in Pakistan has much to offer its visitors. The northeast part of the valley is covered with alpine meadows, forests, and glistening rivers, while the western side provides an arid region with vast dunes and snow-capped mountains. Fishing at one of the many ice-cold rivers in this valley is a popular activity for tourists seeking to take in the beauty of the Valley.
Tourists can also participate in cultural events, such as festivals or traditional dances, and learn more about the unique culture of Ghizer Valley.
So plan your trip to the Valley and experience its beauty, culture, and hospitality!