Water Parks in Karachi
As you know, the water park sees a massive influx of visitors as summer approaches. Families frequently bring their young and old children to the water parks. On weekends, you may observe tourists from other areas in these parks, and thanks to these parks, their dull day, made so by the fearful heat of the Pakistani summers, becomes pleasant. In addition to providing a secure sanctuary to cool off, Karachi contains several fantastic water parks you may visit with family or friends. In fact, throughout the summer, everyone in Karachi flocks to the city's water parks to spend time with friends and family, have lunch, and take in the breathtaking scenery. There are several lovely water parks in Karachi, but today we're going to tell you about the top 10.
List of WaterParks in Karachi
Here are the descriptions of waterparks that are considered to be top in Karachi.
Fiesta WaterPark
Cosy WaterPark
Dreamworld
Sunway Lagoon WaterPark
Wild Venture WaterPark
Picnic World WaterPark
Al Mehran WaterPark
Samzu WaterPark
Burhani Recreational Park
Paradise Island WaterPark Gharo
Water Parks in Karachi
The water parks of Karachi represent the great innovative age Pakistan is slowly entering. The marvelous structures of these water parks attract many people from Karachi and from outside Karachi. People from many cities visit these water parks with their families and children in huge numbers. The water parks are highly developed and offer additional entertainment for children and adults. The Famous Water Parks in Karachi are the spots of daily attraction for nearby families. These Best Water Parks in Karachi are among the greatest tourist attraction in Karachi. The beautiful sceneries of the water parks often undo and out-perform the magnificent outlooks of many other great attractions. The water parks are built and styled in the western style, which means they contain a lot of playful structures and buildings which further let you enjoy the whole experience. The water parks not only have slides but, among slides, many other structures made for children to help keep them engaged and active during their time here.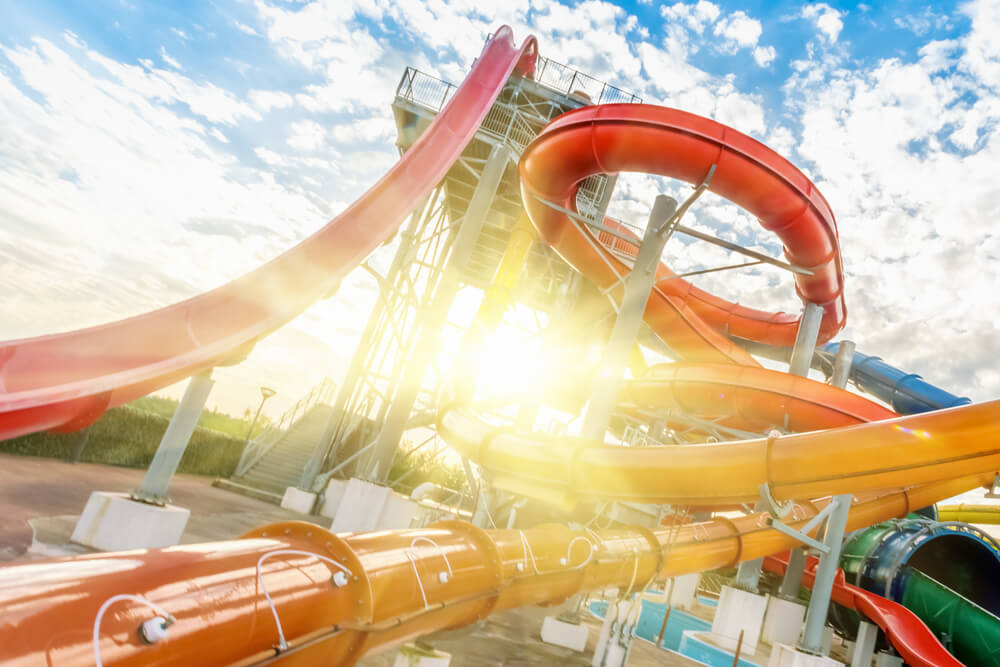 What Things Should you Pack Before Going to a Water Park?
The things which can assist you in making your trip and experience comfortable can be easily found at the water parks. The water park shops have the necessary equipment, like personal floatable devices. The devices keep the person afloat and save them from drowning if they do not know how to swim. The floatable devices are most useful for children since the children are partially submerged in water after taking a slide ride into the water. Still, the devices instantly bring them out of the water, so parents do not need to worry.
10 Best Water Parks in Karachi, Pakistan
Here is the list of Karachi's best, most visited, and loved water parks. These water parks are spots of great daily and weekly entertainment and attraction for many families. The general vibe and the outlook of these gigantic and modern water parks make them the best attractions for friendly or familial entertainment.
Fiesta Water Park
Several water parks in Karachi are appropriate for families. The 55-acre Fiesta Water Park, situated on the outskirts of Karachi, has more than 15 exciting attractions suitable for adults and children. The park is perfect for group reservations for adult professional meetings, student group gatherings, or parties if you want a safe and secure place to have fun afterward.
Along with water-based entertainment, Fiesta Water Park's restaurant serves up some delectable meals, and the restaurants take care of customers' needs regarding food. This saves the person the trouble of bringing their barbeque equipment and cooking their food. The restaurants are highly commendable and can help you retire in recreation after spending time in the water parks. The restaurants offer a variety of drinks, beverages, fast and light food, snacks, and biscuits, which will get your energy up after playing in the water for too long. The hold of water on a person's body can be intense. It takes a lot of power when you are trying to swim or get across the pool, so each visitor welcomes the presence of restaurants. The Fiesta water park is among the International Association of Amusement Parks and Attractions members (IAAPA).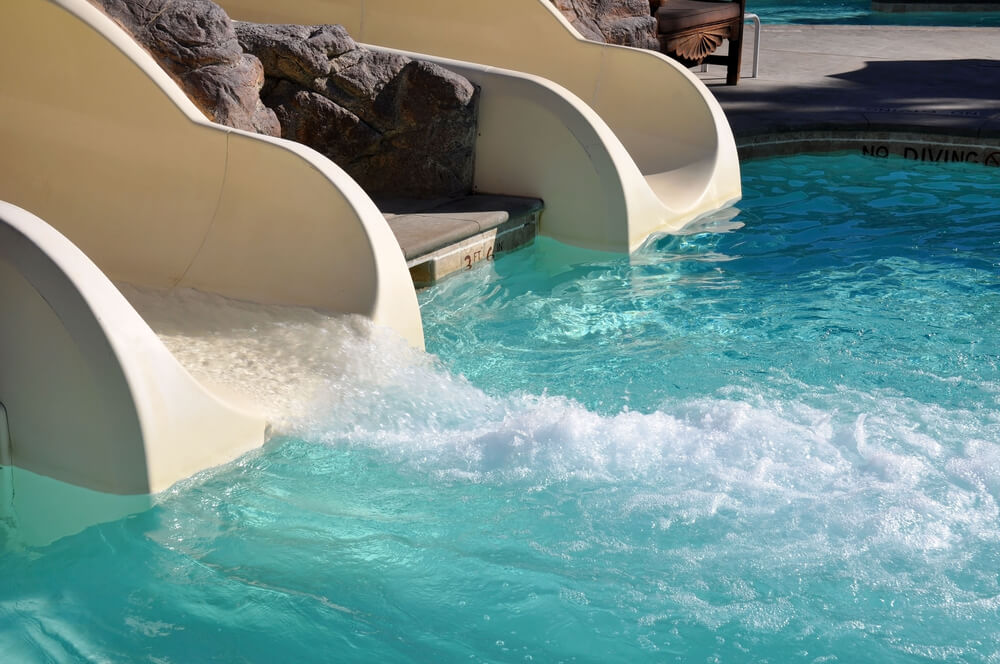 Ideally situated on the M-9 Karachi to Hyderabad Motorway, Fiesta Water Park is only 30 minutes from Sohrab Goth. The Great Fiesta Water Park is located on the other side of the road from Bahria Town in Karachi to DHA City in Hyderabad. You can get there by passing Karachi's Bahria Town and turning around at the next bridge to go to the opposite side of the street. The park is also accessible from the National Highway by using the link road that runs parallel to it and joins it to the M-9 Motorway. Before the National Highway Toll Plaza, this route takes you past Steel Town and the Jinnah International Airport.
There are a variety of slides, zig-zagging tunnels, wave pools, and other attractions at Fiesta Water Park. Here, at least six mainly created attractions and play areas for youngsters and more than 12 thrilling thrills for adults. Adult rides are more appropriate for mature persons rather than children. Because of the limit to the thrill, the children are kept secure. The children's rides are more children-appropriate and more confident, while the rides for adults are more thrilling, scary, and entertaining.
Adult rides are Turbo Cyclone, Pendulum, Boomrengo, Big Monster, Rainbow, Free Fall, Wave Pool, and the Cyclone. At the same time, the more children-friendly rides include Rim Jhim, Family Slide, The Jungle, Aqua Play, Mini Titanic Ship, and Cyclone Pool.
Furthermore, the park provides additional healthcare and safety facilities. There are creatively made sun shades where you can rest and dry off quickly and enjoy snacks from the tuck shops. The park also offers floatable devices like tubes and eye safety water equipment like goggles so you can see underwater. The park authorities offer safe personal lockers during your visit to keep your things safe and secure. You can put your phones, wallets, purses, keys, cash, cards, etc., in these lockers and enjoy your experience quickly. There are also showers and gender-segregated changing areas for adults and kids.
The park is open all seven days from 10:00 AM to 6:00 PM in the evenings. Visitors from outer cities set out in the early morning to get here shortly after or before the water park opens. The contact numbers for further details are 0333-3529940, 0333-352995041, and 0336-3529940 0336-3529941. The ticket price is 1200, and children up to 1 year can enter free of cost.
Cosy Water Park
One of Karachi's most well-known water parks is Cosy Water Park. The water park is the closest in the city due to its proximity. The cost of the tickets is also very reasonable. Cosy Water Park offers families, teenagers, and kids a safe atmosphere to enjoy summer vacations over a 20-acre area. While other water parks, including Sunway Lagoon Water Park, located outside the city in Gharo, are located outside the city, its proximity makes it a great picnic location for children. This attribute is desirable for all people since they do not have to travel long from town to get here. The water park's admission and transportation costs are some of the lowest in Karachi. The price of the tickets is as follows for both adults and children:
Adults (those who are over 4.5 feet tall): Rs 700.
And Rs 500 for kids 4.5 feet and under.
In addition, the water park's management provides special discounts. A 20% discount is offered to groups of 100 individuals, while schools, colleges, and institutions are given a customized package based on the number of pupils. Any vehicle, whether a car, motorcycle, bus, van, or another, is subject to a parking fee of Rs. 20. Here, you do not need to worry about your belongings being stolen since park security takes care of all that. Cosy Water Park is one of the few water parks in Pakistan that isn't exclusively for men. It is enjoyable for everyone, including adults, adolescents, and children of either gender.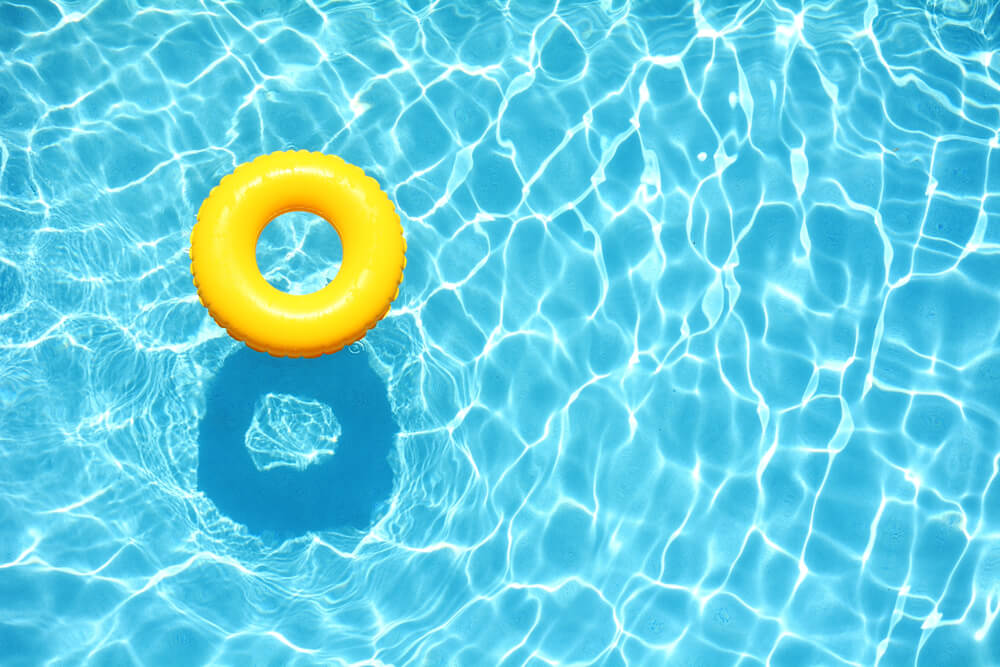 The most significant attractions of the park are the giant pools and beautifully made water slides. The amphibian slide is so constructed after its name, in the shape of a sizeable slimy tube leading to the pool. The mystery tunnel and fast and furious rapid slides are another great attraction here as they add incredible thrill to the water park experience. Besides these are quick twin slides parallel to each other, the family jumbo and sliced python rides.
The park is open every year from 10:00 AM to 6:00 PM. In the case of winter, the park closes at 5:00 PM since it gets dark earlier. The largest water park in the city is Cosy Water Park, which is close to Gulshan-e-Maymar. Any further information can be collected by contacting 0336 2137355.
Dreamworld
Dreamworld water park is a resort where people enjoy it with their family and friends. The resort is also considered one of Karachi's best family water parks. There are swimming pools for tourists and visitors with an artificial lake, a wave pool, and simple pools. There are also separate pools for men and women. These pools have round water slides for adults and flatwater slides for adults and children. You can swim in these pools and take water slides. These pools also have boating, and inflatable pool floats for children, which makes the children enjoy swimming a lot.
Dreamworld is the ideal destination if you want to spend these hot summer days with your friends and family. The location has it all, including a sizable pool where you can spend hours swimming and taking advantage of all its attractions, including giant slides and several inflatable floats. There are three distinct pools for those who dare to go down the enormous kamikaze slides. The resort features a children's pool area and a water fountain where you and your children can play in the rain and enjoy it in the sweltering heat.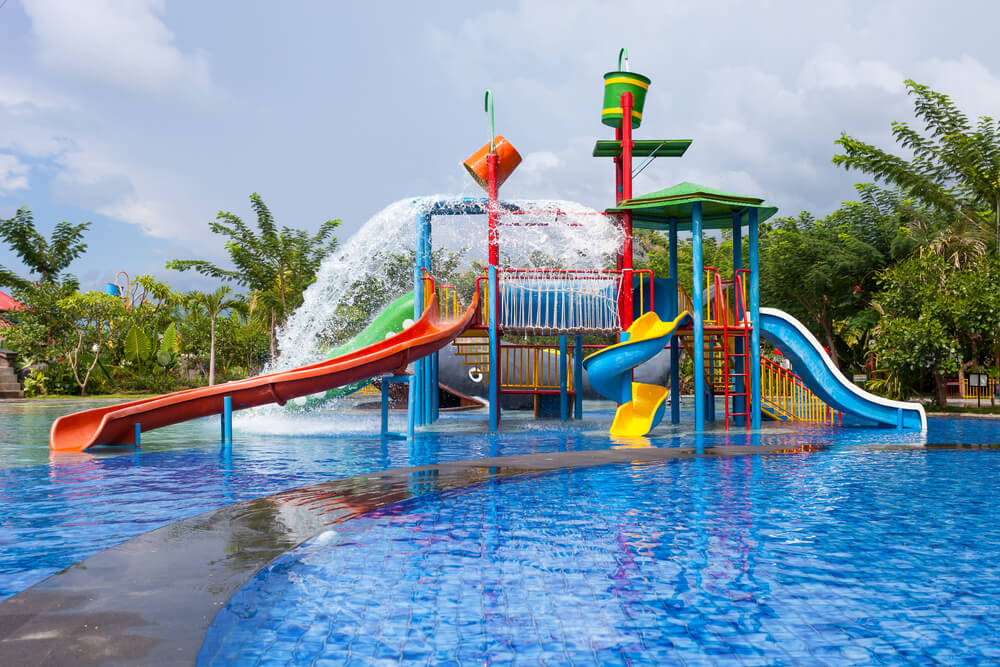 The resort also boasts a sizable artificial sea for those who want to experience the ocean under the scorching sun. The location also contains a swimming pool for women, complete with its amenities, and a boat-only artificial lake. Dreamworld disproves your belief that one resort on its own could not possibly have any more amenities. The park features eight water attractions and other indoor and outdoor activities like a pool table, arcade games, bowling lanes, horseback riding, motor and bike racing, and much more. Above all, the resort offers a lot of grass, where you can sit down, unwind, and eat meals from one of the many restaurants operating inside the resort after a long day of enjoying these attractions.
The membership fee is 25,000 per head, while the entry fee per person per day is 2,500. The park is open from 10:00 AM to 6:00 PM from morning to evening. While some activities relating to the water close at six, others are kept open till late at night. The resort is found at Opposite Block-R, Gulshan-e-Maymar, Karachi.
Sunway Lagoon Water Park
The Sunway Lagoon Water Park Karachi is one of the city's most well-known water parks. A 42-acre expanse of lush green grass covers the area, and lovely coconut palms line the walkways, providing shade from the glaring heat. Sunway Lagoon is the ideal place to enjoy a summer day with your family, with more than 25 slides and 12 pools.
The water park, which adheres to international standards, features numerous pools, including a sizable central pool, kids' pools, mega pools, spiral pools, and women-only and lovely pools. With the largest pool in Pakistan and the newest wave machine, Sunway Lagoon Water Park can boast that its visitors will feel like they are in the ocean. Along with a tube shop where your children may purchase any pool-related accessories, the park also includes a covered cafeteria where you and your children can obtain all the refreshments you need to fight against the extreme heat.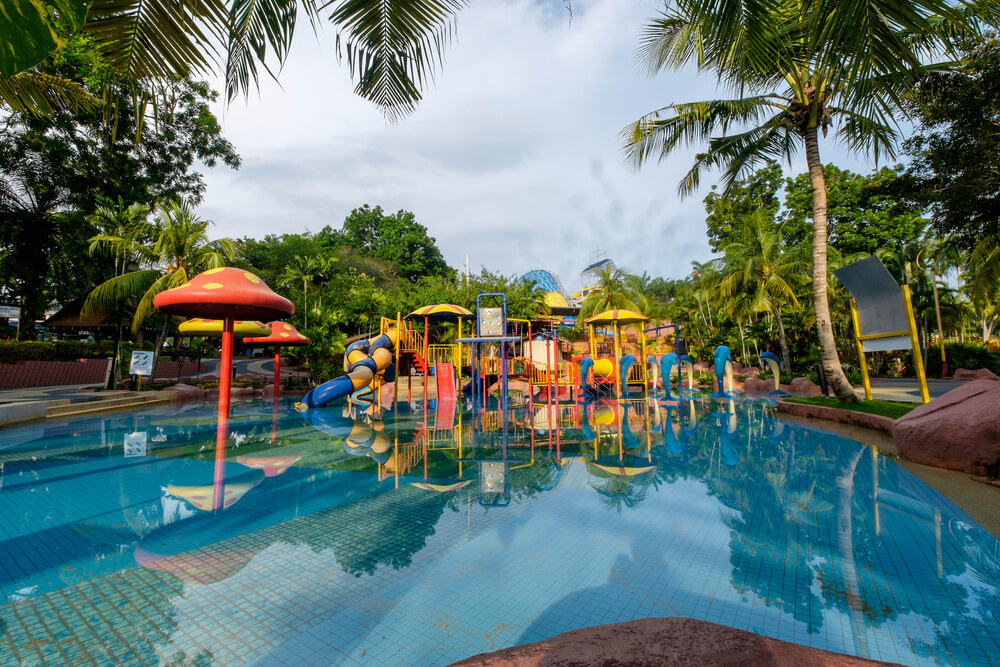 The entry fee per head is 1,200 Rs. At the same time, there are no entry charges for kids under three. Each weekday's timings are from 10 in the morning to 5 in the evening. Saturdays are reserved for family-only groups and do not admit solitary or friends or student groups. The park is 6.5 KM away from Gharo City, Main National Highway, District Thatta, Sindh.
Wild Venture Water Park
Wild Venture Water Park Karachi is a vacation destination in the City of Lights that offers a picturesque setting and lots of fun, as suggested by its name. The resort-cum-water park, one of the most famous tourist destinations in the city, is well known for its stunning vegetation, swinging trees, first-rate services, and clean water swimming pool. Quaint gazebos, stunning architecture, and eateries in Karachi's Wild Venture Park serve as another attraction for tourists. Even though Karachi has many water parks, this resort stands above the rest. Without a doubt, eating is the best part of any trip spent with family or friends. The resort also has a restaurant, which will help you remember this vacation forever. Guests can pick up snacks, a nice cup of tea, or other beverages to accompany their stay.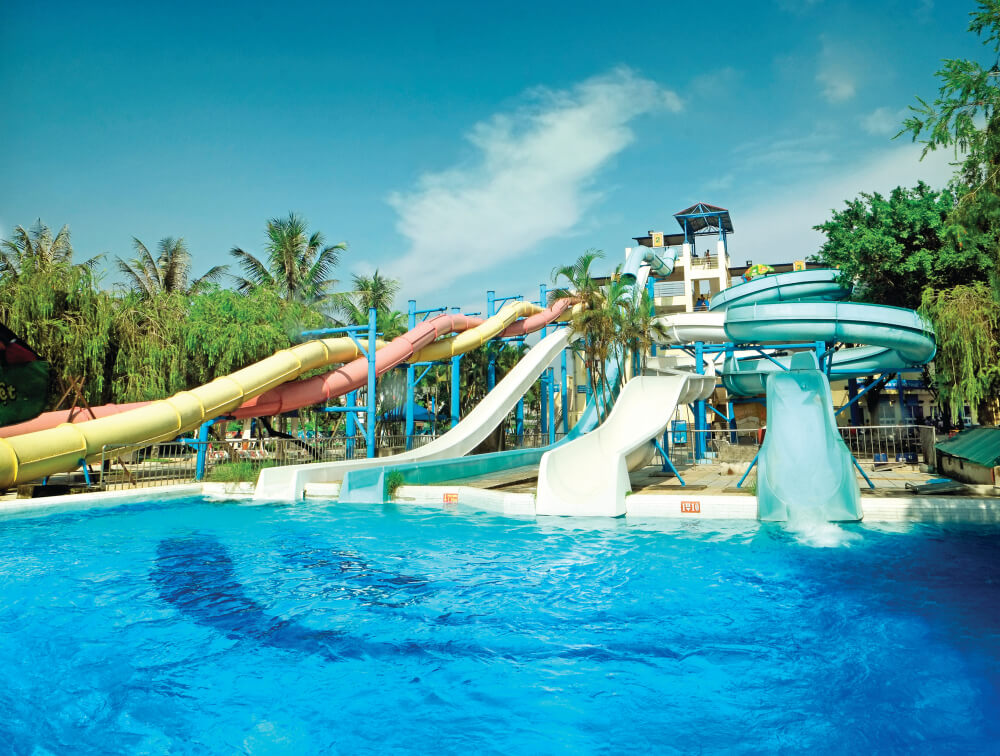 The park is open from 10:00 AM to 5:00 PM from Mondays to Fridays. On Saturday, the park is open from 10:00 AM to 5:30 PM, but on Sundays, it is available for 12 consistent hours, from 10:00 AM to 10:00 PM, making it an extra special weekend for family and friends.
Picnic World Water Park
Picnic World Karachi, which spans a 3-acre space, offers you the ideal respite from the hustle and bustle of the city. The park provides many incredible water features that amuse children and adults. To keep the kids occupied while you select and use the slides best fitted for your excursion, such as the Lazy River and the Hurricane Pool, Picnic World Water Park features eight slides, each of which has a unique feature. It is the ideal location for anyone who wants to spend some quality time with their families, resting and in complete joy.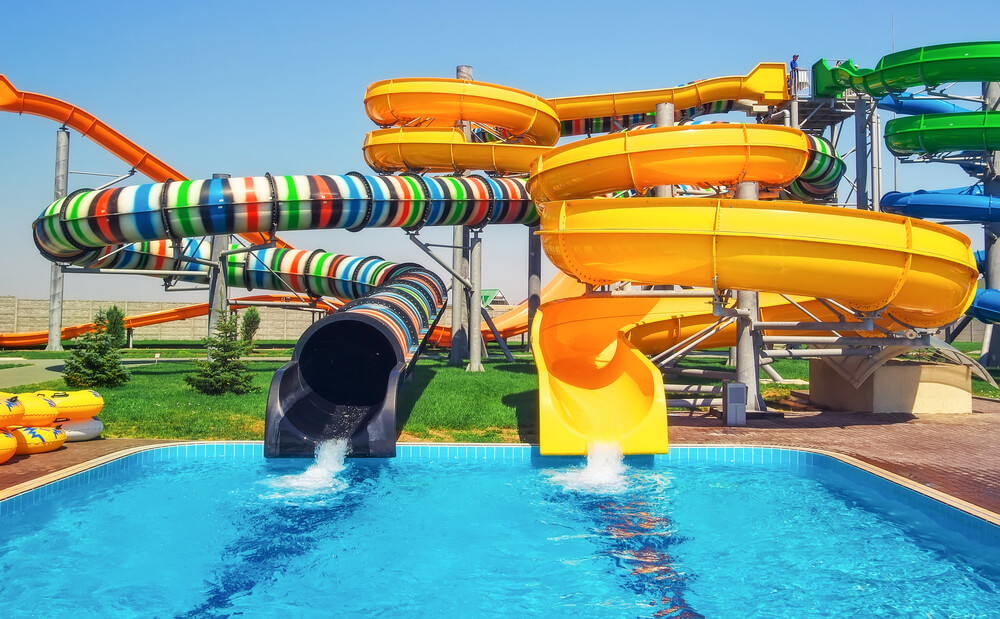 The ticket prices are very reasonable for entry to this magnificent water park. Each adult has to pay 600 Rs. for admission, while for kids under four, the price is 250 per head. The park is open from 9:00 AM to 6:00 PM, which is longer than other famous parks. The park is located at Main Super Highway, Memon Goth Road, Karachi.
Al Mehran Waterpark
A modest water park called Al-Mehran has just two pools for adults and two different kinds of slides. People may beat the summer heat with their pals in a pool with numerous rainbow slides. This park is not as big as any other one mentioned above. All the attractions are moderate and serve their purpose well against heat while providing enough entertainment for others. There are green gardens and huts to sit down, rest, and have drinks for people not engaged in water sports.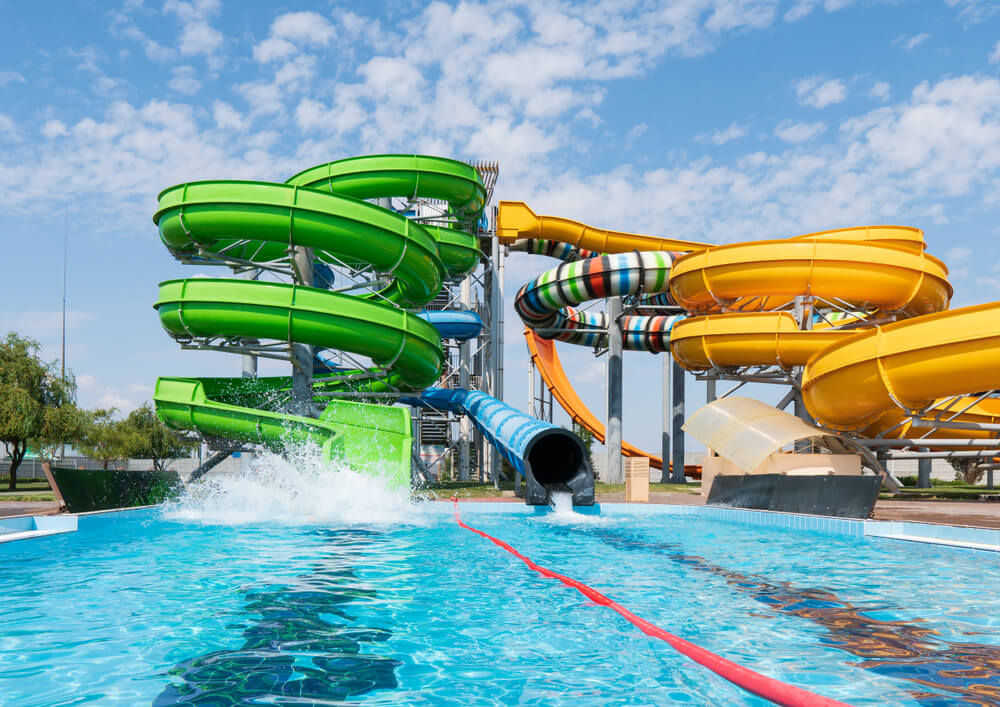 The park is open from 10:00 to 5 in the evening. The park is very accessible because of its location. The exact location is Al-Mehran Waterpark Behind Al-Habib Restaurant, Near Northern Bypass Main Super Highway. The Phone Numbers for personal contact are 0300-3592402 and 0300-9288548.
Samzu Waterpark
The most alluring fun-filled waterpark for all ages is Samzu Water Park Karachi, situated in Deh Shah Mureed, Sindh, Pakistan. There is plenty of room for tourists to take advantage of all the amenities Karachi's Samzu Waterpark offers. The distance from Hyderabad to Samzu Water Park in Karachi is around 147 kilometers or 2 hours. From this point on, the distance by automobile from Karachi to Samzu Park is 19.4 km or 33 minutes.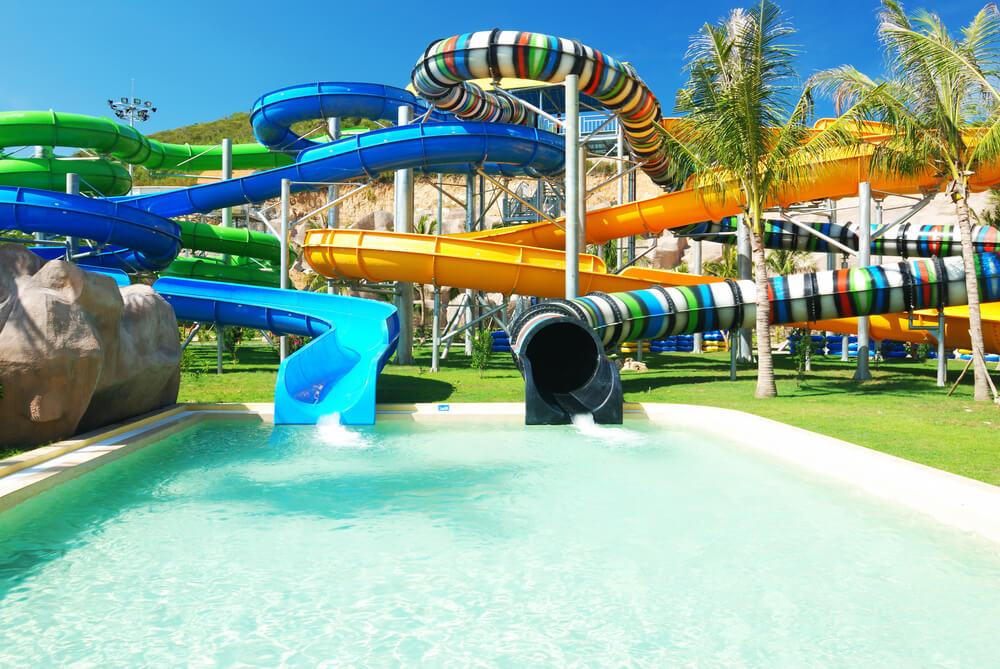 Another entertainment besides the water park is found at Samzu WaterPark, where there is a large zoo with various animals to pique the interest of children and adults. Children enjoy seeing animals, and they often ask for food from them.
Burhani Recreational Park
A brand-new waterpark for Karachi residents, Burhani Recreational Park, opened in Hub in 2018. It is one of many city waterparks with inexpensive ticket pricing and a theme park layout for kids. The largest pool for kids and numerous exciting slides set it apart from other waterparks. In recent years, many other water parks have added kid-friendly amenities, but they are far smaller than Burhani Waterpark. The park offers several different themed rides and other entertainment besides.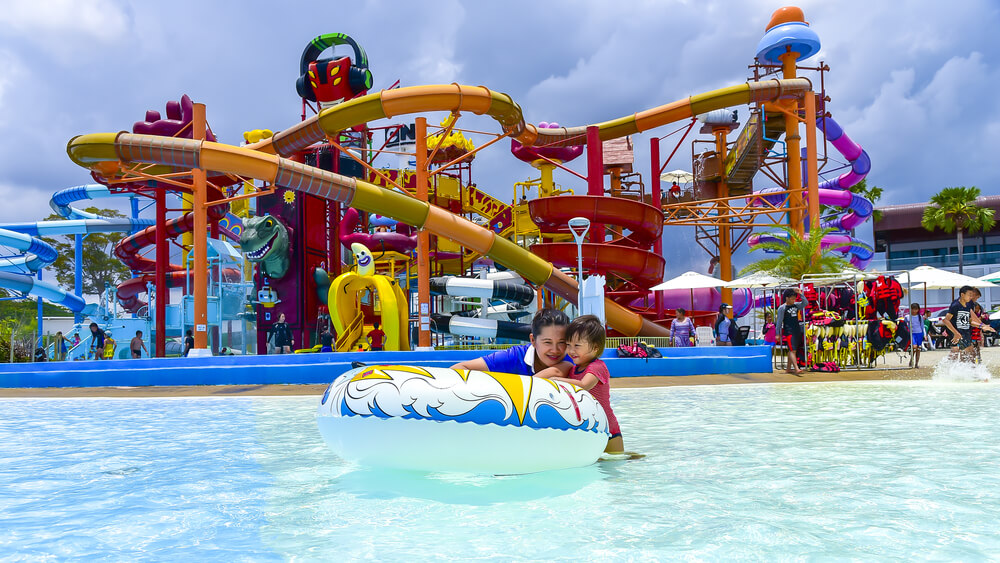 Paradise Island Water Park Gharo
A chilly dip in a waterpark's cold waters is the best way to beat the heat. While Karachi is home to several wate parks, Paradise Island Waterpark is a unique, action-packed amusement park. It has wave pools, slides that plunge to great heights, water sports, and Pakistan's first aqua disc. Consider going to Paradise Island Water Park if you are going on a picnic with your family. It makes for the ideal weekend retreat and caters to all family members. About 22 exhilarating water slides in the waterpark will raise your heart rate. Eight water slides are only for small children, making for the ideal family picnic. After having fun on the water slides, you may go to the popular hurricane wave pool.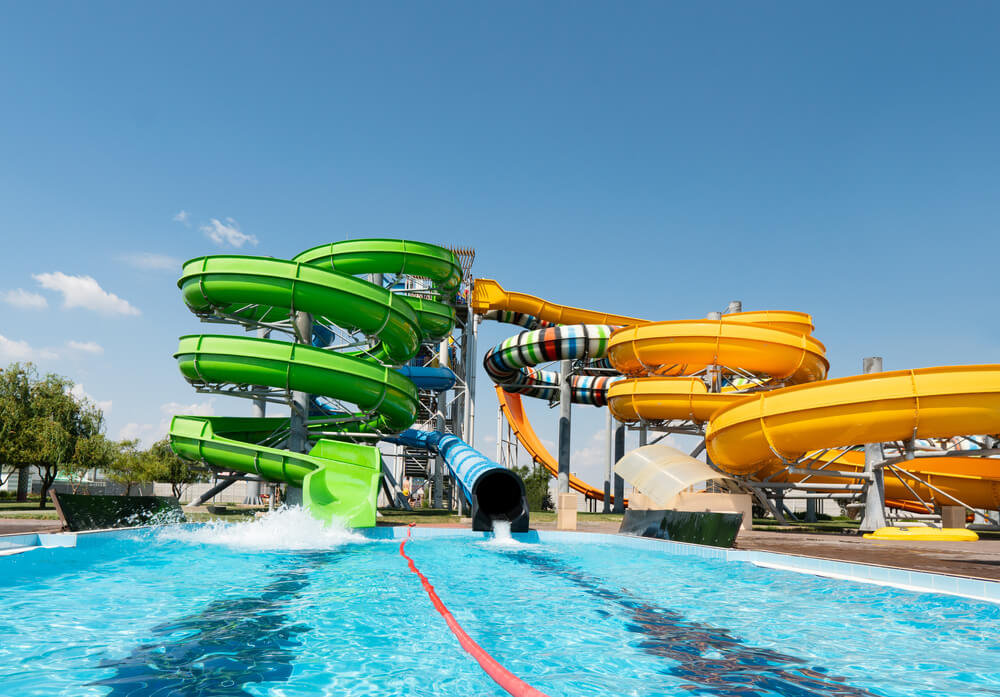 FAQs
Which is the biggest water park in Karachi
Sunway Lagoon is the biggest water park in Karachi. It contains 12 pools.
Can you wear a swimsuit to a water park?
It depends on your personal preference. Swimsuits are recommended because they make you, especially children, more comfortable.
Which water park is suitable for kids in Karachi?
Grand fiesta, paradise island, among many others, are children-friendly parks with unique children-appropriate rides.
Conclusion
Water parks are ideal for escaping the scorching sun and heat. Fortunately, Karachi, the beloved city of Pakistan, is home to many water parks, well-known historical monuments, premier theatres, stunning hill towns, and well-known theme park entertainment. There are several sites to visit in Karachi. The water parks are most recommended if you want to take some stress off and take it easy with your loved ones. The waterparks can make your day exciting from gloomy within a few minutes. The waterparks are well crafted and well constructed and offer the people myriad entertainment opportunities. So if you need some time off from everyday work, visiting the waterparks of Karachi with your family might be the best choice.