28 Best Places To Visit In Skardu
Pakistan's tourism culture is enhancing each year, and it has become an essential attraction for people from all over the globe in recent years. However, the country's northern areas have always been popular tourist destinations, especially for those who love adventure. One such area is Skardu.
You'll love to visit many lovely sites, and you must've heard the names of Hunza valley and Fairy meadows. And among these adventurous sites, we can't forget Skardu, a majestic valley in Northern Pakistan, surrounded by the mighty Karakorum, Hindukush, and Himalayan ranges.
If you are looking for a place to visit that is both beautiful and full of adventure, Skardu is the perfect destination for you. The city of Skardu is one of the busiest places in Pakistan's northern regions and is a gateway to some of the most beautiful places in the world.
You'll never forget the experience of visiting and exploring this stunning city because it will surely leave a mark in your memory. Skardu is known for its soaring mountains, pristine lakes, and lush green valleys in Pakistan's Gilgit-Baltistan region. Adventure seekers can enjoy hiking, mountain climbing, and skiing in Skardu, while nature lovers can marvel at the city's scenic beauty.
When planning a trip to Skardu, it is essential to know the weather conditions to pack accordingly. The best time to visit Skardu is through the summer when the weather is pleasant and relaxed. However, even during the winter, the city has its charm, with the snow-capped mountains providing a picturesque backdrop.
There's so much to see in this city that your vacation will be filled and packed with fun. So let's explore some of the best places to visit in Skardu in this article.
Weather at Skardu
The weather in Skardu is greatly influenced by its altitude. However, this area's climate is relatively mild compared to the other Northern regions of Pakistan.
Skardu's climate is generally cold, ranging from -4°C to 20°C. However, the temperature can drop to as low as -20°C during winter. As a result, most of Skardu city gets covered in snow during the colder months, and the rainfall is also highest during the December-May period.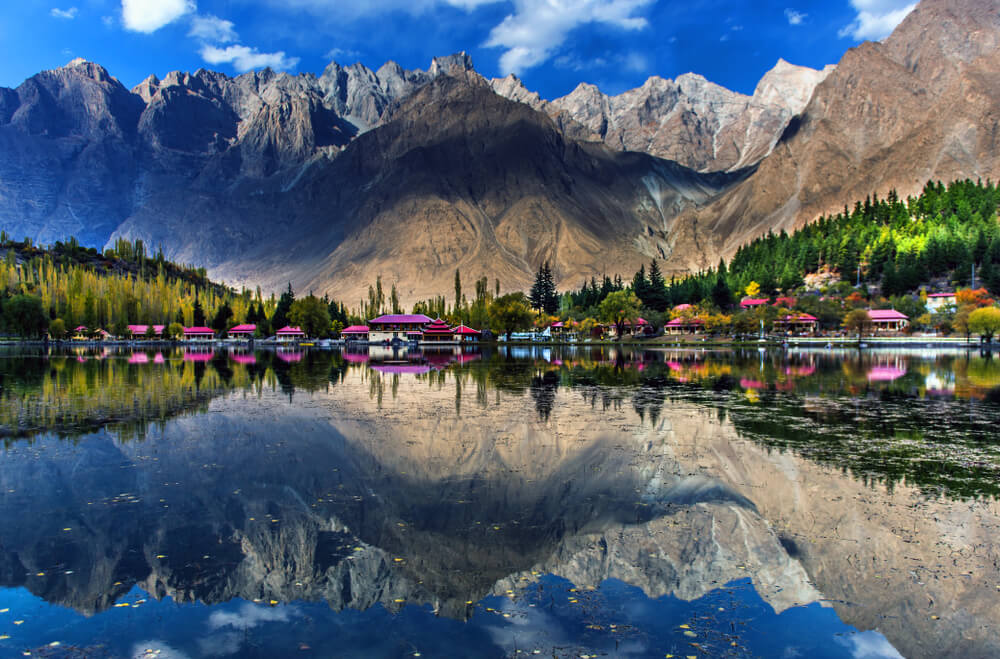 But the cold weather can't stop you from visiting this heaven-like valley. Still, you'll have to be careful while visiting and must be aware of the predictable weather of the upcoming days.
The warmest months in this region are from June to September, when the temperature can be relatively high as 30 degrees.
When Should You Travel to Skardu
The best time to visit Skardu is from June to September. All the glaciers have melted, and the rivers are flowing with gushing water. Since it's the peak season for tourism, you'll also find many people during this time. That's because many people visit the region to escape the scorching heat of other cities during summer.
The climate is also quite pleasant, making it perfect for exploring the outdoors. Unfortunately, the rainfall is also low during these months.
You can visit Skardu in April and May to avoid the peak season crowds. The weather is still quite pleasant during this time, and you'll get cheaper rates for hotels and flights.
You can also visit Skardu in October when autumn takes over and everything's turned golden. This area looks like a snow-covered wonderland during winter, but it's difficult to reach there as the site isn't accessible.
Things to Do in Skardu
Wondering what you can do in this beautiful valley? Well, there's no shortage of things to do in Skardu. If you're a true nature lover, you'll be able to enjoy the essence of this place to its fullest. You can eat, explore around, have fun and truly relax here. Here are some of the best things to do in Skardu:
Visit The Skardu Bazaar
The Bazaar is the perfect place to get a feel for the local culture and life. You'll find various things to buy here, from traditional clothing to handicrafts and beautiful jewelry.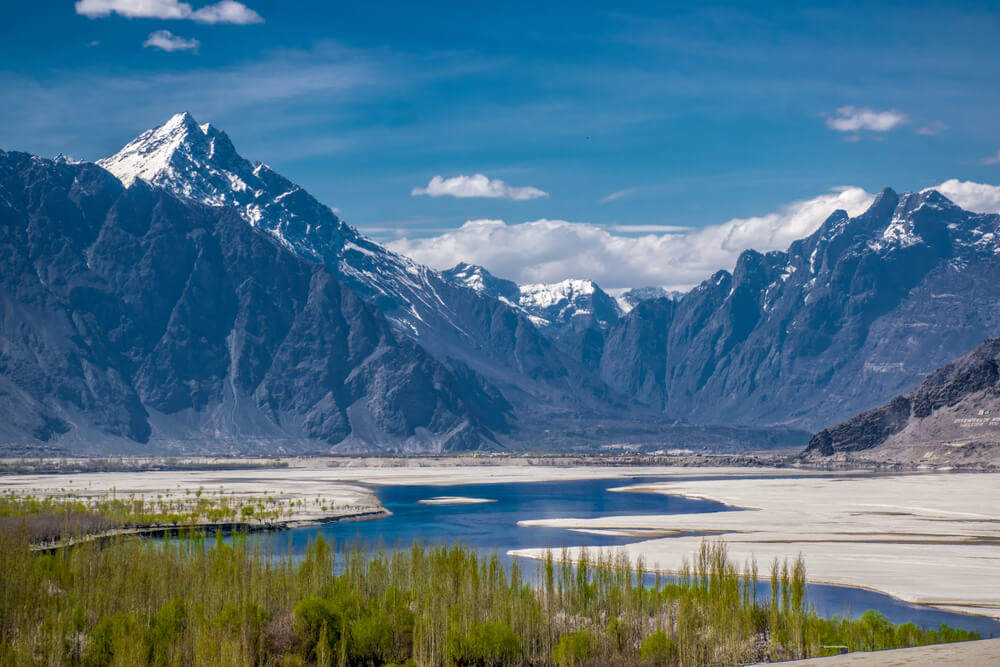 Gilgit Baltistan is home to mineral deposits and precious stones, making it a perfect place to buy jewelry and souvenirs for your friends or yourself.
Explore The Local Lakes
Skardu is home to some of the most beautiful lakes in Pakistan. Take a day trip to explore them! Highlights include the upper Kachura Lake, Shangrila Lake, and Sadpara Lake.
All these lakes are full of scenic beauty, and you won't get tired of this place even if you stay here for months.
Visit The Old Forts
If you're interested in history, Skardu is the place for you. There are several old forts in the area that are worth visiting.
You'll not explore beautiful lands but also learn about the culture and heritage of this area. Some must-visit forts are the Skardu Fort and the Kharphocho Fort.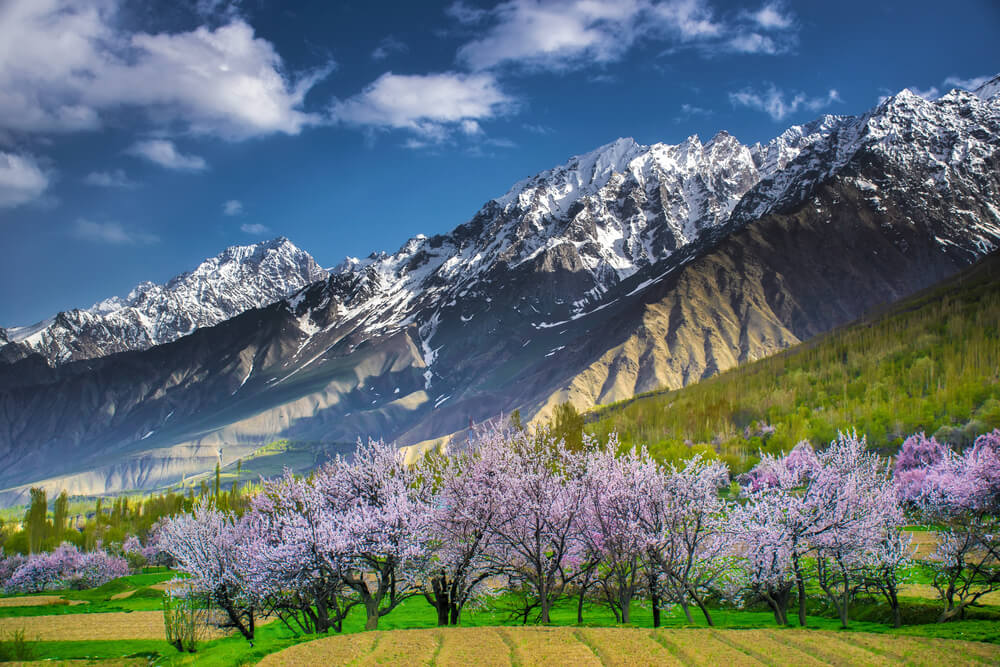 The exciting things to do in this city don't end here; there's still much more for you! But let's just keep the curiosity as we move ahead.
How to Reach Skardu?
Reaching Skardu wasn't easy until this charming city got its airport. There are more options to get to Skardu than in the other northern areas of Pakistan.
Take A Flight
Now more people prefer to go to Skardu by air because it's a relatively more accessible and less tiring journey. Although the flights are expensive, ranging between $80-$200, the scenic views out of the window when you get there make the price worth it.
You can take a flight from Islamabad to Skardu that would land you at Skardu Airport. The journey by air takes around 1 hour and 10 minutes.
Go On A Road Trip
If you plan to go by road, prepare for the most savage journey that will take your breath away. You can take a bus or jeep from Gilgit, Islamabad, or Lahore or join an expedition group to make your journey more fun.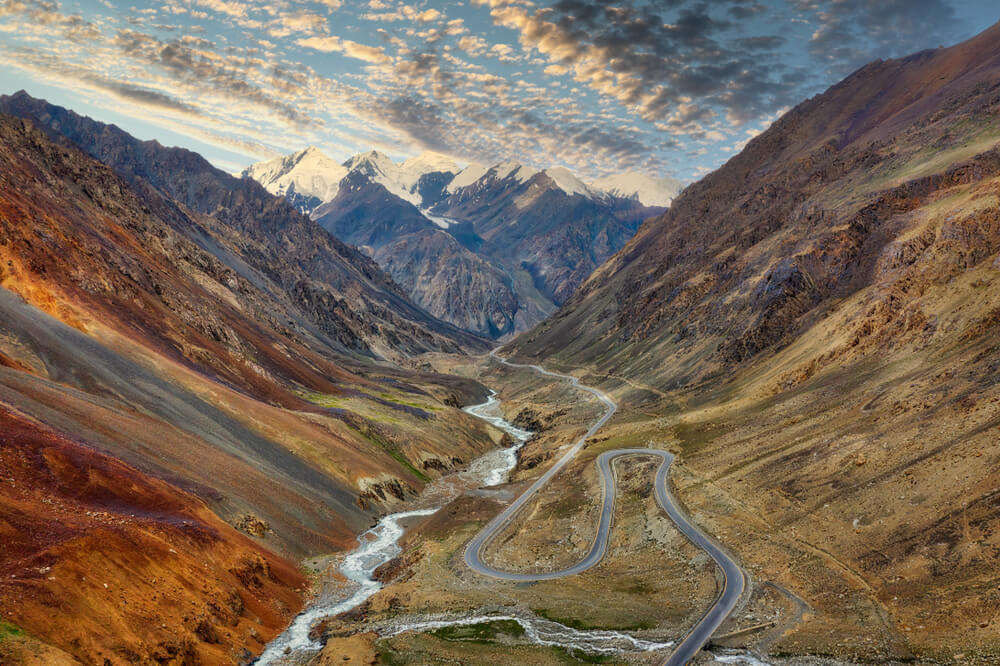 A couple of years ago, the road to Skardu was in bad condition, so hiring an experienced driver is advisable rather than risking your life. The road journey will take almost 3-5 hours from Gilgit to Skardu, or it can be longer due to unpredictable land sliding.
28 Best Places To Visit In Skardu, Pakistan
Skardu is a mesmerizing land in the Baltistan region of Gilgit-Baltistan, Pakistan. The town is surrounded by high mountains and has a temperate environment. This place is home to some of the most beautiful spots in the world.
Skardu (Shigar) serves as the gateway to the Baltoro Muztagh, the second-highest mountain range in the world after the Himalayas. This region is also home to five of the fourteen highest peaks in the world, including K2.
If you are looking for an adventure-filled vacation, then Skardu is the place for you. Here are the 28 best places to visit in Skardu.
Deosai
Deosai is a high-altitude alpine plateau and one of Skardu's best places to visit. The table extends over 3,000 square kilometers and has an average elevation of 4,114 meters.
This place is known for its pristine beauty and is a paradise for adventure lovers. Deosai is home to various wildlife, including the Himalayan brown bear, red fox, golden eagle, and Tibetan wolf. Initially, authorities developed this place to protect endangered species, and it is now on UNESCO's tentative world heritage list.
You might even catch a glimpse of the elusive snow leopard if lucky. Although the place is open to tourists from June to September, i.e., four months, the best time to visit is during the last two weeks of August. That's the flower season, and you'll see lush green grass and picturesque flowers in full bloom.
Aladin Park at Skardu
Aladin Park is a must-visit place for all the adventure junkies out there. The park is located in the Nagolispung area of Skardu and offers stunning views of the Karakoram mountain range.
It's a family park with lots of greenery around where you can sit back with your loved ones. It has trampolines, slides, jumping pads, and much more to entertain your young ones. The park also has a lovely little cafe serving light snacks and drinks.
Deosai National Park
Deosai National Park is located at an altitude between 3000-5000 meters and covers an area of over 3,000 square kilometers. This place has the honor of being the second-highest alpine plateau in the world.
The park is home to a variety of wildlife which is under the protection of UNESCO. You can visit this park to enjoy the massive, empty landscapes, which are as picturesque as they are serene.
The lush green meadows, flora and fauna, beautiful streams, wildflowers, and snow-capped mountains make this park a paradise. You can take strolls and treks or just enjoy the views. So plan your visit this summer and don't forget your camera!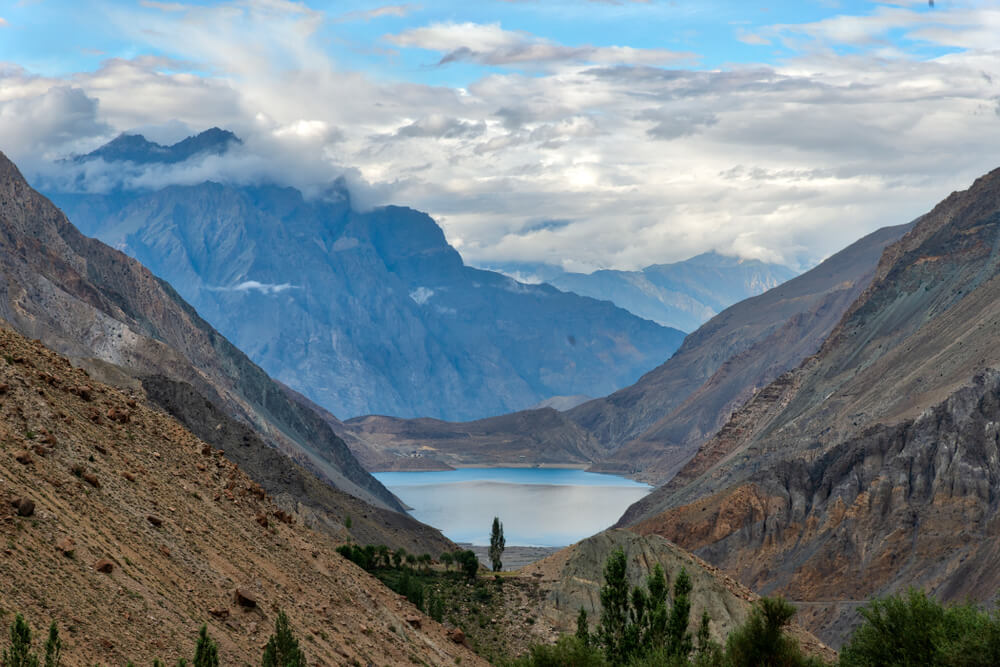 Deosai national park is home to the beautiful waters of Kalapni, Barapani, and Sheosar Lake. The drive to this mesmerizing park takes one to two hours up a mountain pass.
Satpara Lake at Skardu
While heading towards the Deosai National park, you'll see a beautiful heaven-like place in Skardu, i.e., the famous Satpara lake. The alternative name of this lake is Sadda lake, one of the primary sources of freshwater for the valley and is fed by the Satpara Stream.
The bright blue waters, mesmerizing rainbows, and the mighty glacial mountains surrounding the lake from all sides make it look like a movie scene.
The Satpara dam built below the lake is known to increase the size of the lake once it's completed. You can swim or take a boat out onto the lake.
Right in the middle of the lake sits a beautiful small island that will make you wonder if you're in a fairytale. Visit this lake, and you won't regret it.
Basho Valley
Basho Valley is one of the top places to visit in Skardu. The valley is located at a 2-hours drive from Skardu city and is known for its pine forests.
Even during the summer, the valley offers a chilling experience you won't forget forever. Basho valley is only accessible by 4*4 vehicles and is a perfect spot for camping.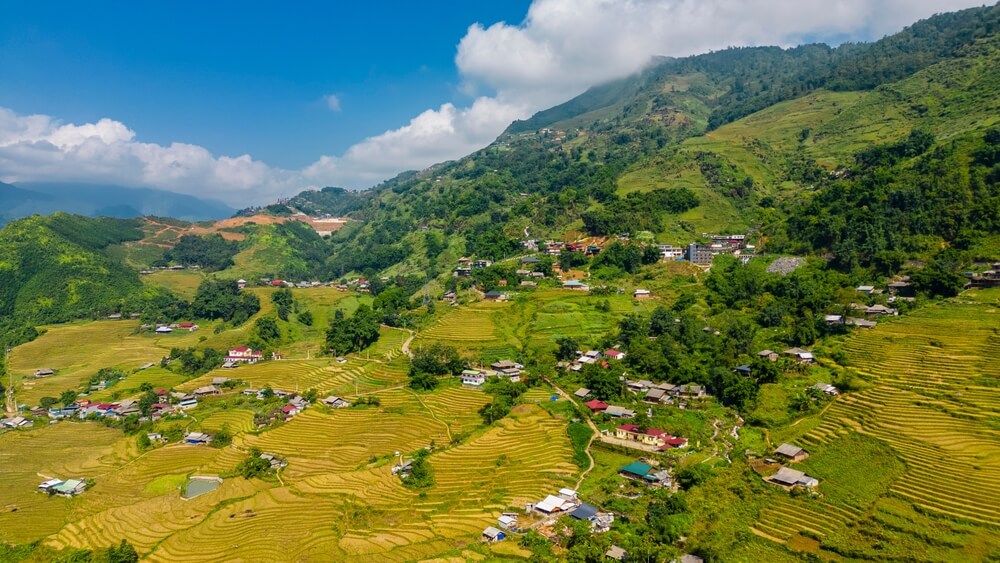 The lush green pastures and the clear water streams make it the right spot to breathe in nature, escaping from the noisy city life. Set up your camp in a beautiful place and witness the starry sky at night like never before.
Katpana Desert
Another name for the Katpana Desert is the Cold Desert. It is located just 30 minutes from Skardu city and is a must-visit place in Skardu. The dunes of this desert look no less than a wonder between the mighty mountains of Karakorum and the Himalayas. That's a perfect sightseeing spot with a mountainous backdrop.
There are also sandy dunes, greenery, and a small lake at the center of the desert. The best time to visit the Katpana Desert is from June to September when the temperature is moderate, and you can enjoy the cold desert on a jeep.
However, you can enjoy the desert in winter when there's snow everywhere. The clear skies of this desert look heavenly at that time. The food available is another experience you won't ever forget.
Upper Kachura Lake at Skardu
Kachura lakes refer to 3 different lakes in Skardu valley: upper Kachura, lower Kachura, and Zambakha lake.
The upper Kachura lake is yet another mesmerizing place in Skardu, but it's not explored often by people because of its rough path. This natural lake is about 60 meters deep and is 20 Km from Skardu city. This lake is encircled by massive mountains having snow-covered pinnacles and is at a walking distance of 30 minutes from lower Kachura lake.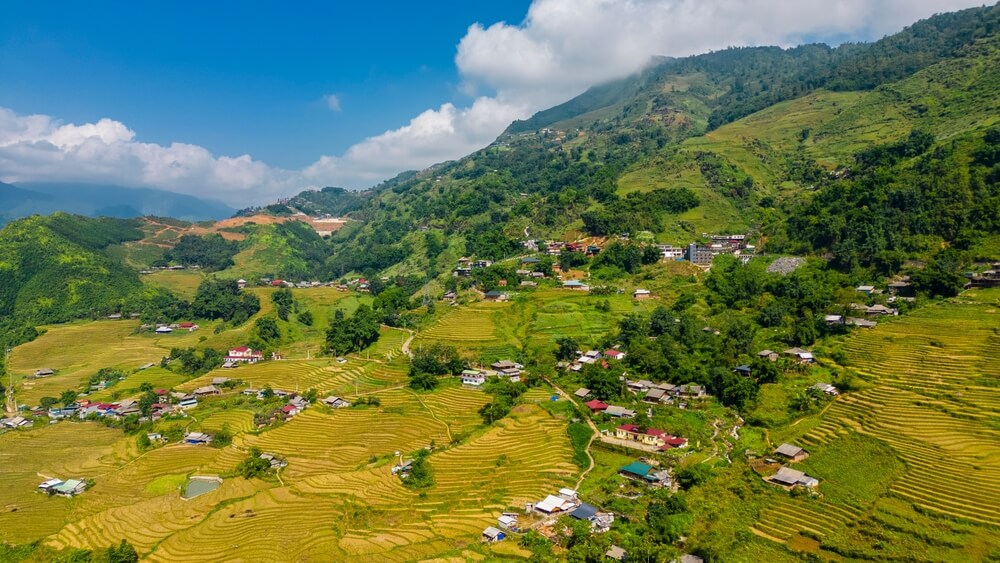 You can enjoy a bundle of Recreation activities at Upper Kachura lake, including hiking and trout fishing. Unfortunately, upper Kachura lake's beauty is untapped compared to Lower Kachura lake because of a lack of requisite infrastructure.
Manthoka Waterfall
One of the most popular tourist spots in Skardu, Manthoka Waterfall, is another breathtaking place about an hour southeast of Skardu.
It is one of the widest waterfalls in Pakistan and welcomes internal and overseas travelers. Located in the village of Manthoka, thus named Manthoka waterfall is accessible from Skardu city. So you'll take the Kargil-Skardu route from the city to reach this majestic waterfall.
Right in between a mesmerizing green valley, this waterfall emerges from the tall mountains; you won't believe it's artificial. So take a shower and don't forget to take pictures in front of this waterfall.
Sheosar Lake at Skardu
Skardu has several beautiful lakes that attract tourists from all over the world. One such scenic lake is Sheosar lake, located in the Deosai plains.
The lake is located at an elevation of 4,142 meters (13,589 ft) and is 2.3 kilometers long. The lake is 40 meters deep, is fed by the melting glaciers of the surrounding mountains, and is one of the highest lakes in Pakistan.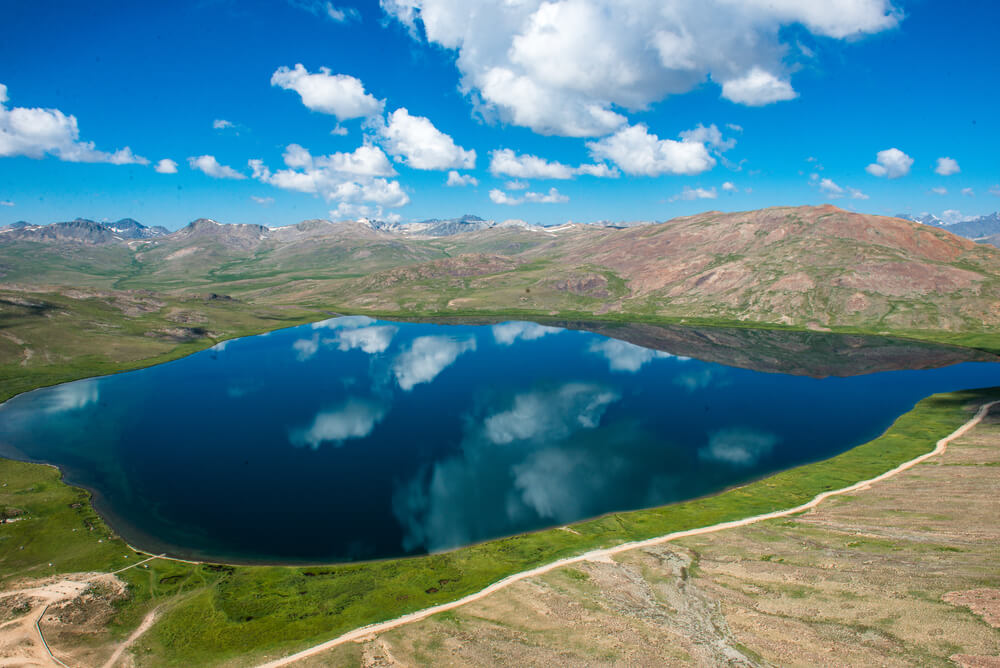 Unlike the other expansive lakes in Pakistan, it might seem simpler to you initially, but it's truly a treat for calm lovers. The area around the lake is rich in wildlife and is a popular destination for trekkers and nature lovers.
City Park at Skardu
If you're a morning jog or walk lover and can't forget to stroll even on holiday, your go-to place is City Park Skardu. It's a must-visit for all the peace and fresh air seekers. The City Park is located on Satpara road in the heart of Skardu city and offers a beautiful view of the mountains.
This park is owned by the forest department and is one of the best places to visit in Skardu. It also has a well-maintained walking track for the morning walkers with all those natural scenes around.
K2 Base Camp
The base camp of the world's second-highest peak, K2, is another popular place to visit in Skardu. The K2 base camp is located at a distance of around 90 kilometers away from the last village of Shigar valley.
The base camp is accessible only by trekking as no roads are lead. However, from the base camp, you can get a clear view of the magnificent K2 peak.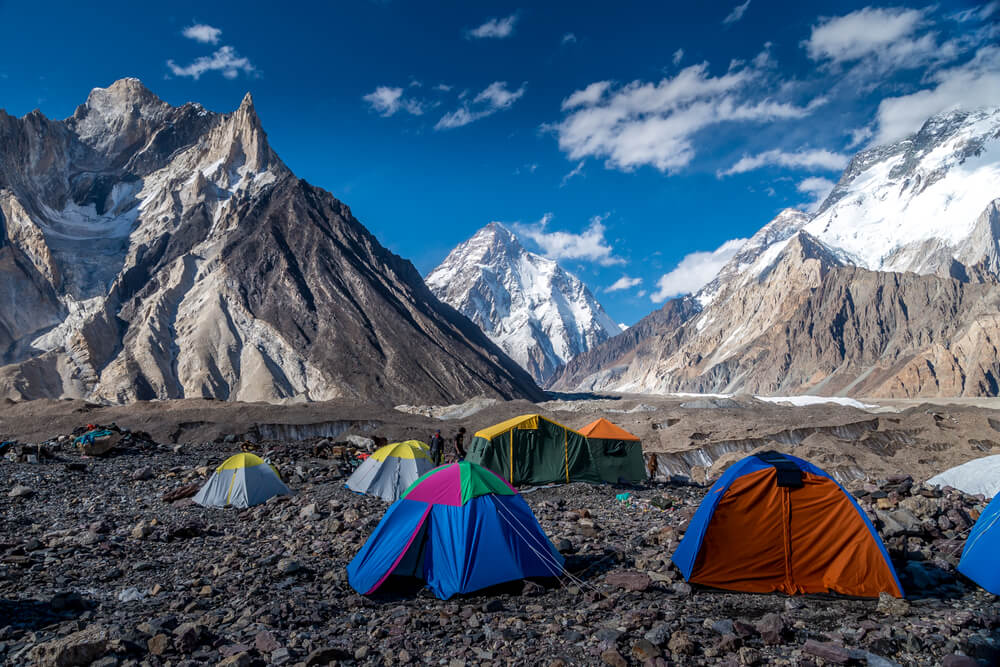 The K2 Base camp trek is one of the most challenging treks in the world and is only suitable for experienced trekkers. If you want to trek to this base camp, you'll start your journey from Skardu via a 4*4 jeep. Then, you'll pass through the mesmerizing Shigar valley, and after its last village, you'll walk on foot.
To plan this adventure, you must be sure about your capacity!
Kharphocho Fort at Skardu
Kharphocho fort, built in the 1600s by the king of Baltistan, Ali Sher Khan Anchan, is a scenic fort built over the junction of rivers.
Visiting the Kharphocho fort will take you back in time, and you'll feel like a majestic king looking over his territory. The view from the top is breathtaking, and you can see all of Skardu from there.
This place has a great history to it as well. It was once the capital of Baltistan and is now in ruins. The fort is on top of a hill and offers a stunning view of the entire Skardu valley.
You can either hike to the top or take a jeep ride up the fort. Either way, it is a great place to visit in Skardu.
Lower Kachura Lake (Shangrila Lake)
Lower Kachura lake is another beautiful place to visit in Skardu. It is a freshwater lake located at an altitude of 2,500m. The lake is 80 meters deep. It is surrounded by mountains and forests, making it perfect for a picnic or a nature walk.
Another name for this breathtaking lake is Shangrila lake, with Chinese-style huts and hotels surrounding it. People usually visit this place for picnics and to enjoy the mind-blowing scenic beauty.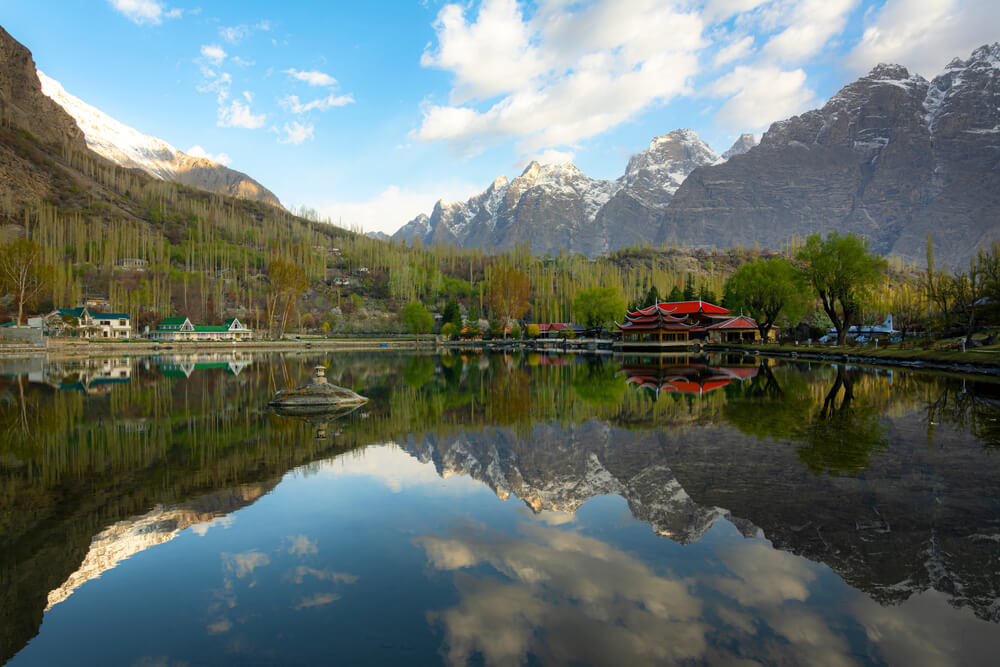 That is one of the most beautiful places in Skardu and a must-visit place for every tourist. The whole area is lighted at night with dazzled lights and candles, making it look even more beautiful.
Chunda Valley at Skardu
Chunda valley is a picturesque valley located almost one hour's drive from Skardu city. The valley provides scenic views of the whole of Skardu city as it's on raised ground and high altitude.
You can even witness the takeoffs and landings of aircraft at Skardu airport with the white mountains in the backdrop, which is a different experience.
The best time to visit this valley is from June to September; however, during spring, you can enjoy the most breathtaking views of fruit-bearing plants and flowers.
The fragrance of Apricots, Cherry, and apples will welcome you to this valley, so visit it ASAP!
Shalimar Park
Shalimar park, a less explored children's park in Skardu, is another beautiful spot in Skardu. The park is perfect for spending quality time with your family and children as it has playgrounds, lots of swings, and a small lake for boating.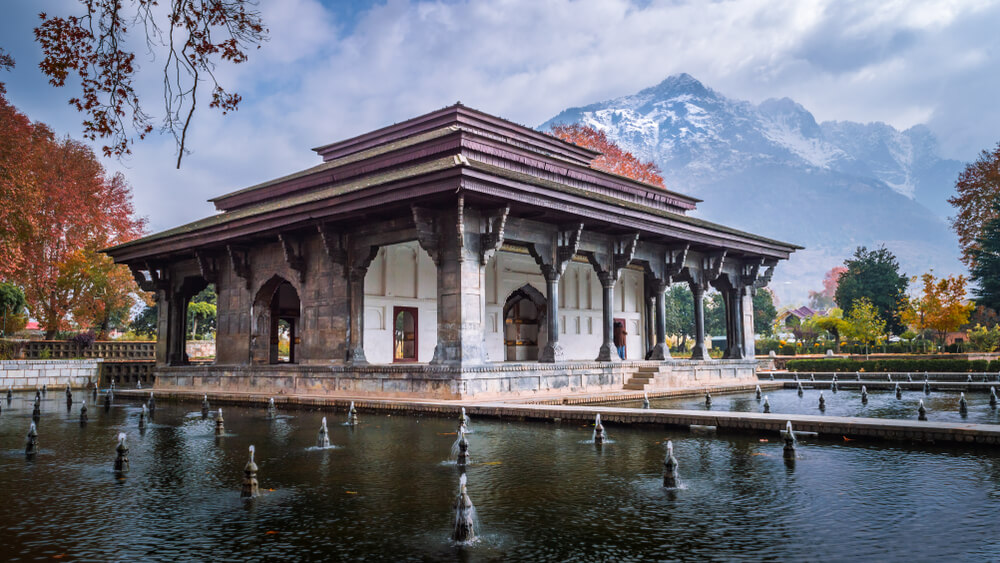 The funky cute kid boats are filled with kids having fun around the summer. The colorful trampolines shaped in different slides and animals are also a source of joy for the children. Besides that, the park is pretty green and has many open spaces, making it perfect for a family picnic.
So if you are in Skardu and have small children with you, do visit Shalimar Park!
Basho Meadows at Skardu
Basho meadows are three hours from Skardu city; it's a must-visit place for all nature and peace lovers. It's a vast area of highland pasture that is rich in flora and fauna.
A clean stream, a locally built bridge, and the green fields with stunning mountains in the background look like a painting scene. It is one of the best places to visit in Skardu in summer, as the weather is perfect for camping and hiking.
Even the mountains in this region are covered in green color, and you won't see a better scene than this!
Soq Valley
Soq Valley, a hidden gem in Skardu, is a breathtaking land, and you'll be awe-struck upon seeing its picturesque landscape.
This valley is located on the side of Upper Kachura, and most people confuse it with Upper Kachura, but it has its unique beauty, which you cannot find in any other place in Skardu.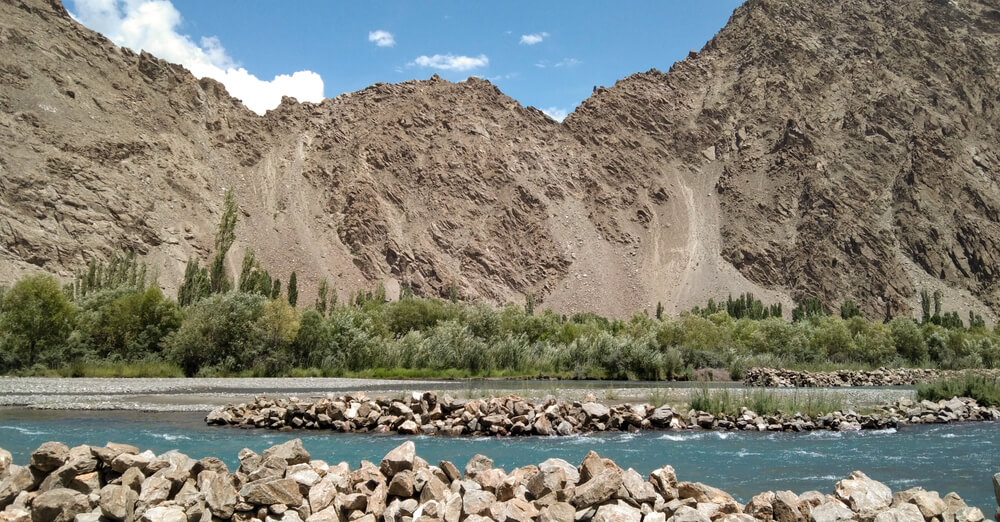 A fast-flowing river is sandwiched between two giant mountains, making this valley a paradise.
If you're looking to escape the heat of the plains and enjoy peace and tranquility, Soq Valley is the place for you. Grab a camping chair and watch the river flowing in all its majesty.
Katpana Lake
One of the best places to visit in Skardu is the Katpana desert, a less explored spot than others. To get to the lake, you'll have to pass through Katpana town, which serves as the lake's entrance.
Along the shore of the lake, a wide variety of beautiful trees add to its beauty. You'll witness giant dunes in front of the lake behind the Skardu airport. And these dunes look like a wonder between the massive Himalayas and Karakorum mountains.
The best time to see the lake is in the morning when the light reflects on the water and creates a picturesque view.
Masrur Rock at Skardu
To view heaven on earth, you must get on the famous Masrur rock, Hussainabad, and Skardu. Hussainabad valley is a 20 minutes drive from Skardu. This beautiful rock is similar to Trolltunga rock in Norway.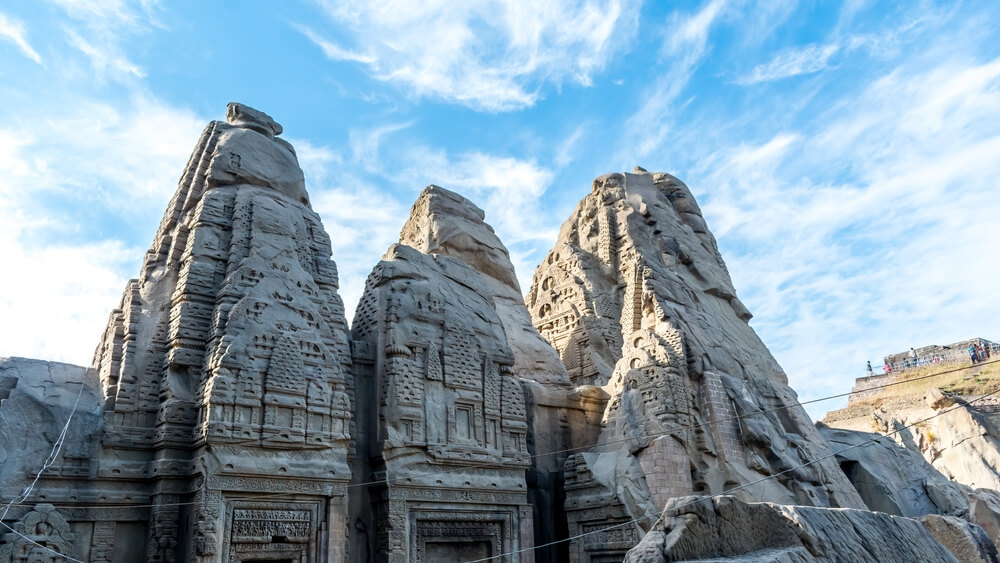 It is believed that Tibetan Monks used this place for meditation. If you're planning to visit this place, you need a trained local guide to help you get on the rock. It's advisable not to go on your own as the trek to this rock is quite tricky, and you might risk your life. However, the view from the top is breathtaking and mesmerizing and is worth every effort.
Sarfaranga Desert
Have you ever visited a cold desert? If not, it's a perfect chance to explore the beauty of the Sarfaranga desert, a cold desert near Skardu. It's one of the two icy deserts in the area.
It is located in Shigar valley along the Shigar river and serves as an excellent spot while you explore the Shigar area.
The perfect way to enjoy this place is by taking off your shoe and walking on the smooth sand with your friends. But beware while you want, as hidden thorns can be buried in the sand.
K2 Gondogoro La Trek at Skardu
One of the best things to do in Skardu is to treat your adventurous soul to a fantastic trek. K2 and Gondogoro La Trek is a trekking holiday to k2 and Concordia in the Karakorum range of Pakistan.
This trek will take you to the heart of the Karakorum mountain range and is regarded as one of the best treks in the world. On this spectacular journey, you'll see Masherbrum, Gasherbrum, Trango towers, the mighty K2, and many other famous peaks.
If you haven't trekked before, it can be challenging but worth it, as you will get to see some of the most amazing views.
Central Karakoram National Park
It's a national park located in the Skardu district of the Gilgit-Baltistan region. This scenic park is home to some of the world's most prominent peaks and glaciers.
The park, which was established in 1993, holds international importance for trekking, mountaineering, and rock climbing. It covers an area of 10,000 sq. km. and has the largest concentration of massive mountains worldwide.
The most popular in this park include the mighty K2, Gasherbrum 1, Gasherbrum 2, and Broad Peak.
Manthal Buddha Rock at Skardu
Another pick from the top places to visit in Skardu is the Manthal Buddha Rock. That is a huge rock carved in the likeness of a reclining Buddha. This religious rock dates back to the 8th century and depicts Buddha in meditation and other figures.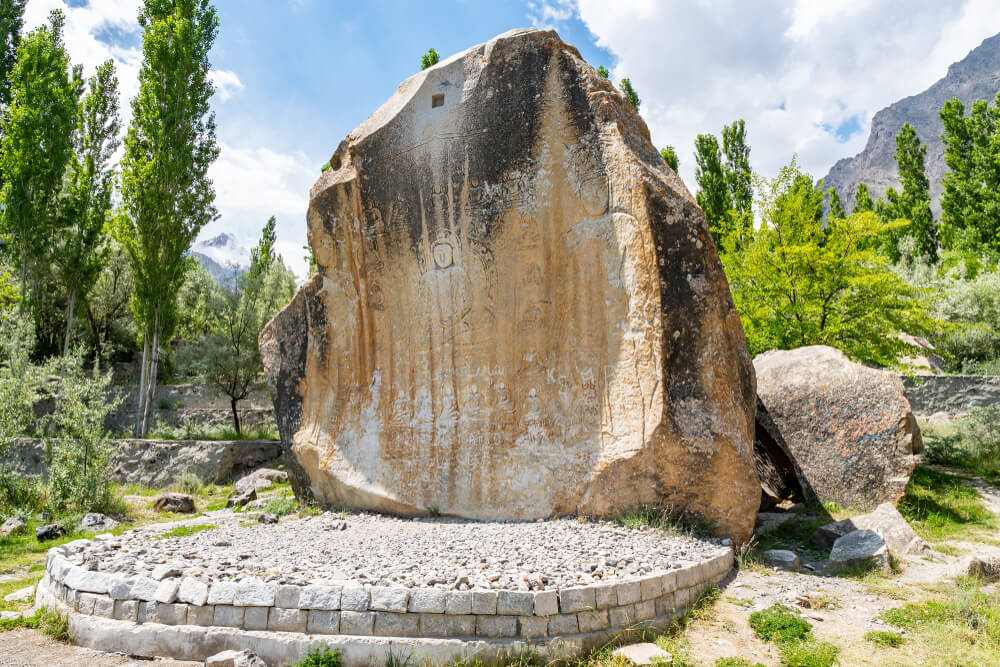 Buddhists carved this rock when they practiced Buddhism in Skardu before Islam spread. On the rock, you'll see different figures and the Tibetan language, which Buddhist monks use to describe their dreams.
It is located in the village of Manthal, Skardu. You can access this spot from Satpara road, where it's a 3km journey to the rock.
Organic Village Skardu
Located behind the famous Kharphocho fort, Nansoq organic village is the first organic village in Pakistan. The lifestyle of this village is precisely similar to the old traditional Balti style.
It serves as a perfect spot where you can learn about the traditional methods of farming and living. The dwellings are organic, and there's no use of machinery or synthetic materials.
This village is kept in its original state to show the importance of organic living. It also motivates that living in a good way for the environment is still possible.
The village was visited by Prince Charles, Prince of Wales, and the Duchess of Cornwall. Thus it holds particular historical importance as well.
Sermik Valley at Skardu
Sermik valley, a relatively untouched valley in Skardu, is another beautiful spot you can't miss out on your tour to Skardu. This valley is the last valley of Skardu and takes almost one hour to be reached from Skardu city.
This valley is so mesmerizing and fertile that it is named Sermik, a Balti word whose meaning is "Golden Eye." The valley is blessed with a beautiful, lush green meadow, amazing landscapes, and outstanding views of breathtaking peaks.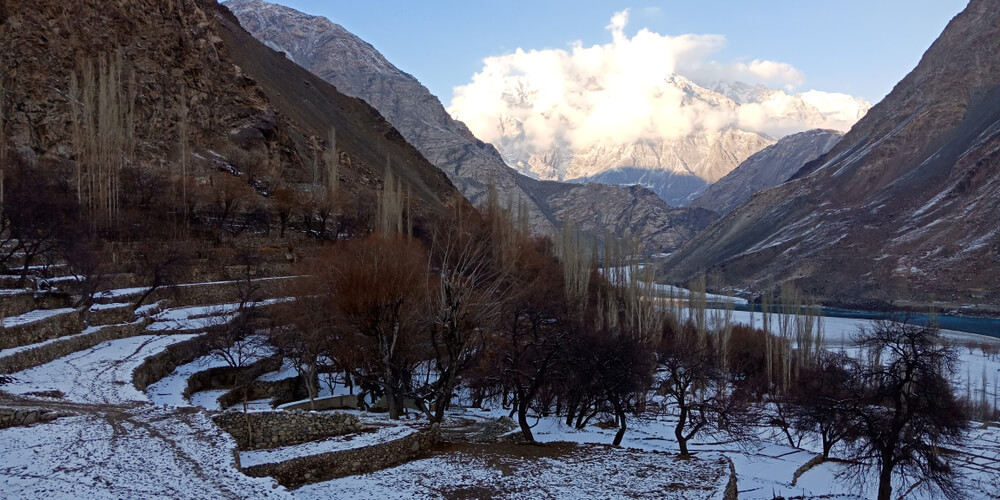 The valley has so many unexplored destinations that you'll feel like you've entered new heaven.
Skardu Bazar
If you're into buying local products and souvenirs, you can't leave this city without visiting the ever-famous Skardu Bazar. That is the central market of Skardu city and the hub of all the local businesses.
You can find almost everything in this market, from clothes to dry fruits and electronics to handicrafts. So buy a souvenir for your loved ones before you leave this city.
The best time to visit the market is early morning or late evening when the crowd is not too much, and you can bargain easily.
It would be best if you bargained as hard as you could until the shopkeeper agreed to your price because initially, they'd try to tell you a very high price.
Baltistan Wildlife Sanctuary
The Baltistan wildlife sanctuary, covering an area of 415 square kilometers, is another perfect spot to explore in Skardu. That sanctuary got established in 1975 to protect the endangered species living in the park.
The sanctuary is located south of the Indus river, sandwiched between the settlements of Rondu and Shengus, and is adjacent to Astore wildlife sanctuary.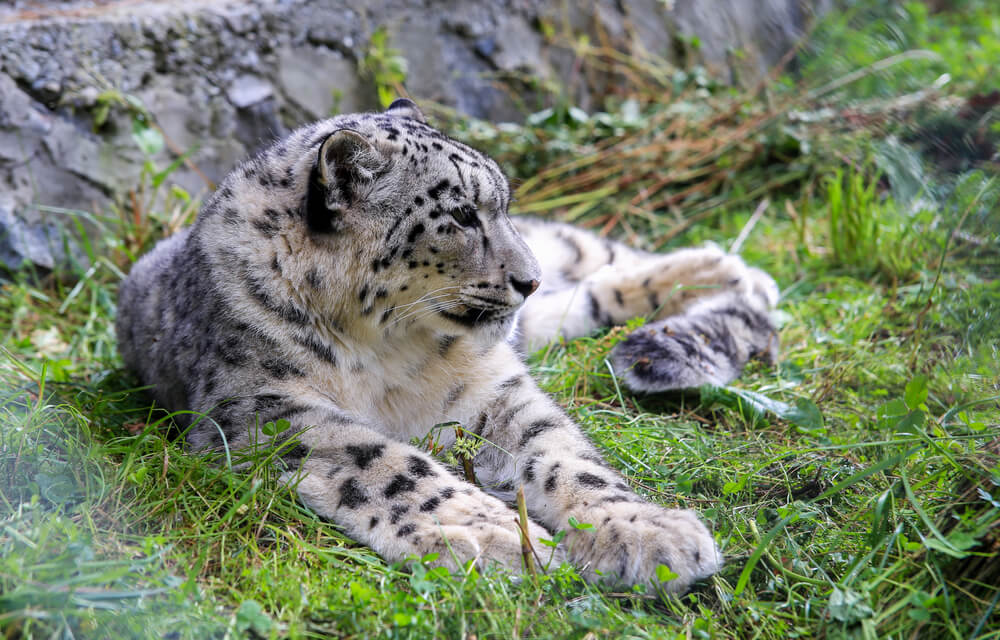 The sanctuary is home to various birds and animals, including ibex, markhor, snow leopard, red fox, weasel, Tibetan wolf, lynx, and bharal. You can also find several flowers and plants in this area.
If you want to explore the Baltistan wildlife sanctuary, you should go there between June and October.
Panmah Glacier
Panmah glacier, a glacier in the Gilgit-Baltistan region, is another magnificent spot you should explore to add to your adventures. It comes inside the Central Karakorum National Park. The best time to explore the glacier is in October when the weather is not that harsh.
However, the trek is not easy, and you must be skilled or trained enough to get to this place. You can camp here for a night to better experience the glacier. However, it's better to hire a trekking guide to help you.
Frequently Asked Questions
Is Skardu worth visiting?
Yes, Skardu is worth visiting! The scenery is breathtaking, plenty of things to do and see, and the people are friendly and welcoming. So what are you waiting for? Plan your trip today and explore the beauty of heaven-like Skardu!
What is the specialty of Skardu?
Skardu is known for its scenic beauty, historical sites, and religious landmarks. So if you're looking for a place to relax and take in the natural beauty of Pakistan, Skardu is the perfect destination.
Which is more beautiful, Hunza and Skardu?
Hunza and Skardu are lovely places, so it's hard to say which one is more beautiful. However, if we had to choose, we would say that Skardu is slightly more attractive than Hunza because of its stunning scenery and diverse range of things to see and do.
Is there snowfall in Skardu?
Yes, it snows in Skardu from the mid of December to the last week of February, and the place looks like a winter wonderland. The harsh weather and snow-falling season last at least two months. Nevertheless, the snowfall is usually enough to blanket the ground and provide a beautiful scene for visitors to enjoy.
Skardu is a beautiful place with a lot to offer. From hiking and camping in stunning scenery to visiting historical sites and religious landmarks, there is something for everyone in Skardu.
So what are you waiting for? Plan your trip today and explore the most amazing places in Skardu!