A Complete Guide to Visit Chunda Valley
Skardu is a heaven full of beautiful landscapes and picturesque valleys. The lush green vegetation and freshwater streams will help steam off city life's stress. So if you have a hectic phase in life, pack your bags and head to the most beautiful valleys in Skardu. One such Valley that's the epitome of beauty and relaxation is Chunda valley in Skardu, which is a short distance from the central city of Skardu.
Chunda Valley is one of the famous tourist destinations in Skardu. The Valley is renowned for its beautiful blossomed trees, giant mountains, lush green scenery, and spectacular Chunda Skardu and Shangrila Lake views.
The Valley is on raised ground, providing scenic views of the entire Skardu city, so you won't be short of views for taking photographs.
If you're searching for a place to breathe and relax, there's no better place than Chunda valley in Skardu. The best time to visit the Valley is from April to October when the weather is pleasant, and the scenery is at its best.
There are plenty of things to do, such as hiking, camping, and sightseeing. A full day won't be enough to enjoy everything, so you can think of overnight camping, which is fun. There are also several attractions that you can visit, such as the beautiful blossomed trees and the spectacular views of Chunda Valley and Shangrila Lake.
So, if you're planning a trip to Skardu, include this valley in your itinerary!
Chunda Valley Skardu Attractions & Location
Chunda valley Skardu is one of the most beautiful places in Pakistan. It is blessed with scenic beauty, lush green mountains, and tranquil lakes. The Valley is 2,438 meters above sea level and perfect for those who love nature and peace.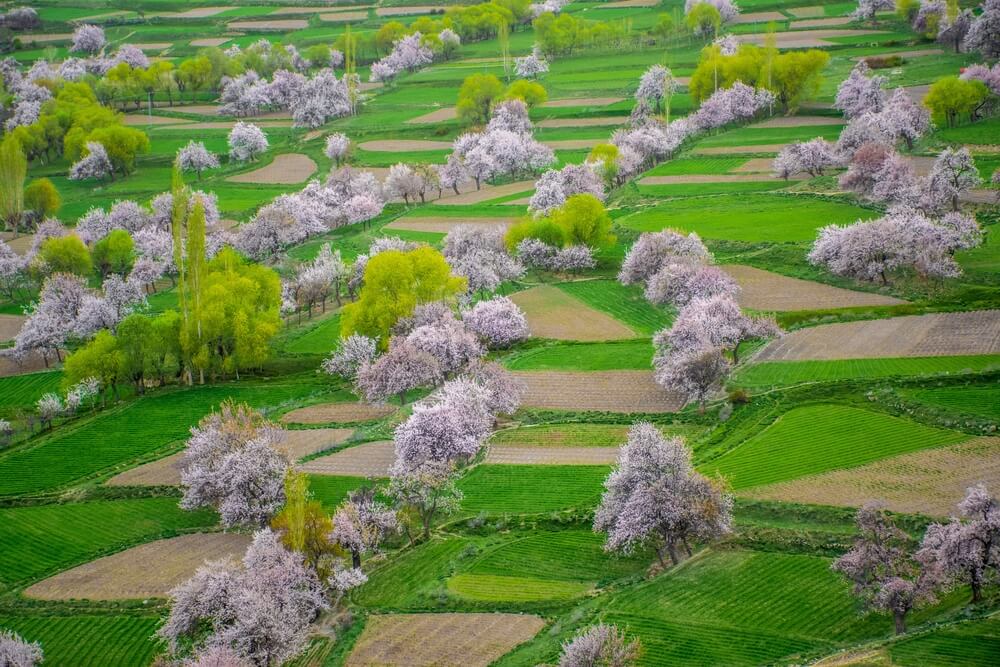 The best time to visit is from May to September, as the weather is perfect for camping and hiking.
The Valley is located in the district of Skardu, about a 1-hour drive from Skardu. The distance from Islamabad to Chunda Valley is approximately 14 hours.
When is The Best Time to Visit Chunda Valley?
Chunda valley is heaven you should visit every year to refresh your mind and take a break from your hectic life. The ideal time to visit this Valley is during Spring blossom- April, or you can see it between June-September.
Not only is the weather pleasant during this time and the scenery is beautiful, but you also have more options to explore and enjoy every activity otherwise impossible during winter.
Whichever season you visit this scenic Valley, bring all the necessary stuff and make the most of your vacation.
Weather in Chunda Valley
The Valley's weather is characterized by extreme cold, low atmospheric pressure, and low levels of oxygen and carbon dioxide. Like many other high-altitude plateaus, breathing can be challenging as there's less oxygen available. The temperature in Chunda valley varies greatly depending on the time of year, but it's generally colder.
In winter, the average temperature is -15°C, but it can drop as low as -30°C at night. In summer, the average temperature is around 15-20°C, but it can get as high as 25°C during the day.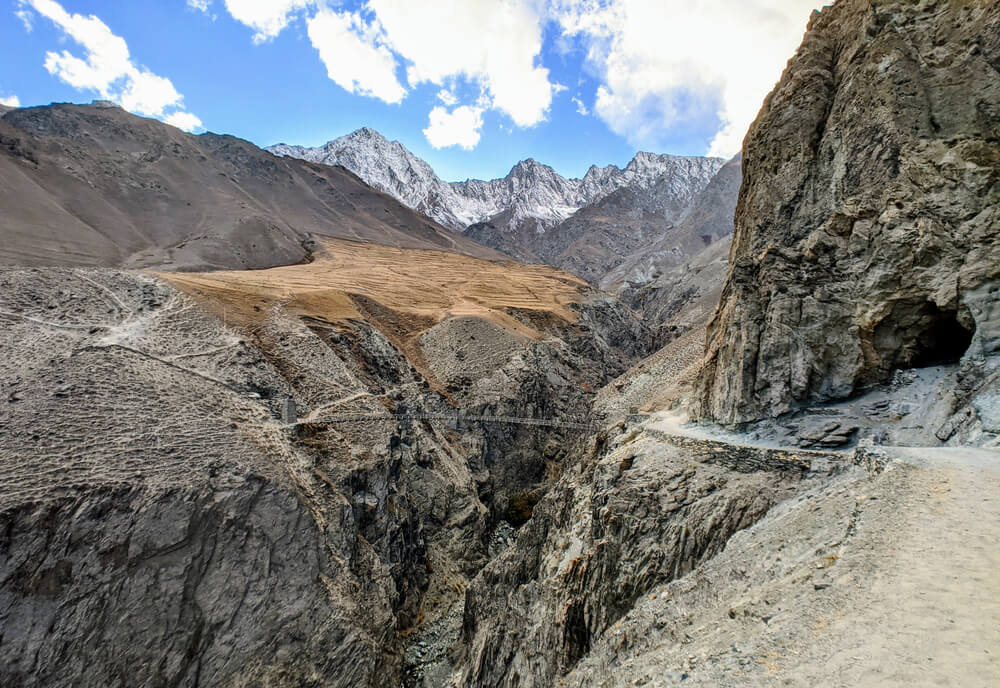 The weather is a bit unpredictable, and it can be pretty cold at night, for which you must pack warm clothes with you.
What is Chunda Valley Famous for?
Chunda Valley is famous for its beautiful scenery and its giant mountains. It's also known for its beautiful blossom trees, lush green scenery, and magnificent views of Shangrila Lake.
Apart from the scenic views, the valley also has significance in history. The Valley is known as "the shelter for Natural Calamity." According to popular folklore, a devastating flood in the area once drowned the entire valleys of Shigar, Khaplu, and Skardu.
The flood destroyed hundreds of small towns and villages, and thousands of people lost their lives with their animals.
The only secure and dry place in the entire region was Chunda valley. Therefore, the survivors of all other towns gathered at Chunda valley and saved themselves from the drowning waters, thus named the shelter for natural calamity.
The symbols and signs of that disaster can still be seen today in the Valley in the shape of dunes covering a large area.
Besides the breathtaking views, the Valley is famous for its seedless raisins. As a result, the land is fertile and allows the locals to live a fully self-sustained life.
The Valley has a lot to offer in terms of attractions and activities. You can find giant mountains, green scenery, beautiful blossom trees, and a spectacular view of Shangrila Lake.
Attractions in Chunda Valley
It is a famous tourist destination in Skardu with a truckload of attractions and places to explore. You'll be delighted to see the number of things you can do here, as this Valley is full of scenic beauty, lush greenery, and some of the most majestic mountains in the world. Let's explore some of the best attractions in Chunda Valley.
Beautiful Blossom Trees
The Valley seems to be in a perpetual state of spring, with beautiful blossoming trees everywhere you look. The Valley is carpeted with various flowers, and the air is thick with the fragrance of blossoms.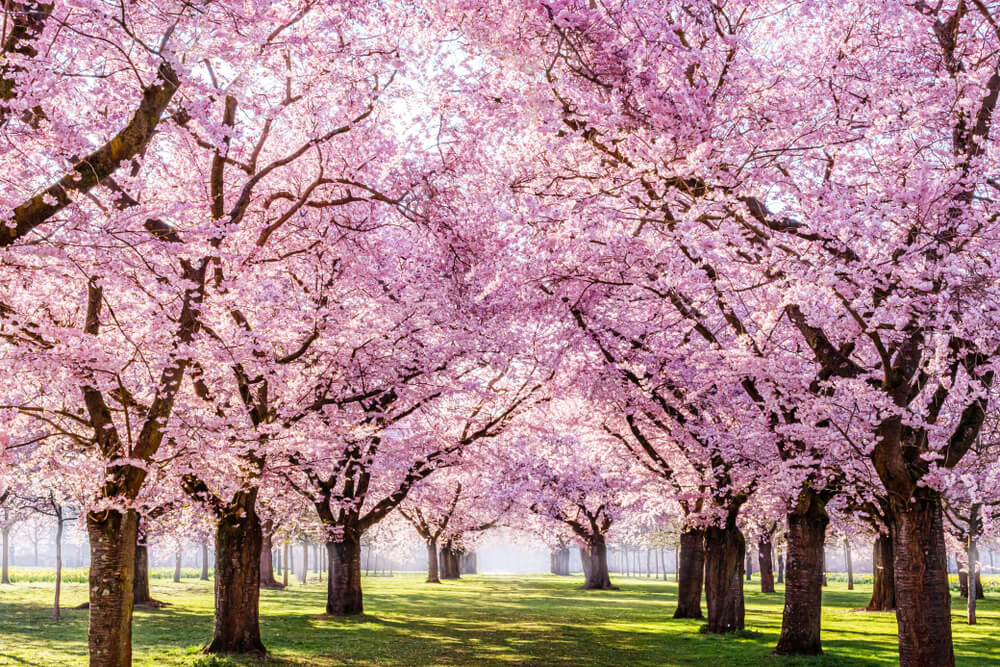 The beautiful lavender-colored trees are spread far until you can see, making this Valley look like a part of heaven.
The Giant Mountains
The mountains of the Valley are some of the tallest in the world, with a stunning backdrop. The mountains of this Valley are covered in snow for most of the year. The view of the mountains is so breathtaking that it will leave you speechless.
Lush Green Scenery
The Valley is lush green and has a delightful climate. The scenery is so mesmerizing that you'll be lost in the beauty. The Valley is an ideal place to relax and cherish the beauty of nature.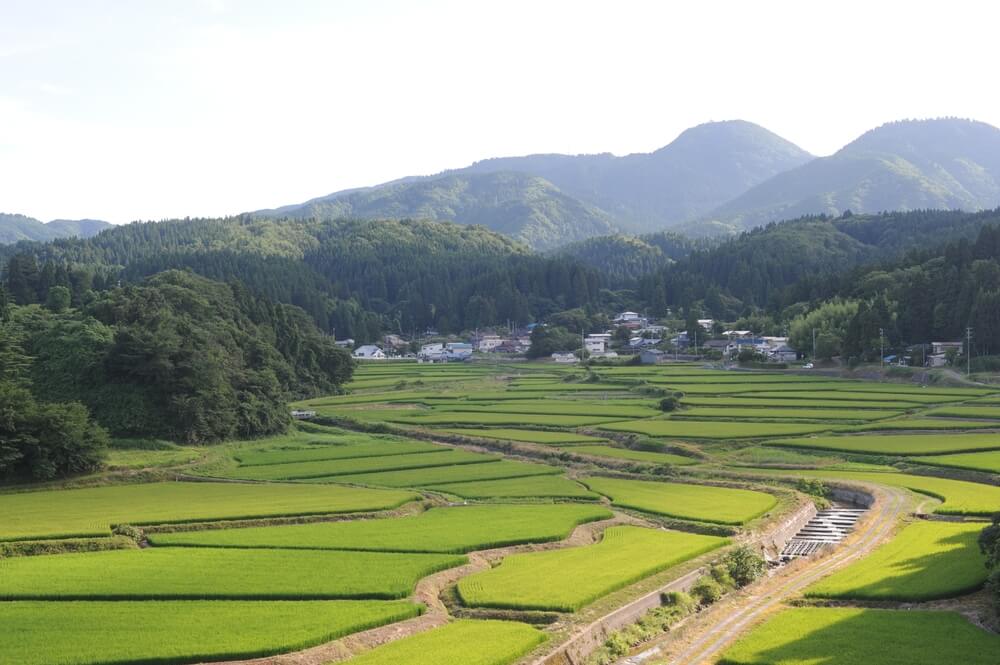 Chunda valley, in the spring season, seems to be completely covered in green grass that looks like a carpet.
Spectacular View of Chunda Valley
The view of the Valley from the top of the mountains is simply spectacular. If you've got an adventurous spirit, you can hike up to the mountain's top and enjoy the views of a valley like never before.
The Valley looks like a sea of green with mountains in the backdrop. The view is so mesmerizing that you will not want to leave this place.
Magnificent View of Shangrila Lake
From the spectacular Chunda valley, you can take a bird's eye view of the magnificent and breathtaking Shangrila lake, which is situated at 2500 meters. You can view the lake without effort as it is close to Chunda valley.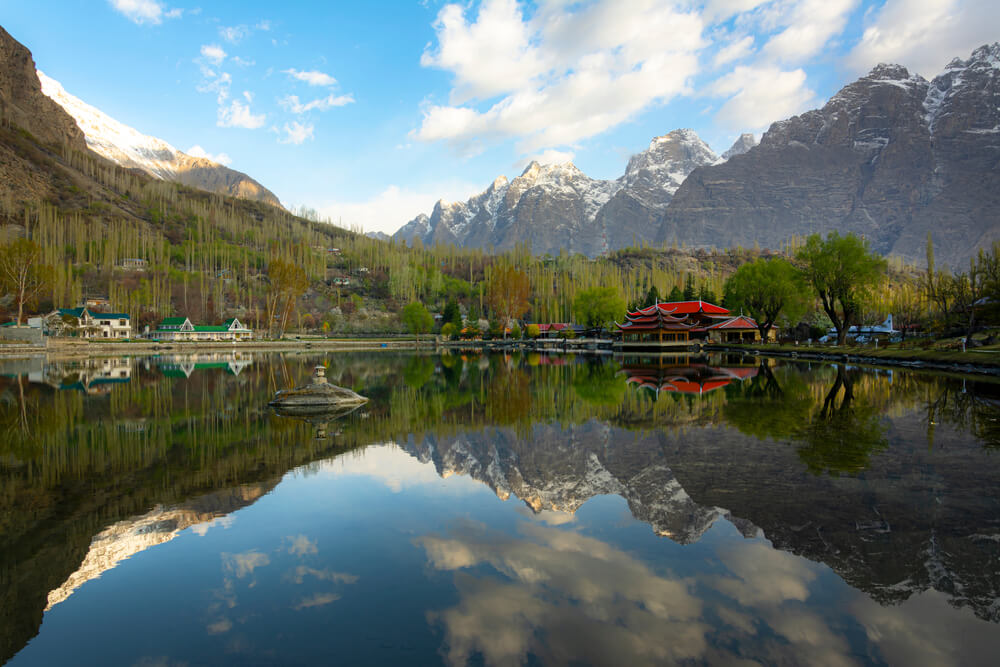 The lake is famous for fishing and swimming. You can also enjoy the beautiful sunset from here. The lake looks even more beautiful at night with all the lights. It is truly a sight to behold.
Things to Do at Chunda Valley
There are plenty of things to do here. If you love adventure, then you can go hiking and camping. The beauty of the place will spellbind you.
If you are adventurous enough, you can enjoy the scenic beauty of the place by sightseeing. There are plenty of beautiful places to see here.
Let's take a glimpse of what you can do at Chunda valley.
Hiking
Hiking at Chunda valley is truly an experience of a lifetime. The place is blessed with natural beauty. There are many trails that you can follow. The scenery is just mesmerizing. You will be spellbound by this Valley's beauty and scenic views.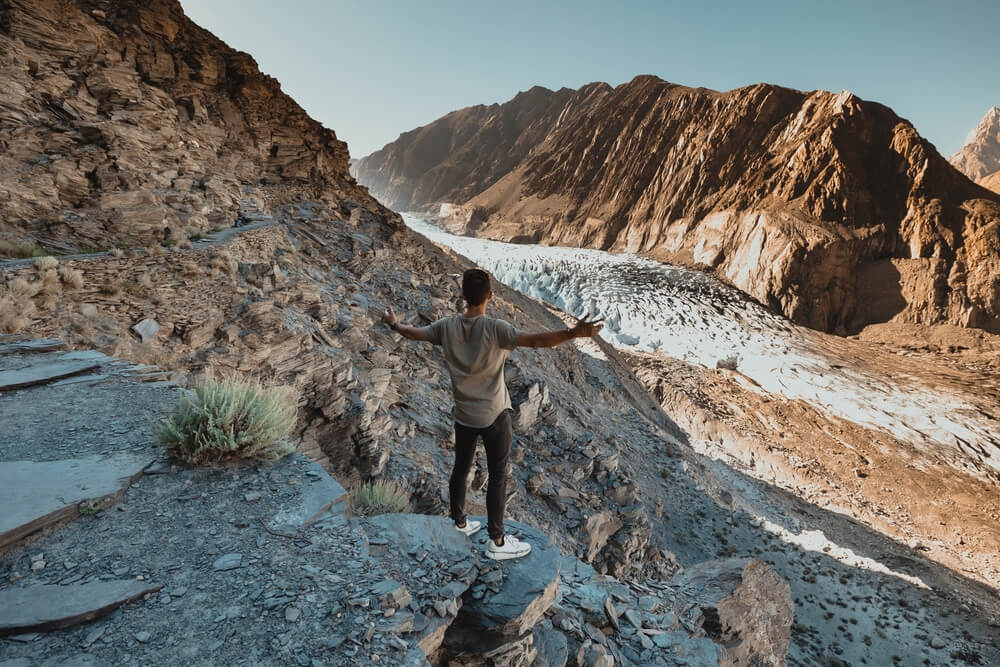 Camping
Camping at Chunda valley is an experience that you will never forget. The place is just perfect for camping. There are many campsites available here.
You can choose any one of them according to your convenience.
Set up your camp and enjoy a barbecue night with your friends; a delicious barbecue with a bonfire can fill your desire for adventure and fun this summer season.
Sightseeing
If you are not adventurous and want to relax in the cold winds with lovely views, you can opt for sightseeing in the valley.
The views are mesmerizing enough to make you breathe, and you can see beautiful trees covered with Lavender-colored leaves all over the Valley. Click pictures and make memories to take back home!
Nearby Attractions
Chunda valley is blessed with some of the most amazing natural scenery. Its beautiful mountains, glaciers, and lakes have something for everyone to enjoy.
Not only Chunda valley, but you can also enjoy some of the beautiful nearby attractions on your trip to this place. Here are some of the other alluring attractions near this Valley.
Satpara Lake
Just 20 kilometers from Skardu city, this lake is one of the main attractions near the valley. It is a freshwater lake fed by the nearby mountains' melting glaciers. The serene beauty of this place is a must-see!
Satpara lake is nearly 15 kilometers from Chunda valley, and it can take you 25-30 minutes to reach the lake from the Valley.
Katpana Desert
It is one of the world's highest deserts near Skardu city. It is a cold desert with unique natural formations like ice stalagmites and -stones. A visit to this place is a once-in-a-lifetime experience!
The Katpana Desert is located at a distance of 15 kilometers from Chunda valley, and it will take you around 30 minutes to reach the desert from the Valley.
Kharphocho Fort
If you are a history buff, you must visit the Kharphocho Fort. It is an ancient fort that has a lot of tales to tell. In addition, you will be fascinated by the place's rich history and the fort's beautiful architecture.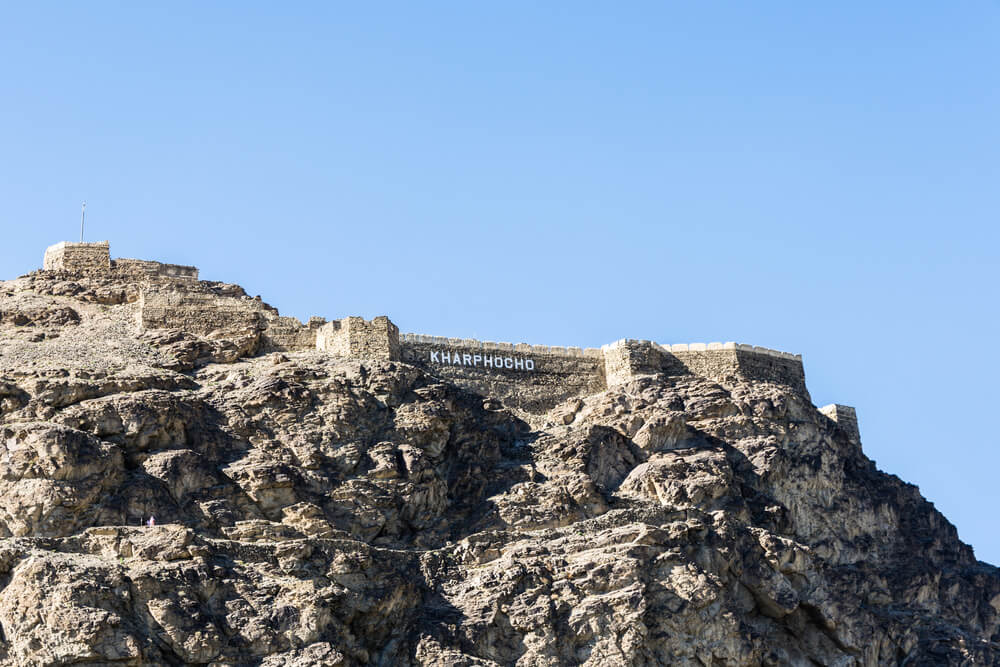 You can reach this fort from Chunda valley after a short journey of 40 minutes, as the distance is nearly 17 km.
How to Reach Chunda Valley?
You can reach Chunda Valley by taking a direct flight to Skardu airport, located around 10 km from the Valley. You can also take a bus or a jeep from Islamabad to Skardu, and then from Skardu, you can take another mode of transportation to reach Chunda Valley.
Traveling through your jeep, the journey from Islamabad to Chunda Valley will take approximately 13-15 hours.
How much is the Distance to Reach Chunda Valley from Islamabad?
The distance from Islamabad to Chunda Valley is nearly 700 km. If you're traveling by public transport, the journey will take you approximately 20 hours. However, if you're traveling in your jeep or car, the journey will take you around 13-15 hours.
Location of Chunda Valley Skardu
Chunda Valley is located in the Skardu district of Gilgit-Baltistan, Pakistan. It is situated at a distance of almost one hour's drive from Yadgar Chowk Skardu.
You can easily reach Chunda Valley by jeep and car. However, if you're traveling by public transport, you must take a bus or a van from Yadgar Chowk Skardu.
Frequently Asked Questions
How much is the height of Chunda valley?
Chunda Valley is located at an elevation of 8,202 feet (2,500 meters) above sea level. The Valley is situated at the junction of the Indus and Shigar rivers.
The valley is one of the highest valleys in Pakistan that you need to explore this spring season!
Is the Road Safe to Reach Chunda Valley?
The roads leading to Chunda Valley are generally safe. However, due to the mountainous terrain, they can be a bit challenging to drive on. So, it is advisable to use a 4×4 vehicle.
Chunda Valley is a beautiful place in the Skardu district of Gilgit-Baltistan, Pakistan. Its stunning scenery, giant mountains, and lush green vegetation are well-known.
So, if you're looking for a place to camp or go hiking, this valley is the perfect spot for you. Moreover, the view of Shangrila Lake is simply breathtaking. So, if you're ever in Skardu, don't forget to visit Chunda Valley!