Sarfaranga Desert – The Wondrous Cold Desert in Skardu
You've been to many different deserts, but have you ever visited a desert that's not warm enough? Well, we can tell you about a miracle: the Sarfaranga Desert.
The Sarfaranga Cold Desert is one of the unique deserts in the world because of its frigid temperatures. Located in Skardu. The desert is a must-visit for anyone who wants to experience something different.
Sarfaranga desert, also known as Cold Desert Skardu, is located at 7500 ft. The desert will come across your way to Shigar valley, a destination that is not worth missing. Once you visit this desert, your imagination about the scorching hot deserts will completely vanish by the intense cold winds.
This desert is home to some of the most beautiful scenery in the world. The majestic mountains, strong winds, and mesmerizing sunset view are just some things you will find here.
The best time to visit this desert is from June to September when the temperatures are a little more bearable.
So, if you want a place to get away from it all and experience something truly unique, then the Sarfaranga Desert is the perfect destination.
Let's study this article in detail to know about the attractions and activities of the desert before actually visiting it. This way, you'll know beforehand what you're going to do on your vacation.
Sarfaranga Desert Skardu Attraction and Locations
Sarfaranga Desert Skardu is one of the most popular tourist attractions in Pakistan. This desert is located in the northernmost part of the country. It's a must-visit for anyone looking to experience the true beauty of Pakistan.
The desert is home to some of the most beautiful scenery in the world. The desert is full of dunes that are perfect for exploring. In addition, there is the Indus river that flows through the desert, making it an ideal place to cool off after a long day of exploring in summer.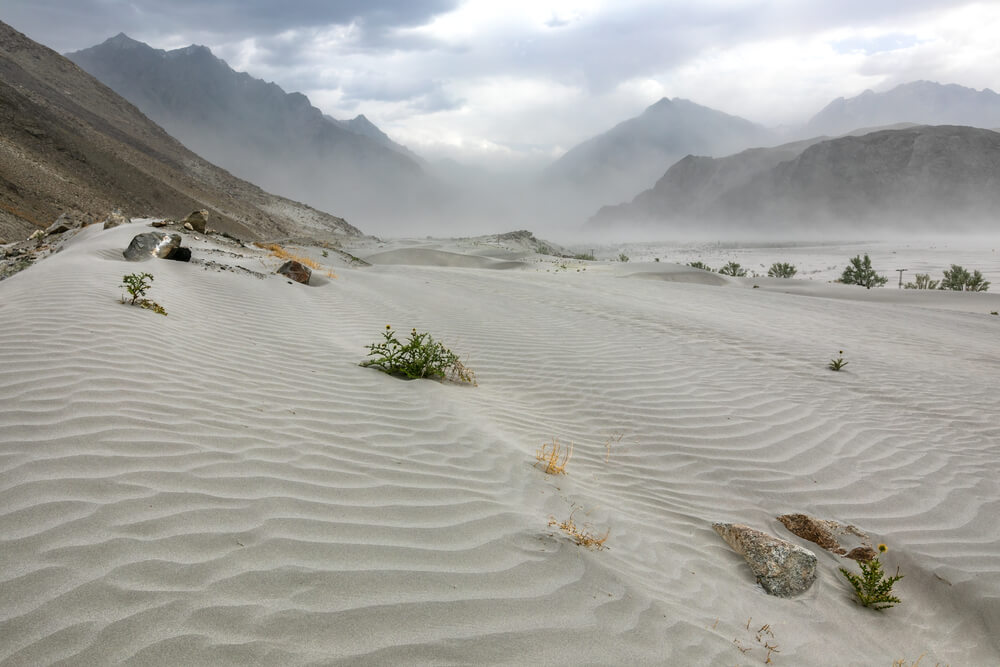 The ticket prices for different activities are affordable, making it a perfect destination for budget-friendly travelers.
The desert is open to visitors all year round, but the best time to visit is between April and October. That is because the moderate weather during these months makes it more comfortable to explore the desert.
When is The Best Time to Visit the Sarfaranga Desert?
There can't be a perfect time to visit a heaven-like place in this desert, but you need to make the most out of your visit in the right season.
The best time to visit the Sarfaranga desert is from June to September. That is because the temperatures during these months are a little more bearable, making it the perfect time to explore all this amazing place offers.
The desert is cold and dry in winter, with temperatures dropping below freezing at night. The days are sunny but can be pretty windy.
Winter is the time to go if you're looking for a more extreme experience. Just make sure you're prepared with the right gear.
Weather at Sarfaranga Desert
The weather in the desert can be pretty extreme in winter. However, the average temperature in summer is between 8 to 24 degrees maximum. In winter, it can drop to as low as -17 degrees.
It is therefore important to pack accordingly, with plenty of snacks and warm accessories to protect yourself from the cold weather.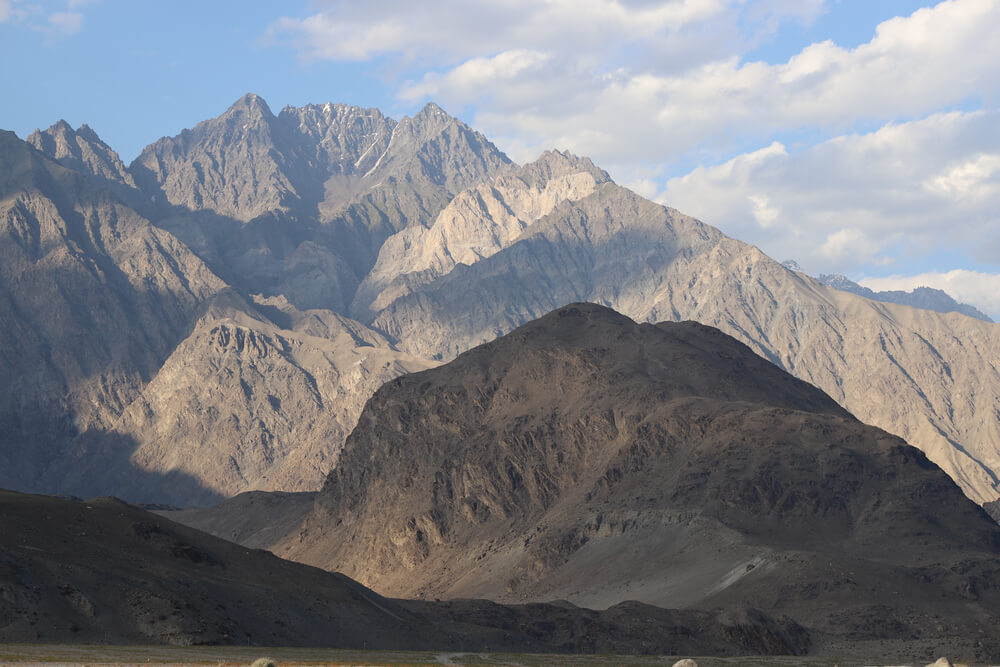 Nights can be equally as harsh, with temperatures dropping below freezing point. Be sure to bring warm clothes and camping essentials if you spend any time in the desert.
Recommended Gears
* Hiking Shoes
* Warm Clothes
* Camping Essentials
* Water Bottle
Attractions at Sarfaranga Desert
There are enormous things to watch and enough stuff to do at Sarfaranga desert Skardu. You'll be spoilt for choice as there's a lot to see, and you might need more than a day to cover all these attractions.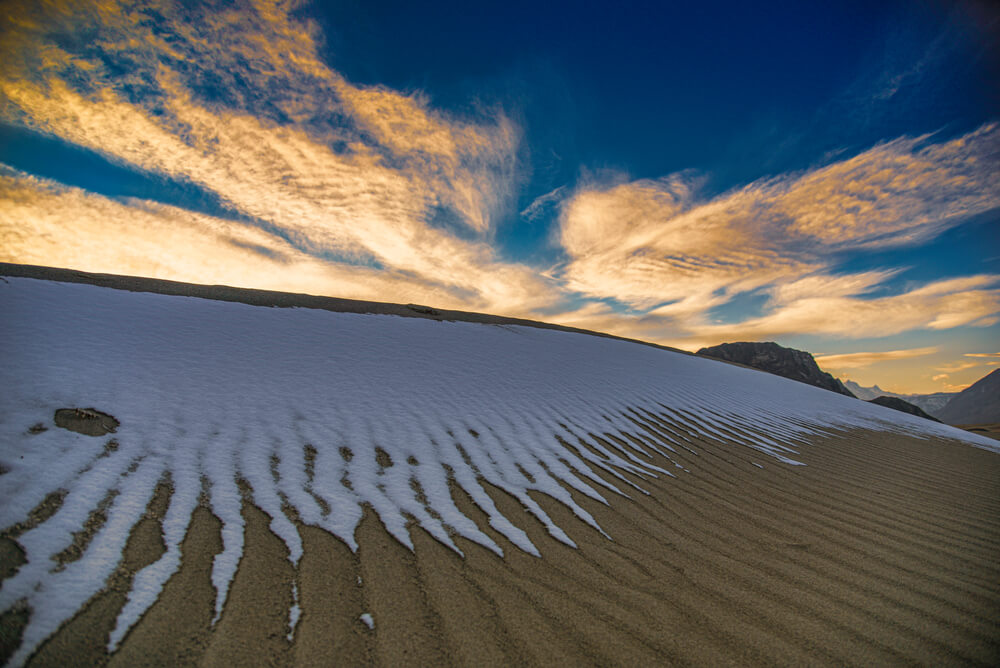 Let's take a look at the most famous ones.
Huge Majestic Mountains
The first and most prominent attraction is the vast, majestic mountains surrounding the desert. They are an incredible sight and make for some great photo opportunities.
These massive greyish-black mountains are a breathtaking backdrop in the vast sand fields.
Strong Winds
Another thing that makes the desert unique is the strong winds that blow through it. These winds can reach high speed, making them strong enough to blow sand into the air and create sandstorms.
You can enjoy the stars and moon in all their glory at night, as no light pollution obstructs your view.
Sand Dunes
Of course, the main attraction of any desert is the dunes. And Sarfaranga Desert does not disappoint in this department. The dunes here are massive and stretch as far as the eye can see. These vast dunes can be as high as 30m and are a great place to explore or go for a camel ride.
When planning your visit, remember that the best time to see the dunes is early morning or evening when the lighting is best for photography.
Peaceful & Tranquil Environment
If you're looking to get away from the hustle and bustle of city life, then Sarfaranga Desert is the perfect place for you. The desert is incredibly peaceful and quiet, making it the ideal place to relax and unwind.
The serenity is so relaxing that you can even hear your heart beating; it's that quiet!
Mesmerizing Sunset View
One of the best things to do is to watch the sunset. As the sun sets, the sky turns a beautiful orange hue, and the dunes into deep red, making it the perfect end to a day in the desert. The experience is truly magical.
If you're looking for an incredible place to relax and unwind, Sarfaranga Desert is the perfect place for you. With its stunning scenery and tranquil atmosphere, the desert will surely give you an unforgettable experience.
Activities At Sarfaranga Desert
A desert is a place full of activities you'll love for sure; It has something for everyone!
Horse Riding
One of the most popular activities is horse riding. Many people and companies offer horse riding tours, so you can easily find one that suits your needs and budget.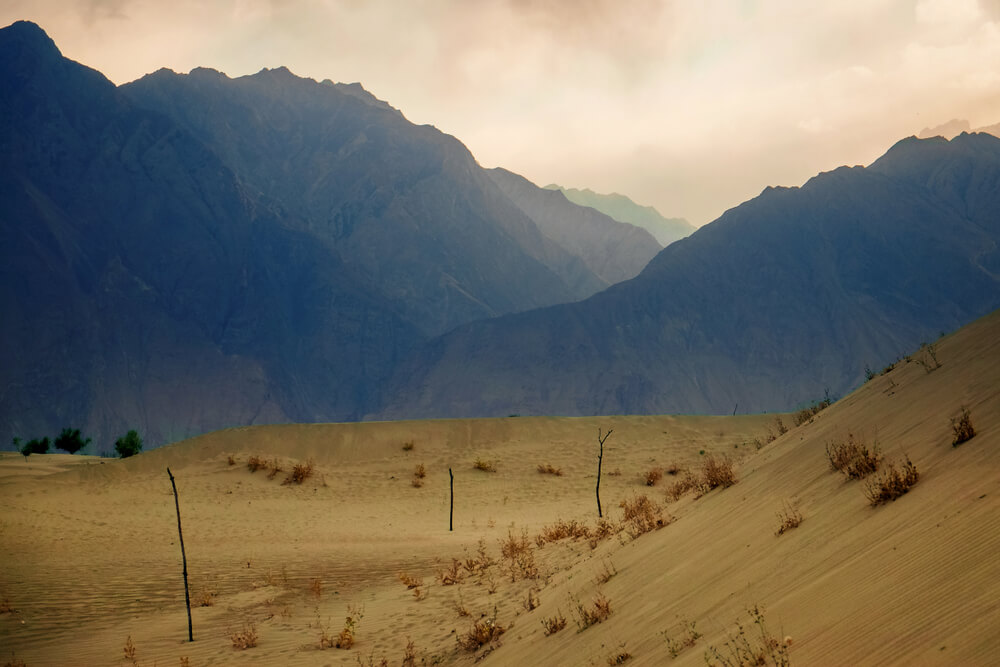 The experience of riding a horse through the desert is unforgettable and will surely give you an adrenaline rush.
Paramotoring
That is another popular activity in the desert. If you're looking for an exciting way to see the desert from above, then Paramotoring is definitely for you.
Having the experience of Paramotoring and watching the desert from a height while passing through the giant dunes is something you'll never forget.
Dirt Bike Riding
Dirt bike riding is another great activity you can enjoy in the Sarfaranga Desert. Different bike rentals will make you have a fantastic dirt bike ride, choose the one that suits your budget and have fun! The experience of riding a dirt bike through the desert is unforgettable and sure to give you an adrenaline rush.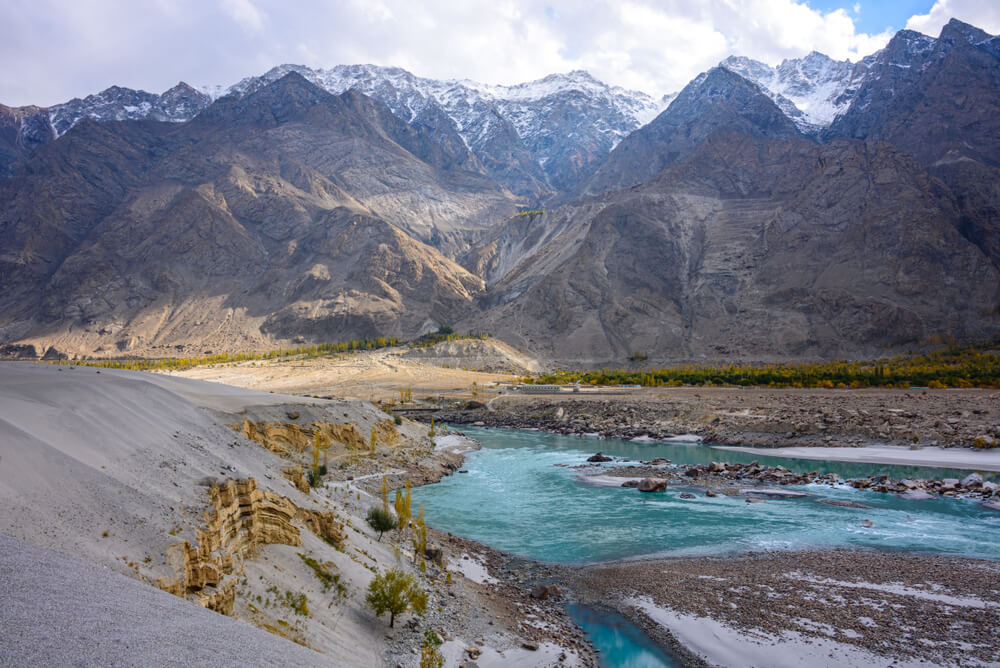 ATV Ride
ATV rides are becoming increasingly popular in the Sarfaranga Desert. They are a great way to explore the desert and have a lot of fun simultaneously.
Different ATV rental companies will provide you with all the necessary equipment and guidance. All you need to do is choose the right company and enjoy your ride!
Camping
Camping in the Sarfaranga Desert is a great way to experience the desert and its many wonders. There are different campsites available in the area, so you can choose the one that best suits your needs.
These exceptional camping services are Glamp Pakistan which is quite famous in other areas and this camping site. There's also the Shigar campsite, but it's far from here.
There are also different camping packages you can choose from, so compare them before deciding.
Famous Events & Festivals at Sarfaranga Desert
The desert has not only conventional activities and attractions to enjoy but also special events and festivals that are quite famous across the other parts of the country. You must've heard of it; if not, read about it now.
Sarfaranga Desert Jeep Rally
The Sarfaranga Desert Jeep Rally is one of the most popular events in the area. The event gets organized to attract foreigners to Baltistan and enhance its tourism.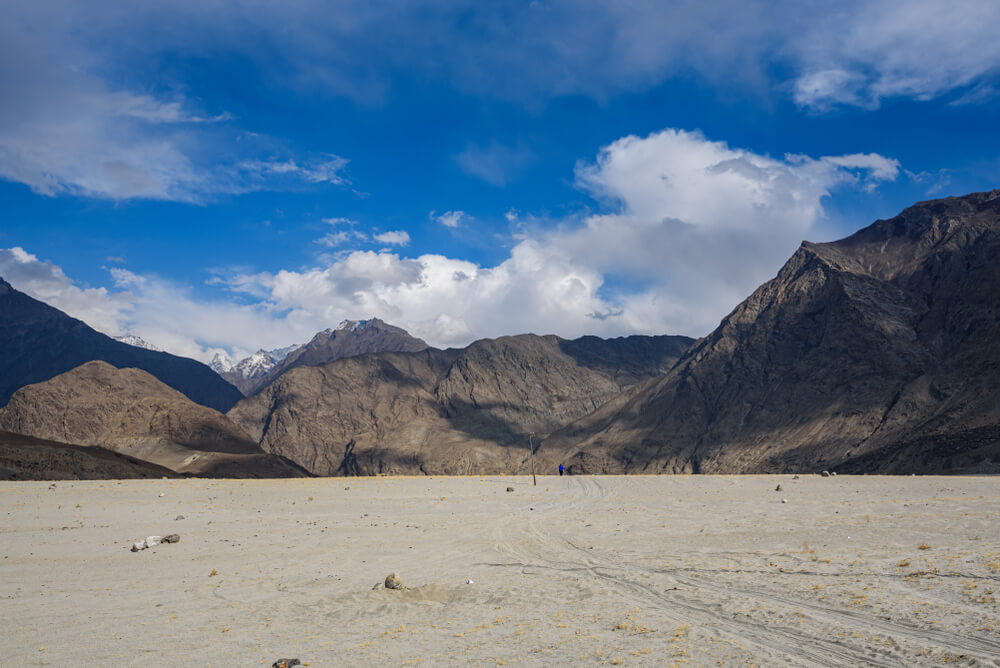 For the past three years, the Jeep rally has been conducted in August and has attracted people worldwide. 80-85 vehicles with experienced drivers participated in the rally, which was around 35 kilometers long in 2018. The track was enlarged, with 54 kilometers added to it in 2019.
The track for the rally covers all the off-road areas of the desert. It provides an excellent experience for the participants and the audience. People from all over Gilgit-Baltistan and even Pakistan come to see this jeep rally and observe the Balti culture.
If you're looking for some adventure, you must participate in this event once!
Marathons
The Sarfaranga Desert also hosts different marathons from time to time. These marathons are a great way to see the desert while also getting some exercise. The most recent marathon was held in October 2019 and featured a 10-kilometer-long track.
If you're looking for a challenge, sign up for one of these marathons and see how far you can go!
How to Reach Sarfaranga Desert?
The Sarfaranga Desert is located in the Skardu district of Gilgit-Baltistan. The best way to reach the desert is by taking a jeep or a 4×4 vehicle from Islamabad. The journey takes around 14 hours and is a great way to see the scenic Northern Areas of Pakistan.
You can also take a bus from Rawalpindi or Islamabad to Skardu, but the journey takes much longer and is not recommended if you're short on time.
Is there any Restaurant in the Sarfaranga Desert?
There are no such proper restaurants in the Sarfaranga Desert, but there are plenty of places to eat in Skardu. So if you're planning on spending a few days in the desert, it's best to stock up on food and water before you go.
Most nearby restaurants are near Kharphocho fort; if you're willing to go that far to eat, then you can avail this option. It is considered close to the desert.
How Much is the Distance to reach Sarfaranga Desert From Islamabad?
The distance from Islamabad to the Sarfaranga Desert is approximately 800 kilometers. Therefore, the journey takes almost 15 hours by car. You can make this journey by taking the Karakoram Highway from Islamabad.
If you don't want to tire yourself on the road trip, you can fly to Skardu from Islamabad. Then, from Skardu airport, start your journey to the Sarfaranga desert, which will take almost half an hour.
Location of Sarfaranga Desert Skardu
Sarfaranga cold desert is located in the Shigar district at a distance of only 20 kilometers from Skardu in Gilgit-Baltistan. It is easy to reach the place as it is just a 30 minutes drive from Skardu. You can take a jeep or any other vehicle to get to the desert.
The desert is located at an altitude of 7500 feet and has the mighty Indus river flowing nearby.
Frequently Asked Questions
How many cold deserts are there in Pakistan?
There are two cold deserts in Pakistan- the Sarfaranga desert and the Katpana desert. Both these deserts are located in the Gilgit Baltistan region and are a must-visit if you travel to Pakistan.
Is the Sarfaranga Desert better or the Katpana Desert?
There is no clear answer as to which desert is better. Both Sarfaranga and Katpana offer unique experiences that are worth checking out. If you are interested in adventure activities, then Sarfaranga might be a better option.
On the other hand, if you want to enjoy the beautiful landscape and scenery, then Katpana might be a better choice. Ultimately, it all comes down to personal preference and what you are looking for in a desert experience.
Sarfaranga cold desert Skardu is a beautiful and serene place in Gilgit Baltistan. It is an ideal spot for Adventure lovers and nature enthusiasts. The site has a lot to offer in natural beauty and outdoor activities. If you are planning to visit Pakistan, do not forget to include the Sarfaranga desert in your itinerary.