Dams In Pakistan
Pakistan is a country full of scenic beauty, mountains, deserts, and waterfalls, no less than has the best natural resources. The country is chock full of big dams, blessed with plenty of water resources to fulfill its irrigation needs.
To your surprise, Pakistan has approximately 150 dams spread across the country. But a big chunk of these dams is located in Punjab and KPK provinces, respectively. All these dams are constructed for different purposes. Some are used for irrigation, some for generating hydroelectricity, while others are meant to be used as water reservoirs.
Dams, wherever these are, have artificial lakes adjacent to them, which ultimately end up being recreational spots for locals of the country.
And the biggest of these dams provide water for the crops and help generate electricity, a renewable and environment-friendly energy source.
But is it all that dams do? No, dams are the biggest savior of flooding during the monsoon season. These dams are known to control floods over the years and use the water for useful purposes instead.
Most of the dams got built in the era of 1960 to 1975. Hence these hold historical importance too. Among so many other achievements, Pakistan has made its way to the world records again by having the biggest earth-filled dam, i.e., the Tarbela dam.
Let's take a quick look at some of the famous dams in Pakistan which are already constructed. What place do they hold in the country, and how are these some of the best tourist spots? So dig in with us!
Darawat Dam
The Darawat dam, although included in the list of famous dams in Pakistan, is a lesser-known dam as not many people know about it. Located in the Jamshoro district of Sindh, this dam stands over the Nai Baran river with all its grandiosity.
The construction of this dam started in 2010 and was last completed in 2014, open to all operations. However, it was inaugurated by Asif Ali Zardari, president of that time, in 2013.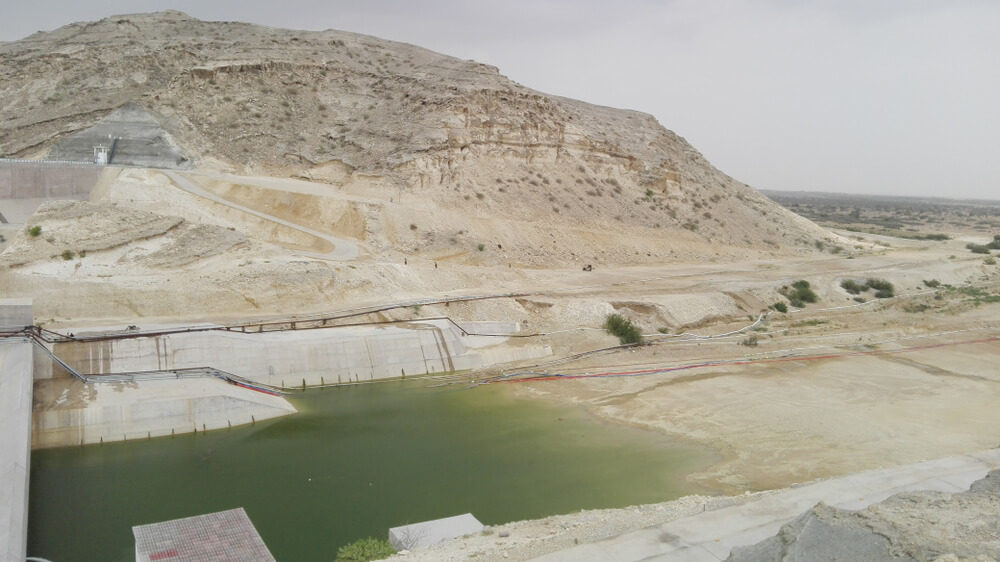 Darawat dam amazingly holds the capacity of storing 150 million cubic meters of water. And according to an estimation, the government spent almost 9.3 billion PKR on the completion of this dam.
Purpose Of The Darawat Dam
The major operation of the Darawat dam is to assist in the irrigation of crops. Therefore, locals of Karachi and Hyderabad and people exploring the area on road trips plan to visit this tourist spot.
If you're somewhere near Karachi, this is the best chance to see this place as you won't be able to spare time to visit this gem-like place.
Diamer Bhasha Dam
If we're talking about the most beautiful dams in Pakistan, we shouldn't forget the Diamer Bhasha dam at any cost, which is truly a masterpiece. Although the dam is still under construction, once it gets completed, it will be one of the largest dams in Pakistan and the highest in the world.
A unique fact about this dam is that a significant portion comes from the Kohistan District of KPK, and the rest of the small part is located in Diamer, Gilgit Baltistan.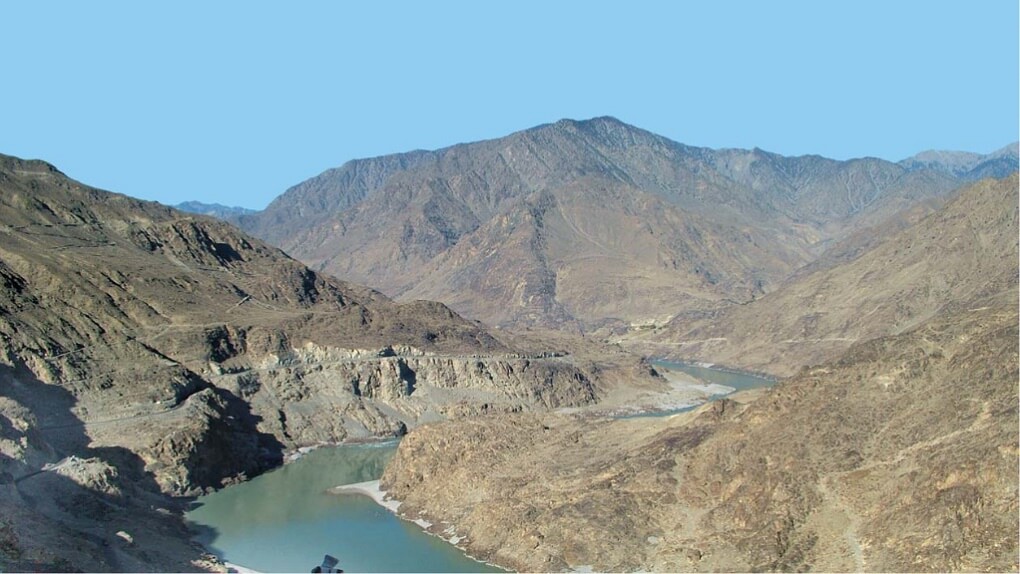 The dam is being constructed over the Indus River of Gilgit Baltistan. With the help of its 12 huge turbines, the dam will be able to produce more than 4500 megawatts of electricity. It can quickly fix the country's increasing need for electricity.
But that's not where it all ends; the dam will have this amazing capacity to store 8,50,000 acre-feet extra of water that can irrigate agricultural land and fulfill the drinking water demand.
The list of its benefits isn't limited here; the Diamer Bhasha dam will be a game changer by controlling the flood waters. So there'll be no more damage from the floods coming through the Indus river. That's how it will also increase Tarbela Dam's life.
The dam will have almost fourteen gates with a height of 272 meters; its live storage will be 6,400,000 acre-feet; however, the gross capacity of the reservoir is even more than that. And this majestic dam will have two underground powerhouses with six turbines each.
The construction of this dam started in 2011, and the former Prime Minister, Yousef Raza Gillani, laid its foundation, whereas Gen. Pervez Musharraf established the plan. However, as it's still not completed and is under process, the government has set a target to make this dream come true by the end of 2022. So let's see how things go!
Gomal Zam Dam
Let's talk about one of the top dams in Pakistan; the Gomal Zam dam is immensely important for Pakistan for various reasons. But, with all its glory, the dam stands in the South Waziristan Agency of Federally Administered Tribal Areas (FATA) of Pakistan.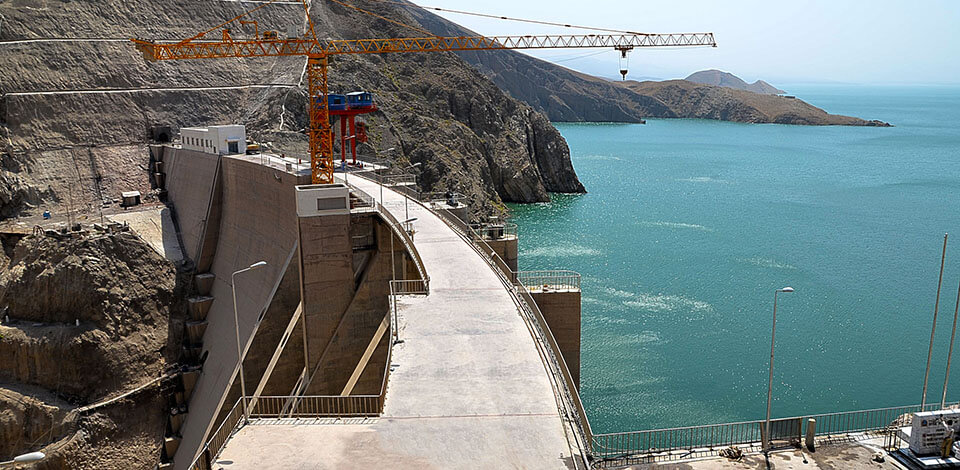 Gomal Zam dam got fully functional in 2011 after it started in August 2001. However, the dam's history dates back to decades when in 1963, the Pakistan government approved its construction. But unfortunately, the 1965 war between India and Pakistan didn't let that happen, and the construction work stopped immediately. Finally, and luckily after years, former president Gen Pervez Musharraf ordered its construction and held the groundbreaking ceremony on 14th August, i.e., the independence day of Pakistan.
How Does Gomal Zam Dam Works?
This beautiful dam gets its water from the Gomal river, which you can say is a branch of the powerful Indus river, and passes through a narrow gap in Khjori Kach. The dam focuses on irrigation and flood control, and its 60.5 main canal provides water for drinking and domestic use to the nearby villages of South Waziristan, mainly Tehsil Kulachi of Dera Ismail Khan.
Gomal dam is a concrete gravity dam having a height of 133m and a gross capacity of 1,140,000 acre-feet. Its six spillways have 17.4 megawatts of installed capacity, and this dam is truly a wonder.
Gulpur Dam
Gulpur dam is located on the Poonch river, a major tributary of the Jhelum river in Kotli District of Azad Kashmir. This dam is truly a source of beauty and peace, and it's famous for its serene and scenic views.
Gulpur dam is a treat to watch as it has an emerald water reservoir spread over 2,100 acres. The dam can deliver 102 megawatts of electricity and be planned on a least-cost basis.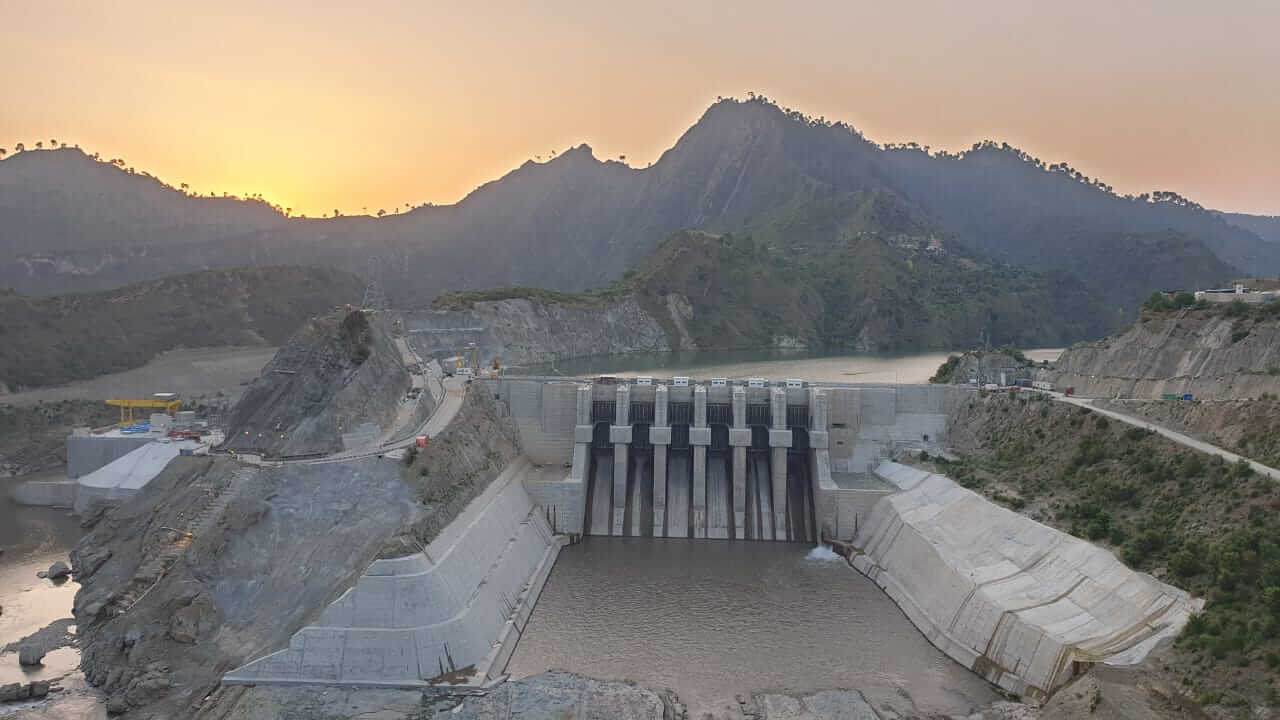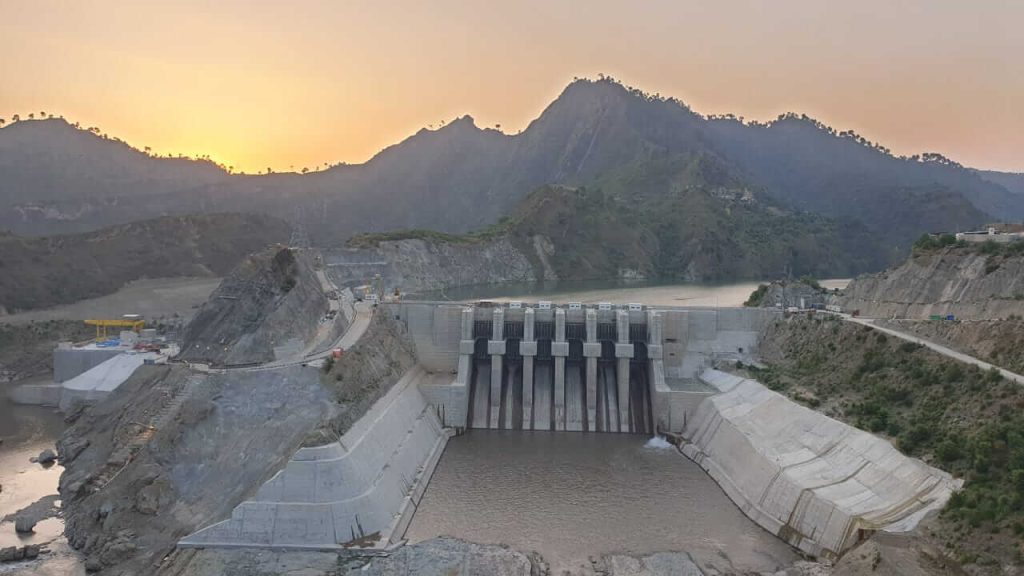 This dam is a collaboration of WAPDA Pakistan, and a Korean company KOSEP, MIRA Power Ltd. They signed a contract for its construction. The dam will be operational by February 2020. So Gulpur dam is new compared to the other top dams in Pakistan.
Tourism At Gulpur Dam
If you're planning to visit it, you won't have to go so far from the bustling cities Lahore and Islamabad, as it's just 235 km away from Lahore and 167 km from Islamabad. You can easily reach there through the scenic mountainous roads; enjoy the views on your way!
The artificial lake, formed by the dam, is a popular picnic spot among the locals as it provides a breathtaking view.
Hub Dam
Hub dam is a small dam situated on the border between Sindh and Baluchistan; one is in Karachi, Sindh and the other is in Lasbela, Baluchistan. The dam is almost 56 km away from Karachi; basically, it's a water reservoir on the Hub river, where the drinking water reaches the city of Karachi.
The construction time of this dam was quite a lengthy process; it started in 1963 and formed a complete dam in 1981.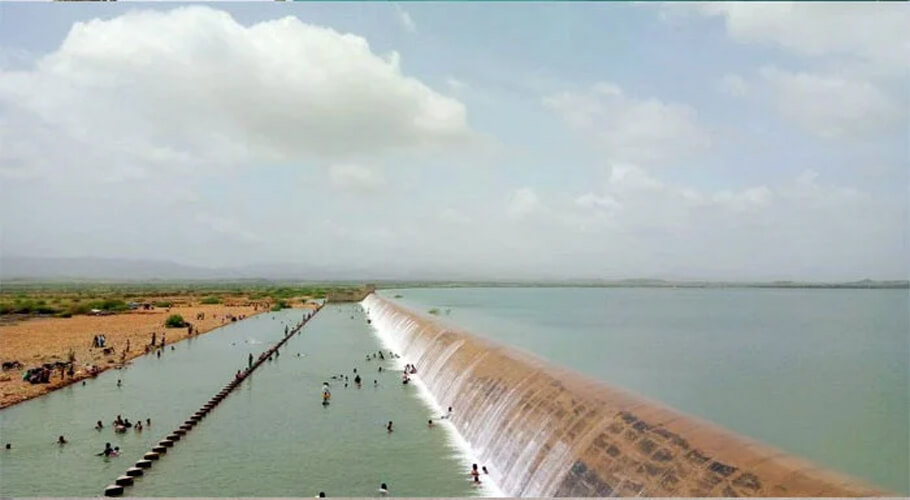 Hub dam, although small in size, is quite famous in Pakistan as it provides Karachi with its cleanest drinking water. The dam is also used for irrigation purposes in the nearby lands and, to some extent, for power generation.
The dam has a miraculous gross capacity of 85700 acre-feet; in that aspect, it is honored to be the third largest dam in Pakistan. Hub dam covers almost 24300 acres of area on the border of Sindh-Baluchistan.
The Wildlife Sanctuary
Well, here's an interesting thing about this dam, the area which surrounds this dam was long declared a wildlife sanctuary in 1974 by the government of Sindh. The sanctuary area is 27219 hectares, and different species like ducks, Waders, Pelicans, and cranes are seen feeding, nesting, and enjoying their natural habitat. It's a treat-to-eyes sight if you go there and watch them feeding!
Since the area of the Hub dam is a beautiful and fascinating spot, it's a perfect tourist destination for locals of the country. Specifically, Karachi residents visit this place on weekends to enjoy various activities. The activities you can do here include swimming, fishing, picnic, and overnight camping with your friends or family.
You can also enjoy the comforts of a beautiful rest house nearby, which WAPDA owns. So pack your bags and get ready to explore!
Kalabagh Dam
Since we're talking about the famous dams of Pakistan, it's impossible to leave the Kalabagh dam behind as it's been a hot news topic for years.
Situated on the River Indus in the Mianwali District of Punjab province, the Kalabagh dam is one of the most controversial dams in Pakistan. The construction of this dam has been a hot debate for many years, as different provinces have reservations about it.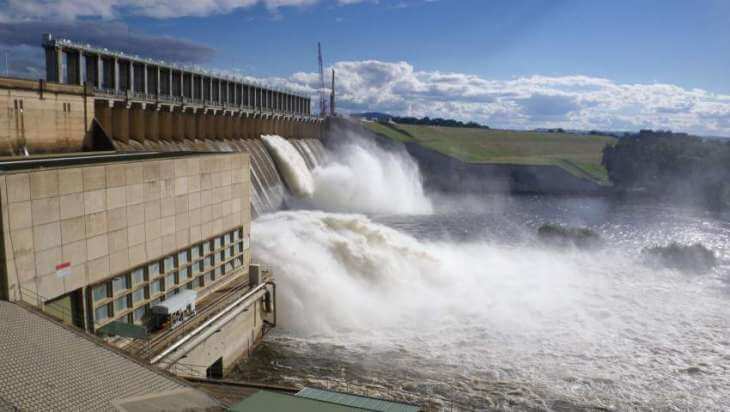 The height of the Kalabagh dam is 259 feet, and the length is 10,991 ft. The dam covers an area of 110,500 square meters and has a gross capacity of 7,900,000 acre-feet. It would be the largest dam in Pakistan if constructed. And it has the potential to grasp the country out of its water crisis.
The main purpose of this dam is to provide irrigation water to the agricultural lands of central Punjab, generate hydropower, and help flood control.
The construction of the Kalabagh dam was first proposed in the year 1952, but it couldn't take off due to political reasons. The matter got revived in 1984 and again in 2002, but the project couldn't see the light of day due to strong protests from different provinces, particularly Sindh.
Why Is Kalabagh Dam Controversial?
The controversy around the Kalabagh dam is mainly due to the fear that it would reduce the water flow to Sindh province, which is highly dependent on the Indus river for irrigation and drinking purposes.
The matter is still under discussion, and a final decision on the construction of the Kalabagh dam is yet to be taken. So let's see what this dam has in its fate!
Khanpur Dam
Let's see another masterpiece from the list of beautiful dams in Pakistan and explore how it got into existence! Khanpur dam is situated on the River Haro, about 40 kilometers from Islamabad's capital territory in the Punjab province.
This dam, built on the Haro river, a water body in Pothohar Plateau, Khanpur, KPK, was created to control the flow of the Haro river. After a construction period of almost 15 years, the dam got completed in 1983.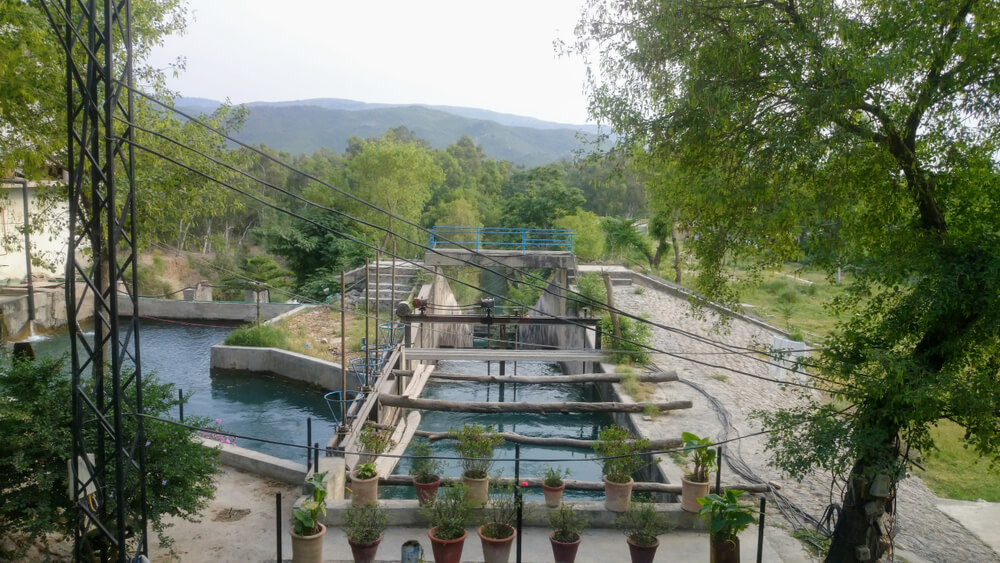 According to an estimation, around PKR 1,352 million was spent on constructing this dam with a height of 167 ft.; that makes it a big one!
Khanpur dam has an incredible capacity of storing 110,000 acres ft. and provides potable water to the twin cities. Not just that, but it also irrigates almost 50,000 acres of agricultural land in the region.
The dam was originally built for irrigation purposes, but later on, it started serving as a major source of drinking water for Islamabad and Rawalpindi.
Visiting The Khanpur Dam
Khanpur dam is undoubtedly one of Pakistan's most fascinating and beautiful dams and is a major tourist spot in the country. The turquoise blue waters are appealing and invite thousands of visitors each year. If you're wondering what to do at this place, worry not! There are plenty of activities and water sports you can enjoy there.
Let your inner adventurer come out and have fun in cliff jumping, boating, kayaking, swimming, and parasailing. If you plan to stay, you can go overnight camping and enjoy a finger-licking barbecue. An annual spring festival in Khanpur dam welcomes locals and tourists. People come here for picnics, fishing, camping, and whatnot! If you haven't been to Khanpur dam yet, put it on your list and visit this place for an incredible experience.
Mangla Dam
As the list of dams in Pakistan continues, let's see another one of major importance. Yes, we're talking about the Mangla dam, an important aspect of the India-Pakistan relationship. The dam was built according to an international treaty between Pakistan and India, the Indus Waters Basement treaty.
Mangla dam is situated on the River Jhelum in Mirpur District, Azad Kashmir. It is the sixth largest dam in the world and the second largest in Pakistan.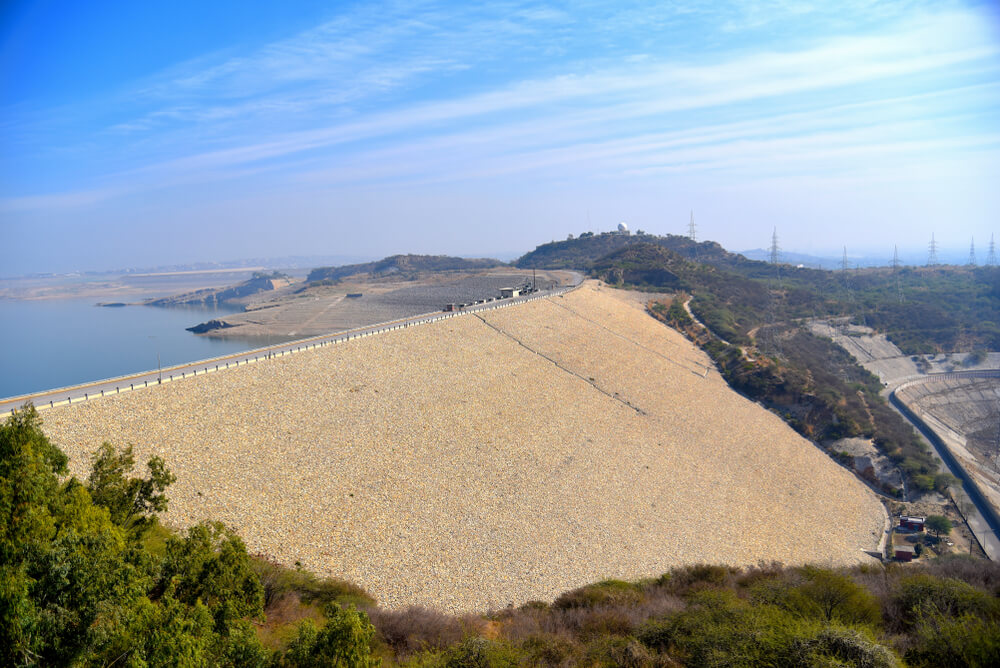 The name Mangla dam came from the nearby village Mangla. The construction process started in 1961 and was somehow completed in 1967. Right after its construction, the dam became a miracle for the country and was one of its major water irrigation resources.
The height of the Mangla dam is 148 meters, and the length is 3,140 meters. The storing capacity of Mangla reservoir is 7.39 million acre-feet. However, the initial purpose of constructing this dam was to store water and save the country from floods, but later some modifications took place. After which, the dam started to produce 1150 megawatts of electricity with its ten turbines.
The previous government passed an extension plan to make the dam generate almost 1500 megawatts soon.
Exploring The Mangla Lake
Mangla lake, associated with the Mangla dam, attracts tourists and locals. Mangla dam is a 2-hour drive from Islamabad, making it an accessible place for day trips.
There are such enjoyable water sports activities that you can't imagine how much fun you'll have there. And the best part is that you can do all these activities around the year. You can go boating, jet skiing, fishing, and rafting if you've got family along; enjoy a picnic in the lush green park near the lake.
There's also a chance to see the Ramkot Fort, an ancient fort situated atop a hill. It's just a 10 minutes boat ride from the lake. So you can enjoy the scenic views of Mangla lake and have an incredible time with your loved ones.
Mirani Dam
Mirani dam is one of the largest dams in Pakistan, but unfortunately, not many people know about it as it's in a quiet secluded area. Although the dam is quite big, it took only four years to build, from 2002 to 2004.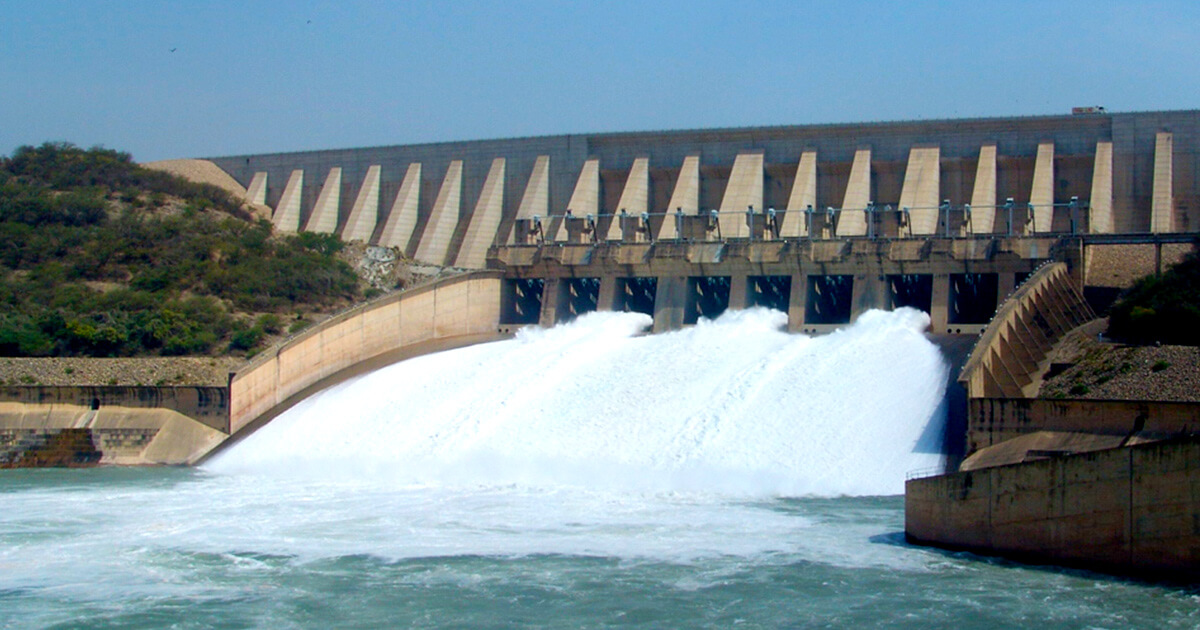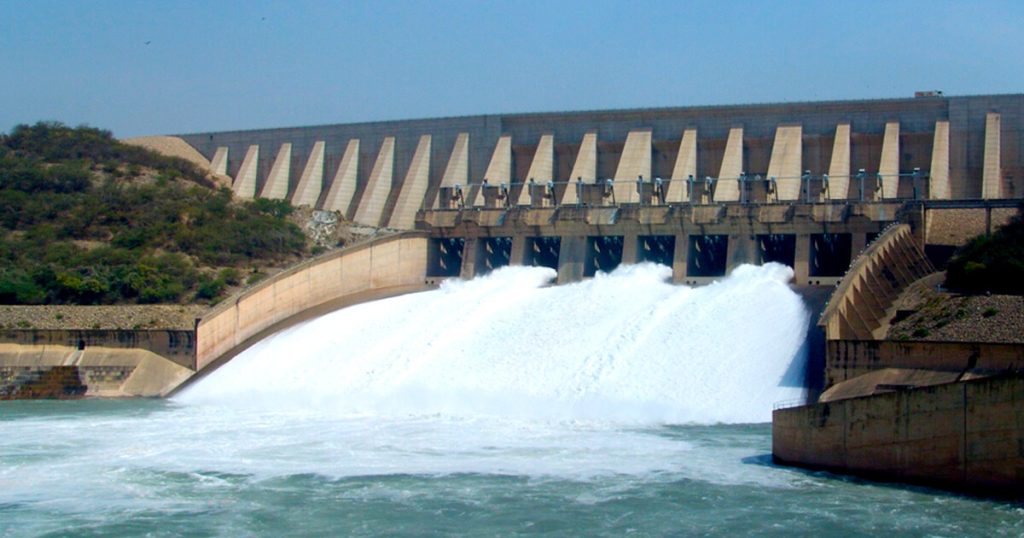 Well, that makes this dam relatively new compared to the others on the list. Mirani dam is located on the Dasht river in the central Makran range in Baluchistan, and the height of this dam is 147 meters. The storage capacity is 302,000 acre-feet, and the water in this reservoir comes from the Kach and Nihing rivers.
Purpose Of Mirani Dam
The purpose of this water body was to provide water to the areas of Gwadar and Turbat throughout the year and was initiated by WAPDA, Pakistan. However, it serves as the provider of crop cultivation and increases the country's agriculture. The nearby valley, Kach valley's soil, is capable of agriculture and can provide a large portion of crops if watered constantly.
The list of this dam's benefits doesn't end here; it has the honor of being the largest dam in the world in terms of capacity for flood protection; it can store up to 588 690 cubic hectometers.
This place's tourism is limited due to being a remote area, but it's hoped that the development of the China-Pakistan Economic Corridor (CPEC) will bring more tourism and fame.
Although it's not possible to live near the Mirani dam, if you're planning a trip to Makran Coastal Highway, consider visiting this dam as well. It can be a good spot for sightseeing!
Namal Dam
Namal Dam is one of the most famous dams in Pakistan; the gravity dam is situated in the Mianwali district of Punjab province. It is also known as the 'Upper Namal Dam.' The British engineers built this dam in 1913 by the British engineers. Don't you think it's an old one? It is! But it's still working with perfection.
The dam was constructed with the Namal lake and had a surface area of 5.5 square kilometers. The site has mighty mountains and plain agricultural lands on the other two sides, making it even more scenic.
This reservoir also comes from the nearby hills and mountains, which recharge the groundwater level. The main purpose of this dam is to provide irrigation water for agricultural land and to generate 40 megawatts of electricity.
Although the major purpose of constructing this dam was to provide water to nearby agricultural lands, now it majorly serves as a tourist spot. People from all over the country come to see this scenic place and make the most of their holiday!
Birdwatching At Namal Dam
The location of this dam makes it a hub for migratory birds that flock to this scenic site before the summer season. It attracts many tourists and birdwatchers who love to catch a place of unique and fascinating bird species. People who love boating also come here to spend a memorable weekend.
Namal lake is a very good tourist spot in the country right now, and it's still going through developments to bring in more tourists and locals. So visit this place with your friends and family to make the most of it!
Neelum Jhelum Dam
The Neelum Jhelum dam, one of the top dams in Pakistan, is located in Muzaffarabad Azad Kashmir and was completed in 2018. That makes it belong to the list of newest dams in Pakistan.
The dam is a hydroelectric power station, and the water moves from the Neelum river to the Jhelum river; thus, the name Neelum Jhelum dam. And that uniqueness of this dam contributes to one more interesting factor about Neelum Jhelum!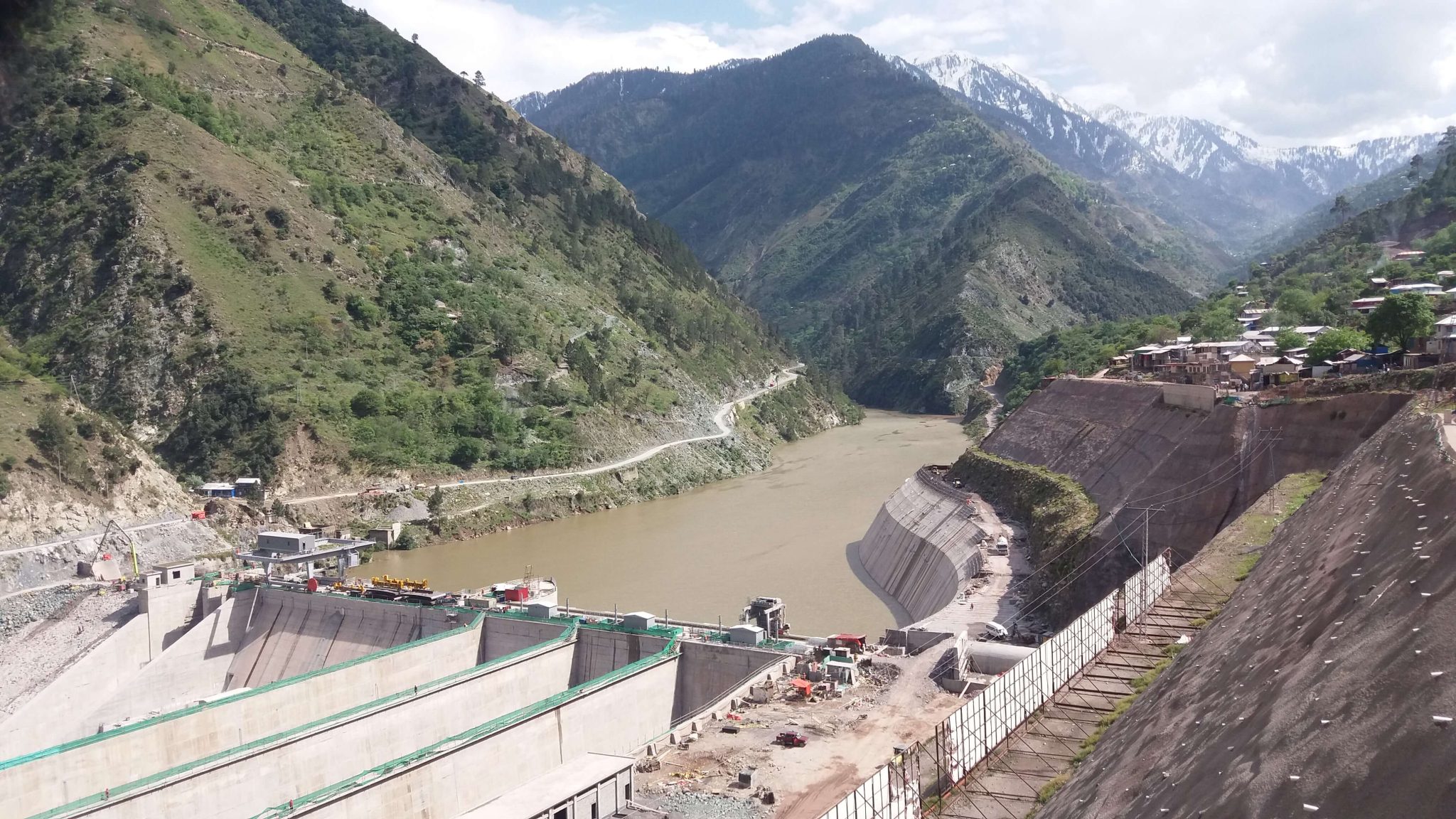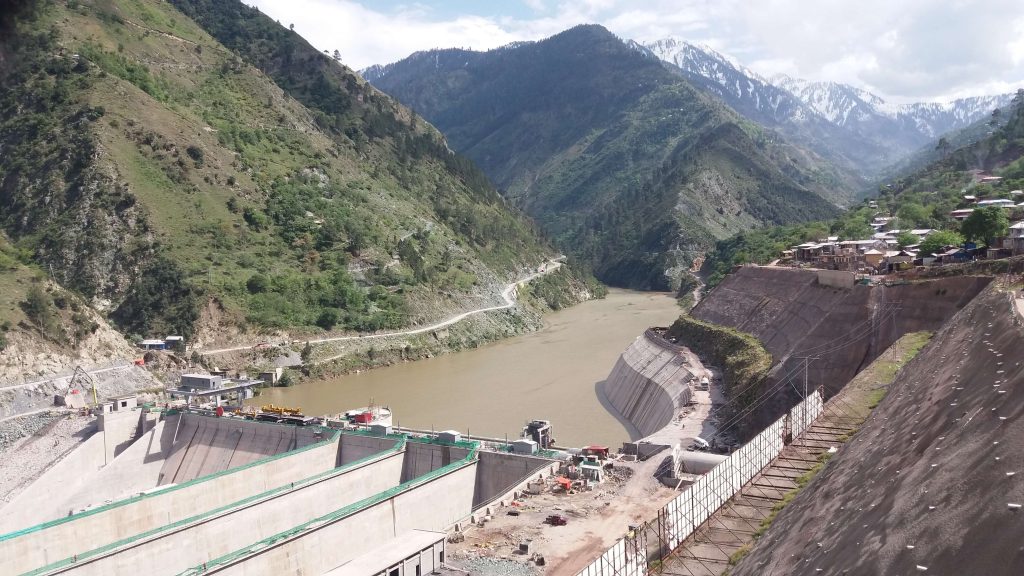 Operational since 2018, this dam has been producing around 1040 megawatts of electricity. But, first, let's talk about how this dam came into existence!
Construction Of Neelum Jhelum Dam
In 2007, the Pakistan government and a Chinese corporation signed a contract to construct this dam. However, the work started in 2008. Shortly after that, due to some reasons, the construction work stopped in 2008. But years later, the dam was finally completed in 2018 as its first generator was announced operational.
The reservoir of this dam has a capacity of 54.8%. So you must be wondering what's so special about this dam. Well, what makes it unique is its ability to generate electricity from water by using turbines.
The dam has four turbine units, each with a capacity to generate 242 megawatts of electricity. In addition, the dam also provides irrigation water to agricultural lands in the vicinity and helps in flood prevention!
The Neelum Jhelum dam is already grabbing tourists' attention as it has a scenic view and is surrounded by the Neelum river from three sides. The place is still developing to bring in more tourists and make the site more happening! So if you get a chance, visit this dam because it's worth it!
Rawal Dam
One of the most beautiful dams in Pakistan, the Rawal dam is built in Islamabad and is known to provide water to the twin cities of Islamabad and Rawalpindi. The dam was completed in 1962 and is a multi-purpose dam, serving various purposes like irrigation, flood prevention, and water supply.
The reservoir of Rawal dam has a water capacity of 42,000 acre-feet. The catchment area of the Rawal dam is 106.25 square kilometers. Rawal dam also helps in flood prevention in the downstream areas.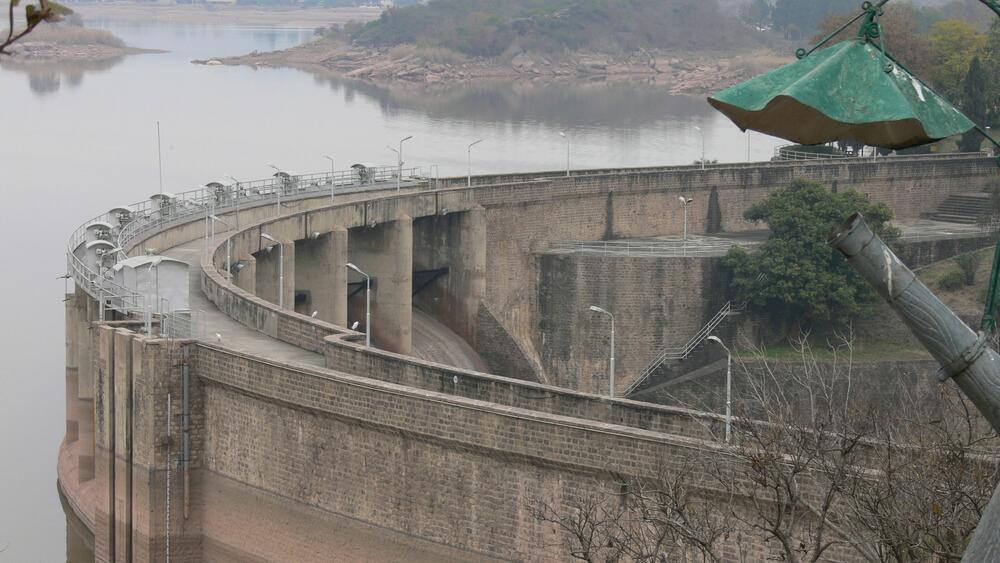 The dam mainly collects water from the Korang river and other small streams that run down the Margalla hills. There are more than 15 unique species of fish in this lake, and birds also make this place their home during most of the year. Thus it's an attention-center for birdwatchers and fishing lovers.
Tourism At Rawal Dam
The Rawal dam is a beautiful place along with Margalla Hills; it has a golf course, picnic spots, and eateries, making it an ideal place to visit with family and friends. The highest area of the park lets you have an amazing view of Rawal lake and the twin cities.
The scenic view and the tranquility of the place make it so special!
Sabakzai Dam
The list of dams and reservoirs in Pakistan is still going on, and the Sabakzai dam is one of these masterpieces. Located on the Zhob river southwest of Baluchistan, this dam controls the flow of the Zhob river.
The construction started in 2004 and ended in 2007, the shortest time in which a dam was constructed in Pakistan. Gen, Pervez Musharraf, the former president of Pakistan, inaugurated this dam, which has been running since then.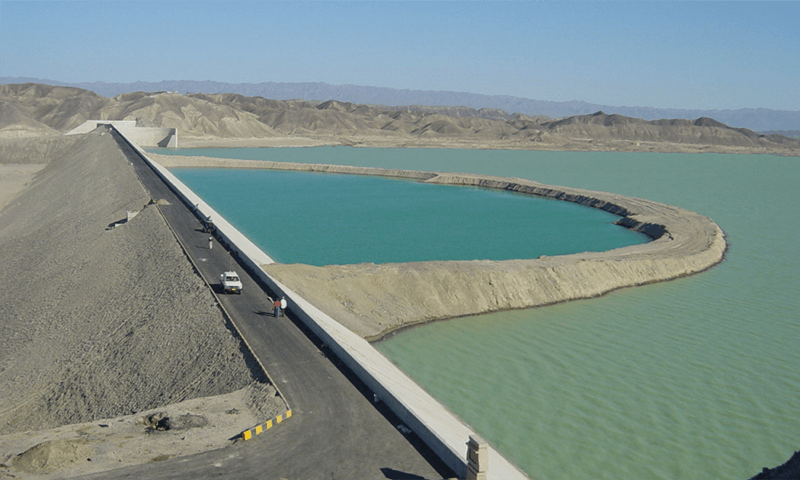 Sabakzai dam provides water for irrigation of local lands, and a proper plan for better irrigation is still under process. However, since its inception, the dam has played an important role in controlling the water flow.
The project cost approximately 1960.823 million rupees and turned out to be one of the most successful projects in Pakistan!
The dam has a lake which is home to different kinds of fish and is a good place for fishing. Moreover, the scenic beauty of Zhob valley and the dam attract many tourists!
Satpara Dam
Another fascinating and beautiful dam in Pakistan, the Satpara dam, is built on the Satpara lake in Skardu, Gilgit-Baltistan. Its construction was completed in 2011 after it started in 2003; however, the last power station came into being in 2013.
It's a concrete-filled dam and is a major source of electricity for nearby towns and areas, generating almost 17.4 megawatts of hydroelectricity.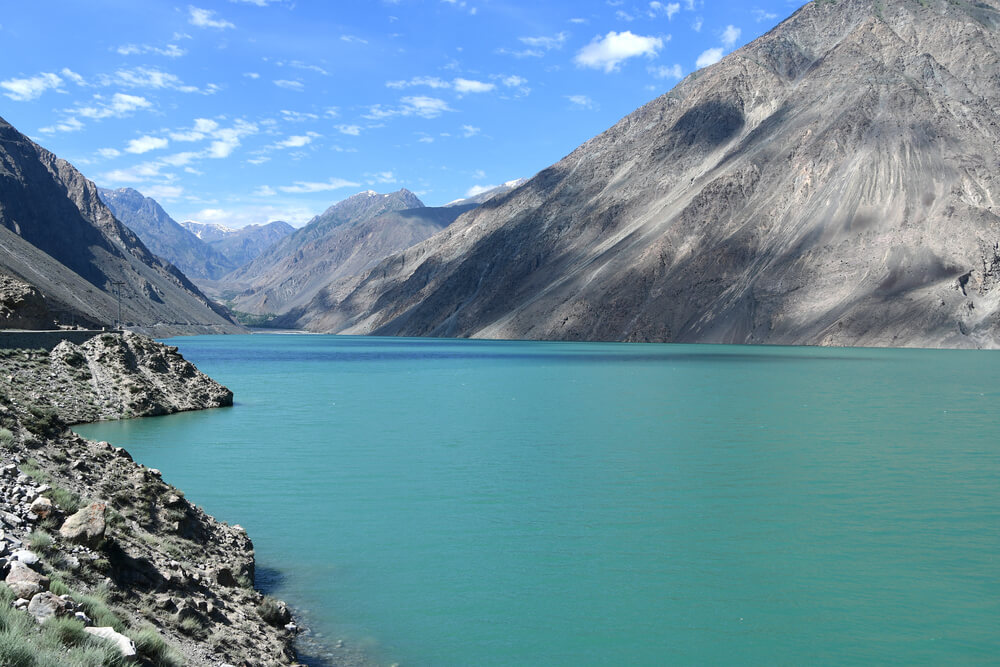 This dam provides electricity, doubles the size of the Satpara lake, and provides millions of gallons of water to households in Skardu city.
This dam is 560 ft., with a height of 128 ft.; it's a water-filled dam and is an important asset for Gilgit Baltistan.
The place is surrounded by scenic beauty and breathtaking views; it has a lush green park and is a great picnic spot for tourists! It's one of the most popular tourist attractions in already so-famous Skardu.
Tarbela Dam
One of the biggest and largest dams in Pakistan, the Tarbela dam is built on the Indus and is situated in Tarbela, near Swabi city, almost 105 km from Islamabad.
It's the world's largest earth-filled dam and second-largest by structural volume. Cheers to this achievement!
The construction of this dam took place in three stages, starting in 1968 and completing in 1976; the massive dam was constructed almost 143 meters above the river belt. And the maximum elevation level of this dam is 1550 ft.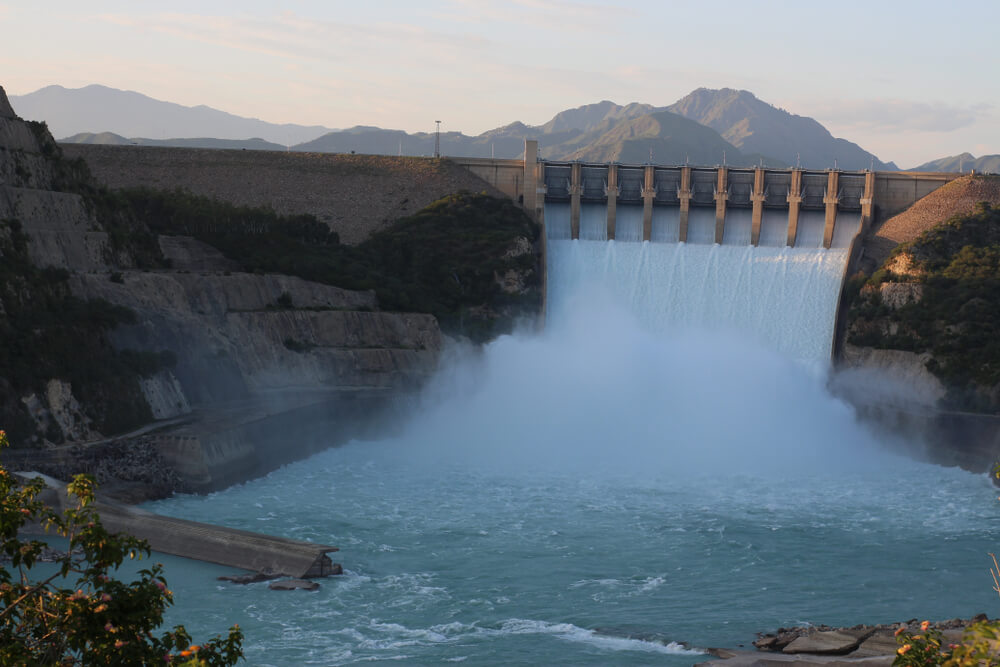 The main purpose of this dam is to generate hydroelectric power and provide water for irrigation. It has a capacity of 4,888 MW and provides almost 15% of the total electricity needs of Pakistan!
As Pakistan's major hydroelectric power resource, the dam continuously goes under extensions and refurbishments. It has a total of 17 turbines; all are dedicated to power generation, thus coping with the power crises in the country.
Being on a 2 hours drive from Islamabad, the place is famous for its mesmerizing views and the scenic beauty it holds; tourists from all over frequently visit the area!
You can enjoy water sports and learn about how hydroelectric power is produced, isn't it thrilling?
Warsak Dam
The next one on our list of dams and reservoirs in Pakistan is the Warsak dam, located on the Kabul river in Warsak near Peshawar. Again, it's a multi-purpose dam that provides water for irrigation, generates hydroelectric power, and serves as a flood-control measure.
The construction of this dam took place in two different phases; first in 1960 and second in 1981. It was a collaboration project between Pakistan and Canada, and the Canadian government financed this project.
This hydropower project generates almost 243 megawatts, and the capacity will be extended to generate 252 megawatts in the future. The extension plans are being considered quickly to meet the country's increasing demands, and it's expected that Germany will lend 40 million Euros to Pakistan for this purpose.
The dam and surrounding area is already a favorite spot for tourist and locals who come here to enjoy boating and fishing excursions. There's also a guest house where you can stay overnight to make the most of your visit. So don't wait until your next vacation; plan a visit as soon as possible.
Frequently Asked Questions
Which is the biggest dam in Pakistan?
If we look at the largest dams in Pakistan, the Tarbela dam has been on the list for years now! It's a massive dam and is the world's largest earth-filled dam. Isn't that amazing?
The Tarbela dam is located near Swabi city on the river Indus and was constructed in 1976. The main purpose of this dam is to generate hydroelectric power, which it does quite efficiently.
How many barrages are there in Pakistan?
Pakistan, with six major rivers, has a total of 19 barrages which are used for different purposes like irrigation, flood control, and hydroelectric power generation. Some of the famous barrages of Pakistan include the Guddu barrage, Kotli barrage, Taunsa barrage, and Sukkur barrage. Sukkur barrage is the pride of Pakistan as it's a one-of-its-kind barrage in the world.
Which is the 2nd largest dam in Pakistan?
The second largest dam in Pakistan is the Mangla dam on river Jhelum in Mirpur, Azad Kashmir. It was constructed in 1967, and the main purpose of this dam is to provide water for crops and produce hydroelectric power for the country.
What is the First dam in Pakistan?
The first dam of Pakistan was built on the river Indus near Sukkur city and is known as the Sukkur barrage. It was constructed in 1932 and still serves the country regarding irrigation and flood control. However, it was even before the country existed, so in that term, the first dam in Pakistan was the Warsak dam which became operational in 1960.
Dams and reservoirs are a great source of energy production, irrigation, and flood control. Pakistan has made some great strides in this department in recent years, and currently, there are many dams operational in the country.
So, these were some of the most famous dams in Pakistan! These massive structures provide water and power to the country and act as a tourist spot where people come to enjoy scenic beauty and serenity. So, if you haven't visited these dams yet, add them to your list and pay a visit ASAP!