Mangla Dam – A Beautiful Dam You Should Visit This Summer
Mangla Dam is another massive dam in Pakistan that needs to be discussed in detail, so more and more people know about this gem. It is the second-largest water reservoir in Pakistan, 147 meters in height and 3140-meter in length.
Mangla Dam, located in the Mirpur district of Azad Kashmir, has a Catchment area of 12,870 square kilometers. This dam got its name from the Mangla village that lies at the dam's mouth.
The dam was constructed in 1967 and impounds the Jhelum River. The main purpose of Mangla Dam is to support the irrigation system of Pakistan by storing water for the Tarbela Reservoir and providing water for the canals of Lower Jhelum Canal Command.
Mangla Dam Mirpur is one of the two dams made under the Indus Basin project; the other was the Tarbela dam. Both of these were made to enhance the irrigation system of the country.
The dam has ten floodgates, each 18 meters wide and 15 meters high. The power station at Mangla has an installed capacity of 1050 MW with ten generating units each of 100 MW and two 50 MW Francis turbine-generators for peaking purposes.
Mangla Dam is another tourist spot in Pakistan that's worth seeing! So many water sports and fun activities can keep you and your family entertained. The site is for day visits; however, you can stay in the resorts near, depending on your choice.
Before making a plan, learn this article till the end to know what and how to explore this picturesque site, so let's begin with it!
Mangla Dam Mirpur Attractions, Ticket, Timings & Location
Mangla Dam in Mirpur is a center of attraction for many as it has a lot to offer in terms of entertainment and scenic beauty. The Mangla Lake is the main attraction here which is a reservoir that provides water for the local canals.
The place is perfect for family picnics as it has many open spaces and attractive spots to keep the little ones busy. The best time to visit Mangla Dam is during the summer, as the weather is perfect for all the outdoor activities available here.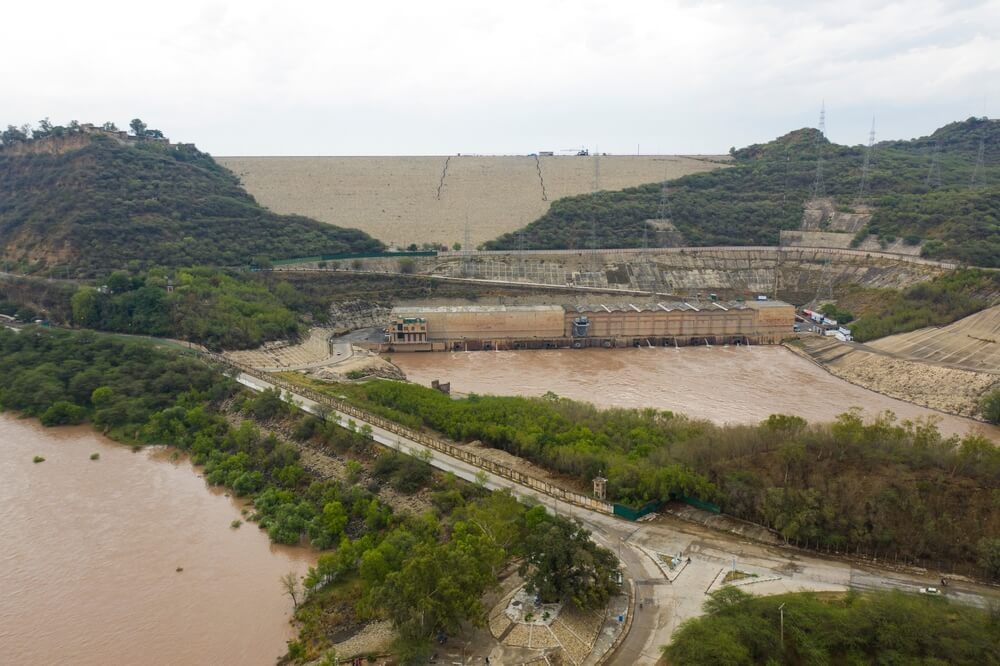 Mangla Dam is located in the Mirpur district of Azad Kashmir and is about a 2-hour drive from Islamabad. The entrance fee to the dam is Rs. Fifty per person and the timings are from 9:00 AM to 5:00 PM.
When Was Mangla Dam Constructed?
The construction process of the Mangla Dam started in 1961 and finally came to an end in 1967. The first impounding at the dam took place on February 21, 1967. Binnie and Partners of London designed this project, and the construction took place by Mangla Dam contractors.
That's when the dam became a primary water source for irrigation in the country and still plays an integral role. The total cost of the Mangla Dam construction was around USD 1.5 billion.
Pakistan's Second-Largest Water Reservoir
Mangla Dam is the second-largest water reservoir in Pakistan, with a capacity to hold 7.39 million acre-feet (MAF) of water. The length of the dam is 3,140 meters (10,303 ft), and the height is 147 meters (482 ft).
This reservoir has the main barrier and an intake dam, and not to stop here, there's the main spillway and an emergency spillway with floodgates. These floodgates ensure avoiding any catastrophe in the country as this dam is a major one.
The power station at Mangla has an installed capacity to generate 1050 MW of electricity. That's efficiently trying to meet the country's increasing demand for power.
Mangla Dam Elevation Project
Around 2005, the Mangla Dam faced a shortage in storage capacity, and an elevation plan for the Mangla Dam was launched in the following year, i.e., 2004.
By the end of 2009, the spillway, main dam, and related construction got completed with a cost of Rs. 101,384 billion.
The elevation increased the dam's height from 30 feet to 482 feet, eventually increasing the overall water conservation level.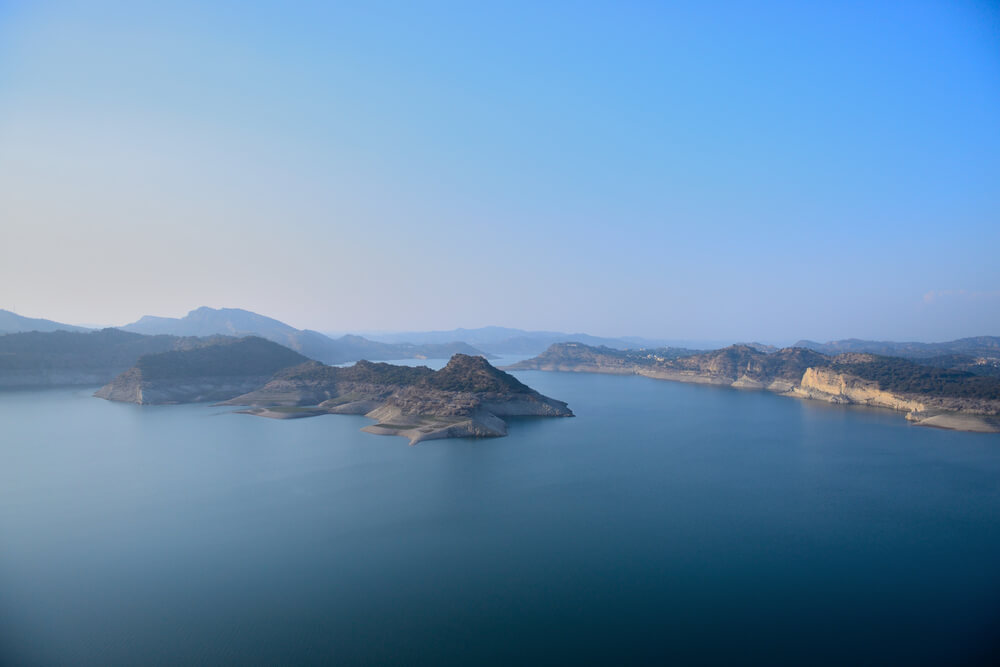 The increase in the dam's height is expected to make the powerhouse produce an extra 12 percent of energy annually. That's when the installed capacity of the dam increased from 1000 to 1,120 Megawatts.
When is the Best Time to Visit Mangla Dam?
If you're looking for a new spot to explore this summer, your first option should be Mangla Dam because it's good beyond your imagination. First, however, you should know when to visit this spot to make the most of your tour!
Summers are ideal for visiting the dam as the weather and the winds are perfect for keeping you cool! So you can enjoy outdoor activities compared to winter when everything's cold. The temperature during this time of year ranges from 20-25 degrees Celsius, perfect for a splashy jump in the waters.
Things You Should Carry Before Visiting Mangla Dam
You might not need lots of stuff on your one-day trip to Mangla Dam, but there's always a need for basic stuff wherever you go. Here's a list of things you should keep in mind before heading to your spot-
1. Water Bottle – You will need lots of water to stay hydrated during your trip as you'll spend most of the time outdoors.
2. Sunscreen Lotion & Caps/Hats – The sun can get pretty harsh during summers, so ensure you carry a good sunscreen lotion to protect your skin. A cap or hat will also save you from heatstrokes.
3. Swimming Costume & Towel – You might want to swim in Mangla Lake, so don't forget to carry your swimming costume and towel.
4. Snacks & Light Meals – It's always a good idea to keep some snacks and light meals with you, so you don't have to depend on the local food.
5. First Aid Kit – You can never be too careful, so it's always better to carry a first aid kit wherever you go.
6. Extra Set of Clothes – It's always better to carry an extra pair of clothing in case your outfit doesn't seem fit at night in such areas.
7. A Camera – You will certainly want to take back some memories through pictures and videos!
8. Comfortable Walking Shoes – Last, don't forget to carry a comfortable pair of shoes as you'll be doing a lot of walking around.
There's no need to carry extra luggage because you won't have enough energy to take all this stuff and also because a one-day trip doesn't need much!
Attractions at Mangla Dam
Mangla Dam has lots to offer in terms of attractions and activities. You'll be spoilt for choice as the activities are enough to be covered in a day. Let's look at some of the most important attractions at Mangla Dam.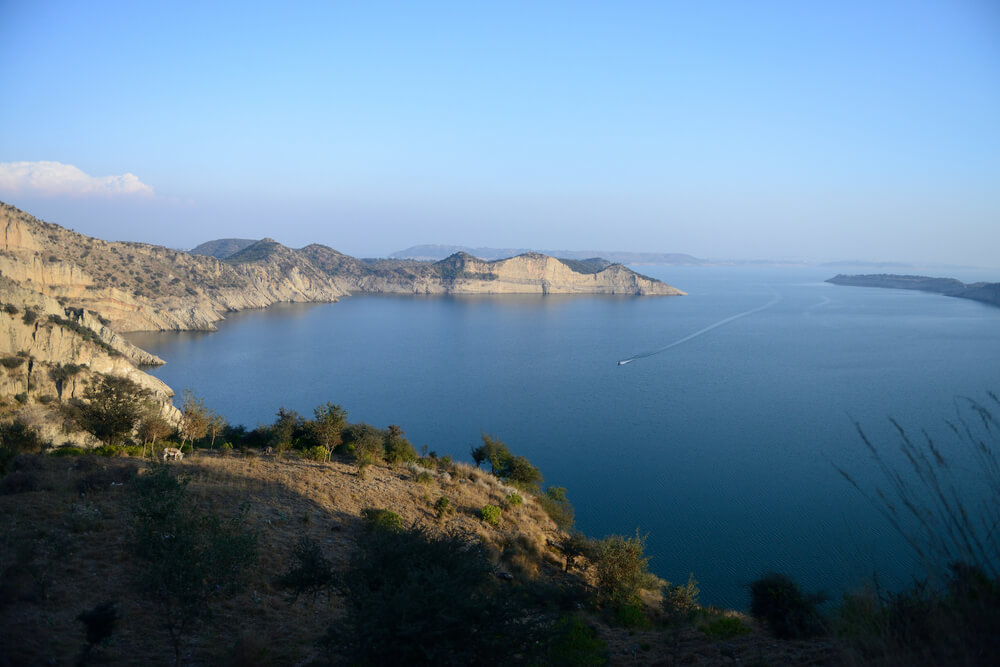 Mangla Lake
Mangla Lake is the main attraction, a reservoir providing water for the local canals. The lake offers plenty of water sports and activities that you can enjoy.
Mangla Lake is such a picturesque beauty that you'll feel the beauty touching your soul, and of course, you'll take hundreds of pictures!
Best Family Picnic Spot
Mangla Dam is a great spot for family picnics as there are many open spaces where you can set up your picnic blanket and enjoy quality time with your loved ones. And that's the most common thing seen at Mangla Dam, families having their own time in peace.
Kids Play Area
There's also a special play area for kids to have their share of fun and frolic while the adults enjoy some time to themselves. The site is within the lake park so parents can watch their young ones.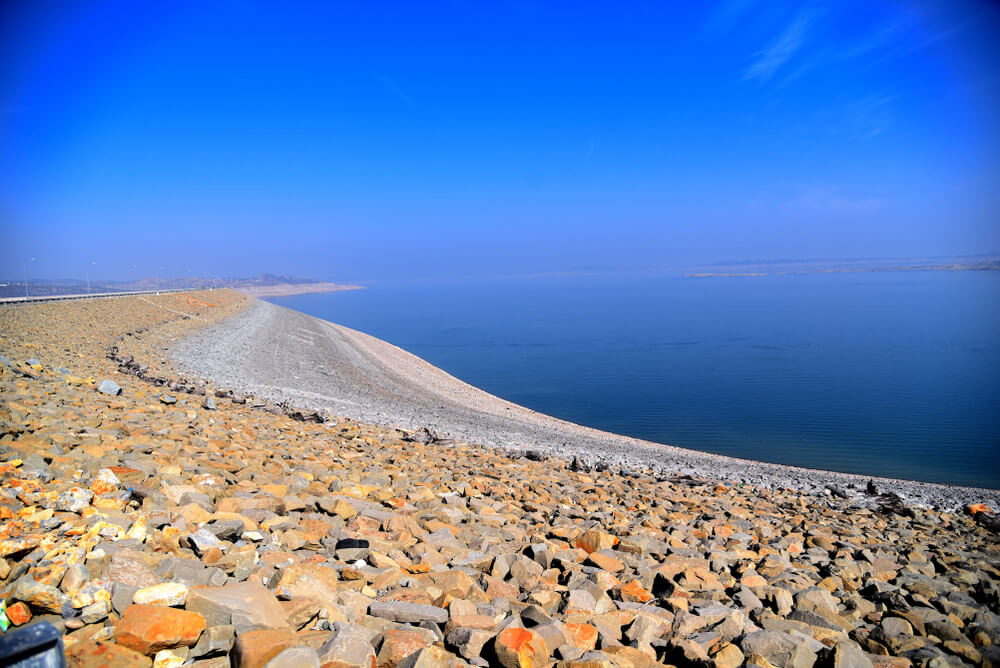 Panoramic Views From the Hilltop
If you're looking for a spot to get breathtaking views of the surroundings, head to the hilltop near Mangla Dam. The views up there are mesmerizing, and you'll be amazed by the beauty around. But, you'll have to ride in a boat and reach the other side of the lake for this sightseeing.
Natural Cool Breezes
As we all know, Mangla Lake is situated in quite a colder area of the country; the weather here is the most enjoyable part of the year. Therefore, on your trip to Mangla Lake, you can enjoy the cool and refreshing breeze that will soothe your senses. This natural breeze is now a signature of Mangla Lake because tourists enjoy it to the fullest.
Power Station
Mangla Dam also has a power station with turbines, generators, and transformers providing electricity to the local areas. The power station is situated on the right bank of Mangla Lake, and you can get there by taking a boat ride from the left bank.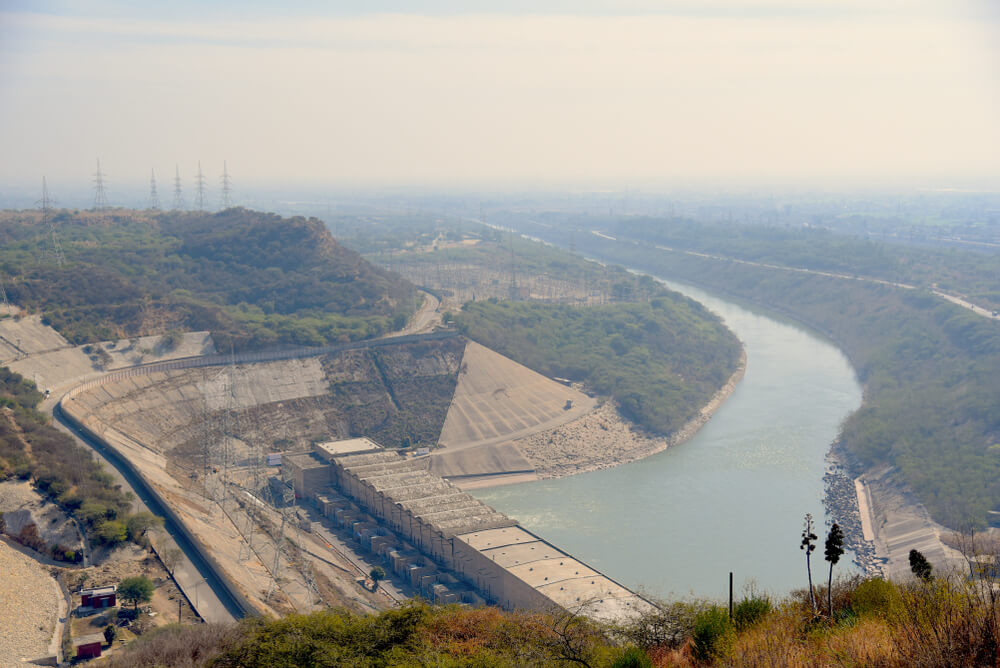 It's a must-visit sight as you'll explore some veiled facts about how that electricity is produced which we are using in our homes. Isn't it interesting to look beyond the curtain?
Things To Do at Mangla Dam
Summer is for exploring new locations and discovering fun activities that you haven't tried before. You can't stay at home when there's so much to see in a beautiful place like Mangla Dam. So take a look at what you can do at this dam!
Mangla Lake has become a hub of activities, and there's something for everyone to do here. If you're an adrenaline junkie, you'll find your share of thrill and excitement here, and if you want to sit back and relax, there are options for that too. Let's look at some popular things to do at Mangla Dam.
Boating
One of the most popular things to do at Mangla Lake is boating. There are different kinds of boats available for rent that you can take out on Mangla Lake and enjoy the peaceful yet stunning views. It's a great way to spend time in nature amidst turquoise waters.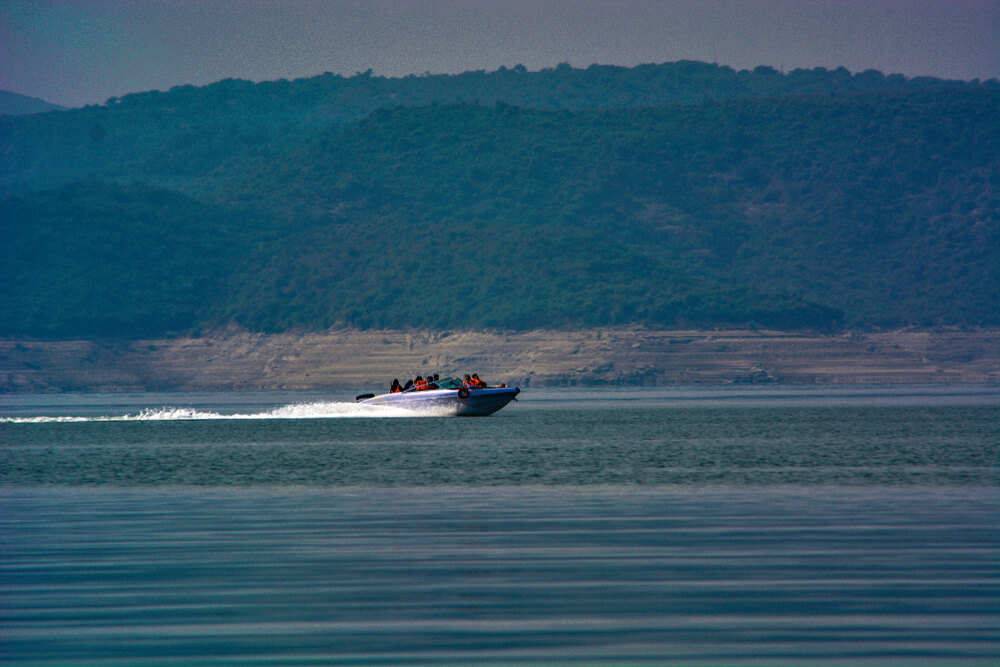 Rafting
If you're looking for some adventure, you can go rafting in Mangla Lake. It's a great activity with your friends and family as you'll all be working together to row the boat. And when you finally reach the other side, the sense of achievement will be priceless!
Jet Ski
Are you looking to add a touch of luxury to your Mangla trip? You can go jet skiing. It's a bit costly, but the experience is worth every penny. You can zoom around the lake on your jet ski and enjoy the views like never before.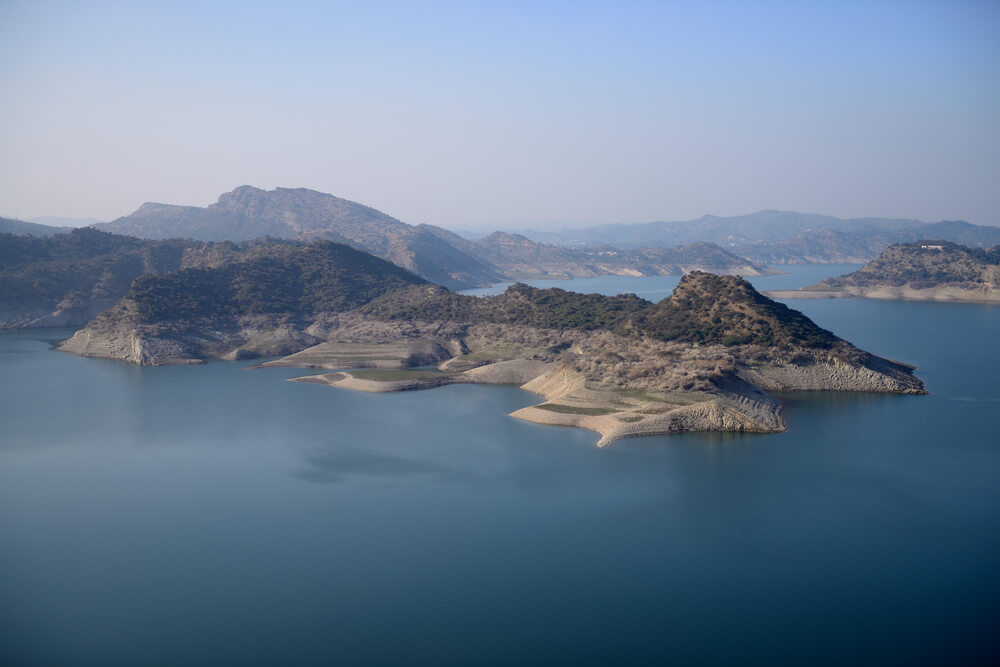 Fishing
Mangla Lake is home to some of the rarest fish types, making it a great spot for fishing enthusiasts. You can go fishing with your friends or family and try to catch some fish. It's a great way to relax and bond with your loved ones. Grilling that fish on the spot and eating it right away is a delicious experience you won't miss out on.
Para Sailing
Parasailing is another popular activity at Mangla Lake. In this, you'll be attached to a parachute that a motorboat will pull. And as you are sailing in the air, you'll get some of the most stunning views of Mangla Lake and its surroundings. It's truly a once-in-a-lifetime experience that you shouldn't miss out on.
Nearby Attractions
Mangla Dam has quite a few attractions that are worth seeing because they are unique and beautiful at the same time. In addition, there are many nearby attractions that you can visit on your trip to Mangla Dam. So let's see what this beautiful spot has for you!
Ramkot Fort
Ramkot fort is one of the most popular nearby attractions for Mangla Lake. Thousands of people visit this sight yearly, which holds enormous importance in the country's historic structures.
It's a 16th-century fort situated on a hill near Mangla Lake. Unfortunately, it's on the other side of the lake, so you'll have to take a boat ride of almost 10 minutes to reach this location. However, once you get there, you can hike up the hill to explore this ancient fort and take a bird's eye view of the lake and its surroundings.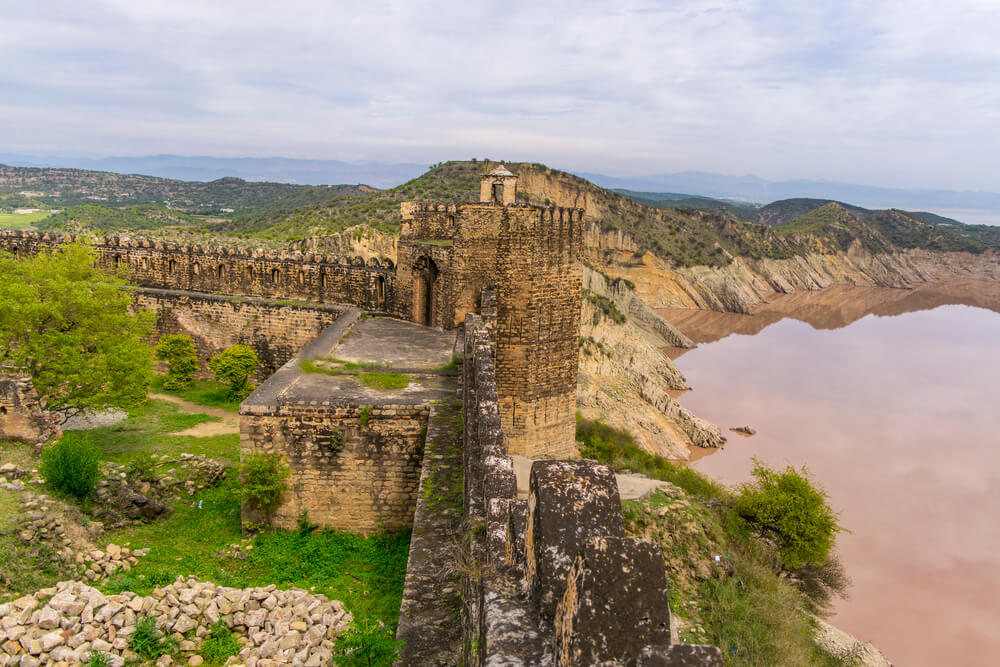 The views from the fort are mesmerizing, and you can see Mangla Lake in all its glory from up there.
How to Reach Mangla Dam?
Mangla Dam isn't that far from the cities like other dams; you can easily reach it in a maximum of 3 hours, even if you're traveling from Islamabad. The dam is in the Mirpur district of Azad Kashmir, a 2-hour journey from Islamabad.
You can reach Mangla Dam by taking a bus or a private car from Islamabad. The journey is quite scenic as you'll pass through some beautiful spots.
If you're traveling from Lahore, you can take NH5, and it will hardly take 4 hours to reach the dam from Lahore. So plan your visit ASAP, and enjoy this destination with your pals!
Facilities at Mangla Dam
Mangla Dam is a popular tourist spot and is important in the country's tourism, so many facilities are available there for tourists. This spot has everything from snack shops to restaurants and resorts, and you won't have to go anywhere else for any necessity. Here are some of the facilities at Mangla Dam.
Beautiful Hotels and Resorts
Mangla Dam has many beautiful hotels and resorts that offer a great view of the lake. These hotels are known for their hospitality, and you're sure to have a comfortable stay there. Mangla view resort is worth mentioning!
One of the pioneers of planned resort development in Pakistan, Mangla View Resort has been serving people for decades. This resort occupies an area of 340- acres on the Mangla Dam site.
It offers residences, townhouses, villas, hotels, service departments, and retail outlets. The beautiful thing about this resort is that it has been designed to provide a stunning view of Mangla Lake from every angle.
The resort also has a golf course and all the facilities you might need while on vacation. So if you're looking for a place to stay near Mangla Dam, this is the perfect spot!
RestaurantsMany restaurants near Mangla Dam
Restaurants near Mangla dam offer delicious food. You can find all kinds of food there, from Pakistani to Continental and Chinese. These restaurants are known for their scenic views, and you can enjoy a meal while admiring the beauty of Mangla Lake.
Some popular restaurants near Mangla Dam are Whistling Water Restaurant, Cafe 19, and Mangla View Resort Restaurant.
How Much Is The Distance of Mangla Dam From Islamabad?
The dam isn't far from the capital city, and you can easily reach it within 2 hours to have a fun-filled day at this location. The distance from Islamabad to the Mangla Dam is around 110 km. You'll not be bored throughout the journey because the way and the view are scenic enough to enjoy and have fun even during the ride.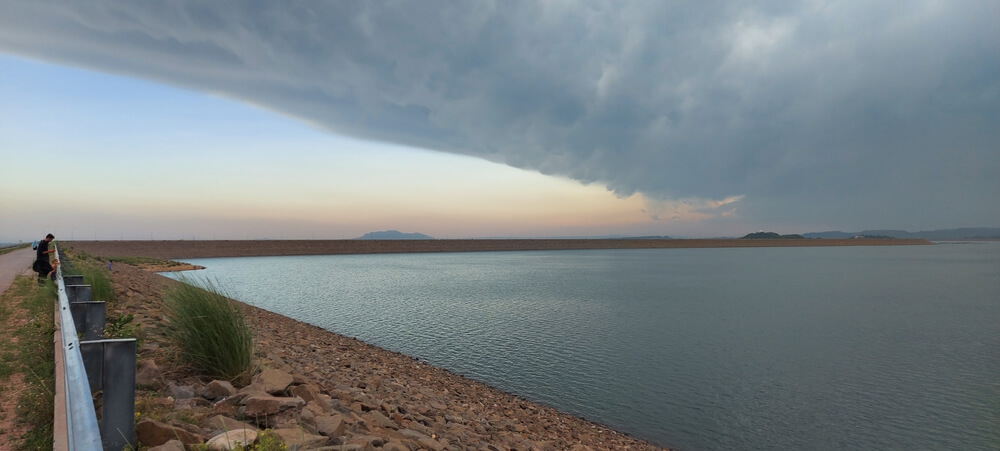 Once you reach Mirpur, you can enter Mangla Dam Pakistan in navigation, which will easily make you get to the exact spot. The journey from Islamabad to Mangla Dam is pleasant, and you'll surely enjoy it!
Ticket Price of Water Rides
The ticket price for water rides at Mangla Dam is quite reasonable. You can enjoy a boat ride for as low as Rs. 200 per person. The costs for other activities, like jet skiing, parasailing, etc., are also quite affordable. The average pricing range of these activities is from Rs. 500 to Rs. 5000; you can choose as per your budget.
If you don't want to go alone, you can also book a tour package with a company; they'll accommodate the rides, food, and everything within that package.
So if you're looking for a place to enjoy some water activities, Mangla Dam is the perfect spot for you!
Location of Mangla Dam Pakistan
Mangla Dam is located in the Mirpur district of Azad Kashmir which is around 2 hours away from Islamabad. The dam is easily accessible and you can reach there by taking a bus or private car from any major city.
The dam is built over the Jhelum river and near Jhelum city. Mangla Dam Jhelum is one of the largest earth-filled dams in the world and is a major tourist spot in Pakistan.
If you're looking for a place to enjoy some water activities, Mangla Dam is the one!
Frequently Asked Questions
Which is the oldest dam in Pakistan?
The oldest dam in Pakistan is the Warsak dam which was constructed in 1960. This dam is located on the Kabul river in Peshawar and was built by Canadian constructors. Warsak dam is important because of its historical nature and multipurpose project providing water for irrigation, drinking, and hydroelectric power generation.
Who built the Mangla Dam in Pakistan?
Pakistani engineers built the Mangla Dam with the help of Japanese technicians. The construction of this dam started in 1961 and got completed in 1967. Mangla Dam is the second-largest water reservoir in Pakistan and is a massive dam that controls a major part of the country's irrigation and flood control system.
How many dams Pakistan has?
According to a report by the International Commission on large dams, Pakistan is fortunate enough to have approximately 150 dams. These dams provide water for irrigation and drinking and play an important role in the country's economy by generating hydroelectric power.
Out of 150 dams, the Tarbela dam is the largest one, followed by the Mangla Dam. Pakistan is a blessed country regarding water resources, and these dams are proof of that!
Mangla Dam is a massive dam located in the Mirpur district of Azad Kashmir. This dam was constructed in 1967 and is the second-largest water reservoir in Pakistan.
Mangla Dam Jhelum has been a tourist spot for years and offers a wide range of activities you can't fit in one day! But your one-day trip to this mesmerizing location would be enough for you to make memories.
The dam is in an ideal location, and you can easily reach there, so what are you waiting for? Pack your bags and head to Mangla Dam for an unforgettable experience!