Khanpur Dam – Best Place for Water Sports Activities
Let's talk about one of the most spectacular dams in Pakistan; Khanpur Dam, located in district Haripur of KPK province, is a beautiful gem. The dam is built over the Haro river that flows from Abbottabad and passes through the Haripur area, where it finally meets the dam. Haro river is a small tributary of the Indus river.
Khanpur Dam was completed in 1983 and has been attracting visitors from all over Pakistan since then. That was the era of President Ayyub Khan. However, the lake was built in 1953 along with the Khanpur Dam spillway, 51 meters high.
The dam is a rock-filled one, 167 ft in height, and the live storage of this reservoir is 79,980 acre-feet. The dam not only caters to the water needs of the twin cities (Islamabad-Rawalpindi) but also supplies irrigation water to districts Haripur and Attock.
The water reservoir of Khanpur Dam forms two canals, i.e., the right bank canal (RBC) and the left bank canal (LBC); the former discharge 110 cusecs and provides only irrigation. At the same time, LBC has a design discharge of 440 cusecs and provides water for irrigation and industrial use.
The Khanpur Dam is one of the best picnic spots near Islamabad, just 50km from the capital city, and offers various activities for families, friends, and couples alike. The serene blue water lake, the lush green park, and the picturesque view of the dam makes it a perfect getaway from the hustle and bustle of city life.
Let's learn more interesting facts about this dam in the article, so proceed with us!
Khanpur Dam Haripur Attractions, Ticket, Timings, and Location
With a truckload of activities and attractions at Khanpur Dam, you'll think for a minute about which one to begin with. Although all these activities have tickets, you can surely afford them with tour packages.
The opening and closing times of Khanpur Dam are from 9:00 AM to 6:00 PM throughout the week. After 6:00 PM you won't be allowed to go into the water. However, you can eat and enjoy at the resorts and restaurants. The restaurant's closing time may vary, so checking before going is better.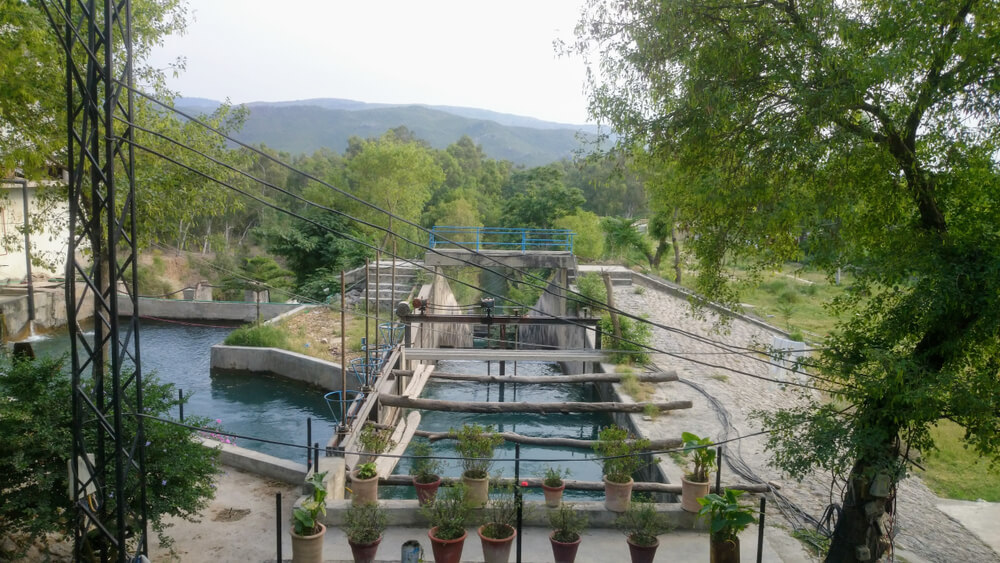 The location of Khanpur Dam is quite easy, and you will reach there hassle-free. It's on old Khanpur E road, Haripur, KPK.
When Is The Best Time to Visit Khanpur Dam
Although this destination spot is open throughout the year, you can visit any time you want. But the best time to see when you can make the most of your trip is from June to October.
You can beat the heat of the plains by visiting this place as the temperature remains moderate to cold during these months. Also, the scenic beauty is at its peak during autumn as all the trees are laden with fruits and leaves of different hues. It's better to avoid monsoon season as the roads get slippery, and it becomes tough to drive on them. However, you can enjoy swimming and water sports best if you visit during the summer.
But if you only want to go boating, you can also opt for the winter season and enjoy the cool breeze passing through your hair along with the scenic views.
Things You Should Carry Before Visiting Khanpur Dam
Although most visitors go to this place for a short one-day visit, there's no need to carry lots of extra stuff. But you can stay nearby private restaurants and resorts if a single day isn't enough to enjoy the activities. Outdoor camping is also allowed, so what about spending a night under the stars?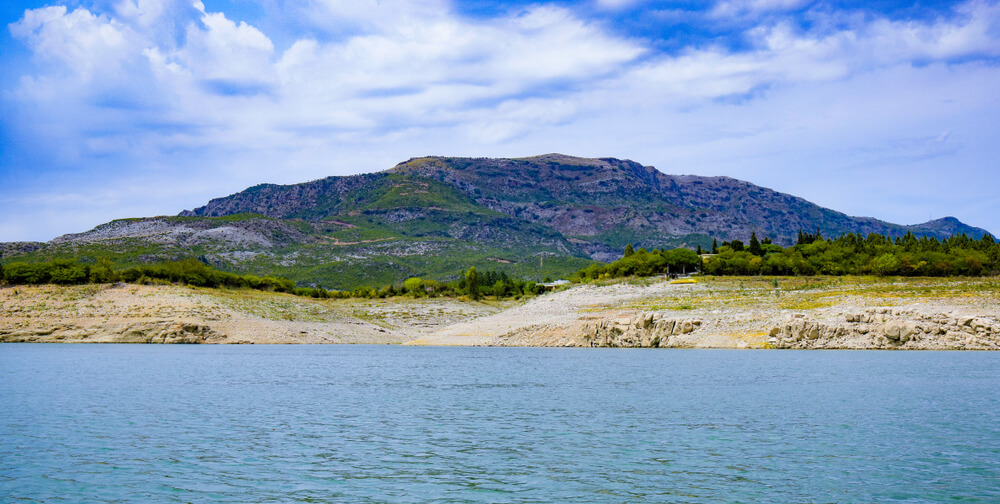 You must be thinking of what to carry along. Well, here's the answer,
A sunscreen lotion or cream with a high SPF value is a must as you'll be spending time outdoors and need to protect your skin from the sun's harmful UV rays.
If you're going during the summer season, don't forget to carry insect-repellent creams or lotions to keep mosquitoes and other insects away.
A first-aid kit is always a good idea for you, no matter where you go.
Some dry snacks and drinks are also necessary, especially if you're going with children.
Carry a swimming costume if you want to enjoy swimming or water sports.
In case of camping overnight, you can bring your camps/tents, but these are available at the spot as well, so you can buy them if your plan suddenly changes.
Extra clothes are also recommended if you're planning to stay overnight.
Lastly, don't forget to carry your camera to capture beautiful moments and views.
Attractions at Khanpur Dam
Khanpur Dam Haripur offers many activities for visitors to enjoy, and this is the only destination near Islamabad where such an abundance of water sports is seen.
If you're going alone, quit that idea because the place is always more fun with friends or family. It can also save you money as you might have to pay extra for individual sports. But going with a group, you can put your hand on the best sports packages and enjoy on a budget. So let's explore what kind of attractions and water sports are present at Khanpur Dam.
1. Best Picnic Spot
Khanpur Dam is a magnificent picnic spot near Islamabad and offers such scenic views that you might get lost in the beauty. The serene blue waters and lush green fields are perfect for spending quality time with your loved ones while munching on delicious food.
You can also enjoy fishing here if you're an enthusiast, but take all the necessary gear with you as you might find it expensive on the spot.
2. Khanpur Dam Island
The Khanpur Dam island is one of the main attractions of Khanpur Dam as it offers a different kind of experience than the mainland. You can only access this place by taking a boat from the dam, and once you reach it, there's a small zoo and a few other attractions.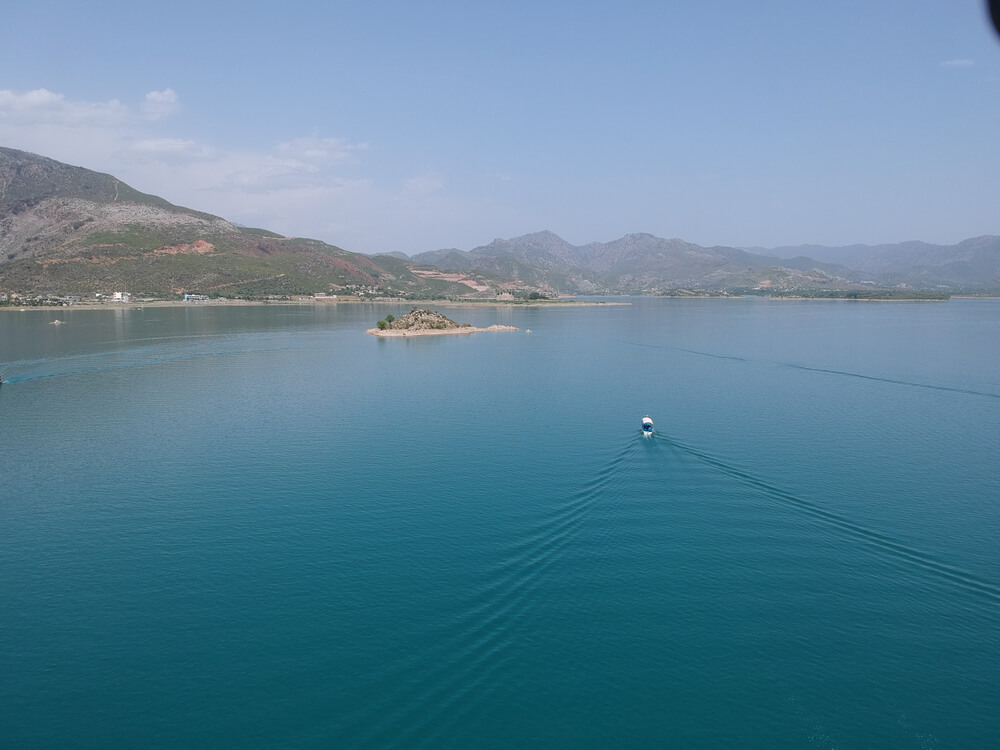 But the primary thing to do here is boating, and you can also enjoy fishing near the island. So visit this island and feel an out-of-the-world experience of being in the middle of a huge lake.
3. Picturesque View
Khanpur Dam is undoubtedly one of the most beautiful places near Islamabad, and its scenic views are to die for. The place looks even more mesmerizing in the monsoon season when the water level rises, and you can see the waterfalls from a distance.
You can sit on the top of the dam and enjoy the spectacular views or walk near the lake to explore the place more.
4. Blue Water Lake
The blue water lake is another significant attraction at Khanpur Dam Haripur as it's one of its kind in Pakistan. The water looks bluish due to mineral deposits, and you can see the different shades of blue when the sun's rays fall on it.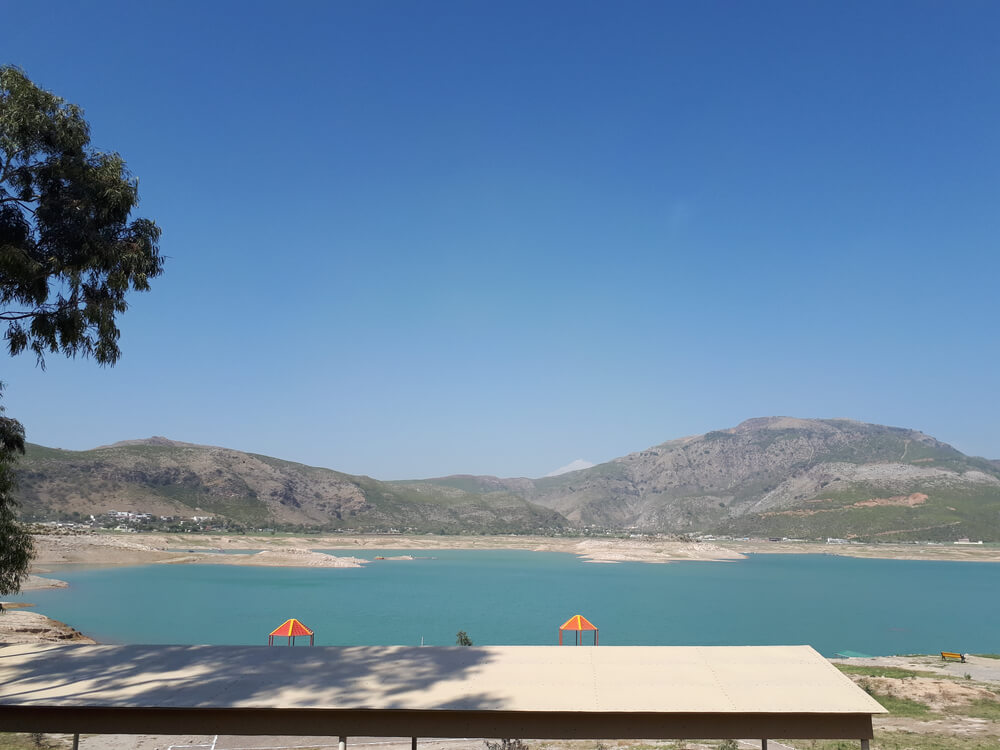 The best time to visit this lake is in the early morning or evening as the views are more picturesque then. You can go for a swim here or enjoy the tranquility of being near such serene waters.
5. Rajgan Mosque
Rajgan mosque, the deserted mosque of Khanpur, is believed to be 100 years old, and its time-worn building needs restoration and rehabilitation. But it's still used for offering Eid prayers.
The mosque was built in 1872 by Raja Jehandad Khan, the grandfather of the senior parliamentarian of NWFP at that time.
He also formed the old Khanpur town, which was once flooded by Khanpur lake, and the residents had to resettle in the new Khanpur town in the late 70s.
The abandoned mosque was once capable of accommodating more than 1000 worshippers and was built using beautifully chiseled black stones. You can visit it to see the craftsmanship of that era.
Things to Do at Khanpur Dam
There's a long list of water sports and other activities that you can enjoy at Khanpur Dam. The place offers something for everyone, whether you're an adventure seeker or just looking to spend quality time in nature.
So let's explore everything you can do at Khanpur Dam to make your visit more exciting and memorable.
1. Boating
One of the primary things to do at Khanpur Dam KPK is boating, as it offers breathtaking views of the place. You can hire a boat and go to the island or enjoy the view from the middle of the lake.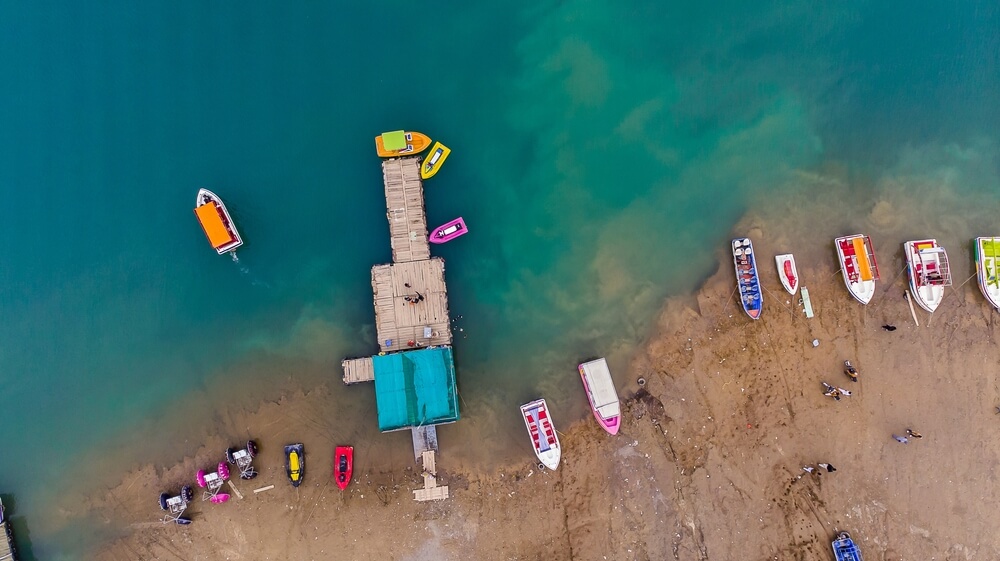 The charges are very reasonable, and you can also get a package deal if you want to try other water sports.
2. Scuba Diving
If you're an adventure seeker, scuba diving is a must-try activity at Khanpur Dam. The place offers some of the best diving spots in Pakistan, and you can explore the underwater world by taking a dip in the lake.
The best time to go for a dive is in the morning or afternoon, as the water is relatively calm.
3. Para Sailing
Parasailing at Khanpur Dam is another entertainment you shouldn't miss out on. If you fear paragliding, you can try parasailing as you'll feel much safer and have fun simultaneously.
During the flight, you'll be flying high in the sky, but your parachute is attached to a boat, so you can see the lake from a height which is a marvelous experience.
So what are you waiting for? Don't you want to see the world under your feet? Give it a try and mark it on your bucket list!
4. Jet Ski
If you're a water sports enthusiast, you must have tried jet skiing before. But the experience of jet skiing at Khanpur Dam is quite different as you can see the beautiful surroundings while riding on the waves.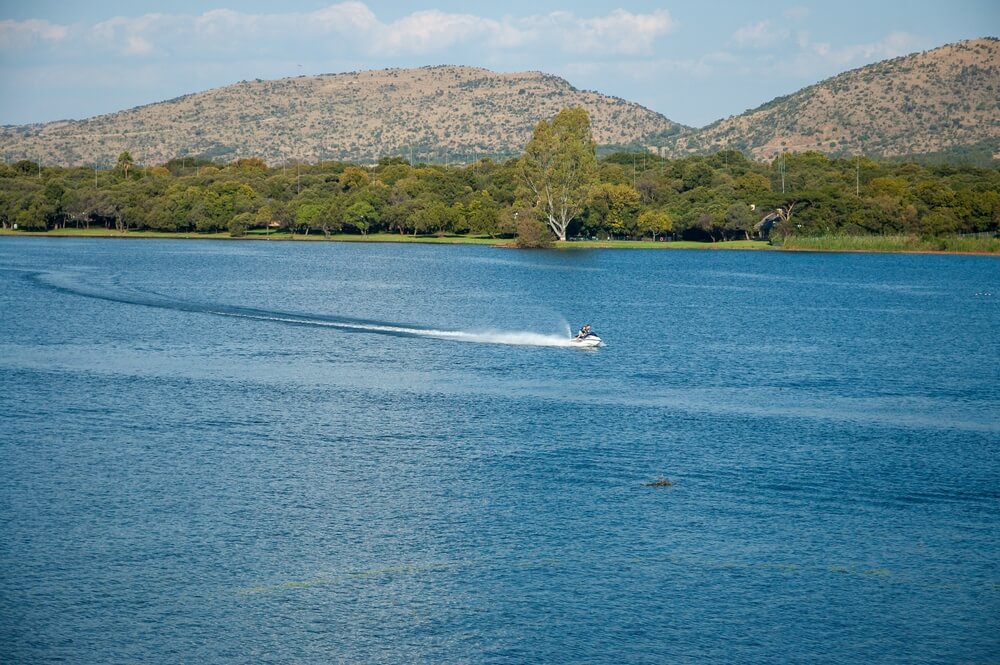 You can hire a jet ski from the dam and ride around the lake, but take all the precautionary measures before you get on the ride.
5. Zipline
You can't call it a day until you haven't tried the zip Line adventure at Mabali island. This long zip Line will let you slide through the wire and make your adrenaline rush to the top.
You can also see the panoramic views of mountains, forests, and the lake while riding on it, which makes it more exciting.
Your safety matters the most! So they'll equip you with helmets, gloves, brakes, and harnesses before you go on the ride.
6. Kayaking
Kayaking is another recreational activity that you can do at Khanpur Dam. It's a great workout for your arms and upper body as well.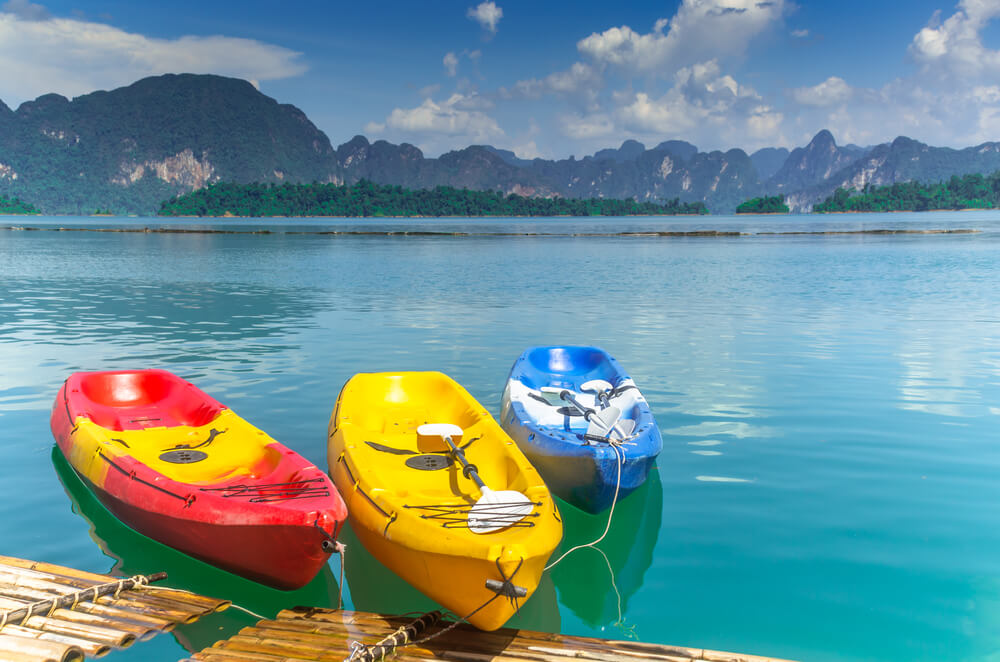 So if you're looking for a way to tone your muscles, kayaking is the best option. You can hire a kayak from the dam and go around the lake at your own pace.
7. Cliff Diving
Have you got the guts to jump from a cliff into the waters? Well, you need to be a daredevil for that! Cliff diving height is approximately 20-25 ft depending on the water level and the best time for this sport is in September or October.
So wear your life jacket and jump into the waters for a thrilling experience.
8. Wake Tubing
Don't know how to swim? No worries, wake tubing is the best option for you to enjoy at Khanpur Dam.
You can lie on the tube and float on the water while enjoying the picture-perfect beauty around you. It's a great way to relax and rejuvenate your mind and body.
9. Flying Kites
Have you ever flown a kite near the turquoise waters and experienced how beautiful it looks? If not, try this thing and take your kite along on your trip to Khanpur Dam. You can have a great time flying kites on the banks of the lake.
It's a great activity for all age groups, so you can have competitions with your friends and family, which is quite a fun thing!
10. Fishing
Fishing is quite common at different tourist destinations in Pakistan, but at Khanpur it's a different experience. You can hire a boat and go fishing in the middle of the lake. The water is so blue and clear that you can see the fish coming to the top.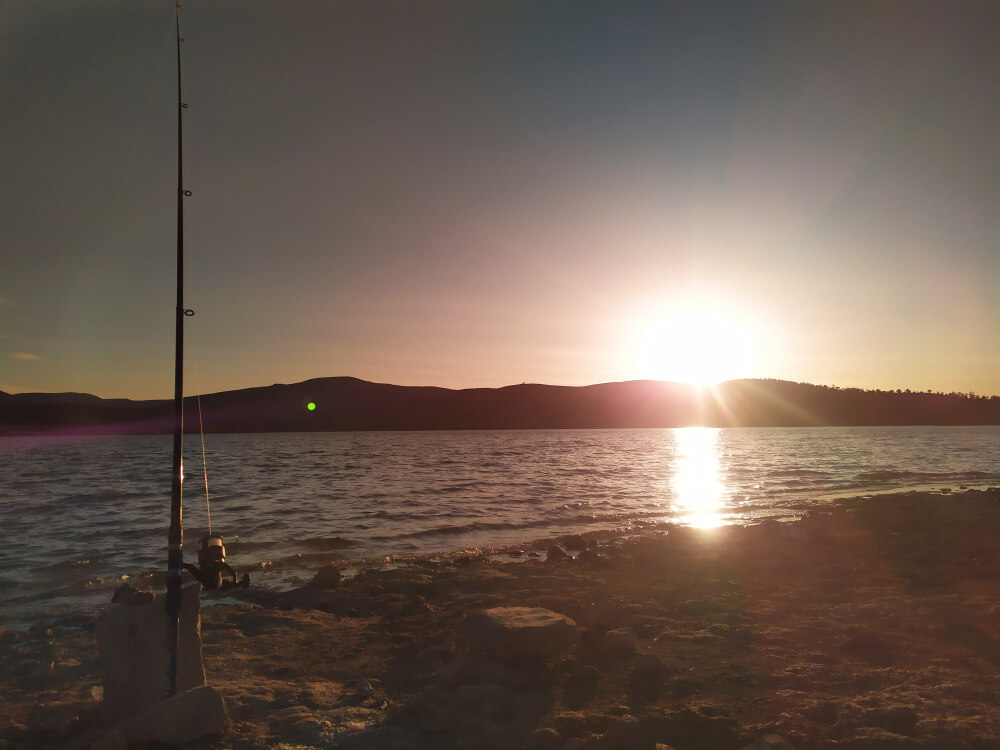 You can also try your hand at night fishing which is quite an experience. After that, you need good bait, and you're all set for fishing.
11. Camping
Khanpur Dam KPK is a great place for camping as you can pitch your tents on the banks of the lake and enjoy the serene beauty around you.
The best time for camping is from October to February when the weather is quite pleasant. Don't forget to carry your essentials like food, water, and clothes.
How to Reach Khanpur Dam?
Khanpur Dam is located in the Haripur district of KPK and is around 50 km from Islamabad's capital. There are different routes through which you can travel towards Khanpur Dam.
If you're traveling from Islamabad, you can take the motorway, and the journey will be around 1 hr. 35 minutes. Starting from the Islamabad motorway, there's another route from which you can enter Tarnol and go all the way from Taxila to Khanpur.
It's a bit shorter route, and it's quite scenic as well. The journey will be around 1 hr 16 minutes from Islamabad. You can also take the GT road to reach Khanpur Dam, which is a longer route but is quite popular among tourists.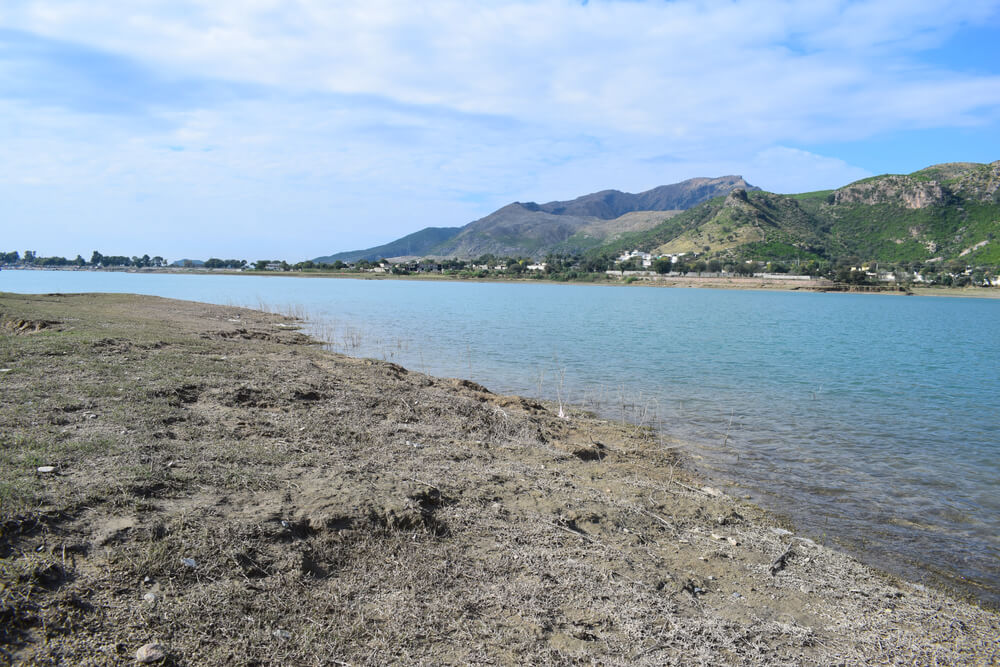 The best way to reach Khanpur Dam is by car or bike as it's quite economical, and you can stop at different places on the way to take pictures and enjoy the scenic beauty.
Traveling from Lahore, you can take the motorway and reach Khanpur in around 4 hours.
The road to Khanpur is in good condition, and you can enjoy the view of orange trees on both sides, which is a treat to the eyes.
You can also stop by to explore the historical places of Taxila, so it's a win-win situation for you.
Facilities at Khanpur Dam
Khanpur Dam has all the facilities a tourist needs to enjoy their trip. There are different hotels and resorts near the dam where you can stay.
The prices of these accommodation options vary according to the season and day of the week. Other than accommodation, camping and fishing equipment is also available for rent.
There are restaurants near the dam where you can have a meal or snacks. The food is quite tasty and reasonably priced.
The most important thing you need to remember is that there are no medical facilities near the dam, so it's better to carry your own first-aid kit.
1. Hotels and Resorts
You can spot many hotels and resorts here if you want to stay near the picturesque lake for a night or more. Let's talk about the most prominent ones.
· The Adventure Resort
As its name suggests, the adventure resort is a perfect spot for adventurers and enthusiastic souls. This place has got everything from adventurous sports to finger-licking good food and mesmerizing events!
Whether you want to organize an event or a wedding, this place will perfectly accommodate you. In addition, this resort's wide garden is close to the dam so you can enjoy the ethereal views from here.
· Tomorrow Land Country Club and Resort
If you're looking for a dreamy place to stay, Tomorrow Land should be your choice. It's a luxury resort that offers fun sports and luxury rooms where you can unwind after a joyous day. And not to forget the food is too good that you'll be left wanting more!
You can enjoy different games like cricket, football, and volleyball in their sports area. Plus, they've got a separate kids' play area so your little ones won't get bored.
· Orange Lake Resort
Situated near the Khanpur Dam, orange lake resort, as you can guess from its name, is a funky spot with a charming view. The rooms are very cozy and comfortable, with all the necessary amenities.
The ambiance of this place is very peaceful, and you'll feel like you're in a different world altogether. The food here is quite delicious, with a variety of options to choose from.
2. Restaurants
What's better than enjoying delicious food after a tired and fun-filled day? Nothing! You can try Pakistani cuisine at several restaurants near Khanpur. Not only desi but delicious forms of fast food are also available here.
So you can eat as per your taste buds. Some famous and visited restaurants in this area are Rangeela Restaurant Khanpur, The Lake View Restaurant, the Grill Restaurant, and Pizza Heaven.
You can have a palatable meal with an impressive view; these restaurants offer a wide range of fast and desi/local food. The food here will make you fall in love with the place!
Ticket Price of Water Rides
There are plenty of activities in Khanpur Dam, so you'll be spoilt for choice. And it will be hard to decide to choose one or two. But what if you enjoy all of these? No worries about the money because the ticket prices for these activities are pretty affordable.
The price of parasailing is RS. 3700 per head.
Scuba diving is for RS. 9,000 per head.
The banana boat/Sofa tube is for RS. 1700.
Paragliding with 4-5 people for RS. 6,000.
Jet Ski 800 cc is for RS. 2000 per head.
Cliff diving small boat is for RS. 5500 per head.
Cliff diving big boat is for RS. 8500.
Camping will cost you RS. 1500.
If you want to enjoy this place to its maximum, it's better to go with a group of friends or family!
Location of Khanpur Dam KPK
Khanpur Dam is built over a river named Haro river, which is in the district Haripur of KPK province. It's a few kilometers away from Taxila and Rawalpindi and 50 km away from the capital city. The best time to visit this place is from October to May as the weather is quite pleasant.
You can easily reach here by road as it's well connected with different cities.
Frequently Asked Questions
Which dam in Pakistan has the largest storage capacity?
Tarbela dam has the largest storage capacity in Pakistan, and this massive reservoir has an ability of 11.62 million acre-feet. Built over the Indus river, this dam is the second largest in the world in terms of reservoir capacity.
Is the Khanpur Dam Visit worth it?
Yes, the Khanpur Dam visit is worth it! The beautiful scenery and peaceful environment are perfect for a relaxing weekend. Plus, there are a lot of activities to do here so you won't get bored.
Who built Khanpur Dam?
The Khanpur Dam was built by the Pakistani government in 1984; this dam forms a beautiful lake called Khanpur lake, which supplies water to two major cities in the country.
Khanpur Dam is a place worth visiting! The serene and peaceful atmosphere will make you want to come here again and again. With many activities and delicious food to devour, this place is perfect for a weekend getaway!