Places to Visit in Neelum Valley
Situated in the Northern Areas of Pakistan, Neelam Valley is one of the most popular tourist destinations in the country. It is a place of unparalleled natural beauty in Azad Kashmir, Pakistan, that draws millions of tourists worldwide annually. The area offers so much to everyone, and you will get tired, but the hidden beauty gems will still be there to explore. Neelum Valley is a paradise for hikers and nature lovers with its soaring mountains, verdant forests, gushing rivers, and alpine meadows. So if you want to plan a memorable trip to get much of everything, the Neelam Valley is your place to go. And in this article, we have tried to cover this beautiful valley and its tourist spots in detail.
26 Best Tourists Spots to Visit in Neelum Valley
Here is a list of the best tourist spots in Neelum Valley this year.
Arang Kel at Neelum Valley
Neelum Valley is home to some of the most beautiful scenery in the Arang Kel. It is a lovely place to visit during the summer and an exciting place to see if you are more into hiking and camping.
The village gets its name from the many walnut trees that grow in abundance here; walnuts form an essential part of Arang Kel's economy. Many villagers earn their living by growing and selling these delicious nuts.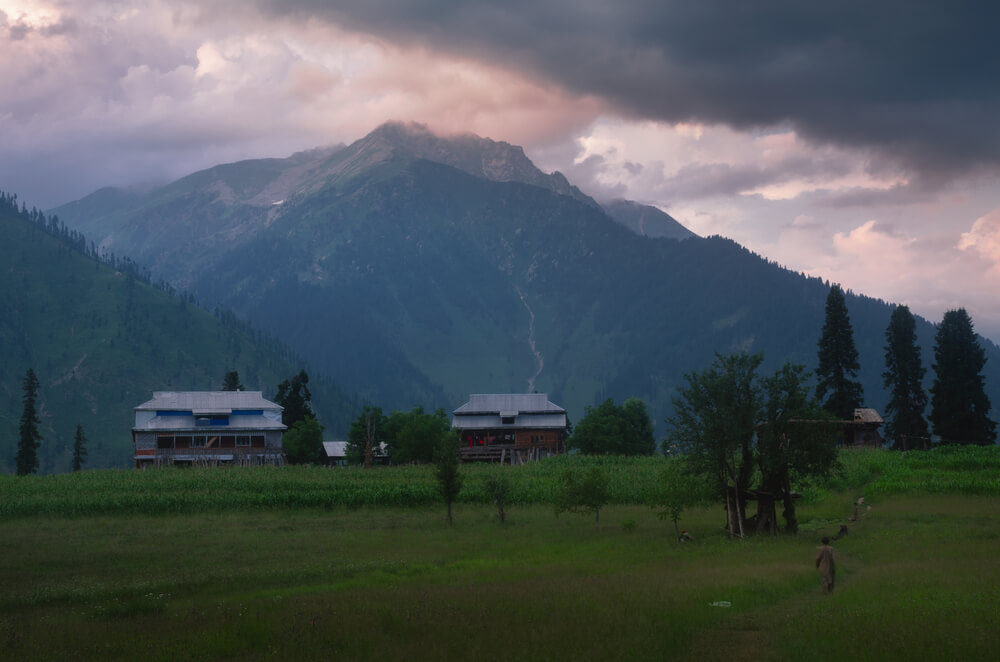 Visitors can take a long trail from Kel to reach Nanga Parbat and other stunning spots. From that vantage point, you can also take a breathtaking panorama of the Nanga Parbat mountain range. The journey from Kel to Arrang Kel involves climbing a steep, winding path through the wilderness while listening to the sounds of nature.
Athmuqam
Athmuqam is a town and tehsil in Neelam Valley, Azad Kashmir, Pakistan. It is located in the Neelum District at an altitude of 1,440 m. The town lies at the junction of the Neelum and Kishan Ganga. It has a population of around 8,000 and is nearly 73 kilometers from Muzaffarabad.
Athmuqam has long been regarded as a center for local trade due to its location on one of the significant land routes between Pakistan and India, and the other being through Muzaffarabad. Due to its geography, it was occupied by both armies during both wars with India; however, very little damage was done to the town itself during these conflicts because of its remote location.
You can flock to this place to get historical and adventurous both.
Baboon Valley
Baboon Valley is another beautiful yet charming place to visit in Neelum Valley. It is located near Muzaffarabad and Srinagar, which makes it easy to travel there via public transportation. The Baboon Valley is famous for its Baboon population, who roam freely and will not hesitate to interact with humans if given food or money.
To put it simply, it is Neelum Valley's second-best attraction. Water streams, waterfalls, and lush green meadows make Baboon Valley well-known. From Keran, a trip to Baboon Valley is around a three-hour journey.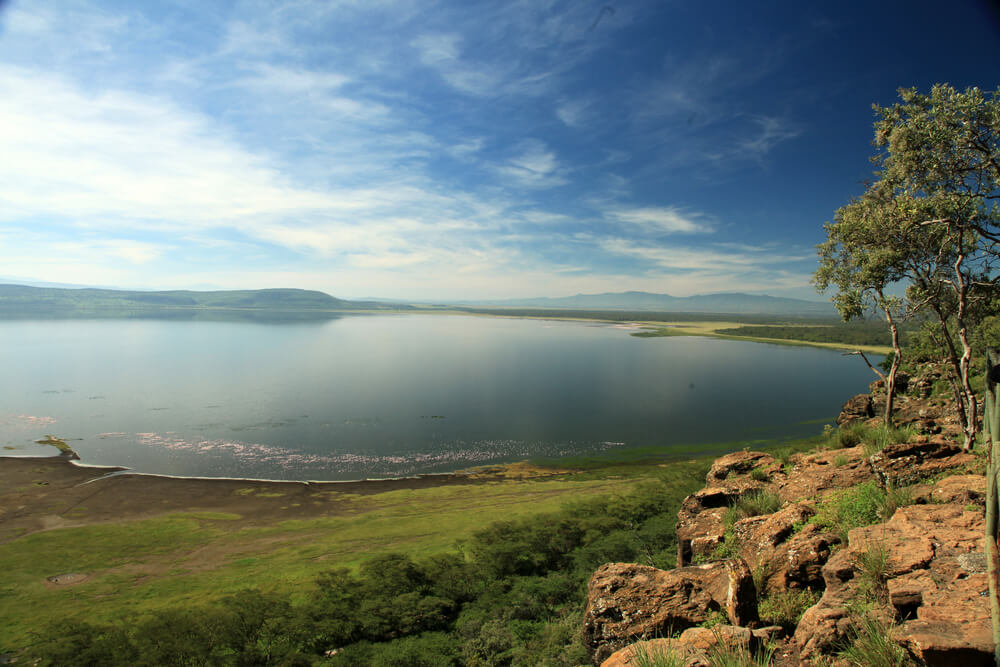 Baboons are dangerous creatures that should be approached with caution because they have been known to attack humans when provoked or if they feel threatened by their presence. So, before visiting the Baboon Valley in Neelam Valley, you should ensure you have enough funds to bribe any baboons that threaten you and purchase supplies such as bananas and other fruits from local vendors who sell them.
Dawarian at Neelum Valley
Dawarian is located around 10 kilometers from Keran, and it is from there that you can rent a vehicle and travel to Ratti Gali Lake. There are rooms on rent and hotels accessible for travelers' convenience; however, most are not in excellent condition, so you should not plan your night stay here.
Dhani Noseri Waterfall
The Dhani Fall, also known as Dhani Noseri, is about 38 kilometers from Muzaffarabad, the highest waterfall in Neelam Valley. It is a single-drop waterfall, which looks like a crescent moon from above. This beautiful place is visited by tourists all year round. Tourists come here to enjoy the scenic beauty and its natural surroundings.
The sight of this breathtaking waterfall is enough to make anyone feel hypnotized. From March to June, the water flow is at its peak, but beginning in July, the water level begins to decrease.
Halmat Village
Halmat Village is a beautiful village located in the Neelam Valley. This village is popular among tourists because of its scenic beauty and the availability of many hotels, restaurants, and shops. The scenery here is gorgeous, making it an ideal destination for those who love nature. You can go trekking or enjoy being at this place by sitting under a tree or enjoying your time with friends while having a cup of tea or coffee.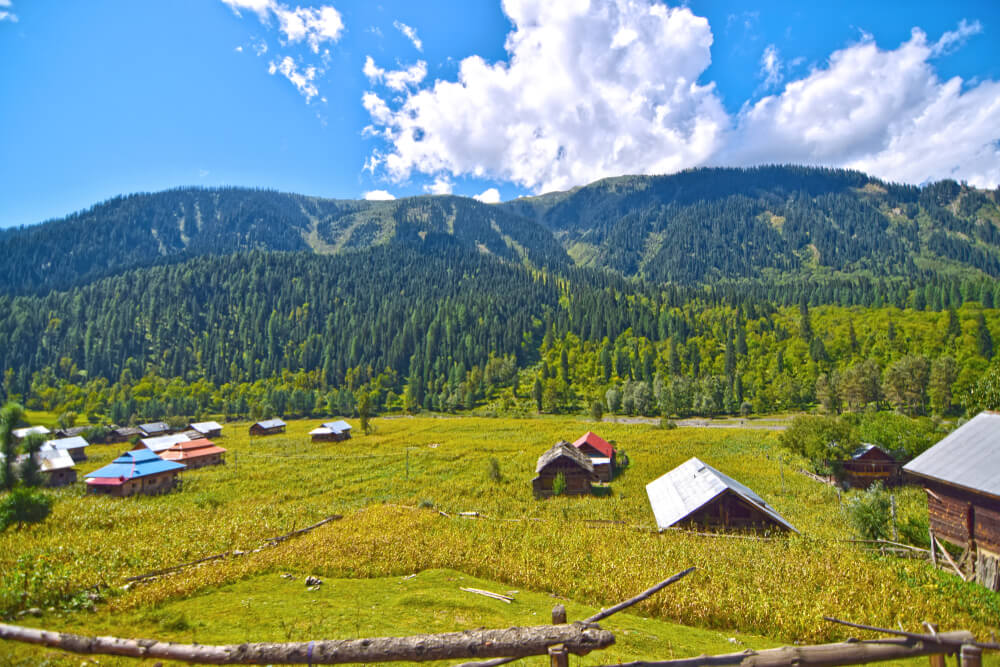 Halmat Village has been developed as a tourist destination by both local people and the government and has been open to tourists for years.
Kel Neelum Valley
Kel is a beautiful town in the Neelum Valley of Azad Kashmir. It is a popular tourist destination and home to the famous Kundal Shahi Waterfall. The town lies on River Neelum, which flows through this valley before joining River Jhelum at Muzaffarabad. It offers no-ending beauty and breathtaking mountain views with cooling waterfalls and greenery.
Kel is also known for its delicious food, sugarcane juice, and traditional shawl-weaving industry (pashmina).
Keran at Neelum Valley
Keran is located at an altitude of about 5000 feet and has fantastic views. This area has numerous lakes and waterfalls, including Lake Saika and Chikkar. You can also go on treks from here!
It's the heart of commerce in Neelum Valley. Kashmir, under Indian occupation, can be seen across the Neelum River. Keran is a popular starting point for visitors because many of the city's hotels offer spectacular river views. The top Keran hotels are the Pine Park Lodges and the PTDC Resorts. It takes a three-hour journey from Muzaffarabad to get there.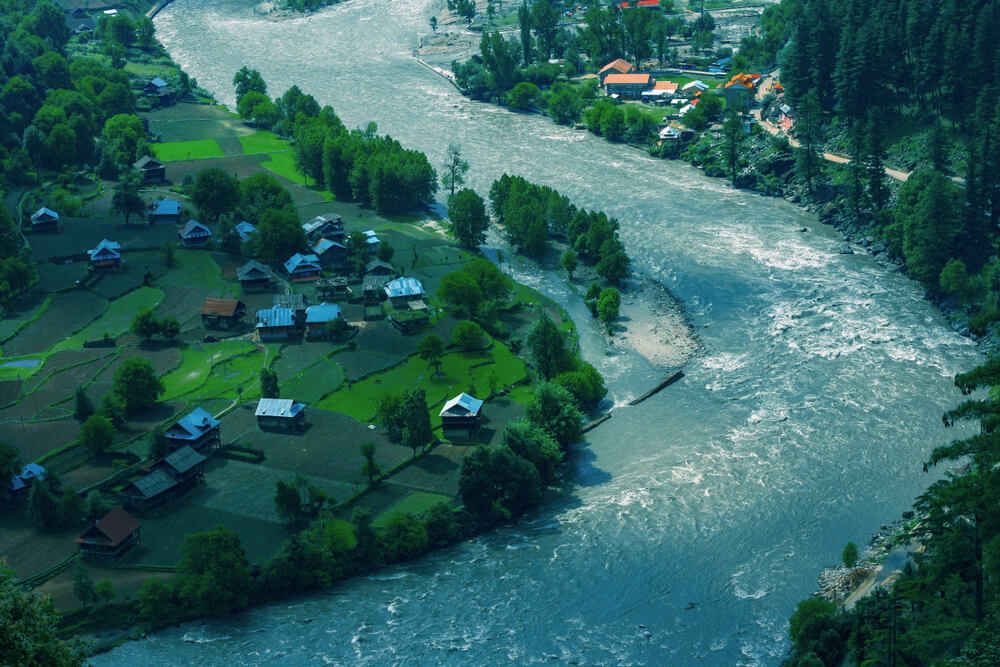 The most popular trekking route out of Keran goes up so high, known for being one of Pakistan's most dangerous treks because of how much snow falls there in the wintertime, as much as 5 feet.
Kundal Shahi Waterfall
The Kundal Shahi waterfall is located only a short distance from the tense line of control over Kashmir that divides India and Pakistan.
The Neelum Valley village of Kundal Shahi, which consists of dispersed settlements on either side of the confluence of the Jagran Nallah and the Neelum, is far away from being a reflection of the enduring political hostility between its residents. There is a tourist resort in the village with the same name, making it easy for visitors to find a place to stay.
Kutton Valley
Kutton valley is also known as Jagran Valley and is located inside the more incredible expanse of Neelum Valley. The valley is quickly becoming one of the most popular tourist destinations in the area, and it is only a short drive from Muzaffarabad via road. Vacationers staying in the village of Kutton, which shares its name with the valley it occupies, can easily explore the Kutton Mountains and the rest of the Kutton Valley.
You wouldn't have to worry about finding a place to stay because the inhabitants are so friendly and accommodating, and there are sufficient numbers of them. The Kutton Waterfall is the most popular destination in the Kutton Valley, but many other beautiful spots in the area, some of which are less well known, make exploring the town worthwhile.
Leswa Valley
Leswa Valley is one of the cleanest and green valleys in Neelam Valley. It is located at a stunning height above sea level and surrounded by snow-covered mountains and lush green meadows. Leswa is an ideal spot for nature lovers to enjoy a picnic with their friends or family.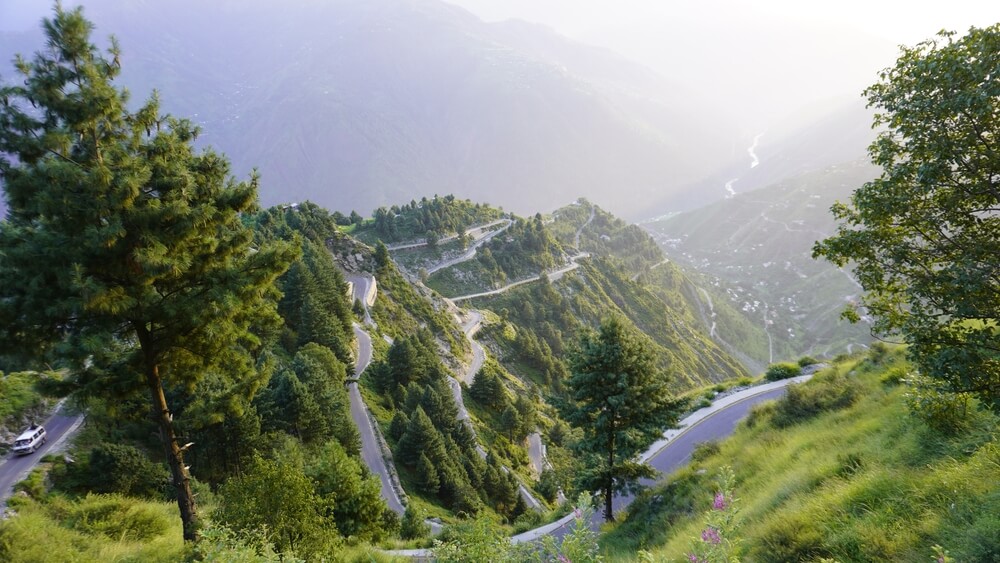 Patlian Lake at Neelum Valley
Patli Panjal Lake, also known as Patlian Lake, is a stunning lake in the Neelam Valley. The lake sits at an elevation of around 3,500 meters, encircled by forested mountains. This lake is visible even from a long distance. Its natural beauty comes from the abundance of vegetation all around it.
The water in the lake is a comfortable 9 degrees Celsius. It takes about 4.3 hours to drive from Muzaffarabad to Dowarian. You can take a jeep or walk 14 kilometers from Dowarian.
Ratti Gali Lake
Before considering whether or not to visit, you should know that the Ratti Gali Lake is often regarded as the most beautiful lake in the Neelum Valley, both by visitors and residents. Located in the Neelum Valley, it is one of Pakistan's most picturesque bodies of water because of its idyllic setting on the blue pearl.
The lake's reputation for unparalleled beauty has already preceded it, making it an automatic must-see for every traveler. Nobody can compare the Ratti Gali Lake with its clear water, mountains blanketed in snow for most of the year, and the valley of flowers crowns it.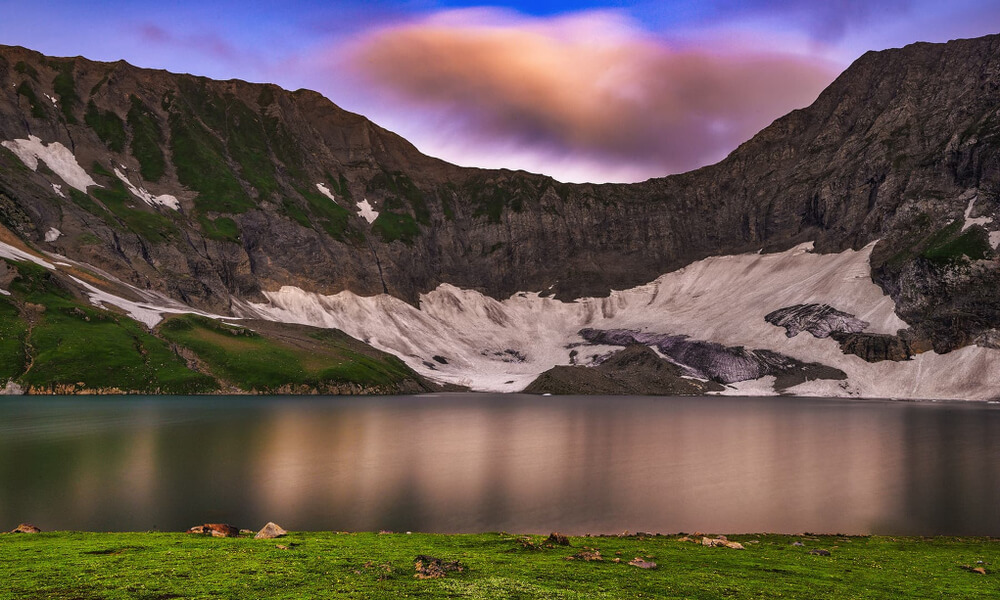 It's an ice lake, and it's located at an altitude of 3,710 meters. The lake is accessible from Dowarian, a picturesque town in the Neelum Valley. The beautiful lake is hard to miss, as its waters are so unusual that they reflect the surrounding environment.
The village of Keran is located 24 kilometers from Ratti Gali Lake, and Dowarian is 18 kilometers away. There is a jeep route 10 kilometers in length and a trekking track ranging from 5 to 9 kilometers to get to the campground of Rati Gali Lake. It's safe to say it's one of the Neelum Valley attractions you can't miss.
Chitta Katha Lake at Neelum Valley
Chitta Katha Lake can be a great stop if you explore Neelum Valley in Azad Kashmir. Kel Village is situated 25 kilometers from Chitta Katha Lake. It stands at an altitude of 13,500 feet above mean sea level. Specifically, it is located in a beautiful valley called Shounter. Alpine lakes, like Chitta Katha, can be found at altitudes higher than 10,000 feet.
Dream Lake, alongside Chitta Katha Lake, is also one of the most popular tourist destinations in the Neelum Valley. There's a jeep trail that's 20 kilometers long and a hiking trail 5 kilometers long. The destination is exciting, stunning, and enticing to visitors. Nanga Parbat can be seen from over 35 kilometers away in the sky, on the opposite side of the lake.
Salkhala
The picturesque town of Salkhala can be reached by crossing the Neelum River around three kilometers from Kundal Shahi. The town is home to ultimate beauty with architecture that can be seen in small huts and tiny houses built there.
Sharda at Neelum Valley
Sharda is roughly 136 kilometers from Muzaffarabad, the state's largest city, and receives many tourists yearly because of its picturesque setting. Travelers like the opportunity to stroll among the lush grounds. Sharda also boasts a rich history that tickles the interest of tourists who will likely only visit the city once in their lifetime. The Sharda Neelum valley is also home to multiple cafes and scenic forts where visitors can relax and enjoy nature.
Saral Lake
The beautiful Saral Lake Neelum Valley sits at 13,600 m in Pakistan's Azad Kashmir; elegant and appealing. From Saral Pass, you can get your first magnificent look at the valley below. You can also replenish the lake by tumbling down from the Saral peak to an enchanting valley that has never been populated.
The lake expands, literally and metaphorically, as you go closer. You can keep exploring the area by passing through Jabba Gali Pass and then by getting into woods that will fill you with mixed feelings of joy and anticipation.
Taubat at Neelum Valley
Taubut, as the valley's terminal town, has a constant influx of tourists. It's quickly becoming the go-to spot for any traveler interested in discovering Neelum valley's lesser-known charms. The enchanting River Neelum runs through the center of Taubat Town, while the sparkling Stream Gagai Creek winds its way out of town.
From Taubat, you can easily reach the Gagai River on foot. Nature and the town's fantastic conditions have harmoniously merged in the town's arrangement of fields and greenery. The town of Taubut, with its massive mountain in the background, the clear, running water of the Neelum Waterway, the lush green field, and the peace at the peak, is well worth a visit.
The outlet of the Neelum River lies at Gulshan Pora, which is located in Jammu and Kashmir directly across from Taobut. The trip from Muzaffarabad to Kel and then Taubat takes approximately 8 hours. Nanga Parbat is located on the opposite side of Taubat and can be seen from nearly 56 kilometers away.
Upper Neelum
Upper Neelum is just 2 kilometers from Keran and offers some of the most breathtaking views of Neelum Valley. To appreciate the beauty of Azad Kashmir, you must hike and camp there. Kutton Jagran, the upper Neelum, and Keran Village are popular travel destinations of Upper Neelam.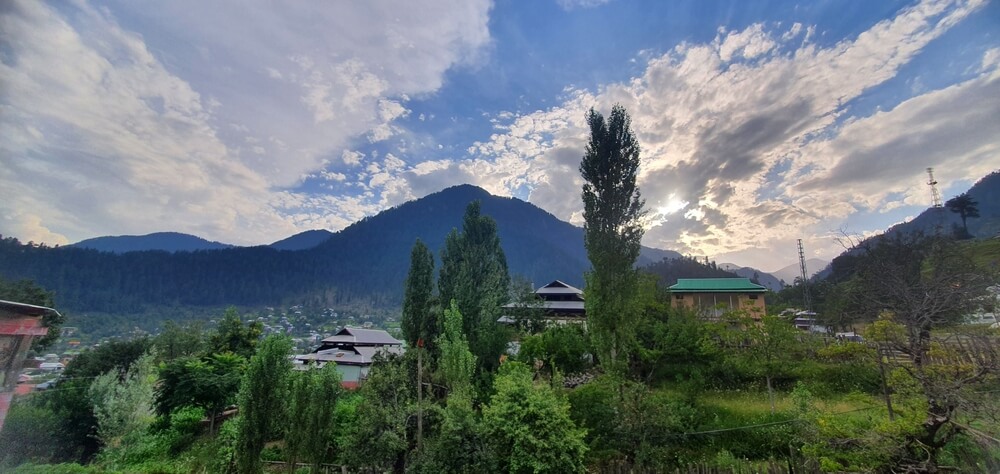 Patheka
When visiting the Neelum Valley, your most exciting stop will be at Patheka. In this area, tourists can find everything they need, making it the retail hub of Neelum Valley. You can see several breathtaking vistas of the valley from Patheka. Huge mountains, the pleasant climate of Neelum Valley, and lush green meadows attract foreign tourists. The winding road to Patheka offers astonishing views of the forest surrounding it.
Neelam Jhelum Hydro Power Plant
Even though nature has showered Kashmir and its surrounding areas with many of its stunning views, an artificial power plant manages to steal some of the spotlights due to its majestic appearance and positive effects on the economy and the environment. During your journey to Neelum Valley, you will also get the chance to see the Neelum-Jhelum Hydro Power Plant.
Noori Top at Neelum Valley
Situated at over 12,000 feet above sea level, Noori Top offers stunning views of the valley below. It is accessible via a jeep or a car from Kel and is a popular spot for hiking and picnicking.
Pir Chinasi
Pir Chinasi is a beautiful hilltop located about 9 kilometers (5.6 miles) from Kel Beyin. Pir Chinasi provides stunning views of mountains on all sides and is especially popular with sunset seekers; there's no better place to watch the sun dip below the horizon than from this idyllic spot. Pir Chinasi is also home to a small shrine that attracts many visitors from all over Pakistan throughout the year.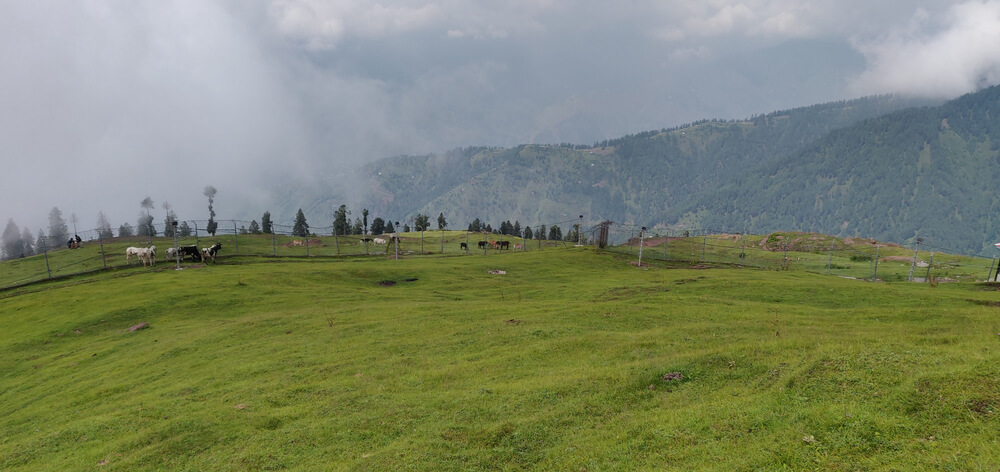 Shounter Lake at Neelum Valley
Shounter Lake is technically in Shounter Valley, so it would appear like it doesn't belong with the other Neelum Valley landmarks, but it does; the Shounter Valley is a subregion of Neelum Valley. Shounter Lake, situated almost 10,000 feet above sea level, receives the highest compliment possible. There are not many tourist attractions in the area, but still, it is a popular tourist attraction.
Towering and gorgeous mountains encircle the lake, and its basin is replenished by water flowing from those mountains' glaciers. Furthermore, the abundant plant life that decorates the area further boosts the beauty of the location, if that is even possible.
Banjosa Lake
Banjosa Lake, located amid the enormous mountains of Azad Kashmir, is yet another stunning and intriguing lake. It is a tourist hub roughly 20 kilometers from Rawalakot, the country's capital. Located at an elevation of 1,981 meters above sea level, this lake is a forgery.
The lush, verdant pine forests surrounding the area add to its already impressive beauty. There's never a moment when the guests can stop thinking about it. Midsummer is the most incredible time to visit the lake, as the winters are freezing. It's worth your time if you're exploring the beauty of Azad Kashmir.
Toli Peer at Neelum Valley
There are several places to visit in AJK Travel that are perfect for those seeking quiet reflection. Toli Peer is among them; it's a beautiful ridge that towers over 8800 feet above sea level. The amount of breathtaking vistas in a paradisal setting is virtually limitless. Toli Peer Abbaspur, Bagh, and Poonch River are seen from Rawalakot, located around 30 kilometers away, about 45 minutes by car.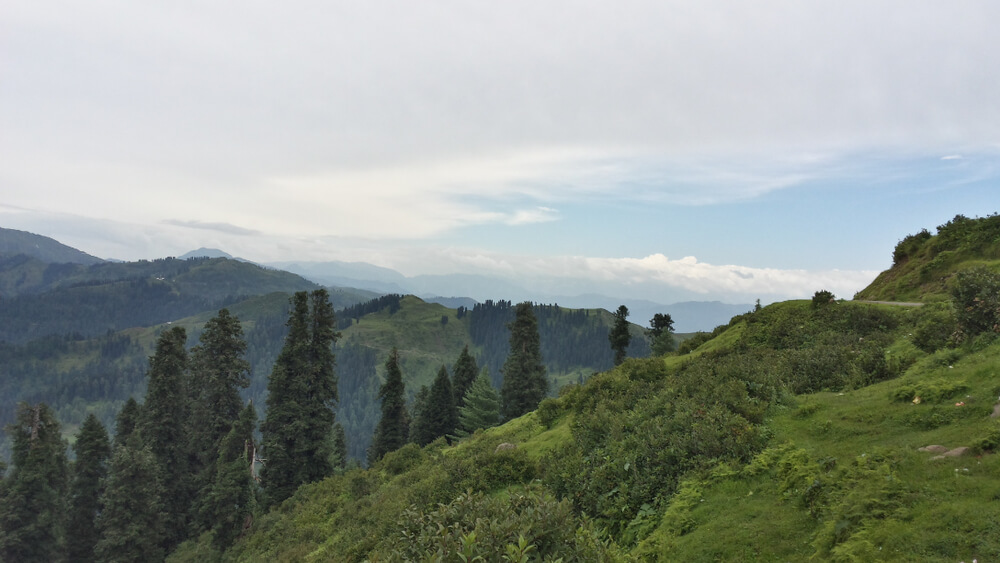 Things to Do in Neelum Valley
There is a long list of things to do in Neelum Valley. Here are a few of them.
Hiking
There are various hiking trails for all levels of hikers in the Neelum valley, from beginners to experienced backpackers.
Go Bird Watching
With over 200 species of birds, there's plenty to see in Neelum Valley! Bring your binoculars and enjoy bird watching there.
Camping
There are campsites available on a first-come, first-serve basis. Or backcountry camping is an option if you're looking for more adventure.
Berry Picking
Depending on the time of year, you can find raspberries, strawberries, blueberries, blackberries, and more. Pick them in your basket along with your friends and enjoy.
Photography
There's no shortage of photo ops in Neelam valley. From wildflowers to waterfalls, you'll have plenty of beautiful subjects to choose from. 
Weather
The weather of Neelum Valley stays moderate to cold throughout the year. It remains icy from October to February and becomes mild with cool breezes from April to August. Visitors can experience snowfall in December and January.
Frequently Asked Questions
Why is Neelum Valley famous?
The Neelam valley is famous for its breathtaking scenery, panoramic perspective, steep hills on both sides of the roaring Neelum river, lush green woods, beautiful streams, high-altitude lakes, and pleasant surroundings.
Where is the Neelum Valley?
Neelum Valley is situated in the North East of Muzaffarabad in Azad Kashmir of Pakistan and is 102 kilometers from AJK.
Is Neelum Valley a city?
No, Neelum Valley is not a city. It is a district of Azad Kashmir with multiple unique spots to visit.
Why is Neelam valley called Neelam?
The valley comes from the Neelum River, which flows through it and is a haven for nature lovers and adventure seekers, so it is named Neelam Valley.
What is the best time to visit Neelum valley?
This intriguing area of the world is at its best between March and October. If you want to take in all the sights, you must set aside at least three or four days. You should postpone your trip until the rainy season has passed, and if it does rain while you're there, be careful of wet floors.
How far is Neelum Valley from Islamabad?
Neelam Valley is over 200km from Islamabad, and it takes up to 8 hours of driving to reach Neelam Valley. There is no airport in the area, so there is no other option for getting to the valley.
Wrap Up
Neelam Valley is undoubtedly one of Pakistan's most beautiful tourist destinations. With its verdant green meadows, rushing waterfalls, and snow-capped peaks, the valley has something for everyone to enjoy. It is the best place to spend your vacation if you want to get drowned in immense beauty and greenery. So if you're planning a trip to Pakistan anytime soon, be sure to add Neelum Valley to your itinerary!