Sharda – Discover the Beauty of Sharda Neelum Valley
Nestled in the heart of Neelum Valley, Sharda is atop an elevation of 1,981 meters above sea level. Surrounded by majestic towering hills, verdant meadowlands, and turquoise-colored deep sparkling lakes. The distinctive wooden homes hidden beneath the foamy clouds are among the attributes of beauty.
Sharda is a tiny hill town in the Neelum Valley, 210 kilometers from Muzaffarabad. It is 1,981 meters above sea level and famous for its beautiful scenic attractions. The Sharda Valley is situated at the base of the Sharda and Nardi peaks. In the ninth century, it continued to serve as a central point for Buddhism and Hinduism.
If you are feeling the urge to learn about the history of Hinduism and Sharda, let's explore it with our travel guide being your savior.
History of Sharda
Sharada Peeth is a perished Hindu temple and an epic historic learning center in Pakistan-administered Kashmir. It was one of the most prestigious temple institutions in the Indian Subcontinent between the sixth and the twelfth centuries CE.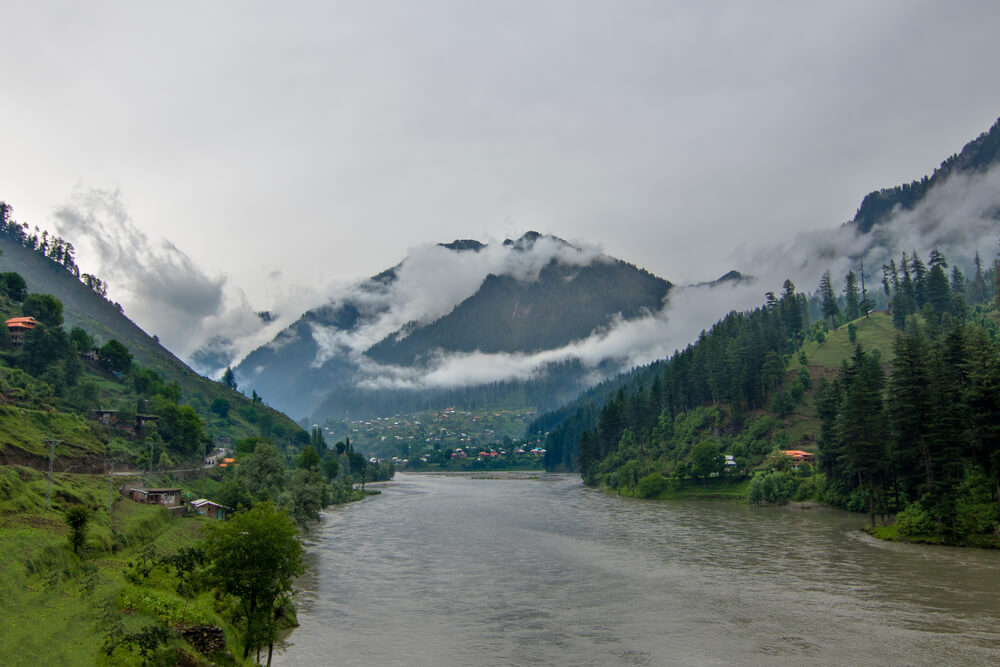 Stories mention how scholars traveled from great distances to utilize its library, which was particularly well-known for its books. The Sharada script was called after it, and Kashmir was given the nickname "Sharada Desh," which means "land of Sharada," due to its significant contribution to the creation and popularisation of the script in North India.
The Weather
During the summer months, Sharda is at its magnificence. The weather is pleasant, and the crops are fruitful. While in winter, the temperature is harsh, and the roads are blocked because of heavy snowfall.
Best Time to Visit Sharda Valley
The best time for tourists is typically between March and October since the region is most productive. This season, most of the crops are grown, the trees are the most fertile, the mountains peak, and some areas are covered in snow, thus making it more enchanting.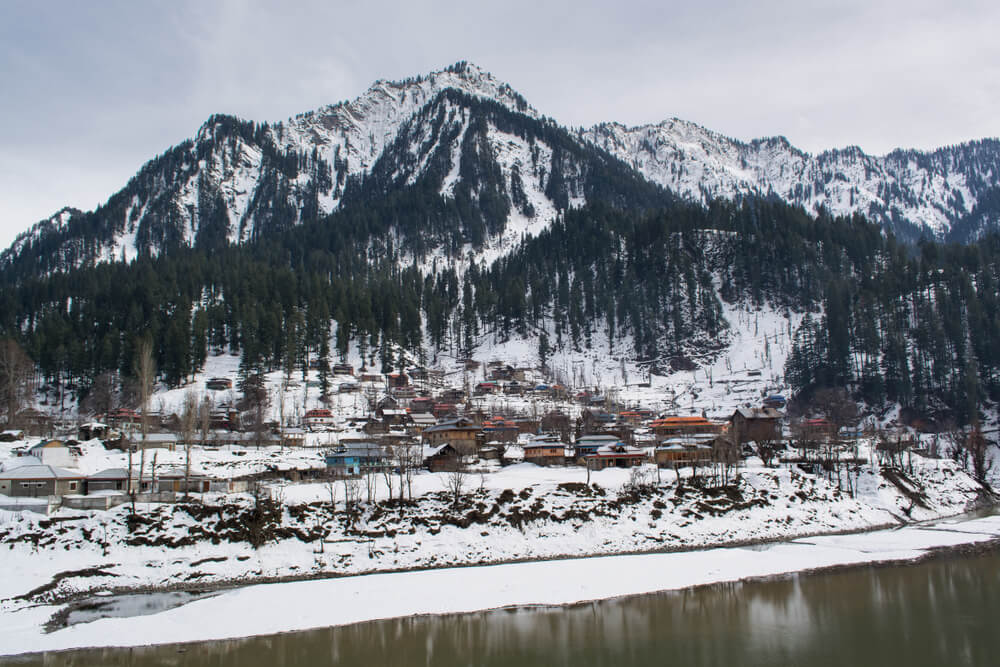 The connecting roads are mostly closed due to frequent heavy snowfall throughout the winter. The best months to travel are from mid-July through mid-September for trekking. In July, the Ratti Gali, a stunning lake in the Neelum valley, opens, and its scenic views are mesmerizing.
What to Pack for Sharda?
When traveling to Sharda, you must pack all the below-stated essentials to make your trip easier than tiring and hectic.
Hiking Shoes
Raincoat/Umbrella
First Aid Kit
Camping essentials
Attractions in Sharda Valley, Kashmir
Intriguing Scenic Beauty
Sharda is home to beautiful lush meadows, pristine water lakes, and fantastic nearby excursions. It has a historic temple that dates back to the sixth century.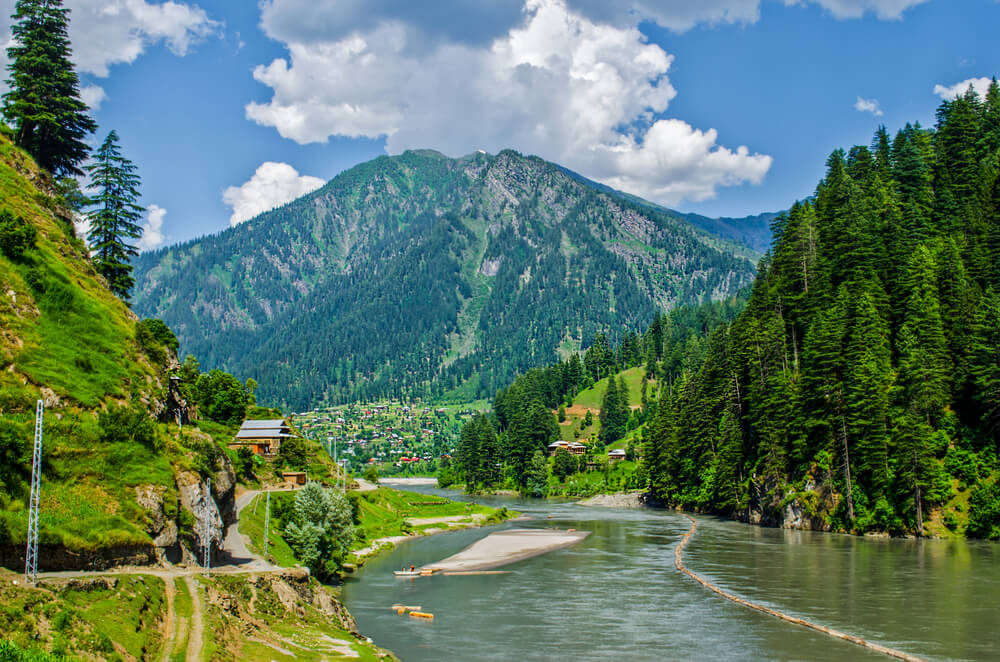 Neelum River
The Neelum river streams through the Kashmir area of Pakistan and India. It starts flowing in the northern region of Indian Jammu and Kashmir, passes through Pakistan's Azad Kashmir's Neelum District, and eventually unites with the Jhelum River, not far from the city of Muzaffarabad. It is a beautiful spot to spend some time on your Sharda trip.
Natural Spring Watercourses
You will see the natural spring water courses across the entire region. Stop by, drink some fresh water from the source, and enjoy while dipping your toes in fresh and clean water.
Lush Green Scenery
Sharda, situated in Neelum Valley, is a steep verdant valley. The locals are grazing their sheep and goats on the luscious hillslopes. It has rich vegetation that makes you love the Neelum Valley.
Flora and Fauna in Sharda Village
Sharda Village is situated approximately 2.5 kilometers from Keran. It is one of the lovely settlements in Neelum Valley, reached by a connecting road and trekking through the hills. This picturesque, verdant town is abundant in wild fruit and fauna and draws visitors from all over the nation, even the world. Plan a visit to a zoo and park situated there. Enjoy the panoramic views of Indian-occupied Kashmir.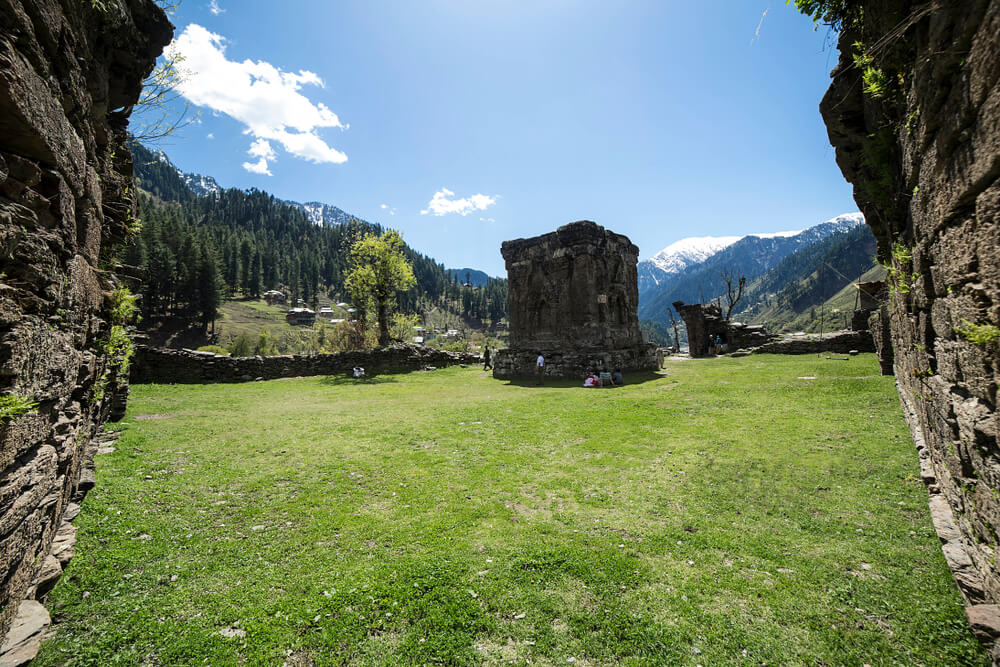 Places to Visit in Sharda
Sharda, a small town in Neelum Valley, offers its tourists a wide range of beautiful nearby tourist attractions. Let's scroll down to uncover the names.
Sharda University
Sharda University was a renowned center of learning in Asia during the Buddhist era, and It was the hub of Hindu and Buddhist spiritual education.
The Hindu Pandits and scholars used to come from the furthest reaches of the Subcontinent to attend Sharda University. This institution served as a resource for learning history, geography, physics, and philosophy in addition to Buddhist studies. The Sharda script, which was created in the ninth century, was used by this organization. Sharda University (also known as Sharda Peeth temple) was built in honor of Sarasvati Sharda, a Hindu goddess of study, music, arts, and wisdom.
Sharda Peeth
Sharda Peeth is situated in Kashmir. It was an education hub for Hindus and was greatly valued in Buddhism and Hinduism. The temple is ancient and a symbol of iconic civilization. Take Instagram-worthy photos in front of Sharda Peeth.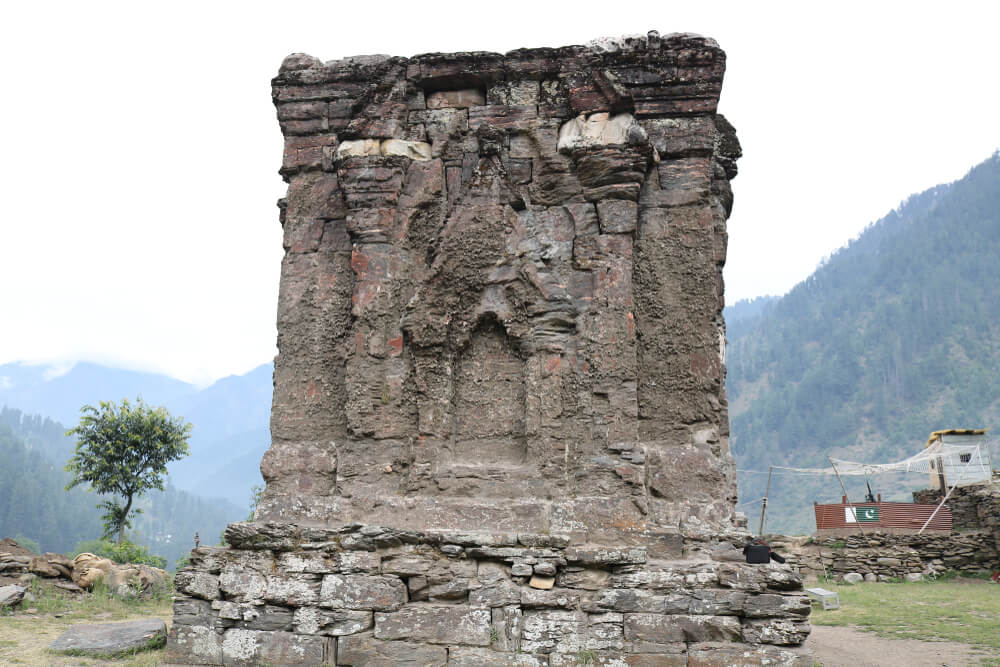 Kishan Ghati
Kishan Ghati is a hamlet situated in the region of Azad Kashmir. The trek to the famous tourist destination is full of colors, and the alluring beauty stretched-in-surroundings is at its peak. Spend some delightful moments from your trip here and enjoy the whirling cool breezes.
Sharda Bridge
Sharda is a gorgeous location in Neelum Valley. It is situated 210 kilometers from Muzaffarabad and 30 kilometers from Dorian. From a tourist's perspective, this location is alluring and worth visiting. The Sharda bridge is built in between the incredible natural views.
Kel and Arang Kel
I won't be wrong to say that Arang Kel is a paradise on earth located two kilometers from Kel. The altitude of the region is 8,379 feet.
You'll be greeted with the most breathtaking view ever after an hour. Lush green fields and high mountains cover the whole area. The fields are dotted with tiny wooden houses, but no electrical poles or televisions exist here. In simple words, a lot of peace without any technology.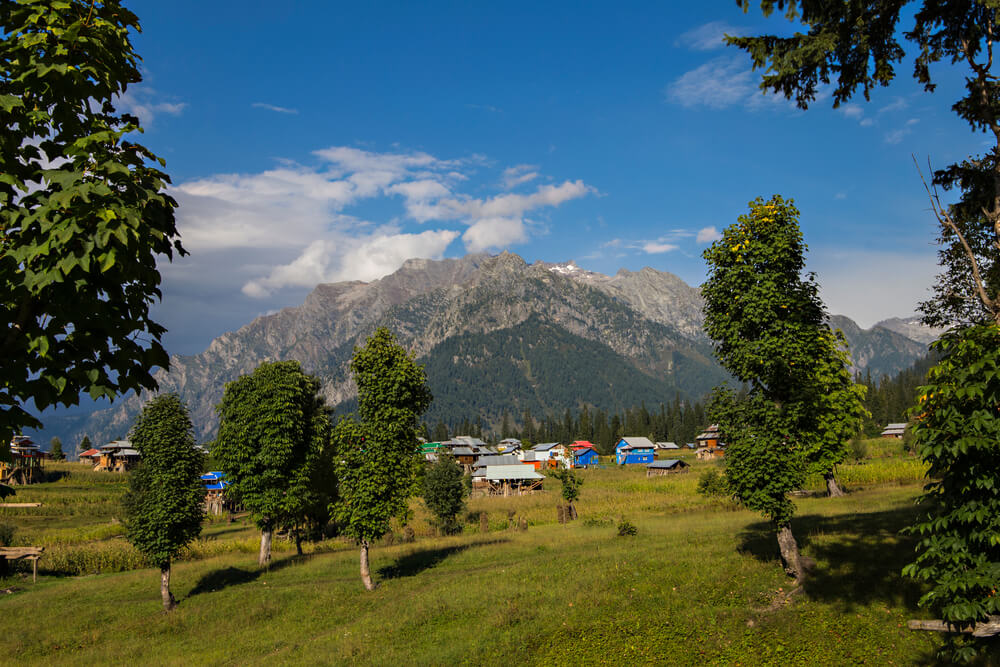 The people of Arang Kel face many difficulties as it is located on the border of Kashmir, which Pakistan and India govern. A few years ago, this tranquil area was a bomb-shell graveyard. Bombs, missiles, and bullets could be seen instead of all of these luscious green fields, but as soon as the situation calmed down, the locals put everything behind them and resumed their routine lives.
Things to Do in Sharda
Sharda offers plenty of exciting activities you can enjoy during your journey. Let's have a look at them.
Hiking
Kishan Ghati Trail is among the hiking trails in the Sharda district. Apart from this, the region has many hiking trails for hikers. The Neelum Valley is the best place for hiking enthusiasts. Many individuals travel here only to trek across its countless hills, valleys, and lakes. One such location is the Ratti Gali Lake, and it's easy to understand why it draws so many tourists there each year.
Another well-known trekking location is Chitta Katha Lake, situated in the nearby Shounter Valley. It serves as a base camp for hikes to the lake and offers tent communities.
The Saral Lake, located in Gumut National Park, must be mentioned here, as it is a well-liked hiking location. The water from the melting snow cut the lake out of the mountain, encircled by lush green meadowland.
Camping
Camping is a favorite tourist activity. Many travelers bring their camping essentials, while others are provided this facility by the hotel they stay in. Numerous camping sites in Neelum Valley can make your experience worthwhile. If you have yet to go camping, let's do it this summer and make your journey pleasant.
Sightseeing
Take a jeep ride towards the neighboring tourist spot while sightseeing the beauty and elegance of Neelum Valley. It is the heart of the Kashmir district.
Sharda is filled with some of the most breathtakingly gorgeous places in the world. Must-see locations in this region include the Dahni Waterfall, Athmuqam, Kutton, Taobat, Upper Neelum, Lower Neelum, Kel, Arang Kel, and Halmat. It would be best if you didn't miss out on these attractions on a trip to Sharda.
Another is Dhani Waterfall – the highest waterfall in the valley, which is a picturesque tourist spot. Numerous facilities are available for visitors, including banks, stores, post offices, and hospitals. Who wouldn't love to witness a majestic river meandering through a beautiful green landscape like Sharda?
Boating and River Rafting
Summertime is the most suitable time for whitewater rafting and boating on the Neelum and Jhelum rivers. In the valley, watersports professionals first held rafting events in 2017. They lead thrill-seekers and offer packages for both novices and experts. Why not join this activity with your friends if you're seeking a once-in-a-lifetime experience?
Facilities
As Neelum Valley draws hundreds of tourists globally and locally, the region now has all the required facilities for its guests.
Diversified Cuisine
In addition to the typical chicken and rice dishes, the Neelum Valley offers a fantastic diversified cuisine with heavenly taste. The variety of fruits grown in Athmuqam, Lower Neelum, and Upper Neelum are famous worldwide. Delicious curd, cheese, bread, rice, and chutney are available in Athmuqam.
A virtual treat for food lovers, the native Saag is a must-try. Lassi, Karri Pakora, and Makai ki Roti are served as a variety of them. Additionally, tourists can access bottled water in all significant markets and towns.
Accommodation
Every central town in the valley has plenty of places to stay. Sharda contains both public and private rest stops. Besides this, the locals welcome guests into their houses at fair prices. Hotel rooms typically cost between Rs. 500 and Rs. 6000 per night, so negotiation for a lower price is always a good idea.
For less than Rs. 1000 per night, you may stay in a tent community at Ratti Gali Lake. If you want something more distinctive, consider renting an igloo in Sharda, which runs from Rs. 2500 to Rs. 3000 per night.
Hotels to Stay
To make your stay cozier and more comfortable, choose one of the top-rated hotels in Sharda. Among the most famous are:
Sharda Highland Hotel
Shangrila Sharda Resort
Kashmir Sharda View Guest House
Wadi Resort, Sharda
How to Reach Sharda Valley
From Islamabad to Neelum Valley
Muzaffarabad, situated between the Neelum and Jhelum rivers, may require travel from Islamabad.
You may reach Neelum Kashmir from Islamabad in 2 hours and 32 minutes. Islamabad and Neelum Valley are separated by roughly 235 km. Generally, many travelers prefer to organize a trip from Islamabad to Neelum Valley.
From Muzaffarabad to Neelum Valley
If driving at the recommended speed of your car on this route from Muzaffarabad to Neelum Valley Road, with good traffic conditions, you can reach Neelum Valley Road in 1.5 hours.
According to Google Maps, the distance between Muzaffarabad to Neelum Valley Road is 102 kilometers. Say, it will take three hours to drive from Muzaffarabad to Neelum Valley Road.
Neelum Valley to Sharda
The distance between Neelum Valley and Sharda is around 302.2 kilometers. The estimated time taken is 11 hr 10 min.
Travel through Mansehra – Naran – Jalkhad – Chilas Rd/N-15.
Location of Sharda Neelum Valley
Sharda, also known as Shardi, is a tiny Tehsil in Pakistan's Azad Kashmir's Neelum District. It is located alongside the banks of the Neelum river and is one of the two tehsils of the Neelum district.
Frequently Asked Questions (FAQS)
What is Sharda famous for?
It is one of the most stunning valleys and is well-known for its alluring natural attraction. The Sharda Valley is situated at the base of the Sharda and Nardi peaks.
Who destroyed Sharada Peeth?
Although the location may be aged, archaeologists believe that the Sharada Peetha was likely built around 1300 years ago and demolished 500 years ago by Sikander Butshikhan, who used force to introduce Islam to Kashmir.
Can Indians visit Sharada Peeth?
Sharda Peeth is only accessible to Indians if they have family there, although many do not.
Wrap Up
Sharda Valley is a famous tourist destination situated on the banks of the Neelum river. The site is popular because of holding deep, thick forests, astonishingly beautiful meadows and valleys, and pristine water lakes and streams. The destination is worth a visit if you want to enjoy a vacation while being low on pockets.