Freezones in Dubai
Free Trade Zones are special economic zones that are established by Dubai Government to promote exports. This is done through tax rebates, Custom duty benefits, and simplification of laws required to run the businesses. The first free trade zone was established in Dubai in Jabel Ali and is called Jabel Ale Free Zone or JAFZA. It was established way back in 1985. It is one of the largest and most successful free trade zones in the Middle East. Encouraged by its resounding success, Dubai Government started establishing a series of such free zones in different locations for different sectors. The success of Dubai Freezones has paved the way for other such free zones like Ras Al Khaimah Free Zone in RAK, KIZAD in Abu Dhabi, and Hamriyah Free Zone in Sharjah.
100% Ownership
When an expatriate needed to do business in Dubai, there was a law that stipulated that he has to do it with a partnership of a UAE citizen holding a UAE passport. Many aspiring expatriate businessmen shied away from investing in business due to this law. It was established in 1985 with only 19 companies, all 100% owned by expatriate businessmen. When one owns 100% of their business, he has more confidence in investing, growing, and improving his business. It provides more security to his funds and controls. The Free Trade Zones are built around this core strategy. This strategy was proven right as indicated by the growth of every free trade zone in Dubai. Freezones in Dubai have also enabled Dubai to limit its dependency on Oil and Gas. It is estimated free zones in Dubai contribute more than 29% to Dubai's Economy.
Single Window Clearances
Another aspect of Dubai Freezone is that all of them have ensured ease of doing business. Gone are the days when one needed to go to different authorities and offices for different purposes. The documentation work involved was also huge. The lead time to get operational from establishing a business would be anywhere between 4 months to 6 months. While establishing Freezones Dubai, the planners have taken into consideration this fact. Every free zone in Dubai has one central policy which facilitates all activities like the Visa process, environmental clearance process, office/ warehouse/ land leasing process, Occupational Health and Safety process, and many other processes needed to establish the business. It shall also facilitate the opening of a bank account. So the businessman could shorten the lead time of starting the business and get to the operations quickly. Structurally an apex body was created for each Dubai Freezone which will be the administrator and facilitator of that freezone concerning all government-related matters.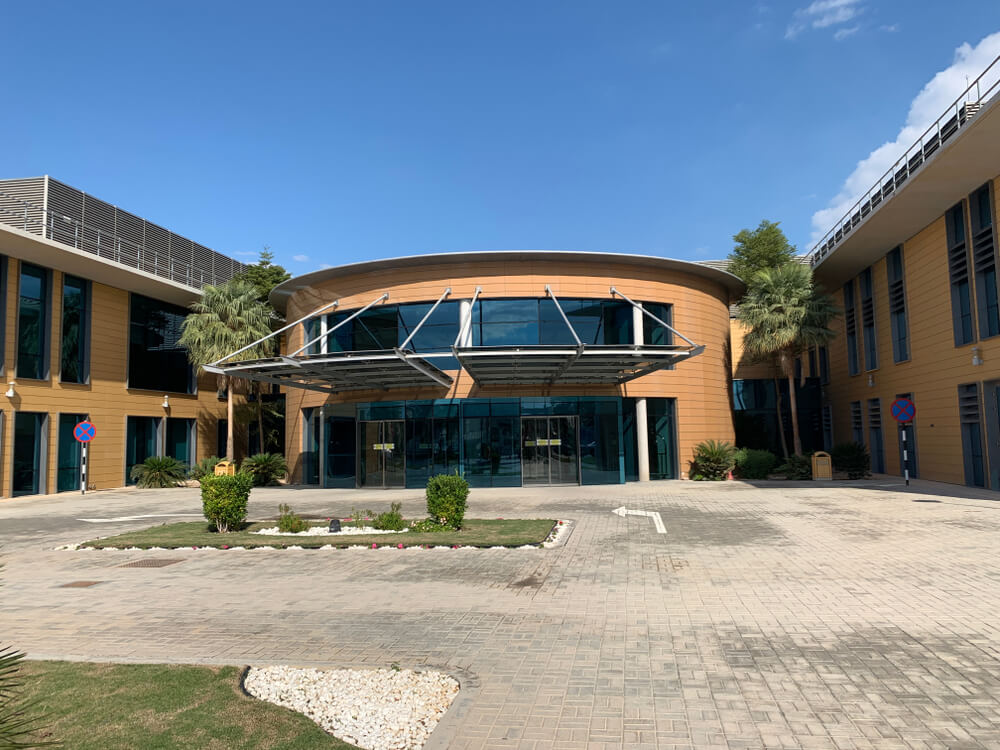 Single window clearance remains one of the key highlights of freezone Dubai.
Sector-specific free trade zones
Another part of freezones Dubai is that they are built around different industry sectors. The concerned freezone creates infrastructure depending upon the economic sector to which it caters too. For example, if one goes to JAFZA and DAFZA, one will find the differences in the facilities offered. This includes the size of warehouses, the location of the freezone, applicable regulations, and even the external visuals. The sector-specific freezones of Dubai ensure that their governing body has the required expertise to act as consultants to the businesses in that sector. The activities organized by the core administrative body are oriented around the economic sector. For example, Dubai Investment and Finance City is a Dubai freezone addressing to finance sector. It holds regular conferences, events, and talks to help its members mitigate risks related to the financial world and also benefit from emerging opportunities. Currently, the following sectors have been already addressed through various freezones of Dubai;
Export, import, and logistics – Sea, and surface transport
Export, import, and logistics – Air
Manufacturing
Metal and Commodities
Finance and Investment
Business Process Outsourcing
Investment
Growth of Dubai Free Trade zone
Due to the way they are managed, Dubai Freezones have seen tremendous growth since the time they have been established. The growth trajectory is above 15% for all freezones in Dubai and some of them have even crossed the 30% mark. The growth of the freezones means the growth of the businesses located within them. Each freezone Dubai works like a profit center and has a corporate-like functioning with a CEO who is responsible for its sustainable growth. Each freezone Dubai entity is making efforts in the area of Digitalization, ease of doing business, real estate development, and infrastructure development to keep the growth engine chugging forward.
Current free trade zones in Dubai
Dubai has around 24 freezones today. The prominent among them are as follows;
Dubai Airport Free Zone (DAFZA)
JABEL ALI Freezone Authority (JAFZA)
DMCC (Dubai Multi Commodity Center)
DIFC (Dubai International Finance Center)
DIC (Dubai Internet City)
DMC (Dubai Media City)
Dubai Silicon Oasis (DSA)
Dubai Design District (DDD)
Dubai Healthcare City (DHC)
International Media Production Zone (IMPZ)
Dubai World Central (DWC)
Dubai Studio City (DSC)
Dubai Airport Freezone Authority
Located within the vast expanse of Dubai Internal Airports near Dubai Airport Termina 2, this freezone is created to address the requirements of those companies that primarily use airports for their logistics. It calls itself a place where "the businesses are free to grow. This Dubai freezone connects you to the Middle East, Europe, and India Sub-continent effortlessly. One of the most advanced Dubai freezone, it offers a complete range of eServices through its portal and you can establish your business with your feet up.
The facilities offered by DAFZA are:
A huge and world-class Infrastructure
A dedicated Cargo Handling Unit so that you don't need to establish your cargo handling unit and thus save valuable money
An integrated Call and Customer Handling center
Various kinds of offices, light industrial unit
Huge vehicle car park
Direct connection to Dubai International Cargo handling unit
DAFZA services include
Business Establishment services through its e-Portal in three easy steps
More than 2000 approved business activities
2 Different kinds of business establishments like Own Business or Branch Office
Flexible options on leasing space that includes, Standard offices, Smart Offices, Light Industrial Units, and retail
Complete Visa handling services
If your business is related to constant interaction with airports then DAFZA is your best option. One of the salient features of DAFZA is its connectivity to Dubai Matro, and Public Transport making your employees commute without any discomfort.
It has a partnership with Regus that offers the world's biggest platform for professionals to work independently and grow by investing much in office rentals and office spaces.
Dubai Knowledge Park Freezone
As Dubai kept growing at a rapid pace, there was a requirement to ensure that businesses operating in Dubai had a one-stop solution for the development of its Human resources, where providers of vocation training, facilitators of vocation training, and trainers could be integrated effortlessly in one geographic location. Dubai Knowledge Park Freezone was the answer to these requirements. Developed as one continuous building with more than a 1.5-kilometer long corridor, Dubai Knowledge Park or popularly known as Dubai Knowledge Village offers training companies, HR development companies, and vocation training companies an ideal solution for business establishment and growth.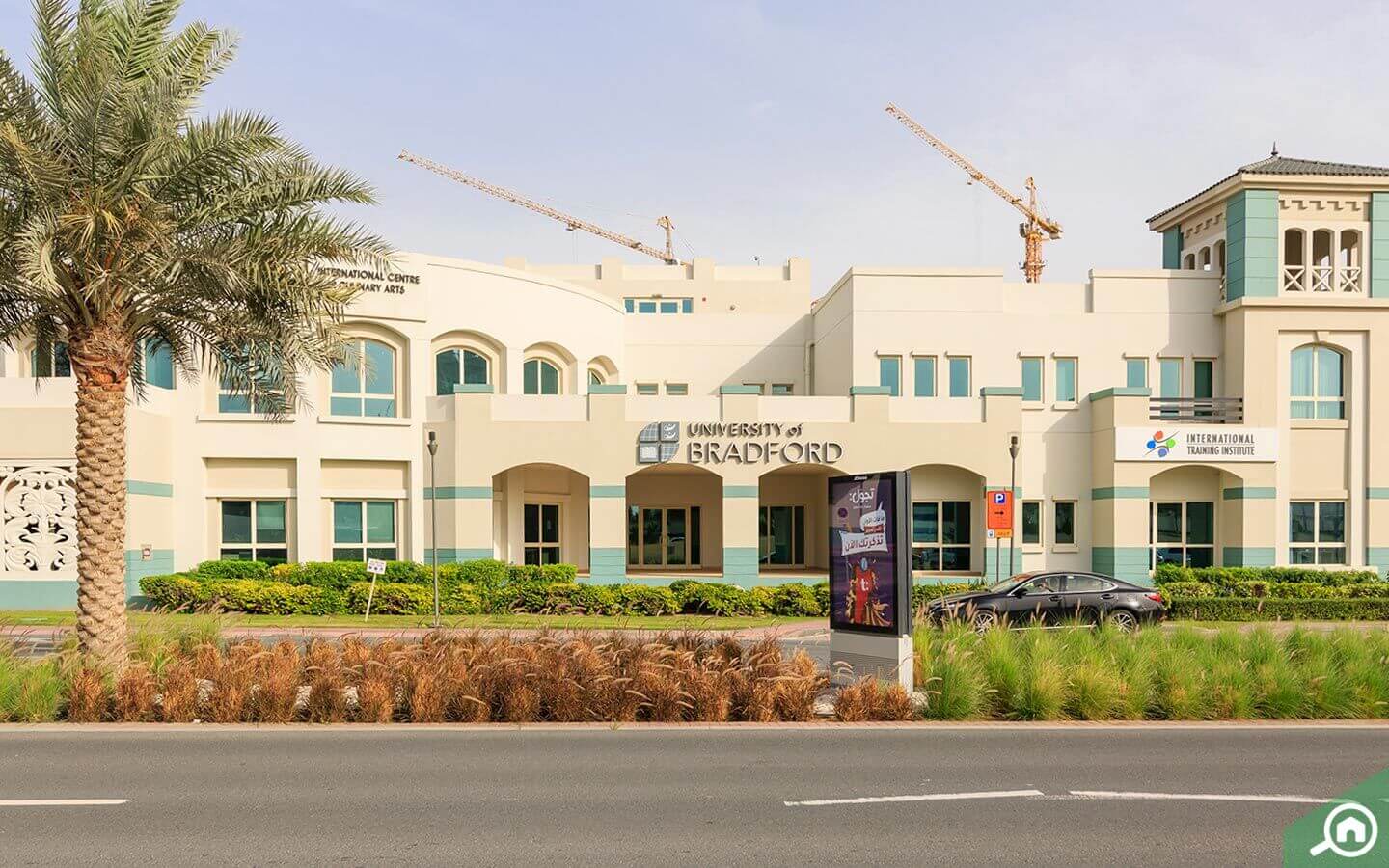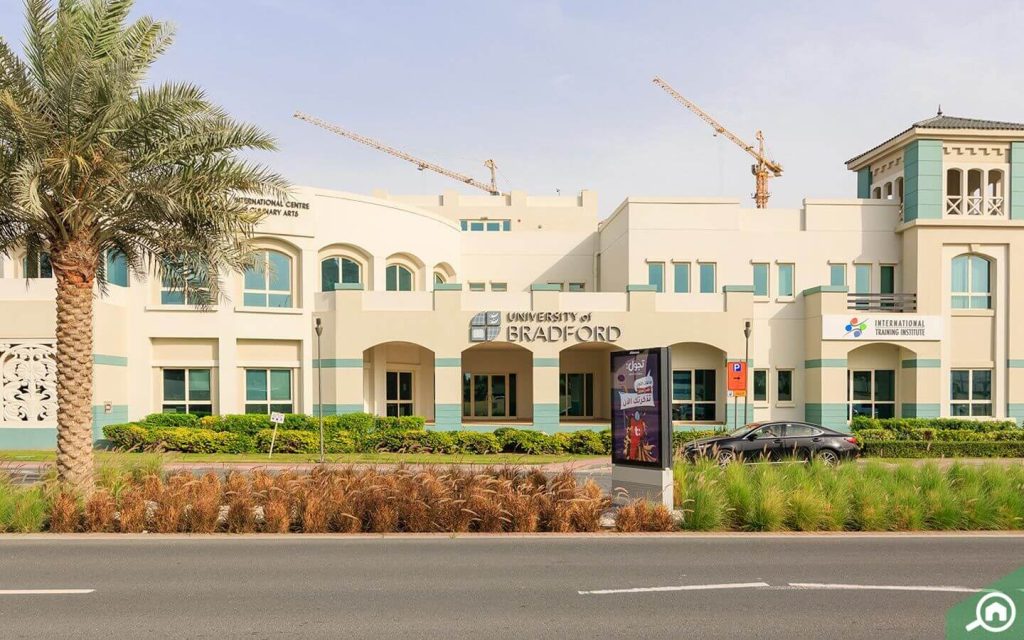 Dubai Knowledge Park Freezone Services
The Dubai Knowledge Park Freezone offers various facilities such as:
Flexible Operating environment including a) Offices of different dimensions, b) in5 centers for start-ups in the area of knowledge and media to work in an interconnected environment, c) D/Quarters that allow professionals a unique interconnected environment
It provides in5 centers
In5 Centre is an incubation center that nurtures new businesses for the next phase of growth.
It also provides facilities such as retail, hotels, and F&B Services
Compete Visa solutions
The general facilities of Dubai Knowledge Freezone include;
Huge office spaces
Well connected with Dubai Metro
Connectivity with global knowledge providers
In5 Center for incubation
Theatres, venue centers, and conferences
The location of Dubai Knowledge Park is ideally suited for young knowledge base businesses. It is close to Dubai Internet City, Dubai Media City, and Tecom. It is on the main road that connects Jumeirah and Palm Jumeirah.
Choose this freezone if you have a business that operates in the knowledge domain.
Jabel Ali Freezone
In 1970 the Jabel Ali port was established as the world's biggest manmade seaport. The seaport came up thanks to the sheer foresightedness of making Dubai independent of oil. The establishment of ports facilitated growth in trade from Dubai. In 1985, the Dubai government decided to establish its first free trade zone in Jabel Ali under a new organization, JAFZA (Jabel Ali Free Zone Authority). Starting in 1970, this freezone has now become the world's largest freezone with more than 8500 companies registered with it, 325,000 people working in it, and it is contributing almost 30% to Dubai's economy. In 2021, it contributed $40 billion to Dubai's Economy.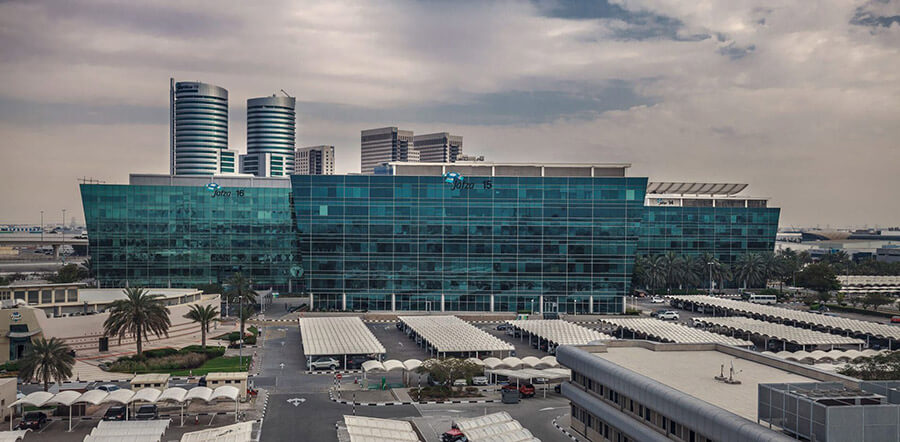 The reasons for these staggering figures are as follows
Closest to Jabel Ali Port which is the world's biggest and busiest manmade port
Located on Sheik Zayed Road
Ease of commuting due to 3 metro stations that link Dubai Metro with Jabel Ali Free Zone
A world-class infrastructure
Purpose-built labor accommodation to accommodate more than 500 workers at any given time
Ease of business
Large industrial land
This Dubai Free Zone is so popular that sometimes it has to divert applicants of business enterprisers to other freezones of Dubai.
Facilities offered by Jabel Ali Free Zone
Plots for warehouses, Industrial lands, and commercial offices in its inbuilt LOBs
Fantastic Road Network
Logistics solutions for handling incoming and outgoing shipments
Complete Internet and wifi solutions
Labour accommodation solution
Dedicated community centers
Retail spaces for "factory sales"
Dedicated food courts
Hotels
High-end villas
Services offered by Jabel Ali Freezone
Being the oldest Dubai Freezone, Jabel Ali provides complete services that can make used by simply visiting its portal. Its services include:
Visa services
Arbitration Services
Environmental management-related services
Waste management services
Hospital, clinic, and other care services
Services related to conferencing and events-related services
Testing laboratory for certain chemicals and products
Fire brigade
Emergency response services
Jabel Ali Freezone ticks all the right boxes when you want to start a business or an industry. The professional team of JAFZA shall ensure you get all the support and guidance for completing your setting up activities.
Dubai Internet City
As the world was witnessing a new revolution based on the Internet and World Wide Web, the government of Dubai was establishing a new freezone that would be dedicated to Information and Computer technologies (ICT). It went ahead and established a university campus-type Freezone complete with branded buildings, and a lake that would touch every building in the Dubai Internet city. Around the lake, they created gardens, food courts, sitting areas, and tree-lined pebbled pathways to link the buildings so that employees can walk around safely. When it was launched, nobody would believe that this kind of freezone would be successful or required. But naysayers have been proved wrong. Very soon, the Dubai Internet Cist became Middles East's biggest ICT hub.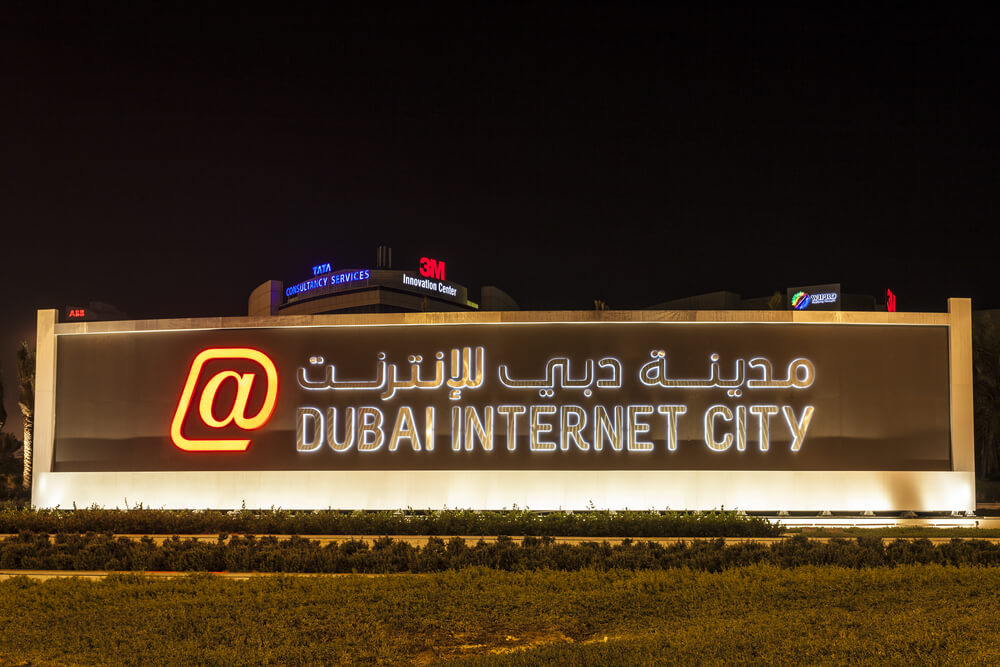 The Facilities offered by Dubai Internet City Freezone
Various options for offices that go up to a completely branded office building
Food Courts and Retail Area
Banking
Connected workspaces
Data storage facilities in association with Khazna
Large Amphitheatre for events
Conferencing facilities
Warehouses and Light Industrial Units
Services Offered by GIC
This freezone Dubai offers specific services that are:
Visa Services
Arbitration services
Datacenter Services
Event management services
Waste Management Services
Travel solutions through their portal
F&B services
In essence, if ICT is your expertise domain and you want to cater to UAE as well as the Middle East then you have come to the right place i.e., DIC
Dubai Multi Commodity Centre (DMMC)
This Dubai freezone straddles over one of the most popular real estate developments called Jumeirah Lake Towers, a mixed-use district having an iconic building in its heart known as the headquarter of Dubai Multi Commodity Centre. Dubai has been at the center of trade that links Europe with Asia and Africa It is also a throbbing market for gold, silver, and precious metals. The idea of establishing DMCC was to provide the most advanced infrastructure to businessmen who are in the trade of Commodities. Although currently, London's Exchange (LME) is the leading commodity trading center, Dubai is attempting to take on that position.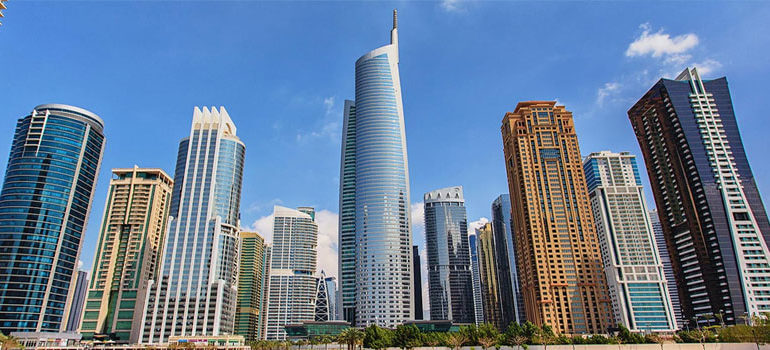 DMCC is a Free Zone as well as a real estate developer. Apart from its own headquarter, DMCC has many buildings which are all mixed-use, i.e. these tall buildings have residential, real estate, and office spaces. The DMCC freezone Dubai
Facilities offered by DMCC Dubai Freezone
Office spaces, Flexi desks
JLT Residential Towers for elite residential purposes
Huge Parking area
Trading platform linked to all major markets of the world
Conference facilities
Training and skills development facilities
Currency management
Complete hospitality facilities including restaurants, and hotels
Services offered by DMCC Freezone
Visa services
Arbitration Services
Residential management
Waste Management
Office administration and management services
Simplified portal-based customer relationship and customer request management
Dubai Silicon Oasis
If you are a technology start-up company and you should head straight to Dubai Silicon Oasis (DSO) to get all the solutions for establishing and running your start-up and take it to the next level. DSO or Dubai Silicon Oasis is one more Dubai Freezone entity to harness the potential of start-ups and thus make Dubai the unicorn hub of the Middle East. It was established in the year 2003 and started to lease out from 2005 onwards once the basic infrastructure and headquarters of DSOA (Dubai Silicon Oasis Authority) were completed. DSOA. DSO is located in the cojoining of roads of Dubai Al Ain and Dubai Sharjah. After the completion of DTEC (Dubai Technology Entrepreneur Campus), it started taking in start-up companies that needed a well-connected, and quick-to-start infrastructure. It also has established Dubai Digital Park (DDP). Another feature of Dubai Silicon Oasis is that it has been developed on a work-life balance concept meaning the people working in DSO have the option of staying within the vicinity thanks to the massive investment in developing integrated residential units of different types to suit all budgets.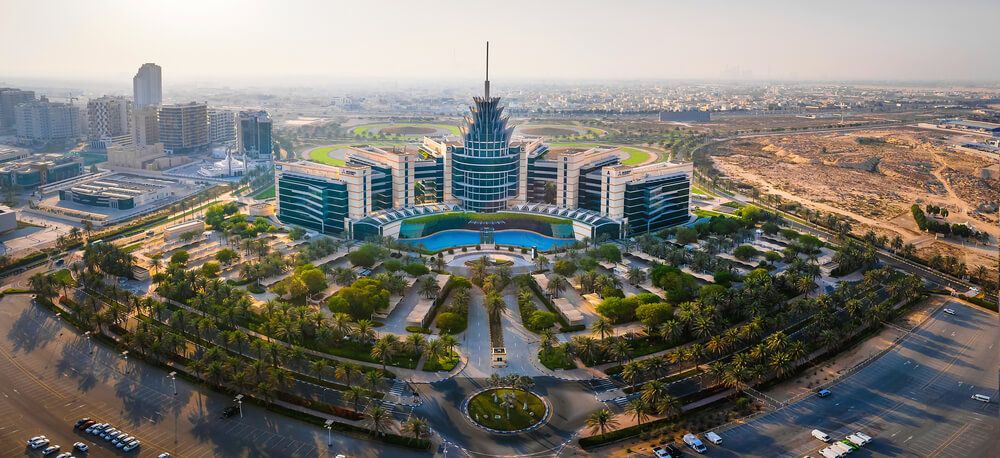 Facilities offered by DSO
DDA – Dubai Digital Park
DTEC – Dubai Technology Entrepreneur Campus for start-up businesses
100% business ownership
100% profit repatriation
A complete planned city with freehold properties to own fully
Fully developed offices, connect workplace, light industrial units, and warehouses available to lease or own
Services
Visa services
Consultation services to provide you with the best option
Regular events to business-to-business networking
Knowledge upgrade through regular free/ paid training programs
Business trade license with more than 2000 activities
Dubai Freezones have been established to focus on different verticals with a singular objective of encouraging expatriate businessmen to do business with 100% ownership and complete repatriation of profits from their business. There are many freezones all over UAE and each is adding more and more facilities, options, and services to lure export-oriented expatriate business, however, the Dubai government has a huge lead over others.
FAQ
How many freezones are there in Dubai?
Answer: As per data released by the Dubai Government in 2020, there are 24 freezones in Dubai. These are distributed among various sectors. Securitization is a strategic step to attract a specific type of investor and provide focused facilities and services to suit a particular sector of the economy.
What is Dubai Freezones?
Answer: Freezones in general are export processing zones established by a country to promote export and earn dollars. However, Dubai freezone is the most novel. As the depletion of oil stared at the rulers of Dubai, they tried to steer their economy to oil-independent sectors such as Trading, tourism, and manufacturing. Then came the emergence of the service sector and unicorns or startups. To cater to all these sectors and get investment flowing, the government of Dubai has developed special geographically delimited areas as freezones. These freezones are run by independent authorities reporting directly to the Head of the state through CEOs. These freezones provide expatriate investors common benefits like 100% ownership of land, business, profit, and complete flexibility in manpower hiring. Because of these freezones, Dubai's economy has galloped since 1985 with more than 20 thousand companies registered in all the 24 freezones put together.
Conclusion
If you are an investor and want to be a part of the global economy and live in one of the safest and best-planned cities in the world, then you MUST look into becoming part of one of the freezone of Dubai. You have a lot of choices here. Talk to an expert consultant or click on their website portal and you will have a professional consultant who will answer all your questions. You can complete the process of establishing your business in less than 60 minutes. The documentation is fast and the responses are even better. You may become operational within 2 working days. What's more, you will also get regular updates, training, and conferences related to your sector and also regular networking events that grow your business.