UAE Traditional Clothes – An Epitome of Grace and Elegance
What comes to your mind when you hear about the traditional dress of an area? It must be something from culture, emotions, deep-rooted attachment to the ancestors, and religious context.
That's what a traditional dress depicts!
Other countries might have beliefs and emotions related to their traditional dress, but when it comes to the UAE and Emiratis, they're pretty touchy about their traditional dress. In Dubai, you'll hardly see an Emirati in western outfits because these people feel a different pride when wearing traditional clothes. It is a form of showing their love and attachment to the Emirates.
Although all the Arab countries have the similar traditional dress, there are some minor differences that only an expert eye can spot.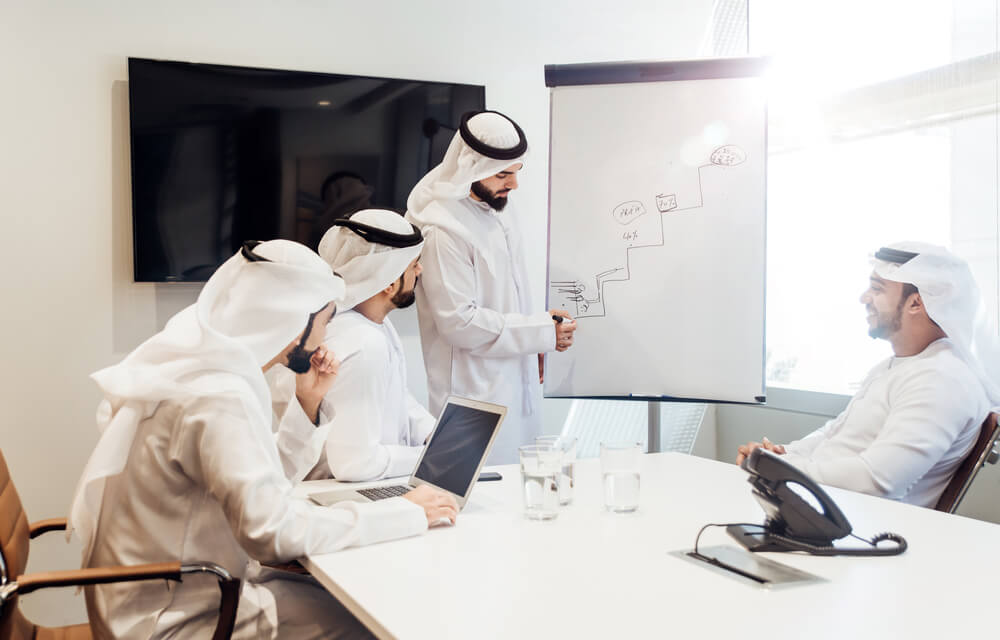 The traditional clothing of the Emirates symbolizes modesty, usually covering a person from head to toe.
Emirati traditional dress has both men's and women's clothing. The Kandura, Agal, Bisht, Ghutra, and Shemagh are a few of the things that you'll see Emirati men wearing. While Abaya, Shayla, Hijab, Gishwah, and Burqa are some things that Emirati women wear.
But there's more to it than just these clothes. The way they carry themselves and their confidence in wearing these clothes make them look even more impressive.
Let's look further to see more about the traditional clothing of Emiratis and why it's so important to them.
History of UAE'S National Clothes
Emirati dress's origin has its basis in modesty and pride; it was always clear that Emiratis feel proud to wear their traditional clothing.
The traditional dress of the Emirates has its roots in the Bedouins and nomadic clans who used to live in this area. The main motive behind their dressing was to care for their modesty and follow the Islamic rules for dressing.
Another reason was to protect themselves from the scorching heat and to blow sandstorms of the desert.
Like all other things that change with time, UAE's traditional clothing has also seen a little change and diversity in the last century.
In the late 19th century, these men used to wear a jacket over their long dress called Kandura, but you won't see them wearing that jacket now. That outer started to disappear by the 1990s, and now it's seen to be nowhere.
Similarly, the Tarboosh, which you'll read about in the following article, was a piece of clothing familiar to tie; it was always a part of Emirati men's dress. It still is, but the difference is that it was shorter and started to get longer with time.
During the 1950s, women used to sew their clothes at home; somehow, these were quite similar but a little loose from the current ones.
So that's all about an interesting little part of the history of UAE national clothes!
What Do Emirati Men Wear?
Don't you think Emirati men have striking personalities and look so handsome? Well, their traditional dress makes them look even more attractive. But do you know the name of what they are wearing? And why do they wear it?
You'll be in awe to know some interesting facts here, so keep reading and have fun!
The most prominent feature of men's attire here is the length of the dress and its color. Mostly they wear white colored robe which is known to reflect sun rays and keep them cool. But they'd also wear grey and brown shades in colder months.
1. Kandura
When we talk about Emirati culture, it is incomplete without mentioning their traditional dress. It is an integral part of that culture and heritage. The Kandura is a long white tunic with full sleeves that Emirati men wear daily; it covers their body from neck to ankles and is the main component of their dressing.
In Saudi Arabia, Kandura is called Thawb, so it has different names, such as Dishdasha, but the look is the same. There's usually no collar in this robe, but if it has, there's matching colored embroidery on the collar and sleeves. This feature is present only in Emirati Kandura.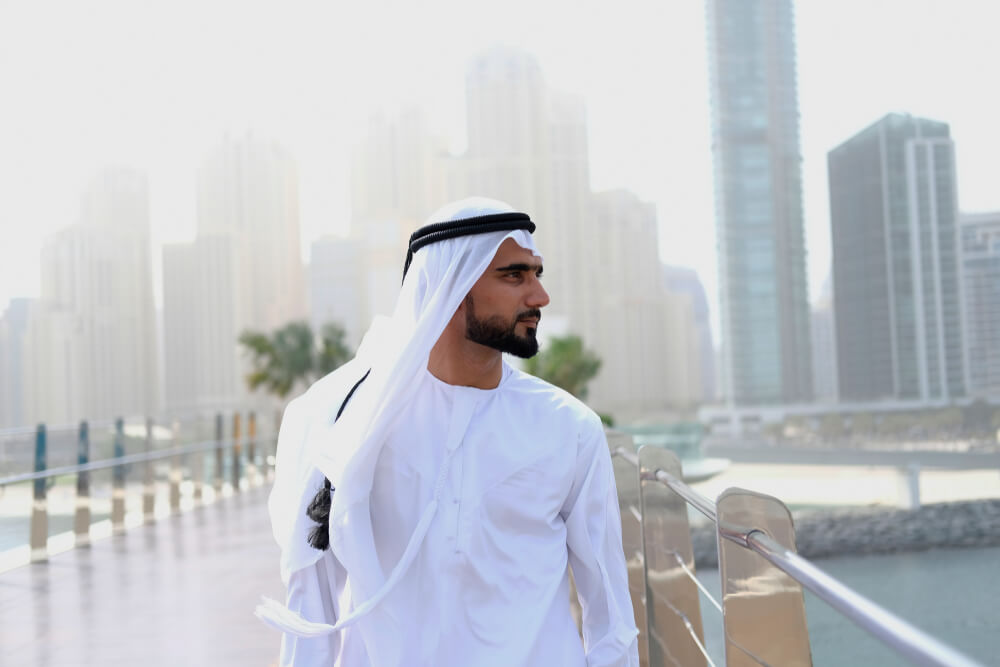 The Kandura usually contains material of cotton or wool. It is a loose-fitting garment that helps Emirati men to keep cool in the hot weather of the UAE.
Most Emirati men own more than fifty Kanduras to keep changing and make their dressing look crease-free and fresh.
2. Ghutra
The Ghutra is a traditional headdress worn by Emirati men originated by the Bedouin as a fashion accessory. It is a square or rectangular piece of cloth folded into a triangle and then placed on the head. It helps to protect Emirati men from the sun and sand.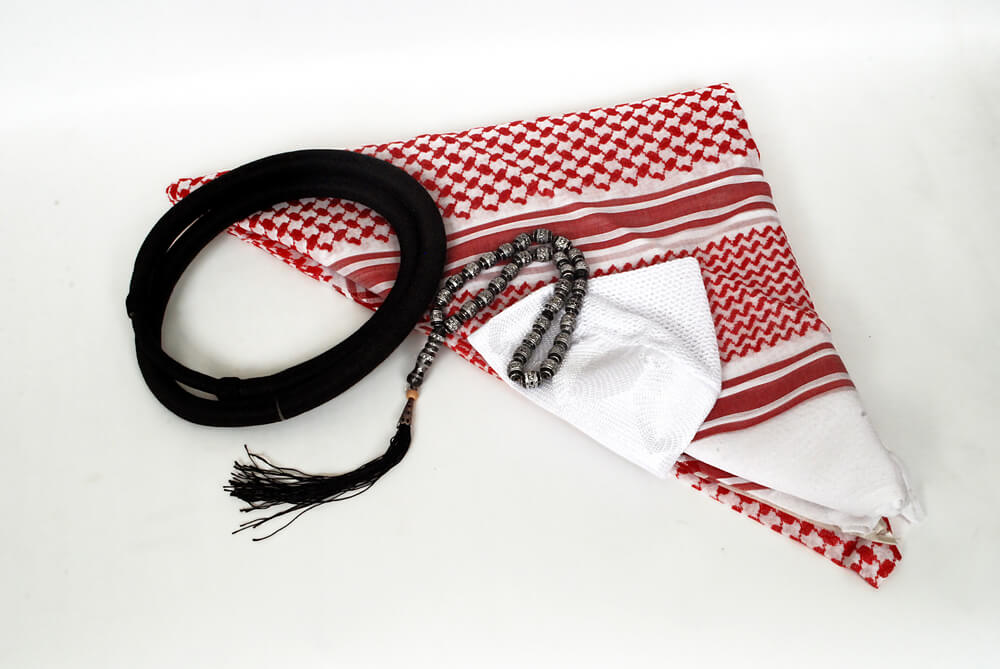 The Ghutra is usually white and gets made of cotton or wool. But you'll also see a red-white embroidered Ghutra. Both these Ghutras are similar, and the difference doesn't depict anything specific.
However, there are different ways to wear a Ghutra, representing the status and importance of the individual.
3. Shemaghs
Shemagh is similar to a Ghutra but worn mainly by young men. It is a rectangular piece of light cloth wrapped around the head rather than secured by an Agal. Some people prefer to wear it in this style called Hamdanniya style.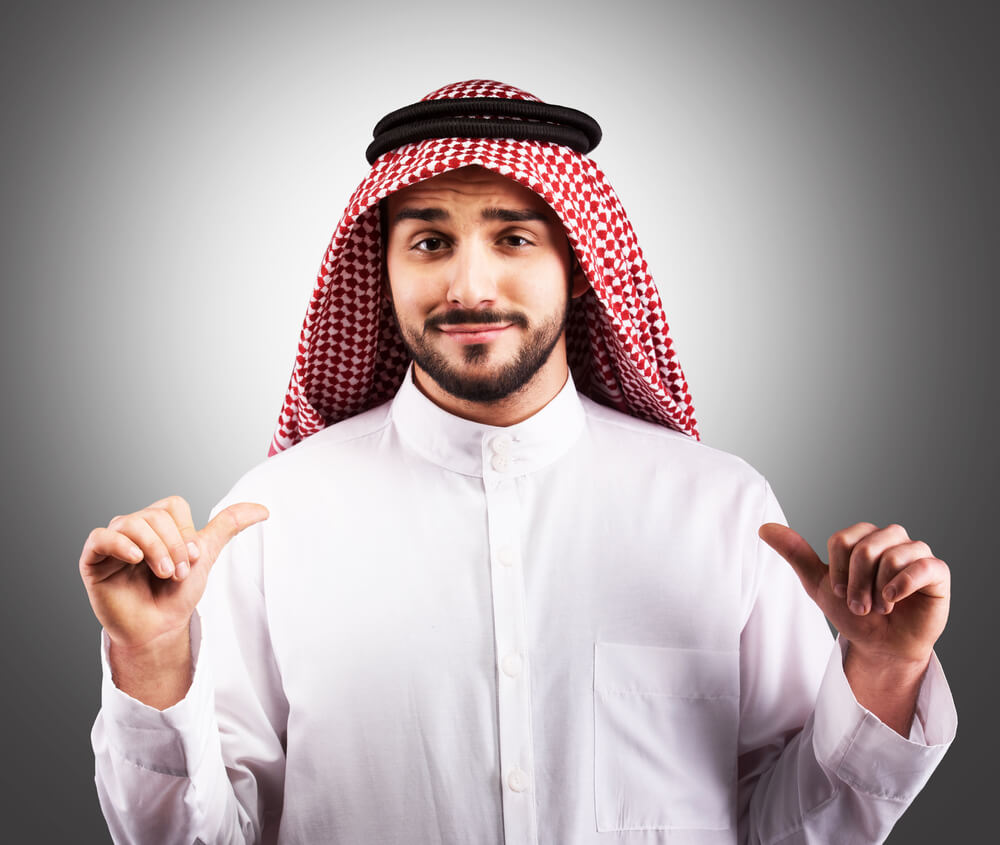 Young men and boys wear it instead of wearing a Ghutra. However, the purpose is the same, i.e., protection from harsh weather or blowing sand and dust.
4. Agal
The Agal is a black rope to secure the Ghutra on the head. Agal and Ghutra complement each other and can't be worn alone.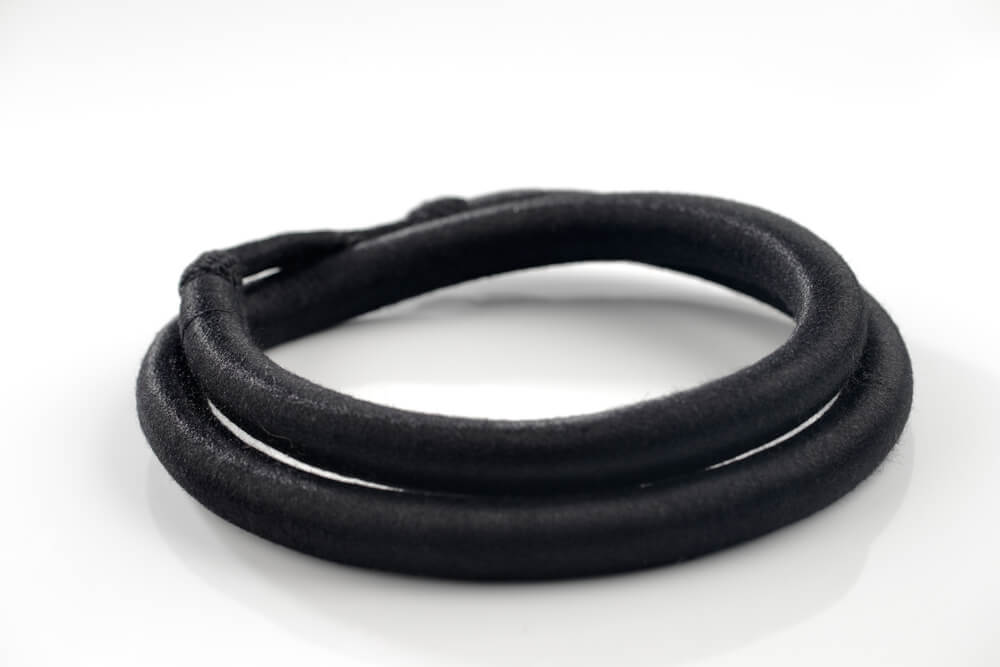 It is also known as Igal or Egal in some areas. Men of all ages wear the Agal. The accessory is a circular band usually doubled when wearing and forms two rings on the head.
Most men prefer to wear Agal in formal settings and not casually, but there's no condition on that; it can also be casually worn.
5. Bisht
Bisht connects all the Arab countries and cultures because it's the same everywhere, and the value it holds is equal for all Arabs.
Bisht, also known as Wing of The Arab, is a festive cloak that Emirati men wear on special occasions such as weddings and festivals. It is a sleeveless garment draped over the shoulders and falls to the knees or lower.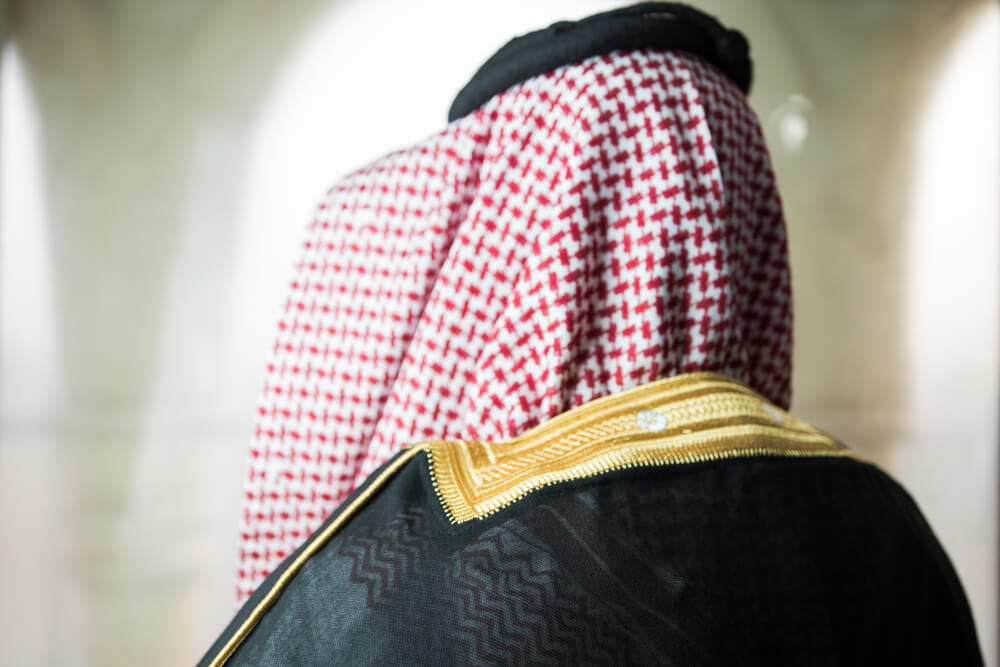 Bisht is usually made of wool, but you'll also find some made of cotton and other synthetic materials. The cloak comes in different colors, such as white, black, brown, and grey, and has golden or silver embroidery.
But the most common color which is worn is black. It is considered a sign of prestige and status and is usually worn over the Kandura.
6. Other Accessories
Other than these significant components of Emirati attire, some other things contribute to making up the traditional dress. These mostly come under primary clothing.
Emirati males wear headwear under the Ghutra, called Ghafiya, like the classic Muslim prayer cap. It is a round-shaped accessory made of cloth and helps absorb sweat.
Some men also wear a Circomferentor, a belt, to keep the Kandura in place, usually of leather.
There's a vest worn under Kandura, which is called Faneela. And another white cloth tied around the waste is known as Wazoor.
All these components and accessories combined to form the traditional Emirati men's dress, so if you want to try it out, buy everything to complete your look.
Emirati Women Dresses
Contrary to men's attire in Emirates, women in UAE have traditional clothes in darker shades. So you'll see them wearing different colored abayas and kaftans, but the most seen color is black.
Emirati women's dress covers the body, and it's a significant sign of respect, modesty, and culture. It's worn in most Islamic countries and represents Muslim women honorably no matter where they are.
Let's move further and see what includes in the traditional attire of Emirati ladies.
1. Burqa/Abaya
The Abaya or Burqa are loose-fitting, full-length flowy robes that cover the whole body except the head, feet, and hands. However, there's a difference between Burqa and Abaya; let us clarify!
The burqa includes a face veil that covers everything except the eyes. Emirati burqas are unique and worn like masks; most are red, yellow, and green.
Abaya is a long black cloth draped over the shoulder, and a separate Shyla covers the head. Abayas are made of black synthetic fiber, but you'll find some also made of wool and cotton.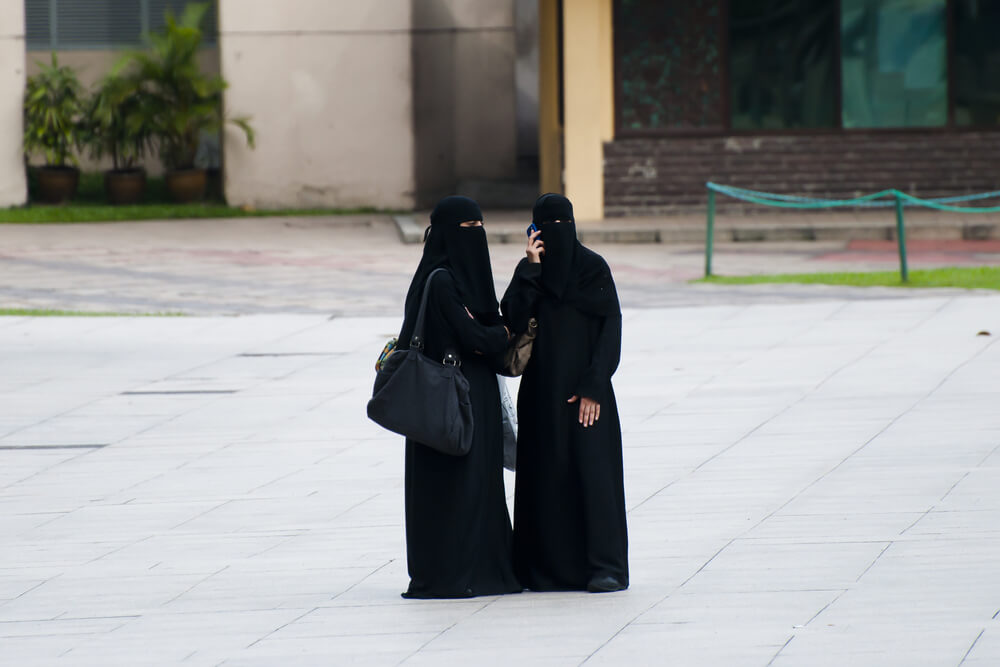 Both Abaya and Burqa are worn over the local women's daily clothes to cover themselves up according to Islamic culture and tradition.
Many styles and designs of Abayas are available in the market, resulting from modern fashion sense because traditional Abayas are always plain black.
You can pick any which goes with your personality and clothing underneath. And if you're on a shopping spree in Dubai, don't forget to buy an Abaya because these are the most versatile and beautiful here in Dubai.
Abayas are black or dark because they hide the light-colored cloth that women wear underneath so no public eye can see it.
2. Kaftan
Abaya or burqa is outerwear on regular clothes, but what are these everyday attires? Emirati ladies wear bright-colored Kaftan or Jalabiya in their homes or some female gatherings. Kaftan is a long, flowy dress, or the female-styled Kandura. These Kaftans or Jalabiyas are embellished with embroideries and stones and come in various colors.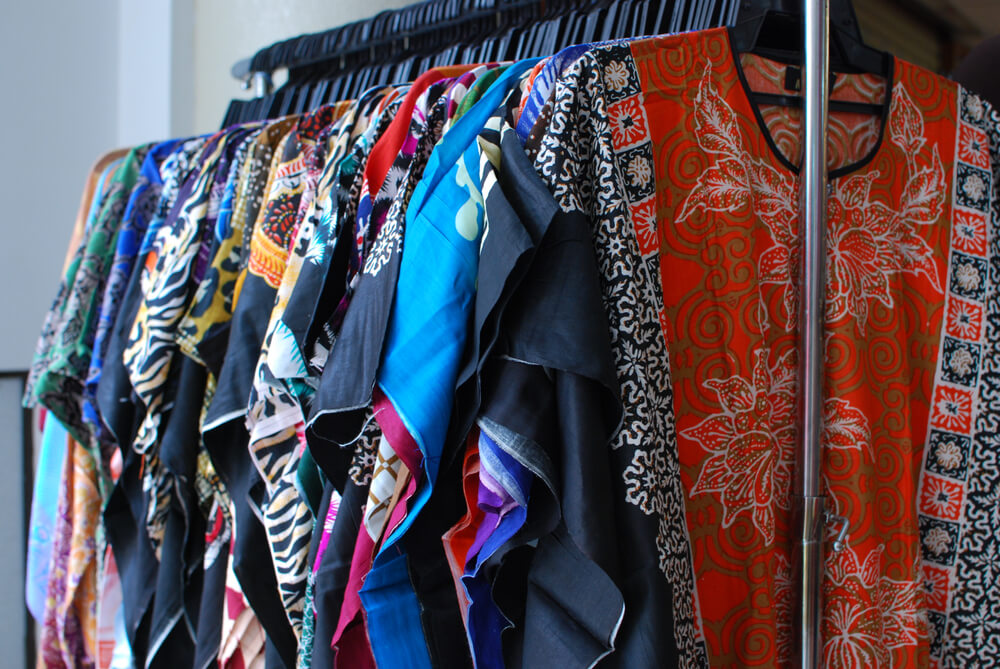 Emirati women wear it on special occasions like weddings, festivals, and family gatherings.
The dress has long sleeves and different necklines, such as v-shaped, round, or square. In addition, the fabric used is exceptionally lightweight according to the weather in the UAE. Under Kaftan, loose pants, which are known as Sirwal, are worn by Emirati females.
3. Hijab
The Hijab is an umbrella-like scarf covering a Muslim woman's head and chest. This cloth covers the already-worn headdresses and faces veils. It's worn by women worldwide as a sign of virtue and modesty as it covers the hair, neck, and head, as stated in Islamic teachings.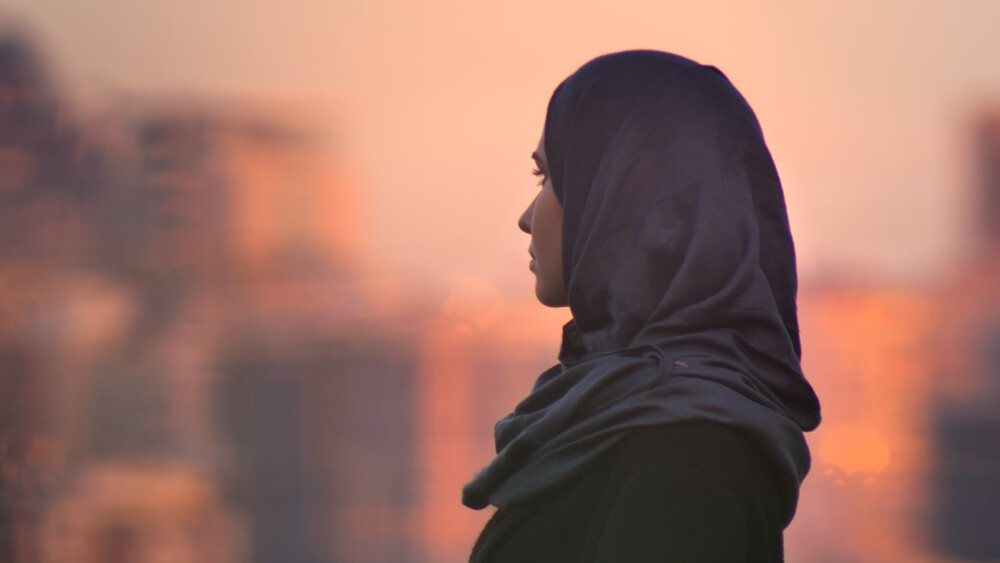 Emirati women wear it along with Abaya when they go out in public. The Hijab can be of any color, but mostly it's black, which goes with the black Abaya.
Some Hijabs are plain, while others have sequins, stones, or embroideries. The material is lightweight and allows for aeration, so the head doesn't catch sweat.
4. Shyla or Shayla
Unlike the Hijab, which was quite common back then in old times, and now is seen rarely, Shyla has taken its place. It's the lightweight black-colored clothing that women loosely wrap around their heads.
The modern style of wearing a Shyla is loosely draping it on the head and leaving the front hair showing.
5. Gishwah
Gishwahs are an additional clothing item that Emirati women wear over their faces. These are made of light and see-through fabric, and women drape them loosely over their faces.
Older women usually wear Gishwahs as it's not easy to carry them around due to their long length.
6. Other Accessories
Emirati women are so much into accessories, jewelry, and henna. Although they cover themselves outside, they still fondly wear jewelry underneath their Shyla and Abaya.
They are fond of kohl. Black eye makeup is used to line the inner rims of their eyes. That was common in old times, and now it's worn on special occasions only.
And who can forget henna? Henna is an inseparable part of Emirati culture and tradition. It's a plant-based dye used to color the hands and feet of females. Henna is considered very auspicious in Arab culture, used mainly by brides at their weddings.
So these were some traditional Emirati clothes you might have seen Emirati women wearing. The best part about their clothing is it's modest yet so stylish and elegant.
Traditional Wear of Emirati Kids
Emirati kids are no less than their elders in showing their culture off through their attire in a modest manner.
Usually, kids have the same traditional dress as their elders in many countries. But have you ever noticed what Emirati kids wear when they're out and about? Let's take a look!
1. Emirati Boys
Boys in Dubai and other Emirates wear Kandura, a long, white Dishdasha, just like a mini-version of what adult men wear. They start wearing it when they're around 4 to 5 years old.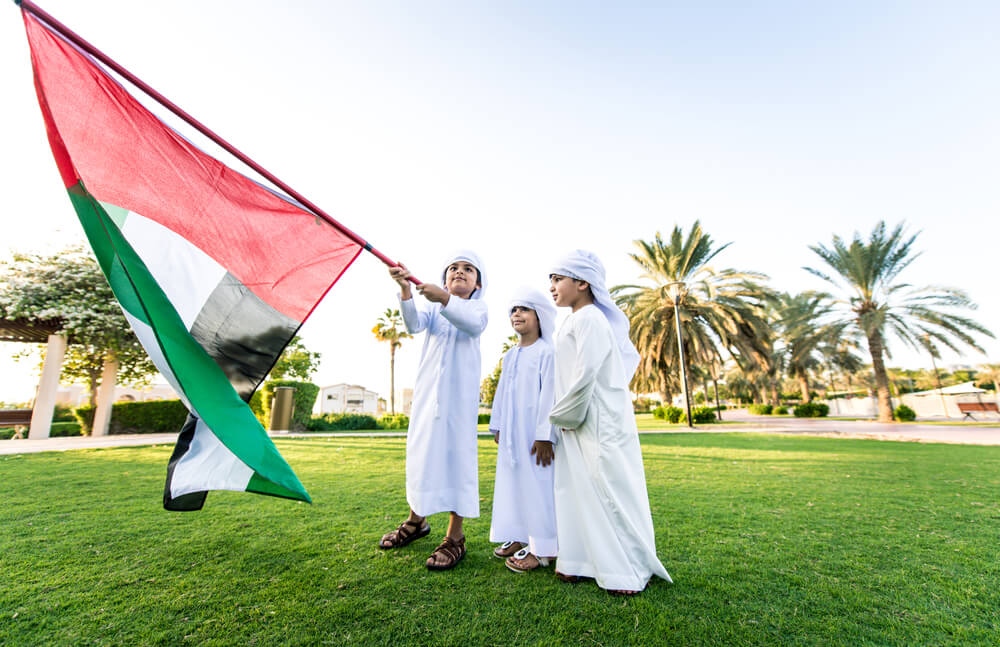 Like their elders, they wear Kandura or Dishdasha with a Ghutra tied with an Agal and look beyond cute. But the difference is that they mostly wear shemaghs.
2. Emirati Girls
Emirati girls look like princesses in their traditional dresses. They wear long, flowy dresses called Kaftan or Jalabiya and have traditional Emirati patterns. These beautiful dresses come in different colors and styles according to the occasion they're being worn in.
The most common style is a floor-length loose-fitted dress with long sleeves. Although primarily the color combinations are that of UAE's national flag, i.e., red, black, green, and white, they also incorporate goldenly and silver in their dresses.
The face is usually left clear, but some girls also wear Shyla.
Where to Buy Traditional Emirati Clothes?
Suppose you're on a trip to Dubai and want to take back some traditional Emirati dresses to wear later on. You're at the right spot, the right time!
UAE is the best place to buy Abayas and Kanduras, and on top of that, Dubai is a real treat for shopaholics.
There are some best places in Dubai where you can buy Emirati traditional clothes, but we've shortlisted a few of the best places for you:
1. Hanayen
No place can be better than Hanayen for spotting the most beautiful traditional Shyla and Abayas. This brand is world-famous and has more than 12 outlets across the seven Emirates.
The best thing about Hanayen is that they provide made-to-measure services, which means you can get your clothes tailored according to your size and preference.
2. The Textile Souq
This souq is located in Bur Dubai and is one of the oldest markets in the city. The market has a lot to offer regarding UAE national clothes. You'll find a lot of shops selling beautiful Abayas, Hijabs, Kanduras, and Shemaghs. You can explore this place to find the best deals on these clothes.
3. The Gold Souq
This souq is located in Deira and is one of the most popular markets in Dubai. The market is famous for its gold, but it also has a lot to offer when it comes to traditional Emirati clothes. You'll find a lot of shops selling beautiful Abayas, Hijabs, Kanduras, and Shemaghs. You can also find Swarovski embellished dresses in this market.
4. The Emirates Center for Traditional Music
If you want to buy traditional musical instruments along with clothes, this center is the ideal spot. In addition, you'll find traditional Emirati clothes here and many other souvenirs to take back home.
You can buy traditional Emirati dresses in many other places, but these are a few of the best ones.
Forgotten Culture
Traditional Emirati clothes in UAE are slowly becoming a forgotten culture. However, in the past few years, there has been a drastic change in the dressing sense of Emiratis.
The new generation is more inclined towards wearing modern clothes, and Abayas are only seen on special occasions.
The traditional Kandura and Ghutra are also not seen much these days as people have started to wear more comfortable and modern clothes.
Nowadays, brides prefer to wear Western-style wedding dresses instead of traditional Emirati ones.
That is a sad sight, as traditional clothes in UAE were a big part of their culture and identity. So let's hope that this culture won't be forgotten entirely and people will wear it more often.
What to Wear on Your Tour to Dubai?
When planning a trip to Dubai, you must wonder what to wear on your tour. The best thing about Dubai is that it is very welcoming, and you'll see people from all cultures and religions here. You can see people wearing everything from Abayas to shorts and t-shirts.
So don't worry and blow it off, as Dubai is welcoming, modern, and liberal for its tourists and guests.
However, there are a few things that you should keep in mind while packing your clothes for the trip.
1. Make sure to pack light and comfortable clothes, as the weather in Dubai is usually hot and humid.
2. Cotton clothes are the best to pack as they keep you cool and comfortable in the hot weather.
3. If you're planning to visit mosques, pack a scarf or shawl to cover your head. Also, fill your regular clothes, and you'll be good to go.
4. Shorts and short dresses are allowed anywhere, but try to wear something below your knees when visiting a government official office.
5. Make your beach days perfect with long flowy dresses; at least pack two or three because you'll visit many beaches.
6. Finally, don't forget to pack your sunglasses and sunscreen, as you'll need them both. Have a blasting vacation, and enjoy your time in Dubai.
Frequently Asked Questions
What do Emirati men wear?
The Emirati men usually wear a Kandura, an ankle-length white shirt. Beneath this Kandura, they wear a vest called Faneela and lose pants. They also wear a Ghutra, a headscarf to protect hair and eyes from sand. The Agal is a black rope that they use to hold their Ghutra in place. The overall look is relatively modest and looks excellent on Emirati men.
What do Emirati women wear?
The Emirati women usually wear a black Abaya, which is a long cloak. They also wear a Hijab, a headscarf covering their hair. Sometimes they also wear a Burqa, a full-body wrapping cloak; the Emirati women look elegant in their traditional clothes.
What is a Ghutra?
The Ghutra is a headscarf that Emirati men wear to complete their traditional look. It is usually made of white cotton and tied with an Agal. The Ghutra is an essential part of Emirati men's clothing worn daily. There's a basic white Ghutra which is classic, and the other one is a red-white patterned Ghutra, with no difference in importance.
Where to buy traditional Emirati clothes?
If you're interested in buying traditional clothes in UAE, there are many places where you can buy them. Many shops sell traditional Emirati clothes in Dubai's souks(markets). The prices vary depending on the quality and design of the clothing. You can also find some good deals online, as many websites sell traditional Emirati clothes at reasonable prices. So, if you're planning to buy conventional Emirati garments, you can visit the souks of Dubai or shop online.
So now you know how vital traditional clothes in UAE are! Emiratis stick to their traditional clothing to the extent that they'd wear them in international meetings and conferences over regular formals. That's how they regard their culture.
Well, that's your guide to UAE traditional clothing and where to buy them. Emirati clothes are very modest yet stylish and are a great way to represent the culture. So, if you're ever in Dubai, buy traditional Emirati clothes and dress like a local!