Abaya – The Famous Attire Of Emirati Women
Emiratis are deeply connected to their traditions, and their women are the most elegant-looking females in the world. When they wear that specific black robe, called Abaya, and drape a scarf, Shyla, to cover their head, they undoubtedly look like the epitome of grace. It is an important part of Emirati Traditional Clothing.
Emirati women are known to don abayas daily, no matter what the occasion is. Even while going for a walk or fetching groceries from the market, they would make sure to be draped in an abaya.
But have you ever thought about why they wear this specific Abaya and how long it has traveled with the Emirati culture and history? Well, that's a complete yet interesting story!
This article will give you a new outlook on wearing abayas and the tradition or logic behind it.
But first, let's clarify what an abaya is, how it differs from the Burqa, how it's draped, and so much more!
What is an Abaya?
Abaya is traditional outerwear mostly worn by Emirati women. It's a long black robe that covers the whole body except for the head, feet, and hands. An abaya is usually worn with a hijab or Shayla (headscarf) to cover the head.
Although it is a simple outfit, an abaya dress can either be plain or have intricate designs and embellishments. So, let's take a quick read at the history, importance, and beautiful types of abayas. 
History Of Abaya
The past decade has dramatically changed Abaya's style, cuts, and looks. As a result, modern-day women mostly wear stylish abayas with different cuts and embellishments.
The luxury Abaya you see Emirati women donning today is not even close to what it looked like in the past. Although there still are many women who prefer to wear the traditional plain black Abaya.
But the major changes in Abaya's fabric, designs, and colors show how society changes their attitudes and lifestyles.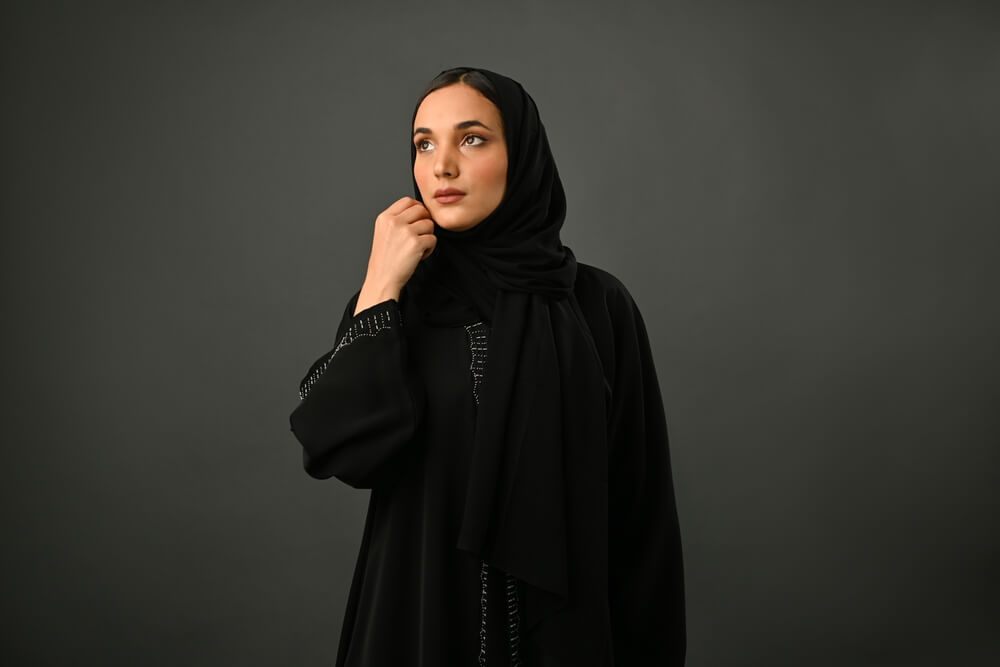 The word 'Abaya' is derived from Arabic, which means a cover or a cloak. The Abaya was first seen in Arabia during the 6th century.
But it wasn't like today's black, loose, and long Abayas; it was more like a long-sleeved garment that covered the head and the body. The early Abayas were made of wool, cotton, and linen and mostly white.
Abaya's style, design, and color kept on changing with time. In the 12th century, during the Abbasid dynasty, women started wearing black Abayas. And since then, black has been the most preferred color for Abayas.
The designs of early Abayas were also very simple compared to the designer and stylish Abayas of today.
Types Of Abaya
Nowadays, a wide range of Abayas is available in the market in different colors, fabrics, styles, and designs. It all depends on your choice of which type of Abaya you want to wear.
Here is a list of some popular types of Abayas:
1. Traditional Black Abaya
As mentioned earlier, black has been the most preferred color for Abayas since the 12th century. As a result, black Abayas are mostly worn by Emirati women daily.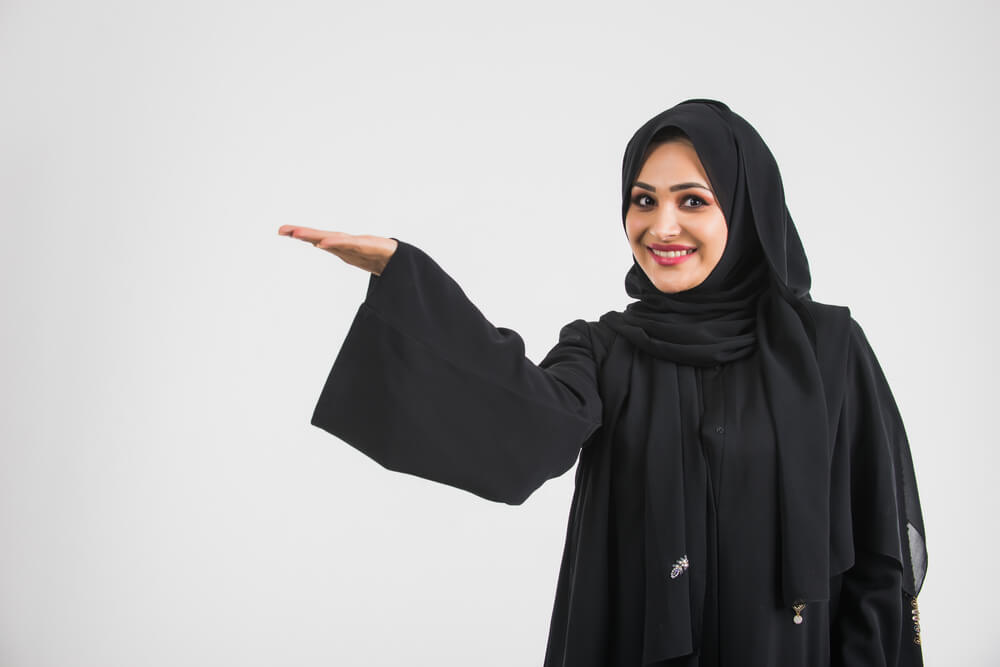 They are usually made of Nida fabric which is a light and airy fabric. However, some ladies also like to wear simple abaya designs on special occasions like weddings and funerals, or get-together parties.
2. Designer Abaya
Designer abayas are the most expensive type of abayas. They are made of high-quality fabrics and have very intricate designs. The cuts and patterns of these abayas speak for themselves, and you can easily spot a designer abaya for women from a distance. If you ever want to buy a luxury abaya, head to the luxury malls of Dubai, Dubai Mall, and the mall of the Emirates, and you'll find a wide variety there.
3. Batwing Abaya
Batwing abaya is quite famous in the Gulf region. Its sleeves look like the wings of a bat, thus called batwing, and these sleeves cover only the upper portion of the arms. This style is versatile and unique; women wear it casually in Gulf countries.
4.     Wedding Abaya
Wedding Abayas are the most beautiful and extravagant type of abayas. They are usually silk or satin and have intricate designs, embellishments, and embroideries.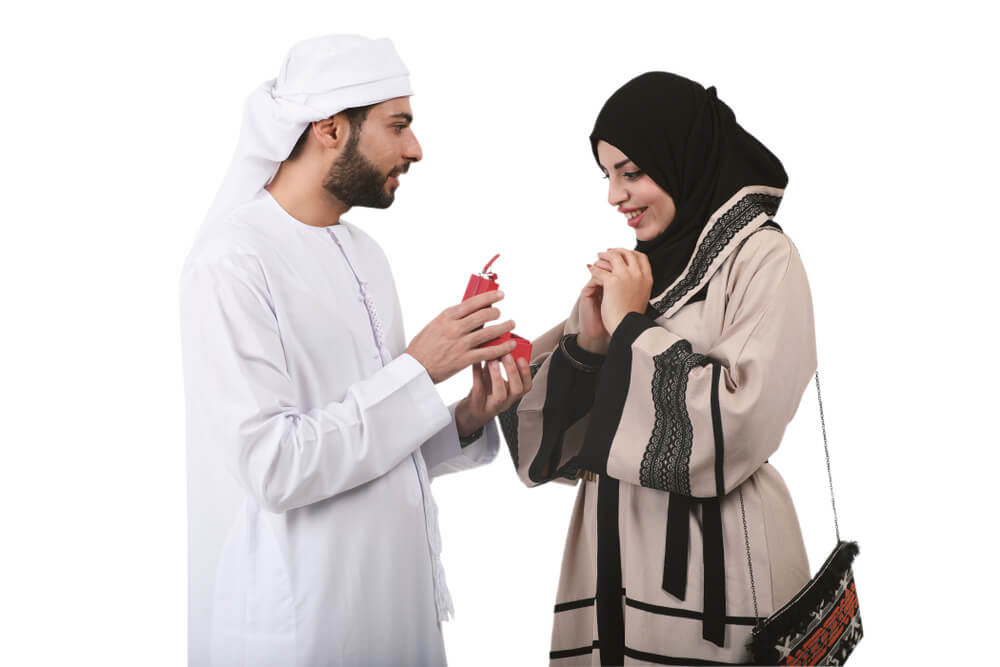 Emirati women mostly wear wedding abayas on their wedding day or at the weddings of their close relatives.
5. Sheer Abaya
Sheer abayas are a kind of most modern and present-time abayas; they are usually made of a thin fabric and have a plunging neckline. It's best to wear over long maxi dresses or loose trousers as these are a bit on the revealing side.
6. Printed Abaya
Teenagers and young girls mostly wear printed abayas. Other than that, these Abayas are more famous in the Central Asian region than in the Emirates because Emiratis prefer to stick to their traditional color of Abaya, i.e., black. Printed Abaya are of different fabrics like chiffon, silk, or cotton and have a wide range of prints like floral, geometric, abstract, etc.
The Modifications In Modern Day Abaya
The old-school Abaya, a one-piece cloak worn over the head, concealed all of the body and looked somewhat similar to Burqa. However, if we rewind the time, there wasn't a concept of the Abaya dress almost 6 or 7 decades ago in UAE.
As soon as it originated, only elite women could buy and wear it as it was considered a luxury back then. Also, they covered their brides as these newlyweds walked from their father's home to their new house. So you see how traditions were astoundingly different in those times compared to the modern day.
But over time, there have been many changes in Abayas's style, design, and color, and the modification journey was interesting enough.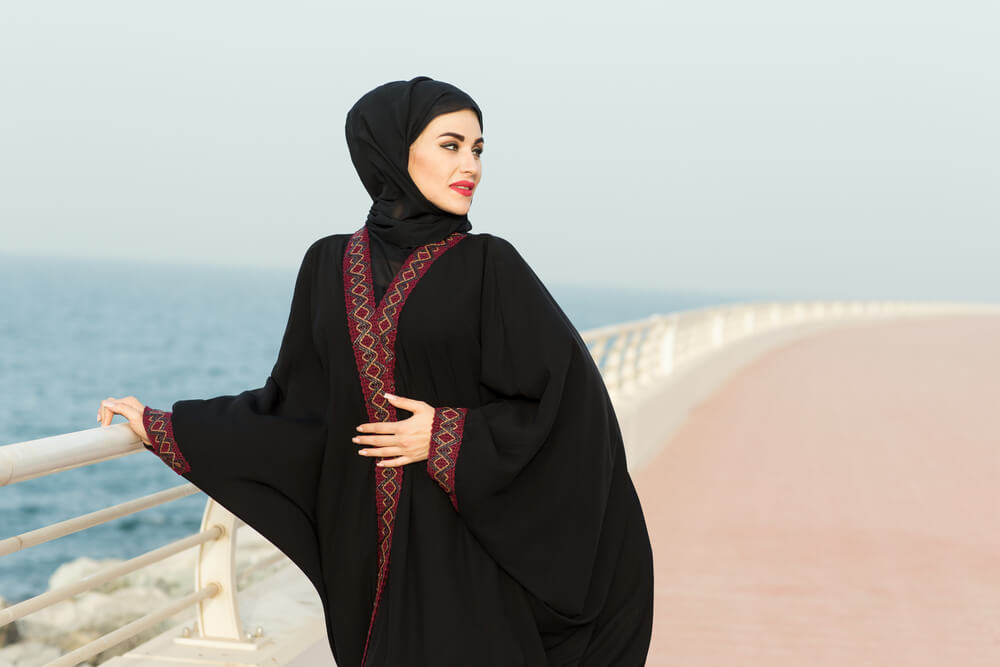 The traditional black Abaya is available in colors like white, blue, green, etc.
The designs and patterns have also become more intricate and classy. The traditional loose and flowy abayas are now available in fitted and tailored styles.
And as compared to the past, even working women and teenagers wear Abayas daily. So, overall we can say that the Abaya style has undergone a huge transformation over the years.
Where to buy an Abaya From?
Never miss the chance to wear an Abaya on a trip to Dubai; wear it on your desert Safari day and look like a sheer Emirati lady!
Although abayas have come a long way from history, the modern-day Abayas are still functional and fashionable without changing their traditional value.
Buying an Abaya for women can be a pleasing experience, but where to look for practical yet beautiful Abayas in Dubai? Here are a few places you must explore to do your Abaya shopping!
1. Dar Al Kashkha
One of the most popular brands among Emirati women for its flowy fabric, fine handwork, beautiful prints, and embellishments is Dar Al Kashkha. You'll be awe-struck when you enter this shop, as it has a wide range of colorful Abayas and showcases the rich Arab heritage.
You can easily spot it in Mirdif City Center on Sheikh Zayed road Dubai.
2. Abu Hail Center
Head to Abu Hail center for the biggest collection of traditional Emirati outfits; there are lots of shops selling Abayas, Kaftans, and much more!
It's standing in one of the bustling streets of Deira and can be a paradise for you if you're good at bargaining. You can make the most affordable purchases here.
3. Etoile "La boutique."
This store has been serving the ladies of Dubai since 2006 and is a one-stop destination for all fashion needs. They have a wide range of Abayas, from traditional to modern, simple to classy, and whatnot! This luxury Abaya shop is in The Dubai Mall on the first floor near access 3.
Frequently Asked Questions
What is an Abaya?
An Abaya is a traditional cloak-like garment worn by Muslim women. It covers the entire body except for the head, hands, and feet. The Abaya is usually black and is often decorated with embroidery or other embellishments.
Where to buy Abaya in Dubai?
There are many places to buy an Abaya in Dubai, including department stores, boutiques, and online retailers. Department stores such as Bloomingdale's and Harvey Nichols stock a range of Abayas from designers such as Oscar de la Renta and Dolce & Gabbana. Boutiques such as Al Ostoura and Beige specialize in Abayas and other traditional garments. In addition, online retailers like The Modist and Haute Hijab offer a wide selection of Abayas, including contemporary and classic styles.
How to wear Abaya?
To wear an Abaya, first put on a loose-fitting garment such as a tunic or dress. Next, slip the Abaya over your head and fasten it at the waist. Then, drape the fabric over your arms and shoulders. Finally, use a belt or scarf to secure the Abaya in place.
What to wear under Abaya?
It is recommended to wear loose-fitting clothing such as a Kaftan or dress under an Abaya. However, some women prefer to wear pants and a shirt under their Abaya. Therefore, Emirati women mostly wear a Kaftan or Jalabiya under their Abaya as everyday clothing.
To sum up, Abaya is the epitome of Emirati culture and heritage. It's more than just a dress for Emirati women; it symbolizes their modesty, grace, and elegance.
Wearing an Abaya is not only restricted to special occasions as Emirati ladies even wear it daily to work, school, or running errands.
If you're in Dubai, buy an Abaya and experience the true Emirati culture!