Best Restaurants in Islamabad
A soothing and clean air hits your face as you enter the beautiful land of Islamabad. Encircled by the majestic Margalla Hills, it is a land packed with delectable cuisine. Islamabad, Pakistan's capital, offers plenty of eateries options. This blog will share everything from fine restaurants to affordable food places. The city is a culinary paradise for anyone who enjoys local and foreign cuisines. Gratify your culinary cravings at one of the top-notch restaurants. Without further wait, let's jump in! Islamabad also has one of the best Iftar Buffets, Best Burgers and Best Pizzas.
50 Best Restaurants in Islamabad
The capital city is a paradise for foodies. Check out our guide to Pakistan's uber-popular diners to plan your next tasty meal. Islamabad also has the best Hi Tea Restaurants.
Savour Foods
Savour Foods is located on the western side of Jinnah Avenue. You visit Islamabad and do not try Savour Foods? Your trip is still incomplete. It is the best place and most affordable to enjoy desi cuisine because the menu features the most delectable Pakistani cuisine. Savour Foods has a top-notch team of experts who deliver delicious food to their guests. Savored Pulao, Kabab, Zarda, Chicken Roast, Sweets, Ice cream, and Krispo Wings are a few of the restaurant's specialties. Enjoy the fingering-licking Pulao and Savour Kabab with a perfect Margalla Hill view. It is the best place to visit with families.
The Monal (Grill, Asian and Pakistani Cuisines)
The Himalayan ranges that make up the magnificent Margalla peaks serve as Islamabad's intriguing backdrop. The bird's eye view of the lovely city is priceless. Monal provides a spectacular vantage point of the gorgeous location.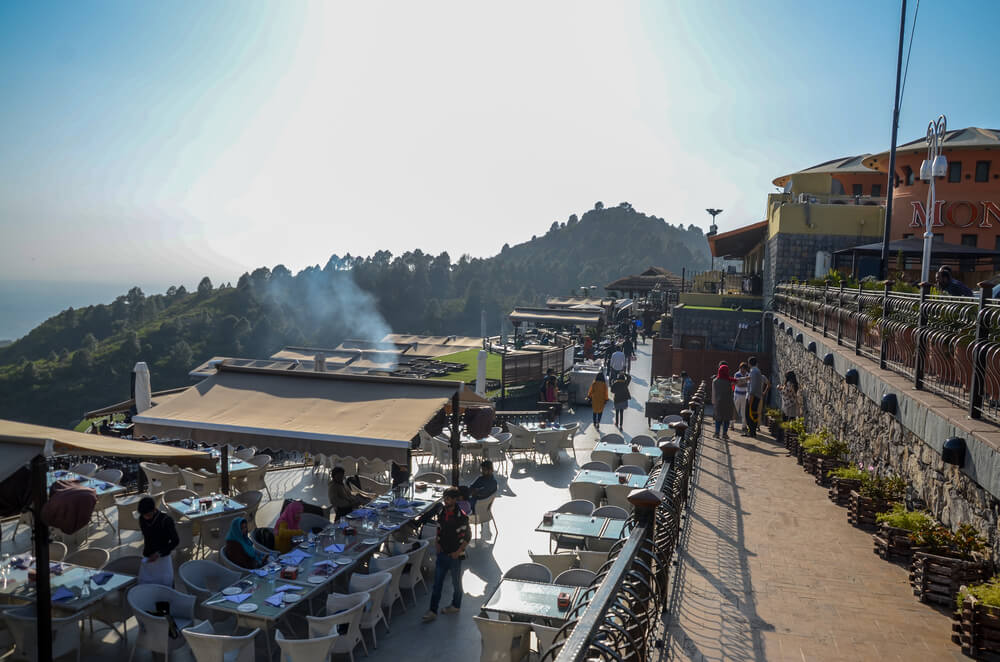 Although the restaurant is somewhat off the track, the drive across the verdant slopes to get there is enjoyable in and of itself. Dining on one of the seven spacious outdoor terraces while gazing out over the entire city is a unique experience. The Monal offers various culinary options, including French, Italian, and Asian specialties and famous Barbecued Meat.
1969 Restaurant (Asian and Pakistani Cuisines)
The one-of-a-kind 1969 theme restaurant aims to transport diners back to the 1960s when Pakistan was at its greatest. The environment, attitude, and ambiance have been created to provide a thrilling experience amidst lovely foliage, manicured lawns, fresh air, and other aspects that emit a sense of tranquillity.
Popular foods include BBQ, Handi, Dal Makhni, Nachos, Fritters, Hamburgers, Sandwiches, and various options. A superb selection of mocktails in tantalizing flavors is also available in the restaurant 1969. Therefore, it is a beautiful location for families to go and have dinner.
Asian Wok (Thai and Chinese Cuisines)
Asian Wok is an upscale Chinese restaurant opened by the founders of Monal. Enjoy world-class Pan Asian cuisines available between the two cities. Asian Wok offers authentic food, top-notch service, and the ideal experience by showcasing the best of the well-known Pan Asian cuisines (Chinese, Thai, and Eastern) under one roof.
The top chefs in the city prepare your dish in Asian Wok's authentic Chinese kitchen according to your instructions, guaranteeing transparency in hygiene and excellence. The restaurant has a clean and soothing ambiance to make your culinary experience comfortable.
Bar BQ Tonight (Barbeque, Grill, and Pakistani Cuisine)
Bar BQ Tonight is one of the best venues to enjoy authentic Pakistani food in Pakistan's capital city. You can anticipate dishes produced with natural, fresh ingredients that will take you back in time. It satisfies your appetite for comfort cuisine from days gone by.
Enjoy Islamabad's amazingly prepared BBQ with a welcoming environment that encourages you to relax. Spend some time admiring some of the most sumptuous delicacies. Satisfy your sweet cravings with regional desserts like Kheer and Gajar ka Halwa.
Howdy Cowboy Restaurant (Fast Food)
Howdy is a fast-food restaurant in Islamabad with the best natural charcoal grilled gourmet burgers. It serves delicious Sandwiches, Steaks, and Burgers at super-affordable prices. It is a perfect eatery to visit with kids due to its fun-packaged atmosphere. You can enjoy the facility of a see-through kitchen that guarantees that the food is made in a clean and hygienic environment. Howdy is an Old West Cowboys-themed, fun place with a lot of energy.
Andaaz Restaurant (Pakistani, Middle Eastern, and Eastern Europe Cuisines)
Andaaz Restaurant is a perfect place to recall authentic desi cuisine. It gives the customers a pure royal ambiance from the Mughal era. It is situated in the Saidpur Village of Islamabad. Along with the desi food, enjoy delicacies from Italian and Chinese cuisines while listening to some Qawali and live music.
BLT Islamabad Continental Restaurant (Continental Cuisine)
BLT Restaurant is another top-quality eatery in Islamabad, best for continental cuisine like Burgers, Steaks, Seafood, Sandwiches, and vast choices for hot and cold beverages. Besides, the food's outstanding quality, the staff's service, and the restaurant's ambiance are beyond amazing. With the cozy atmosphere and a beautiful view from the outside, the visitors spend a fantastic quality time at BLT.
Tuscany Courtyard (Italian, Mediterranean, European Cuisines)
Inspired by the Italian city of Tuscany, the highly-priced and upscale restaurant offers lovely Italian cuisine. Undoubtedly, it is regarded as the top Italian restaurant in Islamabad. It provides an exciting experience of a roadside eatery and a housetop patio setting with a spectacular view of Margalla Hills.
Some of the top favorites among Tuscany lovers are Grilled Chicken Caesar Salad, Fettuccine Pasta, Penne Mozzarella, Beef Carpaccio, and a plethora of flavorsome dishes. Additionally, the steaks from Whiskey River to Wild Shiitake Mushroom are highly recommended.
Rakaposhi (Afghan Cuisine)
Rakaposhi Cafe and Patisserie is a perfect spot to dine in for couples. It is situated in Islamabad's opulent Serena Hotel, considered the best restaurant for a date. Its romantic red interior gives a fantastic vibe. From a romantic getaway with your loved ones to a family dinner with kids, Rakaposhi features alluring seating outdoors, making your culinary experience memorable.
Along with Coffee and other beverages, the cafe offers mouthwatering appetizers like traditional Asian Samosas, Fried Pastries with colorful fillings, Turkey Bacon, a Serena Club Sandwich, and a Fried Egg. Rakaposhi has a rich gamut of delicious treats for those with a sweet tooth.
LA Montana Restaurant (Barbecue, Asian, and Pakistani Cuisines)
Nestled between the glorious Margalla hills, LA, Montana, is another top choice in Islamabad. Since 2004, it has provided its guests with a delectable selection of dishes. Their extensive menu offers a wide variety of foods, including Chicken Makhni, Steaks, and smoothies. They also provide a private dining area where you may eat with your loved ones.
Burger Fest (Fast Food)
Burger Fest in Islamabad offers mouthwatering burgers with juicy Patties and a tonne of sauces—just looking at them will have you craving more. Chicken Jalapeno, Wild Big Ben, and The Beast are a few of their top options. Additionally, it provides a bucket of Fries to enhance the flavors of your food. It is pretty low on budget.
Chinatown (Chinese Cuisine)
Choose from a wide range of enticing Chinese cuisines in Chinatown Islamabad, which will satisfy your appetite and leave you wanting more. Chinatown in Islamabad is a must-visit place if you are fond of Chinese cuisine. Along with the incredibly kind and helpful staff, the location offers various services like takeout, delivery, bookings, dine-in, and wheelchair accessibility.
Habibi Restaurant (Continental Cuisine)
Are you having a bad day? No worries; we've got something unique for you! The Habibi Restaurant is here to add a flavorful and delectable touch to your lunchtime. The restaurant, which serves mouthwatering Indian food, is famous throughout the nation, but mainly in Islamabad.
Our top favorites from the Habibi restaurant are their special B.B.Q, Kabli Pulao, Mutton Ribs, and much more to make your day.
Kabul Restaurant (Afghani and Continental Cuisines)
Kabul Restaurant is a go-to place if you are looking for authentic Afghan food in Islamabad. It is popular because of its extensive menu and prices that are not heavy on pockets. The famous dishes served in the restaurant are Barbecued Mutton, Karahi, and Afghani specialties like Manto, Ashak, and Degi Kabab.
Khiva Restaurant (Pakistani, Uzbek, and Continental Cuisines)
The premier dining serving cuisine from central Asia, Khiva, has moved from Margalla Road to the Jinnah supermarket while keeping all of its specialties, ambiance, and patron-friendly qualities.
The zest, aroma, and exquisiteness of its signature dishes, including Lamb Karahi, Seekh Kebab, Dum Pukht, and Khiva Salad, are out of this world. The service is efficient, and the prices are reasonable. Khiva restaurant is a great rooftop option for family get-togethers.
Khyber Dodai (BBQ, Asian, Middle Eastern, Pakistani Cuisines)
Another great option is Khyber Dodani which serves outstanding Khyber Pakhtunkhwa cuisine. Exceptional in taste and variety, Khyber Dodai comes with the peoples' favorite Afghani dishes like Namkeen Tikka, Mutton Chops, and Dum Pukht. All the food is freshly made with fresh ingredients enhancing the dishes' flavors and aromas.
Mindanos ( Chinese, Thai, and Continental Cuisines)
Mindanos is located in the heart of Islamabad, with a high influx of visitors due to its prime location, perfect taste, and great ambiance. Besides an extensive menu for lunch and dinner, Mindanos is an ideal place to plan breakfast. It ensures to please even the most discerning appetite.
Mirchi 360 (Continental Cuisine)
Mirchi 360 is a small restaurant located in Islamabad. It is famous for its Biryani served in Matka (a clay pot). Along with the Matka Biryani, it offers a variety of unique dishes. The renowned eatery in Islamabad has an in-door and open-air seating for visitors, with a great ambiance.
Ox and Grill Steakhouse (Italian and Mexican Cuisines)
Looking for the best steaks in town? Stop by the Ox and Grill Steakhouse. They have the best Steak in the city! Juicy, tender, and flavorsome, it is all you need. The quantity and price are economical. The staff takes orders and prepares your main dish while clients eat their complementary Garlic Bread, which is provided to set the scene.
One of the most well-liked dishes at Ox & Grill is Chicken Parmesan, which is made uniquely. Popular options include the Louisiana Chicken, the Ox & Grill Special Steak, and the Chicken Crunch Burger. Everything on the menu is beautifully balanced and looks delectable. To satisfy your sweet tooth, the grill house has delicious desserts.
Pappasallis (Italian Cuisine)
Pappasallis is rated among the top Italian restaurants in Islamabad. It has an extensive menu with appetizers, Soups, charcoal dishes, combination platters, Seafood, and amazingly made Chicken and Beef dishes.
Besides being top-notch, it is an expensive restaurant. Fast service, a decent atmosphere, and an ideal location are some of the characteristics of this upscale eatery in the capital city of Pakistan.
Salt n' Pepper (Fast Food, Pakistani and Chinese Cuisines)
Salt n' Pepper is a beautiful place to visit with your family and kids. It has spacious seating and a separate play area for children. The menu ranges from Pakistani and Chinese cuisines to Burgers and Pasta.
The Salt n Pepper Restaurant is an example of classy dining, excellent service, and exceptional classic and modern food. Here, special moments like family gatherings, business dinners, and romantic memories are created.
Tandoori Restaurant (Middle Eastern, Italian and Chinese Cuisines)
The tandoori restaurant is among the top family restaurants in F-10, Islamabad. It offers delicious desi food and is famous for its Dum Biryani, which is loved by all. The menu ranges from Pakistani, Continental, and Chinese dishes. It has one of the Best Chinese Restaurants in Islamabad.
Tandoori restaurant opens up buffet dinner options in Ramadan with a great ambiance. Tandoori has been serving great food for so long that you may consider their Lunch Cum Hello-Tea Buffet without hesitation. Their lunch buffet includes more than 40 items, and their rates are excellent. You must pay separately for smooth liquids or mineral water, though. Tandoori is highly recognized for its fantastic food and excellent environment.
Texas Steakhouse (Italian and Seafood Cuisine)
Are you craving some juicy Steaks? Here we have listed the best place for you. Texas Steakhouse, with its great ambiance and refreshing environment, serves top-notch food to its visitors. Besides having excellent Steaks, you have various options to choose from. This steakhouse offers a variety of dishes, including Pepper and Mushroom Steaks, Chicken Chunks with Tartar sauce, and other options. Several drinks are also available, including chilled Margaritas and one-bite Beef Burgers.
Make your booking online to skip the lines, as Texas Steakhouse has a crowd of people visiting all the time. Everything is at its best, from hand-cut Steaks and sides to freshly baked Bread. There is a tempting array of dessert choices. On the weekends, the restaurant offers fresh seafood in addition to Burgers, Chicken that has been grilled, and various Salads.
Usmania Restaurant (Chinese, Pakistani, and Continental Cuisines)
Usmania Restaurant, located in the Blue Area Islamabad, serves outstanding Chinese, Continental, and Pakistani cuisines. The specialties include Lamb Leg Steamed Roast, Chicken and Quail, Sandwiches, Burgers, and Pasta in the international corner. So, take advantage of this place when your stomach is rumbling!
Tahir Khan Restaurant (Continental Cuisine)
Tahir Khan is another popular eatery famous for its delectable cuisine. Pan your family dinner here while enjoying the great ambiance and tasty food. The specialties of Tahir Khan restaurants are its B.B.Q, Lamb Karahi, and everyone's favorite Kabli Pulao.
Yum Chinese and Thai (Chinese and Thai Cuisines)
Yum has become a staple eatery in Islamabad after becoming well-known in Lahore. The restaurant specializes in Chinese and Thai food. Every dish on the menu is freshly prepared to order with the best ingredients available.
It's the ideal location for gathering with friends and family for a meal and dining. Everything about this restaurant is first-rate, including the food, the setting, and the staff. Some of the restaurant's most well-liked dishes include YUM Special Beef, Special Fish, Gaeng Keow Wan Gai, and Pla Sam Ros.
Cheema and Chattha (Indian Breakfast)
Cheema and Chatta have been well-known in Islamabad for the past two decades. The cafe is located in F-11/2 and serves breakfast every day.
Their Indian dishes include parathas with Eggs and Dal, Nihari, Paya, Halwa Puris, Chanay, and Dal Puris. Because of their delicious meals and strict sanitation standards have attracted a devoted following—a must-visit for a delectable breakfast with a cozy and pleasant ambiance.
Des Pardes Restaurant Saidpur (Barbecue, Asian and Pakistani)
The Des Pardes Restaurant, located in Islamabad's Saidpur Village, serves delicious food and stunning views of the Margalla Hills. The atmosphere at the restaurant inspires Pakistani tradition and culture. Additionally, the guests can enjoy live music. Various cuisines are served here, including Pakistani, Continental, Italian, and Chinese.
The energy is incredible. The brave employees warmly welcome the majority of the guests. They have a large variety on the menu, with options for everything from breakfast to lunch and dinner. One of the most favorite dishes you must try is their grill platters.
Koffee Net (Fast Food)
Koffee Net is a modern contemporary restaurant in the city's most luxurious venue. It is a fantastic place to enjoy a cup of hot Coffee and cater parties like birthdays, bridal showers, etc. Their unique setup amazingly prepared food, and excellent services give you another vibe. The outdoor sitting in winter weather is perfect for couples and friends. Koffee Net is famous for its beautifully prepared Cakes and exquisite decor.
The Capital Grill (Seafood and Italian Cuisines)
The Capital Grill is a beautiful eatery known for its freshly prepared and delicious steaks. They also do their best to provide excellent Seafood and Italian cuisine to their valuable customers. The reasonable price makes it the best choice for casual dining.
The menu is quite extensive, with something for everyone. Mint Margarita shots and Salsa sauce are served as an appetizer to provide you with a top-notch eating experience.
Arz Lebanon (Lebanese and Syrian Cuisine)
Lebanese and Syrian cuisine is uniquely combined at Arz Lebanon using authentic Lebanese and Syrian recipes. Lebanese cuisine celebrates mouthwatering starters, rich, alluring flavors, colors, and friendly hospitality. Pickles, Raw Veggies, Hummus, Bread, or a meal of Kababs, grilled or marinated Seafood, are just a few examples of how basic they may be.
Chilman Restaurant (Indian Cuisine)
We have a fantastic location for all Indian cuisine enthusiasts. Chilman is a restaurant in Islamabad's G-9 Markaz that offers a wide variety of Pakistani food under one roof. It includes everything from Indian appetizers and snacks to an entire Indian supper. It has a nice parking area, so you don't need to worry about finding a place to park your car.
The atmosphere at Chilman is calm and tranquil, and you'll notice a hint of Pakistani decor there. With such delectable food, it can be challenging to choose what to order and save for the next time. Chilman offers Hi-tea, Lunch Buffet, and Dinner Buffet to alleviate your uncertainty.
The Smokey Cauldron (Italian and Chinese Cuisines)
The best place for Potterheads! The Smokey Cauldron is a Harry Potter-themed cafe-cum-restaurant named after the Leaky Cauldron bridge in the movie. Simply wow. As you enter, there are many more beautiful surprises in store. Harry's trolley in front of the barrier goes to Platforms 9 and 34 and sticky notes with a giant Hogwarts emblem that thank the crew and management. Opening the doors will reveal practically all sorts of magical items.
Looking at the food and extensive menu, it is just as unique as the theme and the decor. It is the best place to arrange a birthday party for someone who is a Potterhead. Smokey Cauldron's interior makes it the perfect place to rewind Harry Potter memories and take Instagrammable photos.
Dragon City Chinese Restaurant (Chinese Cuisine)
From having over 90 Chinese dishes, Dragon City is one of the top-rated Chinese restaurants in the twin cities. With the most affordable food, the restaurant staff allows you to see through the five live kitchens. The ambiance is fantastic, and the service is efficient and up to the mark. It is a highly recommended place to eat.
Al Ibrahimi Restaurant (Continental and Desi Cuisine)
Al Ibrahimi is one of the fantastic places in Islamabad that must be on your list. It has a vast menu offering delicious food and quick service. Their special B.B.Q Platter is a must-try. The restaurant serves food made from fresh ingredients, thus enhancing the food's flavors and quality.
CGC (Char Grill Central) Fast Food
As soon as you enter the cafe, the aromas of freshly baked Buns and Burgers make you hungrier. Char Grill's mission is to give you the best Burgers in Islamabad and Lahore. Their Burgers are created using fresh ingredients; the meat and produce are purchased daily from local vendors and are unprocessed and non-frozen. This guarantees that their hamburgers are consistently fresh and juicy, providing you with a distinctive burger experience.
Golden Dragon
Golden Dragon has been fulfilling the culinary cravings of its customers since 1975. You can choose from dine-in, takeaway, and home delivery services. It offers quality with excellent value for money. Let us stop here if you want to satisfy your rumbling tummy cravings with the best and low-on-pocket food in town.
Baradari
Enjoy al fresco eating and live music at Baradari, a seasonal outdoor restaurant. It features mouthwatering regional delicacies, freshly baked Tandoori naan, and typical Pakistani BBQ Meats, including Seekh Kebab, Seafood, Tikka, and Chapli Kabab. Baradari is a seasonal establishment. Therefore the weather might affect it. Take the golden chance if you are in Islamabad while it's open.
District 6 (Italian, Continental, and Desi Cuisines)
District 6, one of the top restaurants in F-6 Markaz, has been concentrating on creative ways to keep the business growing. They have made a lovely outdoor setup with fairy lights, lots of greenery, and even comfortable wooden pits for these last few chilly nights of the season.
The restaurant has a variety of dining alternatives, and its Instagram proudly displays pleased celebs having their stomachs satisfied by a mouthwatering buffet of options. There is a wide variety of food on the menu, from Tacos to Noodles, Butter Chicken, and Nihari. Even in the appetizer section, there are numerous options.
Khoka Khola
Khoka Khola, located in the Blue Area of Islamabad's famous Beverly Centre, is a treat. The interior design is elegant and scores highly on the pop culture scale. They offer a vast selection of Indian and street food dishes. All of them are worth a try and are presented beautifully. It is a perfect spot to have a short getaway with your friends or family.
Yogi Haus (Italian, Chinese, German and Thai Cuisines)
Yogi Haus, the divine food eatery, offers a spectacular view of the ShakarParian National Park. The food is delectable, with various Chinese, oriental and continental cuisines. Do not miss trying the Chinese yogi's special. It is the best place to organize events. The staff is very cooperative and efficient.
Table Talk
Table Talk offers deli and gourmet food with the utmost care and love for quality. It has a large selection of books from the London Book Co. that may be purchased and perused while dining alongside the delicious food. Table Talk, nestled in the rural atmosphere of Kohsar, is a perfect spot for spending a leisurely day sipping freshly brewed Coffee or fast-served hot snacks.
Mandarin Kitchen
Have a rich experience of excellent Chinese, Thai and Pan-Asian cuisine. Mandarin Kitchen has some of the most incomparable variety of dishes with a soothing and pleasant environment. It is the best restaurant to visit with families. From Class Chinese dishes to all the Asian signature dishes, Mandarin is a haven for all.
Nando's (Portuguese)
It is famous for its chicken dishes and its legendary Peri-peri chicken prepared in the Portuguese Nando sauce. Besides being the best in Islamabad, it is a prominent location to eat in Lahore. Fold your sleeves up and take the pleasant aromas and finger-licking food. Nandos serves you the food fresh from the stove. In the mood for flame-grilled Chicken? Check-in at Nando's without a second thought.
Wild Rice Restaurant (Asian Cuisine)
Wild Rice will be your favorite if you love authentic international cuisine. Discover the exotic flavors of Japanese, Thai, Indonesian and Chinese cuisines. The taste will surely leave you in awe. Whether you plan a family getaway or a short dine-in, this is the top-rated restaurant. The live station, picturesque vistas, and fusion of Southeast Asian cuisines make Wild Rice a memorable eating experience. Favorites include the Grilled Fish Ikan Bakar, the Tom Yum Goong soup, and the Kabo Paneng Meat.
Cheezious
Cheezious is one of the best and price to value fast food restaurants in Islamabad. The ambiance and the service are pretty good. They have amazing Sandwiches in town. So go, grab yours before it gets too late. Other top-notch specialties include Fried Chicken, Soup, Zinger Burgers, and Hot Wings, all made to perfection.
P.F Chang's
After great success in Lahore and Karachi, P.F Chang's has opened its doors in the capital city. Try the delectable food, which features famous dynamite shrimp and juicy Mongolian beef with a sweet and sour flavor. It pairs well with Sticky Rice and sweet and sour "Chang's Hot Chicken." The flavor profile of the crispy Hunan-style hot Fish and organic snow Peas is incomparable—a great option to dine in with family and friends with top-notch service and ambiance.
Ginyaki
The softly lighted, high-ceiling interior of the Ginyaki restaurant, located on the busy Bhittai Road, offers a pleasantly calming contrast to its façade. Ginyaki has become more prevalent in Islamabad's expanding culinary scene recently. The restaurant takes pride in using traditional methods and seasonal, local ingredients to provide meals that are true to the flavors, aromas, and spirit of Chinese, Japanese, and Korean cuisine.
At Ginyaki, Asian cuisine is embraced in all of its delicious authenticity. You can eat around the east, from fragrant curries to scalding soups. Leave the restaurant with a full stomach and a wallet that is just somewhat lighter. Prices might range from 800 to 1200 PKR per person. Reservations are required to skip the lines.
Kim Mun Chinese Restaurant
Make your way to Kim Mun in Islamabad since this restaurant can satisfy your Chinese food cravings! Chinese-inspired meals such as Noodles, Chop Suey, Soups, and appetizers are available on their menu. Kim Mun serves everything delectable, from Chicken and Beef to Fish and Squid Ducks! Additionally, they provide their traditional Fried Rice, which you can order with Chinese curries and fresh juices.
Frequently Asked Questions (FAQs)
What are the famous restaurants in Islamabad?
The most popular restaurants in Islamabad are Monal, Asian Wok, Barbecue Tonight, Savour Foods, Tuscany Courtyard, and LA Montana.
What are the top restaurants in Islamabad for families with children?
The best family restaurants in Islamabad are the Monal, Tuscany Courtyard, P.F Chang's, Asian Wok, and many others listed above.
Which place should I visit in Islamabad for food?
Islamabad is a haven for foodies. We have named the most popular and worth-trying eateries above. Please try all of that one by one.
Which is the cheapest area to visit in Islamabad for food?
The best and cheap eats in Islamabad include Cheezious, Ginyaki, Savour Pulao, and Kabul Restaurant.
Which is an expensive food restaurant in Islamabad?
The most expensive restaurants in Islamabad are Asian Wok, Wild Rice Restaurant, Tuscany Courtyard, and P.F Chang's.
Restaurants in F-7 Markaz, Islamabad
BLT Islamabad
Khiva Restaurant
Howdy
Yum Chinese and Thai Restaurant
Rakaposhi
Char Grill Central
Ox and Grill Steakhouse
Koffee Net
Pappasallis
Restaurant in Beverly Center Islamabad
Asian Wok
The Capital Grill
Restaurants in Blue Area Islamabad
Salt and Pepper
Dragon City
Usmania Restaurant
Restaurants in F-6 Markaz Islamabad
The Smokey Cauldron
Nando's
Tuscany Courtyard
District 6
Khyber Dodai
Restaurants in Saidpur Village Islamabad
Restaurants on Shakarparian Road
Yogi Haus
Wild Rice Restaurant
1969 Restaurant
Restaurants in DHA Islamabad
Restaurants on Pir Sohawa Road
The Monal Islamabad
La Montana Restaurant
Restaurants in F10 Markaz
At A Glance
No vacation is complete without trying Islamabad's native cuisine, which is an integral part of the city's culture. But, the gastronomic scene in Islamabad goes beyond simply eating the local food. The restaurants have a great ambiance and a pleasing environment. With serving the best food in town, the service of the staff is efficient and cooperative, making the visitors feel comfortable. Islamabad restaurants have beautiful indoor and outdoor sitting areas, perfect for Instagram-worthy shots.
Wrap Up!
Islamabad is a culinary paradise for anyone who enjoys local and foreign cuisines. You have many options for where to dine and what to eat as the city is dotted with hundreds of restaurants. Islamabad's restaurant scene has surprised people by opening many intriguing, cutting-edge restaurants and elegant pubs. Numerous additions to the capital's quickly growing food showground specialize in international cuisine, catering to regular city dwellers and adventurous foodies.
Enjoy the best culinary experience in the beautiful capital of Pakistan!