Festivals in Pakistan
Do you know what a festival is? Most people celebrate festivals without knowing their true definition or purpose. A festival is an event that is typically marked by special religious observances and by celebration and enjoyment of life. Pakistan is a blessed country with a rich culture and diverse heritage. The people of Pakistan celebrate dozens of festivals annually, reflecting our cultural and religious values. Each festival has significance, and people celebrate them with great joy and enthusiasm. Each festival is an integral part of our history and our tradition. No matter what the festival is or what it celebrates, they all play an essential role in uniting the community and reinforcing cultural values.
12 Famous Festivals of Pakistan
You may be wondering what the festivals of Pakistan are offering. Several religious and cultural festivals take place throughout the year in Pakistan. These festivals bring the community together and strengthen the bonds of friendship and brotherhood. People from all walks of life come together to enjoy these festivals and participate in the festivities. Religious festivals are a time for reflection and introspection. They're a time for coming together as a community to celebrate shared values and traditions.
And most importantly, they're a time for reaffirming our faith and devotion to God. Whether you're interested in the religious aspects of these festivals or want to enjoy the festivities, there's something for everyone to enjoy. In this article, we will explore Pakistan's 12 most famous festivals. These celebrations hold a special place in the hearts of Pakistani people. We'll also discuss the importance of these festivals and how they help bind us as a nation. Here is the list of festivals in Pakistan.
Data Darbar Urs
The Data Darbar Urs, one of Pakistan's most loved and famous religious celebrations, honors the death anniversary of Hazrat Ali Hujwiri Data Ganj Bakhsh (RA). Born in Ghazni, Afghanistan, he was the most revered Sufi Saint of the 11th century. He died in Lahore, and his devotees buried him in the same city. His shrine, Data Darbar, is the holiest place in Lahore and the biggest in South Asia. It is undoubtedly an unforgettable experience to attend this Urs ceremony. During this three-day event, there is a massive crowd of over a million worshippers at the shrine, many of whom spend the night on the shrine's grounds. People travel great distances to attend this revered festival, which takes place from the 18th to the 20th day of the Islamic month of Safar, and to pray for the fulfillment of their wishes. You can observe Malangs performing Dhamal, watch qawwali performances, and observe people feeding the needy on the streets surrounding the shrine. Data Ganj Bakhsh will forever be known as a man who dedicated his life to spreading the sacred message of Islam.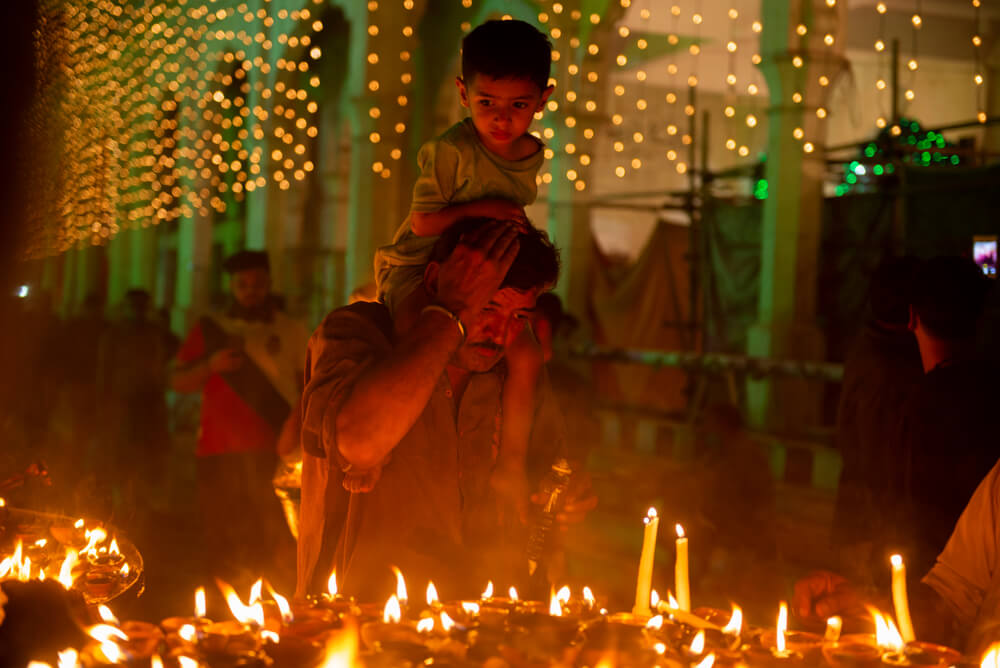 Lal Shahbaz Qalandar Urs
I believe every Urs celebration is worthwhile, but Lal Shahbaz Qalandar Urs may be a fascinating festival. On the 18 Sha'aban, the eighth month of the Islamic calendar, Lal Shahbaz Qalandar Urs (death anniversary) attracts more than two million pilgrims from Pakistan and some regions of Bangladesh and India. Feroz Shah Tughlaq constructed the shrine of Lal Shahbaz Qalandar in 1356, and Mirza Jani Beg extended it. Hazrat Sayyid Usman Marwandi, more famous by the title of Lal Shahbaz Qalandar, lived from 1177 to 1274 and was known to promote religious tolerance among people. He assisted many people in converting to Islam through his preaching.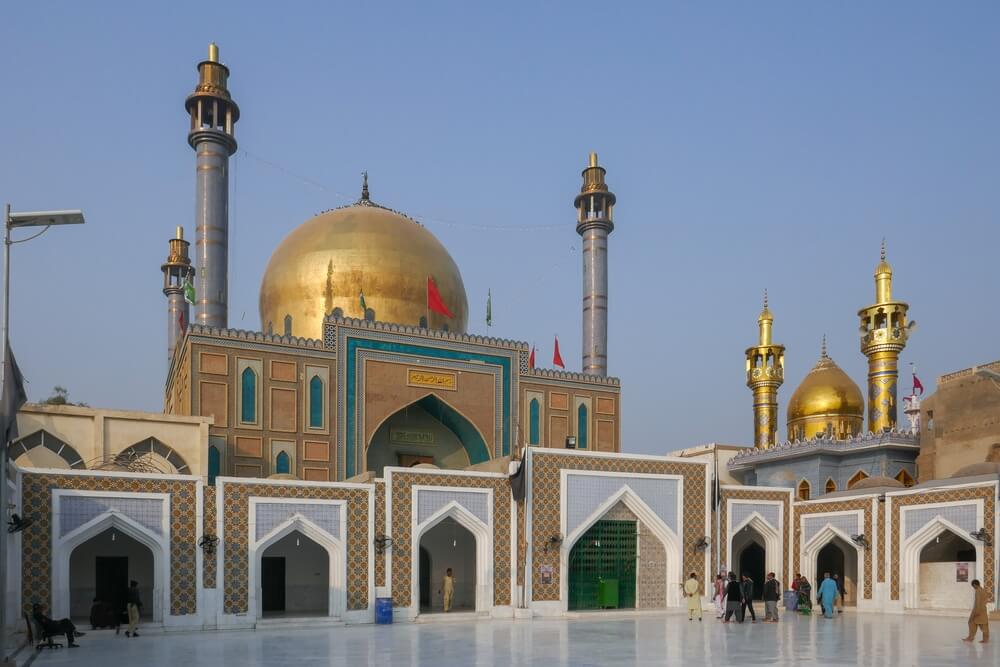 Situated in the city of Sehwan in Sindh province- his magnificent shrine is the focal point of a huge festival. The people of Sindh greatly respect Lal Shahbaz and consider him a divine spirit. Sindhi people will tell you about various miracles accomplished by Lal Shahbaz Qalandar. As in all the Urs festivals, you will witness Malangs (Sufi Holy people) performing Dhamals and Sufi songs with great devotion and enthusiasm. This three-day festival in March also features cultural Sindhi wrestling and folk music, making it a one-of-a-kind experience for the spectators.
If you decide to attend, you should try to reserve a hotel room at least a few months in advance. Sehwan has a relatively small lodging supply, and spaces fill up fast!
Baba Bulleh Shah Urs
Another Urs festival? Indeed, there are many more famous festivals in Pakistan. Baba Bulleh Shah Urs is one of the famous cultural festivals of Pakistan in which people celebrate the mystic life of famous Sufi philosopher and Punjabi poet Syed Abdullah Shah Qadri, well known by the title of Baba Bulleh Shah. He lived in Kasur during the early 17th century. Inspired by the work of the pioneer of Kafi poetry, Shah Hussain, Bulleh shah incorporated Kafi poetry into his career. In addition to his poems, he promoted and engaged in nonviolence, particularly during violent conflicts between Muslims and Sikhs. Because of this, he is well-liked by people of all faiths, and many attend his death anniversary celebrations. His devotees regard him as "The Father of Punjabi Enlightenment."
Baba Bulleh Shah Urs's festivities begin in the last week of August. At his shrine in the city of Kasur, you will witness glistening lights, enchanting qawwali music, and, the most prominent, Dhamal performances by Malang.
MELA BARI IMAM
Another main festival on the list of festivals in Pakistan is Mela Bari Imam. Millions of followers visit the holy shrine of the Muslim saint and Sufi "Hazrat Shah Abdul Latif," also known as Bari Imam. He taught his followers about Islamic mysticism and Sufism, promoting spirituality, peace, love, and self-tolerance. Additionally, Bari Imam Sarkar frequently visited a cave in the Margalla highlands for solace and meditation. He used to spend many days in the cave for contemplation and reflection. He is one of Punjab's most well-known and respected Sufi saints. He was born in 1617 and died in 1705.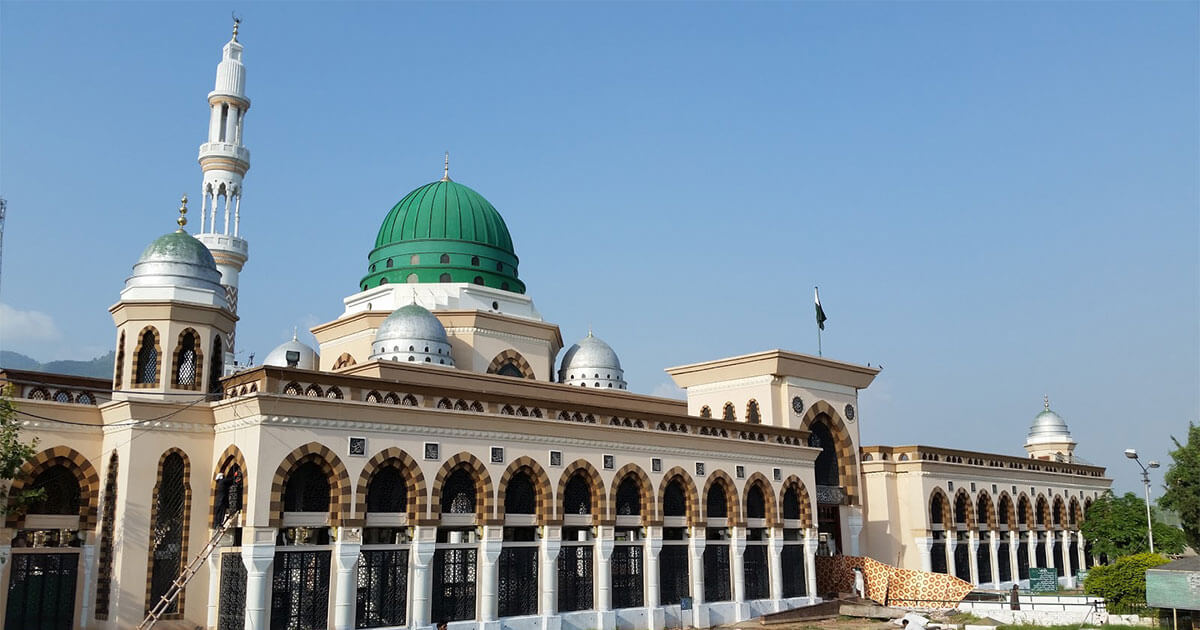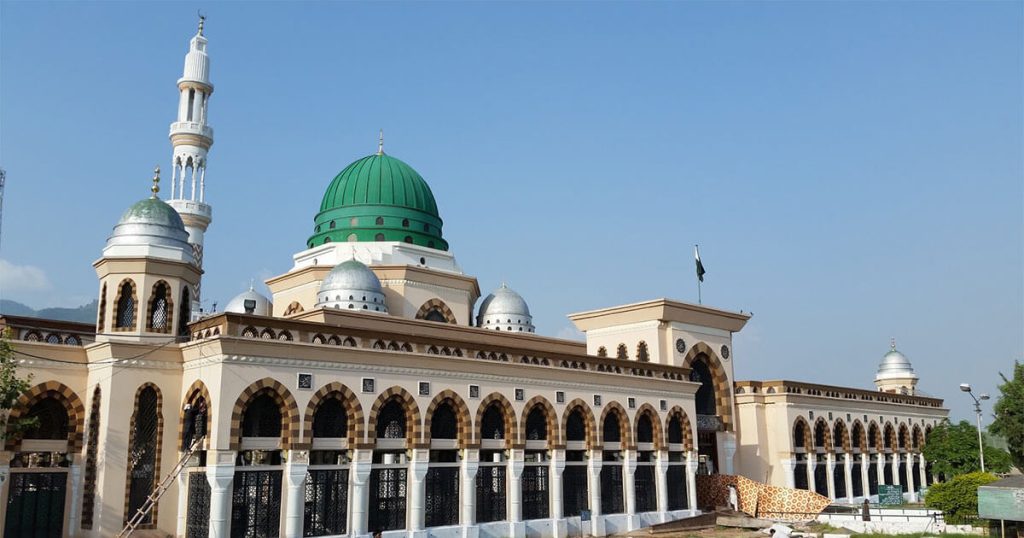 Located in a small village in Islamabad, Mughal Emperor Aurangzeb constructed the shrine for the first time in the 17th century. Millions of people from around the country are Bari Imam devotees and followers. They go to the shrine regularly, especially during the annual URS or Mela, which occurs between May to June. A massive crowd of people is offering Fatiha at Bari Imam's grave. Visitors can also take advantage of a complimentary meal program called langar. Additionally, devotees organize and take part in feeding the poor.
Mela Chiraghan
Among the list of famous festivals in Pakistan, Mela Chiraghan comes on top. It is a three-day festival celebrated annually to commemorate the death anniversary of Shah Hussain and his follower, Madho Lal. Because people light up their homes with candles and oil lamps as Mela Chiraghan approaches, this celebration is known as the "Festival of lights ."Let me now explain the significance of this festival and who Shah Hussain and Madho Lal are. Shah Hussain, a Sufi saint, was born at Taxali Gate in the walled city of Lahore in 1538 and lived there until he died in 1599. Madho Lal Hussain was essentially Shah Hussain's disciple. According to historical facts, Madho Lal, a 16-year-old Brahman boy, became one of the favorite students of Shah Hussain.
On the other hand, Madho also developed a great affection for Shah Hussain, and over time, he converted to Islam and changed his name to Mehboob-ul-Haq, though he is still referred to as Madho today. Additionally, Shah Hussain's love for Madho questioned the traditions of traditionalists who had confined the religion to a system of rituals, harsh laws, limitations, the denial of love and joy, and the negation of the idea of emotions. When Shah Hussain died in 1599, his followers buried him in Lahore. When Madho Lal died, the followers buried him next to that Shah Hussain in the same shrine. Even death could not apart them. According to a legend, Maharaja Ranjeet Singh was a great admirer of Sufi saint Shah Hussain. During his rule in the 18th century, he would lead a parade of thousands of Sikhs, Muslims, and Hindus barefoot from his palace to the shrine.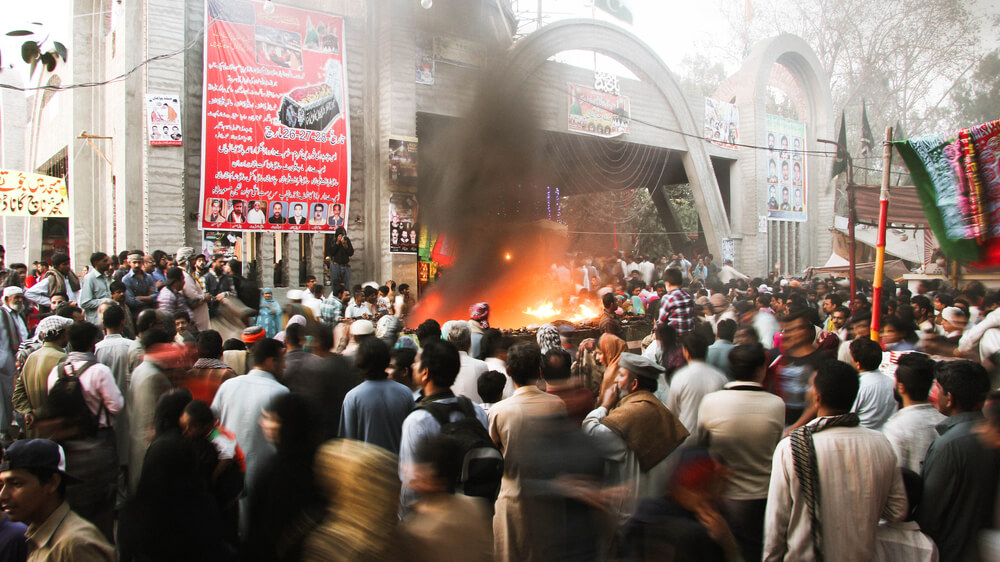 In Baghbanpura, the neighborhood of Lahore, Mela Chiraghan features various festivities, including the performance of Sufi Meditative dance while holding oil lamps and Qawwali performances. Shah Hussain was the first to write Punjabi Kafi poetry, and hundreds of people still sing it. Every year at the end of March, hundreds of devotees from throughout the nation visit this shrine to place floral wreaths at the graves of Shah Hussain and Madho Lal, perform Dhamal, light candles for the fulfillment of their prayers and aspirations, and distribute free food among the poor.
Shah Abdul Latif Bhittai Urs
Sufi poet and saint Hazrat Shah Abdul Latif Bhittai was a great Sindhi poet of the 18th century. He died in 1752 in the town of Bhit Shah. Regarded as one of Sindhi literature's best poets, the annual Urs of Shah Abdul Latif takes place on the 14th Safar, the second month of Islamic Calander. The poetry of Latif is Sufi in style and highly spiritual. There is a connection between heavenly love and old folktales in his poetry. According to legend, Latif always had the Qur'an, Shah Abdul Karim's poetry, and Rumi's Mathnawi with him. Rumi appears to have significantly impacted him; Latif sometimes expresses his thoughts and renders his verses in his poems.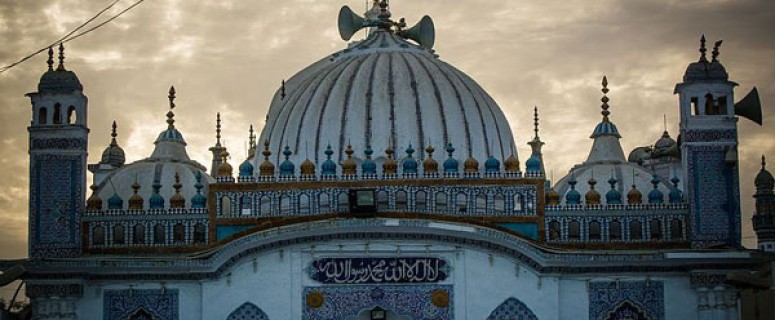 People honor Hazrat Abdul Latif by placing chadars and flowers on his grave during the Urs. Some devotees give food to those in need on this three-day festival. Qawwals recite the Sufi kalam while singing qawwali. One of the main festivals of Pakistan, Shah Abdul Latif Bhittai Urs, lasts up to three days and features horse races, poetry marathons, Sufi music, exhibitions, prayers, and literary conferences. Embellished with colorful lights and lamps, people travel from across the province to visit this holy shrine in Bhit Shah.
Sibi Mela
In Sibi, Baluchistan, there has been a Pakistani cultural event known as the Sibi Mela for many years. This Pakistani festival often happens at the end of February, when the area's temperatures are still bearable. Merchants and tribal members travel to Sibi Mela from around Baluchistan, Sind, and Punjab sections to trade their livestock. The Sibi Mela was officially inaugurated on February 24 at the Sibi Mela Stadium by Baloch chief minister Jamal Khan. Sibi had its initial Sibi Mela in January 1885. The main highlights of this "Mela" include cultural performances, horse and cattle parades, tent pegging, camel racing, dances of animals of different breeds, animal markets, and displays of handicrafts, tribal clothing, and folk dances. The authorities also award the winners with prizes for their encouragement. This prominent festival of Pakistan lasts up to five days and is a fantastic chance to learn about Balochistan's rich cultural heritage. People have more opportunities to socialize at the Sibi Mela. The growing number of competitions and events sparked the general public's interest in the Sibi festivals. Its organization required the collaboration of the residents of the neighboring districts in the sale and purchase of livestock. 
Basant
One of the top famous cultural festivals celebrated in Pakistan is Basant Festival. Each spring, the historic city of Lahore celebrates the kite-flying Basant Festival, which marks the start of the Basant festival season. During the main festival of Pakistan, Basant, you will notice the massive crowd of ecstatic people flying kites around Lahore. They launch them from automobiles, rooftops, and even the patio. As spring approaches, colorful kites of various shapes and sizes adorn the skies above Lahore, a sight to behold. 
Happening every year during late January and early February, the purpose of celebrating Basant in Lahore is to commemorate the arrival of spring. The history of the much-awaited Basant Festival dates back to the time of Maharaja Ranjeet Singh, who was especially fond of flying kites and would celebrate it every year in Lahore. History reveals that Maharaja Ranjit Singh oversaw the annual Basant fair and made kite flying a standard component of the fairs held in the 19th century, including fairs held at Sufi shrines. During the ten-day Basant darbar, or court, hosted in Lahore by Maharaja Ranjit Singh, warriors would display their military skill while dressed in yellow. Lahore serves as the festival's central hub for the whole Punjab region. Pakistani Basant Festival is a cultural celebration that features traditional food, attire, dances, and music in addition to being a kite-flying competition.
However, due to the high number of electrocutions, rooftop falls, throat cuts, and entanglement issues that resulted in the deaths and injuries of numerous people in Pakistan, the government imposed a ban on flying kites in 2007.
Kalash Festival
In the Chitral area of KPK province, there is a small but highly distinctive ethnic minority known as the Kalash. They are distinguished from other Pakistanis by their distinct culture, vibrant festivals, beautiful clothing, and homemade mulberry wine.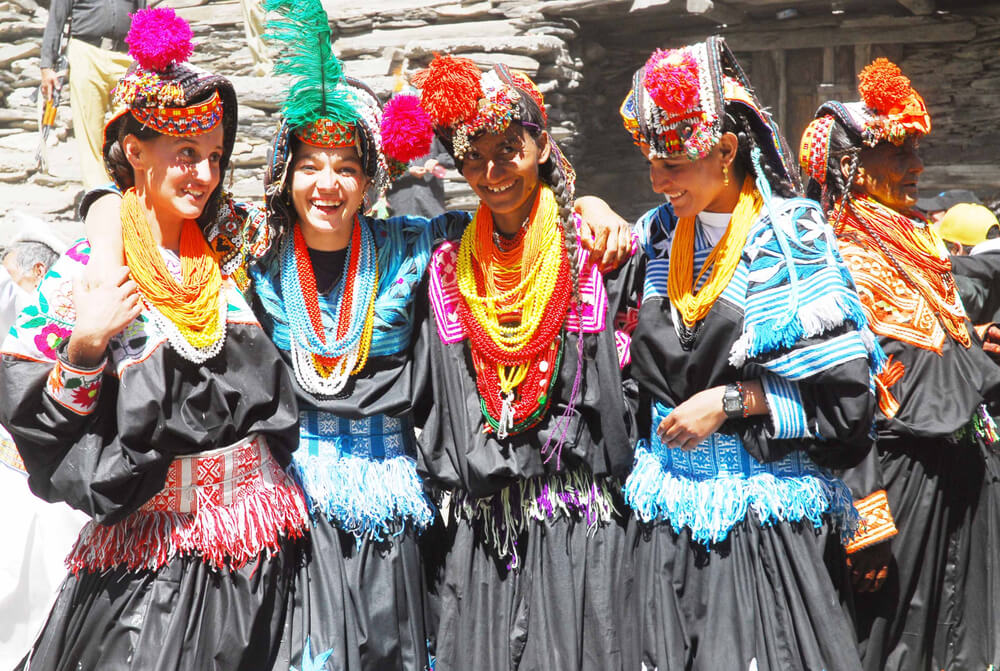 The Kalash people celebrate three public Kalash festivals annually, all of which are worthwhile experiences in Pakistan. The details of Kalash festivals are as follows:
· Uchal
The Uchal festival is customary to celebrate the harvest season with plenty of fun and food. Cheese is one of the most popular delicacies for this festival, alongside buttermilk and cornbread. There are many valleys and villages in the Kalash region so this festival will move to different locations. At the end of August, this festival usually begins at one of the larger villages-Bumburet.
· Choimus
The celebration of Balmain—the heroic demigod of the Kalash people—takes place during the winter months, and this celebration is known as Choimus. Similar to other festive celebrations, there are particular foods to satisfy the cravings, and people celebrate the auspicious occasion while doing traditional dances and singing.
· Chilam Joshi
Happening in May, people celebrate the festival of Chilam Joshi with nonstop music and dance to celebrate the arrival of spring. In terms of tourism, this is the most well-known Kalash festival in Pakistan. Book a hotel room in advance if you plan to go because Chilam Joshi is brimming with local and foreign tourists.
Lok Virsa Folk Festival
Lok Virsa festival is one of the most famous festivals in Pakistan. Held annually in October, Lok Virsa Festival attracts artists and performers from all over the world to come and share their talent with locals. This festival Lasts for up to 10 exciting days and is a source of national pride for both participants and audiences. The people of Azad Jammu Kashmir province have constructed exquisitely adorned pavilions so that tourists can experience Pakistan's voluminous traditional culture. The festival's main highlight is the exhibition of handicrafts from various cultures under the banner of the Heritage Museum. The Lok Virsa Research & Media Center organizes dancing troupes that perform throughout the festival grounds while urging spectators to participate. In the evening, it contains musical performances from all over Pakistan. Researchers from Lok Virsa interview all the craftspeople and visual artists to document the event.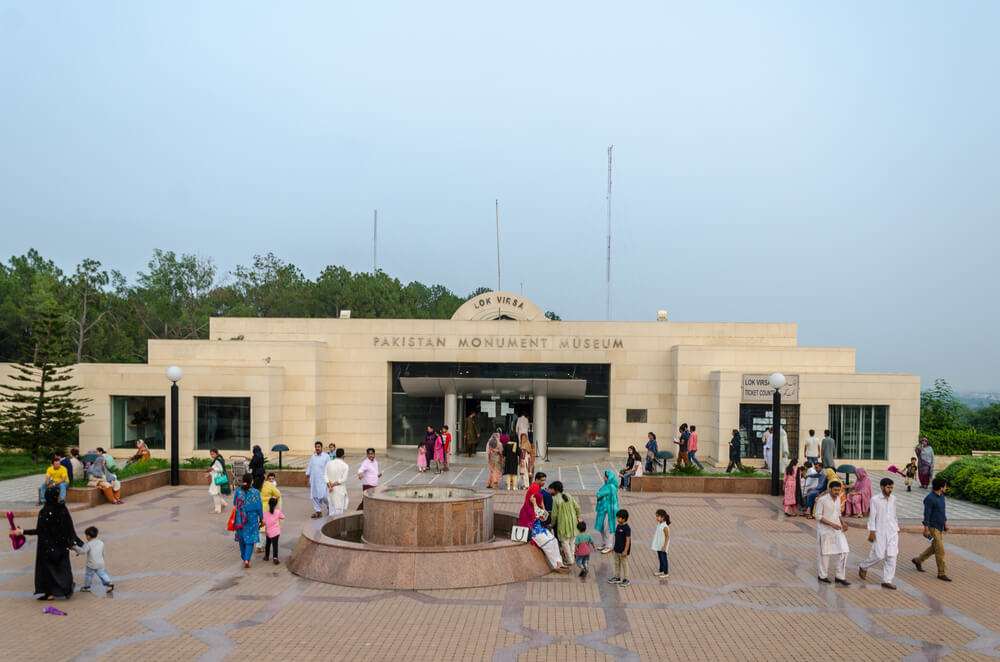 Shandur Polo Festival
Are you interested in attending one of Pakistan's famous festivals? One you can't miss out on is the Shandur Polo Festival, which takes place at the highest polo ground in the world! It takes place atop the Shandur Route, a stunning high-mountain pass that connects Gilgit-Baltistan and Khyber Pakhtunkhwa. A naturally made highest polo ground in Babusar comes with a lush green grassy plain for camping – perfect for summer tourists. Polo Festival is worth attending, where you will witness Polo Teams of Gilgit-Baltistan playing with full enthusiasm. Each year in August, the Shandur Polo Cup Festival attracts tourists from around the globe who come to watch polo players from Gilgit-Baltistan competing for honor and glory. All this is truly a wholesome cultural experience. Organized by Tourism Department Gilgit-Baltistan, this festival seeks to preserve an age-old tradition and promote it among locals and visitors.
Silk Route Festival
Another famous and worth-attending festival in Pakistan is Silk Route Festival. This renowned festival of Pakistan is a fantastic blend of adventure, culture, natural beauty, history, and crafts – coming together to make one extraordinary event that you will want to relive again and again. A festival rich with nature, happening at a location where majestic snow-capped mountains tower high above, glistening ice covers the surface of glaciers below, and green valleys full of luscious fruit trees contained within alluring earthy shades. It features all you could want for a spectacular adventure. Silk Route is one of the most celebrated international events in many areas throughout the globe. In Gilgit-Baltistan, this event occurs annually during mid-to-late September or early October. Silk Route Festival attracts people for its many unique qualities that differ from other celebrations. The main characteristics of the festival are: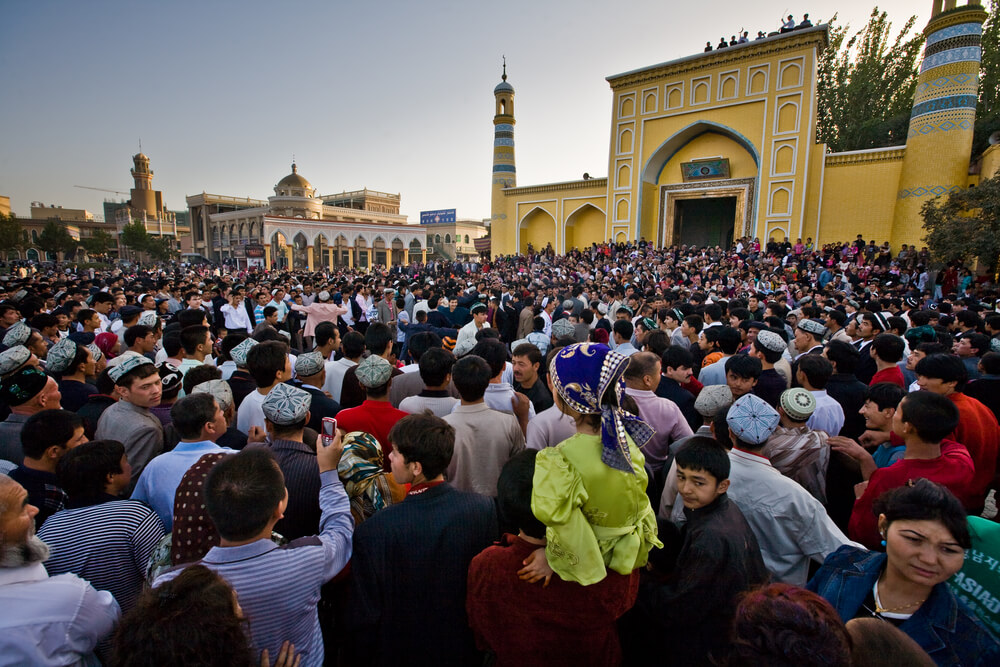 People performing traditional dance with cultural music
Folk music ensemble.
The market of exotic crafts.
Polo games
Village for camping and eateries.
Ethnic runway show
District-level celebrations of the local community.
FAQs
What is the biggest festival in Pakistan?
The biggest Main festival in Pakistan is the Lok Virsa Folk Festival, where artisans and performers arrive from over 20 countries to showcase their skills.
What is the cultural festival?
Cultural festivals are celebrations of the traditions and customs of a specific culture. People celebrate a cultural festival through the showcase of various performances which provide a glimpse into their cultural values and practices.
Conclusion
There are many festivals celebrated in Pakistan. Some are religious, while others are cultural. The purpose of all these Traditional festivals is to bring people together and to make them happy. People celebrate these festivals with great enthusiasm and enjoy themselves to the fullest. These traditional and Main Festivals of Pakistan are not only appealing for the locals but also the tourists.