Jebel Jais Mountains in Ras Al Khaimah
It is the coldest region of UAE during the winter and is entirely mountainous, where the highest tip rises to more than 1700 meters upwards. This is Jebel Jais, the highest mountain range in UAE. It is part of the Hajar mountain range that stretches from Ras Al Khaimah in the East to Musandam in the Northwest. This mountain range covers both UAE and Oman. UAE part has been developed as a touristic interest site and now takes the mantle of 'the Queen of Winter.'
Road Trip to Jebel Jais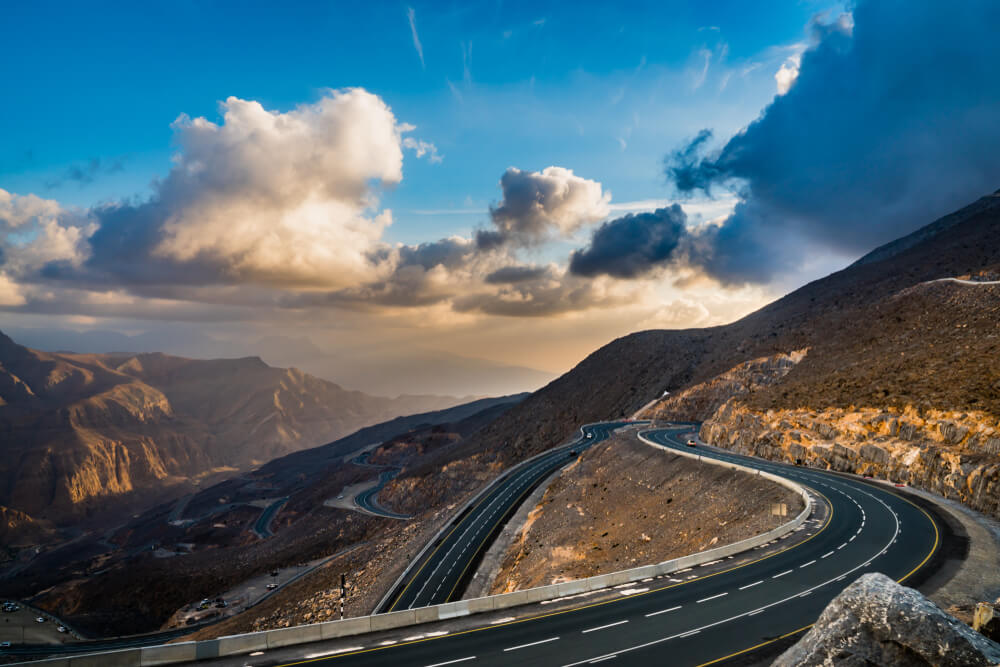 Jebel Jais mountain range is located in the East of Ras Al Khaimah, and it is almost 160 km away from Dubai. Going there by general transportation like the bus from Dubai is possible but really strenuous. No direct bus is available to Jebel Jais mountains from Dubai, and you have to travel to Ras Al Khaimah first and then to Jebel Jais by another bus.
Going there by your vehicle can be done as follows.
From Dubai, you should head out to route no. 611 is popularly known as Bypass road or Emirates Road. After driving 120 KM on Emirates Road, you will take a slight diversion at Exit 147. You will be on a double carriage road when you take this exit. This road will be passing through the wadis, i.e., valleys. In fact, Ras Al Khaimah is a city of Wadis, and almost 20% of its area is full of mountains and wadis. The wadi drive is full of ups and downs. You must follow the road rules, including the speed limit, to ensure the safety of your people and those driving on the road. The road is fully concretized and well lit. There are more than 27 hairpins to the summit. Some exciting places are Khammed Wadi, Wadi Burairat, and Wadi Nked. While driving upwards, you will find the skyline dotted with restaurants, hotels, and cafeterias. There is also a decent shop for hiring bicycles, sports bikes, and even cars. As Jebel Jais is also famous for trekking, various companies are offering trekking gear, facilities, guides, and other facilities too. Throughout the road trip, starting from exit 147, you will find government notifications and regulations related to trekking. The total drive time to Jebel Jais is 90 minutes.
Winter in Jebel Jais
Jebel Jais in winter becomes an extraordinary place. The temperature dips as low as -50 C, making snowfall possible. Tourists flock for night camping and to welcome the morning winter sun in the cold with hot tea cups in hand. This waiting is worth it in a country where the sun graces throughout. The entire mountain range has purpose-built parking and camping sites that also have little shops as well as hawkers. The parking begins to fill fast with campers; hence it is advisable to go early. When you come for camping in Jebel Jais, taking a good barbeque grill and burner is a MUST. The burner helps you make tea quickly, and the barbeque grill pit keeps the heat longer the night. Be sure to take warm clothes, blankets, and a mattress.
Zipline Jebel Jais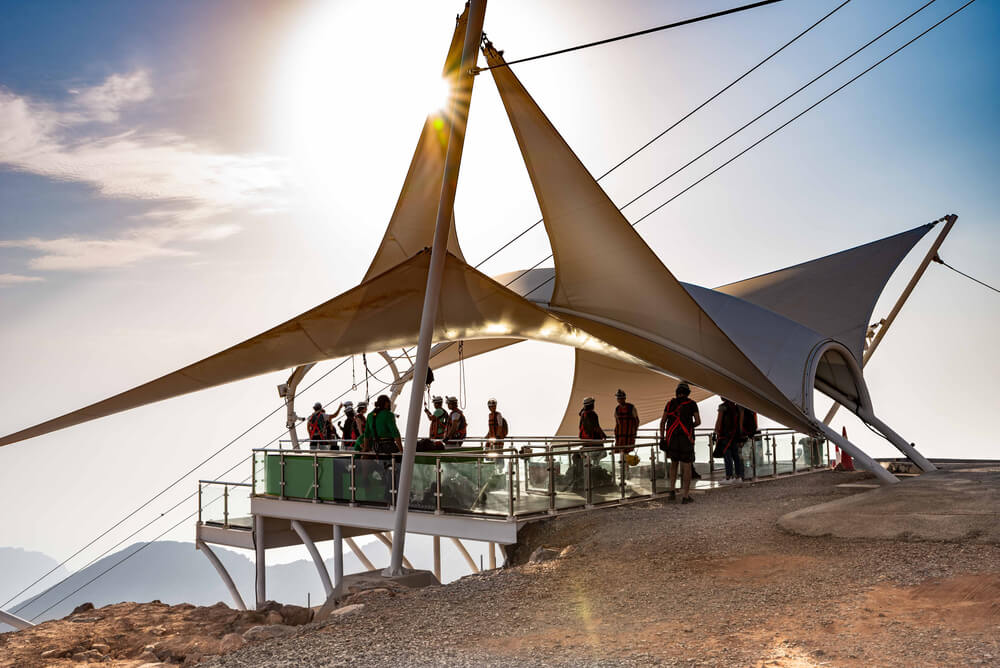 The Zipline Jebel Jais is the longest zipline in the world. That is 2.83 km long and starts at the summit of 1680 meters. This adrenalin-pumping adventure reaches a hair-raising speed of 150Kmph, making you swallow your heart. This is one of the most famous adventure sports in the world, and thousands of daredevils come for a thrill. The zipline in Ras Al Khaimah is also known as the Jais Flight. The so-called flight takes off at the top of one end of the Jebel Jais summit.
The zipline is open throughout the year, including the summer. The zipline is an engineering feat with every safety feature, including everyday maintenance and safety checks. It is operated by a professional agency that would ensure that.
a) for age below 18 years, the child must be accompanied by a legal guardian,
b) your weight should be less than 130 kgs,
and c) your minimum height should be 122 CMS. You should check your medical condition, and pregnant ladies are not advised to do this activity unless they have medical clearance.
The zipline is in a completely secured area, and if you do not have the required ticket, you will not be allowed beyond the Jebel Jais Viewing Deck. This is to ensure that Zipline operations remain unhindered. Once you buy your ticket online, you will be given the coupon that will be verified at the entrance. You shall be given full safety gear, including a helmet and harness. You will be given a briefing before the start of your exhilarating flight takes 3 minutes. The view during the entire flight is stunning.
Frequently asked questions related to Zipline flight in Jebel Jais
What is the minimum age to do the zipline flight?
You must be at least 18 years old.
Do we need to carry our safety gear?
The managers of Zipline flight in Jebel Ali provide you with safety gear and ensure that everything is fully secured before your flight starts.
Can we buy the ticket directly at the site?
Generally, you cannot buy the ticket directly at the site as the Zipline Jebel Jais is fully secured with entry restrictions to avoid crowding. You are encouraged to buy from any of the Destination management companies.
What is the total time of a zipline flight?
The total flight time is 3 minutes, and you would travel 2.83 KM at a top speed of almost 150 km.
Do we need to take our cameras, or do they provide a camera?
You will not be given any camera, and those who would like to capture the entire flight on camera should carry a high-performance go-pro camera that is ideal for such sporting activity.
What should be the maximum body weight to do zipline?
It should be anywhere between 45kgs to 130 kgs.
Do we need to have any prior medical certificate for doing zipline in Jebel Jais, Ras Al Khaimah?
It is not required generally. Only pregnant ladies need to bring medical clearance.
Can two people do the zipline flight in Jebel Jais together?
No, as the Zipline sports activity is a solo activity.
Is it possible to do some corporate team building on the Zipline flight in Ras Al Khaimah?
Yes! The operators of the Zipline Activity, Warriors group, conduct corporate events and activities in Jebel Jais Zipline park. You need to contact them directly or organize it through your DMC.
What is the pricing for doing a zipline flight?
It varies. In summer, it is around Aed 650. In the winters, it may go up to Aed 1200/=.
Is it open during the summer months also?
Yes, it opens from 9 am to 5 pm in the summer.
Are there lockers available to store my belongings?
Small lockers are available to store small items such as handbags, wallets, keys, and mobile phones. There is no locker space for shopping bags, luggage, etc. Storage is limited, so please empty your locker after completing your ride. The management may open the locker if you do not collect your belongings after 5 hours of completion of your flight and may keep them in a separate place from where you have to claim them after presenting your id credentials.
Do I need to sign a waiver when I sign up for Zipline Sky Tour?
Yes, all participants MUST sign a waiver before undertaking the zipline sky tour.
Can the Zipline sky tour be canceled by the operators of Zipline Sky Tour, Jebel Jais?
Yes! The Zipline tour may be canceled without notice to the participants due to force majeure. For reimbursement policy, please go to their website www.visitjebeljais.com and get all the details.
Things to do In Jebel Jais – Camping and viewing
People visit Jebel Jais for a variety of reasons. The first and foremost is to be part of the imposing Hajar mountain range, a unique mountain range well known for its ragged features. Though the range is not as long as the Andes or as high as Mount Everest, it makes it up through its sheer beauty and location. People visit Jebel Jais for its sunrise and sunset, as both are spectacular. The best thing to do would be to come just before the sunset, reach the Viewing deck, and catch the setting sun that bathes the entire range red. Then set up your night camp in the specially built rest area a few meters above the Viewing deck and catch the early sunrise. There are 11 rest areas where you can park your car and put up your camp. There are clear instructions by the RAK government related to the dos and don'ts. The rest areas have separate toilets for males and females. The park management has also provided small retails for snacks like chips/ chocolates and sandwiches in these areas. The sunset to sunrise camping activity may include a walk or trekking and zipline at Jebel Jais, for which you need a prior ticket, and you drive even further up. You may also stroll in the mountains and visit wadis where cafés are available. Although the areas for camping/ parking are well secured, you are advised to keep a close watch over your kids and take utmost care when walking as vehicles may approach and surprise you at the hairpin bends.
The viewing deck at Jebel Jais in Ras Al Khaimah is 1230 meters high and is on either side of the road. You may get to enter the deck by paying Aed 5/= per person, and for parking inside the deck, it is Aed 5/= extra. However, there is free parking available outside the viewing deck. You will see the RAK township and dam on one side of the viewing deck. It also has a play area and a small walking track. The viewing deck on the right shoulder of the road has a Muse Café that sells various sandwiches, coffee, tea, and more. The viewing scope will afford you a beautiful view of the Hajar mountains. On a cloudy day, these views may be hindered, but a walk in the park of the Viewing deck is very refreshing. On both sides of the park, there are provisions for kids' entertainment. If you want to barbeque, you must take your griller with you and the required fuel. Nowadays, there are gas burners that are pretty comfortable and smoke-free. Night star gazing used to be very stunning before. However, star gazing is not as beautiful due to road expansion and new lighting systems. While coming back, you may stop at one of the cafes that line up the mountain road or on the plains.
During the winter, especially in January, you may get snowfall as the temperature in the Jebel Jais mountains in Ras Al Khaimah dips below -5, which is good enough to freeze water. However, snowfall does not always occur as it depends upon the atmospheric water content, which is not always good for snowfall. However, snowfall did occur in 2018, 2020, and 2022. If you want to enjoy the snowfall, you need to remember that the government sometimes decides to prevent vehicles from entering the area to avoid damage to the fragile ecosystem and overcrowding.
Jebel Jais Sledder
Jebel Jais has a sledder that starts atop its highest and hurtles down to its base in a fully secured sliding cart on a low-slung track. While sliding, it negotiates all the hairpin bends, giving you the roller coaster ride experience. The speed maximizes at 40kmph, but you will get an amplified feeling as you sit close to the ground. It takes 8 minutes to complete the slide. The tickets for the slider of Jebel Jais Sledder are sold only at the venue counter, and you cannot get them from anywhere else.
Built to the highest safety standards, this has achieved zero accidents as of the blog's writing date. It is made to the exacting standards of ISO190202, a specification for Summer Toboggan's design, build, operations, and maintenance. Summer toboggan is widely popular in Europe, Canada, and the USA as an amusement ride. As the ride is on a track, riders will always have amplified speed.
The Sledder in Jebel Jais seats two people and is usually suitable for a child and adults. It suits all age groups. For kids below age 18, only supervised sledding is allowed. The Jais sledder starts at an altitude of 1630 and comes down, winding through the Hajar Mountains, in an 8-minute ride.
Jebel Jais Slider Working Hours
Jais Sledder is open from Monday to Sunday and during the UAE public holidays.
Summer hours (July 6 – August 31):
Weekdays (Tuesday – Thursday): 13.00 to 19.00
Weekends (Friday – Sunday): 10.30 to 19.00
The last ride ends at 18.30, and the ticket counter closes between 17.00 – 17.30, depending on the queue.
Sledder at Jebel Jais in Ras Al Khaimah – Terms, Conditions, and Minimum Requirements
The minimum rider age is three years.
The minimum height of the rider should be 135 cm, and a rider who has less height than that.
MUST be accompanied by another rider who is more than 135 cm tall.
Guests 135 cm and taller may ride as an individual or with another guest (each guest needs an individual ticket).
The combined weight of the riders (driver and passenger) cannot exceed 150 kgs, and riders must be able to wear the seatbelt correctly.
Guests who came to ride but are under the influence of drugs/ alcohol shall not be allowed for the ride.
This amusement activity is restricted as per ISO190202 for those who;
Pregnant women who think they may be pregnant or with the following medical conditions:
People with a heart condition,
People with a seizure condition,
People with a history of back or neck injury,
Or any other medical condition that prevents the guest from following the safety rules and guidelines.
Drivers or passengers sitting in the cart of the Sledder in Jebel Jais are not permitted to touch the track.
Drivers are not permitted to stop the sled on the track unless in the case of an emergency.
Drivers are required to maintain a minimum distance of 25 meters from the sled ahead.
As per the operational guidelines of the Sledder, no backpacks or bags, animals, umbrellas, bulky, pointed, or loose objects are allowed on the ride. No food or gum is permitted on the ride.
Before beginning the ride, all loose clothing and hair below shoulder length must be secured as a safety precaution. Remember that your flexible cloth may get entangled with any object on the earth below, which could compromise your safety.
During the entire duration of the slide, you must keep the seat belt wearing and should not allow your feet to touch the ground below the Sledder.
Guests who purchase tickets for three rides must complete all the rides in one day.
Jais Adventure Park retains the right to change/close rides at any time due to weather, wildlife, capacity, or force majeure without any notice to the ticket holders to Jabil Jais sledder and reimbursement, as per the company policy.
All participants are required to sign a waiver. A parent or guardian must sign a waiver for participants under 18.
All further terms and conditions that apply to this ticket can be found on the website.
Trekking at Jebel Jais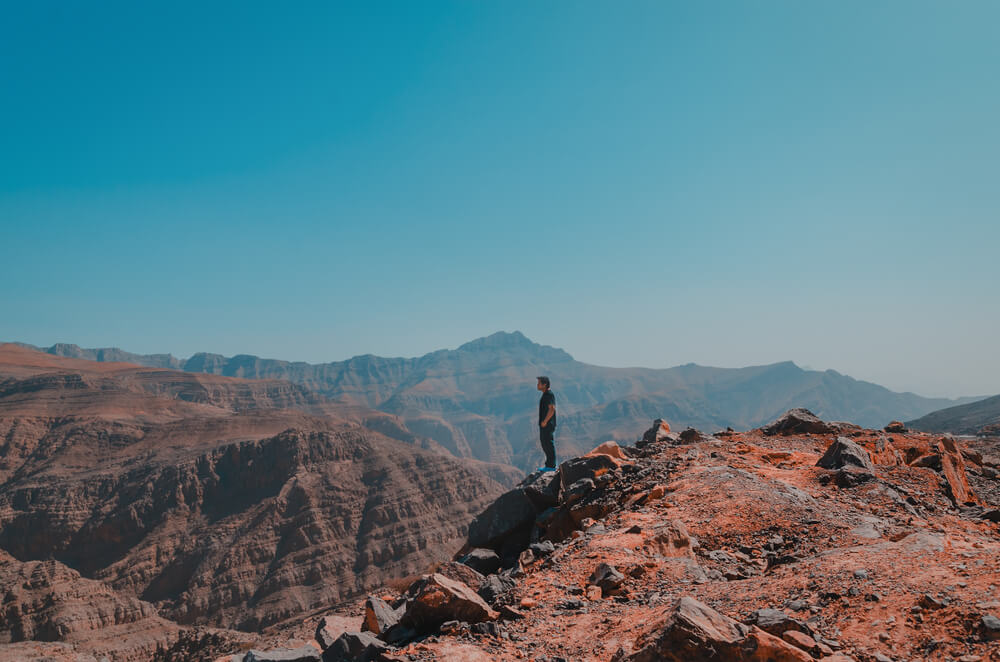 Jebel Jais mountain range is typically suited for trekking for beginners. As the mountains of Jebel Jais have a maximum peak height of 1680 meters, they are not too difficult to climb. There are 16 designated trekking trails, and each has different difficulty levels.
Many adventure companies could help you if you are a beginner. They keep all the required safety gear and also have tour guides. All you need to have is a will to climb. Trekking is a great group activity and can be helpful for team-building exercises.
Guided trekking may cost you Aed 300/= for half a day trekking or Aed 500/= for full day trekking.
VIA FERRATA
Via Ferrata is the first 'iron path in the Middle East. The 1km hiking trail at the base of the mountains traverses an adrenaline-filled hike, scramble and climb up steps, ladders, and gravity-defying zip wires. This is mild and has all the features of a Ferrata, including four zip lines, ladders, and general climbing with the help of a steel rod affixed to the road. Your safety is assured as you are fully harnessed to the steel rod that runs through the entire course. There is a guide to ensure your safety and amusement. This is an adventure that you should not miss.
The entire stretch of Via Ferrata is 1 km long and consists of 3 zip lines. This is also operated by Toro Verde and costs Aed 285.