Things To Do In Peshawar
Peshawar, the capital city of Khyber Pakhtunkhwa, is one of the oldest cities in Asia and on earth. The majority of people of Peshawar are Pathans who speak Pashto. The city enjoys a strict Islamic environment. It also offers a lot of historical places. Previously Charsadda was the capital of Khyber Pakhtunkhwa, but Kushan King Kanishka changed the capital in the 2nd century, which is now called Peshawar. The Sanskrit meaning of Peshawar is "The City of Men," an area belonging to many Iranian and Gandhara tribes. A little before the Gandhara civilization, this area saw the dominance of Greek, and soon after that, Arabs came here. And finally, Islam came to rise.
 This beautiful city of Pakistan enjoys a moderate climate throughout the year. It is one of the most important cities in Pakistan as it offers a bulk amount of footwear, cotton, textile, handicrafts, and silk, contributing to a stable economy. The city lies on a critical route link that connects Afghanistan and Pakistan, which benefits trade in both countries. If you are fond of the culture and history of any Pakistani city, you should try Peshawar. If you are fond of cinemas, there are a lot of Cinemas in Peshawar.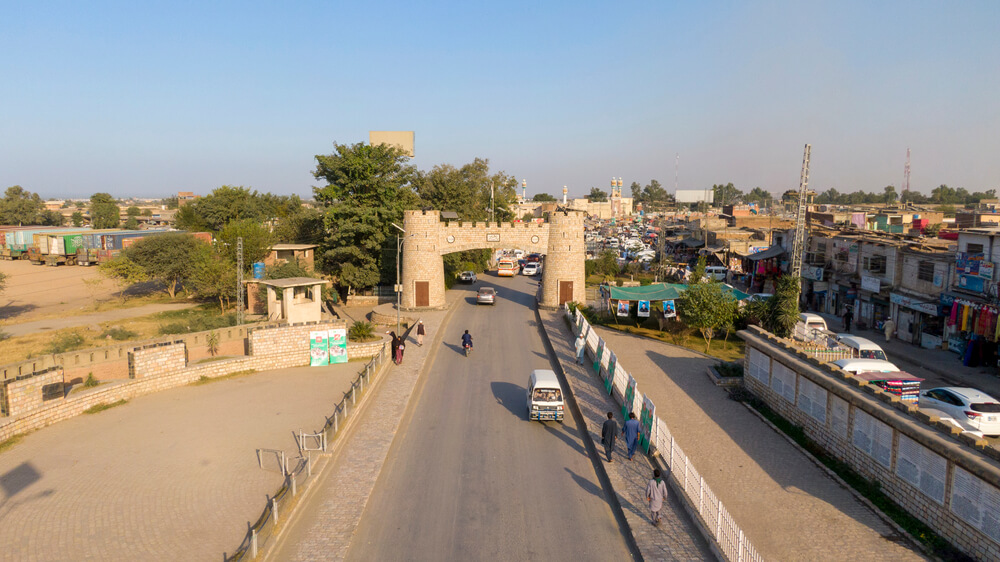 Peshawar is an energetic and colorful city in Pakistan. If you visit Peshawar from cities like Lahore, you may find its road astonishingly clearer and cleaner. This city gives an unmatchable feeling of nostalgia and warmth. The city has many recreational places and historical sites that can be good vacation destinations for visitors, such as the Namak Mandi, Qisa Khuwani Bazaar, and Fort Bala Hisar.
12 Best Things To Do In Peshawar, Pakistan 2022
Peshawar is an ancient city with recreational spots for local and foreign visitors. From its many sports complexes to kid playlands, there is much to explore in Peshawar. Here is the guide to the 12 most incredible things to do in Peshawar. Go through this list of the best things to do in Peshawar and choose what suit your requirements and needs.
Sardaryab
Sardaryab is one of the top things to do in Peshawar. It is a tourist hotspot located at the banks of the mighty Kabul River in the Charsadda district. Tourists can reach this beautiful location via car or bus from Peshawar as Sradaryab is located 20km away from Peshawar, so people can easily access it. Visitors from all over the country enjoy this beautiful location for boat riding and swimming. There are a lot of colorful boats on the banks of the Kabul River near Sardaryab, where families and friends can enjoy boating.
To enjoy a panoramic view of the area, you should cross the Sardaryab Bridge. It is a very well-constructed bridge that lets you enjoy the water's beauty and scenery from a high place.
Fishing enthusiasts can also enjoy a lot of fishing opportunities here. What could be more fun than catching your fish and grilling it by the riverside? There are many places for people to arrange their grill setup and enjoy a picnic with freshly caught fish. If you are not interested in fishing, you can still enjoy fresh fish. Many Riverside restaurants with a fantastic environment offer newly caught fish, grilled or barbecued. You can feel a carnival in this place with many amusement rides and activities such as the capital eye and spinning rides for kids. This is a beautiful place for everyone to enjoy.
Blue Water Swimming Pool Peshawar
Can you imagine a place to cool off in summer, like a swimming pool in Peshawar? Previously, it was hard to believe that such a space existed in Peshawar, but now they introduce you to the Bluewater swimming pool. Bluewater swimming pool is an excellent place for locals to try their hand at swimming. Young adults from all over the city come here to enjoy and dip in the cool and clean water of the swimming pool in summer. The blue water attracts anybody who gets close to the swimming pool. The facility is one of a kind in Peshawar, with many showers and changing rooms. The water is clean and safe for swimming. The water and pool are cleaned regularly to ensure the safety of the visitors. Bluewater swimming pool is also a good spot for swimmers who want to practice many styles of swimming in a clean water body. Remember that this place is only reserved for men; there are no places for girls or women. It is undoubtedly a must-visit place to visit in Peshawar in the summer.
PAF Golf Club Peshawar (Peshawar Golf Club)
PAF golf club Peshawar is another famous place in Peshawar. It is a fantastic golf course located at Shami road. This 18-hole golf course is very well maintained, and playing on it is fun and challenging due to the many water channels in its fairways. You will find the amiable and cooperative staff there. It is a renowned golf course in Peshawar that attracts a lot of domestic players from all over Pakistan. Reserve a tee time with your friends interested in golf and enjoy a fantastic day at the PAF golf club Peshawar.
After a long and fun day of playing golf here, players can enjoy tea and snacks at the eateries available at the club. You can also buy golf-related things from the PAF Golf Club Peshawar gear shop. The overall environment, the scenery, and the greenery of the golf course give the club a beautiful look. You can practice shots and perfect your swings here. Playing golf here also allows you to socialize with other people with similar interests. You can share your ideas and experiences and even make new friends here. Anybody interested in golf in Peshawar must visit PAF Golf Club Peshawar once.
Peshawar Gymkhana Ground
Peshawar gymkhana ground is a famous cricket club in Peshawar. It is located close to the Arab Niaz Stadium and Shahi Bagh Peshawar. This cricket ground has an ancient history as it was established in the era of British rule. At that time, it used to have a cricket ground, a pavilion, and two tennis courts. Nowadays, it is a famous ground for club cricketers, and most club cricket matches are played here. It is a very well-maintained ground for cricket players. Peshawar Gym Khanna Ground is open throughout the week for players to practice and get ahead in their game. So, if you want to practice your cricket skills, you should visit the Peshawar Gym Khanna Ground.
Qayyum Sports Complex (Peshawar Sports Complex)
Peshawar sports complex or the Qayyum sports complex is located in Peshawar cantonment, Kyber Pakhtunkhwa. Founded in 1975, this sports complex is one of the biggest in Peshawar and the province. It is a fantastic facility that is located at the heart of Peshawar. Players from all over the city and even the province of Khyber Pakhtunkhwa come here to enjoy the facilities for many sports offered. For most people, this well-equipped and maintained sports complex is the only stadium or facility in the city to practice the sports they love. This multipurpose complex offers many facilities for various sports, such as football, wrestling, badminton, swimming, squash, and field hockey. For sports, like badminton, tennis, and table tennis, feeder ball throwing machines such as training shuttles are installed in the complex. It is a complex the government owns with a total capacity of 30,000 people. In 2016, the complex was beautified and renovated. Now the new facilities of the complex include dining halls, sitting areas, changing rooms, conference halls, washrooms, media rooms, generators, and galleries. People interested in sports activities in Peshawar should not forget to visit the Peshawar sports complex to practice.
Pakistan Tennis Club Peshawar
Pakistan tennis club Peshawar is one of the best tennis courts in Pakistan. For tennis lovers, the Pakistan tennis club Peshawar offers endless hours of enjoyment, activities, and severe competition. The club has built its reputation over the years. It has many top-quality tennis courts that are maintained throughout the year. It gives a pleasant and relaxing environment where players can enjoy the company of different players and experience the tennis game in the best way possible.
Disney Play Land Peshawar
Disney Play Land in Peshawar is one of the top things to do in Peshawar for kids. Located in al-Badar town Peshawar, this recreational spot for toddlers and kids is a must-visit for the residents of Peshawar. It is one of Peshawar's few amusements and recreational destinations open for the first time. It offers an international standard playland with a beautiful clean environment and imported playing machines and rides. The area is fully air-conditioned, and only families can visit the Disney Play Land. You will enjoy different activities such as soft play areas, arcade games, novelty games, kiddy rides, and 9D motion rides at reasonable prices. Kids can enjoy themselves and eat a lot of snacks and refreshments offered at the Play Land. Families can visit this beautiful place from 11:00 a.m. to 8:00 p.m. you can visit the Play Land to celebrate functions such as Eid or birthdays. For all the kids out there in Peshawar, Disney Play Land is a must-visit amusement place.
Fun Palace Pakistan
Fun Palace is another theme and amusement park in Peshawar. t is one of the best things to do in Peshawar with family near Deans Heights phase 2, Peshawar. Fun Palace has a very beautifully decorated playing area for kids. It offers many options for kids to have fun and let their parents enjoy some free time. Fun Palace provides its visitor's clean, kid-friendly environment where kids can enjoy endless hours of play in a soft area. It also includes kiddie rides with vibrant colors to attract the little angels, such as mini trains, crashing cars, kiddy rides, motorbike rides, etc. Teens and toddlers can also play VR games. Apart from games, you can also enjoy many delicious food items. The times of this place are very convenient for families as it is open throughout the week. You can adjust your schedule easily to come to the fun Palace and enjoy. Come here to enjoy a fun-filled day with your kids and have a memorable time.
SS Shooting Club
SS Shooting Club is the first-of-its-kind club in Peshawar. It is opposite Gul Haji Plaza on University road Peshawar. The club has a lovely outdoor ambiance with green lawns and chairs for visitors. t is well illuminated at night with white lights and other decorations. The club is an indoor shooting club that offers a unique experience of shooting different guns. The facility is well-maintained and organized, with a good shooting range for different types of firearms. The walls are bulletproof, and the targets are clear and precisely placed. Visitors are kept safe by wearing safety jackets, earphones, and other safety equipment. Well-trained staff guides the visitors to hold the gun and shoot it in the right place. This place may look very dangerous, but it is a good location for thrill seekers who want to experience how shooting works. It is also an excellent spot to gather your friends and practice together. You can even conduct a friendly match by shooting the target between your friends. It is one of the best things to do in Peshawar with friends.
Polo Ground Peshawar
Polo club Peshawar is another unique place to visit in Peshawar. This polo club is famous for monuments and gardens. Being an important city for many centuries for the royals of the subcontinent, Peshawar Polo festivals were also appreciated and enjoyed by the local rajas. After their demise, the colonial rulers further wanted and supported this sport. Recently the Polo club Peshawar stands graceful and tall with excellence that can be experienced by anyone who visits once. It has a very professional team of Polo players involved in various Polo competitions in Pakistan and worldwide. One of its players, Gulmust Khan, was recently ranked as the fourth-best Polo player in the world. This speaks a lot for the club's quality of services and facilities. Professional polo activities and events at the club are also very famous. Apart from these professional activities, the Polo club Peshawar also offers training classes for young Polo players. Friendly instructors and staff are beneficial in teaching youngsters the basics of Polo. The wide variety of horses at the Polo club also attracts riding enthusiasts to this club. Throughout the year, many riding competitions are also organized at the club.
Hayatabad Sports Complex
Hayatabad sports complex is an academy that is located in Peshawar. It was renovated in 2016, and the KPK government owns it. It was initially constructed in 1990 and had facilities for all main sports. However, later that year, it was converted into a commercial hub, a marriage hall, and a private party area. It was in June 2013 that the renovation of this complex was started. The sports complex has an area of 5399.56 square feet. It contains facilities for many sports such as football, cricket, swimming, squash, table tennis, badminton, tennis, gym, field hockey, and basketball. The complex offers many sporting facilities, which is why many youngsters and adults are attracted to it. They come here to enjoy and practice their sport of interest.
The club is open throughout the week in summer and winter. Riding and polo coaching classes have different charges, but they are reasonable. If you are interested in Polo or horse rising, this is the place best suited for your interests.
SWAN Wedding Hall & Snooker
SWAN wedding hall and snooker is another exciting place for the residents of Peshawar. This is located in Lalazar Avenue, phase 1, Hayatabad, Peshawar. It is open throughout the week from 7:30 a.m. to 10:00 p.m. These timings are generally for the snooker club and swimming pool area. The wedding hall has different timings. A swan wedding hall should be your priority for people or couples looking for a wedding hall in Hayatabad. It offers a vast and spacious wedding hall with many beautiful decorations and excellent seating arrangements for the guests.
You can also find a swimming pool near the wedding hall, which is separate from the wedding hall but is part of this facility. People from all over Peshawar can come to swim and relax. The facility also contains a snooker playing area where people interested in snooker can comfortably play their game with their friends. f you get hungry during all these activities, there is a restaurant nearby that offers tasty meals and snacks. So, SWAN wedding hall and snooker is a complete package of family entertainment and convenience at your doorstep.
FAQs
How can I have fun in Peshawar?
You can enjoy a great time in Peshawar as it is full of exciting things to do. Suppose you are interested in historical places in Peshawar; you can visit many areas, such as Peshawar Gandhara Museum, Fort Bala Hisar, Mahabat Khan Mosque, Khyber Pass, and Sethi House Museum. If you want to have your family enjoy their time, you can visit Fun place, Play Land, Sardaryab, or Warsak dam. It is a spectacular city with vibrant colors and pleasant locations, so how can you miss having fun here?
Is Peshawar worth visiting?
Peshawar is a mind-blowing city with many beautiful and colorful locations for explorers to enjoy. Although it is modernizing daily, it is still true to its roots and culture. You can notice the history of many of its historical landmarks, landscapes, and even people. Many locations in Peshawar make it very well worth the visit, such as the Cunningham clock Tower, Mohabbat Khan Mosque, PAF golf course, Habibi restaurant, Khyber Pass, Sethi house museum, Qissa Khawani Bazar, and Bala Hisar fort.
Are there cheap things to do in Peshawar?
Peshawar is a mix of budget-friendly and luxurious vacation destinations. There are many things that you can do on a budget in Peshawar. Some of the most budget-friendly locations in Peshawar are Mohabbat Khan Masjid, Wazir Bagh, Peshawar Museum, Shalimar Garden, Habibi restaurant Jana Park and Cunningham clock Tower. There are many things to do and see in Peshawar, so you will not be disappointed by visiting the city.
What is the best time to visit Peshawar?
Peshawar enjoys a moderate climate most of the time. However, summer months such as June and July can get hot here. So if you don't want to sweat and smell funny, avoid summers in Peshawar. The best time to visit Peshawar is between September to early November. During this time, you will experience enjoyable weather that is not too warm or cold.
What are the most popular things to do in Peshawar with kids?
Kids' need for recreation and excitement is different from adults. They typically enjoy parks, rides, and games. In Peshawar, there is no shortage of places offering these facilities. You can visit many theme parks or amusement parks in the city's heart. Some of the most popular things for kids are visiting fun palaces Peshawar, Disney Play Land Peshawar, Sardaryab, and many more. You can also take them to Peshawar zoo and Tartar amusement park for extra fun.
Conclusion
Peshawar is a vibrant city with colorful buildings, beautiful people, and mouthwatering cuisine. This oldest city in Pakistan is home to many historical landmarks, parks, scenic spots, and amusement parks. Although it is getting more modern each day, you can still find signs of history and culture in the sites and even the people of Peshawar. Visitors to Peshawar will be thrilled to enjoy the many amazing things to do here. The people here are amiable and supportive, making the experience delightful. So don't wait anymore; pack your bags and head straight to Peshawar.