Swimming Pools in Karachi
Karachi is famous for providing recreational facilities, and most people enjoy swimming more than anything to cool themselves off and kill the heat. The climate of Karachi is primarily hot, and what better way to spend free time than by paying a fine day by the pool? You will relish the time spent swimming and feel a sense of calm and serenity.
The Karachiites are fortunate to have maintained and clean pools in the city, and you will be amazed to know the swimming pool price in Karachi because they are very reasonable. They are spread out in different areas so everyone can find something nearby. A hygienic pool is fundamental as waterborne diseases can be seriously harmful. Before discussing the swimming pools in town, let's look at the health benefits of swimming.
Importance of Swimming Pools You Must Know
When people hear the word swimming pool, they think about exercise, fun, relaxation, and summer. Swimming pools are primarily associated with positive things, but do you know that the benefits of a swimming pool extend beyond some obvious convenience like relaxation? The time spent at the swimming pool opens the door to a unique lifestyle offering the following benefits.
Low Impact Activity
The best thing about swimming is that it offers a low-impact activity. People looking to relax their aching joints and muscles with light exercise find swimming helpful. You will be amazed that swimming puts ¼ of a strain on the body compared to jogging and running.
A swimming pool also offers the perfect scenario for aqua therapy. Moving slowly in a warm water pool can be very helpful for people with bone and muscle conditions.
Improve Cardio Health
Nowadays, a sedentary lifestyle is leading to many cardiovascular problems. Do you wish to improve your heart health but hate strenuous activities? Switch to swimming and enjoy the low-impact workout equally effective in maintaining good heart health as other strenuous exercises. You can try different styles and moves to improve your cardio fitness.
Build Strength
Are you one of those who think bodybuilding and swimming don't go well together? Swimming is one of the most promising methods to build muscle strength and stamina.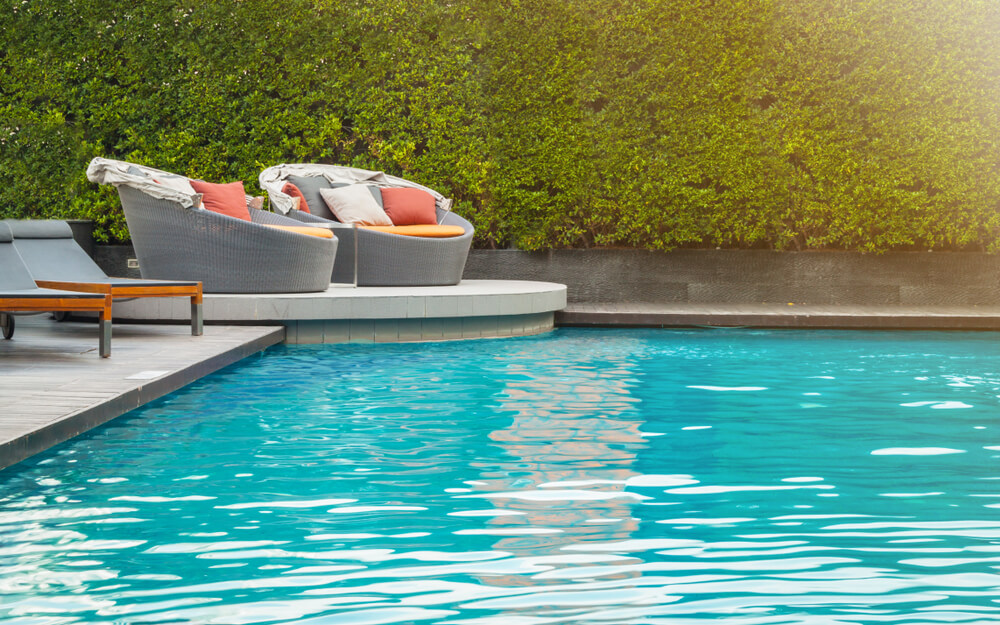 The reason is that swimming supplies a full-body workout that targets all the secondary and primary muscles. So if you include a few different strokes while swimming, you can strengthen more muscle groups than you would in an average gym session.
Calm Down
Hands down, one of the most sought-after benefits of swimming or diving in the pool is to relax your nerves and muscles. Swimming is a perfect way to unwind after a busy day. Different studies also indicate that swimming helps manage stress and anxiety in many people, and they feel mentally refreshed after a swimming session. It is also believed that people generally get a positive mental impact from swimming because the water helps them feel good and happy.
Cost-Effective Entertainment for the Family
Swimming also offers a very cheap method of entertainment. If you have kids, you will hear now and then about their never-ending demands to go on rides, bungee jumping, and trampolines. Fancy recreational areas can be burdensome on your wallet. So directing your children to participate in swimming and enjoying water activities is a cost-effective type of entertainment.
Another attractive fact about swimming is that it allows you and your kids to bond extraordinarily. While jumping and diving in the water, you can make the funniest memories with your friends and family. It also allows them to indulge in a low-impact activity that can be very refreshing for the muscles and the whole body.
15 Best Swimming Pools in Karachi
The most famous pools in Karachi are mentioned below in detail. You will be awestruck when you discover Karachi's swimming pool prices. Check them out and experience a memorable day in the water.
Karachi Gymkhana Swimming Pool
The swimming pool of Karachi Gymkhana covers an area of 25 meters. The heating system in the collection allows its members to swim during all four seasons. The club has an open pool for adults or swimmers and one learner's pool for toddlers and trainees. There are separate trainers for males and females. For the members' convenience, different changing rooms for children, gents, and ladies are present, which are constantly cleaned and maintained by the staff. The lifeguards are always on duty to ensure no unlikely incident occurs. These basic amenities make Karachi Gymkhana one of the best swimming pools in Karachi, as safety and hygiene are priorities of every visitor.
Location: 4 Club Road, Civil Lines, Karachi.
Timings: 6 AM to midnight
DHA Sports Club
DHA Sports Club, also known as Moin Khan Academy, is located in the peaceful location of Defence. The swimming pool at DHA Sports Club is ideal for the professional training of swimmers and divers. The collection is fully covered and measures 35 meters long and 13.71 in width. There are coaches and lifeguards on duty to ensure safety. Beginners of all ages can come to learn how to swim, while the pros can practice the sport. A unique filtration system is installed to keep the water clean.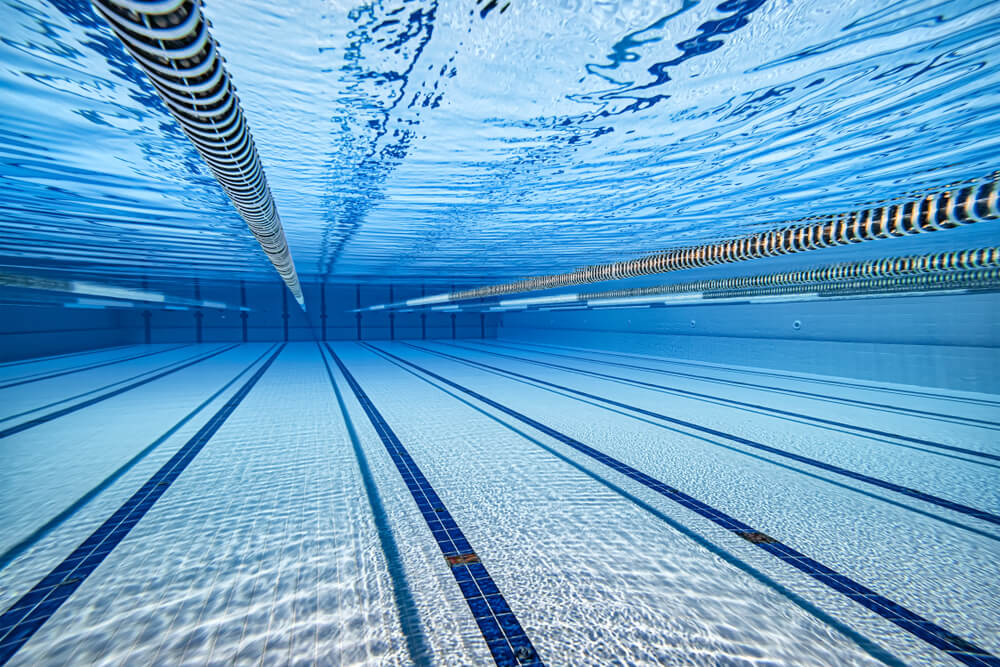 Location: Khayaban-e-Shaheen, D.H.A. Phase 8 Zone B, Karachi.
Timings: 10 AM to 5 PM
AKUH Sports Complex Swimming Pool
The Agha Khan Sports and Rehabilitation Center offers a variety of outdoor and indoor activities. They have an Olympic-sized swimming pool with a canopy casting a shadow on a small part. The center is open throughout the week. AKUH conducts swimming lessons for youngsters and beginners with separate coaches for ladies and gents. Special attention is paid to the cleanliness of the water and changing rooms. The members of the center, as well as outsiders, can take classes. Exclusive lighting allows the swimmers to practice during late hours. The management ensures that everyone wears swimming equipment before entering the pool. 
Location: Stadium Road, Karachi.
Timings: 7 AM to 10 PM
Regent Plaza and Hotel Karachi
The regent swimming pool is one of Karachi's most popular swimming pools. It has a large area that is exclusively dedicated to swimming activities. The freshwater swimming pool offers clean water for everybody to enjoy swimming.
People interested in swimming can learn to swim with particular trainers at the Regent swimming pool. If this is your first time trying swimming or you are not a mature swimmer, rest assured because lifeguards are here to keep you safe.
If you bring along kids interested in swimming, there are plenty of water slides for them to enjoy without disturbing you from taking a refreshing dip. Another good thing about the Regent swimming pool is that they offer a poolside bar. The poolside bar provides facilities to enjoy fresh juices and even fast food options. The poolside bar is a significant attraction for people visiting the swimming pool.
The Regent swimming pool also offers a visitors locker facility to keep your belongings safe and enjoy unlimited swimming without worry.
At the Regent swimming pool, many events are also organized. The poolside theme gives an exquisite touch to any event or celebration. The experienced staff and ambiance can give you a fantastic event.
Address: Regent Plaza, Main Shahrah-e-Faisal Rd, Karachi, 75350
Contact Number: (021) 35657000
Dreamworld Resort Swimming Pool
The water resort of Dreamworld Resort is a stunning area to enjoy many water activities. The water resort offers many big and small pools for everybody to enjoy. Dreamworld Resort has covered you if you want to dip from a height. Here you can slide into one of the biggest freshwater pools in the world from a height of 70 ft at 80 Km/ hr. You can also swim peacefully in the pools at the resort if sliding is not your thing. The best thing about the water resort is that it offers a separate pool area for kids to enjoy. For ladies, an utterly isolated section provides swimming facilities, a sauna, a steam bath, and a jacuzzi. After swimming, you can head to separate changing rooms nearby and slide into your dry clothes. These facilities are for members only.
Timings: 2:00 PM to 7:30 PM, 12:00 PM to 7:30 PM
Contact Number: 021-38692000
Address: Gulshan-e-Maymar, Super Highway, Adjacent, Block R Taiser Town, Karachi, Karachi City, Sindh
Paragon Swimming Pool
Paragon swimming pool and the gym are state-of-the-art facilities with separate areas for males and females. The facilities include a steam bath, sauna bath, and large swimming pools. It is a perfect retreat for people looking for a relaxing time to calm their aching muscles and nerves. The Paragon swimming pool also offers learning facilities for people interested in swimming. The highly qualified instructors pay attention to all the students equally so they can learn various swimming techniques and styles. The swimming pool is only allowed to the members throughout the week for a membership fee. The membership fee includes the one-time entry fee, instructor's fees, and the monthly fee for the pool. The pool is also open for local visitors who are not members but can still enjoy the swimming facilities on Sundays. They are charged per hour for their stay in the swimming pool.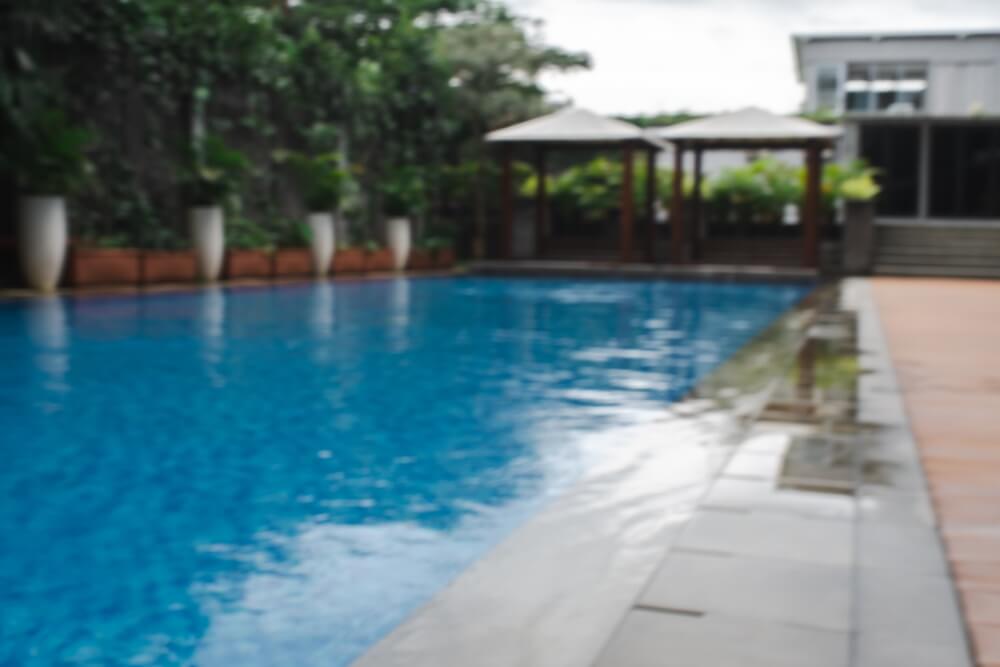 Timings: 10:00 AM to 10:00 PM
Contact Number: +92-21-36366386
Address: Ayesha Manzil Pedestrian Crossing, Federal B Area Block 6 Gulberg Town, Karachi, Karachi City, Sindh
Avari Tower Karachi Swimming Pool
Avari Towers in Karachi has a beautiful swimming pool catering to the needs of the locals of Karachi and the visitors with their exceptional facilities. They have a beautiful 3M deep pool paired with a jacuzzi, a spa, and many other attractions. The Avari swimming pool is undoubtedly one of the best swimming areas in the city because apart from the pool for swimming, there is an adjacent exercise room and a separate pool for children. The main pool can accommodate up to 25 people at a time.
When you visit the Avari Tower swimming pool, you will love the open-air ambiance of the pool area, which is furnished with beautiful aesthetic long chairs and shades to let the visitors enjoy the most out of their experience here. This beautiful spot at the Avari Towers near the water is a perfect way to end your weekend relaxing or working out. You can also bring your friends and family here and enjoy with them many pool activities.
Timings 6:00 AM. to 10 PM.
Contact number: 021-111 2827 47
Address: Avari Towers main building, Fatima Jinnah Road, Karachi Cantt.
Marriot Hotel Karachi
Now talking about Marriott Hotels, do we need to discuss the class and luxurious experience that any visitor can get here? Marriott Hotel in Karachi offers a superb spot for recreation in the form of a swimming pool.
They offer indoor and outdoor pools for visitors to choose from according to their preferences. The indoor pool is well-maintained and built according to modern aesthetics. On the other hand, the outdoor pool has its charm and uniqueness because of the beautiful views of the open sky and the surrounding scenery. Separate hot tubs, saunas, and steam rooms are available for males and females. The Marriott Hotel ensures the environment and water conditions are safe enough to dive in without worrying. After a refreshing bath in the swimming pool, you can also avail the refreshments offered at the poolside bar, which includes fresh juices and fast food options.
Timings: 6:00 AM. to 10 PM
Address: 9 Abdullah Haroon Rd, Civil Lines Karachi, Karachi City, Sindh 75530
Contact Number: (021) 35680111
DA Sunset Club
There are a few exclusive sports clubs in Karachi, and DA Sunset Club is one of them. Established in 1989, Sunset Club is a modern club facilitating its members' various indoor and outdoor facilities. There are two pools for men and women with respective coaches and lifeguards on duty. The outdoor pool for gents measures 25 meters in length. The lady's swimming pool is completely covered to ensure privacy. The water is kept clean through an advanced filtration system and a heating system that allows swimmers to enjoy themselves without the restraints of seasons.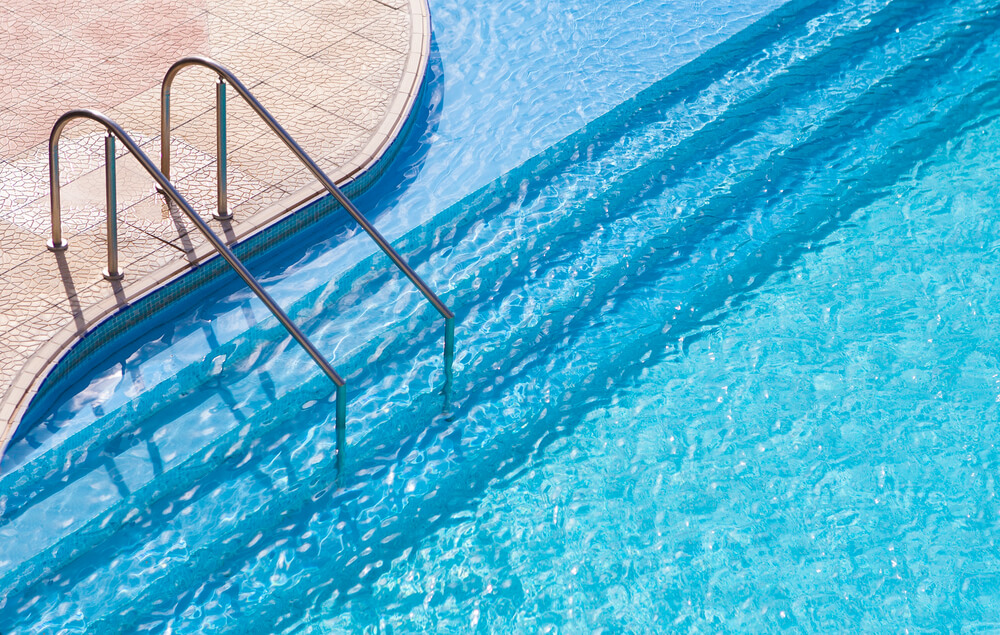 Location: 7th Sunset Street, Phase 2 Extension, Defence Housing Authority, Karachi.
Timings: 9 AM to 10 PM
DHA Beach View Club
Equipped with luxurious and modern facilities, Beach View Club offers swimming and other activities for its members. They have an indoor swimming pool 23 meters long with a water heating system. Special coaching facilities are also available. Management ensures the water is clean through chemical treatments and a filtration system.
Location: Sea View Road, D.H.A Phase 6 Darakhshan Villas, Karachi
Timings: 10 AM to 1 PM, 2:30 PM to 5 PM. (Closed on Fridays)
Mövenpick Hotels & Resorts
Karachi is blessed to have Movenpick Hotel, a perfect place to stay, dine, or for recreation. An international standard swimming pool with a temperature-controlled system provides guests and locals with a luxurious experience. To avoid mishaps, changing rooms, filtered water, and lifeguards on duty are appropriately maintained.
Location: Club Road, Karachi
Timings: 6 PM to 11 PM
City Sports Complex
City Sports Complex, known as KMC Complex, is a famous public swimming pool in Karachi. Wednesdays and Saturdays are reserved for ladies, so if you are looking for swimming classes in Karachi for ladies, City Sports Complex is the place for you. The membership is highly reasonable and open to the public.
Location: Kashmir Road, Muslimabad, Karachi.
Timings: 6 AM to 9 AM, 5 PM to 9 PM
Beach Luxury Hotel
Beach Luxury is a 4-star hotel in Karachi. The hotel is well-equipped with facilities for its guest. Their swimming pool is clean, and the water is regularly filtered. Special training is given to beginners by expert trainers. You can see the creek area and the Karachi port while swimming, providing a unique experience.
Location: Lalazar, Karachi
Timings: 6 AM to 10 PM
Shehzad Swimming Pool
Shahzad swimming pool is a covered swimming pool where classes for beginners are conducted regularly. The lessons are affordable price for swimming pools in Karachi. The water is chemically treated and filtered, making it an ideal place to learn how to swim.
Location: F.B. Area Block 4 Gulberg Town, Karachi
Timings: 9 AM to 9 PM
Karsaz Swimming Pool
The Pakistan Navy manages the Karsaz swimming pool. It is open to the public only for an hour from 7–8 PM. It is one of the few 50m pools in town. The professionals and naval practices are carried out here. The immaculate cleanliness of the pool and its vast size make it an exceptional collection for Karachiites. Membership of the pool is available at a reasonable price.
Location: PNS Karsaz, Karachi.
FAQs
What are the effects of a swimming pool?
A swimming pool offers many impacts to the users. Visiting a swimming pool or owning one can be very helpful in maintaining your health. Swimming is a perfect activity for the overall health of our body. It is believed to be very helpful in managing stress, anxiety, depression, and fatigue. It can also help build insurance, cardiovascular fitness, muscular strength, and a healthy weight.
A swimming pool also gives you healthy entertainment that does not burden your bank account. It helps to raise strong swimmers.
Which type of pool is best?
Gunite pools are one of the most popular types of pools. The reason is that it is highly durable and can be built in any shape. They have a rebar framework spread with sand and concrete mixture.
What type of water is used in a swimming pool?
Three major types of water systems are used in a swimming pool: mineral saltwater and chlorine water. The majority of swimming pools use chlorinated water because it is the only option that is the cheapest one. The other two options are not widely used.
Are swimming pools suitable for your health?
Swimming pools offer a great opportunity for people of all ages to enjoy swimming. Swimming is one of the healthiest sports activities that has many benefits. Swimming can be beneficial in improving mood by decreasing depression and anxiety. It is also great for our muscles and bones' overall health, fitness, and endurance.
Final Remarks
There are many swimming pools in Karachi available at different rates. Some can be used all year round, while some get closed during winter. You can choose the one that suits you in terms of location and budget and take maximum benefit from it.