Neelam River
Neelam River, or Kishanganga river, is situated in the region of Kashmir in India and Pakistan. The origin point of the Neelam river is in the north of Indian Jammu and Kashmir, which moves through the district of Neelam, Pakistan Azad Kashmir, and then joins with the Jhelum river near Muzaffarabad city. This river is known as the Kishanganga River in India, and after the Partition of India in 1947, it was given the name Neelam in Pakistan in 1956. It is one of the most popular rivers in Pakistan.
The Neelam River in Muzafarrabad
The Neelam River is in the Neelam valley, Azad Kashmir, Pakistan. In Pakistan, the Neelam river covers a total distance of 250 km from Muzaffarabad to Athmuqam. The Neelam river flows from Indian-Occupied Kashmir and reaches Pakistan, where the Himalayas' glaciers nourish this Neelam river.
Background and Location
The word "Neelam" means "Blue." This river is called Neelam because of its sky-colored blue water or a Ruby stone named "Neelam" found in this region. Neelam river flows in Neelam valley in Azad Kashmir, Pakistan. It is situated in the Kashmir region of India, Pakistan. It begins in the Indian-governed city of Gurais and then joins with the river of Jhelum in Pakistani territory near Muzaffarabad city.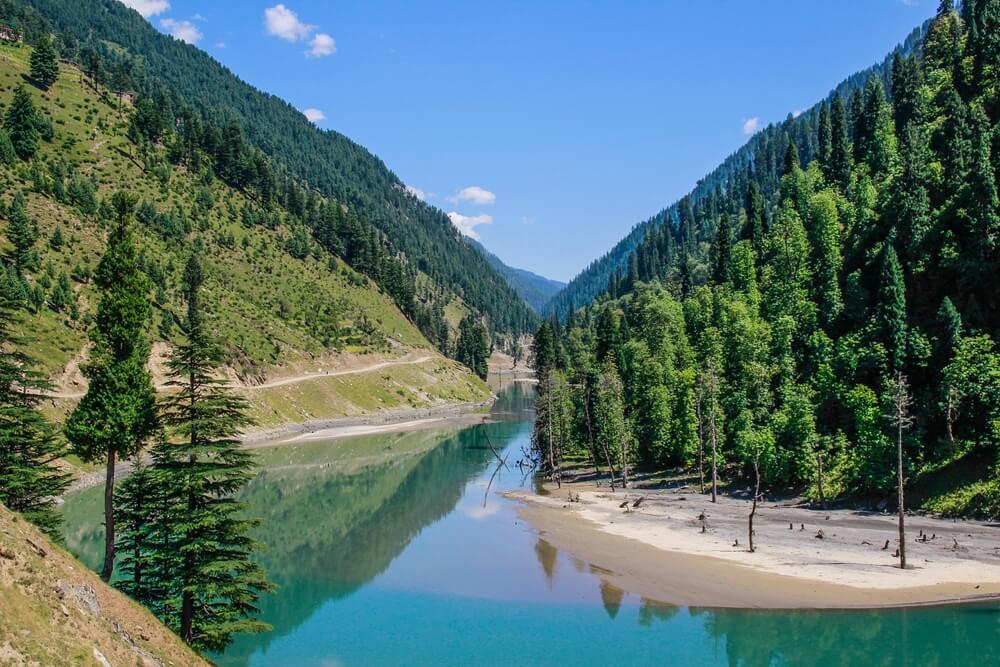 Origin of Neelam River
The Kishanganga originates from Krishanagar Lake in the Indian-administered region of Jammu and Kashmir. It moves north to Badoab village in Tulail Valley, which joins a streamlet from the Dras Side. It moves westward, parallel to the Kashmir Line of control. Many glacial streams and tributaries nourish this river on its way. Ultimately, this river reaches the Pakistan-administered Azad Kashmir region in the Gurez Line of the control sector. Again, it moves west, parallels the Line of Control by Sharada. After this, again Neelam river angles southwesterly direction and moves along the Line of control Tithwal, bending again towards the northwest makes a wide arc to combine the Jhelum river in Muzaffarabad.
Why is the Neelam River famous?
Neelam river is located in the Neelam valley, called the Paradise of Azad Kashmir would not be wrong. This river is famous for its beautiful, scenic, and wide-ranging enchanting views with sky-high hills on both sides of the Neelam river. This river is also renowned for fishing; tourists can find plenty of Trout fish in the Neelam River.
When would you like to visit Neelam Valley?
The best time for the Neelam valley tour is from April to September. Due to heavy snowfall in winter, connecting roads are jammed and may cause inconvenience to tourists.
What would you like to pack for visiting Neelam Valley?
As this Neelam valley is far from urban areas, tourists must take all their essentials with them as there is no surety of the availability. The tourist must carry warm clothes like a sweater and cardigan; it would be helpful if the weather worsens. Sunglasses for the bright sunny day and glittery sun, and the most crucial thing is medicine tourists must carry all necessary medicine with them to such natural places as the availability of treatment is rare. Moreover, sleeping bags, durable shoes for trekking, walking sticks, emergency lights, and Pocket knives are required for visiting such natural places.
Lakes on Neelum River
Allah has blessed Neelam valley with lots of Natural beauty. Below is a detail of the lakes of the Neelam River.
Chitta Katha Lake
This Lake is located in the Shounter valley in Sharda, Neelam valley, Azad Kashmir, at 13,500 feet on the bottom of Mount Hari Parbat. Chitta Katha lake is the most charming and attractive natural Lake of Neelam valley, encircled by the beautiful wild snowcapped mountains.
Ratti Galli Lake
Ratti Galli Lake is high altitude glacial lake in Neelam valley, Azad Kashmir, Pakistan. This Lake has an altitude of 3,683 meters (12,083ft ). The Glaciers of the surrounding mountains nourish Ratti Gali Lake.
Saral Lake
Saral Lake exists on the frontier of Neelam and Kaghan valley in Pakistan. It has an elevation of 13,600 feet (4,100m). This Lake expresses the real meaning of nature as it is stunning with scenic views. The saral lake is a hidden gem of the Neelam valley.
Hansraj Lake
This Hansraj lake is less famous than Ratti Gali or other Neelam valley lakes. It is between Ratti Galli lake and Kalasar I & II in the Neelam valley, Azad Jammu, and Kashmir, Pakistan. This Lake has an elevation of 3700 meters. Due to less popularity, the sporadic tourist approach maintains the Lake's beauty. The crystal clear water of the Lake and nature around with long grass and colorful flowers depict the art of nature. The Peak time to visit this Hansraj lake is July to August as the weather is clear and stable.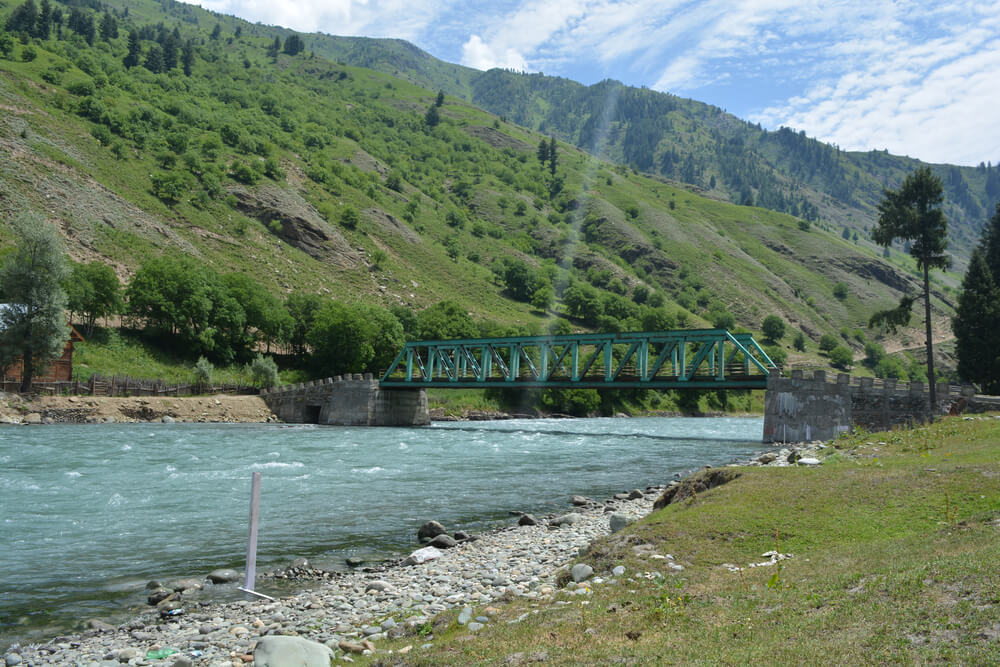 Shounter Spoon Valley
Shounter Spoon is a beautiful lake in the Shounter Valley, the Sub valley of Neelam valley, Azad Kashmir, Pakistan. The altitude of this Lake is 3,100 meters ( 10,200 ft). Glaciers of surrounding mountains nourish this Lake. Shounter Spoon lake is surrounded by snow-covered peaks and lush greenery that enhance the beauty of this Lake. Tourists can access this Lake from Khel town of Neelam valley by jeepable track. Shounter Spoon lake is small but beautiful with its unique shape in the mid of substantial snowy mountains.
Gattian Lake
Gattian Lake is situated near Kaghan valley in Neelam valley, Azad Kashmir. This Lake has an elevation of 12000 feet from sea level. Glaciers of surrounding mountains are the source of nourishment for this lake water. The distance between Gattian Lake and Ratti Galli Lake is 2 km on its backside mountain.
Kalasar Lake
This Lake is at an elevation of 3900 meters in Neelam valley, Azad Kashmir, Pakistan. Though this Lake is less famous than Ratti Gali, the beauty and scenic view are breathtaking. Due to the fewer approach of tourists, its long green grass field full of blossoms, colorful flowers, and encircling mountains enhances the charm of the Lake. From Ratti Gali, the distance to Kalasar lake is of 3 hours.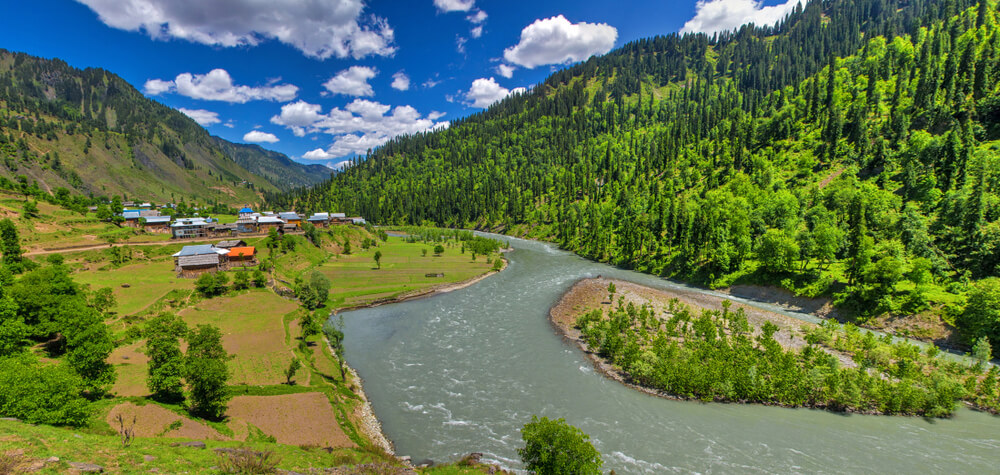 Noori Top Lake
Noori Top Lake exists at an altitude of around 4000 meters. The length of this Lake is approx. 600m, and the width is 400m. This Lake exists in Neelam valley but is rarely visited by tourists due to the unavailability of track and information.
Canals on Neelam River
India and Pakistan build many canals. Below is the detail of the few channels.
Upper Jhelum Canals
An irrigation canal in Pakistan supplies 1.8 acres of water to farmland. The Upper Jhelum canal begins at the Jhelum river at Mangla dam. It passes through Mandi Bahauddin and Gujrat in Punjab, Pakistan, and ends at the Chenab river at Khanki Barrage. British Irrigation Engineer Sir John Benton designed this canal. Construction of this canal began in 1913 and was accomplished in 1916 when the channel was fully functioning.
Chashma Jhelum Canal
Chashma Jhelum canal is an irrigation canal located in Pakistan, and the estimated altitude is 193 meters from sea level.
Qadirabad Canal
Rasul Qadirabad is the link canal between River Jhelum and Chenab.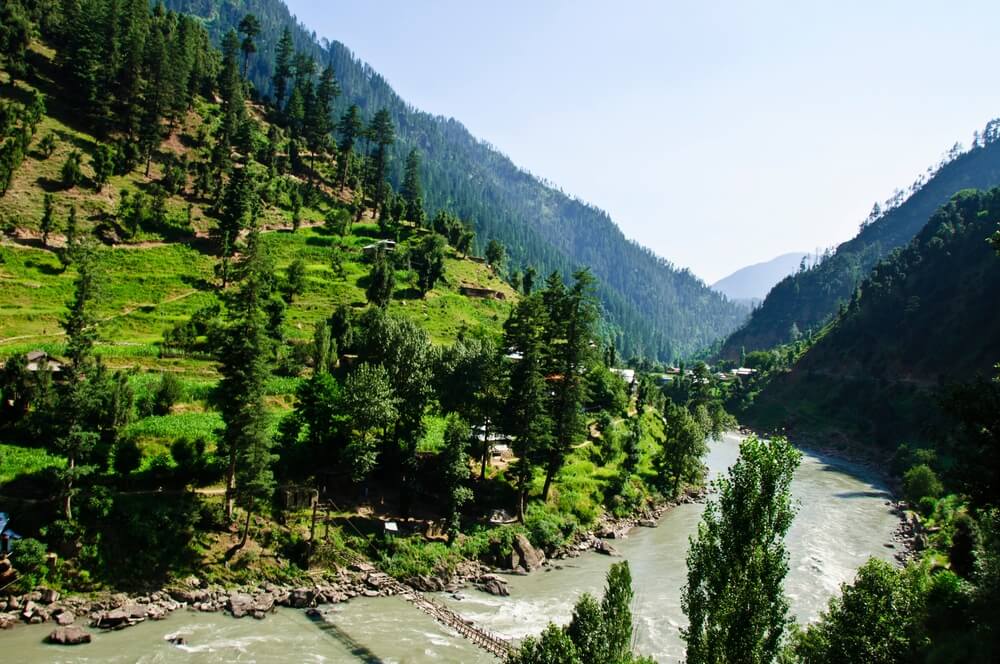 Tributaries of the Neelam River
Glaciers of mountains are the primary source of nourishment for the river. Melted glaciers form streams that serve as tributaries and flow through the Line of Control between Pakistan and India. When these streams entered Pakistan, the Glaciers of the Azad Kashmir mountains nourished them and provided flow to the Neelam river as tributaries. Tributaries from Taobat to Keran right bank tributaries of Neelam rivers are Gagai, Janwahi,shounter, Dowarian, and Jagran Nullahs. The left bank tributaries include Naushahra, Mastil, Lashdat, Dudhnial, and Keran nullahs.
Villages around the Neelam River
Below are the details of villages in Neelam valley around the Neelam river.
Neelam Village
Neelam is the name of a village in Neelam valley, Azad Kashmir, Pakistan. It exists 93 km from Muzaffarabad and 9 km from Athmuqam on the Neelam river bank at an elevation of 1,524 meters.
Kundal Shahi
Kundal Shahi is a village in Neelam valley and a tourist resort in northern Azad Kashmir, Pakistan. It is a dispersed, accommodated region situated on both sides of the Jagran Nallah River at its convergence with the Neelam river.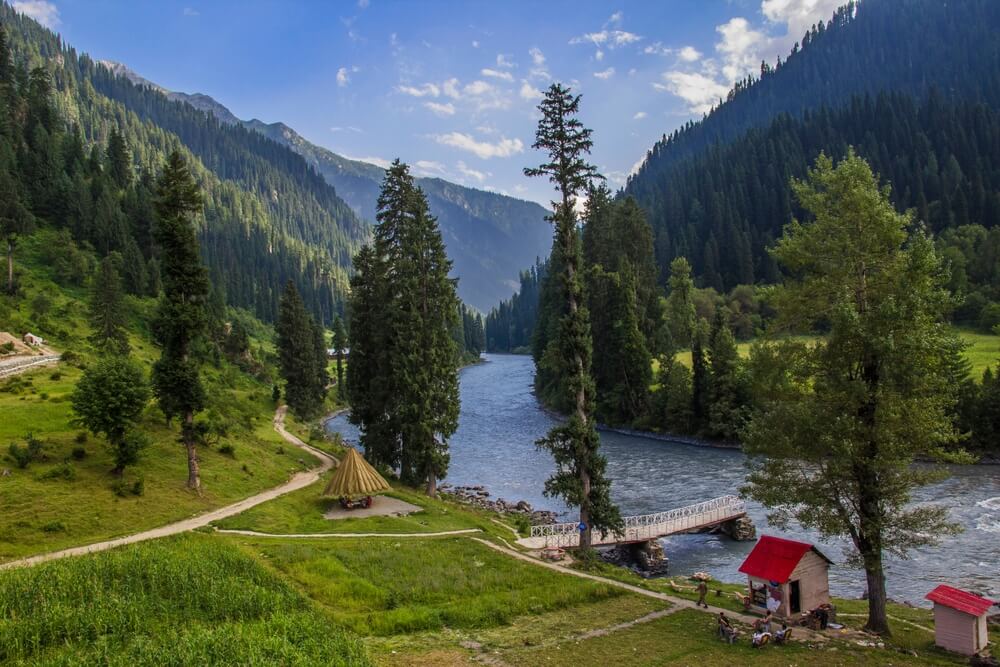 Kutton
Kutton is a village and a resort for tourists in Neelam valley, Azad Kashmir, governed by Pakistan. It is situated approx. 98 km from Muzaffarabad .Tourists can reach Kutton by Neelam road from Muzaffarabad branches off to Kundal Shahi.
Athmuqam
Athmuqam is the headquarter of the Neelam district. It is 73 km from Muzaffarabad, Azad Kashmir. In 2017 Population of Athmuqam was 7,922. All the necessities of life exist in this division. There is a post office, market, bank, hospital, and accommodation facility for tourists or visitors. The school, college, and university facility is available in this district along with all higher official authorities like the offices of the commissioner and assistant commissioner, Nadra, etc.
Sharda Tehsil
Sharda Tehsil is a small Tehsil of Neelam District in Azad Kashmir administered by Pakistan. Sharda is also known as Shardi. This small tehsil is situated on the bank of the Neelam river with an elevation of 1981 meters (6,499 ft).
Keran
Keran is a village and tourist resort in Neelam valley, Azad Kashmir, Pakistan. The distance between this village from Muzaffarabad is 93 kilometers. It exists on the Neelam river bank and has an elevation of 1,524 meters( 5,000ft). The distance between Neelam village and Keran village is 2.5 kilometers and is accessible by tourists by the Neelam road.
Kel
It is also a village in Neelam valley, Azad Kashmir, Pakistan. Some facilities like transport, a school, college, hospital and market, and private hotel and rest house owned by AJK Tourism and Archaeology department are available in this village.
Taobat
This village is located in Sharda Tehsil in Neelam Valley, Azad Kashmir, administered by Pakistan. The distance of Taobat from Muzaffararabd is 200 km and 39 km from Kel. It is the last terminal in Neelam valley and the closest point where Neelam river enters Pakistan and becomes Neelam river. There was a population of only 720 in 1998. From Kel, an unpaved road leads to Taobat. There is a facility for small hotels and motels for tourists.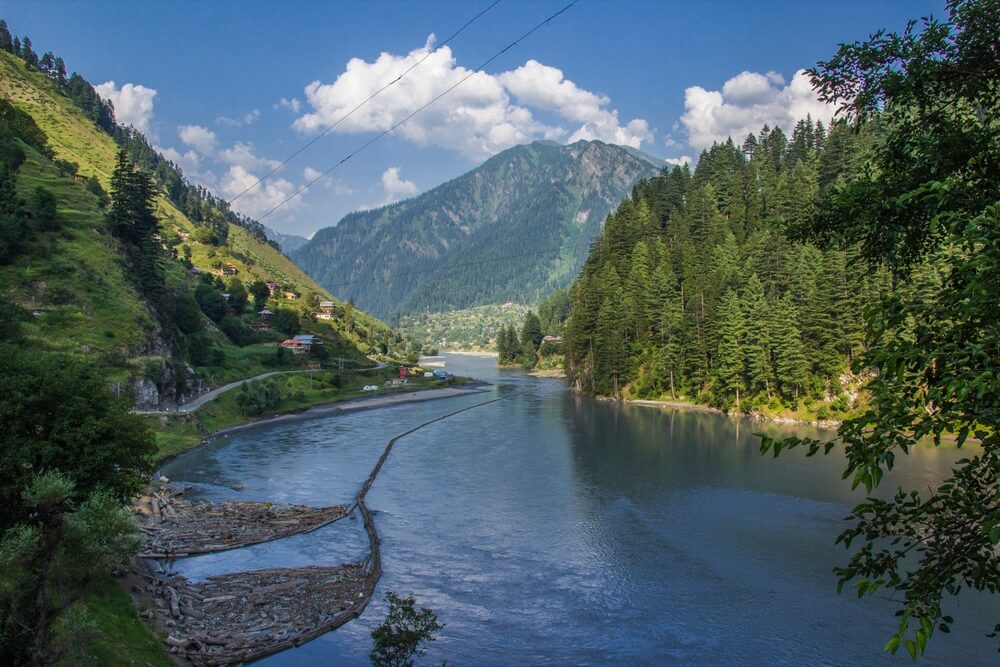 Arang Kel
Another village and tourist spot in Neelam valley of Azad Kashmir is Arang Kel. It is situated on the top of the hill with an elevation of 8,379 feet (2,554 m)
Dosut
Dosut is a village in the Neelam valley of Azad Kashmir, Pakistan. The distance of this village from Muzaffarabad is 142 km, and from Sharda is 6 km. Kashmiri and Hindko are the two languages usually spoken in this village, whereas Urdu is considered a secondary language. The residents of Dosut are amiable and amicable. Some people have government jobs, some have businesses, and others are engaged in agriculture.
Fascinating Places to visit in Neelam valley.
Neelam valley is one of the most charming greenish valleys in Azad Kashmir, Pakistan, and the best place for tourists. The length of Neelam valley is 144 km, along with the Neelam river. The Capital of Azad Kashmir is Muzaffarabad, and Neelam valley is the vast district of Azad Kashmir. The fascinating places of Neelam valley are detailed below.
Dhani Waterfall
The first tourist point of the Neelam valley is Dhani Waterfall. The biggest waterfall of Neelam valley remains dry in the winter but is enjoyable and a great source of amusement for tourists in the summer.
Chilhana LOC
Chilhana LOC is the point where tourists can see the border between Azad Kashmir and Indian-Occupied Kashmir the border. People on both sides shout their messages to their loved ones or families across the boundary ( LINE OF CONTROL).
Kutton Waterfall
The most enchanting and attractive waterfall of Neelam valley is the Kutton waterfall. Its real name is Kundal Shahi, which is situated in Kundal Shahi village, but Kutton is where the water originates; that's why it is called Kutton waterfall.
Athmuqam
The Athmuqam is the most hustle-bustle place in the Neelam valley, where all life's activities, occupations, and necessities exist.
Keran
Keran is a small but beautiful and attractive village in Neelam valley with all the basic life needs and facilities for tourists.
Upper Neelam
Upper Neelam is the name of a village in Neelam valley. It is also called Upper Keran as it is situated near Keran. Upper Neelam is a beautiful place where tourists can enjoy the scenic beauty of the Neelam river, Keran village, and Indian-Occupied Kashmir.
Baboon Top
Baboon top is one of Neelam valley's most beautiful and pleasing places. It is a grassland or meadow on 8 hour drive by 4×4 jeeps from Upper Neelam.
Ratti Galli Lake
The breathtaking beauty of this Lake attracts tourists towards itself. It is situated near Keran and Dawarian villages in Neelam valley.
Importance of Neelam River for Kashmir
The Neelam river in Neelam Valley has great significance as it marks the initial point of the Line of control with Indian-occupied Kashmir in Neelam. The breathtaking beauty and enchanting scenic views of nature are sources of attraction for tourists worldwide.
Neelam Jhelum Hydropower Project
Neelam Jhelum Hydropower Project was part of a run-off river hydroelectric power project in Azad Kashmir, Pakistan. This plant was designed to shift water from the Neelam river to a power station on the Jhelum river. To the south of Muzaffarabad, the powerhouse was situated at a distance of 42 km and had an installed capacity of 969 MW. The project construction began in 2008 and ended in August 2018 after obtaining a maximum producing power of 969 MW.
FAQS
How far is Neelam Valley from Islamabad?
The Neelam valley has a distance of 234.6 km via E-75 and takes 06 hours and 50 minutes.
How many rivers are in Muzaffarabad?
Muzaffarabad's three major rivers flow through Kashmir, Neelam, Jhelum, and Kunhar. The Neelam river amalgamates itself into the Jhelum river at Domail.
Where does river Neelam end?
Neelam river begins north of Indian Jammu and Kashmir, moves through the Neelam district of Pakistan's Azad Kashmir, and then merges or ends in the Jhelum river near Muzaffarabad city.
How deep is River Neelam?
River Neelam is 245 km long, and its elevation is 750 m ( 2,460 ft ).
Conclusion
Neelam river, located in Neelam valley, is the most beautiful place in Azad Kashmir and is entitled " Paradise on Earth." Marvelous natural beauty and incredibly scenic views are the primary sources of attraction for tourists. The most significant thing is that this Neelam river is the mark point where the Line of Control between Azad Kashmir and Indian-occupied Kashmir is held.