Punjabi Culture – One of The Vibrant Cultures
Punjab, the largest province by population in Pakistan, is an embodiment of life in the country; its culture, traditions, and customs are integral to Pakistan's identity. The province is home to a diverse range of people, with Punjabi making up most of the population.
Punjab has a rich cultural heritage that dates back centuries. The province is known for its vibrant colors, lively music, and delicious food. Punjabi culture is also characterized by its strong family values and close-knit community.
The name of Punjab has been derived from two Persian terms, i.e., "Panj" and "Aab," meaning "the land of five rivers." The five rivers of Punjab are Jhelum, Chenab, Ravi, Beas, and Sutlej. The province is located in the central-eastern region of Pakistan and covers an area of 205,344 square kilometers.
Punjab is home to two of Pakistan's major languages, Punjabi and Urdu. Punjabi is the native language of the province, while Urdu is the national language of Pakistan. Both languages are widely spoken in Punjab.
Punjab is lively, with various traditions that have taken place for centuries. If this is your first time going to Punjab, you should try this place once in your life because here you'll experience the most vibrant culture in the world.
Punjabi culture is no less than a festival itself, and every day feels like an occasion; Punjabis are the happiest people you'll ever meet. They are warm-hearted, fun-loving, and always ready to celebrate. As a result, there is an air of festivity in everything they do, be it their food, music, dance, or clothes.
This article will give you a detailed insight into what Punjabi culture looks like. So let's get the Punjabi feels for today!
Origin of Punjabi Culture
You'll be curious about this culture's origin once you interact with it. Punjabi culture is quite interesting as you unwind and read more about it.
Punjabi culture is one of the oldest cultures in the history of the world. It is an offshoot of the Indus Valley Civilization, one of the most developed civilizations of its time. Punjabi culture grew out of the settlements along the five rivers, the most significant route to the Near East.
Punjabi culture underwent significant phases of evolution and change that differentiated into different categories. For example, ancient Punjab had rich baked-brick urban architecture, and those people were quite fascinated with many artifacts.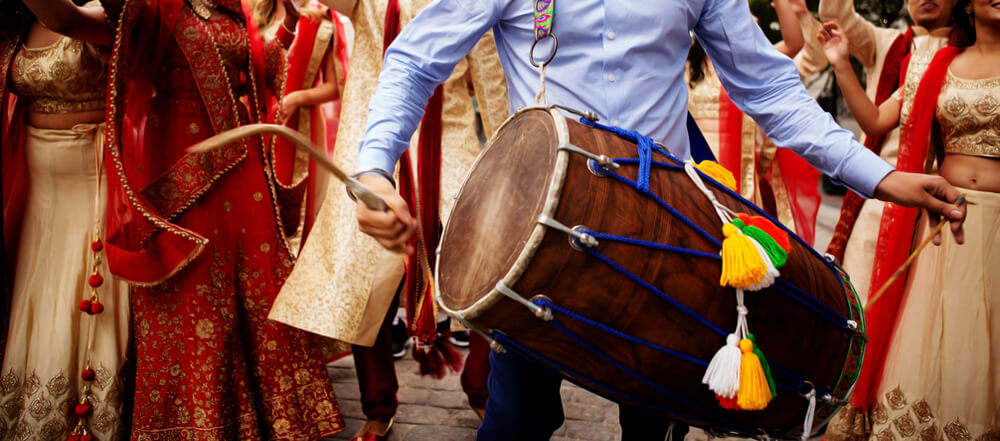 Punjab went through a lot of turmoil with the arrival of different invaders, but the true essence of Punjabi culture survived through all these years. The major religions practiced in ancient Punjab were Sikhism, Hinduism, Islam, and Christianity.
Punjab has been a melting pot of various cultures over the centuries, and this is reflected in its cuisine, music, dance, art & crafts, and literature.
Today's Punjabi culture is a unique blend of Hindu, Muslim, and Sikh influences. It can be seen in the various Punjabi festivals, celebrated with great enthusiasm by people of all religions.
Many cities of Punjab have different importance for the Sikh community from India. Since, Nankana Sahib, a district of Punjab, was the birthplace of the founder of the Sikh community. Sikhs around the world visit Punjab to pay homage to their religious sites.
Languages of Punjab
Let's look back at the history of the Punjabi language. First, we'll learn that it's also spelled as Panjabi and was an Indo-Aryan language that is now natively spoken in India and Pakistan in the Punjab regions.
Almost 113 million people are native speakers of the Punjabi language, the 14th most spoken language in the world.
Punjabi is the local language and the primary language spoken in Punjab. Even the areas beyond Punjab have speakers of this language, and it's understood all over the country.
According to the statistics, almost 44% of Pakistanis speak Punjabi as their first language. However, since Urdu is the national language of the country, so Punjab and its natives also speak and understand Urdu.
There are also several Punjabi dialects, including Majhi, Pahari, Hindko, Pothowari, Shahpuri, Jhangvi, and Saraiki.
Saraiki is spoken in southern Punjab, while Hindko is spoken in the northwest. Pothowari is spoken in northern Punjab, and Majhi is spoken in central Punjab around Lahore. Jhangvi is expressed in the Jhang district, and Pahari is spoken in the Hazara region of northwestern Pakistan.
Punjabi Food
Punjabi food is the most finger-licking food you'll ever try. Punjabi cuisine has both vegetarian and non-vegetarian dishes, so there's something for everyone to enjoy. 
Punjabi cuisine is known for its rich, creamy, and buttery flavors. Therefore, ghee (clarified butter) and butter are very common in Punjabi dishes.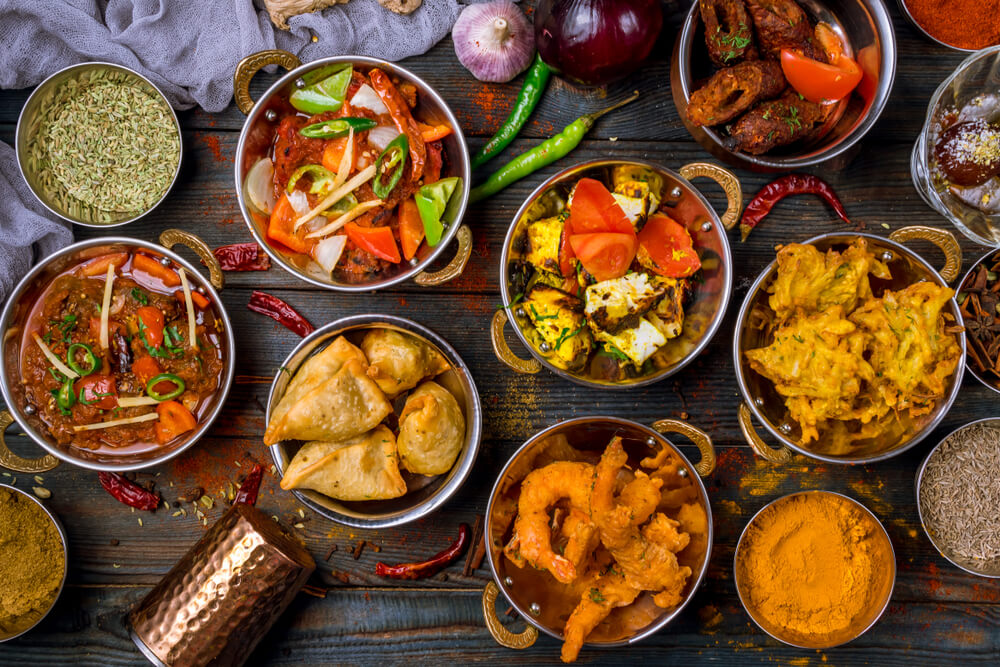 Punjabi food is typically spicy and can be very heavy on the stomach. But it's so delicious that you'll keep going back for more!
Popular dishes include:
Karahi (a chicken or lamb curry cooked in a wok-like dish).
Saag (a spinach dish).
Naan (a type of flatbread).
Punjabi food is often served with lassi, a yogurt-based drink, or chai, a type of spiced tea.
Punjabis are fond of sweetmeats; almost all the dishes are eaten with rice or roti (a flatbread). In villages, Mah di daal, Paratha, Saron Da Saag, and Makai Ki Roti are more popular, while on the city sides, Biryani, Haleem, and spicy delicacies are more famous. Dhaba daal, Tandoori chicken, and Masala channa are other delicious meals.
Tea is an essential component in Punjabi cuisine, and almost every Punjabi you'll meet is a tea lover; they can have tea on literally every occasion!
Punjabis are also very hospitable; their doors are always open to anyone, be it a family member, friend, or even a stranger.
A typical Punjabi meal is not complete without pickle (achar) and chutney. In Indian Punjab, the most popular Punjabi dishes include Makki di roti and Sarson da saag, butter chicken, dal makhani, kadhi Chawal, and Amritsari naan.
Punjabi Dresses
The vibrant taste of Punjabis can be seen in how they dress up. Punjabi dresses are pretty colorful, dynamic, and funky.
Both men and women love to wear colorful clothes; Punjab is quite well-known for using embroidery in their dresses.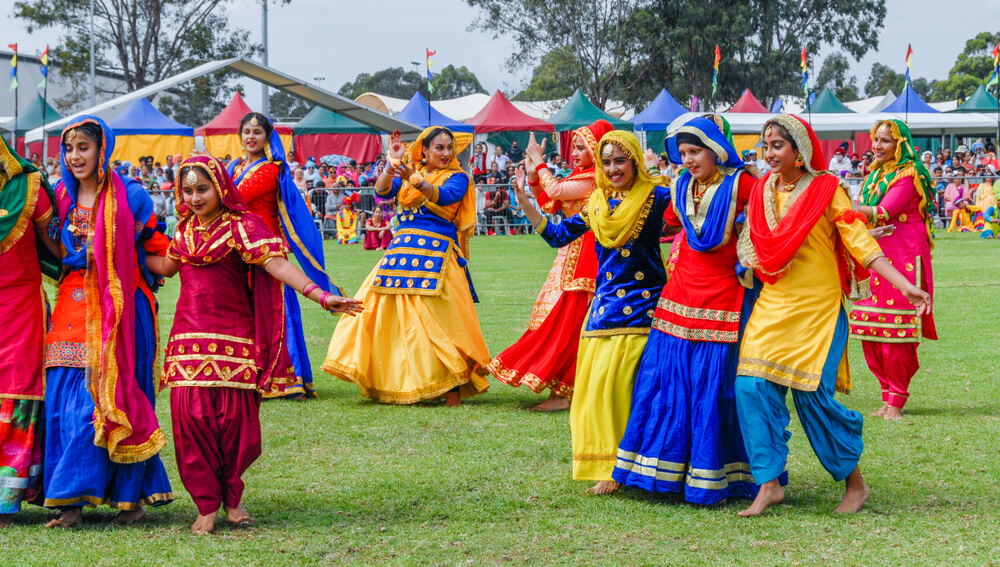 In Lahore and adjacent cities, men usually wear Kurta with pajamas or jeans, while women wear salwar kameez. But, according to the occasion, like weddings and festivals, men can be seen wearing a sherwani which is quite similar to a kurta but has intricate embroidery work.
Some other Punjabi dresses are:
Punjabi Kurta
It is a traditional wear for men, consisting of a loose shirt falling between the waist and the knee. However, women and men wear Kurta in different designs and colors. Kurta is usually worn with a Shalwar, Dhoti, lungi, Suthan, Tehmat, Punjabi ghagra, or jeans.
Punjabi Sherwani
It is a long coat/tunic extending to the mid-calf or ankle and has intricate embroidery work. It is worn on special occasions like weddings and festivals.
Chuni or Dupatta
It is a long scarf draped around the neck, head, and shoulders. It is usually made of light fabric like chiffon, silk, or cotton and has beautiful embroidery. Dupattas or Chuni can be in different colors, and you'll see various designs in Chuni.
Multani Shalwar Suit
That particular type of shalwar suit originates in the city of Multan, and the shalwar is quite similar to Sindhi Kancha Shalwar. It's also called "Ghairy wali" or "Saraiki Ghairy wali Shalwar" and is widespread across the waste.
The shirt is usually long and loose-fitting and has beautiful embroidery or printed patterns.
Festivals of Punjab
Punjabis celebrate lots of occasions and festivals with full enthusiasm and zeal. But, of course, Punjabis and other people celebrate some of these festivals all over the country. But the level of enthusiasm is similar.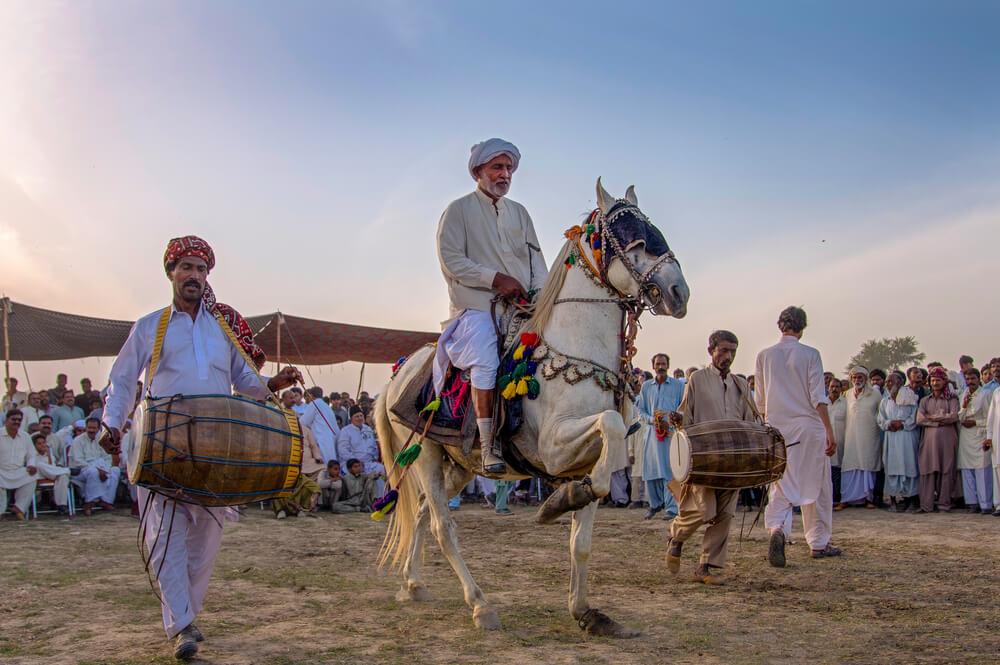 Let's learn about some of the important Punjabi festivals.
Eid Milad un Nabi
Eid Milad un Nabi is celebrated to commemorate the birth of Prophet Muhammad (PBUH). It is one of the most significant festivals for Muslims worldwide.
The festival is celebrated with great pomp and show in Punjab. People light oil lamps and candles inside their homes and decorate them with flowers. Mosques are also decorated with lights and flowers.
Punjabi Basant
Basant is a springtime kite-flying festival in Northern India and the Punjab province of Pakistan. It's celebrated to mark the beginning of the spring season.
People of all ages participate in this festival. They fly kites of different shapes and sizes. As a result, the sky is filled with colorful kites of all shapes and sizes.
Melas and Nomaish (Exhibitions)
Punjab is a land of fairs and festivals. In addition, there are Melas (exhibitions) and Nomaish held throughout the year. These exhibitions are held to showcase the exclusive Punjabi culture in different ways. There are dances, music, arts and crafts, food stalls, and much more; if you're in Punjab and you get a chance to visit a Mela, don't let it go!
Devotional Fairs (Urs)
Although devotional fairs are held throughout the country, Punjab is primarily known for them. In addition, Urs is held to commemorate the death anniversary of a famous saint.
It generally lasts 3-6 days, and people from all over the country attend this fair. There are stalls of different things, rides, games, qawwali, langars, and whatnot!
These are some of the prominent festivals celebrated in Punjab. Especially the provincial capital Lahore is famous for its entertaining events and activities.
Punjabi Culture Day
Punjab culture day, also called Punjabi New Year, is celebrated on 14th March every year to showcase the vibrant culture of Punjab.
On this day, people from all areas of life come together to enjoy Punjab's traditional food, music, and dance. That is an excellent opportunity to learn about Punjabi culture's different aspects and meet new people.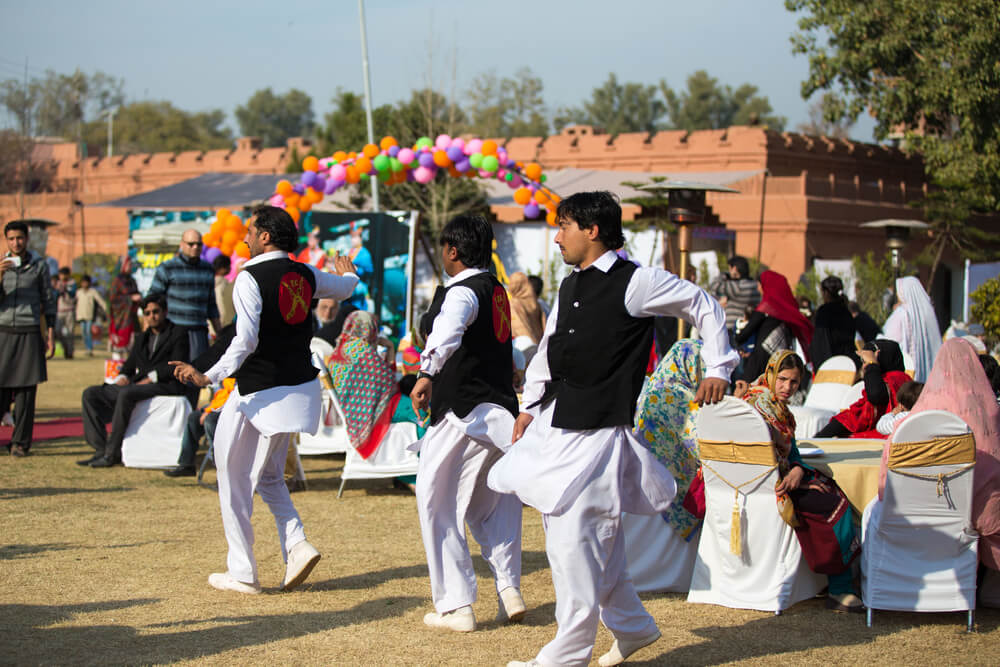 Punjabis participate in all the activities and events; they wear their traditional clothes on this day. So you'll see most Punjabis in Shalwar Kameez, Dhoti, and Turbans, and women in bright-colored dresses with beautiful dupattas.
Punjab culture day is celebrated in all big organizations and schools where kids participate and get a chance to get closer to their culture. In addition, people decorate their homes, and women prepare delicious meals.
Punjabi Literature
Punjabi literature is vast and exciting, and Sufis have played an essential role in making it even more enchanting. So if we talk about Punjabi poetry, you'll fall in love with it when you hear a masterpiece from it.
Every single piece from Punjabi poetry has a deep meaning with beautiful use of words and hopeful concepts of a beautiful life. There's a lot of diversity in Punjabi literature as there are many different types of literature, such as poems, short stories, novels, etc.
Punjabi literature reflects the rich culture and heritage of the Punjab region. Some famous poets of Punjabi who have added a lot to its literature are Baba Farid, Bulleh Shah, Mian Mohammad Bakhsh, Shah Hussain, and Anwar Masood.
Waris Shah, also known as Shakespear of the Punjabi language, was a phenomenal poet who wrote Heer Ranjha. This love story is viral and has been made into movies multiple times.
Punjabi literature is rich and influenced by many factors, such as political situations, historical events, and social conditions. It is a literature that speaks of the Punjab region and its people.
Famous Punjabi Folklore
Punjabi folklore is another aspect of Punjabi culture that will leave you mesmerized. Many famous folktales have been passed down from generation to generation. These folktales reflect the Punjabi people and their way of life.
Some famous Punjabi literature pieces are Heer Ranjha, Sohni Mahiwal, Mirza Sahiba, and Sassi Punnu.
One of the most famous Punjabi folktales is the story of Heer Ranjha. It is a love story that is very popular and has been made into movies multiple times. The story is about Heer, a young woman, and Ranjha, a young man. They fall in love but are forced to part ways due to misunderstandings. However, their love for each other continues to grow even though they are apart.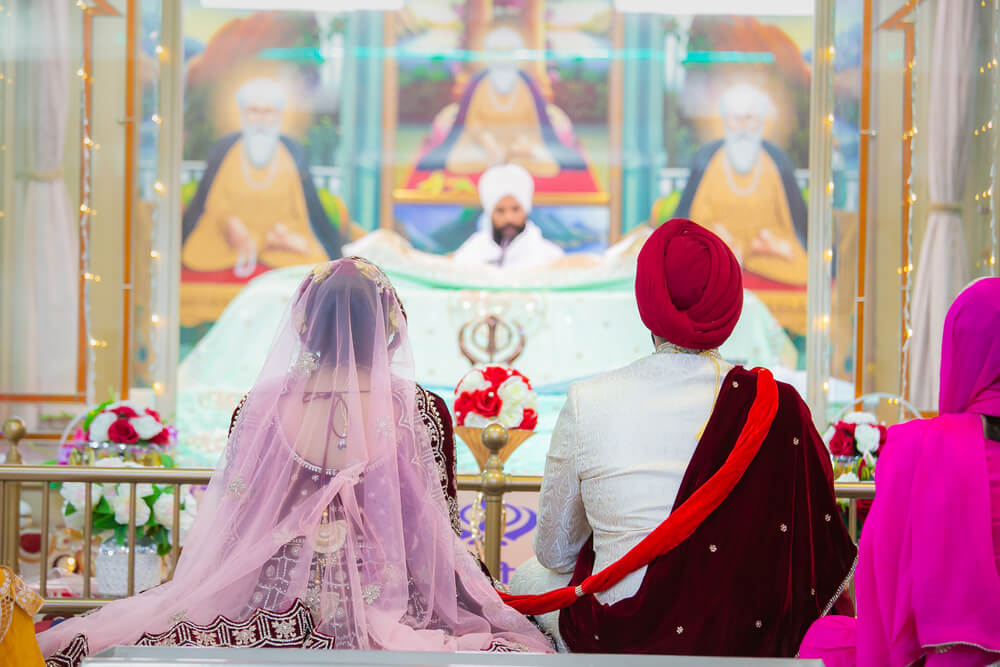 Punjabi folklore is full of romantic tragedies in which heroines fight against societal norms and sacrifice everything for love instead of giving up.
Punjabi Wedding Traditions
Punjabi weddings are a perfect way to learn about Punjabi culture because it perfectly portrays the culture in a bright yet beautiful way. Several pre-wedding customs in Punjabi weddings go on for days, so there's enough fun and frolic to keep everyone entertained.
Punjabi weddings are a very joyous and festive occasion. However, many traditions are followed during a Punjabi wedding. Let's see some of these traditions and customs in more detail.
Dholki
Dholki is a pre-wedding function that is celebrated mainly in rural areas. It's a ladies-only function where all the female relatives and friends of the bride get together a few days before the wedding.
They sing folk songs and dance to the beats of the dholak (a traditional instrument). This function is held to wish the bride good luck in her new life.
Mayun
Mayun is another pre-wedding function celebrated a few days before the wedding. The bride and groom are given a bath with milk and rose water in their respective homes and are sent into seclusion until the wedding day; only close relatives can see them. This tradition is more prevalent in rural areas and is practiced in cities a little less.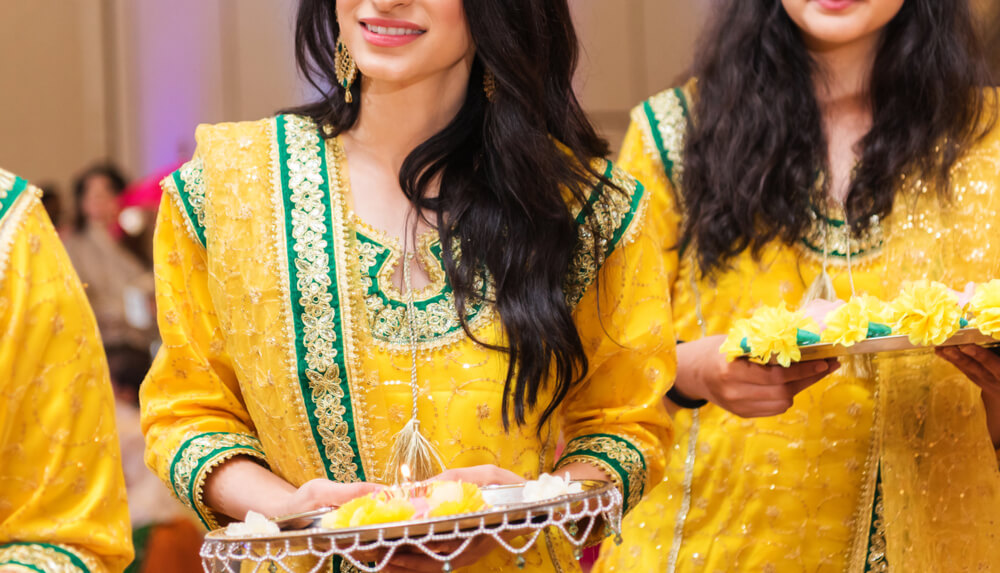 Ubtan
The ubtan ceremony is held on the morning of the wedding. A paste of turmeric, mustard oil, rose water, and chickpea flour is applied to the bride and groom to make their skin glow. This paste also has medicinal properties and is said to ward off evil spirits.
Mehndi
Mehndi is an essential part of a Punjabi wedding. The bride and her female friends and relatives apply mehndi (henna) on their hands and feet at this event. A professional mehndi artist usually does that.
Wedding Day
The wedding day is a very elaborate affair. The bride and groom are decked up in traditional Punjabi clothes. The bride usually wears a red or pink Punjabi dress called a lehenga, while the groom wears a sherwani with a traditional turban.
One of the most important traditions is the giving of dowry by the bride's family to the groom's family. The dowry usually consists of money, jewelry, and other gifts. However, it isn't considered a good tradition in many parts of the country and is slowly dying out.
Arts and Crafts
Punjab is the central manufacturing hub of Pakistan's economy and is known for its rich handicraft traditions. The state is famous for its traditional hand-woven fabrics, wooden toys and ornaments, pottery, and metalwork.
The art of Phulkari embroidery is unique to the Punjab region and is commonly seen in women's dresses. Other popular crafts include carpet weaving, blue pottery, and zari work.
The significant crafts created in the highlands and rural areas of Punjab are pottery and basketry; these are famous for their modern and traditional designs worldwide and are on the list of best productions by Punjabis.
Bone work, woven on handlooms, stone craft, jewelry, and wood carving are also practiced.
Sports in Punjab
Punjab is a powerhouse in Pakistani sports, and Punjabis are passionate about sports. The most popular sport in the province is cricket, followed by field hockey and football. In rural areas, however, every Punjabi is a massive fan of Kabaddi and wrestling; both these games are played in other parts of the country and have marked places in national sports since long ago.
Other traditional sports of Punjab are Gilli-Danda, Khoo-Khoo, Ludo, Chupan Chupai, Baraf Pani, and Kanchay.
The province has produced some of Pakistan's most successful cricketers, including Azhar Ali, Shoaib Malik, and Babar Azam.
Punjab has a National horse and cattle show held in Lahore; it's a sports festival with lots of exhibitions and livestock competitions.
Traditional Dance & Music
Punjab is home to many folk musics and dance types, which people of all ages enjoy. Punjabi music and dance are based on energy, happiness, and enthusiasm. It's full of life, and you won't feel like you're watching a performance but instead participating in one.
The most popular form of dance is Bhangra, which originated in the Punjab region of India. Bhangra is often performed at weddings and other special occasions and is usually accompanied by Punjabi folk music or Dhol. Some other common forms of Punjabi dance are Dhamal, Sammi, Lodi, Kikli, Ghatka, and Dandiya.
Punjab is also home to several types of traditional music, including Qawwali, Sufi music, and Punjabi pop.
Qawwali is a type of devotional music often performed at Sufi shrines.
Frequently Asked Questions
What is Punjab famous for in Pakistan?
Punjab is famous for its food, music, dance, and art. It is also home to several different types of traditional music, including Qawwali, Sufi music, and Punjabi pop. Punjab is a region with a rich culture and history that is well worth exploring.
Is Punjabi a religion or culture?
Punjabi is a culture, not a religion. It is a culture that is enriched with a long and exciting history. Punjab has several different religions, including Islam, Hinduism, and Sikhism. However, the Punjabi culture is not affiliated with any one particular religion.
Where did Pakistani Punjabis come from?
Pakistani Punjabis come from the Punjab region of Pakistan. The Punjab region is located in the northern part of Pakistan and is home to a large population of Punjabis.
However, some of the Punjabis were natives of Northern India and had to leave that region during the partition.
What language do Punjabis speak?
Punjabis speak the Punjabi language, which is an Indo-Aryan language. Punjabi is the native language of the Punjab region and is spoken by many people in Pakistan and India. However, Pakistani Punjabi is slightly different from Indian Punjabi as it has a glimpse of Urdu.
What is the primary language of Punjab?
The primary language of Punjab is Punjabi. However, many Punjabis also speak Urdu, the national language of Pakistan.
Conclusion
Punjab is a region with a rich culture and history. From its food and music to its dance and art, there is much to admire about Punjabi culture. If you ever have the opportunity to visit Punjab, be sure to take part in some of its many cultural traditions!