Jahaz Banda – A Scenic Hill Station
Jahaz Banda is a marvelous hill station located in spectacularly scenic Kumrat Valley that should be at least seen once. People worldwide come to witness the beautiful landscape the place offers. Tourists can enjoy the location all year round because there is always something interesting every season. However, before you hit the road, you must pack some essentials and check the weather forecast. It will also be wise to check for available accommodations to know if they have room. It is an incredible place tucked away in the Kumrat Valley. There is no evidence about how the area got its name. At least there is no answer on the net. There may be some local tales, but we have received no response.
Jahaz Banda Weather
It offers a very relaxed and misty kind of weather. Because of its high altitude, it often experiences temperatures around 20 degrees Celsius. During summer, the climate becomes hot or humid. Generally, a pleasant gale blows through the area, keeping it peaceful and calm. Because of the optimal weather conditions in the summer and spring, visitors can enjoy a lot of greenery and wildflowers. Many fruit-bearing trees are loaded with ripe fruit during late spring to late summer. Winters here become very harsh when the temperatures are as low as – 4 degrees. Visitors can witness the beauty during winters when everything around them is covered in snow.
When to Visit Jahaz Banda?
The magnificent Valley highlights beautiful attractions in the Kumrat area. However, the fluctuating weather and temperature are not always easy for visitors. Every person has preferences regarding when they want to visit this beautiful Valley. You should see it in early spring to late summer to avoid inconvenience. Fall is also an excellent time to visit the Valley.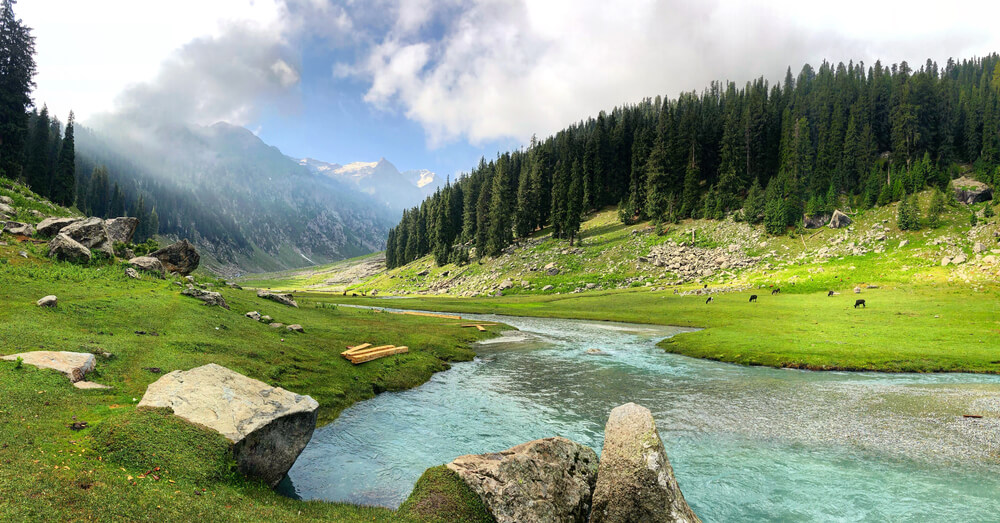 During this time, tourists can make the best of the trip by enjoying the meadows, pastures, rivers, streams, and waterfalls offered by the Jahaz Banda and the whole Kumrat valley. The scenic beauty of mountains and lush green trees loaded with fruit and flowers is very attractive for adventurers. But that does not mean winters are not appealing to tourists. Winter also provides an excellent view of the Valley and the surroundings; however, the roads leading to the place become blocked due to heavy snowfall. In this situation, it is best to avoid this location. If you plan to visit in winter, be prepared for extreme weather conditions and the unavailability of necessities.
Things to Know Before Visiting Jahaz Banda
Before heading to any remote place, you must remember something related to that place. First and foremost is to research the site you are visiting. When visiting the Jahaz Banda, you must know the following things before heading to your destination.
First, you cannot use the internet or call anybody because of the lack of internet facilities and signals. Only on the top can you make calls from Jazz and Telenor networks.
Another major thing you must remember is the lack of electricity and charging facilities here. People solely depend upon the solar panels installed at their huts, which are insufficient for charging their drone batteries or mobiles. So, pack as many power banks as you require to keep safe.
Although many small huts and tuck shops offer different food items, mainly staples such as rice, dal, and roti, don't expect anything lavish from this remote place. Locals try their best to serve you the best possible meal, so instead of complaining about the hygiene and the taste, you should be prepared to eat whatever is given.
What to Pack?
It is a hilly area with a high frequency of rain. Due to snowfall and rain, sometimes mobile signals don't work. The temperature falls below 0℃, and the winter season is very harsh. It is not a developed valley, so finding everything required on tour isn't easy. At the top of the hill, you cannot even find local shops. Therefore, packing all the necessary things in your bag for a good visit is good. Here is the checklist:
Rain Coat
Warm Clothes
Trekking Shoes & Stick
Camping Essentials
Power Banks
Water Bottle
First Aid Kit
Jahaz Banda Attractions:
Tourists can enjoy many exciting things in Jahaz Banda, Pakistan. From hiking, camping, and trekking to enjoying a bonfire in the serene wilderness, it always has something for tourists. Let's look at all you know about attractions at the place.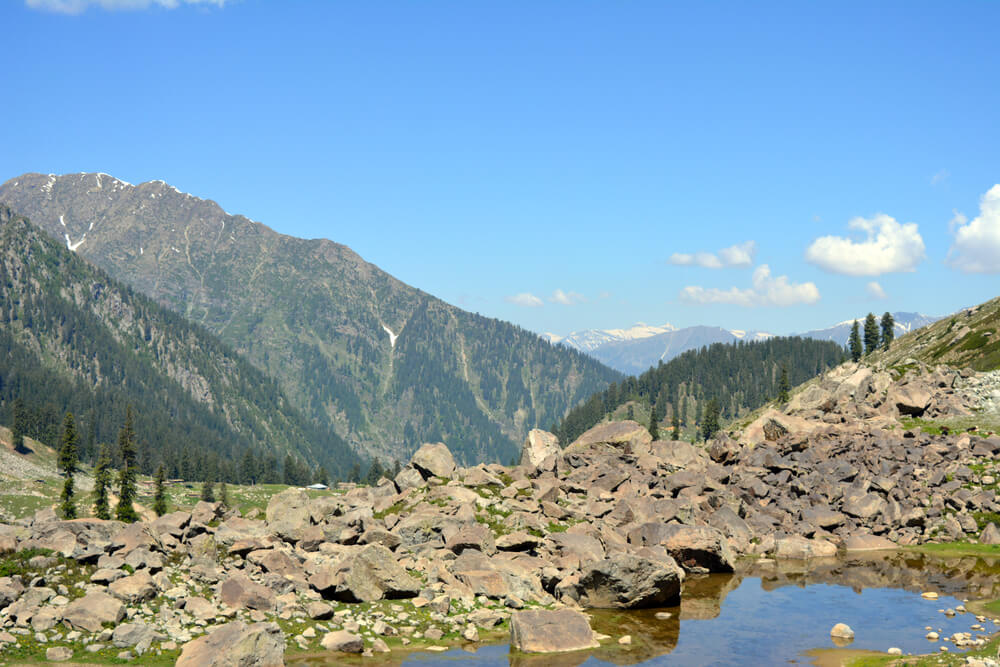 Attractive Green Hill Station
Tourists worldwide are attracted to the lush green and idyllic hill station here. It is one of the fascinating areas in Pakistan's Kumrat Valley. It is enriched with beauty that is indescribable in words. It can only be observed with the eye, so pack your luggage and visit this Valley to enjoy the beauty of a piece of paradise on Earth.
Jahaz Banda Meadows
The meadows, with lush greenery, vast plains, and a perfect climate, are an ideal tourist point. The fascinating beauty of the fields gives inner peace and calm to visitors. When a person visits this beautiful Valley, he wishes to settle here permanently. No one wants to leave this peaceful place with splendid scenery.
Jahaz Banda Waterfall
Jahaz Banda Kumrat Waterfall is surrounded by towering trees that provide shade, with water escalating down the rocky mountain and merging into streams. The falling water provides a beautiful scene. The sweet noise of falling water is very peaceful for the mind. Visitors can enjoy swimming in streams formed at the base of the waterfall. Visitors worldwide come here to capture the beautiful view in their memories and cameras.
Excellent Picnic Spot at Jahaz Banda
There is a fantastic picnic spot at Jahaz Banda, Kumrat Valley, where you can enjoy camping, fishing, trekking, and horse riding. In short, it offers all sorts of fun activities for visitors. It grants activities for women and children also. People from across Pakistan visit this place during holidays, and it is also a favorite place for children because of the horses and jeeps available here for riding. You will find a fun package here, so take a tour now.
What to Do at Jahaz Banda
The place has many mesmerizing sites and a very calm and fragrant environment. Tourists visit not only to enjoy the beauty of nature but to enjoy numerous enjoyable activities. These activities are for the fun of local people and tourists.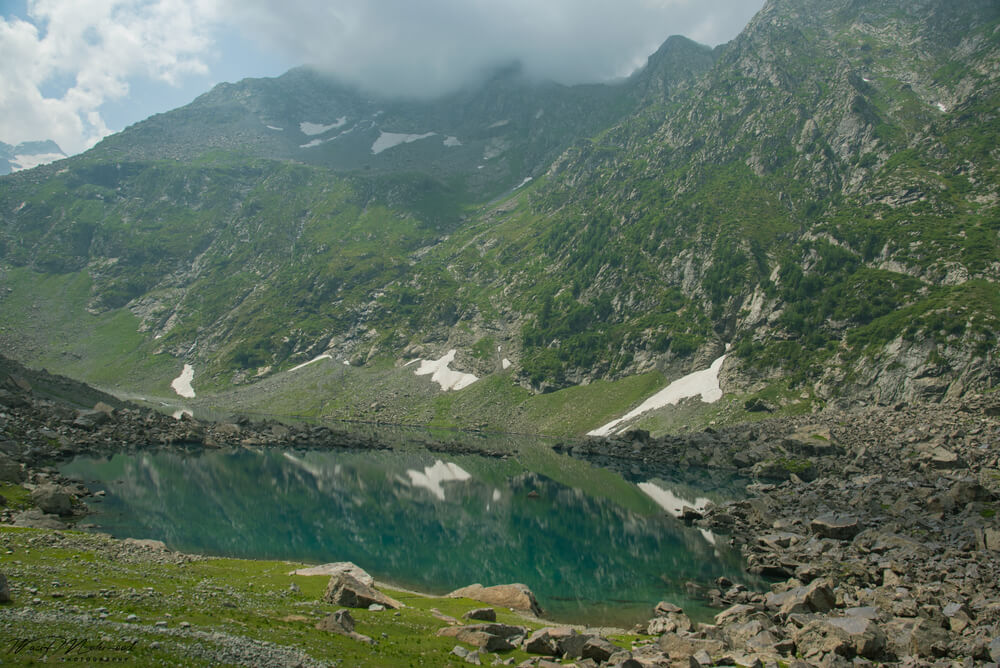 Here are some activities which you can do at this heavenly place:
Camping at Jahaz Banda Meadows
A few guest houses or hotels exist in the beautiful Jahaz Banda, Pakistan wilderness. Tourists enjoy camping on starry nights. They can enjoy shining stars, silence, a full moon, and a cool breeze as they camp in this majestic place. Many camp lovers visit to enjoy the stunning camping in the middle of dense forest. They set up their camps in meadows near the waterfall. Camping is an excellent way of accommodation here. Just take your tent with you and place it anywhere you like. You can also cook a perfect barbecue meal on an open fire. The next day pack your luggage and start your journey again to visit more beautiful sites.
Bonfire at Jahaz Banda Meadows
It is the best place to enjoy a bonfire. Choose a comfortable and safe area to set camp and start a bonfire. Watching the open-air fire, listening to soft music tones, and the waterfall's sound makes the trip lovely. You can also enjoy a barbeque on a bonfire if you have a grill and fishing rod. Adventurers can usually catch a fish from a nearby stream and grill it on fire. It's fun to catch up with your friends or play games. Be careful; there are no remains of fire once you finish. It would help if you did not cause litter around.
Best Place for Trekking Lovers
Trekking is the primary interest of many tourists. Tourists come here to enjoy hiking with professional hikers. There are many trekking destinations here. Tourists mostly enjoy trekking toward Takki Banda because the path passes through the forest with towering trees and beautiful flowers. At this place, people reach by walking from Dir and Kumrat. If you also want to enjoy this incredible experience, visit at least once.
Where to Stay?
Some hotels around Jahaz Banda are fully furnished and provide good customer service. These hotels have good sanitary conditions, excellent meals, robust security, and a guide for your help on the trip. You can also get a jeep and driver for your tour from hotels. Always choose a hotel where you can enjoy nature's mesmerizing beauty. Here are some hotels for you which provide excellent services.
Jahaz Inter-Continental Hotel
Jahaz Banda Alpine Rest House
Jahaz Banda Stop Rest House
Friends Hotel Jahaz Banda
How to Reach Jahaz Banda?
You can easily reach Jahaz Banda from any district of KP. Visitors from other provinces of Pakistan first go to KP via public transport or personal vehicles. The next stop is Thal, and they use jeeps or 4×4 vehicles to reach Taki Top. It takes almost 7 hours to get to Thal from Mardan via the motorway, which is the best route to go to Thal. No one can further use a bike or any other vehicle to continue their journey from Taki Top. All visitors have to hike to reach Jahaz Banda. If you are fit and young, you can get there in 3 hours; otherwise, it takes some time.
-Kumrat to Jahaz Banda Distance:
From Kumrat Valley to Jahaz Banda, the car takes 1 hour and 16 minutes to cover a 19 km difference between these locations.
Jahaz Banda Location:
It is located in Upper Dir, Pakistan. It is a part of the stunning Kumrat Valley.
FAQs
What are the most beautiful meadows in Pakistan?
Pakistan is blessed with many beautiful pastures and meadows in the northern areas. However, one of the best scenic meadows in Pakistan is in the Kumrat Valley, i.e., the Jahaz Banda.
It is a vast meadow at an elevation of 3100 m in the upper district of the Kumrat Valley. The Valley is surrounded by large hills and gigantic trees and is covered with green pastures.
Can we go to the Jahaz Banda in our car?
Jahaz Banda is a very famous tourist attraction in Upper Dir. Different modes of transportation are used to reach the location. Many people use their cars to get here. Your cars would be only efficient if they were four-by-four vehicles or jeeps. If you are traveling from any place in Pakistan to the KP district, you can bring your car, and it can go as long as Taki Top and Thal. It will take 7 hours to reach your first stopping point near Jahaz Banda, Thal. From there onwards, to reach Taki top, you have to use jeeps or 4×4 vehicles. From Taki top, all tourists must hike to reach the beautiful Jahaz Banda. So your visit in the comfort of your car depends on your vehicle type.
Is there Internet in Jahaz Banda?
No, there are no internet facilities.
Conclusion
Jahaz Banda is one of the places where you can take carefree strolls in green meadows. It is famous for its magnificent natural sites. The stunning scenery of the Valley makes everyone praise its creator. It is renowned for its beauty worldwide, so you need to visit it for a memorable time.