Places to Visit in Peshawar
Are you looking for a guide to the top places to visit in Peshawar? Good, you have come to the right place. Peshawar is the oldest city in Pakistan and the most ancient city in South East Asia. Its history dates back to 539 BCE. It has seen many wars, changes in cultures, and rulers. It is why you will find many tourists attraction in Peshawar with some historical relevance. From fort Balahisar to Mahabat Khan mosque, every other place has a unique history and story to it.
20 BEST PLACES TO VISIT IN PESHAWAR, PAKISTAN 2022
If you plan to visit Peshawar soon, you must go through our list of the 20 best places in the city. Continue reading to know all about Peshawar!
Peshawar Museum
Peshawar museum is a historical building in Peshawar. The two-story building is built in a syncretic architectural style consisting of Mughal, Islamic, Buddhist, Hindu, and British styles. Initially, it only had one exhibition hall, but later on, two more were added, and the space was also expanded with the construction of two galleries, theaters, and ample storage. It contains 14000 items based on Kushal, Buddhist, and Gandhara life. Some items include coins, statues, manuscripts, early written copies of the Quran, ancient books, jewelry, dresses, and weapons. Peshawar's most famous place to visit is its extensive collection of the art of the Gandhara Civilization and the Buddhist period. The hall also includes the miracles of Buddha's life, symbols, and other standing sculptures of Buddha. The Museum also contains 8625 coins; out of them, 4510 are pre-Islamic. You will be very interested in watching Persian Islamic art and Mughal art, such as the weapons and dresses of Syed Ahmed Shah Barelvi, Multani tiles, and ceramics. For history lovers, the Peshawar museum will offer you many things to get excited about and ponder.

Saddar Bazar Peshawar
Sadar Bazar Peshawar is a great market where you can find all the goods and commodities at a very reasonable price. Since it is a wholesale market, people can find almost everything, such as clothes, shoes, mobiles, garments, street food, jackets, perfumes, pottery, and many more. It is located in Takhal, Peshawar, Pakistan. You may find it difficult to park your car nearby because of the small parking area. Saddar becomes a crowded place from 12 p.m. to 9:00 p.m. There is almost no time when there is a little less crowd here.
Mahabat Khan Mosque
Mahabbat khan mosque is Peshawar's most beautiful place to visit. It was built in 1630 in Peshawar. It was named after the Governor of Peshawar, Nawab Mohabat Khan Kamboh. The beautiful mosque is entirely made of white marble, making it iconic and spectacular. It is 30,155 square feet in size mosque. It has an open courtyard, an ablution pool at the center, and a row of rooms lining the exterior walls. Throughout the mosque, beautiful Quranic calligraphy and floral motives are embellished on the panels. The prayer hall is sheltered with three domes, and from the inside, it is delicately painted with geometric and floral designs.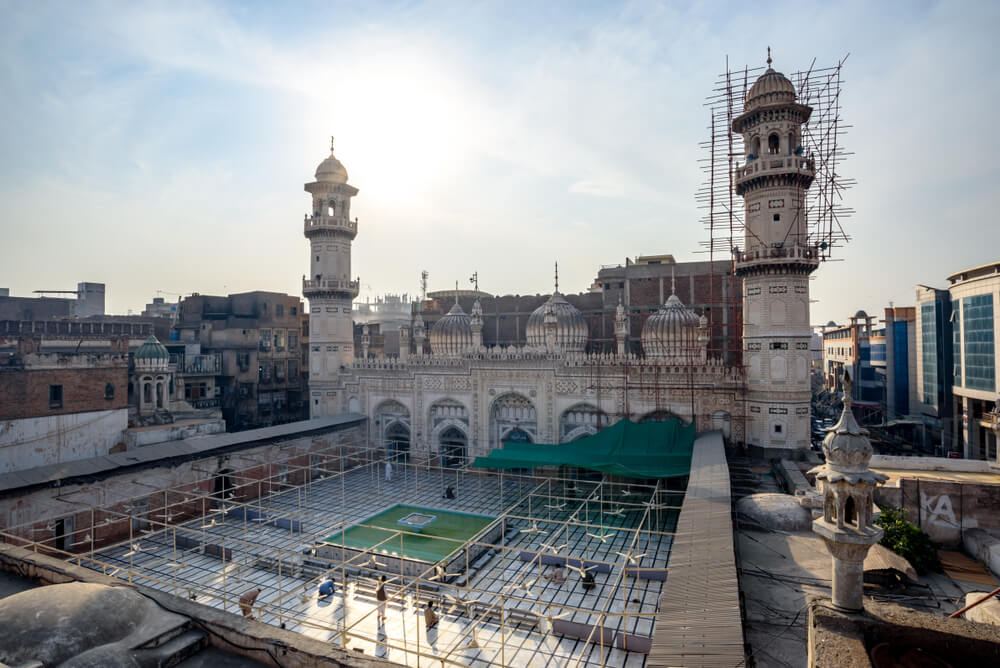 The Mughals built the mosque on the highest point of the city. During the Sikh rule in Peshawar, the minarets were used to hang prisoners. After the invasion of the Soviets in Afghanistan, the tribal elders started to gather in the mosque to develop unity among the Afghani people against intruders.
Warsak Dam
Warsak Dam is one of Peshawar's famous places for visitors from all over Pakistan. It is a mass gravity dam on the Kabul River in Peshawar, approximately 20 km from the city of Peshawar. The dam was completed in two phases, financed by the Canadians. The construction of the Warsak dam was completed in 1960, and the second phase of the dam was completed in 1980 when power-generating units of 41.48 megawatts were installed. It has a total capacity of 243 megawatts, but after adding 375-megawatt power to this dam, its power generation capacity will be 525 megawatts. This massive body of water is undoubtedly Peshawar's most beautiful place to visit.
Governor's House Peshawar
We all know that Peshawar is dotted with historic buildings and landmarks, one of which is the Governor's house. It is Peshawar's best place to visit. It lies close to the Peshawar museum and serves as an official residence for the current Governor of KPK. Governor's house has a secret tunnel on its left side, leading straight to Bala Hisar Fort. The tunnel is 1.25 km long. Any traveler visiting Peshawar must check out this historic beauty with a traditional Greco-Roman design, just like other British buildings across the subcontinent.
Qissa Khawani Bazaar
Qissa khawani Bazar is another famous market in Peshawar. According to traveler Lowell Thomas and British commissioner Herbert Edwardes, Qissa khawani Bazar is a Piccadilly of Central Asia. The Bazaar has seen many ups and downs from the colonial government till now, such as the Qissa Khawani Bazar Massacre, Bomb attack, and suicide attack in this Bazaar. However, apart from its troubling history, the Bazaar is famous for Qehwa and chai houses. Many gather around daily to have a cup with their friends. It is a great activity to socialize and catch up with friends.
You will be amazed to know that many Indian actors have family ties and origins in the Qissa Khawani Bazar, such as Dilip Kumar, Trilok Kapoor, and Raj Kapoor were born in the same area. If you are visiting Peshawar, this is a must-visit historical market.
Sethi House Museum
Sethi House Peshawar is located at Chowk Yaadgar Road, Andar Shahar, Mohalla Sethiyan, Peshawar. The museum is a historical building from the British era with a very distinct architectural design and unique wood craftsmanship. The Sethi museum attracts hundreds of visitors from all over Pakistan because of its unique style reminiscent of Central Asia and its eye-catching wood carvings. The house, which is now converted into a museum, contains 12 rooms and four basements. Visitors can experience the beauty of colorful glass ceilings dotted with geometrical designs, engraved woodwork, and spectacular designs on the walls. Other prominent features are Takhte Sulaimani, ventilators, slanting window shades, red brick stairs, and chimneys with wooden frames. The museum reflects the living style of Sethi during their time. It is one of the most beautiful places to visit in Peshawar, without any doubt.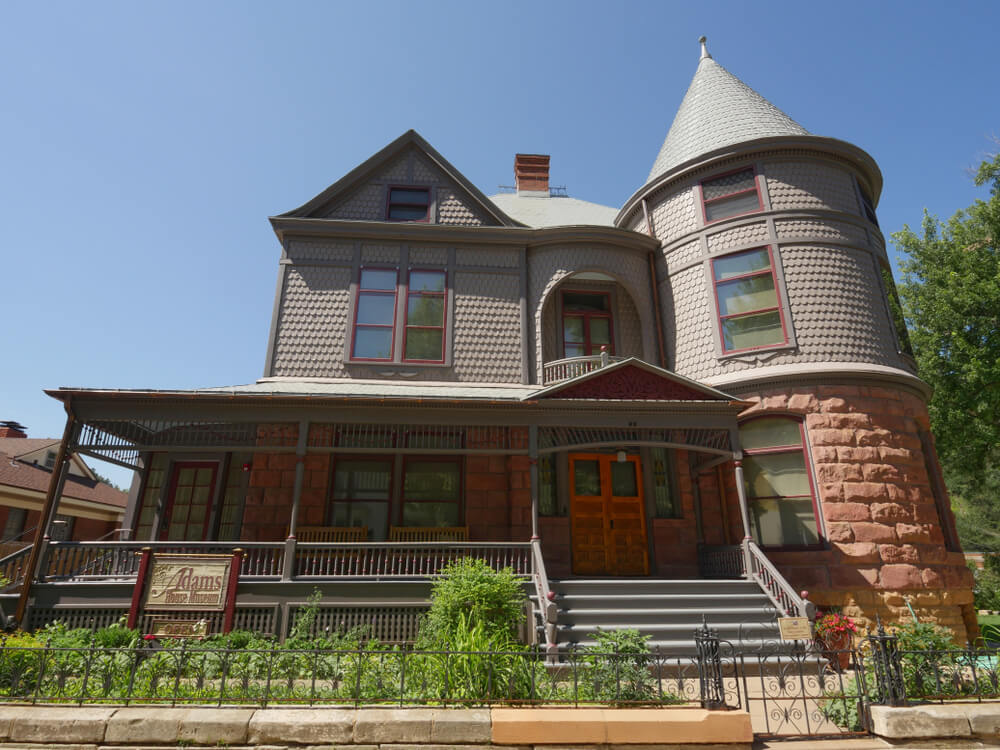 Chowk Yadgar
Chowk Yadgar is another famous landmark in the ancient walled city of Peshawar. The monument at this square is dome-shaped and was initially erected in memory of Colonel C. Hastings in 1883. The Chowk Yadgar acts as a convergent point for different markets and major roads of the old city, such as Naaz Cinema Road, Jewelers Street, Bazar Abresham Garan, and Ashraf Road Peshawar. Visitors can reach the Chowk Yadgar from many roads leading to it and enjoy its beauty and reflection of the history that it offers. So if you are buying shawls from the Bazare Abresham Garan or selecting jewelry from Jewelers Street, don't forget to visit the nearby Chowk Yadgar.
Jamrud Fort
Jamrud fort is another prominent historical landmark and a beautiful tourist destination beside the Bab-e-Khyber at the entrance of Khyber Pass. It is believed that in 1800 Jamrud city was under the rule of the Durrani Empire of Afghans. In 1836 the Sikhs conquered Jamrud and built this Fort. The Fort was completed in 54 days and was famous for its 3 m thick walls. It is also known as the Fatehgarh fort. Afghans attacked the Fort in 1837, and after a lot of bloodshed, the Sikhs managed to hold the Fort and forced the Afghans to retreat. The war was led by Prince Nau Nihal Singh, who died while fighting on the battlefield. Later on, the reinforcements were sent by the Maharaja from Lahore, and the Afghans were defeated. Don't forget to check out this beautiful Fort in Peshawar.
Cunningham Clock Tower
Cunningham clock tower is named after Sir Cunningham, the Governor and political agent of the Britishers in the province. It was built in 1900 to commemorate the diamond jubilee of Queen Empress, Her Majesty. James Strachan designed it. The Cunningham clock tower was severely damaged in the 1965 war between India and Pakistan when an Indian airplane attacked it. After the war, it was again rebuilt. The building has an impressive 31 feat diameter and a height of 85 feet. Cunningham clock tower is located at the Ghantaghar Chowk. It is a unique historical site and a tourist hotspot for visitors. You can easily reach this clock tower or Ghantaghar by arriving at the Chowk Yadgar in Peshawar. The Cunningham clock tower is a beautiful reminder of our past and enriches Peshawar's history and culture.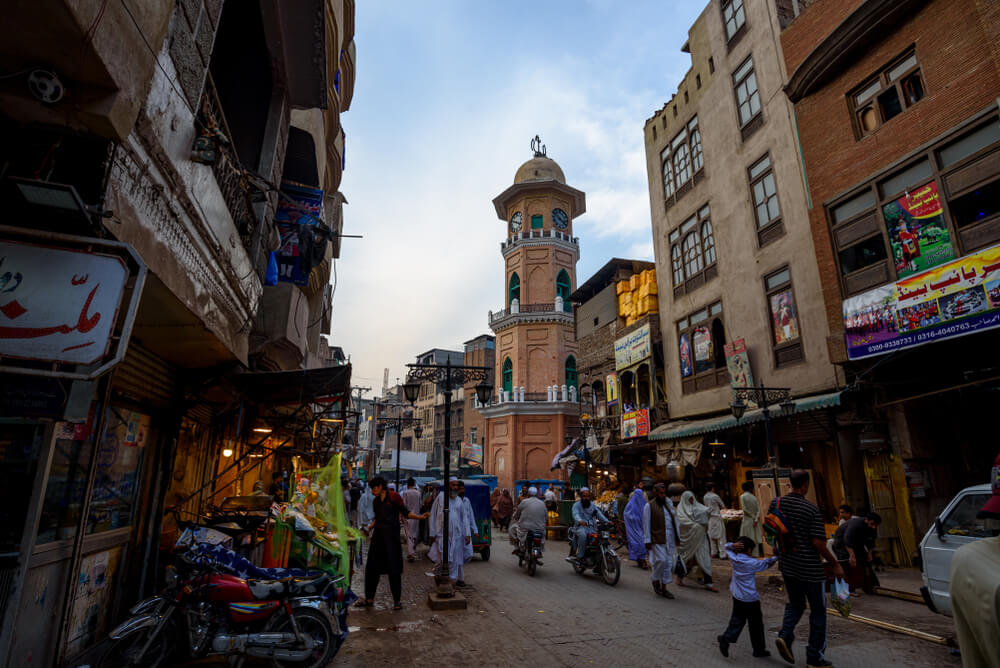 Balahisar Attock Fort
Bhalahisar Attock Fort is another beautiful place to visit in Peshawar. The stunning Fort is located on Peshawar road near the Indus River. Because of this place's beauty, visiting the Fort refreshes your mind.
It was built during the reign of the Akbar Emperor in 1583 to protect the passages of the Indus River. The Fort was used as a critical defense structure against Afghan intruders. It has seen many battles; in 1758, it was captured by the Maratha Empire. Ahmed shah Durrani attacked the Maratha empire and recaptured it. Later, the Fort also played an essential role in the Afghan-Sikh war. After the Sikh wars, the Fort came under the rule of Britishers. In 1947, after the partition of the subcontinent, the Fort's control was given to the Pakistan army. It remained the headquarter of the Pakistan army's 7th division. Later in 1956, it was handed over to the unique services group, and it remains in their control.
Because it is under military control, visitors cannot see the Fort from inside. Travelers can enjoy its breathtaking beauty from the outside. The Fort has 4 Gates; the Delhi gate, Mori gate, Kabuli gate, and Lahori gate. Visitors can enjoy the external beauty of this Fort on one side and the majestic Indus River flowing on the other side of this Fort.
Mughal Bridge
The Mughal bridge is another spectacular construction from the Mughal era in Peshawar. It was built in 1629 under Shah Jahan's rule. The Mughal Bridge is a masterpiece that is 100 yards long and 6 yards wide. The pillars are topped with domes that add to the beauty and value of the bridge. Over the years, two of the domes have fallen off. Staying true to the typical Mughal architecture, the bridge has 12 waterways that run under the bridge. Even though it has been around for over three centuries and has not been preserved, it is still in excellent condition. It is a fantastic site for travelers or tourists interested in the Mughal era and its remnants in Pakistan. It is believed that one of the pillars has the details of the bridge's history, but either locals or the government removed it. Therefore, there is little known about the bridge without historical manuscripts.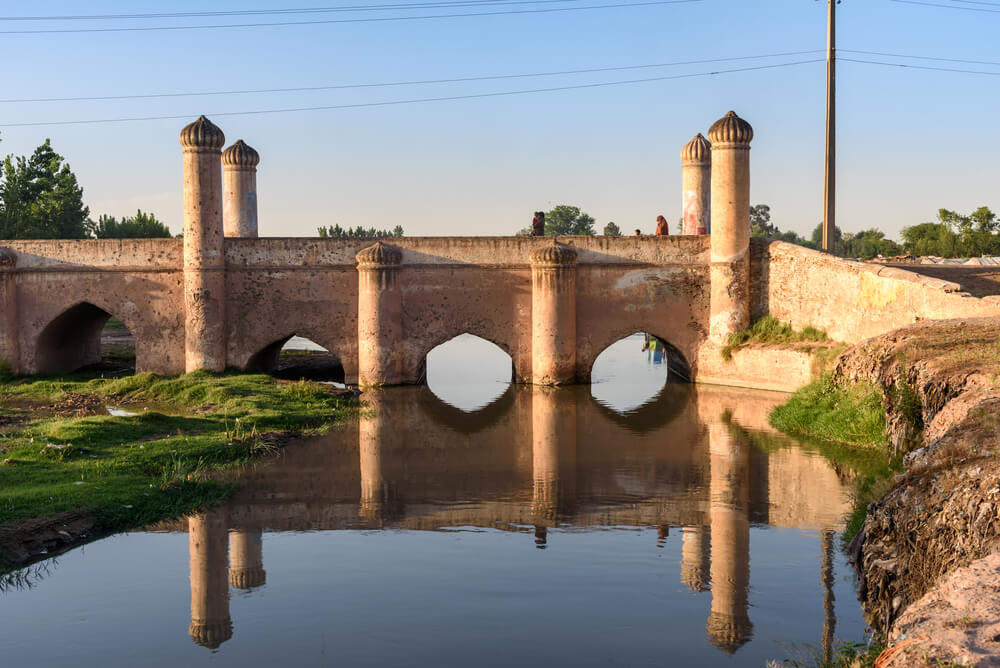 Kanishka Stupa Fort
Kanishka Stupa is a great historical site to view in Peshawar. Kushan king Kanishka created the fabulous Kanishka Stupa during the 2nd century on the outskirts of Peshawar. The incredible stupa was constructed to house Buddhist relics and was included in some of the tallest buildings of the ancient era.
A few years ago, a US-based historian and scholar said that the Pakistani government should engage UNESCO to declare this outstanding Buddhist monument, Kanishka Stupa, as the world's eighth wonder. It has such a remarkable construction structure that it deserves to be the 8th wonder of the world. Kanishka stupa fort shows people's beautiful creativity and hard work in the ancient era. Buddhist monks used to visit this place from around the globe. So buy a ticket for Peshawar and visit the religious building.
John's Cathedral Peshawar
John's Cathedral Peshawar was a prominent garrison church in ancient times. Some British officers martyred in the war on the frontier, including Lieutenant Colonel James O'Bryen, were buried in this Cathedral.
It was established by the British and is considered the oldest Church in Peshawar, Pakistan. Moreover, its foundation stone was laid on 23rd March 1851. The great Church signified Protestant Christianity and was created after the First Anglo-Afghan War of 1839-42. Although the Pashtun won that battle, Peshawar was not recovered from the British. Sikhs lost their famous Empire under Ranjeet Singh in this war until 1839. One of the memorials inside his Cathedral is in honor of the great General of World War 2, Sir Field Marshal Claude Auchinleck.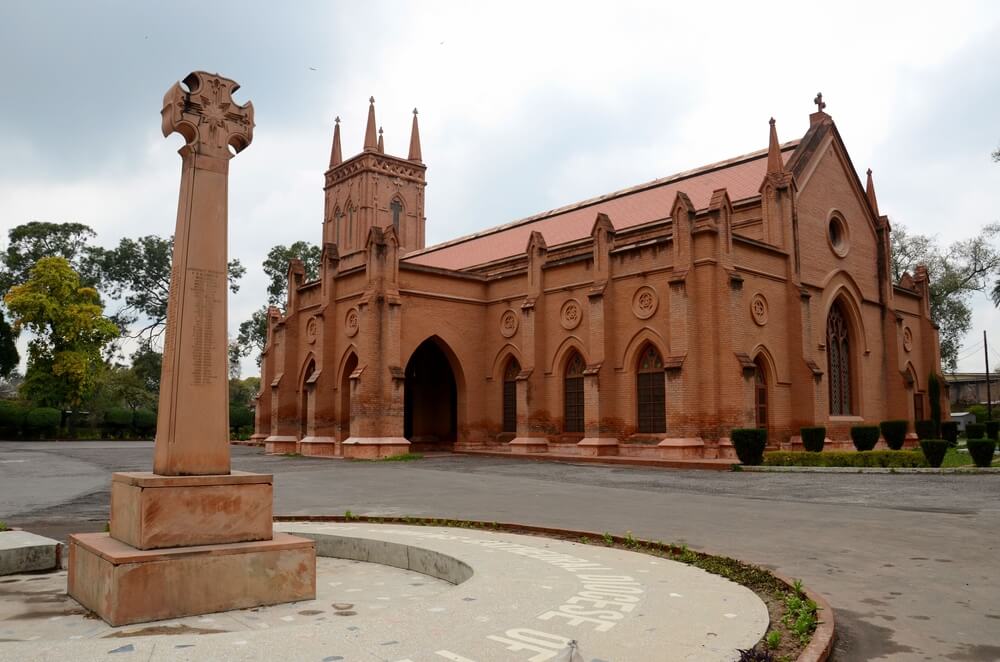 You can see and feel the history of this place when you are inside St. John's Cathedral. This is the best visiting place in Peshawar for people who love historical buildings and ancient landmarks.
Durrani Graveyard
Get another shot at history by visiting the Durrani graveyard. Durrani Graveyard is the giant graveyard in Peshawar and has thousands of sepulchers. It is an old and famous place in Peshawar. Everyone should visit Durrani Graveyard to explore Peshawar, as this cemetery has graves of Durrani rulers. The wives of famous King Jamhoor Jan Sadozai Durrani and his son, Prince Sultan Jan Sadozai Durrani, are also buried in the Durrani cemetery with other princes and princesses.
The Durranis belonged to Afghanistan and came to Kohat after the death of King Shah Shujaa in 1842. The great Ahmed Shah Abdali, born in Multan, laid the foundation of the Durrani period in Afghanistan. He ruled Afghanistan from 1747 to 1772. The entire Pakhtun nation regards Ahmed baba as their spiritual father. So, if you want to see history's reflection, visit Durrani Graveyard.
Bab-e-Khyber
The fantastic, world-famous Bab-e-Khyber was created in 1964 at the entrance of the Khyber Pass. It was built in the martial law period of Pakistan by Ayub Khan. The Jamrud Fort is also located near Khyber gate.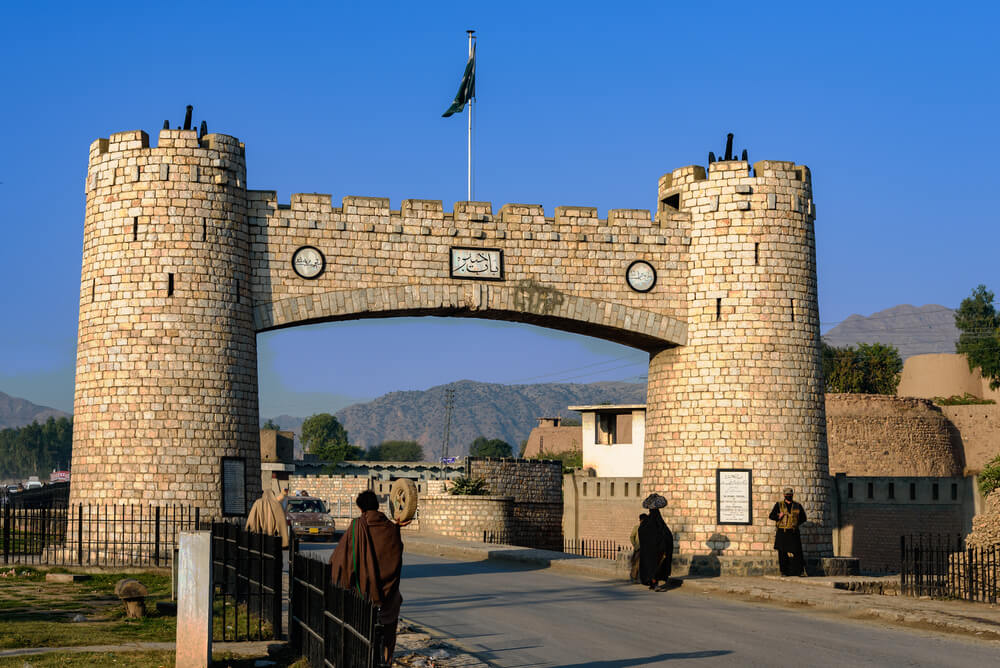 The Pass is located 16 kilometers north of Peshawar city, towards the border between Pakistan and Afghanistan. t starts from the buttes of the Sulaiman Range at Jamrud and steadily heightens to an altitude of 1,066 meters above sea level. During your visit to Bab-e-Khyber, don't forget to click pictures to make unforgettable memories. Be quick and visit Bab-e-Khyber with your friends and family now!
Pushkalavati Museum
The Pushkalavati Museum is located in Charsadda, Khyber Pakhtunkhwa, Pakistan. It was built in 2006. The building of the Charsadda Museum was donated by the world-famous Pashto poet Bacha Khan. Pushkalavati museum beautifully shows the ancient history of Peshawar and its origins since before Christ's time.
The spectacular museum has objects about archaeology, ethnology, and Ghani Khan Paintings. Here are many other things for the amusement and knowledge of visitors. Artwork of old historic places of Peshawar valley is also found here, which everybody can observe and enjoy. Grab your camera and take amazing pics to remember your visit to Peshwar's most iconic museum.
Ziarat Rahman Baba
There is no need to introduce Rahman baba as we all know this legendary poet. Abdur Rahmān Mohmand was a famous Pashtun poet from Mohmand Agency in Peshawar during the Mughal era. He is one of the most famous poets among the Pashtuns. His beautiful poetry shows the spiritual side of Islam as his poetry has a Sufi style. He died in 1706, and an annual congregation was organized on ziarat Rahman baba.
The annual gathering of people on ziarat Rahman baba in April is now included in the cultural tradition of Peshawar. After the bomb blast of 2009, the Rahman Baba ziarat/shrine was reopened for people in 2012. People worldwide visit this monument, so you should see it too.
Dean's Shopping Mall Peshawar
The Dean's shopping mall is the most famous and prominent in Peshawar. You can find everything from clothes, shoes, makeup, and machinery. You will find a humble staff here who is always there to help you. Dean's shopping mall is famous across the country. If you visit Peshawar and do not visit Dean's shopping mall, then your visit to Peshawar is incomplete.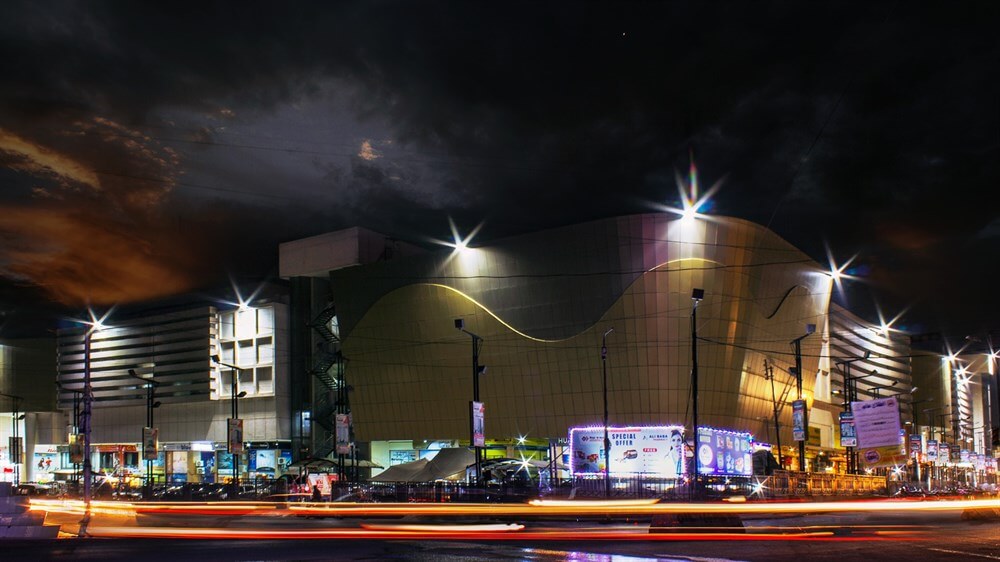 Visitors can find Peshawar's favorite food items and KP's traditional dresses. Dean's mall meets all the requirements of people. Visit this place at least once, even if you do not want to buy anything, as window shopping can also be fun.
Hyper Mall Peshawar
Hyper-Mall Peshawar has earned an excellent reputation because of the quality of its products. It is one of the supermarkets in Pakistan and meets international standards. Hyper-mall was created to meet people's needs, and till now, it is doing its work correctly. Here you can buy necessities of daily use like dresses, detergent, frozen food, shoes, and other things. The freshness of Hyper-mall products has attracted a lot of customers and visitors. Don't forget to visit the hyper mall during your visit to Peshawar. You will surely like the eye-catching view of the Hyper-mall.
FAQs
Which place is famous in Peshawar?
Peshawar is packed with many famous tourist attractions. From Chowk Yadgar to Cunningham Tower and Sethi museum, every location in Peshawar has fantastic places for travelers to explore.
Is Peshawar worth visiting?
Peshawar is a city that has everything that makes it worth visiting. The capital of KPK has many recreational spots and historical sites that are enough to entertain your mind and leave you wondering how our ancestors used to live.
Why is Peshawar City famous?
Peshawar City is famous because it is the biggest city in KPK and the province's economic and cultural hub. Being the oldest city in Pakistan, it is renowned for its historical locations that attract a lot of tourism yearly. People also love Peshawar for its mouthwatering cuisine.
Conclusion
Peshawar is Pakistan's ancient and oldest city, adorned with many beautiful and nostalgic landmarks. If you are a fan of history, Mughals, Forts, or Afghans, you need to visit this beautiful city that has preserved the ancient remnants for centuries. Pack your bags and take a trip back to history by visiting Peshawar.