Siri Paye – A Heavenly Meadowland
Nestled in the heart of Shogran Valley, Siri Paye is a fantastic excursion to cool down and fuel yourself. Let's skip the crowded places this time and plan to visit a peaceful and less-crowded destination.
Whether you want to escape the busyness of life or want to plan a couple's getaway, it is among the most soothing places you will ever visit. Calming weather with breezy winds whirling around, verdant vegetation, and a mesmerizing view, you should not miss sojourning the unimaginable Siri Paye.
Siri Paye is around 3000 meters above sea level and is a beautiful destination to visit with family and friends.
Makra Peak, Moosa ka Musalla, the majestic Malika Parbat, and other spectacular mountain peaks encircle it.
Here is all you need to know about this famous tourist destination.
A Brief Overview
Shogran Siri Paye is 7,749 feet or around 3000 meters above sea level, on a green level in the Kaghan Valley, northern Pakistan. This location is a favorite tourist destination year-round with all of today's modern conveniences and opulent hotels.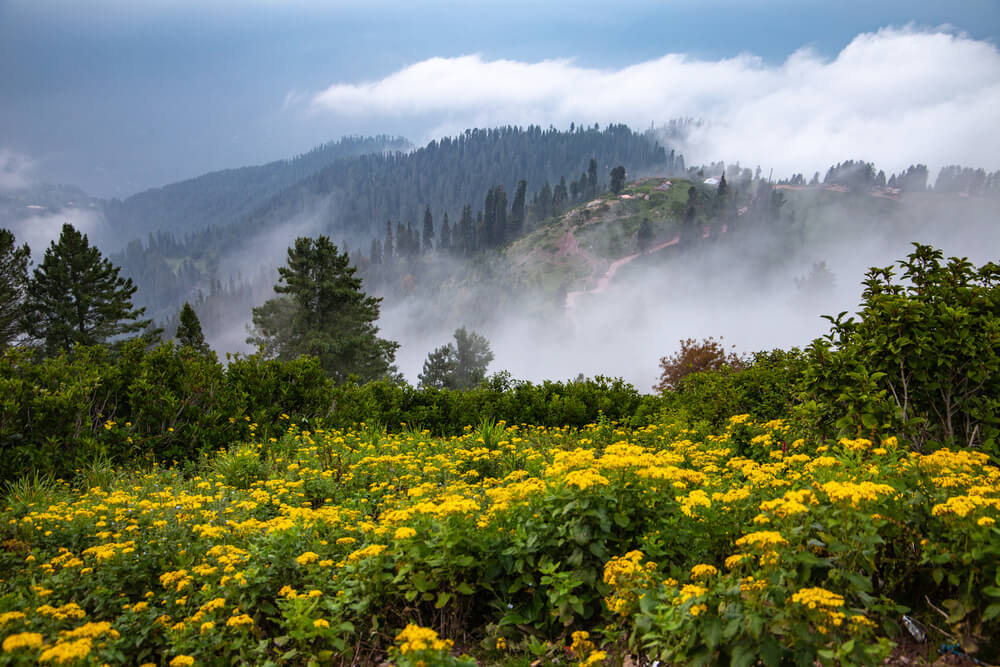 The mobile phone services that are easily accessible in the region are Telenor and Zong. The locals are friendly and hospitable. Most tourists are drawn to the extensive areas of lush green grass.
Myths Regarding The Name "Siri Paye."
Numerous bizarre tales were made famous by the odd naming of Siri Paye (Heads and feet). Locals think that Siri was a Hindu woman who adored the Kaghan boy named Paye, and this location bears the name of their heavenly love.
Why Is It Called "Siri Paye?"
The name "Siri Paye" of the meadow has several mythical roots. The name's most likely origin is Sar, which means "lake" in Hindko, a language spoken in Kaghan, and Paya, which refers to a high grazing area. In reality, Paya is over 3000 meters above sea level.
About Weather
The summers in Shogran are pleasant, whereas the winters are chilly and snowy. The best time to visit Shogran and Siri Paye is during the summer (June to August) when daytime highs are approximately 20°C. Bring an extra blanket if it gets chilly at night. Siri Paye Meadows gets sunny and rainy weather, giving it its vivid green color.
Shogran can also be visited in the winter to see the snowy terrain. However, amenities may be scarce, and it will likely be freezing. Go at your peril; there won't be any running water or heat.
Pro Tip: Before traveling, check the state of the roads and watch for landslides.
When is the Best Time to Visit Siri Paye Shogran?
Summer and winters are fantastic times to visit the Siri Paye Shogran. However, a hotel ( one inn) has remained open throughout the winter season. The peak time to see here is from June to August.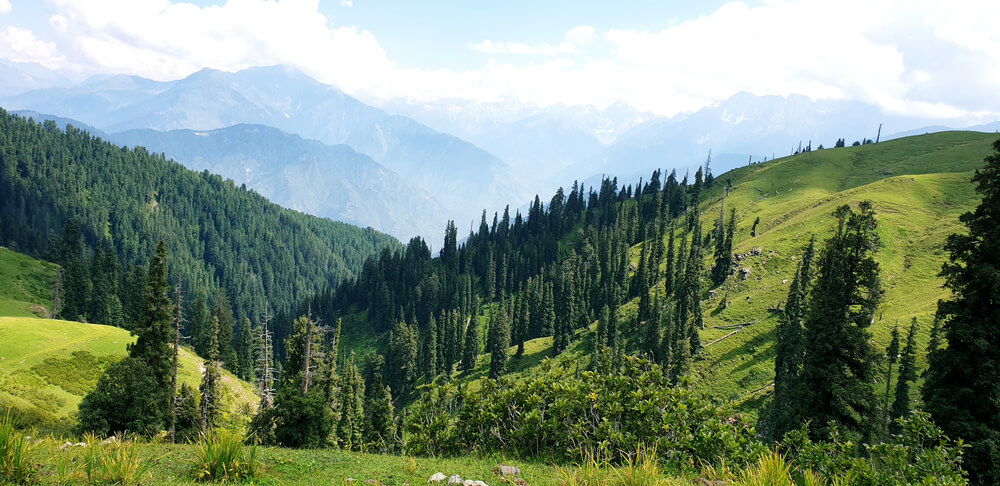 Thunderstorms and heavy rains can occasionally make it difficult for visitors to move around while remaining warm. It is advised to wear warm clothing at night due to the cold atmosphere. The entire valley is fully shrouded with snow during the winter months.
What to Know Before Visiting Siri Paye Meadows?
You need to know some essential factors before visiting Siri Paye Meadows, Shogran.
The roads leading to Siri Paye are rocky and bumpy.
Only 4WD vehicles can reach Siri Paye.
Essential Gears You Must Pack
While packing for your trip, do not forget to pack the essentials gears listed below.
Hiking Shoes and Stick
Warm Clothes
Umbrella/Raincoat
Camping Essentials
First Aid Kit
Attractions at Siri Paye Meadows
Siri Paye Meadows is a beautiful sight perfect for making your summer memories. It offers something for everyone and is a great place to revitalize yourself. Let's unveil some of its major attractions.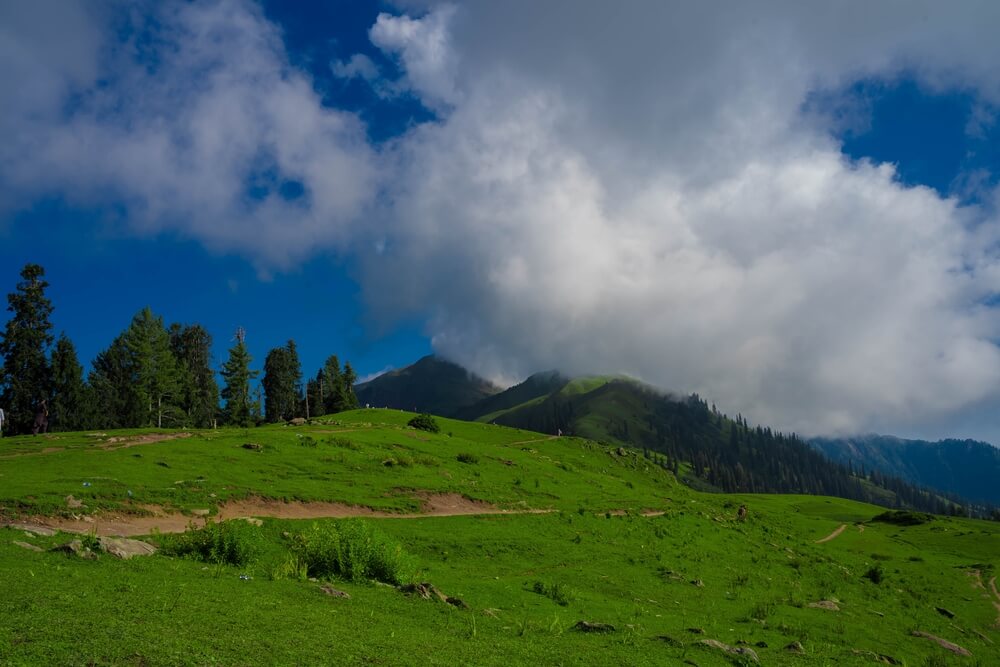 Lush Green Meadows
Siri Paye is an astonishingly beautiful land with lush green meadows. The animals are grazing in the field, dotted with wild yellow and lilac flowers making Siri Paye a picturesque destination.
Paye Lake
Paye Lake is located in the heart of Shogran Siri Paye at an altitude of 3,058 meters above sea level. It has crystal clear pristine water to make you love the spot.
Floating Clouds Nearby
The floating clouds guard the magnificent meadows of Siri Paye. The alluring nature is at its peak and a great place to get some cool into your eyes.
Mesmerizing Peaceful Environment
Siri Paye is the best place to spend the hottest summer days. It has a soothing and mesmerizing peaceful environment, so you can sit back while praising God's creativity.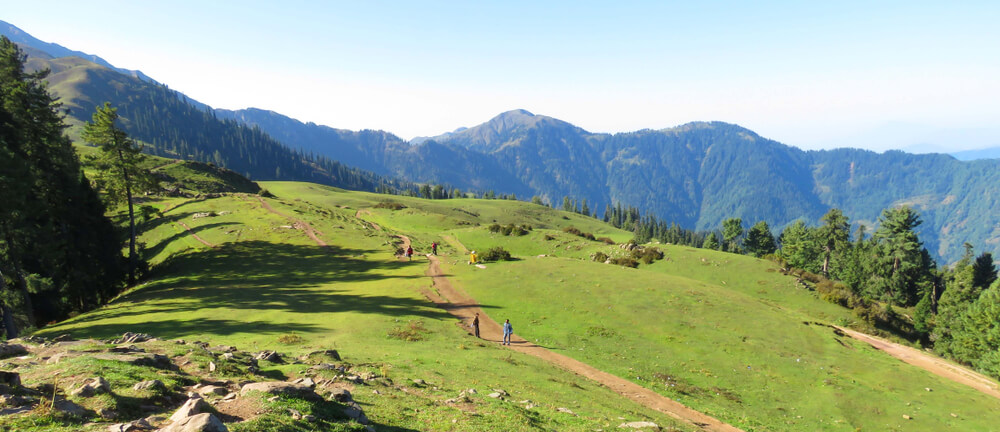 Iconic High Swing at Siri Paye
As soon as you reach the top of the hill in Siri Paye, you'll notice one of the town's most recognizable sights: a swing dangling over the mountain. You may be sure that the swing ride you take will be the best of your life with such views.
Panoramic view of Mountains
The breathtaking Siri Paye offers a panoramic view of majestic mountain peaks, including the glorious Malika Parbat. It is one of the top tourist destinations to visit with family and friends. Mountains are heavily guarding the heavenly meadowland.
Makra Peak
The Makra Peak is at 12,746 feet (3,885 meters) and may not have the elevation of its mightier sisters in Northern Pakistan, but that is a gift in this situation. The 2 to 2.5-hour journey from the meadows to the top of Makra Mountain is relatively easy in the summer. The peak rises roughly 2,200 ft. above Paye, making the summit a popular destination for novice hikers.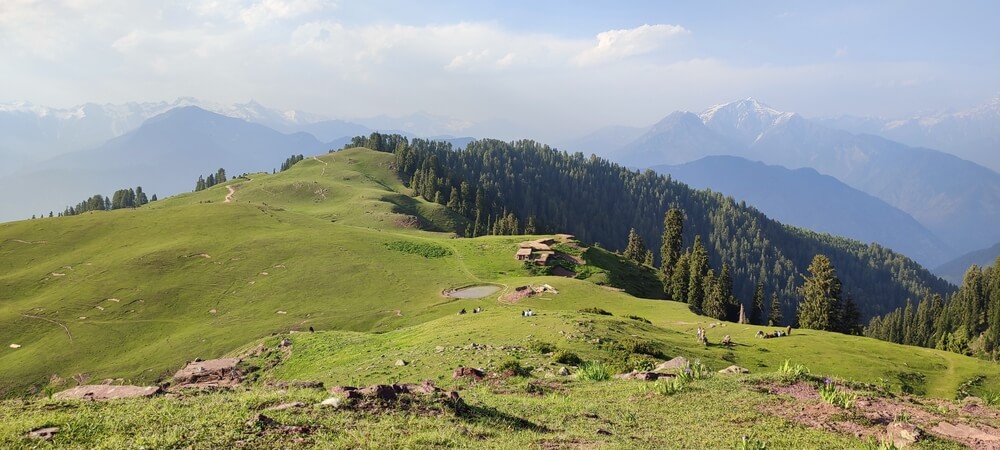 How To Reach The Siri Paye Mountains?
Private transportation is the most convenient independent route to Shogran. You must travel four hours north of Islamabad to Kiwai before getting on a jeep and traveling for around 30 minutes to get to Shogran. You'll need to take the exact vehicle back down. The drive takes roughly eight hours from Lahore to Shogran. You have the option of driving your car or hiring a chauffeur.
It is also possible to arrange private transportation in Balakot after arriving there by bus from Islamabad, but this is more difficult and time-consuming.
Pro Tip: In Kiwai, there is a restaurant where you may eat while surrounded by a tiny cascade! Having breakfast there before ascending to Shogran is an outstanding idea.
Things to Do at Siri Paye Shogran
You can spend a whole day sipping the tea and calming yourself with the mesmerizing view. But why miss out on the top activities you can enjoy at Siri Paye?
Hiking
Siri Paye is among the top destinations to visit in Shogran. Although it's a simple hike, you should get out early enough to return before dark. These luscious green fields are within 3–4 hours' walking distance for the average individual.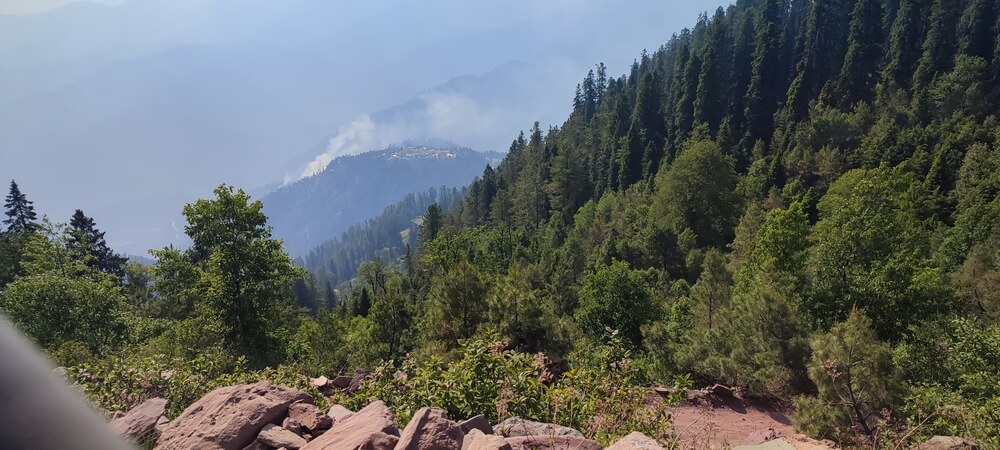 Horse Riding
There is no better way to explore the beautiful green meadows. For a modest charge, rent a horse and have fun.
Camping
You can spend the night in Siri Paye under the stars rather than in a hotel or cottage in Shogran. It's best to set up a camp beforehand.
Take a Bumpy Jeep Ride
You can also use a jeep to travel from Shogran to Siri Paye. The trip on the mountain route takes about an hour, so you have more time to enjoy the bumpy and jaw-clenching ride.
Go for Short Hikes to Shogran
To appreciate Shogran's environment, you don't have to hike to Siri Paye. Shogran offers a variety of quick hikes to scenic overlooks and minor waterfalls.

Pro Tip: Ask your hotel guide for the best advice.
Spend a Night by the Bonfire
Bonfires are the perfect way to have fun and enjoy the chilly nights side by side. Your hotel staff may organize a bonfire for you if you travel with a group.
Facilities at Siri Paye
Siri Paye Meadows will facilitate you with the necessities for your trip.
Tent and Camping Facilities
As camping is a common and top activity done by tourists, the hotel you are staying at may provide you with a tent and camping facilities.
Village food
If you travel towards the meadow's mountainous corners, you will come across a local family living in a hand-built rough cottage, offering homemade organic traditional meals.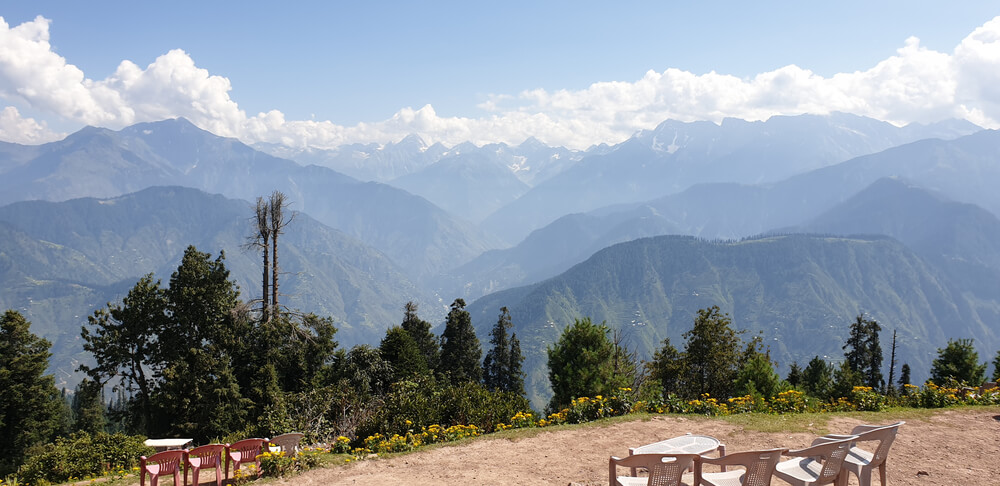 Food & Tea Stalls
There is also a small forest rest house and some tea vendors at Siri Paye Shogran. Visitors love enjoying hot tea from one of the stalls while taking in the lake's breathtaking views of snow-capped mountains.
Shogran to Siri Paye Distance
The travel distance between Shogran and Siri Paye is 7.2 km (43 mins) via Shogran Road.
Jeep Charges from Shogran to Siri Paye
Jeep fare or charges from Shogran to Siri Paye meadows is Rs.3500 to Rs.4,000. The road to Siri Paye meadows is quite bumpy. The rainy season is very slippery and dangerous due to muddy tracks.
How to Make Your Trip Pocket-Friendly?
If you are traveling in a group, split up all the costs, including the car fuel, jeep, food, and mountain hut.
It would be best if you prefer camping instead of renting a hut, traveling by public transportation, and joining a group tour.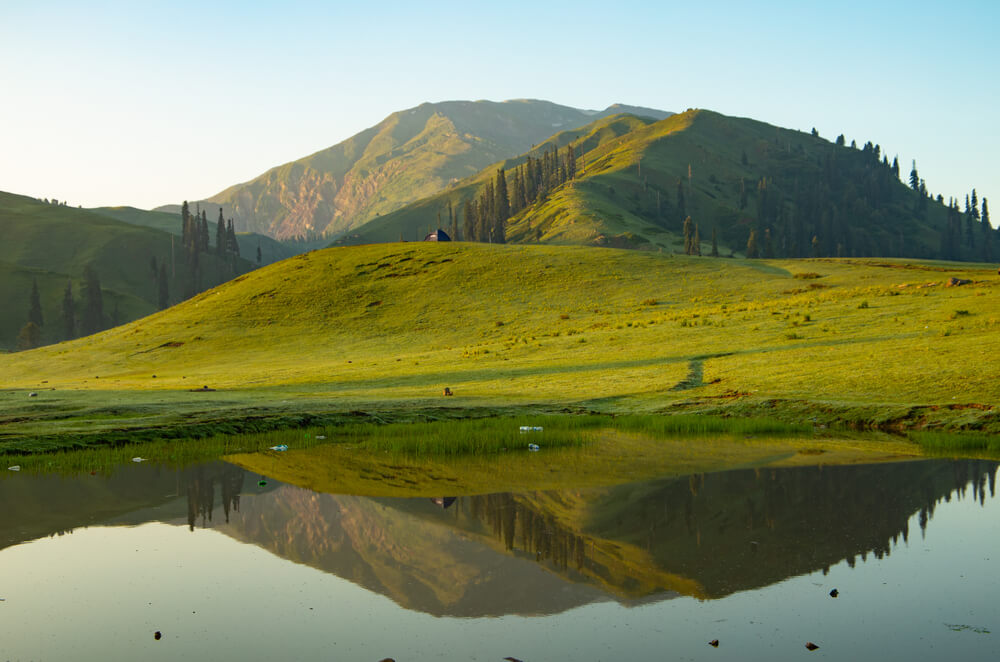 If you don't have a car, it may be beneficial to hire a driver. You should pay for the driver's fuel, lodging, and a reasonable daily wage.
What Are The Prices to Stay in Siri Paye Meadows?
There are various holiday packages available; however, they vary depending on the number of days and how many sites you wish to visit. From Islamabad to Siri Paye, visiting nearby destinations will cost you around 40,000 PKR.
Location of Shogran Siri Paye
Shogran is a mountaintop resort located in Pakistan's Khyber Pakhtunkhwa province at 2,362 meters. It's an excellent place for a quick break. The valley serves as the entrance to the lovely Siri Paye Meadows, which, at the height of 2,895 meters, drape a soft blanket over the rugged peaks of Kaghan.
Hotels In Shogran
Here is a list of the best hotels to stay in Shogran.
Pine Park Resort Shogran
Cedar Wood Resort Shogran
Arcadian Sprucewoods Hotel
Is Shogran Valley Safe To Visit?
Road Safety: Shogran's roads are not so different. However, you should check the weather first and hire a trustworthy driver.
Health: Shogran has a low incidence of altitude sickness. However, hiking at higher altitudes can be challenging. Don't be too hard on yourself, and steer clear of nighttime hikes. Also, avoid drinking unfiltered water, even from natural springs.
Tourist Destinations to Visit Near Shogran Valley
There are various breathtaking and magnificent tourist destinations near the Shogran Valley.
Frequently Asked Questions (FAQS)
Why is Siri called Paye?
In the Hindko language, "Paye" means a "high brushing ground."
Can we go to Shogran by car?
Even though the roads are pretty bumpy, it is accessible to go to Shogran by private or rented car.
Is the road to reach Siri Paye dangerous?
The road to the top is steep, narrow, and entirely unpaved. A 4×4 vehicle is required. New drivers are advised not to drive here.
Caution: Be careful not to travel up here in inclement weather, such as heavy rain or snowfall, as landslides and avalanches can happen anytime and make the terrain highly dangerous. Along with hurricanes and thunder frightening visitors and making traffic worse, heavy rains with some hail are also frequently witnessed.
A Quick Go-Through
A tremendous number of tourists from all around the world love to visit picturesque and beautiful destinations. The ideal location for a quick escape or the start of a more extended trip through northern Pakistan is Shogran. The tranquil mountain valleys and verdant meadows of Siri Paye make it an ideal vacation spot for visitors of all ages.