Shogran Valley – A Complete Guide
Strolling through Shogran's tranquilizing and soothing streets, breathing in the fresh air with a backdrop of snow-blanketed mountain peaks and foamy clouds, would be a mesmerizing experience. It offers a blend of picturesque tourist attractions and a soul-reviving environment. And it is home to River Kunhar and the sloping hills covered with puddles of sparkling water. Magnificent mountain peaks, including Makra Peak, Moosa Ka Musalla, Malika Parbat, and others, surround the Shogran Valley.
Shogran is a beautiful hill station located 2,362 meters above sea level. It is situated in the mesmerizing valleys of Kaghan and is usually populated with tourists worldwide in the year's hottest months.
For family and friends looking to have fun in Summer, we've gathered a goldmine of information that will help you in your voyage to this spell-binding yet adventurous destination.
Without waiting any longer, let's get into it.
At a Glimpse
Shogran is a mountain resort located in the Khyber Pakhtunkhwa province of Pakistan at the height of 2,362 meters. It's a fantastic place for a short getaway because it's only over 200 kilometers from Islamabad. The valley serves as the entrance to the lovely Siri Paye Meadows, which, at the height of 2,895 meters, drape a soft blanket over Kaghan's steep hills. Telenor and Zong are the two mobile phone services that are conveniently accessible in the area of Shogran.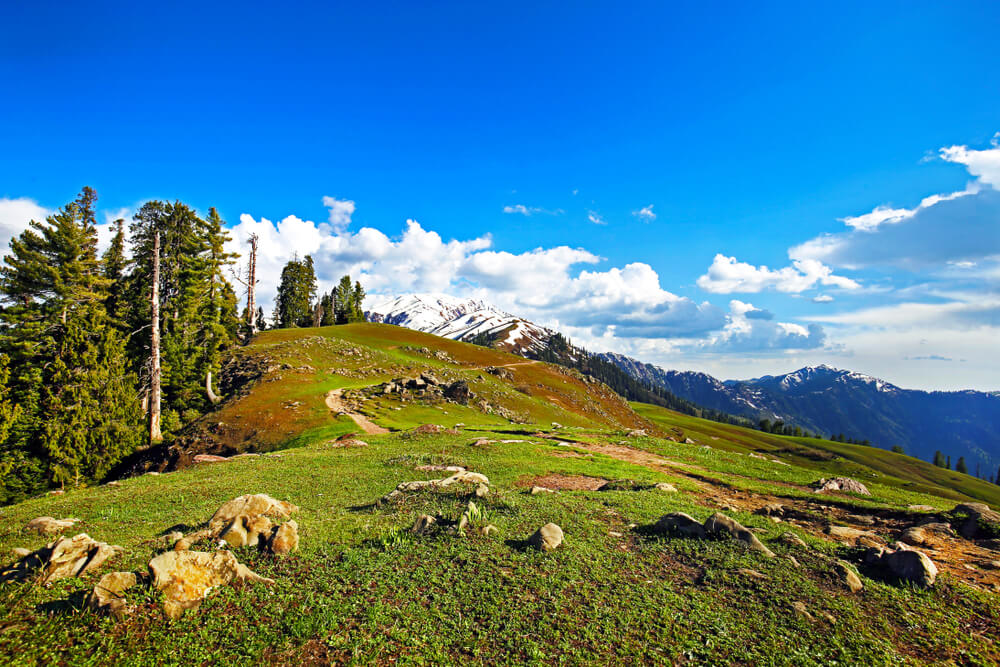 Geography
Shogran is located on a plateau, allowing it to showcase its visitors' majestic views of the surrounding areas. A road has been constructed from the capital city to Shogran to make traveling easy for tourists. The distance between Islamabad and Shogran is around 228 kilometers via Hazara Motorway.
Weather at Shogran Valley
Shogran welcomes tourists both in summer and winter (although in winter, only one hotel is open). Every year, the peak season lasts from June until August. The weather is still pleasant around this time. The temperature ranges from 3 °C (37 °F) to a maximum of 20 °C (68 °F). The winds during the monsoon season result in frequent hail storms and heavy rainfall. It can be challenging for guests to move around when there are unexpected thunderstorms and severe rains. The valley is generally covered in snow during the winter.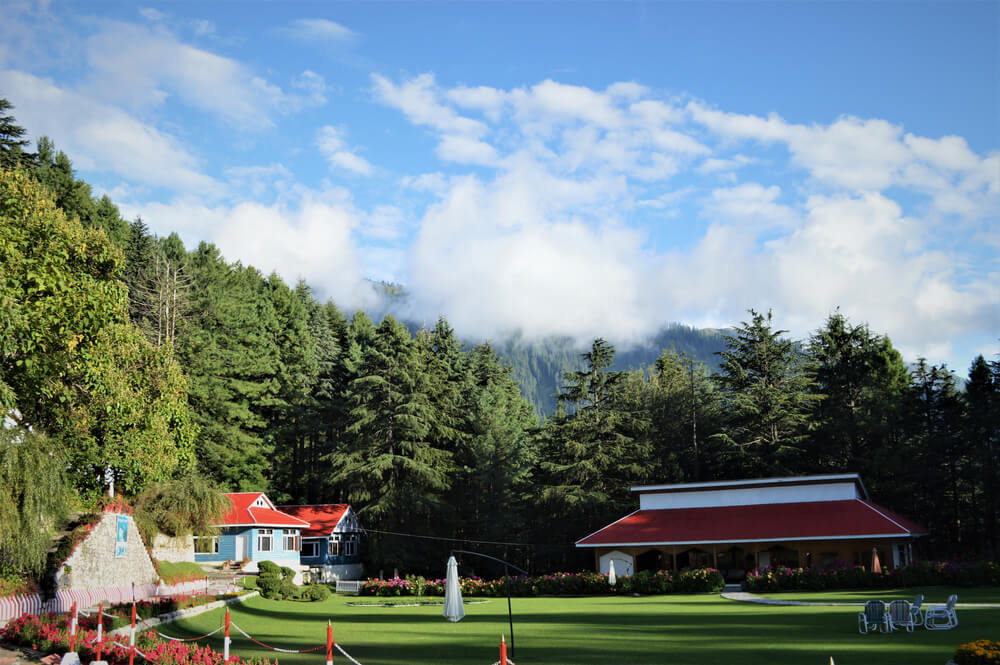 Shogran has been reachable in the winter since 2005. Even though it is possible to visit in winter, the facilities like hot running water and heating are not provided. Visit at your own risk.
When is The Best Time to Visit Shogran Valley?
Summer (June–August) is the ideal season to visit Shogran as the daytime highs hover around a pleasant 20°C. Don't forget to bring warm clothes because it can get quite chilly at night. Expect sunny and rainy weather here all the time, which gives Shogran its vivid green color. Nevertheless, one inn (a hotel) remains open all winter. It might occasionally be challenging for guests to move around while staying warm due to thunderstorms and heavy rain. The valley is completely covered in snow throughout the winter.
What Should You Know Before Going to Siri Paye Shogran?
Before visiting Siri Paye Meadows in Shogran, there are a few key points you should be aware of.
The roads that lead to Siri Paye are uneven and unsteady.
Siri Paye can only be reached by 4WD vehicles.
You must check the weather conditions before planning your trip to Shogran Valley.
If you are traveling from abroad, securing your travel insurance will help.
Recommended Gears You Must Pack
Remember to carry on the recommended gear listed below.
Hiking shoes and stick
Warm Clothes
Umbrella/Raincoat
Camping Essentials
First Aid Kit
Attractions in Shogran
Shogran is a jewel with incredible and unimaginable beauty. It is a perfect vacation spot to revitalize yourself while forgetting about the same yet hectic routine. Would you like to know more about what it offers?
Lush Green Carpeted Valley and Forests
Dwell in the magnificence of the green valleys of Shogran, enclosed by thick pine forests. See the animals grazing in the field, dotted with wild lilac flowers making Shogran a scenic destination. Do not miss having tea from the Shogran Forest Rest House.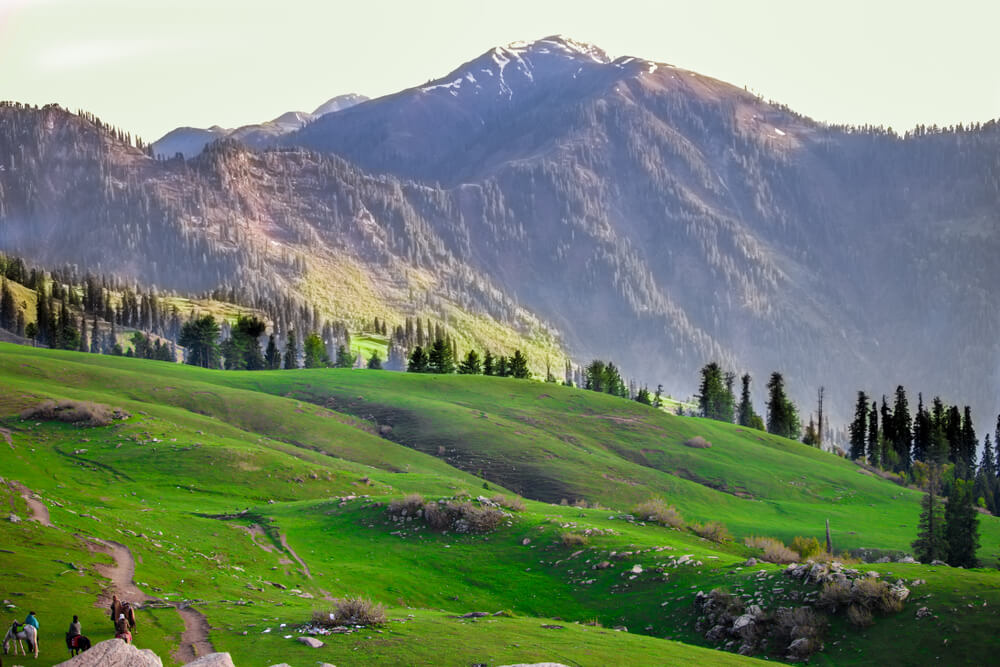 Beautiful Hills
A panoramic view of the beautiful hills, including the exquisite Malika Parbat, can be glimpsed from Shogran Valley. It is a famous tourist spot you should visit with your family and travel mates.
White Floating Clouds
The foamy clouds surround Shogran, the heavenly meadowland. It is a perfect spot to sit back while praising nature. Do not miss to shoot Instragrammable photos on the land of green fields.
Tranquil and Serene Atmosphere
Shogran gives a fantastic vibe. Hear the deep sound of River Kunhar gushing that soothes your eyes with a serene environment while sipping a cup of hot coffee and devouring some freshly made "pakoras" from the stall.
Alluring Snowfall in Winter
Escape the busyness of life and plan a getaway to Shogran in winter. Live the best days of your life while playing with crystalline snowflakes falling from above. Make a snowman and sing your favorite songs.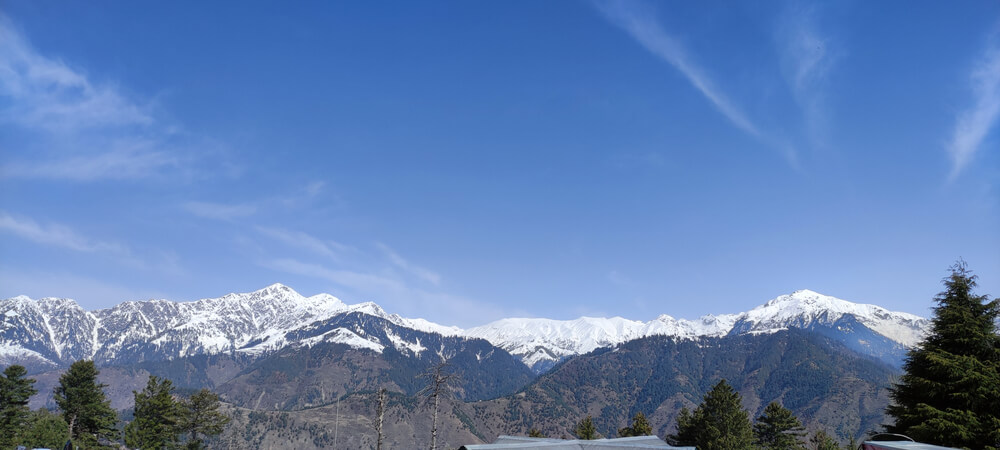 The Famous High Swing at Siri Paye
One of Siri Paye's most distinctive sights—a swing hanging over the hill—is visible as soon as you approach the top of Siri Paye. With such views, you can be sure that your swing ride will be the happiest of your life.
How to Reach Shogran Pakistan?
The most convenient independent travel to Shogran is via private transportation. To get to Shogran, you must first travel for around 30 minutes in a vehicle after spending four hours driving to Kiwai north of Islamabad. You'll have to return to the same car. Lahore to Shogran is about an eight-hour journey. You can either choose to drive yourself or hire a chauffeur.
Even though it is more complex and time-consuming, you can arrange private transportation in Balakot after reaching there via bus from Islamabad.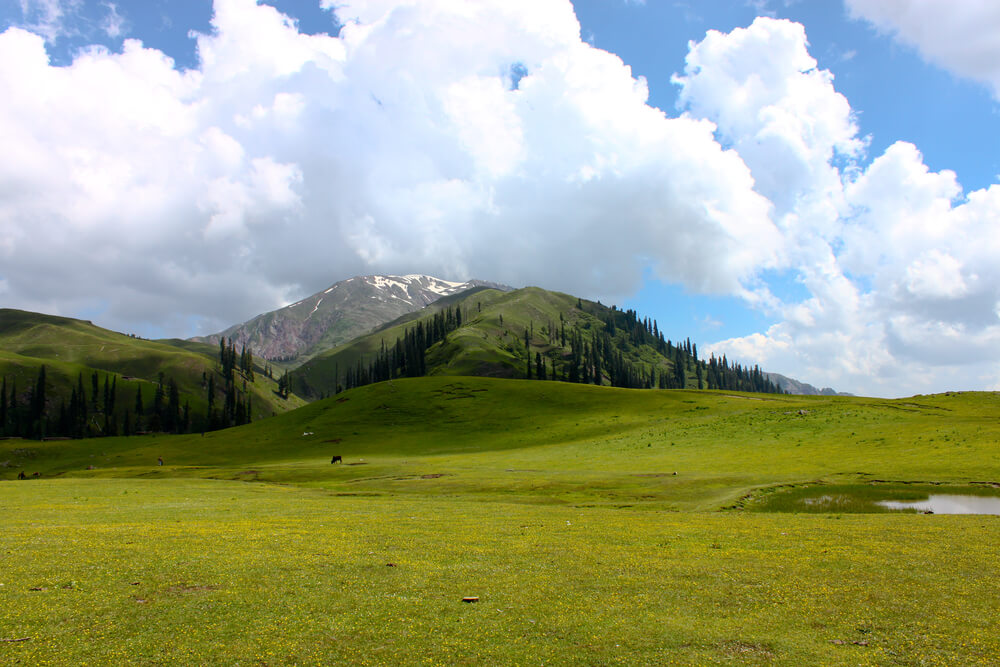 Hot Tip: There's a restaurant in Kiwai where you can eat while encircled by a little cascade! It's a great idea to eat breakfast there before climbing to Shogran.
12 Tourist Spots to Visit in Shogran
Shogran is home to plenty of destinations for tourists. When you arrive here, remember to plan a visit to the places listed below.
Siri Paye – The Gem of Shogran
Siri Paye Meadows is a top destination to visit when traveling to Shogran. It is elevated at 10,500 feet and picturesquely framed by the clouds. This 6 km journey up the treacherous, thrilling, jaw-dropping hairpin turns an adventure in and of itself that you won't soon forget. If you are fit enough, you might forgo the jeeps and stroll the extravagantly lush pine forest track for 2 to 3 hours instead.
The Siri Ridge, with its charming tiny lake and decaying forest department hut, whose porch you can sit in, can be reached after a 45-minute jeep trip.
Once you arrive in Paye, take strolls across the meadows, enjoy a picnic lunch, and take your time taking the breathtaking views. On most days, rain comes quickly and heavily in the late afternoon or early evening and can alter rapidly near the top of the mountain.
Makra Peak
Makra Peak is heightened at 12,746 feet or 3,885 meters. Although it is a more difficult task, it is also conceivable and frequently successful to climb through knee-deep snow in the spring or fall. It is highly encouraged for climbers to schedule their journey to return to Paye before dusk. Historically, hikers have become disoriented while descending in the dark, sometimes with disastrous results.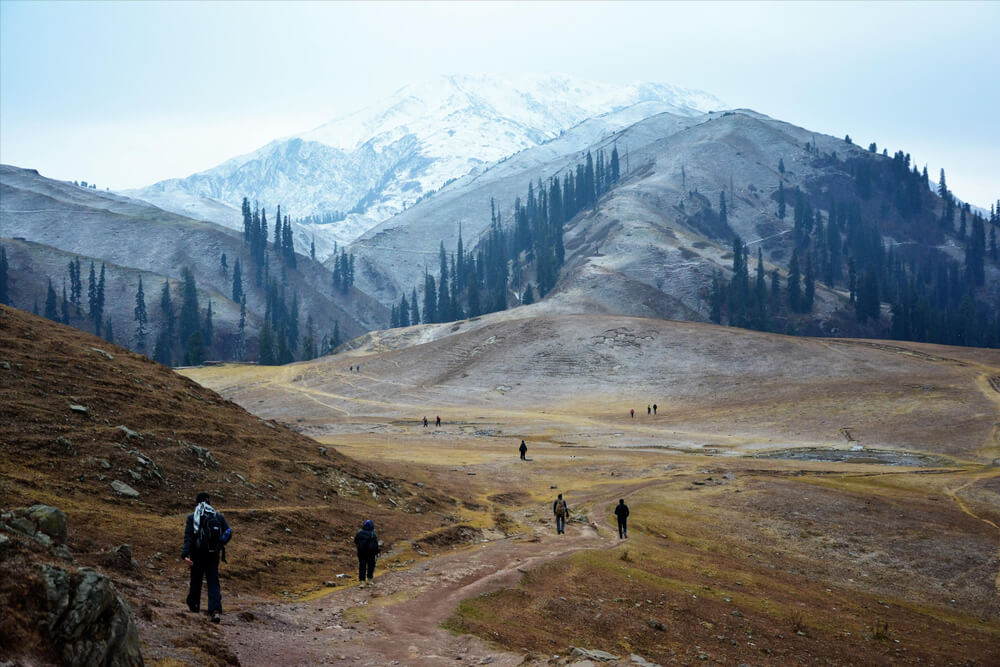 Due to Makra Mountain's peak rising just 2,200 feet above Paye in the summer, the 2- to 2.5-hour ascent from the meadows to the summit is extremely easy, making the summit a favorite destination for first-time hikers.
Paprang and Shinkiari Hut
Visitors who want to experience nature without exerting themselves too much will love to visit the village of Paprang. The more-or-less flat jeep trail to Paprang meanders through gorgeous forested mountainous scenery and genuinely rejuvenating nature to the southeast of Shogran. You'll pass a few lovely streams along the journey and glaciers if you go before mid-June. At a leisurely walking pace, it should take you around 1.5 hours to reach Paprang.
Dana Shinkiari is a historic forest hut on the Shinkiari Plateau at around a 2 to 2.5 hours hike. Though most tourists to the Kaghan Valley never see it, this is another one of its hidden gems so the effort will be well worth it. The pine-covered plateau is located at around 8,350 feet (2,545 meters), and the views are once more breathtaking.
Khanian
Khanian is a beautiful tourist destination to visit while you are at Shogran. The tourists like staying in Khanian for at least a few nights and exploring the many excursion choices. You can easily take day trips from Khanian to various locations, including the town and waterfall in Khanian, the Kamal Ban forest, Manoor Valley, Naran, Lake Saif-ul-Maluk, Lulusar Lake, and Babusar Pass. The distance between Shogran and Khanian is only one hour and fifteen minutes.
Sharan
People who have visited Sharan cite it as their favorite place in the Kaghan Valley. Sharan is located on the west bank of the Kunhar River. The distance between Sharan and Shogran is around 2.5 hours in a jeep. Visit the famous Sharan Forest, and plan a picnic at this beautiful tourist destination in Kaghan Valley.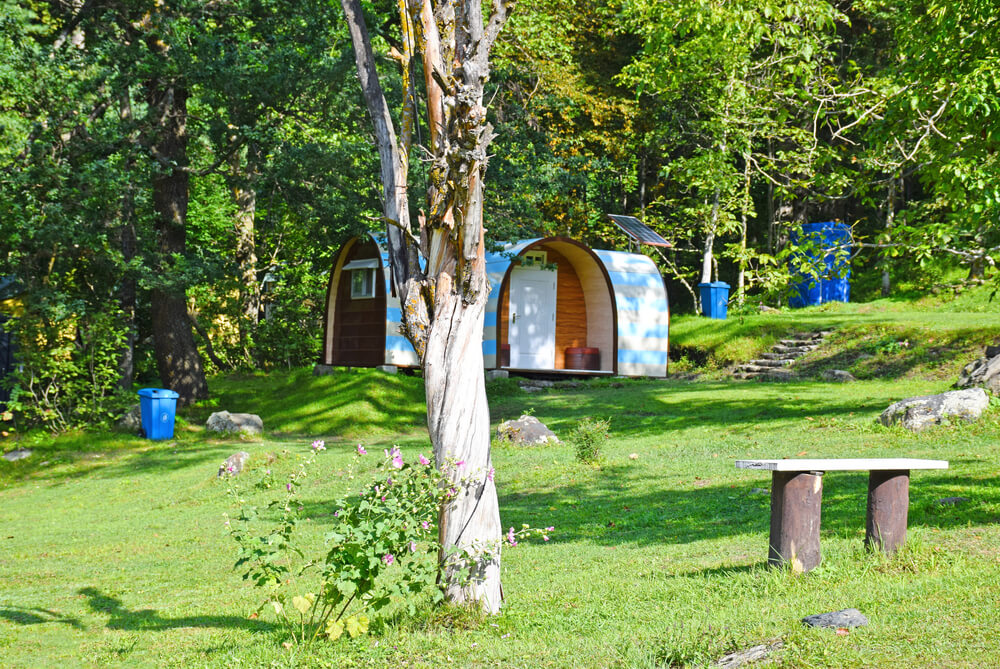 Mini Zoo Shogran
A tiny zoo has been created at Shogran hill station for those who love to explore the wildlife in this region. The forests surrounding Shogran have a diverse array of species. The zoo is home to a variety of beautiful birds. It is a perfect spot to enjoy for kids.
Forest Rest House
Make your stay wonderful by staying at Forest Rest Houses in Shogran. There are plenty of options from which you can choose. Make your trip memorable by visiting the tea stalls serving local specialties and snacks nearby.
Mini Market
Wander through the expansive, verdant lawns of the forest rest house or take the hiking/walking trails to the Shogran bazaar. It is dotted with modest rest houses, restaurants, and motels on the periphery, little grocery and juice shelves scattered among the handicraft stores, and other service retail sectors like hairdressers.
The local sellers deal in trinkets and medium-sized stores that cater to the demands of tourists. Handicrafts, jewelry, and varieties of clothing like Ajraks, Pashmina Shawls, and mirror-worked shirts are alluring to travelers.
Kunhar Valley View Point
Kunhar Valley viewpoint is after 22 kilometers of travel from Mansehra to Balakot. From this elevated location on the main road, you can view the lovely Kunhar valley below. The Kunhar River's precious water glistens in the sunlight. It is the best place to take some rest.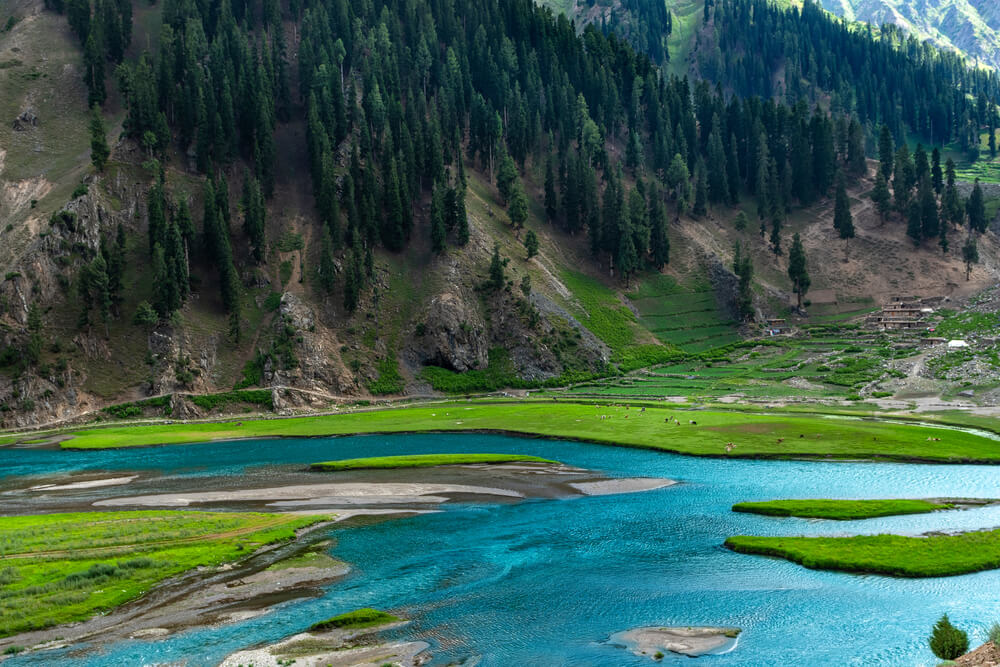 Lughmani Hill
It is a vantage point near the major road in Mansehra. Enjoy a panoramic view of the lovely city of Mansehra from the hilltop. It's a nice place to unwind and enjoy a tranquil atmosphere.
Balakot
Balakot is a small town along the banks of the Kunhar River. The distance between Balakot and Shogran is 30 kilometers. It is a place where you can spend the night or stop by for lunch and dinner. It includes hotels and restaurants according to the guest's preferences.
Malkandi Forest
Malkandi Forest is situated on the eastern side of Siri Paye. If you are a hiking enthusiast, visit this tourist spot near Shogran Valley Naran. When meandering around the forest, beware and watch out for wild animals like leopards and bears. Check weather conditions before visiting the forest.
Top Hotels in Shogran
Shogran has numerous top hotels for its visitors, making it one of the coziest spots for vacation.
Pine Park Hotel Shogran
Arcadian Sprucewoods Luxury Hotel
Green Park Hotel Shogran
Lalazar Family Resort Shogran
Things to Do in Shogran
Shogran Valley offers many enjoyable activities on your trip to the breathtaking valleys in the Mansehra District.
Horse Riding
There is no better way to discover the stunning, lush meadows than riding a horse and enjoying the panoramic view of the mountains. You can rent a horse for around Rs. 500 and Rs. 1000. You'll feel renewed entirely by the horse's ascent of the slope and the slap of the cool breezes. Wouldn't it be wonderful to escape from the worries in that way?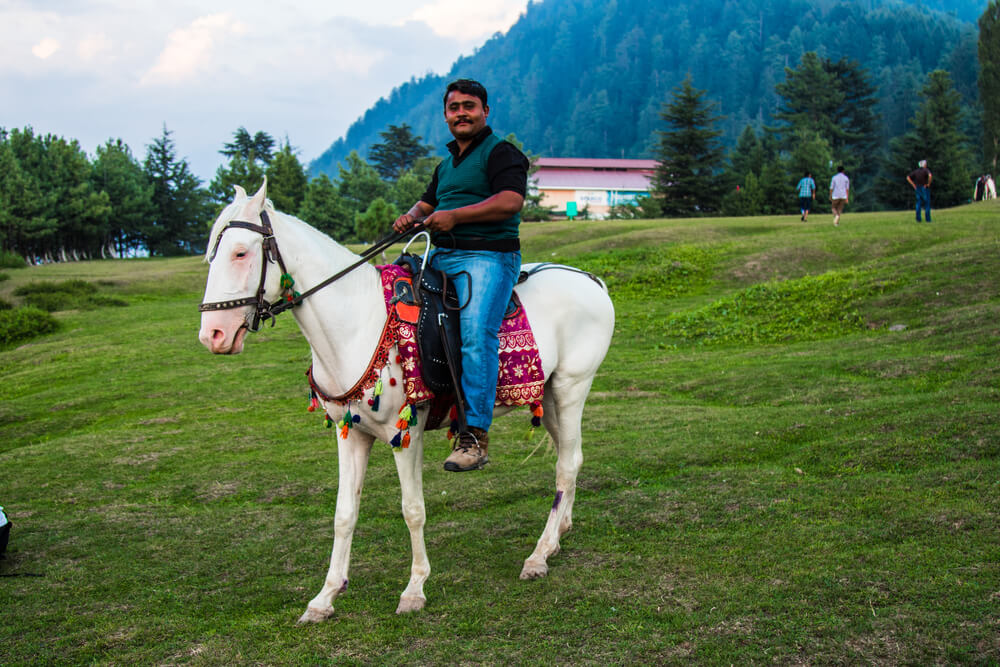 Jeep Ride
Experience the jarring and jaw-dropping jeep ride from Shogran to Siri Paye. The mountain route takes roughly an hour, giving you more time in the valley and mountains. Large rocks and erratic dents mark the entire route. On the way up, you will undoubtedly tremble. Since only jeeps can transport you to the summit, you must pay for the ride tickets. The same jeep will be responsible for bringing you back.
Camping
Instead of staying in a hotel in Shogran, you can spend a romantic night under the stars with your other half. It's best to establish a camp beforehand. As camping is a favorite activity done by tourists, the hotels in Shogran provide the facility.
Photography and Sightseeing
Capture the best photos of picturesque places. Fill your photo album with the best days you have spent in the beauty of Shogran to make it memorable.
Hiking to the Nearby Places
One of the famous tourist spots in Shogran is Siri Paye. Even though it's a short trip, you should set out plenty of time to make it back before it gets dark. It would take 3–4 hours of walking for the ordinary person to reach these lush green fields.
Spend a Night by the Bonfire
The ideal method to have a good time and take in the chilly nights together is around a bonfire. If you are traveling with a group, the staff at your hotel might arrange a campfire for you.
Village Food
Head towards the hilly side of the meadow, and you will find a local family living in a spartan cottage and serving homemade organic and traditional food.
Food and Tea Stalls
At Siri Paye Shogran, there are a few tea vendors and a small woodland rest home. While admiring the lake's spectacular views of the snow-capped mountains, visitors adore sipping hot tea from one of the local food and tea stalls.
The People of Shogran
Visitors are treated warmly by the residents of Shogran. They are incredibly kind and hospitable. The Forest Rest House, occupied by locals and travelers frequently, is the best example, as the locals take you to their homes and make you taste the delicious food they prepare.
Facilities in Shogran Valley
Car Parking
Despite the crowd in Shogran, your hotel provides the amenity of a car parking area. In the snowy weather, your hotel staff helps you get the car out if it gets stuck due to snow patches.
Transportation
Suppose you are not willing to travel by private car. In that case, the facility of bus services like Daewoo and Faisal Movers is also available for easy access. The local jeep drivers are waiting for the tourists to take them to the spots up higher. Traveling in northern areas has not remained a problem now.
Restaurants
In tourist destinations like Shogran, Naran Kaghan Valley, Skardu, and many others, posh and top-notch restaurants have been opened. Different diversified cuisines are available. The quality of food they provide is fresh and fabulous.
How Much is The Distance to Reach Shogran from Islamabad?
The distance between Islamabad and Shogran is around 228 kilometers through Hazara Motorway. It requires nearly 4 hours for the trip from Islamabad and about 8 hours from Lahore. After stopping at Kiwai to reserve a jeep, you'll have to travel for 30 minutes to reach Shogran.
What is The Average Cost of Living in Shogran?
There are numerous vacation packages available, but they differ according to the days and the number of locations you want to see all at once. Visits to adjacent locations from Islamabad to Shogran will run you about 40,000 PKR.
How Expensive Can a Shogran Valley Trip Be?
It depends on your selection for comfort and experience. There are chances of getting expenses to increase if you stay in an upscale hotel or guesthouse.
Your costs can quickly run from 15,000 to 20,000 rupees per head with reasonable accommodation, gas prices, and jeep packages. If you wish to reduce this cost, consider traveling in groups, camping out rather than booking a hotel room, using the coaster or bus, or bringing your food.
Where is Shogran Located?
Shogran is located in the Mansehra District of Khyber Pakhtunkhwa in the Valleys of Kaghan.
Other Destinations in Northern Pakistan
Shogran is located along the route to Gilgit-Baltistan, home to many other beautiful locations, including Fairy Meadows, Naran Kaghan Valley, Hunza, and Skardu. Swat Valley and Kashmir are two other well-known locations in northern Pakistan. However, they are not on their way.
Frequently Asked Questions (FAQs)
Why is Shogran famous?
Shogran Valley is a beautiful hill station at the height of 2340 meters with excellent weather. It is the ideal place to avoid the sweltering heat in Pakistan's plains due to its pleasing climate. The beautiful valley of Shogran fulfills every requirement for the perfect holiday.
Does Shogran experience snow?
The Shogran Valley is covered with snow during the year's colder months.
Can cars attend Shogran?
Yes, you can travel to Shogran via your private car. After the modernized era and a wide range of technology, roads, and motorways have been built to make it easier for tourists to travel.
Wrap Up
Above-stated tourist guide can be a savior if you are searching for how to make your most-awaited trip to Shogran calming yet enjoyable. The valley of Shogran has loads of stunning destinations and sparkling waterfalls for natives, solo travelers, and family groups.
While cutting down Shogran from your travel bucket list, enjoy the trip!