Lalazar
Lalazar is one of the most picturesque plateaus in Pakistan, and it's famed for its gorgeous mountaintop covered in flowers. It's about 21 kilometers from Naran – a one-hour journey – but worth every minute when you reach the top. From there onwards, the road gets narrow and can be challenging to navigate after heavy rain; but if you are keen on an adventure or want to see something unique, head through Batakundi!
Weather of Lalazar Naran
Lalazar Naran is a small town in the Upper Kaghan Valley of Pakistan. The town is situated at an elevation of 3,123 meters (10,246 ft) and is surrounded by towering peaks. The town is known for its scenic beauty and calm, temperate climate. The average temperature in Lalazar Naran is 9.5 °C (49.1 °F).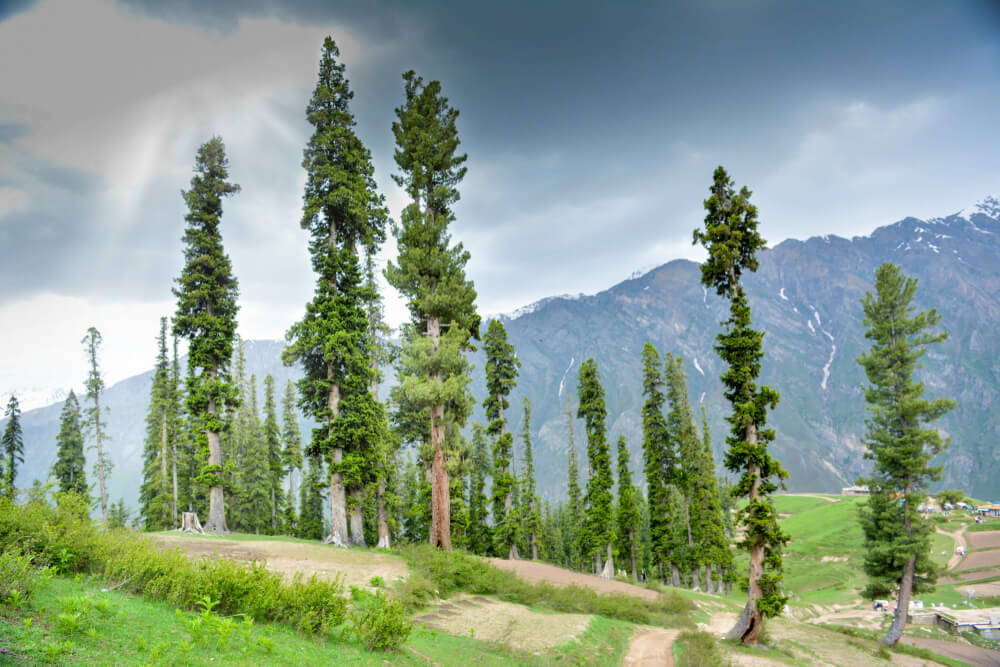 When is the Best Time to Visit Lalazar?
The Lalazar Naran valley is a beautiful natural setting perfect for a summer getaway. The valley is geologically unique, with various rock formations and mineral deposits. The best time to visit is June to August. This is when the weather is at its best, and the scenery is lush and green. If you are looking for a more quiet and relaxed experience, you may want to visit during the off-season (September to May).
Why is it called the "Land of Flowers"?
Each spring, the Lalazar is blanketed in a sea of vibrant wildflowers. The valley gets its name from this stunning display of color, which is said to be unlike anything else in the world. While the Lalazar is known for its wildflowers, it is also home to much other flora and fauna.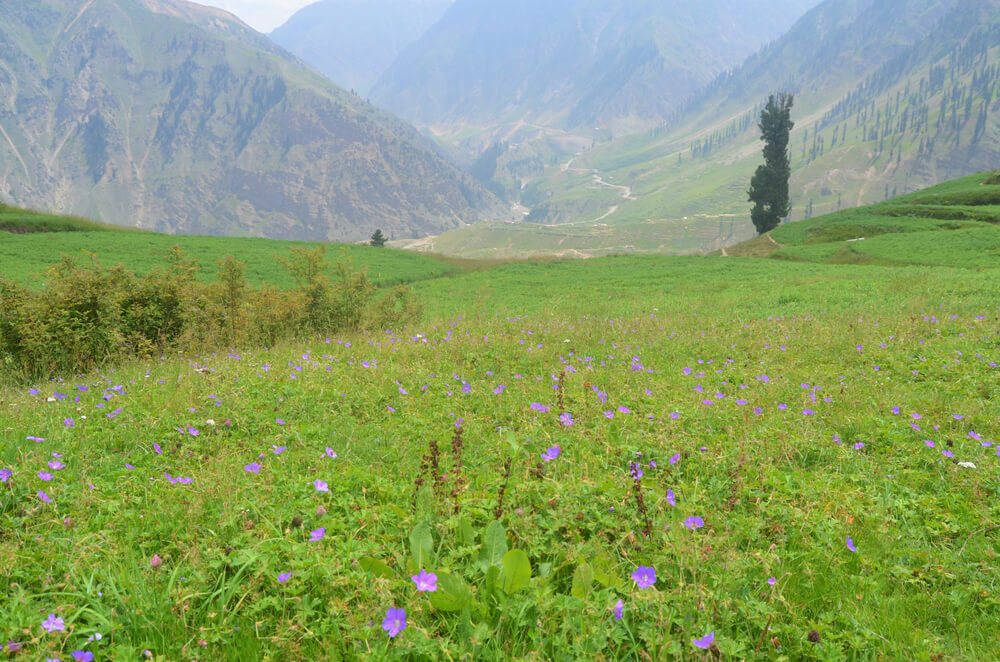 Things to Know Before Visiting Lalazar
Before visiting Lalazar Kaghan valley, it is essential to be aware of the following things:
● The weather in the valley can be extreme, with temperatures ranging from very cold in the winter to hot in the summer. Make sure to pack appropriate clothing.
● The valley is high, so visitors should be prepared for possible altitude sickness.
● There are no roads leading into the valley, so visitors must trek in on foot. Make sure you are physically fit enough to make the hike
● The valley is home to many dangerous animals, so it is essential to be aware of your surroundings.
● Lalazar is a small town located in the mountains of Pakistan.
● Travelers must be careful while traveling through the rocky and bumpy roads to reach Lalazar valley.
● The road is very narrow at some points and can be dangerous if one is not careful. Lalazar is a remote town located in the mountains of Pakistan
● The only way to reach Lalazar is by 4×4 vehicle. This is because the roads leading up to Lalazar are very steep and treacherous.
Recommended Gears
If you are planning to hike at Lalazar, there are certain things you should pack in your bag. Here is a list of recommended gear to bring on your hike.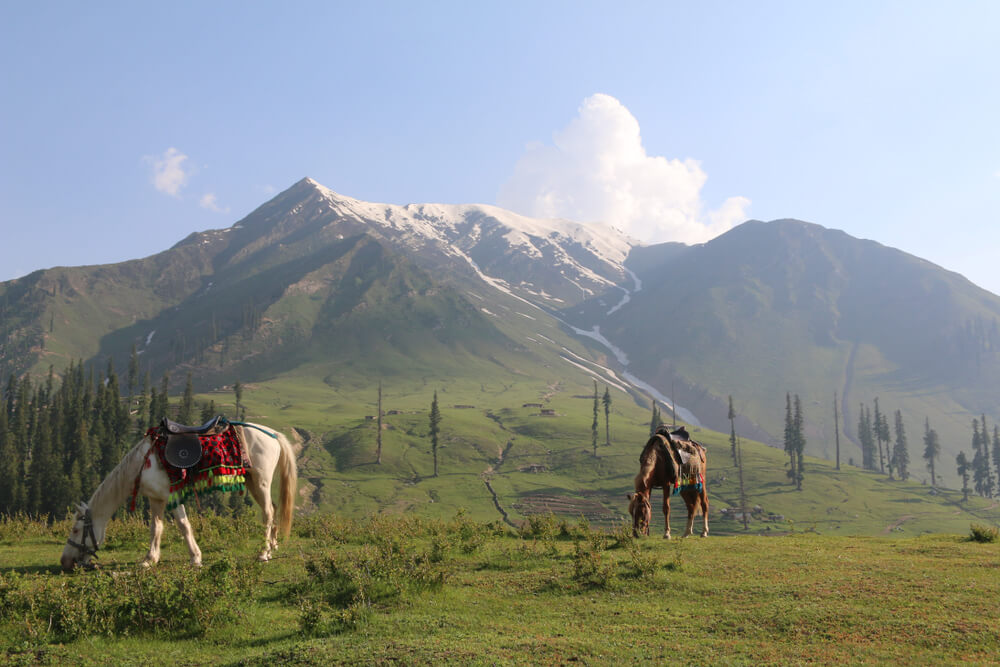 Lalazar is a small town located in the cold region. People here must wear warm clothes to protect themselves from the extreme cold.
● The type of clothing worn in Lalazar is typically made from thick, heavyweight fabrics like wool or fur.
● Lalazar residents also often wear multiple layers of clothing to keep themselves as warm as possible.
● If you're planning on visiting Lalazar, or any other cold location, pack plenty of warm clothes. It's also a good idea to research the type of clothing typically worn in that area to prepare you for the cold weather.
Kaghan valley is a hikers' paradise, and there are few better places to try out a new pair of hiking shoes than on one of the many trails in the area.
● Hiking shoes are an essential part of any hiker's gear.
● They protect you from the elements and support your feet while on the trail.
● You should also consider the weight of the shoes and whether you need a waterproof or breathable shoe.
An umbrella or raincoat is one essential item you should pack for a trip to the Kaghan valley.
● The weather can change quickly in the valley, and you don't want to be caught in a downpour without any protection.
● Umbrellas and raincoats are readily available in the valley, so don't forget to pack one before your trip.
If you're planning on camping at Kaghan Valley, There are a variety of tents available, so be sure to choose one that's appropriate for the number of people you're camping with.
● You'll also need a sleeping bag. Sleeping bags come in various materials and sizes, so choose one that's comfortable and keeps you warm at night.
● Other essential items for camping include a camp stove, cookware, a first aid kit, and a flashlight. These items will help you be prepared for anything while you're camping. Be sure to pack them all before you head out on your camping trip.
A first aid kit is an essential item for any home or workplace. It should be stocked with supplies that can be used to treat minor injuries and illnesses.
Here is a list of items that should be included in a basic first-aid kit:
● Band-aids
● Antiseptic wipes
● Sterile gauze pads
● Adhesive tape
● Scissors
● Tweezers
● Antibiotic ointment
● Pain relief medication
● Disposable gloves
● First aid manual
Attractions in Lalazar
Lalazar Kaghan has some of the most beautiful and enchanting natural attractions. From the majestic mountains and rushing rivers to the lush green valleys and deep blue lakes, there is something for everyone to enjoy.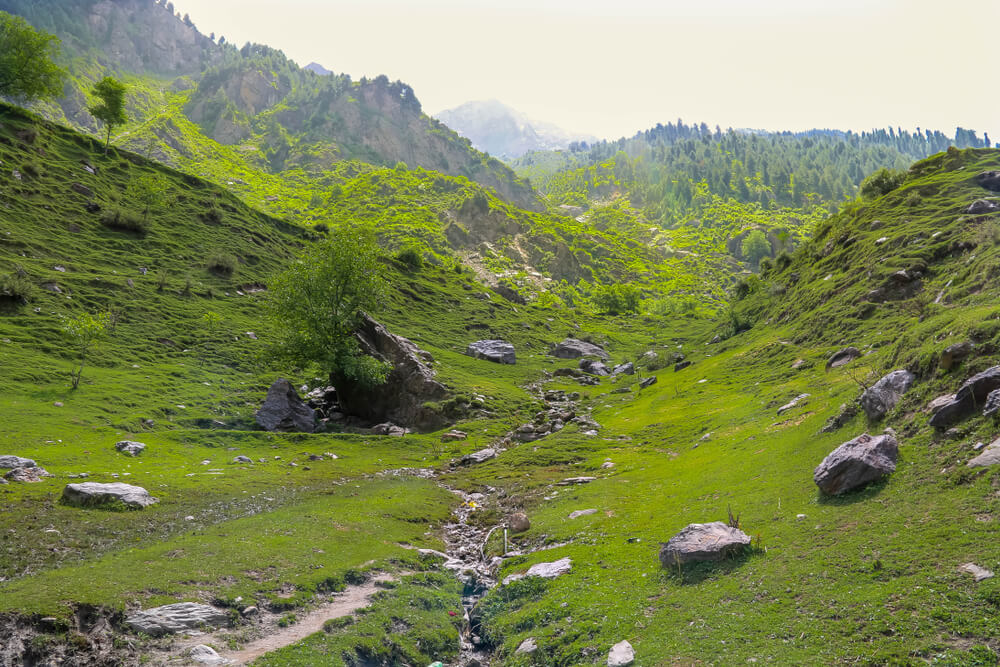 Some of the most popular attractions in Lalazar Kaghan valley include the Kaghan Memorial Complex, the Saiful Muluk Lake, the Mahodand Lake, the Lake of Dreams, and the Lalazar Plateau.
Lush Green Meadows & Colorful Flowers
Nestled in the heart of the Himalayas, Lalazar is a picturesque town known for its lush green meadows and colorful flowers. Every year, thousands of tourists flock to this small town to enjoy the stunning scenery and experience the serenity of the Himalayas.
Swings for Children
Swings for children can be found in many different places, but the Lalazar Kaghan valley is a great place to find them. It is home to many swings, from wooden to metal to inflatable. No matter what type of swing your child is looking for, they will find it at this place. So if you're looking for a great place to take your children during the summer, check out the Kaghan valley.
Breathtaking Sunset View
There is nothing quite like watching a sunset over the mountains. The colors are constantly changing, which is a beautiful sight to behold. The sunset view at Lalazar Kaghan is one of the most breathtaking views in the world. When planning your trip to Pakistan, add a visit to your list. You will not be disappointed by the incredible views.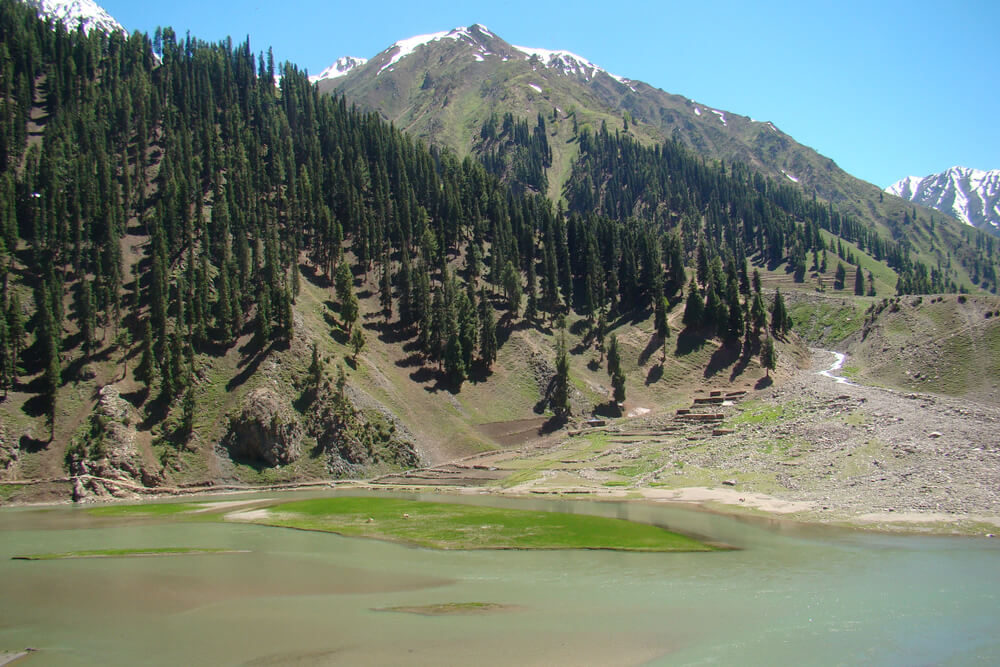 Amazing Views From Lalazar Top
Lalazar Top is a stunning vantage point in the Kaghan Valley of Pakistan. You can see some of the most incredible views of the valley below from this location. The Kaghan Valley is a beautiful place, and it's easy to see why it's such a popular tourist destination.
Snowfall in Winter
The Kaghan valley is one of the most beautiful places in Pakistan, particularly in winter when it is blanketed in snow. Every year, tourists see the valley's majestic mountains and stunning scenery. While the snowfall is lovely, it can also cause some problems. Roads can become icy and dangerous, and avalanches are always a possibility. Nevertheless, the snowfall is a spectacle that is well worth the risks.
How to Reach Lalazar?
Lalazar is situated in the northern part of Pakistan at 3,123 meters. It can be reached via the two major routes from Islamabad. The first and most popular route is through Naran. Jeeps go from Islamabad to Naran daily, taking approximately six hours. The second route is from Mansehra. The distance from Mansehra to Lalazar is about 60 kilometers, and the journey takes a few hours.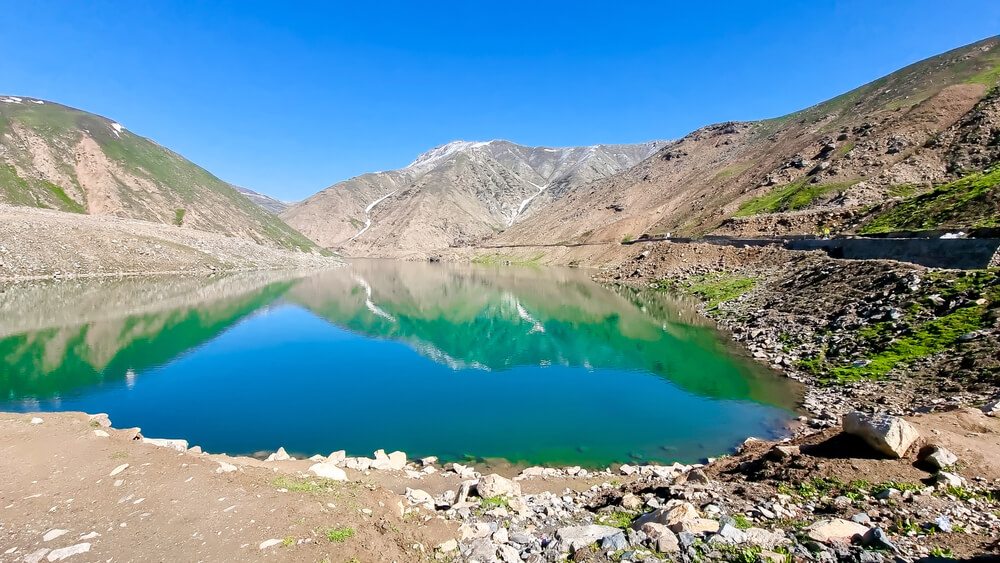 Things to Do in Lalazar
Lalazar Kaghan valley is a beautiful place with many things to do. Here are some of the things you can do:
● Hiking
● Camping
● Fishing
● Wildlife Watching
Trekking
Lalazar is a popular destination for both locals and tourists alike. Several trekking routes start from Lalazar, ranging from easy day hikes to multi-day expeditions. Whether you're an experienced hiker or a first-time trekker, there's a trail for you. And with stunning views of the valley waiting for you at the end of each trail, Lalazar is a must-visit for anyone who loves the outdoors.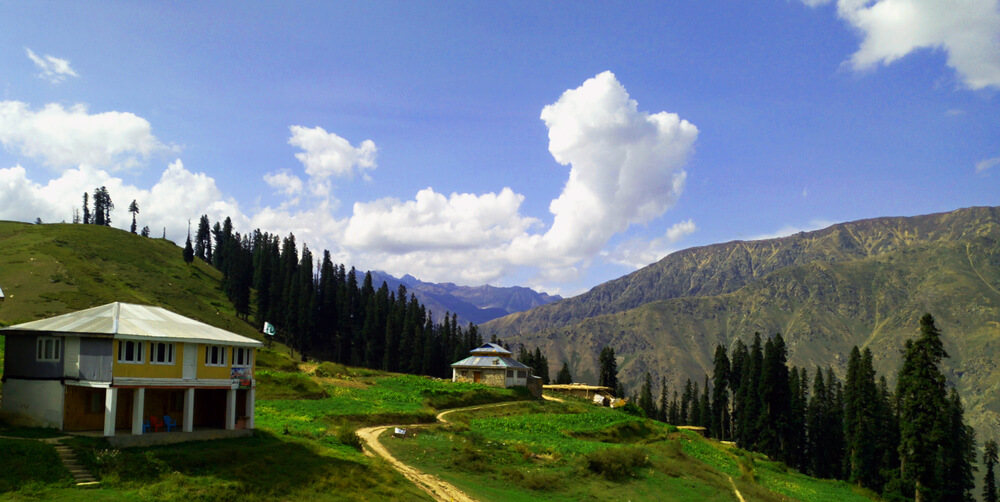 Horse Riding
Horse riding is a great way to enjoy the outdoors and bond with animals. Lalazar offers horse riding lessons for all levels, from beginners to experienced riders. The horseback riding lessons are designed to help you learn the basics of horsemanship in a safe and fun environment. Whether you're looking to learn how to ride for the first time or you're looking to improve your skills, these horse riding lessons are a great way to get started.
Camping
It is a beautiful place with plenty of scenic spots for camping and hiking. The town is also home to some of the best hiking trails in the country. If you're looking for a fantastic camping experience, Lalazar is the perfect place to go.
Facilities at Lalazar Meadows
Lalazar Meadows is a beautiful picnic spot in Kaghan valley. It has many facilities for tourists. There is a big parking area for the vehicles. Toilets are available for both men and women. You can find a mosque for Muslims. A small river flows through the valley, with many bridges on it. You can also find a place for fishing.
Hotels & Restaurant
There are spectacular views of the mountains and valley, and hotels and restaurants are the perfect places to relax and enjoy the area's natural beauty.
Every hotel offers a range of comfortable rooms with en-suite bathrooms and stunning views. The restaurant serves a range of delicious local and international dishes, perfect for enjoying after a day of exploring the valley.
Guest House
The guest house at Lalazar Kaghan is the perfect place to stay while you enjoy all these beautiful region offers. They offer comfortable accommodations and superb service. The staff can help you make the most of your stay.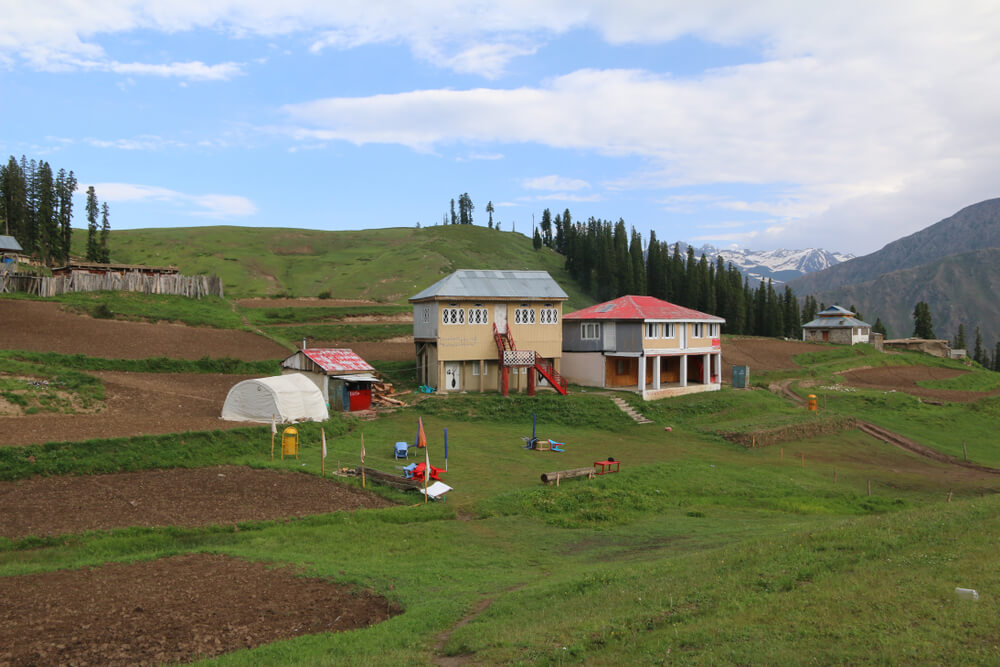 Tents on Rent
Locals are providing tents for rent at Lalazar Kaghan for your adventurous trip. They have all kinds of tents, from 5-person capacity to 20-person capacity tents. The range of tents starts from 2000 Rs to 8000 Rs. Locals have all sorts of tents like waterproof and UV rays protected. All tents are very easy to install. So book your tents now and enjoy your Lalazar Kaghan trip.
How Much is the Distance to Reach Lalazar from Kaghan?
It is situated at a distance of 21 km from Kaghan at an elevation of about 10,200 feet from sea level.
What is the Average Cost of Living in Lalazar?
The cost of living in Lalazar Kaghan valley is relatively high. The average cost of living for a family of four is approximately $1,500 per month. This includes the cost of food, housing, transportation, and other essentials. However, the cost of living can vary depending on a family's specific needs. For example, families with children may need to spend more on childcare and education.
Where is Lalazar Located?
Lalazar is a mountain valley located in the Khyber Pakhtunkhwa province of Pakistan. The valley is at an elevation of 3,100 meters above sea level and is home to a beautiful lake. Lalazar is a popular tourist destination and is known for its picturesque scenery.
FAQs
How long is the Lalazar track?
The Lalazar track is a hiking trail in the Khagan valley of Pakistan. It is a popular destination for trekkers and is known for its scenic views. The trail is approximately 4 kilometers long and takes about 2 hours to complete
Is it dangerous to reach via Jeep track?
The danger of driving through the Lalazar Kaghan Valley depends on several factors, including weather conditions, road conditions, and driving skills. If you are planning to drive through the Lalazar Kaghan Valley, it is vital to be aware of the risks. Make sure you are familiar with the area and have a good map. Drive during the day, and take breaks often. And above all, drive carefully.
Conclusion
It is a place of outstanding natural beauty, with towering mountains, glaciers, and rushing rivers. The valley is also home to a diverse range of wildlife, including some of the rarest and most endangered species in the world. In conclusion, the Lalazar Kaghan valley is a treasure of Pakistan that must be protected for future generations.