Patriata
Many tourists worldwide visit Pakistan because it has some of the most stunning locations. Patriata, also known as New Murree, a popular hill station 16 kilometers away from Murree Tehsil, is a mesmerizing location. Its natural beauty and serene atmosphere attract many local and international travelers. It is a perfect place for those who need an escape from the daily hustle and bustle. Standing at the highest point of Murree hills, it offers cool breezes, beautiful sights, majestic green mountains, and vibrantly abundant wildlife to explore every day before nightfall, along with an awe-inspiring sunrise and sunset. Something is exciting and mysterious about this place. It has so many different aspects that it will never cease to amaze you. This stunning location is a piece of heaven on Earth.
Why is it called Patriata?
The history of the new Murree has a very intriguing story. Its history stretches back to colonial times when British officials and their families frequently visited this region to spend summer vacations. According to a legend, once a foreign tourist saw this location and fell in love with it, but for some reason, he couldn't remember the name of it. So, he asked an older woman who was walking by and carrying a sack of flour on her head, known as Aata in the local dialect. The elderly woman responded in Puttar Aata, which translates to "my son, it is flour," because she didn't understand the foreigner's question and thought he was inquiring about the flour she had on her head. Unwillingly combining the words, that immigrant made it Patriata. He assumed the woman had informed him of the location's name. So, that is how it got its name.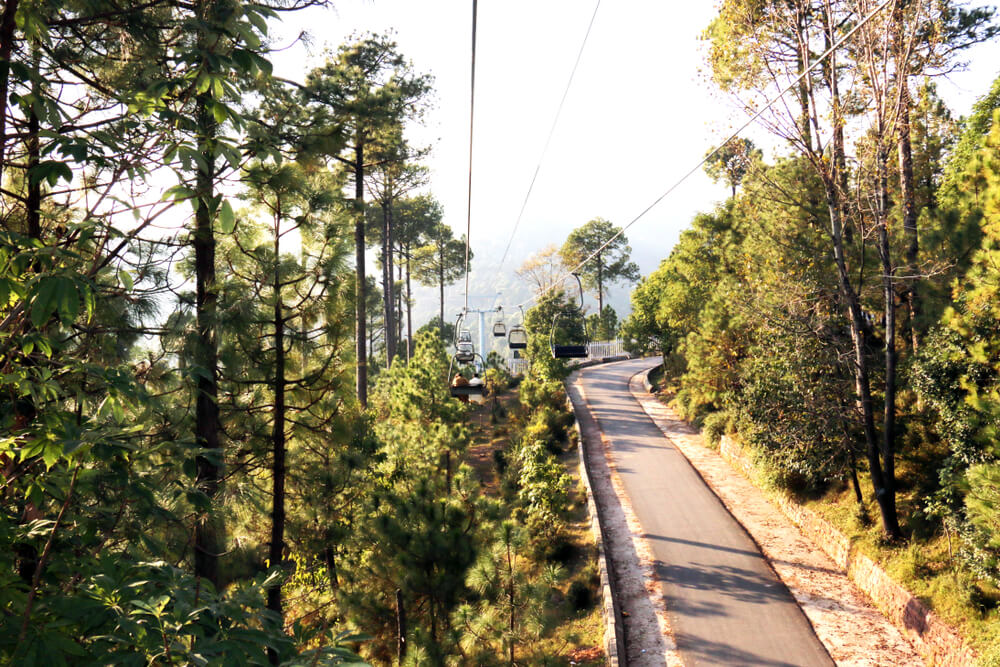 People Living in Patriata
The majority of people reside either in Muree or nearby settlements. They primarily come from the Abbasis, Satti, Danial, Dhund, and Catwalk tribes. These tribes are natives of this place. They have been residing here for centuries. Most people seen in Patriata New Murree are tourists or individuals associated with the tourism industry. Most permanently residing in this area are farmers who make their living from agriculture and cattle farming.
Weather of Patriata Murree
The natural beauty of this place increases significantly to provide guests with endless entertainment. Thousands of tourists flock to Patriata New Murree because of its calm and pleasant weather. In summer, the temperature never exceeds ten degrees Celsius. However, wintertime can sometimes drop below zero, and visitors can enjoy snowfall. Autumn and Spring are moderately pleasant, with a prevalent feeling of coolness.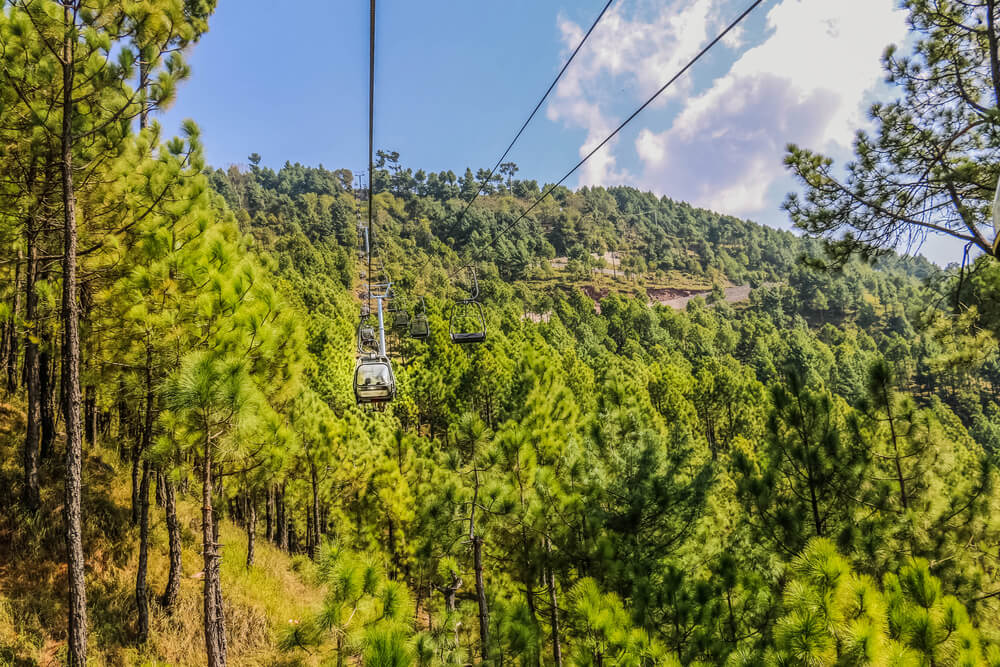 Here in Patriata, the Summer season starts in the middle of May and lasts through the end of August. The weather is still moderate enough to enjoy the scenery during the day, although the nights are frequently cool—summertime temperatures in Patriata range from 10 to 20 degrees.
The Autumn season begins in mid-august featuring heavy rainfall and hailstorms. During this rainy climate, the temperature ranges from 5 to 15 degrees. This monsoon season ends in October.
Winter in Patriata is too chilly. The temperature is below zero for most of the winter, and there is always snow in the valley.
Spring arrives in Patriata Murree shortly after the end of winter. The temperature is still mild and fluctuates between 20 and 30 degrees.
When is the best time to Visit Patriata?
The best time to visit Patriata New Murree depends upon your preference. The most popular time of year for travelers is during the summer when they come to Patriata to escape the oppressive heat of plans of Pakistan. If you want to experience the joy of romantic rainfalls and hailstorms, the best time to visit is between August and October. However, you can visit from November to February if you love snowfall and ice skating. If you want to have fun in the winter, you can engage in snow-related activities. If you wish to witness the spectacles of Springtime, then visiting between March and May will be a great idea. When it's not gloomy, you can expect a bright, deep blue sky, chilly winds from the adjacent mountain ranges blowing through tall trees, luscious green leaves covering trees like confetti at weddings, and stunning vistas for miles.
Recommended Gears
Recommended Gears for traveling to Patriata New Murree often change depending on the month you are traveling. A pleasant sunny day at Patriata is perfect for wearing lightweight clothing made of cambric, linen, or cotton. You can add a pair of sunglasses and a fashionable hat to spice up your look. Also suggested is the use of sunscreen to prevent skin aging from sun exposure. However, if you are traveling during the Autumn and winter, then make sure to pack some heavier clothing such as closed footwear, warm woolen clothes, warm gloves, and a muffler. Bring an umbrella and a raincoat to take full advantage of the rainy weather.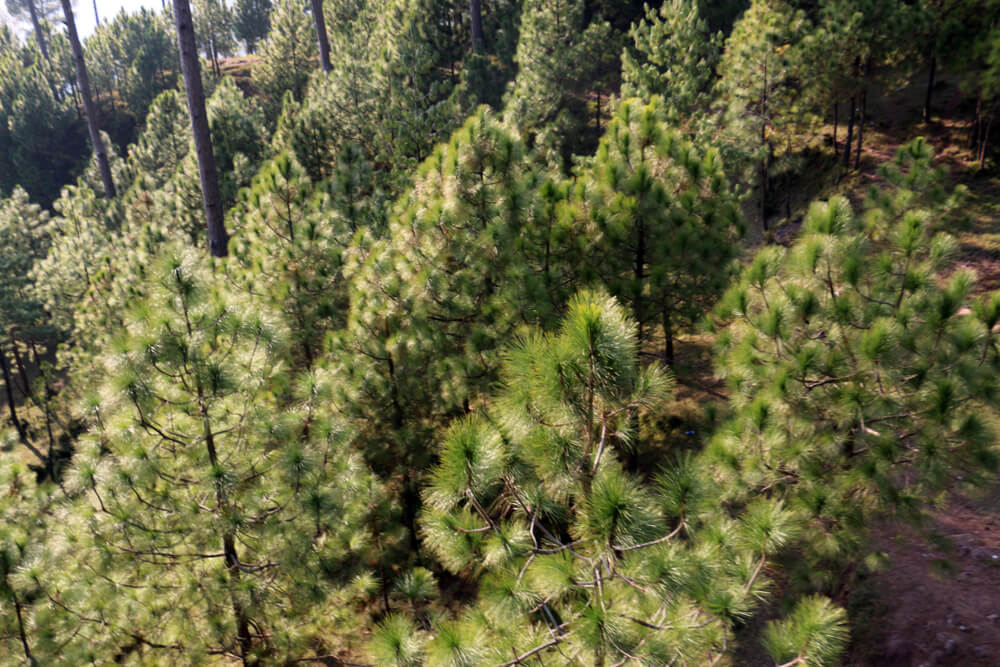 Attractions at Patriata
This place offers a memorable experience to its visitors with breathtaking natural sights. It has everything a traveler could ever ask for in a tourist location. The mere glimpse of soaring trees to stunningly verdant gardens will leave you amazed. Visitors can participate in various activities, including whitewater rafting, horseback riding, the adventurous ride of the Patriata Chair lift, mountaineering trails, and park games. It makes sense why Patriata Murree is constantly swarming with tourists. Let us dive into the detail of each attraction one by one.
Patriata Chairlift
One of the top tourist attractions is the Patriata chairlift. You can travel from New Murree to Patriata through a thrilling and unforgettable chair lift ride. With technical assistance from an Austrian company, the former Prime Minister of Pakistan, Nawaz Sharif, erected the Patriata Chairlift and cable car facilities in 1990 to attract more crowds of tourists. Numerous locals found work and other sources of income following the Chairlift's installation.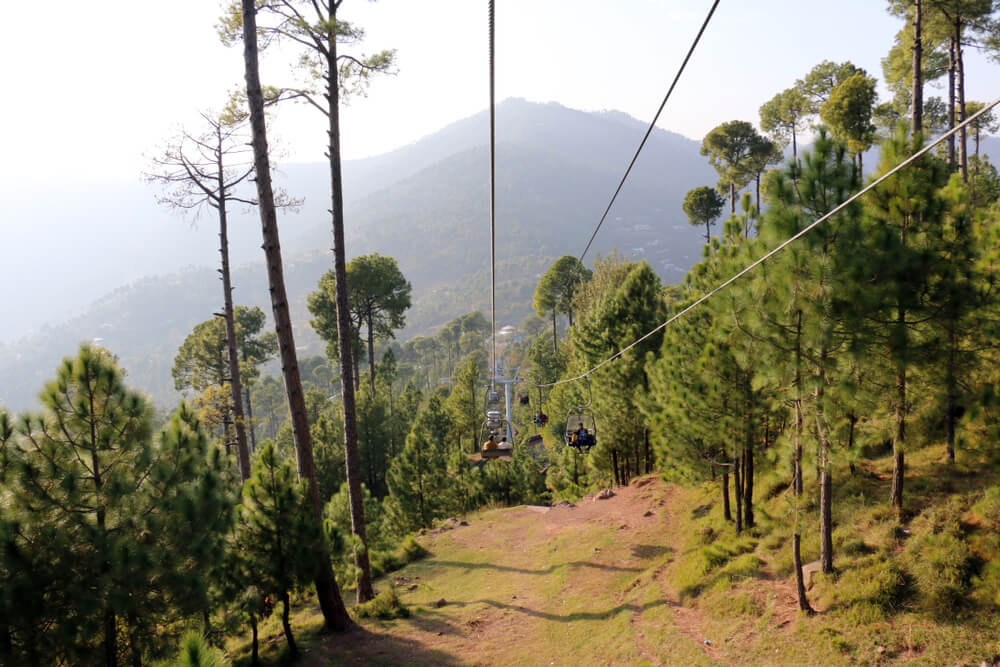 Situated approximately 15 km from the town of Murree, running from Ghulehrra Gali to Patriata peak at roughly 7,500 feet above sea level, a ride by Chairlift will provide you with a panoramic view of nearby Kashmir Hills and the Murree hills. It delivers the genuine sensation of flying over the hills as you start to overcome your fear of heights. This thrill-seeking ride begins with a chair lift and continues with a cable car until it reaches a middle hill. Here, you can enjoy a view of the snow-covered Kashmir Mountains. You can stroll by or take a quick tea break. The length of the complete ride is roughly 7 kilometers. Tourists travel to Patriata Chairlift all year long, although their numbers are highest during the summer.
Patriata Cable Car
Upon riding the Chairlift to the middle slope, you can board the cable car, which will take you toward the Patriata Hills. At Patriata Hill, there are many ways to have a good time. You can take a stroll anywhere in this area to enjoy the expansive views of the breathtaking landscape. While all hills are snow-covered in the winter, lush green scenery is visible in the summer. The fabulous views of the roads, houses, and paths made on the hills by locals and deep valleys will free you from your worries. Throughout this thrilling trip, you will enjoy the breathtaking views of the hills, the cool breeze on your face, and the snow-covered mountains below. The sight of swaying green pine trees during the chairlift ride will hypnotize your soul. This unforgettable journey of Chairlift and Cable Car will never vanish from your memories. You must ride the Patriata chairlift and cable car whether you visit this hill station to escape the summer's scorching heat or enjoy the winter snowfall.
Glamping Pods
One of the most fascinating and innovative attractions of Patriata New Murree is the establishment of various luxurious Glamping Pods. According to the current Assistant Commissioner (AC) of Murree, Umar Maqbool, the purpose of building Glamping pods is to promote tourism and offer a more convenient and less expensive accommodation option than hotels and guest houses. Pakistan's Tourism Development Corporation Punjab (TDCP) has recently installed up to eleven glamping pods in Patriata New Murree. These glamping pods are a new architectural marvel, each with a private bathroom, lounging area, and balcony. You can find all you need in this small space, such as an ultra-comfortable mattress, a dining table for two (complete with four chairs), and a kitchenette. These glamping pods are structurally small, cozy, and exquisitely crafted, with thoughtfully placed windows that showcase stunning mountain views. Unlike traditional tents, these waterproof pods offer total protection from heavy rain and the animals roaming around the hills. There are two categories of glamping pods available for visitors varying according to the number of beds: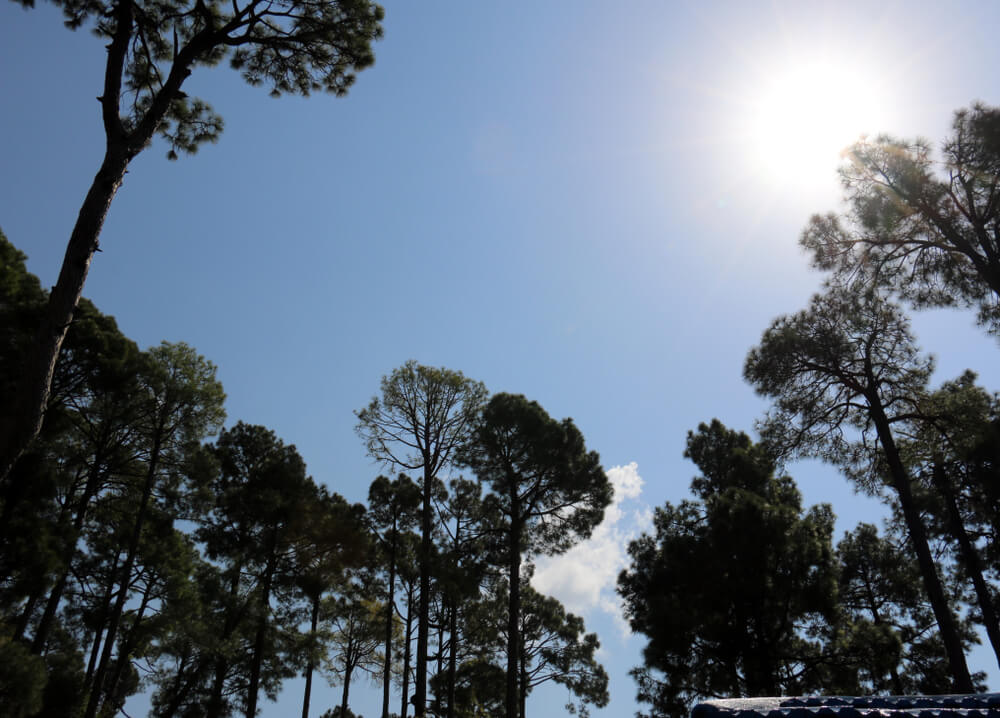 · There are five glamping pods, each containing two beds, a portable bathroom, and other amenities. Such pods are available for RS. 4000.
· The other category comprises three glamping pods, each containing four beds. Such pods are available for RS. 6000.
Mesmerizing Views from Patriata Top
When you reach the top of Patriata via the Chairlift ride, the mesmerizing views will take your breath away. It has breathtakingly scenic backdrops. Surrounded by glorious mountainous ranges and beautiful valleys, this tranquil place offers an escape from the busyness of everyday life. Murree Hills of Patriata gives visitors a spectacular view of the natural beauty below. The idea is so mesmerizing that it's easy to lose track of time. One minute you're soaking up the beauty of nature, and the next, you're wondering how the day flew by so quickly. It's no wonder many people come here to relax and rejuvenate.
Thick Forests & Snow Covered Murree Mountains
Standing atop the Patriata hills, you can see for miles in every direction, with the thick forests of Murree Hills stretching out below and the snow-covered Kashmir peaks in the distance. It is a sight that captivates viewers every time. It has many remarkable characteristics reflecting a certain beauty in various settings, such as tall pine trees, lovely green hills, and high mountains coated in pristine white snow. You'll experience a sense of paradise.
Highest Point of Murree Hills
Standing at the highest point of Murree Hills, Patriata offers a panoramic view of the whole region. You can reach the top either by Chairlift riding or trekking. The journey from Patriata to the picturesque Kotli Sattian is 5 kilometers long. Kotli Satan is a beautiful village in Pakistan. It has a mesmerizing waterfall named Neela Shandh. From Kotli Sattian's direction, the trek begins at Burj and ends at Patriata. As you travel through the evergreen hills of Phofandi, you'll have the opportunity to bask in the beauty of Murree and Kashmir Hills. You'll never forget what it was like to see Patriata, Khalabut, and Phofandi hills for the first time – they're genuinely unimaginable.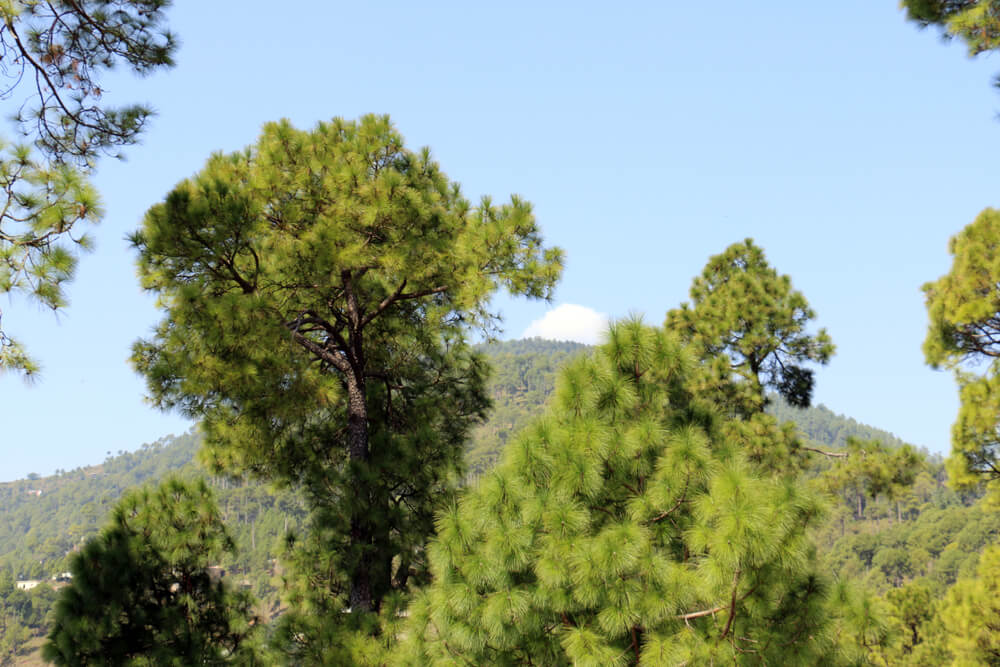 New Murree Bazar
The Mouri Bazaar is a tiny bazaar that is close to Patriata. The New Murree Bazar is also worth a visit. It's pretty different from the bazaar in Murree and has a more traditional feel. This bazaar is the place to go if you're looking for souvenirs or traditional handicrafts. This vibrant new bazaar, where you can find everything from clothes and jewelry to conventional handicrafts, is a must-place if you want to take back something for your friends and family.
Patriata Shareef
Around Patriata, there are more than enough medical facilities. One such health facility is Patriata Shareef. Located near Chairlift, Patriata Shareef is an institution aiming to provide spiritual healing to those suffering from various types of spiritual ailments. Pir Azmat Nawaz is working for the betterment of humanity. He helps people with problems such as Black Magic and other spiritual sicknesses. People travel great distances to receive spiritual treatment. In an emergency, you may call 1122, and the responsible person will respond to your concerns. These are a few hospitals close to and surrounding, including Asghar Memorial Hospital & Occupational Institute, Syed Muhammad Hussain Govt TB Sanatorium, and Lady Roberts Hospital.
Flora & Fauna in Patriata
Flying high over lush green forest encompassing enormous mountains, watching dark gray clouds soar over, hearing the gentle singing of numerous songbirds – this is what you will find in the gorgeous location of Patriata New Murree. Its heavily forested surroundings are home to a wide variety of wildlife, including monkeys, leopards, many bird species, and much more. Patriata Murree is a place that offers you the adventure of life. You will see mischievous yet affectionate monkeys jumping and running up and down the trees in Patriata, offering an entertaining sight. Many rare and beneficial plants are present in the forests of Patriata. The natives use these plants to accomplish various basic needs of daily life. They use these plants as a source of medicines, fodder, fruits, fuel, and vegetables.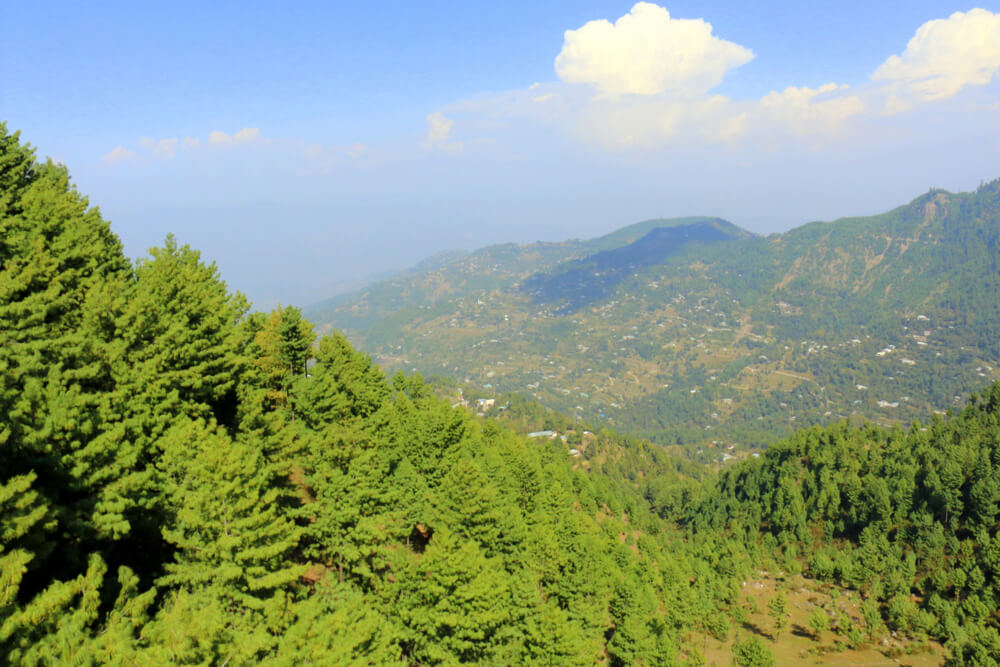 How to Reach Patriata from Murree?
Situated just 16 kilometers from Murree Tehsil, Patriata New Murree is easily approachable via Islamabad-Murree Expressway. It will take you about 40 to 50 minutes to reach your destination. You will have to cover a distance of 24.8 Kilometers. Since the advent of the Islamabad-Murree expressway in 2008, the journey to Patriata has become much more practical.
A taxi bus can take travelers from Murree to PATRIATA RESORT at New Murree. When they're ready to head back, the same driver picks them up again to drop them back in Murree.
Facilities at Patriata
The welfare and comfort of visitors are the priority of the authorities of Patriata New Murree. Numerous facilities are there to enhance travelers' experience and make their trips more memorable. From luxurious resorts to high-end restaurants, there is something for everyone in Patriata. Let us discuss these facilities in detail.
Patriata Resort Valley & Hotels
The gated community of Patriata Resort Valley offers all contemporary conveniences, including security and monitoring, maintenance, accommodation, and pathways that all contribute to the area's aesthetic vivacity. From Islamabad, it takes 80 minutes to go to Patriata Resort Valley. There are several appealing amenities available for visitors to make their lives stress-free, such as: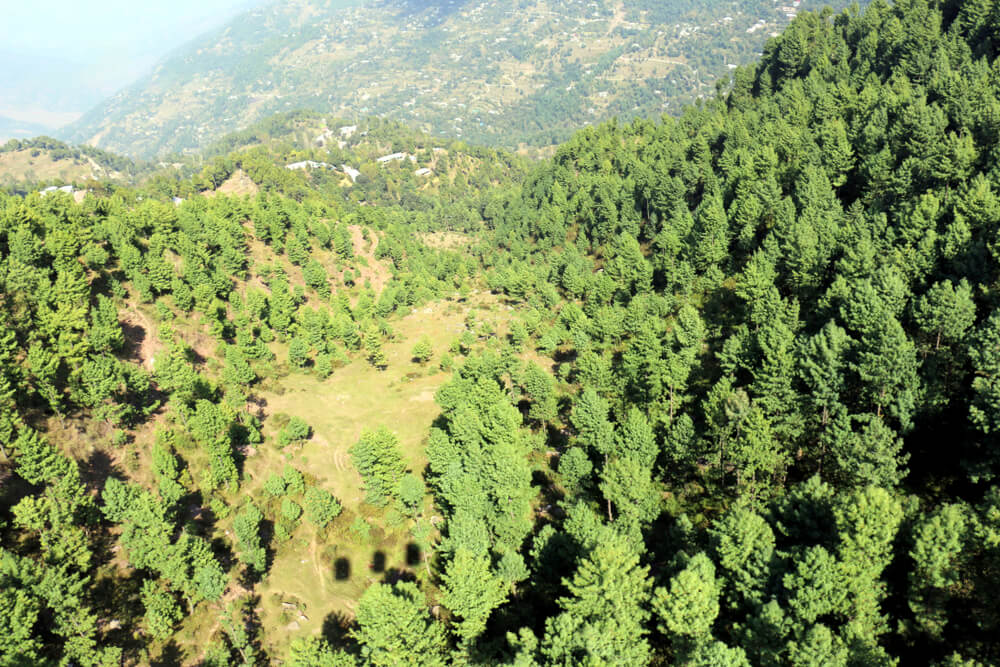 Parks and Lakes
The lush green parks at Patriata Resort Valley complement the area's natural beauty. The curved pathways, beautiful blue lakes, and comfortable benches amidst the pines will take away all of your worries for a while.
Spa Hotel
If you're looking for a luxurious stay that'll make you feel like royalty, this hotel has everything from massages to facials to pamper your mind and body. This high-end spa resort offers every service imaginable for you to live out your wildest fantasies. To improve your experience, you can rent opulent suites near the pool. Additionally, there are chalets and individualized housing units with specialized designs to guarantee comfort and solitude.
Beautiful Mosque
With an overwhelming sense of tranquility and peace, this beautifully designed mosque allows you to pray with total concentration and mindfulness. This expansive and beautiful mosque, located amongst luscious greenery, provides the perfect setting for adoration and serenity.
Shopping
A shopping spree feels like a stroll in the clouds. It is a relaxing experience for the mind and body to walk around all of your favorite outlets in the open atrium market, which also provides a break from work beside the tranquil lake.
Situated right at the top of Murree Hill, a stay at Patriata resort might be a once-in-a-lifetime experience because of the surrounding environment and scenery.
Restaurants & Tea Stalls
There are many restaurants available in Patriata New Murree to treat your tastebuds. Suppose you have become exhausted after doing all that chair lifting and trekking. You can treat yourself to delicious Chinese and Pakistani cuisines at restaurants and nearby Patriata. During the rainy season, it becomes mandatory to enjoy delicious fried snacks known as pakoras along with warm tea served at many tea stalls situated near Patriata.
Car Parking Space
Tourists can park their cars in Patriata Murree with no problem. A car parking space is open nearby the Chairlift. You can easily find parking spaces and park your vehicle in a disciplined way. However, finding a parking spot will be challenging in a crowded setting.
How much is the Distance to Reach Patriata from Islamabad?
The distance to reach Patriata Murree from Islamabad is approximately 70 Kilometers. Getting to your destination via Islamabad-Murree Expressway will take 1 hour and 30 minutes.
Ticket Price of Patriata Chairlift & Cable Car?
You can enjoy the world-class experience of Patriata Chairlift and cable car by purchasing a ticket at approximately PKR 600 to 700, although prices continuously vary. More than 0.5 million tickets are sold annually, according to officials.
Location of Patriata Murree
Located west of the Jhelum River, this breathtaking hill station is about 16 Kilometers away from Murree Tehsil in Northern Pakistan.
FAQs
Is the Patriata chair lift safe?
Patriata Chair lift is entirely safe and provides a memorable family adventure. According to Mohsin Afzal, the general manager of Patriata Chairlift, to ensure further safety of tourists, the Austrian company is still performing maintenance and upgrades on various elements of the lift.
How long is the Patriata chair lift?
The country's longest and most advanced Chairlift and cable car are 3.25 kilometers long.
How much is the height of Patriata?
Being the highest point of the Murree region, it stands at about 7500 feet above sea level.
Conclusion
You will overcome the sight of snow-covered mountains and gloomy forests as you ascend to the Patriata's summit. Riding the Chairlift for a bird's eye view is nothing short of a dream comes true. With its cool breeze and numerous other attractions, it is clear why this hill station attracts travelers from around the world. This hill station is perfect if you admire mother nature and stunning scenery.