Kashmir Point
Are you looking for a breathtakingly beautiful place to visit in Pakistan? If so, Kashmir Point is the perfect spot for you, one of Murree's most well-liked tourist attractions. Thousands of people flock to Kashmir Point to witness its natural beauty. With its rolling hills and panoramic views, it is one of the most picturesque spots in Murree, Pakistan. The serene atmosphere is the perfect antidote to the hustle and bustle of everyday life, and a visit to Kashmir Point is sure to leave you feeling refreshed and rejuvenated.
You can learn all about this exceptional and memorable location from this post!
Why is it called Kashmir Point?
The view of the Kashmir mountains from this point is simply breathtaking; that's why it is known as the Kashmir point. This location offers a stunning view and is ideal for taking pictures.
Weather at Kashmir Point
No month is particularly dry because precipitation occurs throughout the year. Here, summer lasts from late June to early September. The summer months are June, July, August, and September. August has the highest relative humidity of any month, while May has the lowest. July records the most days with precipitation (25.03 days), while November has the fewest days with rain (5.10 days).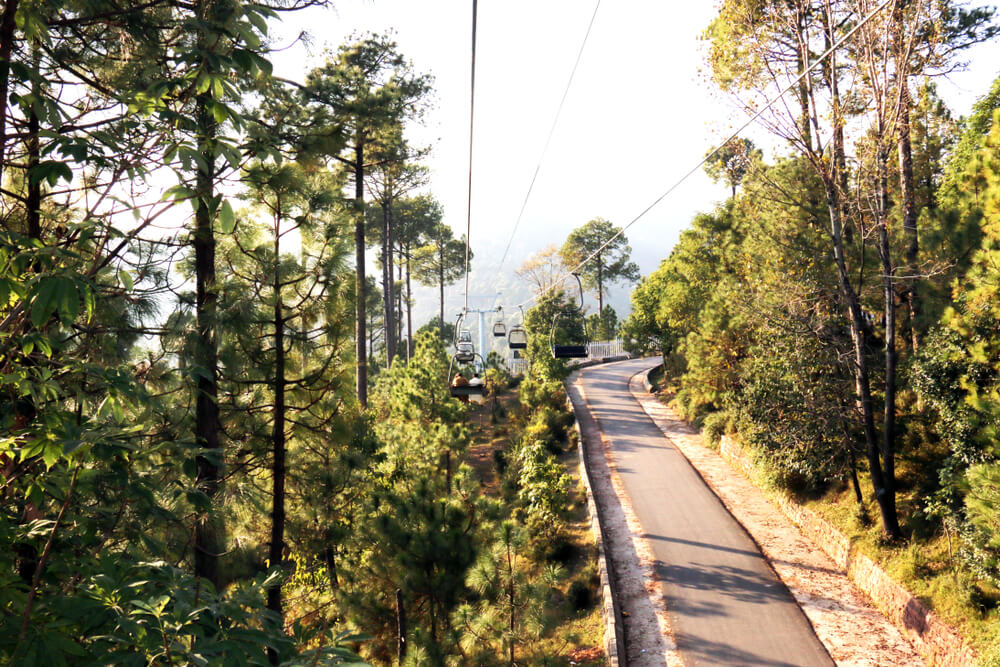 When is the best time to Visit Kashmir Point?
The best time to visit is from March to August because in this season, the weather is cool and pleasant, and it's the perfect time to enjoy the scenic views of the Kashmir Mountains. However, you can go to Kashmir Point Murree in October if you want to avoid the crowds.
Recommended Gears
Suppose you're about to venture off to Kashmir Point, the most beautiful place in Murree. Here are some recommended gears to make the most of your experience:
Warm Clothes: It might be warm during the day, but it gets chilly at night. Make sure to prepare yourself for all types of weather!
Comfortable shoes: Make sure you wear comfortable shoes because you'll walk a lot.
Umbrella/Raincoat: Pack an Umbrella or raincoat with you because Kashmir Point weather is unpredictable here!
A Camera: To record & capture all the beauty around you. You'll want to take many pictures, so don't forget to pack extra batteries and memory cards!
Sunscreen: The sun is intense up in the hills, so don't forget to protect yourself from those harmful UV rays.
A Hat/Sunglasses: They'll keep the sun out of your eyes and off your face in summer.
Attractions
Kashmir Point is one of the most beautiful places in Murree, Pakistan. So, let's talk about various unique attractions.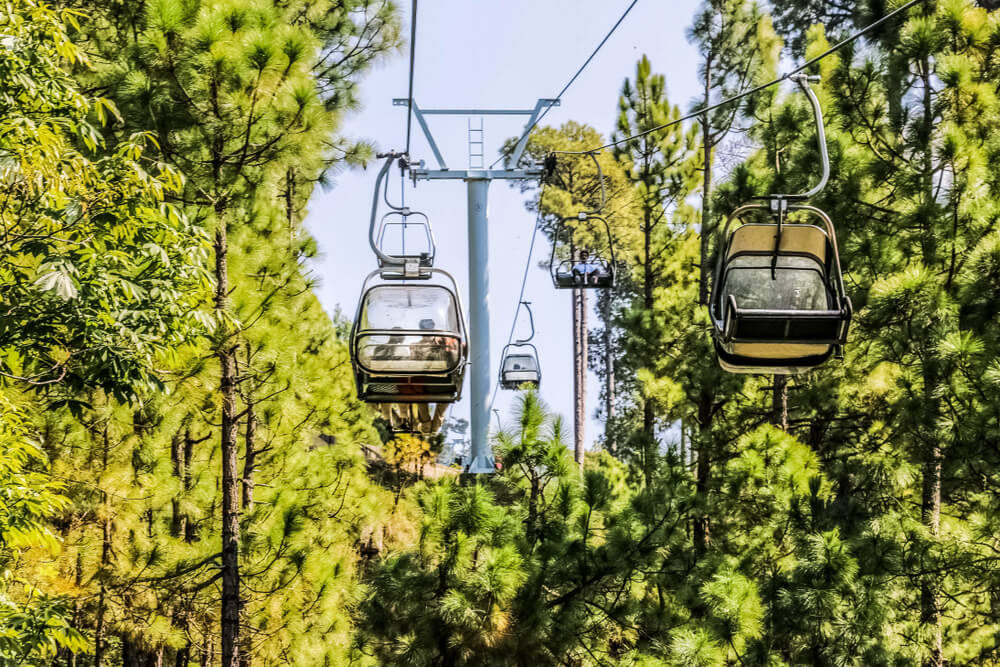 Highest Point of the Area
It is the highest point in the area. When you finally reach Kashmir Point, you'll reward with a panoramic view of the entire area and the Kashmir mountains. You'll never grow tired of the land stretching for miles in every direction. There are forests, hills, and even valleys. It is the ideal spot to sit back and take it all in, enjoying this natural splendor.
Mesmerizing Views from Hill Top
The views get mesmerizing as you make your way to the top of Kashmir Point. You can see Murree before you from here, with the snow-capped Himalayas in the distance. When you visit in winter, you'll see the snow-capped mountains covered in a pristine blanket of white. But no matter when you visit, it will undoubtedly leave you speechless.
Magnificent Sitting Arrangements
As you sit amid Kashmir Point, surrounded by the magnificence of nature, You experience a sense of calmness and peace. The wind's soft rustling of the leaves, the sound of the flowing river in the distance, and the soothing melody of singing birds combine to create a truly magical atmosphere. But it's not just the natural beauty that makes it special. The magnificent seating arrangements add to the experience, providing an idyllic spot to relax and enjoy the stunning surroundings.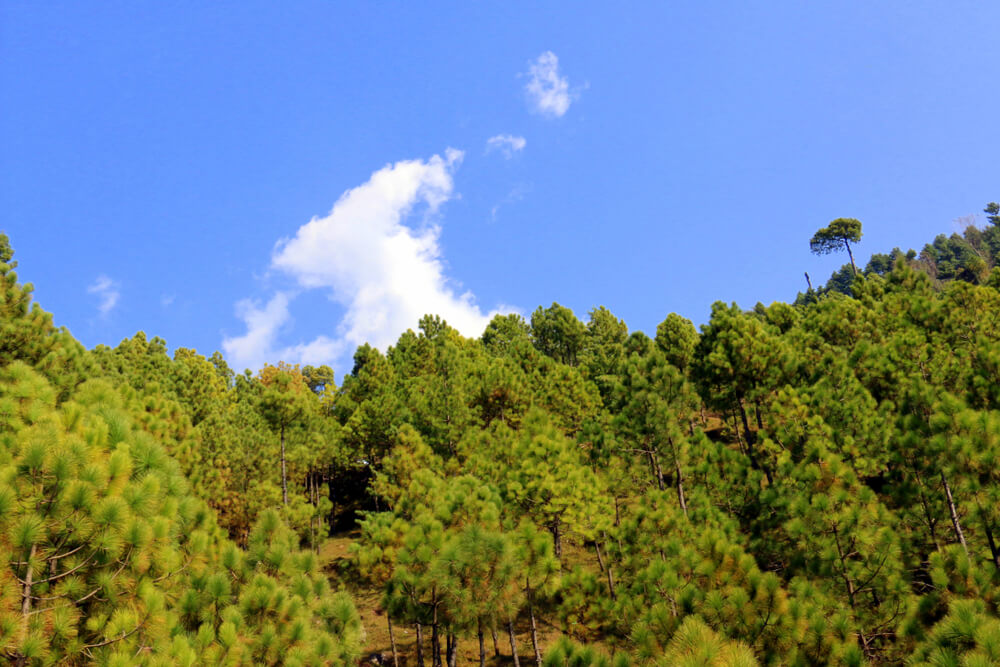 Amusement Park
The Kashmir Point amusement park is great for spending a day with your family and friends. There are numerous rides for people of all ages, as well as a variety of food options. The park is also home to several shops so that you can find souvenirs for your loved ones back home.
Lush Green Trees & Pretty Flowers
As you walk through the winding Kashmir Point, you'll surround by lush green trees and pretty flowers. The views here are stunning, and it's no wonder this spot is so popular among tourists. Whether you're looking for a place to relax and take in the scenery, Kashmir Point Murree is worth a visit!
Peaceful & Calm Atmosphere
Kashmir Point has what you need if you are looking for peace and tranquility. With its breathtaking mountain views and immaculate gardens, it's hard not to feel at ease while spending time here. The serene atmosphere is perfect for unwinding and taking in the natural beauty of your surroundings.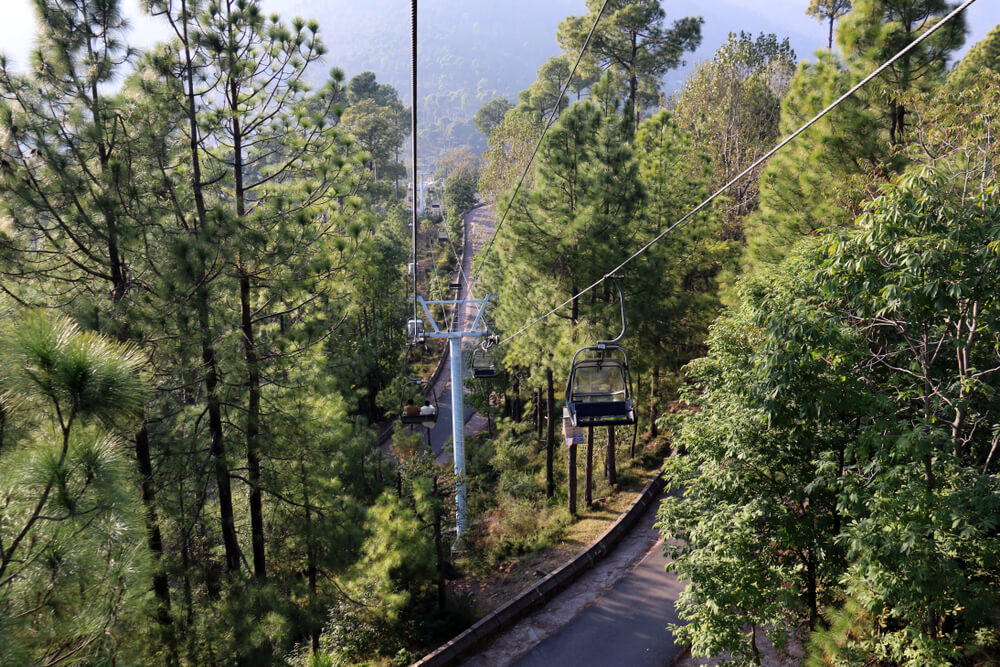 Things to Do at Kashmir Point
There are plenty of activities here to keep you occupied. So, Let's discuss things that you can do at Kashmir point.
Hiking
Kashmir Point Murree is a hiking lover's paradise because of its towering peaks and verdant forests. The mountain ranges and valleys of Kashmir point, in the Murree district, offer hiking trails that will take you to the country's most breathtaking scenery. You can find the hiking trail to Kashmir Point on Muzaffarabad Road. Hiking here can be done all year round as the scenery changes with the seasons. Trekking up to this spot offers not only breathtaking views but also provides you with fantastic photo opportunities.
Horse Riding
Horseback riding is one of the most well-liked attractions in Kashmir Point Murree. The horses are beautiful, friendly, and well-trained, with an even disposition. They roam freely in their large paddocks, and guests are encouraged to feed them carrots or apples when they pass by. You'll learn how to ride a horse from the guides. The guides provide all equipment for this activity, including helmets, reins, saddles, stirrups, and gloves. Guides also assist in mounting and dismounting the horses as needed. Children can also enjoy horse riding here. And what could be more fun than horse riding? So why not give it a try? It's sure to be an unforgettable experience!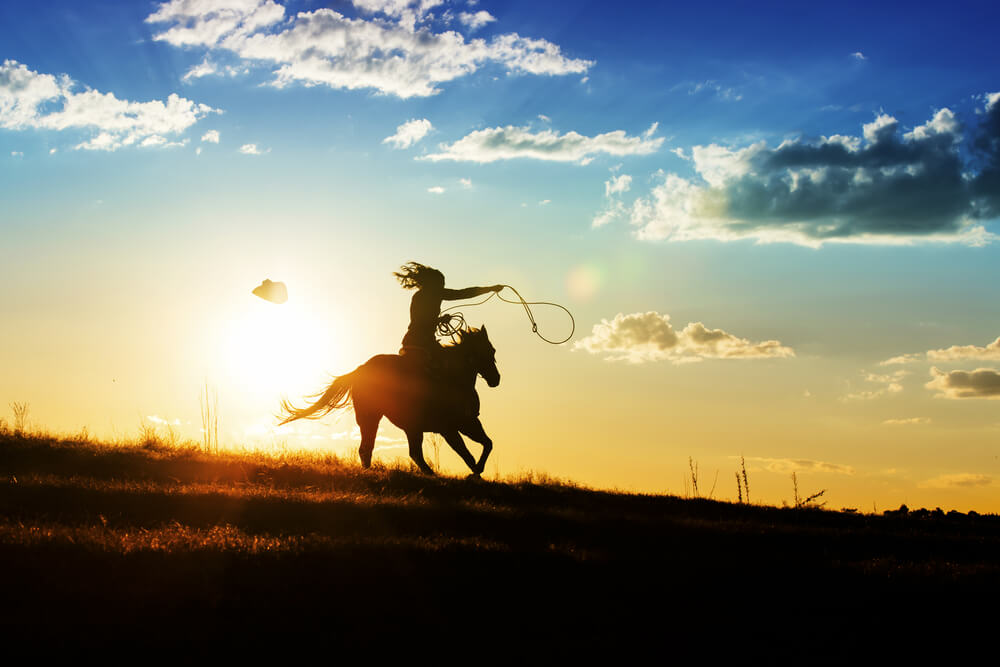 Murree Safari Train Ride
Another great thing about Kashmir Point is the Safari Train Ride. If you're feeling adventurous, we recommend checking it out. The train takes you on a winding journey through the forest, and it's a great way to see all the beautiful sights that Murree has to offer. It is a single locomotive engine and two bogies with a total seating capacity of 36 people. Tickets for Murree Safari Train costs PKR 300 for adults.
Sight-Seeing
Kashmir Point is a MUST-SEE when visiting Murree. You can enjoy panoramic views of the entire city and the mighty Himalayas. No wonder this spot is often called the most beautiful place in Murree! During the day, Kashmir Point is bustling with tourists taking photos and enjoying the views. There's a certain inexplicable magic about watching the sun go down over the horizon at sunset and feeling surrounded by glittering peaks of snow-capped mountains. Be sure to visit at dawn or dusk for an even more mesmerizing experience.
How to Reach Kashmir Point from Islamabad?
The Kashmir Point is located in Murree's mountainous region, which lies on the outskirts of Islamabad. One can reach this scenic spot by driving from Islamabad, which takes about 1:30 hours.
Facilities at Kashmir Point
With extensive greenery and distant mountains, Kashmir Point is a paradise for nature lovers. With its prime location overlooking Murree, Kashmir Point is a great place to watch the sunset or enjoy a stroll. There are some excellent facilities too. So Let's explore them.
Hotels & Guest Houses
A variety of hotels and guest houses provide the most luxurious accommodation facilities. They have a range of amenities to make you feel at home. Kashmir Point has a variety of hotels & Guest Houses for you to choose from that suit your needs and budget. The hotel also offers free Wi-Fi access and laundry service for guests who want to stay connected with the world or need help with dirty clothes.
Jamia Masjid Masoomia
At Club Rd in Kashmir Point, Murree, you can find Jamia Masjid Masoomia. The Hazrat Khawaja Muhammad Masoom RA Tajdar e Mohri Sharif inaugurated this fantastic place to pray in Murree. The architecture is typical of Kashmiri vernacular homes, and tiled domes are characteristic of Islamic architecture. The Jamia Masjid Masoomia is a perfect facility for Muslims to pray. It has a large prayer hall, an exterior covered with beautiful Islamic artwork, and many other features that make it a peaceful location. The location of this mosque is also a soothing environment for Muslims to pray.
Market
Kashmir Point in Murree, Pakistan, is a tourist destination with a market with various shopping and food court establishments. The market is also a great place to shop for souvenirs, with a wide variety of handicrafts and other items. The prices are reasonable, and the atmosphere is festive. The market is open every day from 8:00 AM to late at night. Visitors can buy traditional clothes, such as Kashmiri shawls and suits, as well as other items, such as wooden carved boxes, paintings, and bronze statues. The food court has a variety of Pakistani and international dishes. Several shops sell snacks and drinks.
Parking Space
There are many public Parking Spaces at Kashmir point Murree. There are different parking rates for other time slots, and each Parking Space has an attendant. Security cameras also monitor the parking space. Private parking is also available for extra charges.
How Much is the Distance to Reach Kashmir Point from Murree?
Kashmir point is 1.5 kilometers away from Murree via bank road. You can reach here from Murree in just a 10-minute walk. Thousands of travelers and tourists flock to Kashmir Point every year.
Ticket Price of Murree Safari Train & Horse Riding
The Murree Safari Train & Horse Riding is a great way to see the natural beauty of Murree and its surroundings. The ride is approximately 700 meters and costs Rs 300 per adult. While the price for horse riding varies from 1500 to 3000 according to distance.
Location of Kashmir Point Murree
Kashmir Point has located on Mall road Murree. You can walk along Murree Mall Road while taking in the lovely weather of Murree to get to Kashmir Point by just a 1-mile walk.
FAQs
How much is the Height of Kashmir Point?
At an elevation of 7,500 feet, Kashmir point offers stunning views of the surrounding mountains and valleys. It's not hard to see why it is often called the most beautiful place in Murree.
Is the place safe to Visit for Families?
It's important to remember that the area can be a bit dangerous. There have been reports of robberies and muggings in the area, so it's essential to take precautions if you're planning on visiting. Make sure you plan to get back to your hotel safely and avoid venturing out after dark. Kashmir Point is still one of the most beautiful spots in town and is worth a visit! Just remember to be cautious while you're there.
Conclusion
If you're looking for a breathtaking view, relaxation, and a place to get away from the hustle and bustle of city life, Kashmir Point Murree is the place for you. With its peaceful atmosphere and stunning views, Kashmir Point is the perfect place to relax and recharge.
Murree is full of beautiful places, but Kashmir Point is one of the most special. If you're looking for a little bit of paradise, make sure to visit!