Bhurban
If you're looking for a beautiful, relaxing Pakistani town to visit, Bhurban Murree is the place for you! This town, tucked away in the foothills of the Himalayas, offers some of the most stunning views of nature in Pakistan. Bhurban is also home to various shopping malls, restaurants, and hotels, making it the perfect destination for a weekend getaway. Everyone can find something to do in this town, so whether you're looking for a quiet place to relax or a place to shop and eat until your heart's content, Bhurban Murree has it all.
In this post, we'll tell you everything about the enchanting town of Bhurban. So you can prepare your belongings and depart to Bhurban, Pakistan, for a weekend you'll never forget!
Why is it called Bhurban?
The name of the resort town Bhurban comes from a nearby forest, and it is approximately 11 kilometers away from Murree. Bhurban management falls under the purview of the Rawat Union Council. The Union Council of Rawat, a legal subdivision of Murree Tehsil in the Punjabi Rawalpindi District, has its headquarters in Rawat Village.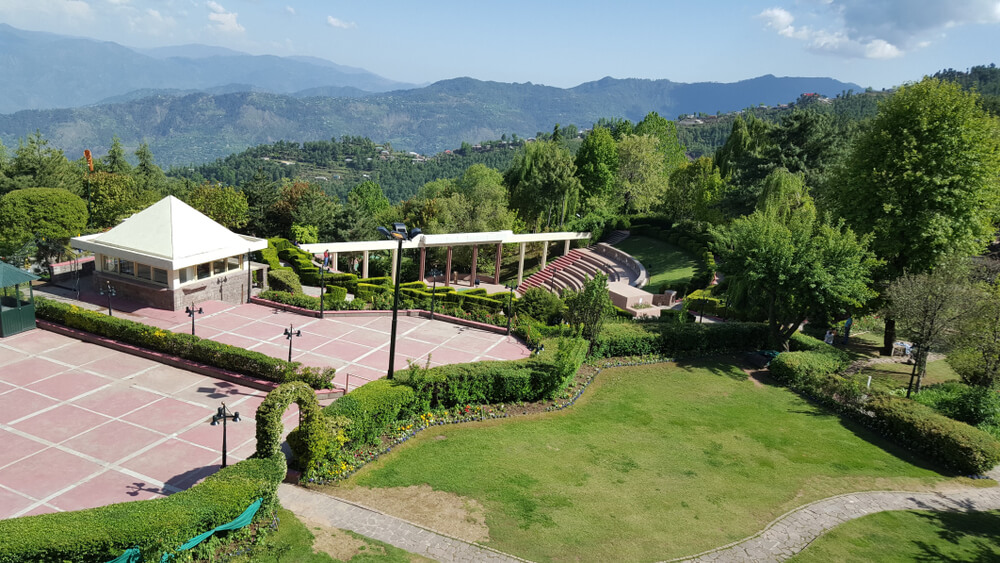 Weather at Bhurban
Please be mindful that the weather can change suddenly, so it's always a good idea to check the local forecast before you go. Let's look at the average climate of Bhurban Pakistan during different seasons.
The springtime, from March to May, feels moderate because of the combination of humidity and temperature. In the later months, temperatures rise, with highs between 76.5°F (24.7°C) and 50.4°F (10.2°C). Rainfall occurs on average for 7 to 9 days per month, which is a fair amount. The best time for those looking for activities is spring because it is the busiest season for tourism.
The summer season has delightful weather with comfortable high temperatures. With 8 to 14 days of rain per month, these months experience the heaviest rainfall. The second busiest time of year for tourism in Bhurban is from June to August, so lodging and other accommodations might be a little more expensive.
The fall season, which lasts from September through November, has an average temperature between 72.7°F (22.6°C) and 59.4°F (15.2°C). 2 to 7 days per month see a significant amount of rain or snowfall. Due to the weather, tourism is at its lowest during these months, so lodging and other accommodations may be inexpensive.
Winter in Bhurban Murree, which lasts from December through February, is too cold for tourists from warm climates. The typical high temperature for these months of year ranges from 44.4°F (6.7°C) to 57.7°F (14.3°C). 2 to 9 times per month, on average, there is rain or snow. Tourist traffic is generally low at this time of year.
When is the best time to Visit Bhurban?
The best time to visit Bhurban Pakistan is generally June through August because, during these months, the weather is warm and pleasant, with the right amount of humidity. However, both summer and winter are good times to visit the town. The region is excellent for getting outside and taking in the scenery in the summer, while it is excellent for hanging out with loved ones in the winter.
Attractions at Bhurban
Bhurban is a popular weekend getaway destination in Murree, Pakistan, for locals from Islamabad and other nearby cities who want to get away from the hectic city life. Here, visitors can relax on their private terrace while sipping hot tea or coffee and taking in the scenery of gently rolling hills covered in dense vegetation. Let's have a look at the attractions in Bhurban, Pakistan.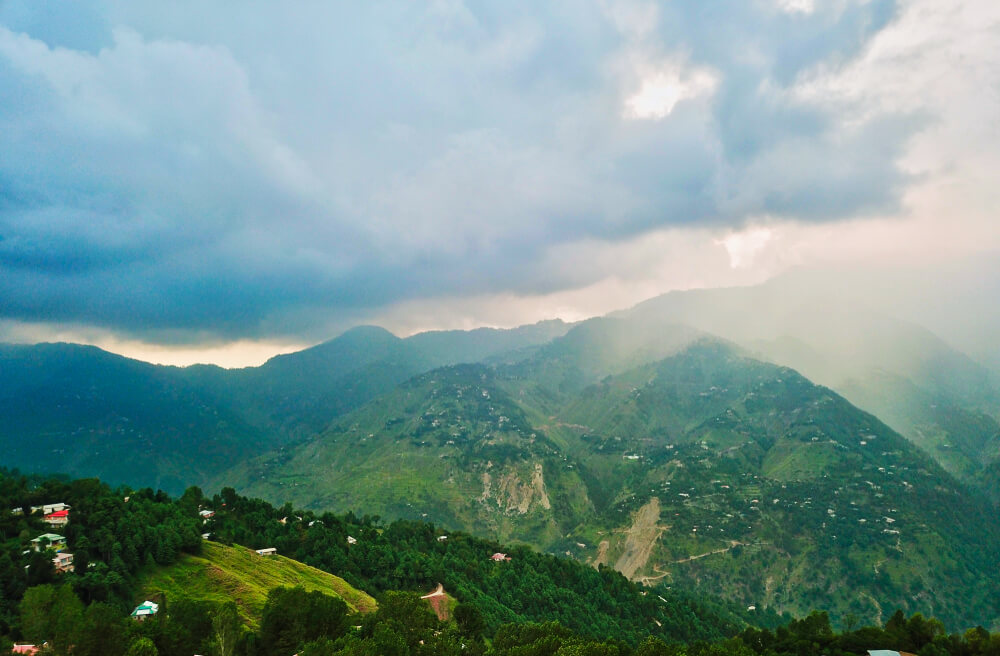 Alluring View of Mountains & Hills
The view from Bhurban is simply alluring. Whether you're looking at the snow-capped peaks of the Himalayas or the gentle slopes of the surrounding hills, it's impossible not to be mesmerized by the natural beauty of this place. Add in the sound of rushing waterfalls and chirping birds; you'll feel like you've got yourself a slice of heaven on earth!
Lush Green Forests
What makes Bhurban so unique is its natural beauty. The town is surrounded by rolling hills, pristine meadows, and crystal-clear rivers, making it the perfect place to enjoy nature at its finest. And if you're a fan of hiking and camping, you'll want to check out the surrounding area—it's teeming with wildlife! Thus, if you're seeking a little bit of peace or want to take in some stunning Pakistani scenery, visit Bhurban. You won't regret it!
Chinar Golf Club
One of the best organizations is Chinar Golf Club, which encourages healthy and leisurely pursuits among people of all ages and offers visitors a break from the hectic daily routine. A British Army officer named Colonel Dag founded the club in 1932. Mr. Gulab Khan, a native of the area, assisted in the course's development. It is a haven for those who enjoy playing golf and finding solitude. The buffet is also excellent and costs very little. In addition to PC Bhurban, a visit is not complete without going to Chinar Golf Club. The scenic trails offer plenty of opportunities to experience nature. Follow the staff's recommendations and be cautious of the golf ball. The course is the 11th highest in the world and provides stunning views of the surrounding countryside. It's also very well maintained, with top-notch facilities for players of all levels. So if you're looking for an elite golfing experience in Bhurban, Pakistan, the Chinar Golf Club is worth a visit!
Tranquil Atmosphere
Bhurban is a beautiful town that embodies all that is good about Pakistan. The clean and pristine air in Bhurban will revitalize you and make you feel like you're truly living in this world. The town's tranquil atmosphere will leave you feeling refreshed and rejuvenated with its breathtaking natural beauty. The towering mountains, lush green valleys, and clear blue skies are a sight to behold. Bhurban is the perfect place to escape the hustle and bustle of city life and relax in nature's embrace. No matter what activity you do here, you will have a memorable experience in this beautiful Pakistani town.
Magnificent View of Snowfall in Winter
Bhurban is a beautiful town in the Murree Hills of Pakistan with a magnificent winter snowfall view. Today, Bhurban is one of many places to visit during the winter season and is well-liked by travelers who come from around the world to enjoy its splendid views and beautiful scenery. In addition, the picturesque hill station offers spectacular vistas of sunrise and sunset.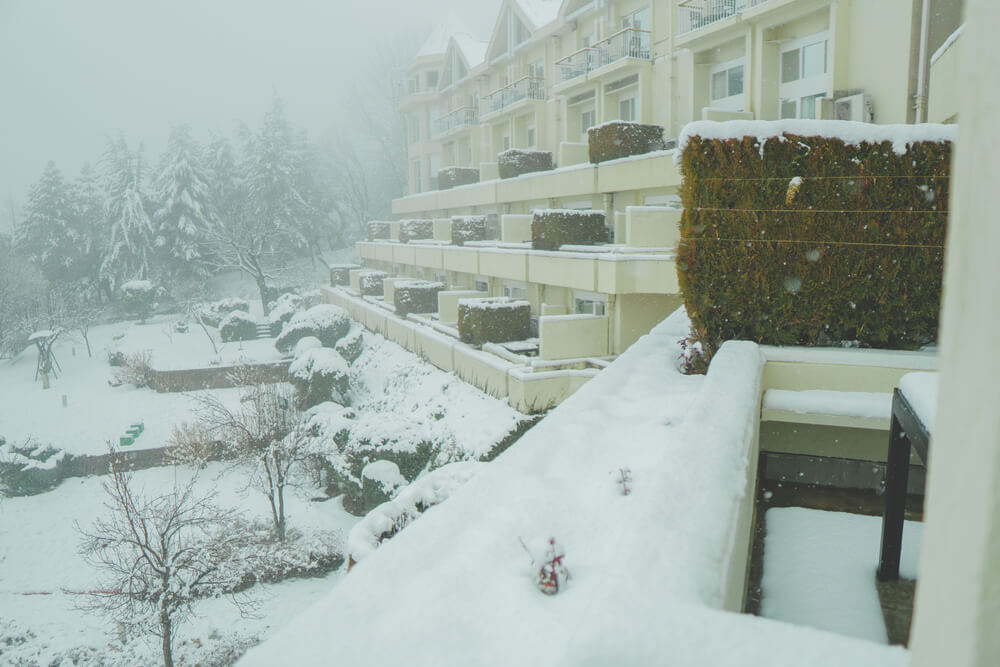 The valley below Bhurban becomes very cold and tranquil when it snows and is home to pine trees laden with soft white down on each branch, which adds to the beauty of this place and blankets everything in pure white. Snow covers most buildings in Bhurban, including homes, hotels, and bungalows, which add another dimension to this tranquil place.
Unique Variety of Flora & Fauna in Bhurban
The region has a temperate climate and is surrounded by lush forests and alpine pastures. One can find innumerable flora and fauna here, including rhododendrons, magnolia trees, oak trees, pine cones, blue poppies, wild roses, and many more. From monkeys and deer to exotic birds and butterflies, there's something for everyone to enjoy. Traveling to Bhurban, Pakistan, could be one of the most memorable holidays ever.
What are the Most Popular Hotels & Resorts in Bhurban?
There are plenty of beautiful hotels and resorts in Bhurban to choose from to locate the ideal lodging for your requirements. Whether you're looking for a luxurious five-star resort or a cozy bed-and-breakfast, you're sure to find something that suits you. Let's look at some of Bhurban Murree's most well-known hotels and resorts.
Pearl Continental Hotel Bhurban
Bhurban Hill Apartments
Chinar Family Resort
Hotel One Bhurban
Shelton Suites Bhurban
Holiday Grand Resort Bhurban
Quality Lodges Bhurban
The Opulent Resort & Conference Venue
Excellent Hospitality & Cuisine
The people of Bhurban are the most hospitable and friendly. The food is authentically Pakistani and served in a traditional style you won't find anywhere else. You'll enjoy lamb biryani, a rice dish with lamb, saffron, lentils, vegetables, and spices.
Things to Do at Bhurban
While in Bhurban, you can enjoy several fun-filled activities that let you experience the natural beauty of Pakistan. There are many things to see and activities to do here, including visiting the various restaurants around town for some authentic cuisine. In the verdant forests, you can go for long walks, swim in clear mountain waters, or relax and take in the breathtaking views. There's also a wide range of sports and outdoor activities to choose from, so you're sure to find something to your taste.
Hiking
Bhurban is also an excellent place for hiking and nature walks. The trails are well-marked and lead through some of the most beautiful parts of the town. The Bhurban Hills are not just a place to hike but an attraction that provides a sense of serenity and peace. The hills, surrounded by lush forests, are home to several species of animals. Strolling around the mountains also leads you to scenic waterfalls, where you can explore caves and picnic spots. With so many activities in this area, it's no wonder this destination is one of Pakistan's most popular hiking spots.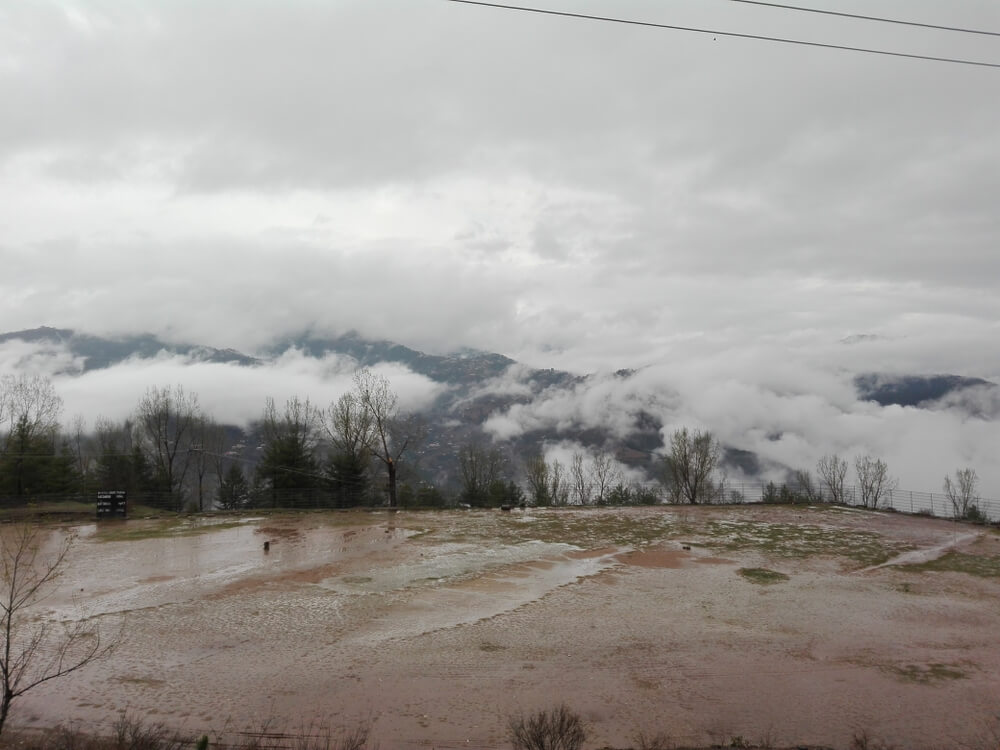 Horse Riding
A horse ride around Bhurban is the perfect way to experience and explore the beautiful town. The guide will take you on a ride through many different habitats, including meadows, forests, and farmlands, where you can spot various species of animals like deer, monkeys, and wild boars. In addition to enjoying your surroundings and learning about them, you will also have some great photo opportunities with horses.
Tonga/Chariot Ride
Tonga (Push Cart) or Chariot Ride is one of the most popular activities in Bhurban. Tonga is a two-wheeled cart with a petite horse or donkey in front that is used to transport people around the city. This mode of transportation originated in India. These rides take you to every scenic spot in Bhurban and last about an hour each. It's enjoyable! This ride generally costs between PKR 500 to 1000, depending on the distance you want to travel.
Sight-Seeing
One of the best things about Bhurban is its nature. The mountains and greenery are visible from many parts of town. It's a place for those who want to enjoy peace or adventure seekers with plenty of sports opportunities. The scenery is stunning, there are many different types of fresh fruit to try, and the people are always happy to talk with you. For those who want to experience the serene beauty of nature while enjoying the best in hospitality, Bhurban is the perfect destination.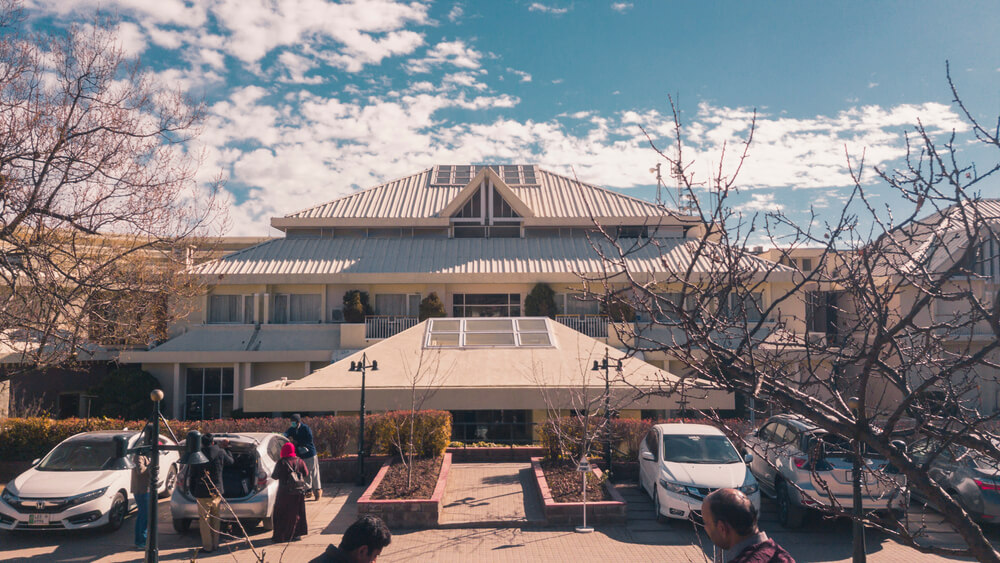 Seasonal Activities
Throughout the year, you can enjoy plenty of activities in Bhurban, Pakistan. However, you can enjoy winter activities such as skiing in the snow-covered mountains, sledding down a hill, and snowmobiling.
How to reach Bhurban from Islamabad?
Bhurban rises to about 6000 feet and is midway between Kashmir Road and Murree. It is only a 2-hour drive from Islamabad, Pakistan's federal capital, via the dual Islamabad-Murree Expressway.
Facilities at Bhurban
The town has plenty to offer for all travelers, whether they are looking for adventure or relaxation. Let's have a look at the multiple facilities provided by Bhurban Murree.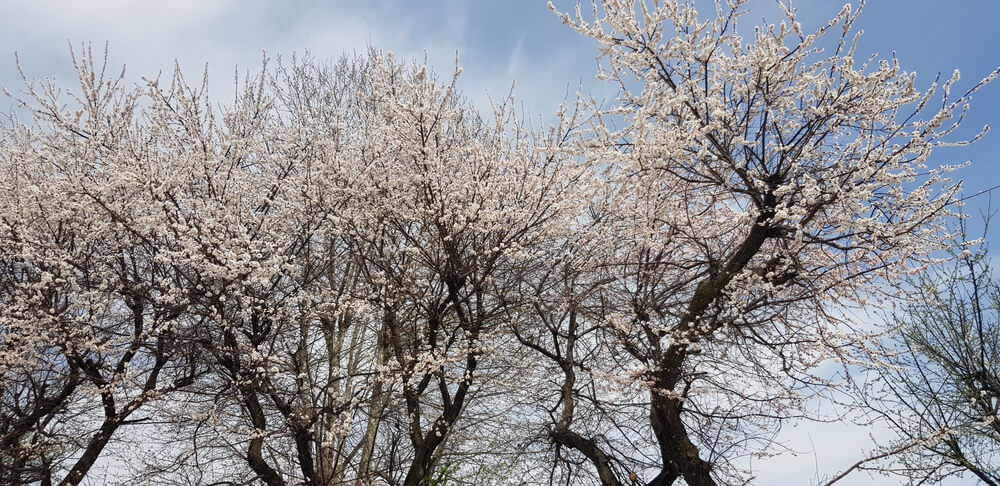 Multiple Restaurants
There are many different restaurants in Bhurban Murree if you want a place to eat. These restaurants have a fantastic view of the mountains and several steps you must climb before reaching them. The food here is excellent, and they also have delicious chai tea. You can find everything from fast food to high-end dining, with plenty of vegetarian options at each establishment.
Mosque
In Bhurban, many mosques are available for worshippers, including Jamia Masjid-e-Madni Langer Kassi Bhurban, Masjid Awaisia, Ali masjid, etc. Mosque facilities in Bhurban include washrooms, ablution areas, and parking lots to accommodate the needs of worshippers. The mosque has a library where people can read religious texts and scriptures. It also offers classes on Islamic studies, such as how to recite verses from the Quran and memorize verses from the Quran.
Parking Space
Bhurbhan has plenty of Parking spaces. But Parking in Bhurban can be a struggle during the high season, but if you're lucky enough to find a parking space, do yourself a favor and don't drive down any roads. Instead, get out of your car and take in the fantastic views. The town is surrounded by nature, so it's worth the walk!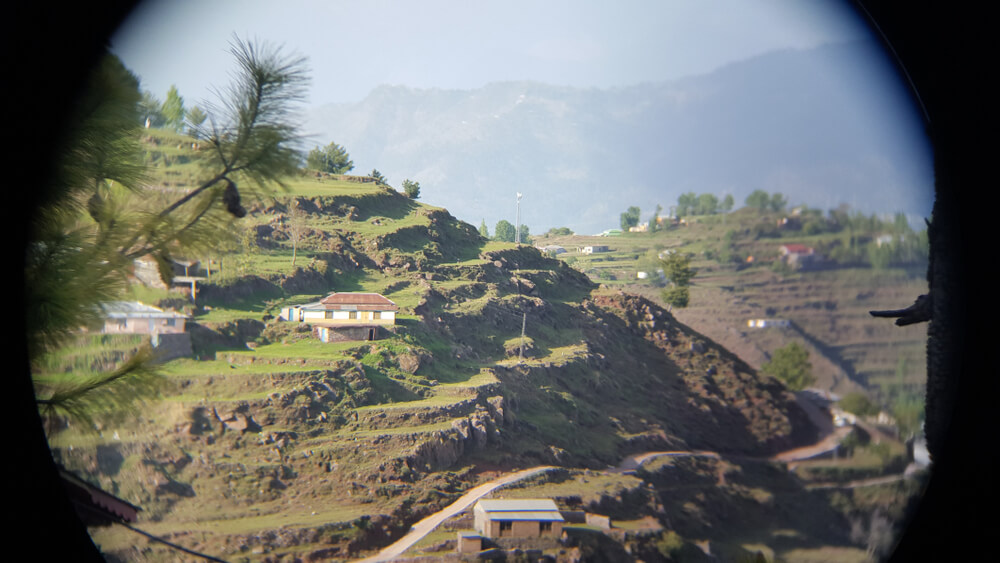 How Much is the Distance to Reach Bhurban from Murree?
The distance between Bhurban and Murree is approximately 11 kilometers. Only a 30-minute drive from Murree will take you to Bhurban.
Prices of Famous Hotels & Resorts in Bhurban
The prices of hotels and resorts in Bhurban vary, depending on the type of hotel or resort. There are luxury, 5-star hotels in Bhurban, such as Pearl Continental Bhurban. The services provided by Pearl Continental Bhurban are well known, including a spa and pool. The fantastic 5 Star Hotel, Pearl Continental Bhurban, charges 110 US Dollars for a day and night's stay. The average price for other hotels & resorts is between PKR 3000-15000 for one night stay, including free parking and WiFi.
Tribes in Bhurban
The Abbasis, Ahmedals, and Janyals are the three principal tribes in Bhurban; they are all native people and descended from Muslim hill tribes that have inhabited this region for centuries. In the 14th and 15th centuries AD, many of these tribes adopted Islam. Most of them continue to lead simple rural lives; however, some have moved on to seek employment and education in the plains, in Rawalpindi, Islamabad, and other distant locations.
Location of Bhurban Murree
In Punjab, Pakistan, there is a small community and hill station called Murree Bhurban. It is approximately 11 kilometers from Murree City and is located Between Kashmir Road and Muree Road.
Frequently Asked Question
How much is the Height of Bhurban?
The average height is about 6000 feet above sea level. It can be seen during the colder months when snow covers the ground and surrounds the town.
Is the place worth visiting for Families?
The Bhurban is a beautiful town surrounded by nature and is perfect for families to visit the Bhurban because there are many activities for them. Plenty of family-friendly hotels and restaurants in Bhurban offer delicious food at a great price. There are also many fun things, such as hiking, paragliding, and ziplining. The best time to visit the Bhurban is springtime when flowers bloom everywhere, and the climate is temperate!
Conclusion
The beauty of Pakistan, with its diverse terrain and attractions, has long been known to people all over the world, but Bhurban has remained relatively obscure. It's only recently that tourists have been drawn to this beautiful town in Murree because it offers an experience like no other. So, If you're looking for a picturesque village to spend your vacation in, look no further than Bhurban Murree. Bhurban, Pakistan, is the perfect place to relax and unwind. You can enjoy hikes in the hills, beautiful sunset views, and the rising sun.
After reading this blog post, you better understand Bhurban, Pakistan, and its beautiful surroundings. So why not head over to Bhurban? You won't regret it!