Kalasha Valley
Kalash Valley, also called Kalasha Valley, is along the Pakistan-Afghanistan border, far from the majestic mountains. This magnificent valley mainly consists of three more valleys: Bamburet, Birir, and Rumbur. These valleys are home to the fantastic Kalasha people, who are vastly different from the rest of the people in Pakistan; they have different cultures, traditions, beliefs, languages, and ways of life. Moreover, other ideas refer to their history and existence.
Kalasha Valleys Chitral Attractions, Timings, and Location
This article will find all you need to know before visiting Kalasha Valleys Chitral. The timings, the culture, location, best time to visit, the beautiful attractions, the famous valleys of Kalasha, and many more. Please read it to find all the information under the relevant headings.
What is the meaning of Kalash?
The word Kalash refers to a pot consisting of a large base and a narrow opening. It is a precious, ceremonial thing and symbol of "abundance source of life." This word typically means a water vessel that is sacred in every sense and is used in religious rituals.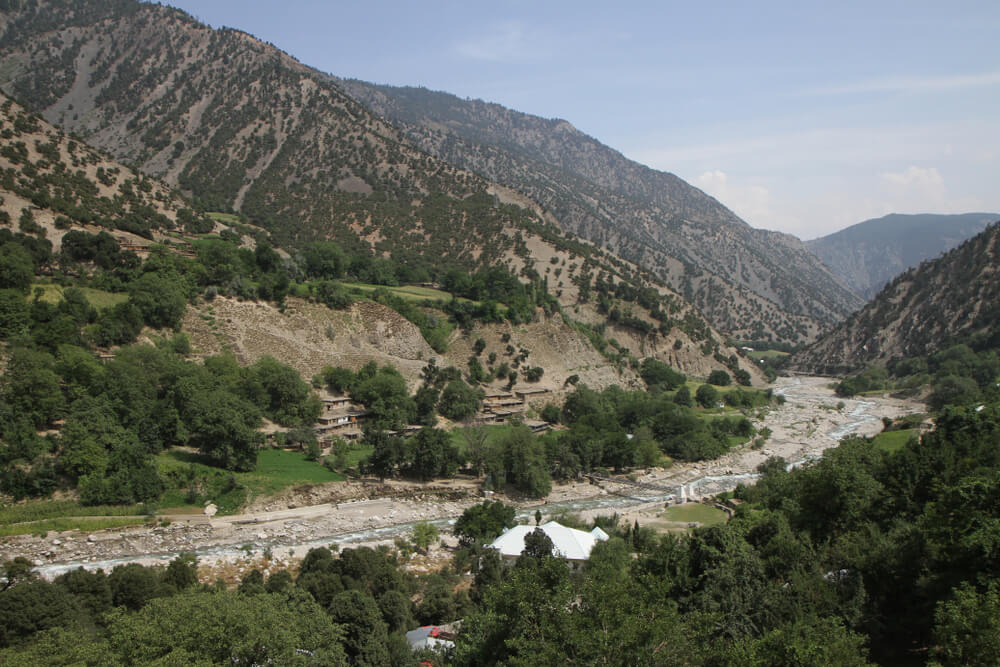 Kalash Valley is also called "Kafiristan," which means the place of non-believers or non-Muslims because most of the residents of Kalash Valley Chitral are not Muslims but rather a type of Animism and Hinduism. The people of Kalash are the only pagan minority living in the district of Khyber Pakhtunkhwa Chitral.
When was Kalash discovered?
The history and origin of Kalashas are still unknown because several theories are behind their discovery. Three of these controversies, mysteries, and myths hold great importance and are known to be nearest to reality.
One of the most significant theories that will amaze you is that Kalashas are off-springs of Alexander the Great. In addition, many people believe that they originated from Nuristan, a neighboring place to Kalash Valley. Nuristan is also known as 'Kafiristan'. The grandest of all is that the Kalashas carry a romantic view of being the descendants of Alexander the Great. Believers of this theory state that when the king of Afghanistan overpowered Nuristan, he forced its residents to accept Islam. Most of the people fled to Chitral to avoid forceful conversion. The third most believed theory states that Kalashas came from a faraway place in South Asia known as Tsiam. Tsiam is known to be their traditional home, and one can get an idea of its existence from their folk songs and fables.
What is Kailashi Culture?
The thing about the Kalasha people, which is going to astound you, is their culture. Their culture stands out and is distinct from the rest of the customs and traditions existing in Pakistan. Due to their practices and beliefs, many scholars think they are related to Hinduism.
But it is sad to know that this unique culture is declining because many non-Kalasha people have started to live in Kalasha Valley. In addition, due to various significant reasons such as financial struggles, societal acceptance, etc., most Kalasha people have converted to Islam.
However, you will be amazed to see how the remaining Kalasha people preserve their culture. On your visit to these spectacular Kalasha Valleys, you will find women wearing formal colorful long attires and self-embroidered headpieces. Various Kalasha festivals are celebrated in Kalasha Valleys that depict their culture and attract travelers from every place in the world. If you plan to visit any of the fantastic Kalasha festivals, make sure you know about the instructions and ask them before taking a picture of them.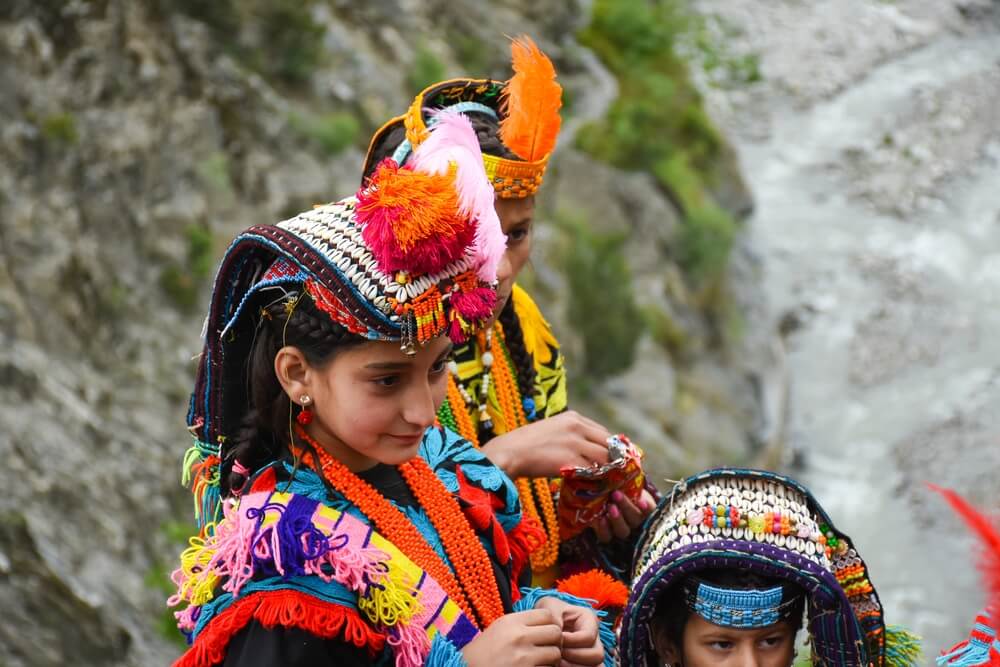 One crucial point is that Kalasha people keep their recognition firm and are very rigid regarding their religion; if someone from their tribe converts to Islam or any other religion, they cut off ties with them. Kalasha converts are not permitted to be part of the Kalasha community once converted to another faith.
Let's talk about the norms of the Kalasha people; they do not consider men and women different, therefore, in their community, men and women are allowed to keep in contact with each other, and no one judges them. In addition, Kalasha people have a weird tradition of sending their women to a place called Bashaleni when they are known to be impure, for example, after childbirth and other such occasions. The Kalasha women spend their days of impurity here and return once they get their purity back by going through the rituals of it.
You will be amazed to see the beauty and how the Kalasha women present themselves. They wear fancy formal attires such as loosely fitted robes with multi-color embroideries and, heavy head jewelry; necklaces that make them stand out from the rest of the women in Chitral. They have brown eyes and a whitish complexion, making them look even more attractive. On the contrary male members of the Kalasha community wear the national dress of Pakistan, which is the shalwar kameez with an additional waistcoat over it and the kind of hats people of northern areas commonly wear.
The Kalasha people wildly contradict the rest of the people regarding their customs. It is not wrong to say their traditions are poles apart from the rest of the world, mainly when it comes to the concept of marriage. Most men and women run away with the person they love and marry; this elopement concept is widespread in Kalasha Valley. You will be shocked to know that this tradition is instead considered to be one of the most excellent customs.
There is no concept of dowry as compared to other Asian countries. Instead, if a man desires to marry a woman, he has to pay a certain amount to the girl's family. But the exciting thing is when the same woman wants to leave her present husband and wishes to marry another man, the second man has to pay double the amount to her first husband to have her as a wife. Therefore, it is an exciting experience to witness the unique culture, customs, and traditions of the Kalasha people.
Why are the Kalash Valleys attractive to tourists?
It is not wrong to say that Kalash Valleys are pieces of heaven on earth. Kalasha Valley Chitral is excellent, with the most attractive, kind, and hospitable people with a unique culture. Travelers worldwide are thrilled to see this place's natural beauty and the activities one can enjoy. There is so much to enjoy and do in Kalasha Valleys that you need a good number of days to explore the beautiful Kalasha Valleys.
The lofty mountains, museums, festivals, religious rituals, history, and colorful culture attract tourists to visit this place again and again. Domestic and international tourists are also found in great numbers to get to know this charming place. The most memorable thing about this place is their amusing festivals that give the tourists the kind of memories they can cherish for their lifetime.
The people of Kalasha Valley are highly amiable, and their colorful attires are always interesting for outsiders; they do not mind if you click their pictures, but it is always nice to ask before photographing them.
When is the Best Time to Visit Kalash Valley?
Kalash Valley is an attractive place, and visiting it at any time of the year is equally entertaining, but it is said that life in Kalash Valley revolves around festivals; therefore, it is suggested to visit this wonderful place on earth during festivals. The three main festivals of Kalasha Valley are Chilam Joshi Festival, also known as the spring festival, celebrated in May; the second one is the Uchal festival, also called the summer festival, commemorated in August. And the third one is the Choimus festival, also known as the Kalash winter festival, which is celebrated in December.
Therefore, if you want to visit Kalash Valley, visit from April-July for double entertainment.
Attractions in Kalasha Valleys
Want to visit a place with the most fantastic attractions? There is no better place than Kalasha Valleys because you will get so much to experience and explore here. There are three famous valleys in Kalash known as, Bumburet, Rumber, and Birir; these are known as Kalash Valley. Other than these valleys, there are beautiful villages that are worth visiting. You will love seeing the oldest and most traditional town, Batrik Village of Kalash Valley. The flowing water, lush green landscapes, elevated peaks, walnut trees, colorful flowers, eye-catching hotels, and everything else will make your visit worthwhile and make you want to visit here again and again.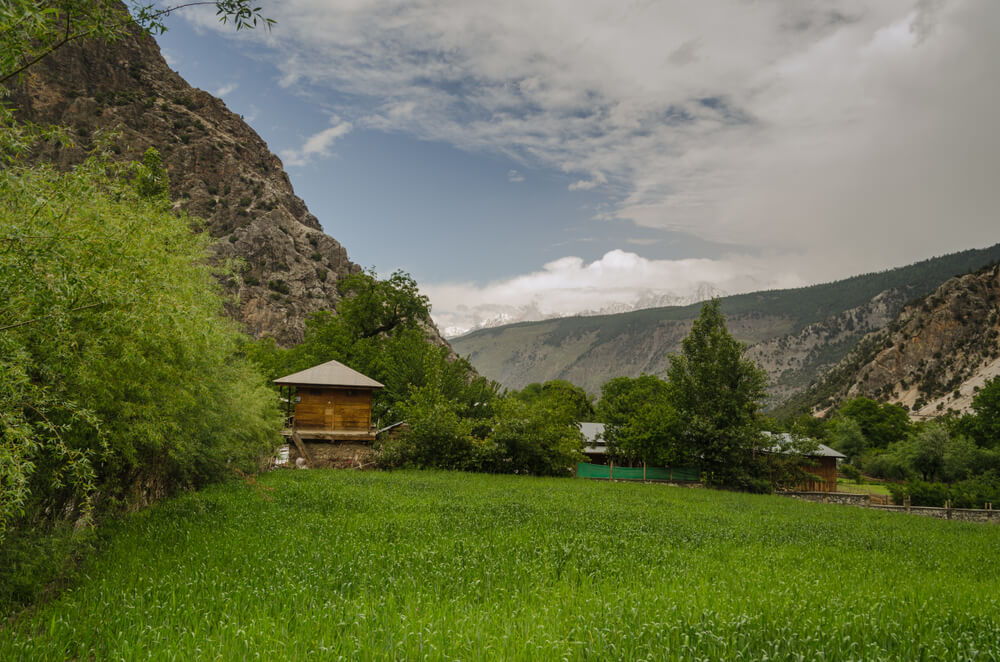 The peaceful nights and holy mountains of Kalasha Valleys will leave a print in your mind for the rest of your life. Kalasha cuisine is to die for; it consists of dishes such as walnut bread and various kinds of cottage cheese.
If you are a person who loves strong tea, there is bad news for you; in Kalash Valley, you will get "Doodh Patti" which is very light in taste, but trading tea for a few days to explore the beautiful attractions of Kalasha Valleys is worth it.
Three Most Famous Valleys of Kalash
Witnessing the most beautiful valleys of Pakistan is no less than a dream come true. Kalash Valley is famous and recognized for its three majestic valleys. The Kalashas live in three valleys: Bumburet, Rumbur, and Birir, collectively known as Kalash Valley. Due to similar cultural practices, Rumbur and Brumbret make one culture, whereas Birir is known to be a traditional one, thus forming a different culture.
Rumber
To see the heart of Hindukush, do not forget to visit Rumber Valley. This valley is the most mesmerizing and scenic valley in Kalash Valley Chitral. You will find fewer hotels and facilities here than in the rest of the two valleys, but this place's calmness and beauty are unmatchable. Rumber Valley has the most amiable and hospitable people ever.
The best part of this valley is its pleasant weather during the day and comparatively cool at night. You would love to spend a few days in this small but amazingly calm valley while enjoying your short trips to nearby grazing land.
Get ready to enjoy a bumpy and adventurous 2 hours drive from Chitral town to Rumbur Valley to enjoy the river, landscapes, greenery, unique rich culture, and the hospitality of the Kalash community.
Brumboret
It is a must-go-to place if you want to see the gem and the giant valley of Kalasha Valley. Bamburate Valley is the most visited valley by locals and foreign tourists though it is comparatively far from Chitral town. Expect to see traditional ways of living and the beautiful long outfits showcased by Kalashi women.
The best part of Bamburate Valley is the four villages within a distance of 1 or 2 km with some fantastic hotels and guest houses best for families. In the summers, since it is the festival period in Kalash Valley, you will experience some traffic from the leading national highway, N45, to the Bamburate Valley. Therefore, driving at a low pace and using four-wheel vehicles is suggested.
The valley is stunning, with some scenic views that look no less than a painting. If you plan to visit, explore the valley and its villages on foot and enjoy all the tastiest local foods this place offers. Moreover, you can also experience their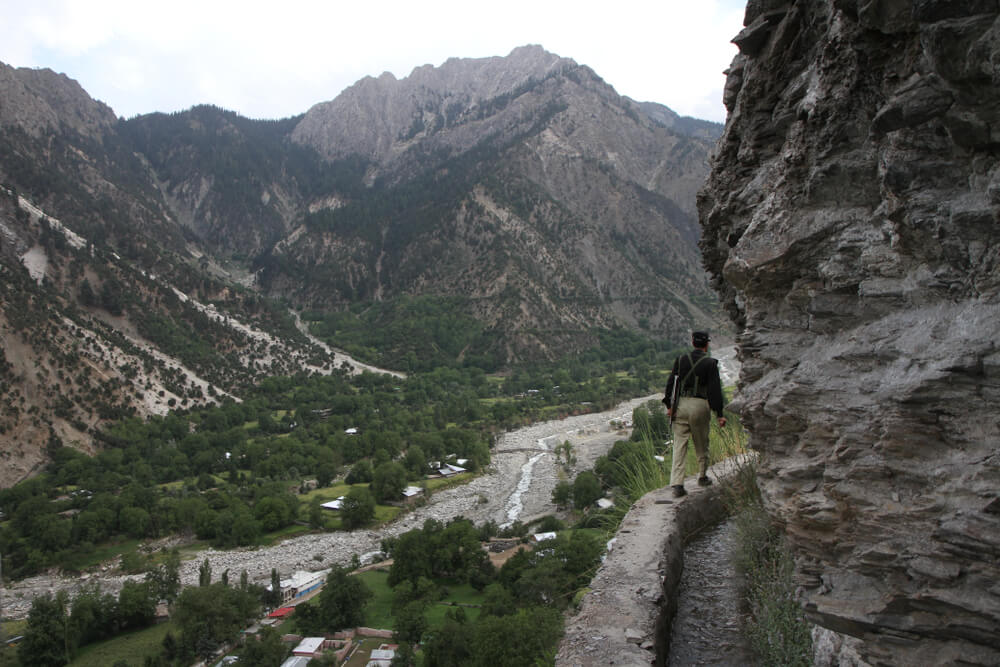 Culture of burying the dead body; that is, they bury the dead body in the open air in wooden coffins.
In addition to these experiences, you can visit the local shops in this valley where they sell their traditional clothes, caps, and jewelry.
Birir
Do you want to enjoy the traditional Pagan culture of Chitral? Birir is your place to go. It is smaller than Brumboret but stunning. It is around 45 km from Chitral and has attractive villages such as Guru, Grambat gol, Bishal, etc. This place has a lot to offer photographers and anthropologists, a worth-it place to explore things.
Kalasha Dur Museum
Kalasha Dur Museum is perfect for you if you are interested in historical objects. It will allow you to look deeply into the history of Kalash Valley. It is in Bamburet Valley in a mesmerizing building that will amaze you. It is worth its place because it protects the mysterious 1300 historical objects of Kalash culture, which can fascinate any visitor. This museum was constructed in four years, from 2001-2005. It is a treat to see weapons, clothes, stones, jewelry, instruments, etc., depicting Kalash's traditional and ancient history. Moreover, all these objects are saved in locked glass frames, and one can sense the conventional way of showing the different collections.
Facilities in Kalash Valleys
Other than the beautiful place that Kalash Valley is, you will get every kind of facility you need to have on a vacation. Some fantastic guest houses, comfortable well-facilitated hotels, shops, food, and everything else would make your stay worthwhile.
There is a local restaurant where you can have the most romantic lunch/dinner because this restaurant is built under a tree. You can enjoy a variety of eggs, differently cooked chicken, etc., along with the most beautiful view.
Guest Houses
You do not need to worry about hotels and guest houses while planning to stay in Kalash Valley Chitral because several guest houses provide all the basic facilities to tourists. Some of the top-notch guest houses are Kalasha Guest House, where you can park your car and enjoy the greenery, and the fantastic thing is you can also take your pet along. The second amazing is the Chitral Inn Resort, which provides free parking, a beautiful garden to enjoy, and 24 hours room service. The third is the Happy Guest House Kalash Valley, where you can get clean rooms with the most hygienic and tasty food and, the cherry on top, the calmest and most peaceful environment.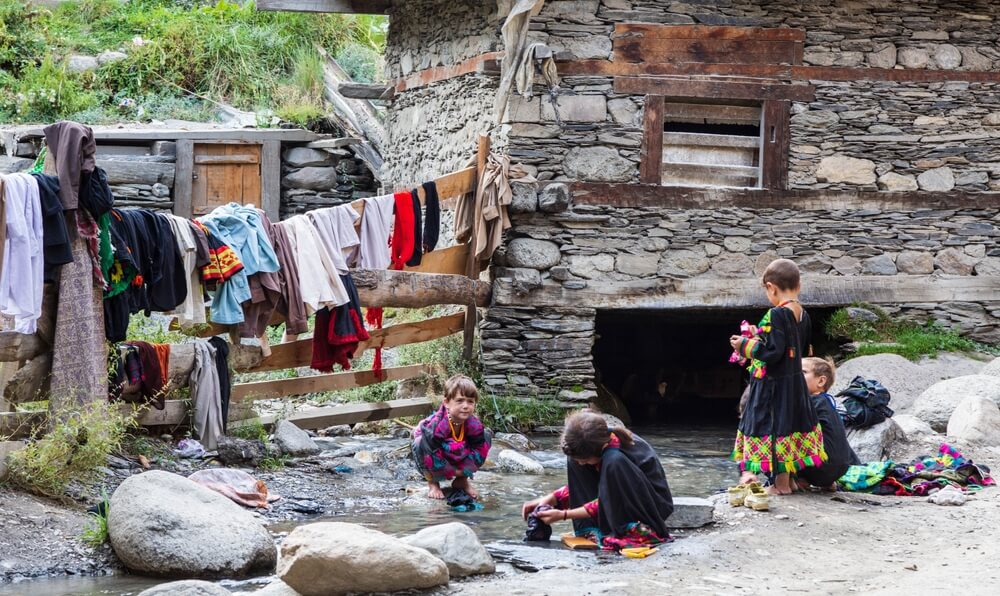 This is not the end to the guest houses, but these are indeed the best ones.
Muslim Restaurants
There are many Muslim restaurants where you can enjoy the food without worrying about the forbidden ingredient used compared to some other restaurants.
Local Guide
A local guide gives you the best tour experience. Fortunately, UNESCO has trained several Kalash tour guides, including males and females, to ensure a responsible tourism environment. A total of 17 people were prepared to guide the tourists and ensure they got to witness the best of Kalash Valley.
What do Kalash people worship?
The Kalashas worship and believe in 12 Gods and Goddesses. Some scholars believe that Kalashas originated from an ancient form of Hinduism, and later pre-Islamic Nuristan impacted it. The Gods they believe in include Yama Raja, also called Dezau and Khodai recognized as the one who creates. The second god is the Balumain, who is known to be the cultural hero and the people of Kalash thank him by celebrating their winter festival. The rest of the gods comprise Destak, Munjem, Dezalik.
What are the three major Kalasha festivals where the Kalasha culture can be witnessed?
The best part of Kalash Valley is the fun-filled festivals they celebrate throughout the year. Their festivals are distinct, and three main festivals showcase the authentic Kalasha culture. The first significant festival is Joshi, celebrated in May by dancing and singing. The second festival is the Uchau culture which is observed in mid-August, whereas the last is the Choimus festival celebrated in mid-December; it also depicts the end of the year.
Chillam Joshi
Do not miss this festival if you have an option to experience it. During this festival, Kalashas dance to the beats, decorate their houses and wear beautiful clothes. The Kalashas serve milk, purify their babies, and thank their Gods.
Uchau
In this autumn festival, cheese is served by Kalashas. They dance and sing to enjoy the festival.
Choimus
This is the most fun festival because it depicts the year's end. This includes the purification of people and songs of fertility sung by the purified men of the community.
Which Mobile Networks Work in Kalash Valleys?
Telenor sim cards work the best in Kalash Valleys.
How do Kalash people behave with tourists?
The people of Kalash are the most loving, friendliest, and welcoming. They will greet you with open arms, make sure you feel comfortable, and witness the best of their traditions. Moreover, they can be the best example when talking about hospitality.
How to Reach Kalasha Valleys from Chitral?
If you are planning to visit Islamabad or Peshawar, the easiest way is to go to Chitral by plane and then see Kalash Valleys by road. If you go by road from Islamabad, you will have to drive for a minimum of ten hours, so it is suggested to go by plane to Chitral and then by road from Chitral to Kalasha Valley on a car or a jeep, whatever you feel comfortable in.
Location of Kalash Valley Chitral
The most beautiful Kalasha Valleys are located some 40 kilometers from Chitral, along the Pakistan-Afghanistan border, at 1,670 meters (5480 ft) in the Hindu Kush range.
FAQs
What language do the people of Kalash speak?
The language of the Kalash is the Kalasha and is a Dardic language.
What do Kalash people eat?
People of Kalash eat different kinds of cheese, fruits, apricots, walnuts, etc.
How do Kalash people dress up?
People of Kalash wear long fancy attires with hand embroideries and ornaments.
Are Chitralis Pathan?
No, Chitralis are not Pathan though they might resemble Pathans look-wise.
Conclusion
Every minute in Kalasha Valley will be worth it because you will witness the rich culture, beautiful places, tasty food, and the prettiest and friendliest people who value their traditions, culture, and religious rituals the most. Indeed this is one of the most beautiful places on earth.
You will find all about the beautiful Kalasha Valley; read it before exploring this beautiful place, its people, and its unique culture.