Minimarg
If you're looking for an escape from the hustle and bustle of city life, the scenic village of Minimarg may be just what you need. Located within the Astore District in the Gilgit-Baltistan region of Pakistan, Minimarg features lush greenery, pristine rivers, awe-inspiring views, and friendly locals ready to welcome you into their traditional culture.
The village sits at an altitude of nearly 2,844.6 meters above sea level and attracts travelers from all over the world with its rustic charm and friendly community.
Let's explore Minimarg's captivating beauty. We'll begin by going through the remarkable past of this recreational area.
History of Minimarg
The most contentious region of Pakistan has a turbulent history. The village served as a historic commerce route connecting Gilgit and Srinagar. After the subcontinent's division, the route was halted, and it eventually became one of the most bitterly contested regions between the two big rivals, India and Pakistan.
The valley has an extraordinary strategic significance because of its location, making it vulnerable to internal disputes and external threats.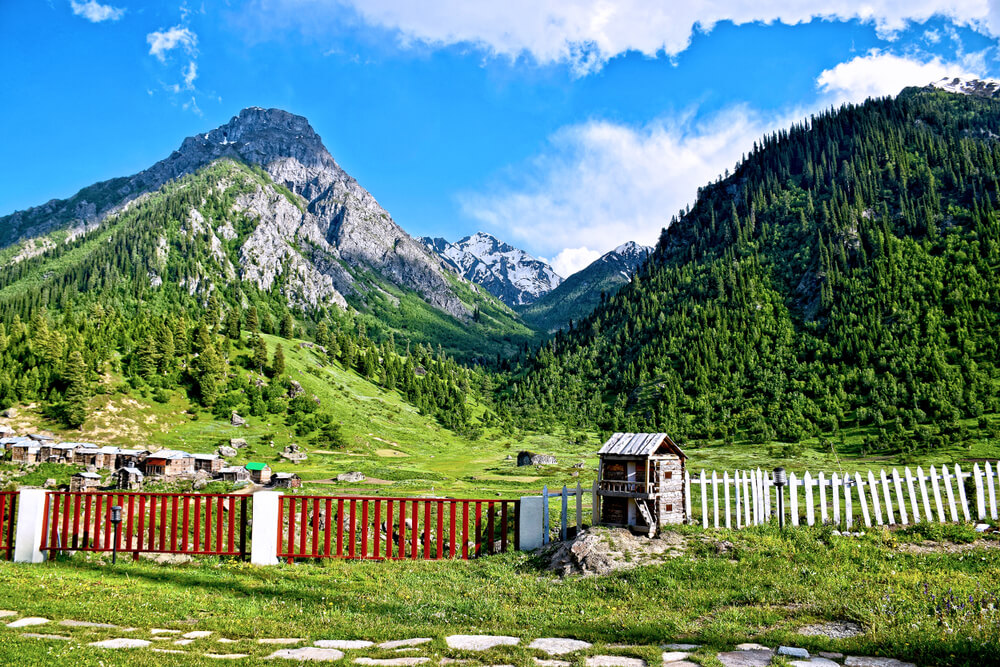 On the one hand, it bypasses the Bandipora valley in Kashmir. While on the other hand, it extends into Indian-occupied Kargil­_ a city well-known for the India–Pakistan Kargil War.
The Tiger Force took over Minimarg during the First Kashmir War of 1947–1948. It served as a brigade headquarters of the combined Gilgit Scouts and dissident 6th Infantry of the Jammu and Kashmir State Forces.
Minimarg is one of the most beautiful places, with lush green fields, snow-covered mountains, and fresh air.
Which Language Do People of Minimarg Speak?
Shina language is the dominant language spoken by the people of Gilgit-Baltistan. It is an Indo-Aryan language with strong Sanskrit influences. Hence, the people of Minimarg also speak the Shina language. However, many other languages are also common here; the most notable ones are Pushto, Burushaski, and Khowar, related to the Indo-Aryanian family. These languages have an ancient history and have been used for centuries by the locals of this region.
Minimarg Weather
Minimarg has a cold climate. Every year, Minimarg experiences 157.58 rainy days (43.17% of the time) with an average precipitation of 140.73 millimeters (5.54 inches). The region's average monthly temperature is 3.8°C in January, with a maximum of 26.9°C in July. It suggests that Minimarg typically has mild weather. A source claims that Minimarg's daytime peak is around five °C, and its overnight low is -6°C. Additionally, this lovely location occasionally gets snowfall on its peaks. If you're one of those, who would love to see snowflakes, head off on an adventure to Minimarg right now!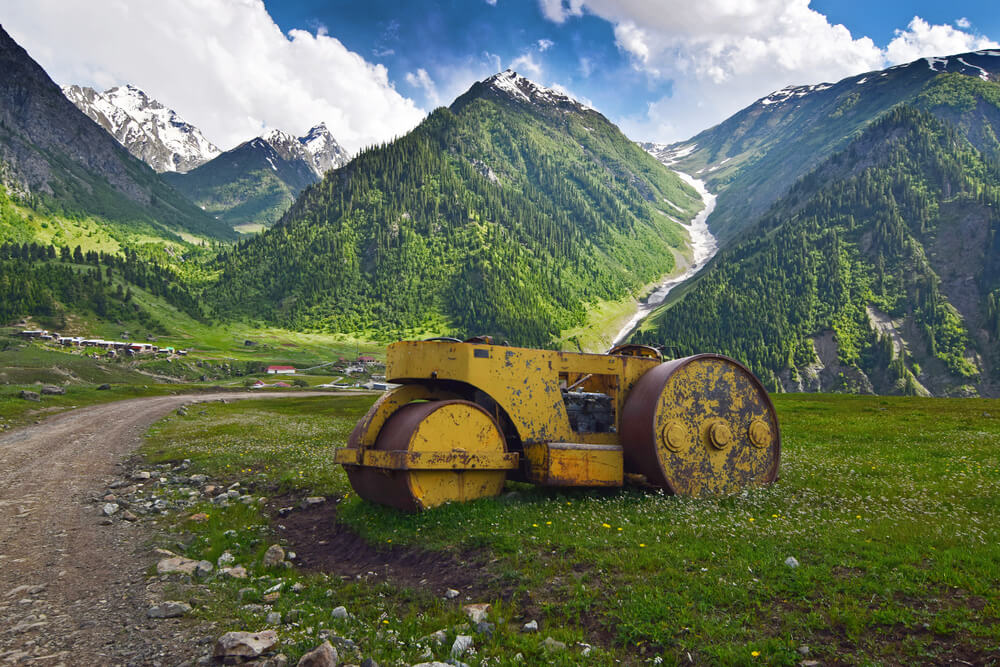 Connecting Points of Gilgit & Azad Kashmir
Geographically, Gilgit-Baltistan is six times bigger than Azad Kashmir. It shares a southern border with Azad Kashmir. ECNEC has approved roads connecting Gilgit Baltistan and Azad Kashmir. Two lanes will be built for PKR. 70 billion within the next few years
When is The Ideal Time to Go Minimarg?
There is no specific time to visit Minimarg, as this depends on your desire. In general, most people tend to prefer visiting during the warmer months. However, you can enjoy a pleasant stay at any time of the year if you dress accordingly. Minimarg is a great place to go camping and hiking in the summer, while those who want more peace should plan their trip during winter when temperatures drop considerably. Those seeking unspoiled nature would be hard-pressed to find a better place than Minimarg.
SOPs to visit Minimarg
Although the government has permitted anyone to visit Minimarg, they must abide by the strict laws and regulations. SOPs for visiting Minimarg include
· Printing of the original CNIC, ID card
· COVID-19 vaccination record
· Vehicle in good condition with a full tank of petrol
· Time of entry: 10:00 AM
· Time to leave: 4:00 PM
· No photos of delicate installations or locations
· The use of drone cameras while hunting, fishing, or camping is strictly forbidden
· Spreading trash and litter will result in a punishment and immediate expulsion or ban from the area.
· Respect and adherence to security SOPs are required in LOC areas
· Preserving regional customs and beliefs
· Keep a check on the weather before visiting
· Follow any additional rules that may apply
· Contact at 05817-920100, 931420, or 03555205458 for any assistance or information
Tourists Attractions in Minimarg
Minimarg offers an experience like no other, with views as far as the eye can see. Its tranquil mountains, sparkling lakes, and serene meadows make it an excellent destination for those looking for peace!
Many different scenic points around the village offer some genuinely magnificent photo opportunities! For example, Rainbow Lake is a favorite amongst tourists for its scenery. Surrounded by beautiful flowers and trees, this magical place is best seen early morning or late evening when the sun shines on the water, creating rainbows across the surface.
The Natural Beauty of Minimarg
When you visit this picturesque village, it is hard to believe that this place exists in Pakistan. The area is famous for its scenic and unspoiled natural beauty, with lush green hills and forests giving way to a breathtaking view of the river below. There are abundant examples of nature's artistry all over this stunning valley.
Apart from its breathtaking natural beauty, which includes rivers and lakes, fields filled with flowers, and lush green hillsides, the village offers plenty of outdoor activities.
Let's look at the major attractions in Minimarg that you should visit during your stay here.
Rainbow Lake
The Rainbow lake is a unique natural wonder in the area and worth visiting if you ever pass through the valley. You feel imprisoned by nature's grandeur while in this Army-built artificial lake. The lake is beautiful with its sky blue water and white ripples created by the breeze and some magnificent plants around it. The best time to visit this place would be during the summer when the water level goes up, and one can easily walk around.
Crystal Lake
Another breathtaking place to visit is Crystal Lake. The lake is surrounded by hills and greenery, creating an air of splendor. It's a perfect spot for picnics and meditation!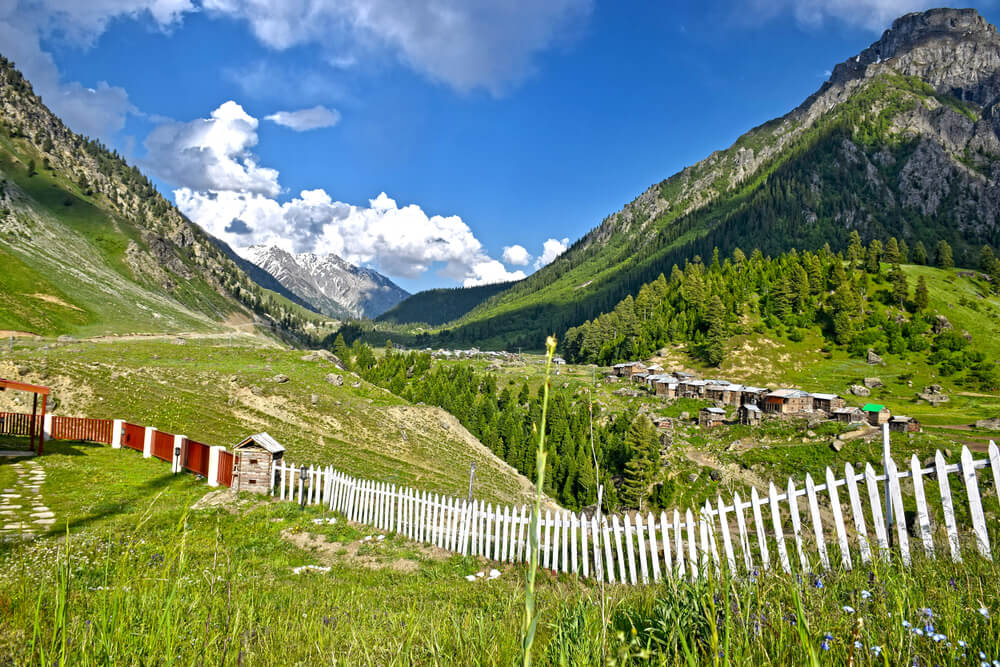 The water is usually green because it's so clear and deep and has a lovely view to watch. There is a beautiful reflection of trees when you look down from some height. You can even see through the water as if there is no bottom!
Minimarg Domel
It's a beautiful region about an hour's drive from Minimarg. It offers an abundance of forests, rivers, and streams for fishing and other outdoor activities. The Rainbow and Crystal lakes are found in Domel valley. The winter snow on the mountain slopes provides the water for these lakes. One cannot help but feel completely overwhelmed with serenity when visiting this incredible natural valley with jaw-dropping scenery. Aansoo jheel is another major attraction for visitors in Domel. Although it is close to Domel, the path to the lake is like a dead zone. Hence, it may be challenging for you to travel there. The army brigade's approval is required to travel to Domel.
Variety of Fauna
Dotted with lush green rice fields and terraced hills, the serene landscape is a feast for the eyes. Grazing animals such as goats, sheep, and cows are also quite common. You can also find peacocks, monkeys, bears, leopards, and many more creatures living on this beautiful land. Visitors from hot regions of Pakistan come to Minimarg for livestock farming because of its cooler climate.
Minimarg Line of Control- High Alert Security
Minimarg Pakistan lies close to the Line of Control, the militarized zone between India and Pakistan. This military control line separates the two portions of the former royal state of Jammu and Kashmir under Indian and Pakistani control. Armed forces are stationed here because of the sensitivity of the area. Security is always on high alert, and troops are ready to handle any emergency.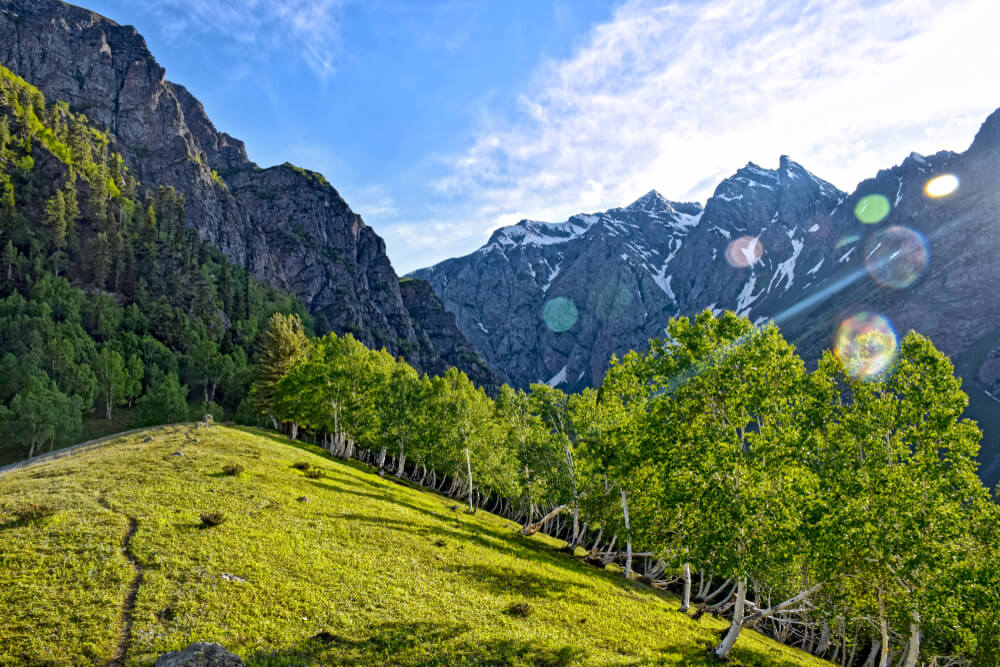 A special permit issued by both governments is required for anyone wishing to cross over this border region with its lush green fields, apple orchards, and meadows dotted with colorful wildflowers.
Staying Facility in Minimarg
Regarding staying facilities at Minimarg, there are several star hotels and resorts. The hotels have many rooms with a breathtaking view of the mountain. Guests can also enjoy traditional meals from the restaurant or lounge on the terrace and admire the scenery.
PWD Guest House on Pre Booking
It's an excellent spot to stay. The lodging is simple but clean and has all the facilities needed for an extended visit. Additionally, the cuisine is inexpensive and delectable. You can pre-book your accommodation on their website. Alternatively, you can contact them by email or phone to make your reservation or get more information about their prices and availability.
Army Messes on Permit
Minimarg does not permit camping. You are limited to staying in the army mess as long as there is space. For this, you must take a permit from the Army stationed at the entrance of Minimarg. Even if you are visiting for one night, all visitors must get access from the Army stationed on the outskirts of Minimarg, or they will not be allowed.
How Do I Get Permission for Minimarg
Recently the government has granted permission to visitors to visit this Minimarg Astore as it's becoming more and more popular among tourists. There is no longer a need for a tourist permit, according to the 80th Brigade of the Pakistani Army.
How To Reach Minimarg Pakistan
There are numerous ways to go to Minimarg from any city in Pakistan. Travelers may reach Minimarg from Skardu Valley in around 4 hours using Deosi Park Road. The distance from this road to Minimarg is 136 kilometers. In addition, Minimarg is 540 kilometers away from Islamabad.
What Are The Best Restaurants in Minimarg?
There are many eateries to choose from, with a mix of local and Western cuisines in the Minimarg valley. The most popular restaurant offering delicious food are:
Mian G restaurant
Kashmir Restaurant
The hangout: café & Grill Restaurant
The Noorani Hotel
Sikander Restaurant
Azad Kashmir to Minimarg Distance
Traveling from Azad Kashmir to Minimarg is one of the most scenic journeys you can make. Minimarg can be reached from Azad Kashmir via N-15 in around 16 hours.
Minimarg Location
Minimarg is a settlement in Gilgit-Astore Baltistan's district. It is placed on the bank of the Neelum River, north of Taobat. Minimarg and the capital of Gilgit are separated by about 190 kilometers.
FAQs
Is it Dangerous to Visit Minimarg?
Over the years, the Army has carried out many development projects to develop the roads leading to Minimarg. However, many dangerous areas can still lead to a deadly fall if you do not tread carefully.
Is Rainbow Lake open to the public?
Yes, the rainbow lake is open to the public now.
Is Rainbow Lake in Pakistan swimmable?
Since the lake is loaded with different algae giving it many colors, it is best not to dive in.
Conclusion
In short, Minimarg is like heaven on earth. In addition to the stunning views, it is worthwhile to visit for the calm and tranquility of the place. It is a beautiful place to visit and to experience something spectacular in the middle of nowhere.