Khalifa Park – Spending A Day At The Park
One of the greenest destinations in UAE, Khalifa park, is a public park in Abu Dhabi; it's considered the capital's landmark. It spreads over 500,000 sq. meters and extends along the East Ring road.
If you've heard of Khalifa park, you should know if it's worth visiting before making a plan. Also, learn what recreational activities you'll enjoy in the park.  It is one of the biggest parks in Abu Dhabi.
This greenish heaven provides a wide range of activities for residents and tourists, whether you're seeking some alone time or want to enjoy it with family and friends. In addition, almost all kinds of flowers are sprouting up in the area, making it even more picturesque with time.
Let's glimpse at its history; the park was named after his highness Sheikh Khalifa Bin Zayed Al Nahyan and is one of the oldest green destinations in Abu Dhabi. Almost $50 million was spent to build this massive park, completed in 2007.
The park is home to the Abu Dhabi History Museum, Aquarium, Library, Train Ride, Murjan Splash Park, and several other attractions. Events such as concerts, sports tournaments, and more are regularly held in the park. The fun doesn't end here; you'll explore lots and lots of small activities for yourself and the younger ones that you'll surely enjoy doing!
If you want to know about the history and culture of this state, you should visit the library, which will open up interesting facts about this beautiful land.
Also, the park has many more exciting things which can turn your day into a fun-filled date you'll cherish forever. So what are you waiting for? Go ahead and check out Khalifa park Abu Dhabi now!
Abu Dhabi History Museum And Aquarium
The Abu Dhabi History Museum is located in Khalifa Park and is one of the most popular attractions in the park. Opened in 2013, after a strenuous 40-year construction period, the museum shows the history of the Arab region and how the Emirates developed through all these years. Seeing all this is fascinating as you're living in that time.
Although there are so many different names for this museum, the official one is the Abu Dhabi history museum and Aquarium, sometimes known as the Maritime museum. It's located right next to the gym in the park, and you can easily find it.
Before you enter the museum, a sign says "Abu Dhabi – A Journey Through Time"; it depicts this phrase and will take you back in time.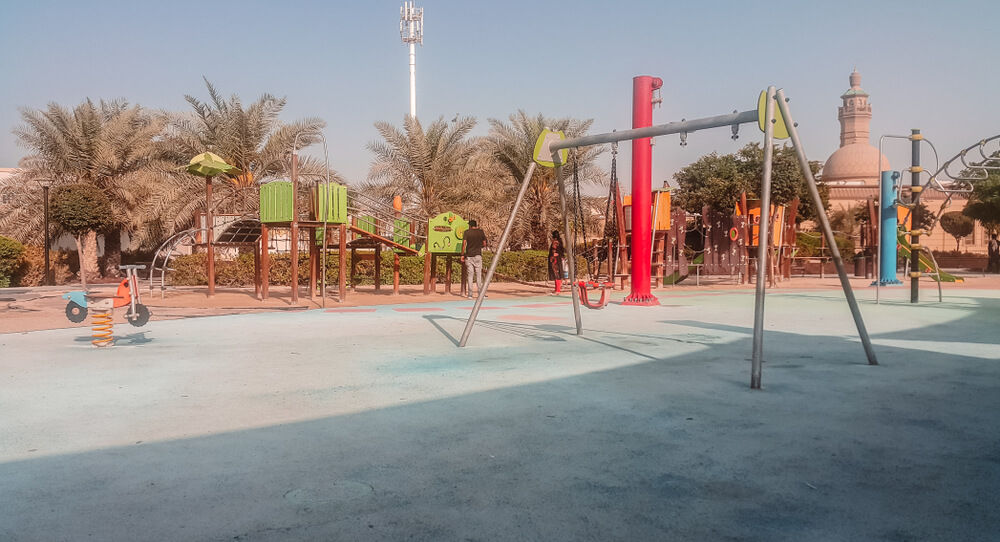 The typical museum tour begins with the historical part, where you'll see models and displays of Abu Dhabi's historical background.
After that, you get into the second part of the trip, a ride through history. You get to be seated in cabins that drive and show you the development of the Emirates from the early Bedouin life to the modern city buzz. It sounds interesting!
Lastly is aquarium time, where you can see different types of underwater life and sea creatures. If you're an animal lover, you'll enjoy this part, as watching them all in one place is amusing.
Khalifa Park Gym
The Khalifa Park UAE gym is a state-of-the-art facility that offers visitors a perfect chance to keep their fitness goals. It's fully equipped with all the necessary machines and equipment that you'll need to have a great workout session.
Also, professional trainers will monitor your fitness progress and guide you on what to do and avoid. The best thing about this gym is that it provides customized training facilities to each client based on their wants.
The trainers will keep educating you about your fitness journey to be more comfortable in your place and see how far you've come.
It's a great experience you should try if you're a fitness enthusiast or even looking to start your fitness journey. The Khalifa Park Gym is one of the park's best features and is worth checking out!
Khalifa Park Library
Do you need book therapy while exploring Abu Dhabi, or do you want to relax by reading a book? Then, you need some book vitamins, which you can get at khalifa park library.
Khalifa Park library is one of the most visited places in the park as it has a great collection of books, magazines, and newspapers. It's a perfect place to relax and unwind after a long day. You can find almost any book you're looking for, as they have a wide range of genres.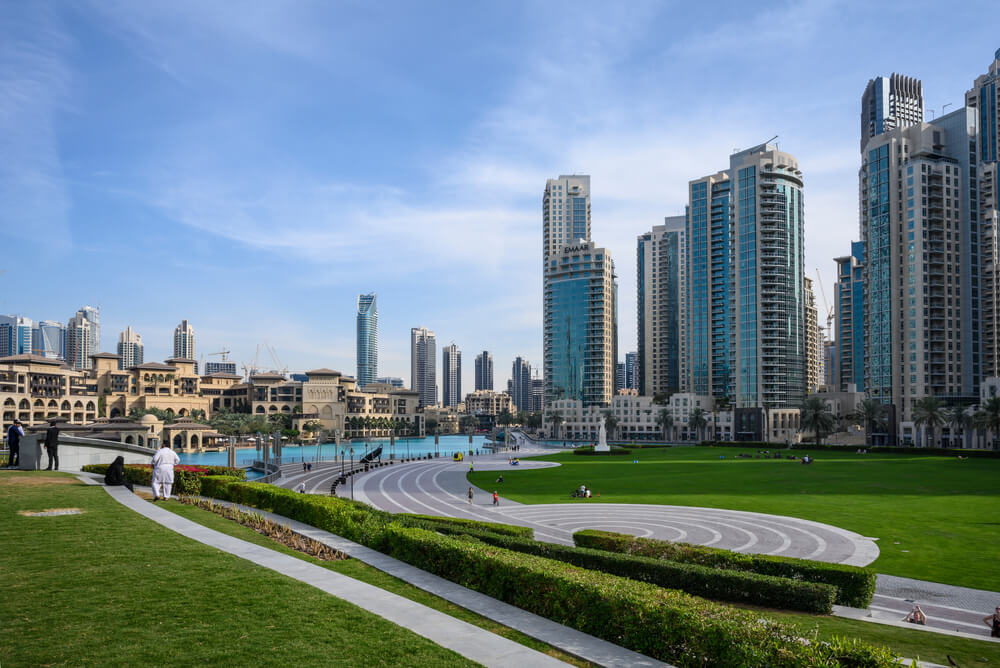 Khalifa park library has different sections for children and adults, situated in separate buildings with personal entrance points. You can find Arabic and English books in the library, but the majority of these are in Arabic.
Like all the libraries in the world, you're expected to be quiet here, so if you've noisy kids, we recommend you avoid the library.
Khalifa Park Train Ride
If you're going to Khalifa park, you can't miss the joyous train ride that will take you from one corner to the other. It's a great way to explore the park and see all the different attractions that it has to offer.
Khalifa park train ride will let you enjoy the views with music in the background to have the best time.
The train ride is quite long and covers almost all the park areas, offering you stops at different spots to explore the site from a closer eye. You can hop on the ride either from the nearest main entrance or near the library.
It's an excellent activity for kids and adults as it's a fun and unique way to see the park. The best thing is that the ticket price is too low so you don't have to worry about spending extra money on it.
Murjan Splash Park
No tourist destination is complete without a water park in UAE; Khalifa park has this fun water park called Murjan Splash park. Here you can indulge in the most popular water activities and have the best time of summer!
Murjan Splash Park is undoubtedly the most popular attraction in Khalifa park, as it's a great place to beat the heat. You can enjoy different water wheels, crawling tunnels, guns, and a lazy river.
Here are some fun things you shouldn't miss in Murjan Splash park.
For your younger ones, the park has small battery-powered boats in which they can sail and bump into each other.
The Famous Lazy River Ride
The 0.6 lazy river ride at the back of the water park is a fun ride where you can relax on a tube and float around the lazy river. The twists and turns will make you awe-struck, and it's safe for kids.
Kids above 11 are allowed on this ride as it includes a mechanical surfboard that the kid needs to balance. But don't worry; it has an attendant who'll control the board and monitor the kid from a very close distance.
Events In Khalifa Park
Khalifa park UAE isn't only famous for its attractions and fun rides! There's much more than you can imagine; the events at the park are pretty famous among tourists and residents.
The most noticeable event is the Abu Dhabi Festival of Falconry, hosted in December, which allows visitors to get close to local predatory birds. The range of these birds is so broad that you'll be amazed to see them in flight shows.
The other events and services in Khalifa park include hosting birthday parties, football matches, or school excursions. So if you want to make your little one's birthday or recommend your school a nice place to visit, you can opt for Khalifa park.
Rules To Visit Khalifa Park
Just like any other tourist destination, Khalifa park has rules that tourists and residents of the UAE need to follow strictly.
First, parents should accompany their kids below the age of 13.
Wear proper swimming costumes when in the water park. Wearing too many revealing clothes isn't allowed.
Be respectful to the birds in the falconry shows, do not try to touch or hold them, as they might bite you.
Do not litter around; enough dustbins are placed at different corners; use them to help us keep the park clean.
You can hire cabins to keep your valuable possessions, don't carry them around if you think you'll lose them.
It's ladies' day every Wednesday, boys above ten aren't allowed in the park, and you can't click random pictures on ladies' day.
You can't bring your food or beverages from outside the park; there are enough food corners and cafes inside the park.
Smoking is strictly prohibited in all areas of Khalifa park.
Khalifa Park Timing
Khalifa park's timings are from 3-11 pm, and it closes at 11 sharp, so if you're in the park, pack your stuff before 11.
Frequently Asked Questions
What to do at Khalifa park?
There are plenty of things that you can do at Khalifa park, such as visiting the Abu Dhabi History Museum, going to the Aquarium, taking a train ride around the park, or playing at the Murjan Splash Park. You can also attend one of the many events hosted at Khalifa Park, such as the Abu Dhabi Festival of Falconry.
Is Khalifa park free?
No, Khalifa Park is not free. An admission fee is AED 5 for adults and AED 3 for children under 16. But that's relatively trivial, and you can pay that quickly.
How to get to Khalifa park?
Khalifa Park is located in Abu Dhabi, United Arab Emirates. Khalifa park's location is relatively easy to find. The best way to get there is by taxi or by car. If you're coming from Dubai, you can take the E11 highway and exit at Khalifa Park. The journey should take about 1 hour and 30 minutes.
Khalifa park is a great tourist destination; whether you're living in UAE or planning to visit Abu Dhabi soon, do add Khalifa park to your itinerary. The beautiful views, fun rides, and exciting events will make your trip memorable. And don't forget to follow the rules to have a hassle-free time at the park.