Parks in Abu Dhabi – The Beautiful Green Heavens
Talking about the greenest Emirate of the UAE, Abu Dhabi, it would be right to say that it looks like more of a paradise than a capital. If you go to Abu Dhabi on a road trip from another emirate, you'll notice how the scenery changes into beautiful greenery.
It already means that this place is full of several parks and gardens where you can relax and catch a breath from your running life. Those who live in Abu Dhabi have parks and gardens very close to their residences, giving them easy access to a greener life. But, of course, you can't stay inside your apartment or villa for the whole day; it will exhaust you. That's why everyone wants to have a park close to their home.
Although UAE is famous for skyscrapers, malls, and busy markets, it's also full of parks and gardens where you can escape from all the hustle of city life. And a park is the right spot for spending quality time with your family and friends. If you're looking for a place to have a picnic or barbecue, there are plenty of parks in Abu Dhabi that offer such facilities. You can also find several children's playgrounds where your kids can play and have fun.
So, if you're wondering which are the best public parks in Abu Dhabi, this article can be a complete guide for you! Just read till the end, and you'll be spoilt for choice. But it's better to visit all these parks one by one and have many memories when you leave Abu Dhabi.
However, if you are not living in Abu Dhabi and planning to visit soon, choosing a suitable park might not be very clear as there are more than 20 parks in Abu Dhabi. So today, we will help you with a list of the best public parks in Abu Dhabi and their specialties.
Heritage Park
The list of public parks in Abu Dhabi has just begun, and you'll be amazed to know how many parks this capital has and how mesmerizing all of these are! First, let's talk about the first park on this list, i.e., the heritage park, and why it tops the list. Well, Heritage park has the unique feature of characteristic structures depicting the history and culture of the UAE.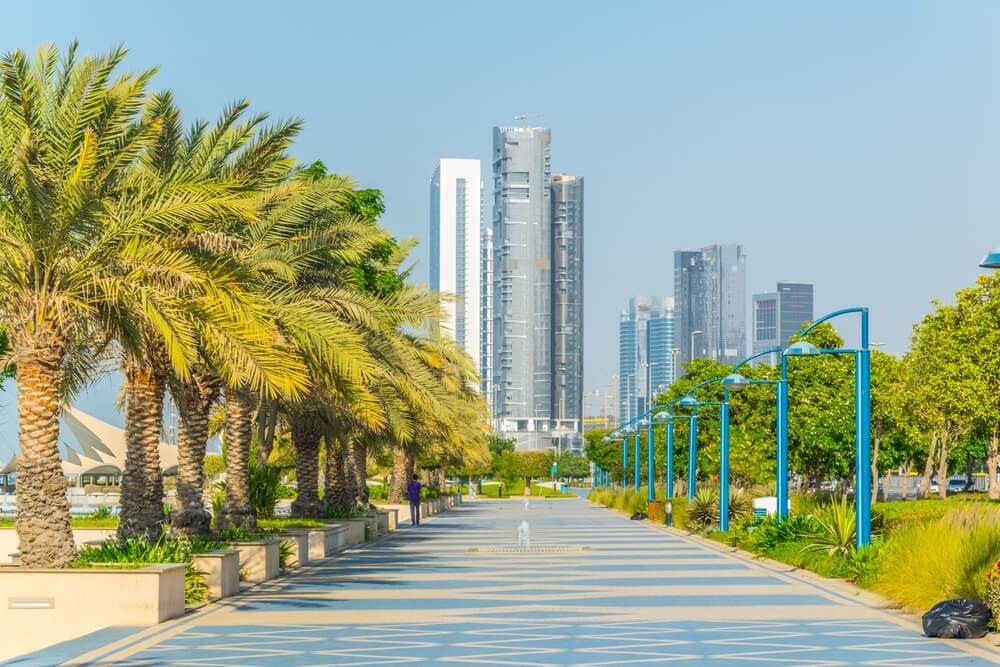 Also, the park's design has a pure Arabic style unlike any other park making it stand out from the crowd.
The location of this park is quite good as it's opposite the Mina port and you can see incredible scenery of blue waters from here. But the park is overlooked by the Mina port, making it a hidden gem.
Heritage park is an excellent spot to have a day with your friends or family and get some knowledge about the history of UAE while enjoying the fresh air.
It is one of the best parks in Abu Dhabi for a family picnic. It has all the necessary facilities that you might need for a perfect picnic. There are barbecue areas, kiosks and children's playing areas, shaded seating areas, and public washrooms. The best thing about this park is that it is vast, so you can find a secluded spot for yourself if you want some peace.
Let your kids enjoy the climbing frame while you lay and take some rest. If you're going with friends, plan a barbecue at this place because the scenes are worth the effort.
Plan a visit to explore the heritage park and make the most of your holiday! The exact location of this park is Firdous Street, right beside the east side of corniche road, Abu Dhabi.
Delma Park
Delma park, situated at the junction point of Delma street and Salam street, is another cozy Abu Dhabi park perfect for a day out. The garden is beautifully landscaped with several trees and plants, making it an ideal place to spend some time in nature.
It belongs to the oldest parks in Abu Dhabi and is also quite popular among the locals. The park has several facilities, including a walking track, a children's play area, a football ground, and a volleyball court.
Delma park is a treat for those who are fitness conscious and are always looking for an excellent place to work out. The park is all decked up with fitness equipment and running tracks softer under the foot, so you can run and ensure you're fit. In addition, the beautiful lush green gardens in the park make it a perfect spot to try yoga, as it's peaceful and serene in the morning.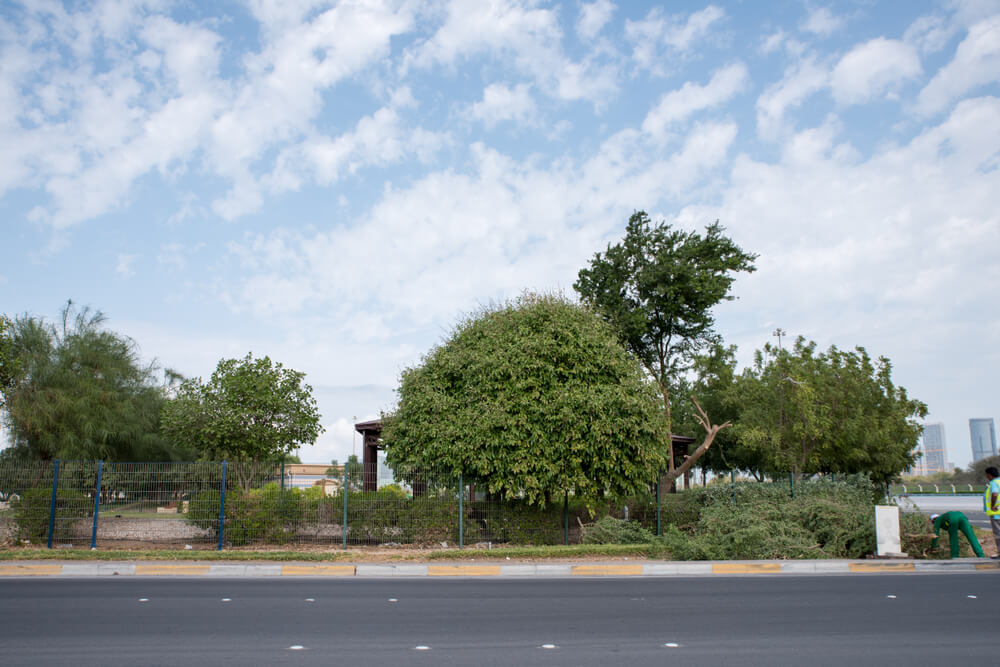 It is an excellent bird-watching park, home to several species of birds. If you're an early riser, you can also go for a walk or jog in this park, as it opens at 6 am.
The park is well-maintained and the perfect place to spend quality time with your family or friends. You can also have a picnic here, as there are several barbecue areas and kiosks in the park, or you can buy some snacks or refreshments from the food kiosks.
There's a climbing wall and a kid's play area where your younger ones can have their own time and make some new friends.
The park is located on Delma Street in the Al Nahyan area of Abu Dhabi. You can easily reach here by taking a bus or taxi.
New Shahama Park
If you're looking for a park with something for everyone, you must visit New Shahama park. There's an abundance of lush green trees and flowers that you might get confused about if you're in the UAE.
The beautiful fountains make it a perfect spot to click insta-worthy pictures, and you can hang out with your friends for a day close to nature.
New Shahama park is located in a residential complex, making it a convenient spot for nearby people. They can walk to the park to catch some fresh air.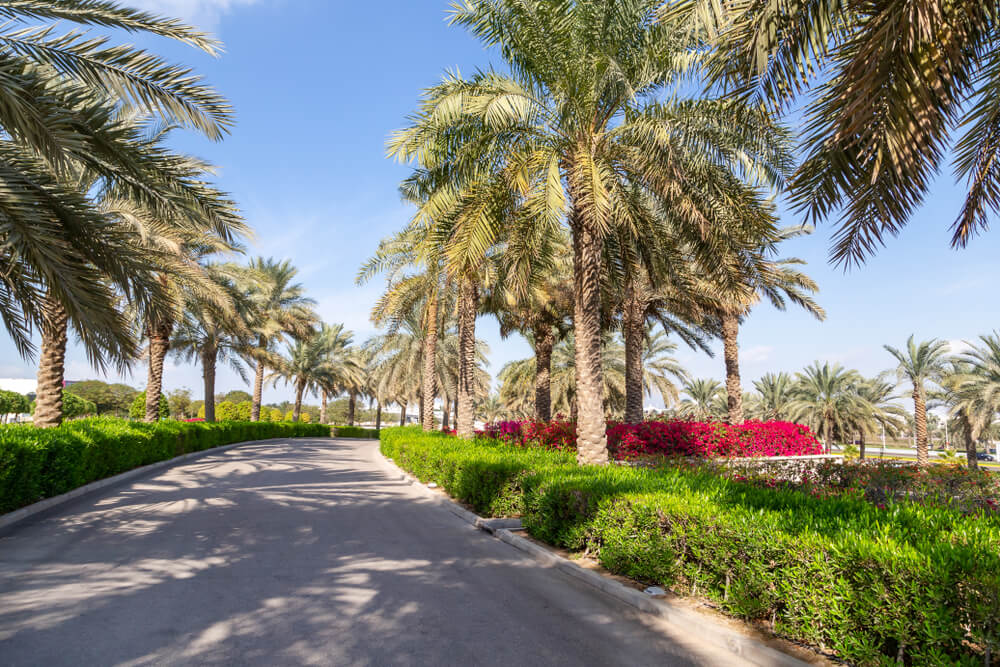 The facilities at this park are more than you can imagine, and these are enough to make your day good, so step out and visit the New Shahama park.
With more than 20 playgrounds for kids, several fun rides, soccer fields, hiking trails, and cafeterias, everything is present to make your day fun. It's a complete package for a family day out because it has lots of fun activities for everyone. That's why it's a unique place among families and kids for enjoyment.
The park's location is convenient as it's near Pizza way, New Shahama in Abu Dhabi. So prepare for a fun day with your friends and make some delicious barbecue.
Reem Central Park
Reem central park, a beautiful piece of paradise located on Reem Island, Abu Dhabi, serves the residential community of Reem Island. But it's equally popular among the tourists who're exploring the Emirate.
Being one of the latest parks in Abu Dhabi, this place beautifully brings a touch of urban relaxation to the community living nearby.
The best thing about this park is that it offers impressive greenery views. If we talk about the list of facilities and amenities, it's pretty long and still growing. There's a cyclist path you can take for a leisurely cycle ride. Also, there are specific walking and jogging tracks for fitness enthusiasts.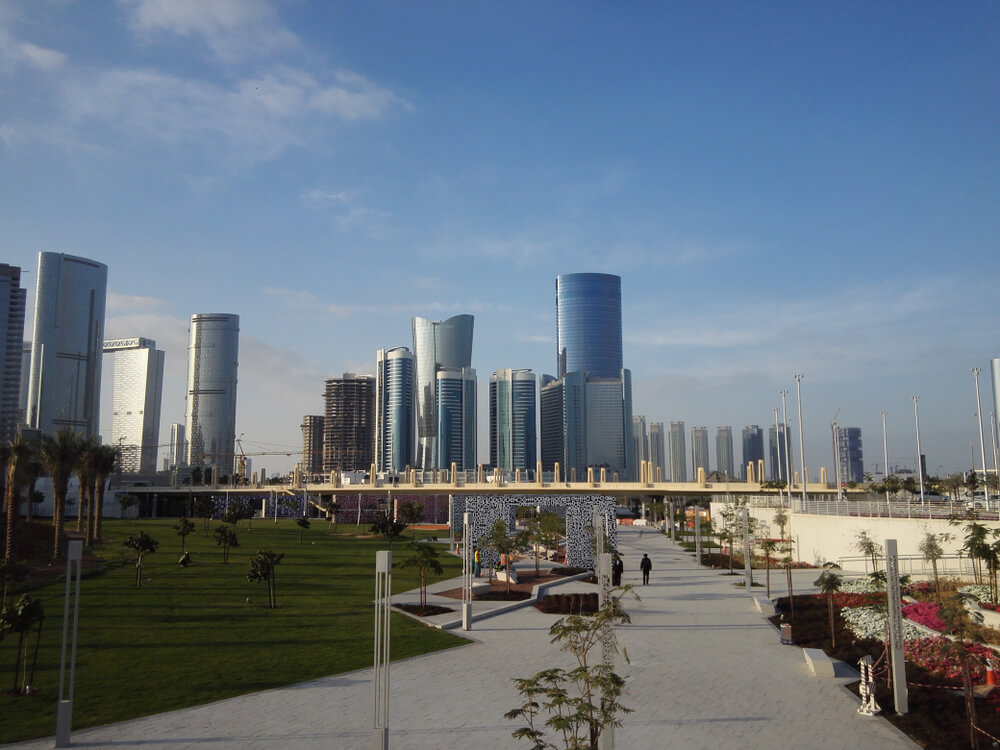 Also, there's a particular area for dog walking, so you can bring your furry friend along too. And if you're looking for some alone time, a quiet reading corner would be perfect for you.
There are essential play areas, a skate park, a BMX park, lots of street art, scenic fountains, and fun graffiti that makes a whole new world inside the park. In addition, there are more than 20 food outlets, and still, some are sprouting up, bringing you different tastes from around the world.
So take a break from your work and spend some time surrounded by nature. The park also has a walking track, so you can go for a morning walk or jog and enjoy the views.
The park is beautifully landscaped and has several trees, flowers, and plants, making it a perfect place to relax and unwind.
Capital Garden
The capital garden is a park that looks sandwiched between towering skyscrapers in the city's heart. It is one of the busiest parks in Abu Dhabi and is always buzzing with people from all walks of life.
You must think about how a park amidst bustling city life can provide relaxation. Well, the capital garden has proved that everything is possible. Locals, shoppers, and especially workers around the offices prefer to catch a breath.
Also known as Asima Gardens, this place is heaven for those who're always congested inside offices or homes. That belongs to the oldest parks in Abu Dhabi, but it's been managed quite well.
The place is always full of people, and you'll find a lot of families, especially on weekends. It has become one of the most popular hangout spots for youngsters too.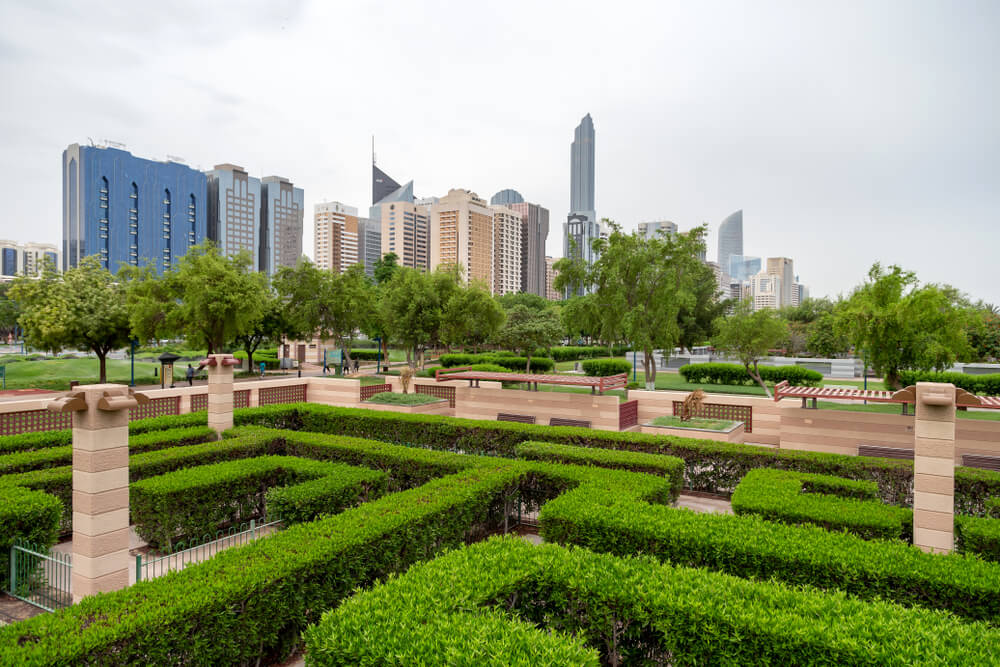 The impeccable design of this garden, lush green trees, landscapes, mesmerizing fountain, and everything makes this park even more beautiful. This place is the right spot for arranging kids' parties and get together as there are many slides, rides, and play areas around. So if your little one's birthday is coming up, make it a unique one!
The best thing about this park is that it has something for everyone. If you want to take a stroll, there's a walking track. If you want to go for a run, there's a jogging track. And if you wish to sit back and relax, there are plenty of benches where you can do that.
Formal Park
One of the best public parks in Abu Dhabi, Formal park is truly a treat to the eyes as its greenery will cool down your sight and make you feel pleasant just by looking at it. It's one of the largest parks in Abu Dhabi.
The park is opposite its name as it is a relaxing space where you can unwind from tiring work routines. The park is close to the family park and is another corniche park in the city.
You can visit the park with your loved ones to steam your work stress or beat the mid-week blues. What about having a finger-licking barbecue session with your friends? This place has all the facilities you need for a party, so live your weekend to the fullest.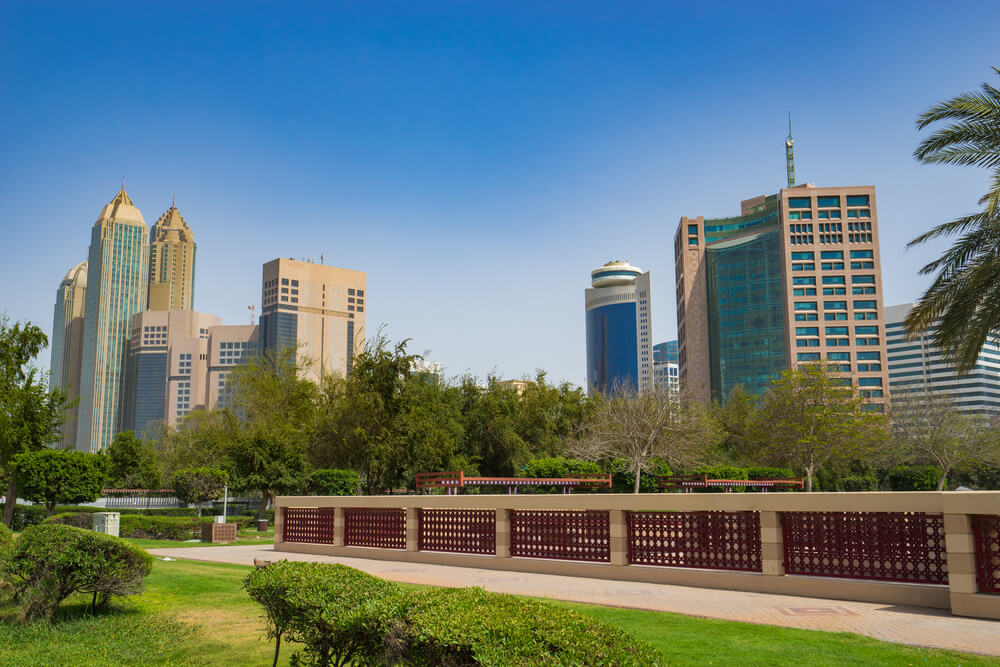 There's a big pond in the middle of the park along which you can take a lovely stroll with your better half, well, it's romantic, and you should try it! The place looks lovely at night when the lights are on, and the water looks like a sheet of glass.
The elevated park has an outdoor gym too, so if you're a fitness freak and can't live without working out, even on weekends, this is the right place for you. The best thing is that it's all free of cost!
There are lots of kid's play areas around, and it's not only the kids who feel happy here; you can also have some fun. So get lost in the park's maze and see what adventure comes up!
Umm Al Emarat Park
Umm Al Emarat park, previously called Mushrif park, is a popular choice for family, friends, and everyone! This park situates close to Al Mushrif palace in Abu Dhabi and is one of the capital's oldest and biggest urban parks.
When the park was under construction, a consultation with local people was considered about what things they wanted to see in the park. That's the reason this park has so many facilities and amenities. First, Umm Al Emarat park has a Wisdom garden that makes you think about your life, a children's playground, and a botanic garden with almost all types of flowers and plants.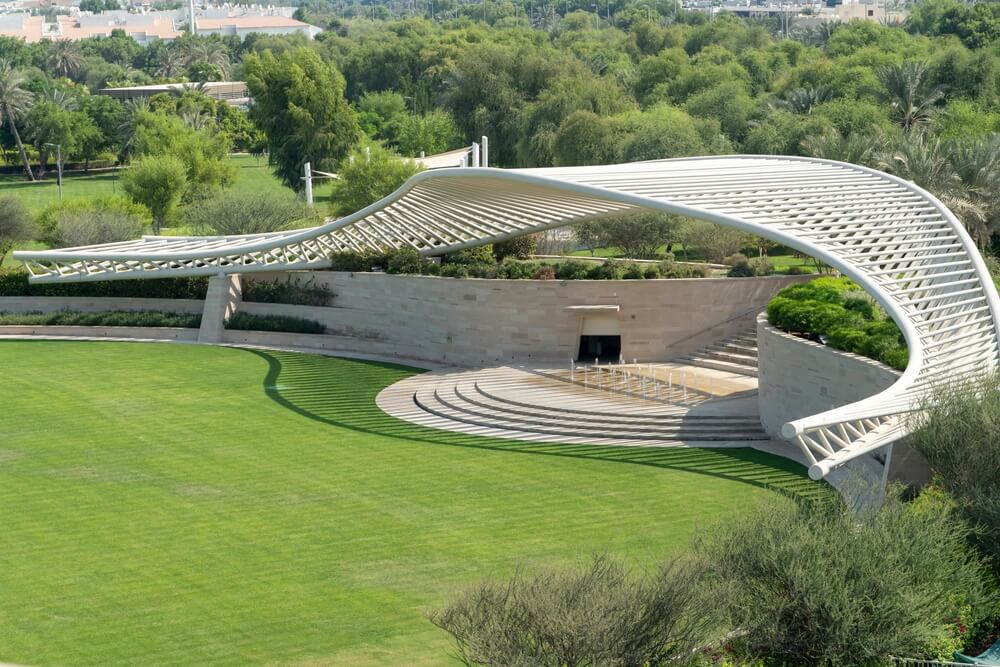 When constructed, Umm Al Emarat Park was explicitly designed to minimize the heat; that's why you can see so many plants there!
There's a shade house in this park that has more than 30 species of shade-loving plants. Also, let's not forget about the giant amphitheater and the Animal barn where camels, ponies, and other cute animals are seen having their me-time!
This place should be your go-to spot whether you want an adventurous or laid-back, cozy day. You can stroll in the Evening Garden or the Friends of the Park or watch your kids having fun at the countless rides. Several activities at this park are enough to keep you whole and entertained, be it your friends, family, or coworkers!
Khalifa Park
Let's move towards another famous local park in Abu Dhabi, which is quite liked and loved by locals of the capital. The park is vast as it covers an area of 500,000 meters and is one of the largest in Abu Dhabi.
This massive park is full of activities for kids and adults, and everyone can have the best of their weekend before they head towards another week.
Khalifa park has a Cultural Library, a Maritime Museum, and a giant Aquarium. So don't you think it's a perfect spot to take your kids and let them learn about the country's culture and history? Also, get amused by closely watching a glimpse of marine life at the Aquarium.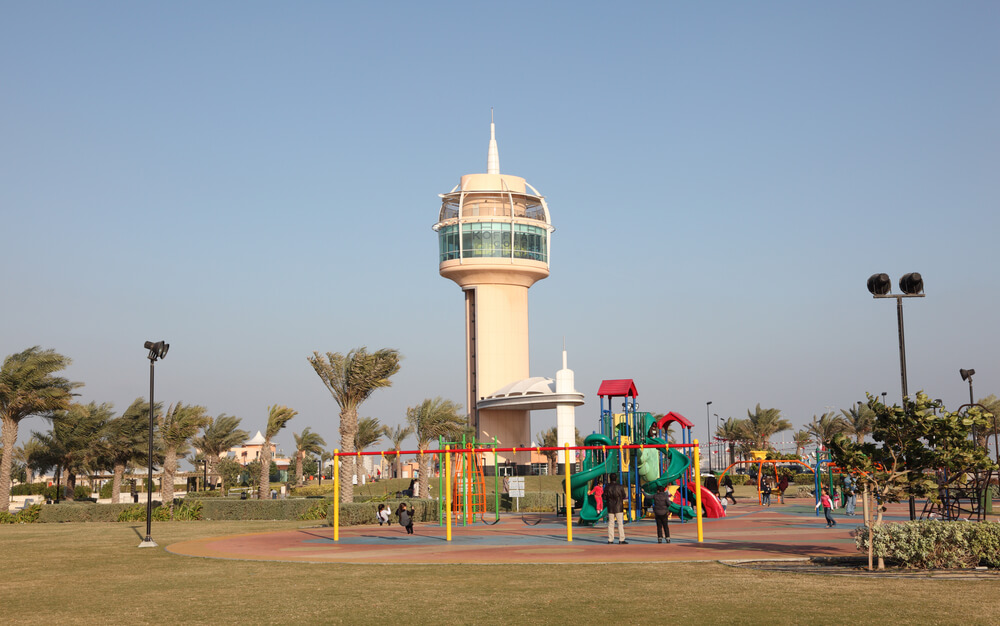 The park gives a mesmerizing view of the Grand Mosque, and you can feel the shivers running down your spine when you look at it. In addition, there are thrilling train rides and the Murjan splash park, which is a great place to hang out in the summer.
Plan a picnic with your group of friends or family, pack some snacks and drinks and enjoy the serenity of this place. Many festivals happen in this park, making it a center of attraction for kids, especially the Abu Dhabi Falconry Fest, which is a must-see!
Family Park
Family park, located right in the middle of Abu Dhabi's corniche, has so much to keep your little ones entertained. But, as the name suggests, this park is the favorite destination for families who want a relaxed weekend.
This place has five play areas with a specific theme for each, where kids can play and have unlimited fun. Isn't it great that your kids can play and you can also enjoy the view of the sea?
In addition, there are a few cafes in the park where you can stop for some yummy food or snacks. This place is usually crowded on weekends as locals and tourists love to come here and have quality time with their loved ones. You can also plan out a barbecue as this place is fully equipped. The scenic views of the park make it a great filming location.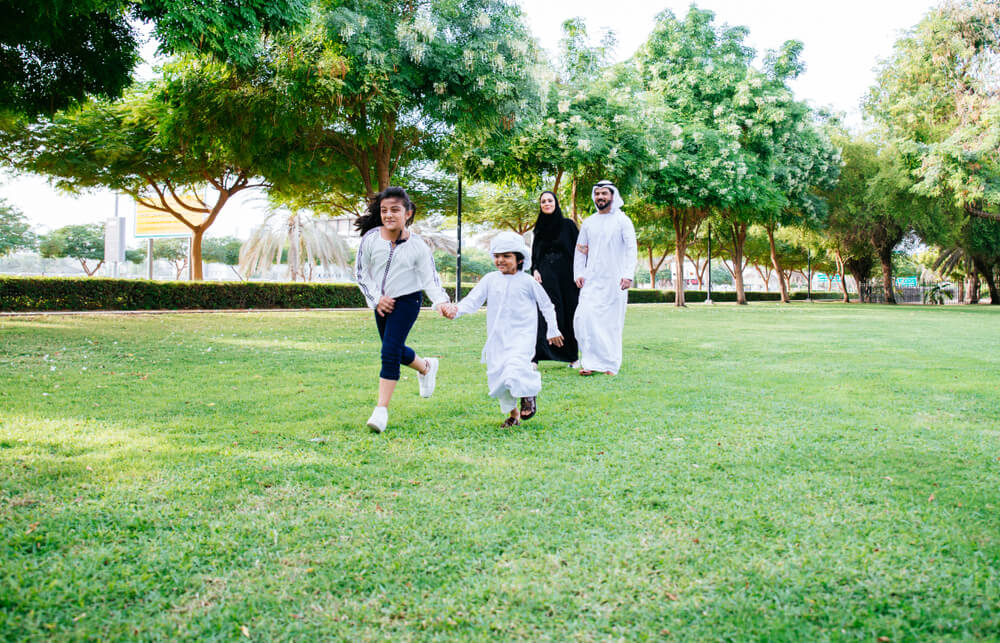 This place has a palm pool in the center, a water park, a skate park, and several basketball courts. What else can you think of that this park might not have? There's no such thing!
The colorful family park caters to the need of your little ones like no other place. This park focuses on the kids and how they can have maximum fun. So why don't you come and spend some leisure time with your family? Make your day a great one!
Frequently Asked Questions
What is the best park in Abu Dhabi?
There is no clear consensus on the best park in Abu Dhabi. However, many people agree that Khalifa Park is a great option. This park offers a wide range of activities for kids and adults and a beautiful view of the Grand Mosque. Other popular parks in Abu Dhabi include Heritage Park, Delma Park, and Reem Central Park.
Can you do a barbecue in parks in Abu Dhabi?
Yes, you can barbecue in parks in Abu Dhabi. Many parks, including Family Park and Khalifa Park, have designated BBQ areas. Just be sure to clean up after yourself when you're done!
What is the best family park in Abu Dhabi?
Again, there is no consensus on the best family park in Abu Dhabi. However, many agree that Family Park is an excellent option for a family day out! This park has five different play areas with specific themes, a water park, a skate park, and several basketball courts. Other popular and preferred parks for families include Khalifa Park and Umm Al Emarat Park.
Is parking free in Abu Dhabi parks?
Parking is usually accessible in Abu Dhabi parks. However, it is always a good idea to check with the specific park you are visiting to confirm this. Even if parking isn't free, the cost is quite affordable, and you can easily manage it. So plan a trip as soon as possible and have the ultimate fun on your weekend.
So these are some of the famous public parks in Abu Dhabi where you can have a great time with your family and friends. Abu Dhabi is rich in culture and heritage, and these parks reflect that beautifully. Each park has something unique to offer, which makes it stand out from the rest.
The parks are unique compared to the rest of the world because these are like an oasis in the desert. So what are you waiting for? Head out to these parks and make some beautiful memories!