Kashmiri Culture – One of The Most Interesting Cultures in The World
Have you ever heard about a valley that looks like heaven on earth? Kashmir is universally recognized as heaven on earth because its natural beauty is unrivaled. However, there is more to Kashmir than its physical appearance, and that's the Kashmir culture. The people of Kashmir have a rich and unique culture that blends many different influences. Let's talk about Kashmiri culture in this article so the next time you visit this valley, you will feel more connected and related to it.
Like any other country or region, Kashmiri culture comprises many essential components like language, norms, values, and beliefs. And all of these things in Kashmir are beyond beautiful.
The Kashmiri culture combines different cultures and customs; you can see a glimpse of Northern India, Northern Pakistan, and Chinese culture.
The central Kashmiri culture comes from Hinduism and Buddhism, but many Muslims live in the valley. In ancient times, the culture in this valley was primarily influenced and controlled by Hinduism and Buddhism; after the Muslims entered, Islam became an important component as well.
The Kashmiri culture is vibrant, and many things make it so unique. Everything is interesting to see in the Kashmiri language: how their people dress up and earn their livelihoods. You'll love to interact with them for sure!
But before you get excited to see it all, let's read about Kashmiri culture, religion, and festivals.
Origin of Kashmiri Culture
Different dynasties and empires have ruled Kashmir over the centuries, which have left their mark on the culture.
The origin of the Kashmiri culture can be traced back to the 3rd century BC when a Mauryan emperor named Ashoka introduced Bushism into the region. Kashmir was later ruled by several empires, including the Mauryans, the Kushans, the Gupta Empire, and the Hindus. Each of these civilizations left its mark on the culture of Kashmir.
Kashmiri culture was primarily influenced by the Hindus when Hindus ruled the area from the 9th to 12th century. The Hindu successors ruled Kashmir until the late 1340s, just before the Muslims began to conquer the region.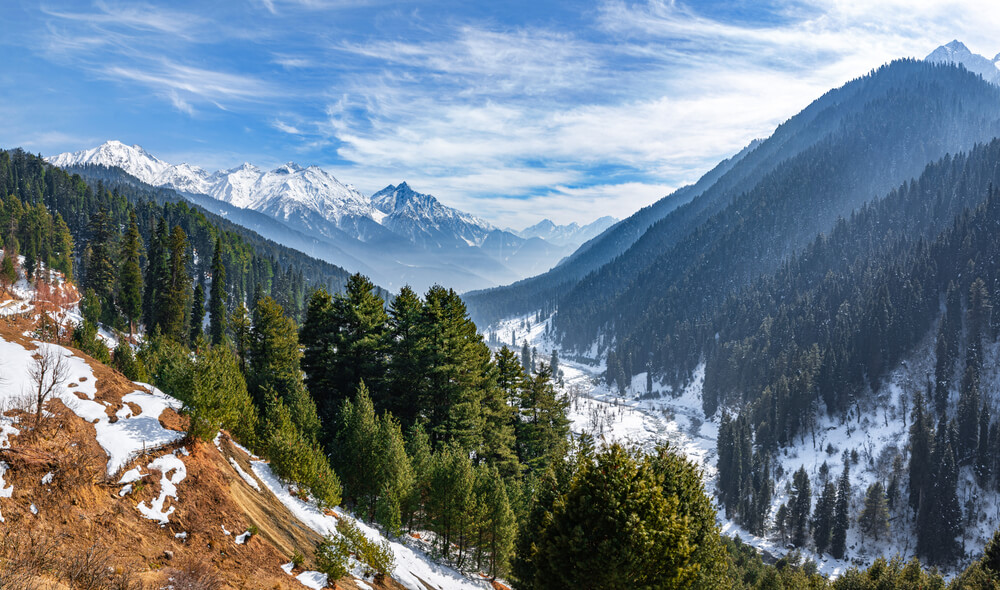 The Muslims ruled over the area for nearly five centuries, when Kashmiri culture adopted many Islamic traditions. However, the Mughals were the Muslim rulers with the most significant impact on Kashmiri culture.
After the Muslims, Punjab's Sikh kingdom took over Kashmir in 1819. During the rule of Maharaja Ranbir Singh, many Hindu traditions got revived in Kashmir. However, the Sikh kingdom in the region didn't last for long, and the Dogra dynasty consisting of Hindu Rajputs took over. The Dogras, who ruled Kashmir from 1846 to 1947, also contributed to the Kashmiri culture.
Thus, the origin of Kashmiri culture is a blend of various cultures, including the Hindu, Buddhist, Muslim, and Sikh. And still, people from all these religions and cultures inhabit the region, which shows a perfect amalgamation of languages, norms, values, and beliefs.
Kashmiri Language
Kashmiri people not only inhabit the Kashmir region but also live in other parts of India and Pakistan. But their lifestyle is quite similar; they tend to make a group and live in different colonies.
If we talk about the Kashmiri language, just like their culture, the language is a blend of different languages like Sanskrit, Persian, and Urdu. But essentially, you'll see a glimpse of Sanskrit in their way of speaking.
Kashmiri Muslims and Kashmiri Hindus, no matter which side they belong to, share a pretty similar language. However, it's not a single fixed language; there's a variation in language as you travel to different parts of Kashmir.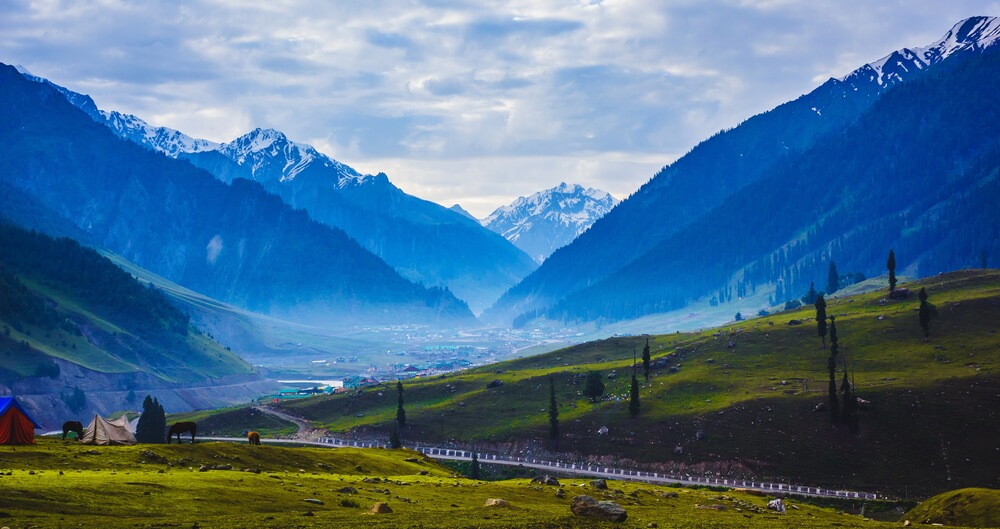 In AJ&K, the official languages are Urdu, Kashmiri, and Gojri, whereas, in some areas, Pahari, Ladakhi, Hindi, and Dograi are some other widely spoken languages.
The Northwest Dardic language belongs to the Indo-Aryan group of the Indo-European family of languages. It's primarily spoken in Jammu Kashmir, Azad Kashmir however observes a dominance of the Pahari language because this region essentially contains mountains and hilly areas.
If you go on a tour to Kashmir and keep traveling and exploring different areas, you'll see variations in language. For example, the accent and the pronunciations are different; sometimes, a word means other things in one area and has a new meaning in another.
Kashmiri is the local language of Jammu and Kashmir and is also one of the 22 scheduled languages of India. Around 6.8 million people speak it.
Kashmiri is written in the Perso-Arabic script and has a rich literary tradition.
Poetry and Literature of Kashmir
Kashmir has a rich history because it added a lot to the field of literature. Kashmir has birthed many great poets and writers who have contributed to the world of poetry and literature.
The literary work of Kashmiri writers and poets has been recognized internationally.
If we look back to 2500 years old, Kashmiri literature began with Sanskrit and other languages. However, the original Kashmiri language and its literature started 750 years ago.
The most famous Kashmiri poet is LallaDed, born in the 14th century. She was a mystic poet, and her poems are still very popular among the people of Kashmir. Another famous poet from Kashmir is Nund Rishi, Sheikh Noor-Ud-Din Noorani, who lived until the 15th century. His poetry is based on Islamic mysticism and Sufism.
Lalladed, along with her contemporary Sheikh Noon-Ud-Din Noorani, became literary icons in the Kashmir valley. Let's remember Habba Khatoon, another rhetorical poet who used to sing her verse, was a famous musician.
Some of the famous Kashmiri poets include:
* Nunda Rishi
* Lal Ded
* Habba Khatoon
* Sheikh Noor-Ud-Din
* Mehjoor
* Mehmood Gami
You can trace Kashmiri literature back to the 12th and 13th centuries. It has been written in various scripts, including Persian, Punjabi, Hindi, and Urdu. Kashmiri poetry is prevalent and has been translated into many languages.
Kashmiri Folklore
Kashmiri folklore is affluent and colorful. Many popular folktales and legends are passed down from generation to generation. Some of these folktales are about heroes and heroines, and even today, people enjoy these folktales and songs. In short, Jammu Kashmir's folklore is enchanting and historically significant.
The folklore of Kashmir is commonly known as the "literature of the people" of India, which perfectly mirrors and represents the efforts and beautiful experience of Kashmiri folktales.
The oldest collection of these folk stories is Panchatantra, written in the first century AD.
You can say that the Kashmiri language is an offspring of the Indo-Aryan or Sanskrit language. Kashmiri literature and folklore were dictated to the Persian language during the Muslim rule and Urdu later.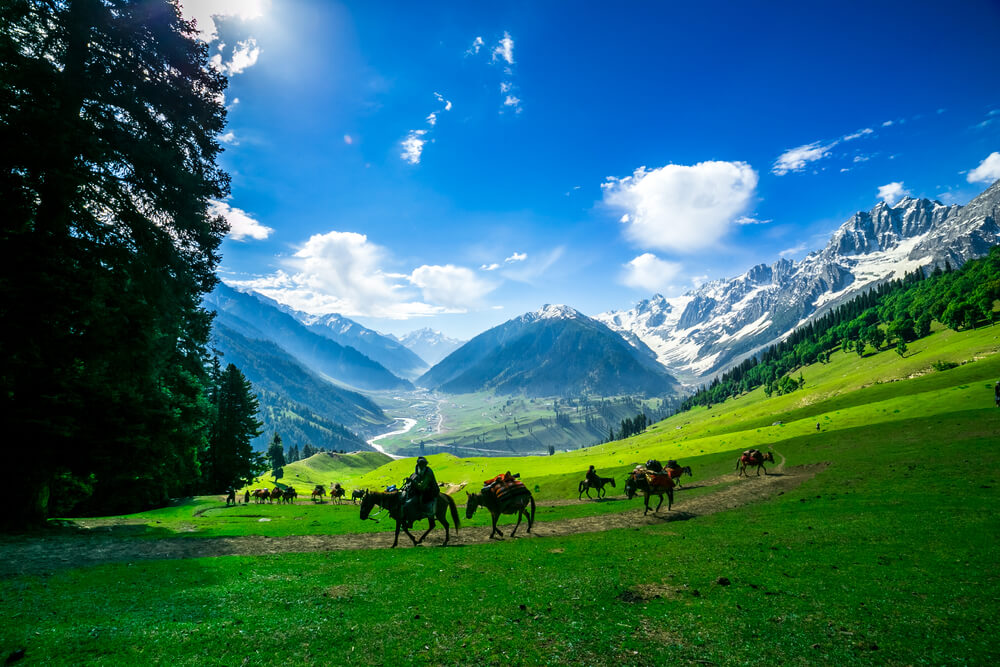 Kashmiri folk songs have perfectly preserved the customs and traditions of the old times. You can see a glimpse of those myths in these songs.
Kashmir has a vast collection of folktales that are old as the valley's hills and mountains. Some of the pure Kashmiri folktales are "Zohra Khatun and Haya Bund," "Bombur and Loare," and "HimalNagray."
Religion of Kashmir
The majority of Kashmiris practice Islam as their religion. Almost 98% of the Kashmiri population is identified as Muslims. Islam made its way to Kashmir valley in the early 14th century as a Muslim Sufi preacher named Mir Syed Ali Shah Hamdani arrived in this region.
The people of Kashmir are very religious and assertive in their rituals and beliefs. On the other side, Jammu Kashmir is inhabited mainly by Sikh, Muslim, and Hindu communities.
There is a significant number of Hindus as well who have their temples and shrines. Kashmiris, either Hindus or Muslims, peacefully practice their religions. Kashmiri Muslims are known for their religious tolerance and have always lived peacefully with the Hindus.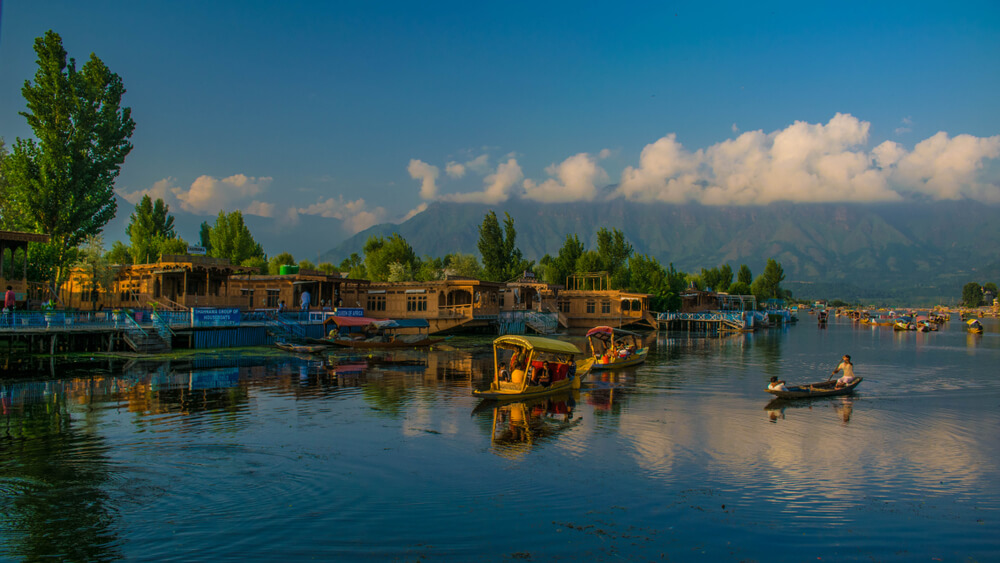 Other than Muslims, Hindus, and Sikhs, Buddhists are also found in the Ladakh region of Jammu and Kashmir.
Kashmiri culture is a rich blend of Hindu, Buddhist, Muslim, and Sikh influences. The main religions practiced in the Kashmir Valley are Islam and Hinduism, with a significant minority of Buddhists. In some parts, Sikhism and Christianity are also practiced by minorities.
Kashmiri Food
Kashmiri food is mouth-watering, whether vegetarian or non-vegetarian; you'll find all the varieties of food in Kashmir. Kashmiris prepare most of their dishes with fresh vegetables and paneer to give their cuisine an unbeatable taste.
The food here is a perfect blend of spices and herbs, which makes it so flavourful and aromatic. Some popular Kashmiri meat dishes include Kashmiri Kebag, Rogan Josh, Yakhni Pulao, Dum Aloo, Methi Keema, and Syun Alu.
Kashmir is also famous for its wide variety of dry fruits like almonds, walnuts, pistachios, cashews, etc. These are used in many traditional Kashmiri dishes to add a unique flavor.
The staple food of the Kashmiri people is rice, which is usually eaten with one of the various meat or vegetable curries. The most common meats used in Kashmiri cuisine are chicken, lamb, and mutton. Fish is also popular, especially in the lakeside areas of Kashmir.
One of the most distinctive aspects of Kashmiri cuisine is its use of spices. Common spices include cardamom, cloves, cinnamon, fennel, and pepper. In addition, Kashmiri food is often vibrant and heavy due to the use of cream and ghee (clarified butter).
If you go as a guest to Kashmir, they'll serve you hot sheer tea and Kahwa that you haven't tasted before. So do give it a try!
Famous Fruits of Kashmir
Kashmir is a place of an unreal beauty, and the fruit trees make it look more mesmerizing. The land of Kashmir is blessed with a wide variety of fruits. Many of these fruits are unique to the region and are not found in other parts of the world. Some of the most famous fruits of Kashmir include:
Mulberry
Mulberry, locally known as Shahtoot, is a fruit found in many parts of Kashmir. The mulberry tree is quite tall and has a wide trunk. The tree leaves are large, and it's seen bearing fruits mainly in the summer season. However, Kashmiri mulberries are a bit different; these are sweet in taste, large in size, and amazingly delicious.
Cherry
Cherry requires cool weather to grow, and hilly areas are best in that aspect, so Kashmir is known to grow cherry on 2700 hectares of land in Jammu Kashmir.
Pears
Pears are one of the most popular fruits grown in Kashmir. The climate and soil of Kashmir are suitable for growing pears. Pears are rich in vitamins, minerals, and antioxidants, which make them highly beneficial for our health.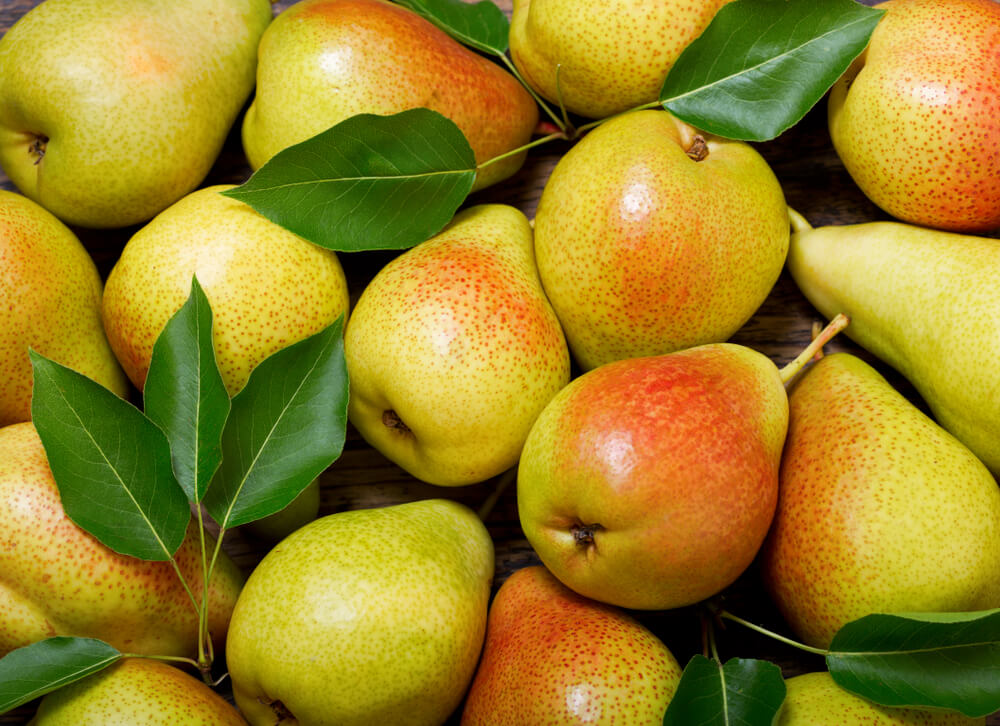 Apples
Kashmir is also famous for its apples. However, apples grown in Kashmir are different from other apples in terms of taste, size, and quality. Kashmiri apples are large and have very crisp and juicy flesh.
Kashmiri Dresses
The Kashmiri dress is distinctive and elegant; most people wear traditional dresses regularly. 
Kashmiri women are very fond of jewelry; they adorn themselves with gorgeous pieces like bangles, earrings, and nose rings. During summer, Kashmiris wear long and loose clothes to feel comfortable.
The Kashmiri costume is a long loose gown that varies in fabric quality according to the weather. The men wear headgear, and the women wear a skullcap. Kashmiri women cover their heads and shoulders from strangers and men as a sign of modesty and Islamic tradition.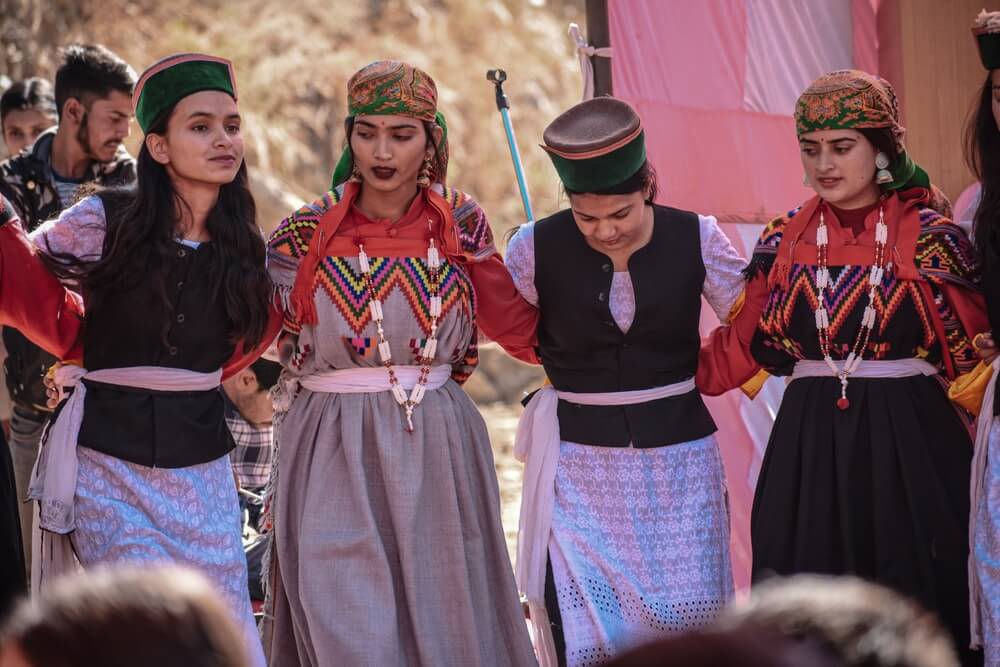 Overall, Kashmiri attire reflects the historical and cultural influences that have been a part of the Kashmiri way of life for centuries.
Kashmiri Festivals
Kashmiris are lively and enthusiastic people who love to celebrate their festivals with full zeal. Primarily, Jammu Kashmir, besides its mesmerizing landscapes and views, is known for its rich cultural heritage and traditions.
Kashmiris gather in large groups at their festivals and enjoy these occasions with loads of enthusiasm. Of course, different religions have their celebrations, but the best part is that Kashmiris participate in every festival, even if it's not theirs.
Some of the most popular Kashmiri festivals are Eid-Ul-Fitr, Baishakhi, Lohri, Tulip festival, Holi, Gurez festival, Hemis festival, and Shikara festival. Each festival has rituals and traditions that make them even more special.
If you happen to be in Kashmir during these festivals, you'll observe the most interesting traditional dance and painting competitions, different kinds of cuisines, and handicrafts stalls.
Eid-Ul-Fitr is one of the most important festivals for Muslims worldwide. It is celebrated at the end of Ramzan, a month of fasting for Muslims.
Baishakhi is a harvest festival and is celebrated all over India. In Kashmir, this festival is also known as Baisakhi Mela. It is held in April, and people wear traditional clothes and participate in folk dances to celebrate this occasion.
Kashmir Solidarity Day
Kashmir Solidarity Day is celebrated on 5th February every year to show solidarity with the people of Kashmir who are struggling for their right to self-determination. On this day, rallies and demonstrations are held all over Pakistan to express solidarity with the people of Kashmir. In addition, Pakistani and Kashmiri flags are flown on all public and private buildings. This day is also observed as a public holiday in Pakistan.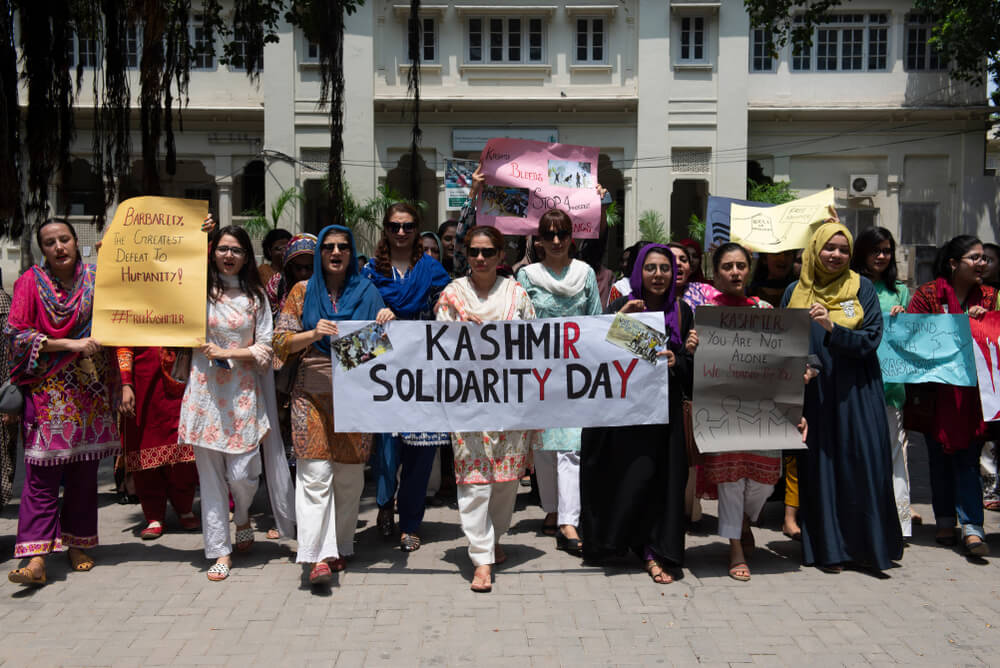 The day is also celebrated to honor the Kashmiris who lost their lives in the fight for freedom. In addition, Kashmiri leaders and activists use this day to reaffirm their commitment to the cause of Kashmiri's independence.
Kashmiri Wedding Traditions
Kashmiri weddings are very intriguing and unique, but do you know what makes them so special? Or have you ever been to a Kashmiri wedding? If not, then you must try this experience once in your life.
Weddings in Kashmir are generally lavish affairs with a lot of singing and dancing. The wedding affair begins with a Manzimyor, a Kashmiri word for a matchmaker. The Manzimyor helps families in finding a suitable match for their children.
After both families, called Thap Traavun, accept the proposal, the next step is Nishayn, which involves exchanging rings for engagement purposes. After that, Satnaam is traditionally for fixing a date for the wedding.
Malmaenz, Haldi, involves older women applying Haldi and oil to brides' hair and skin. Mehndi in Kashmir is known as Maenzraat, and the bride applies henna on her hands and feet; this tradition is followed by Ab Shehrun, which involves a unique bridal bath and prayer.
Then there's Nikkah Khwani, a special grand feast followed by Ruksati, where the bride bids farewell to her family to live with her husband.
A grand reception is thrown by the groom's family, known as Walima. Kashmiri culture has many unique features that differentiate it from other regions' cultures.
Kashmir Arts & Crafts
Kashmir has a rich heritage of art and craft. So if you're an art and craft lover, Kashmir will be heaven for you with loads of art and craft in the state.
Kashmir is known for its exquisite Pashmina, crewel embroidered shawls, and marvelous woodwork. The region is known for its shawls all over the world.
Other popular arts and crafts of Kashmir include carpet weaving, silverware, lacquer work, Namda (handmade felt rugs), pottery, and paper machine.
Kashmir is also home to some of the finest artisans in the country.
Kashmiri Dance
Dance forms a vital part of any culture, and Kashmiri culture is no different. Kashmir has a rich dance tradition with various folk dances performed on other occasions.
Kashmiri-style dance is quite different; it's simple yet elegant, and you'll love to observe it. No festival or occasion for Kashmiris is complete without dance, making it an attraction for tourists.
Kashmiri dance has a wide variety of dances performed on different occasions. One of the most famous is the mask dance performed during the Hemis festival.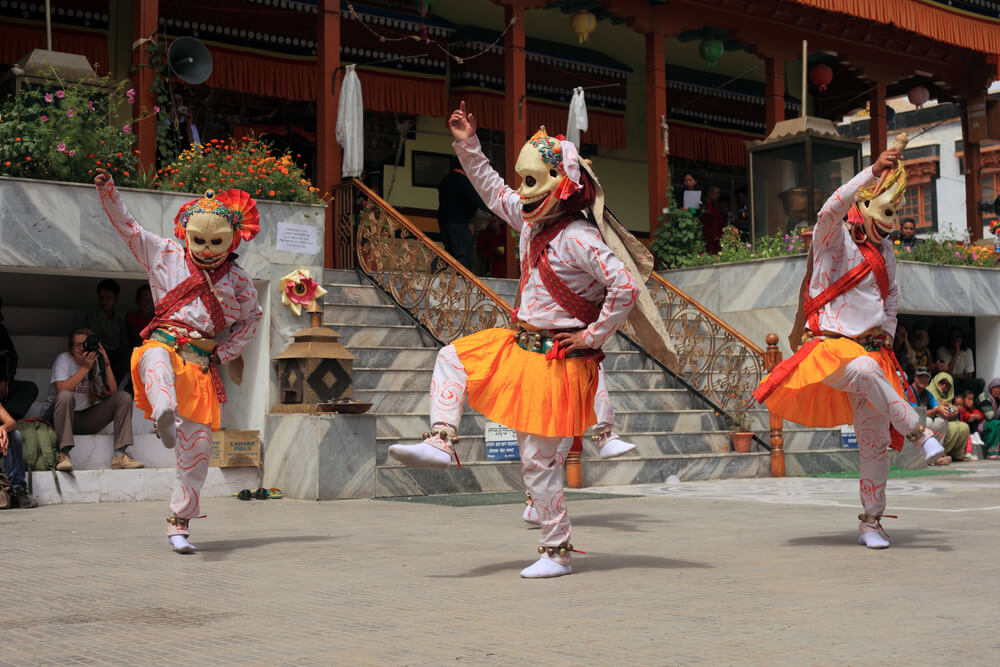 Kashmiri dance is about traditional folk dances and the more contemporary form of dance called Sufiyana. This form of dance is a mix of modern and traditional dance styles and is quite popular among the youth.
If you want to get a taste of the rich culture of Kashmir, then attending a dance performance is a must. You can also learn some of the basic steps of these dances and join in the fun. You can even teach others these dances when you return home!
Kashmiri Music
Just like their foods and traditions are filled with colors and vibrancy, so is Kashmiri music. The music of Kashmir is a perfect reflection of the diverse and rich culture of the region.
There are two main types of music in Kashmir – folk and Sufi. Folk music is usually associated with traditional dances like the Rouf, while Sufi music is more spiritual.
The instruments used in Kashmiri music are Sitar, Nagara, and Dukra. The primary music forms being sung in wedding ceremonies and festivals are Ghazals, Sufi and Choral.
No matter what type of music you prefer, you're sure to enjoy the beautiful sounds of Kashmir.
Frequently Asked Questions
What is the famous culture of Kashmir?
The most notable aspect of Kashmiri culture is undoubtedly its music. From traditional folk tunes to soothing Sufi melodies, there is a wide variety of music to enjoy in Kashmir.
Of course, there is more to Kashmiri culture than just music. The region is also renowned for its arts and crafts, as well as its delicious food.
So if you want to experience a truly unique culture, Kashmir is the place to be.
Why are Kashmiris so beautiful?
There are many reasons why Kashmiris are considered some of the most beautiful people in the world.
For one, the region's mountainous landscape is stunning. This picturesque setting provides the perfect backdrop for Kashmiri beauty.
Also, Kashmiris are known for their warm and friendly nature. They are always quick to smile and make everyone feel welcome. And yes, they have beauty in their genes.
What is unique in Kashmir?
When it comes to culture, Kashmir has a lot to offer. From the delicious food to the vibrant arts and crafts scene, there is truly something for everyone in this beautiful region.
But what makes Kashmir genuinely unique is its people. The warmth and hospitality of the Kashmiri people are unmatched. And, of course, they are lovely!
Kashmir is a truly unique and special place. From its stunning natural beauty to its rich culture, there is much to explore in this incredible region. And, of course, the Kashmiri people are some of the most beautiful and friendly people in the world. So, if you haven't had the chance to visit Kashmir, put it on your list – you won't be disappointed!