Neela Wahn Waterfall Kalar Kahar
Pakistan is one of the blessed countries with all the landscapes, from hills to deserts to meadows. Our country has it all. During summer holidays, many people who are tired of their work routine tend to take a break and travel to the north and other tourists spot. Numerous tourist attractions across the country are widely popular among visitors. Many people like to spend their holidays in the mountains, with low temperatures, pleasant weather, running water, and green valleys.
Among many tourist attractions, Neela Wahn Waterfall is one of the famous waterfalls among visitors. It is a natural waterfall from the rocks, as the area has rocky and hilly terrain. It is charming and soothing for the eyes and an excellent spot for visitors and locals.
Neela Wahn Waterfall Kalar Kahar Attractions
Neela Wahn waterfall is every camper's dream. The biggest attraction in this area is the rocky mountains, perfect for hiking and trekking. Camping is one of the most loved activities in this area; campers bring their tents and set up near the waterfall to enjoy fresh air, clean water, and a sky full of stars. Visitors also love to swim in the waterfall and enjoy the cold water. Kallar Kahar offers different outing spots, for example, the Kallar Kahar Lake, a saltwater lake spread over an area of 8 km, 1500 ft above sea level. It has a depth of about 4-5 feet. Visitors indulge in water sports, pedals, and motor boats at the lake.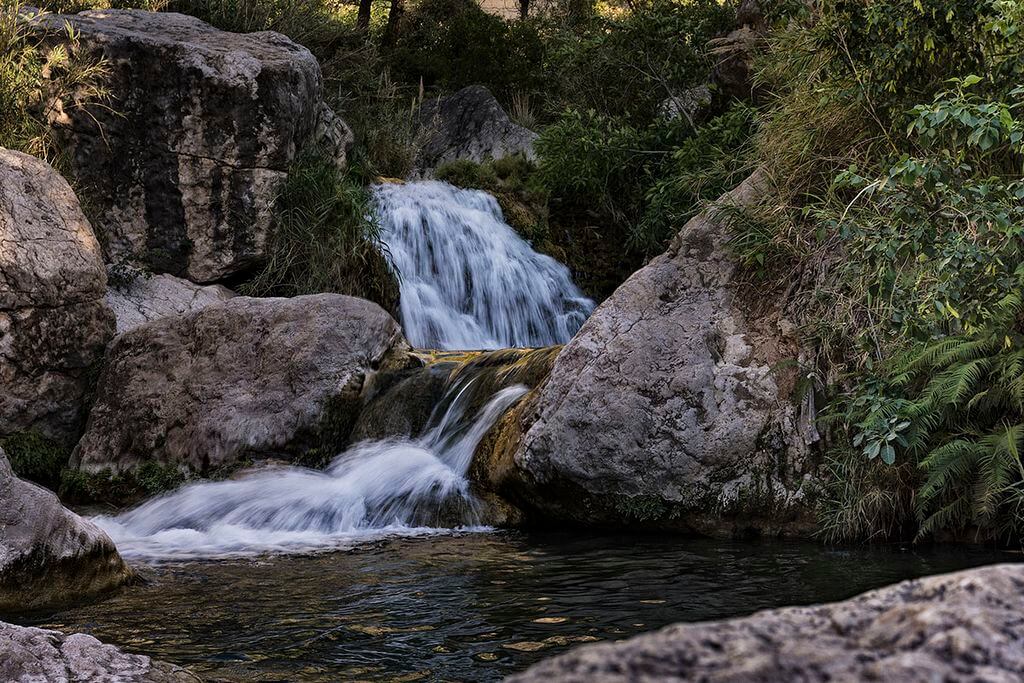 Near the Neela Wahn Waterfall in the Kalar Kahar region, there are many tourist attractions, including Katas Raj Temple. Katas Raj Temple is Shiva Temple located near Kalar Kahar. The significance of the Katas Raj temple lies in the way that the founder of Sikhism, Baba Guru Nanak, visited it once. The Sikh ruler, Ranjit Singh, consistently visited the site.
Kallar Kahar brings a great deal to the table. , Takht-e-Babri is a memorable milestone in Kallar Kahar, which is not in good condition and was not appropriately maintained. The well-known Mughal sovereign Babar had set up a camp in Kallar Kahar alongside his force while walking from Kabul to go after Delhi. While he was enjoying nature, in his honor, a lofty position was worked via cutting out a significant stone where he tended to his military. Afterward, the elevated position was named "Takht-e-Babri." It exists in Kallar Kahar and is one of Punjab's most well-known vacation spots.
Timings & Location
Neela Wahn Waterfall Kalar Kahar has located 30 km from the famous Kalar Kahar Lake on Khushab road in Nurpur village. This region comes under the district Jehlum. The Neela Wahn waterfall is a hidden gem in the big mountains of Kallar Kahar, now a loved tourist spot.
You can visit the waterfall any time of the day. People usually see in the morning and spend their afternoons at the waterfall swimming, photography, and exploring. Many people like to go camping and arrive in the evening. It depends on your choice, and there is no time restriction on reaching the waterfall. It is better to go early, enjoy the crystal clear cool water, and take photos for your memory.
What is the Meaning of Neela Wahn?
Neela is an Urdu word that translates to 'blue,' and Wahn means pond. The local people also call it Chashma Aab e Hayat because of its blue color clear water. Bluewater is usually associated with the Purity and cleanliness of water or a pond.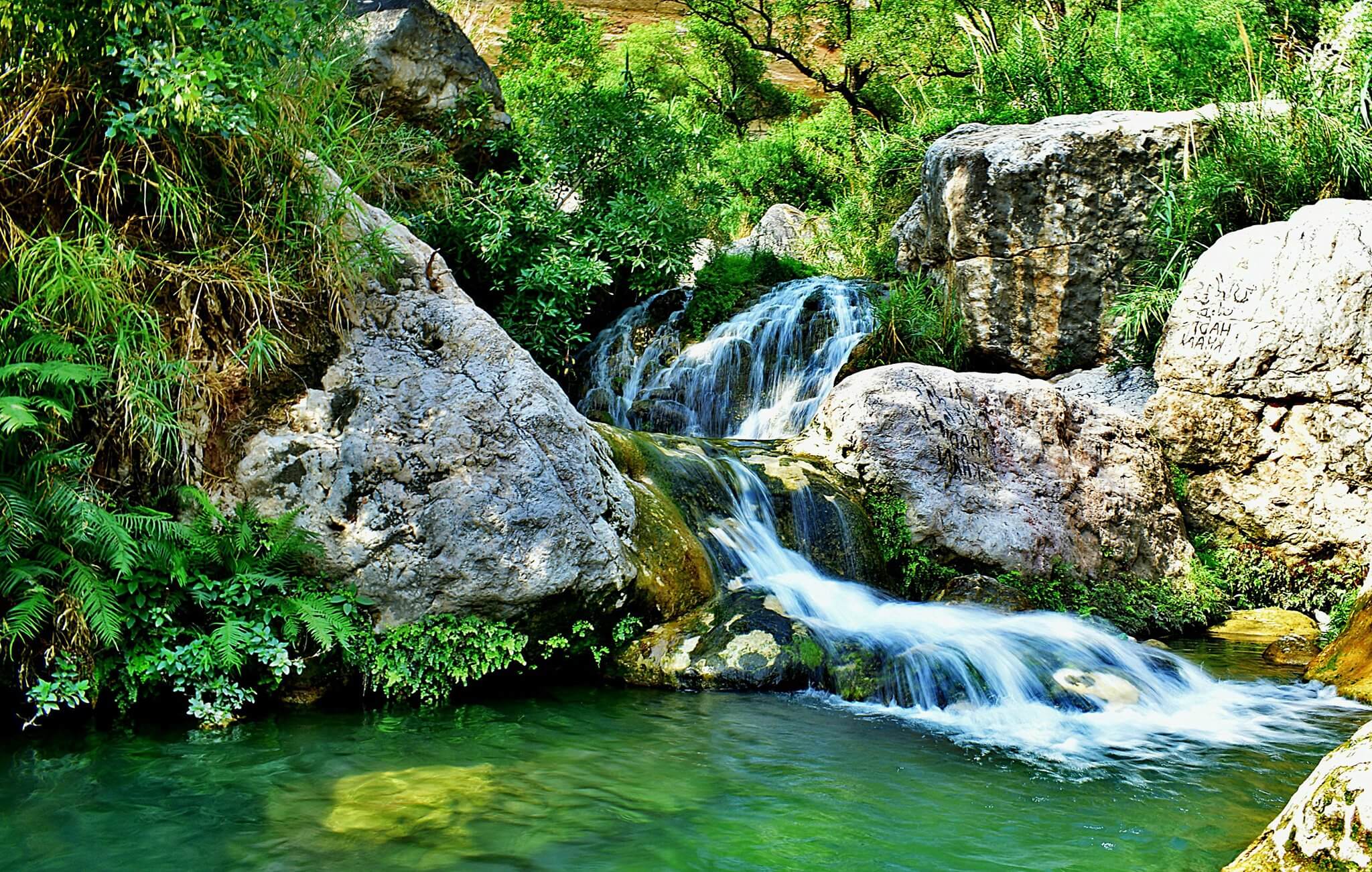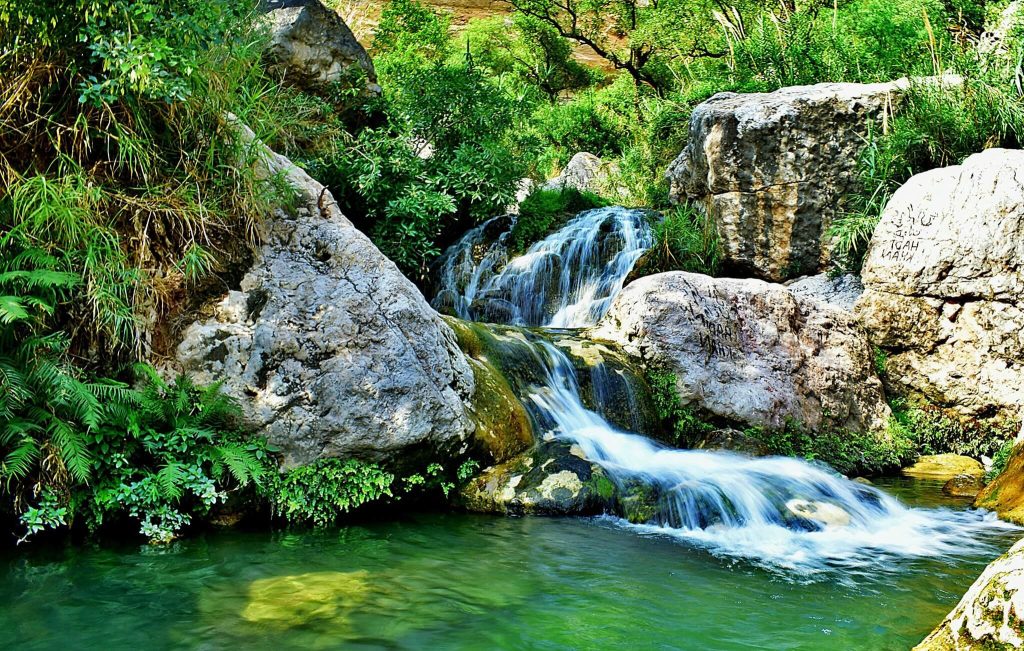 When is the Best Time to Visit Neela Wahn Waterfall?
If you genuinely desire to partake in the stunning view of the Wahn Waterfall, visit the Neela Wahn Valley during the finish of the midyear season, in July and August, when it turns into the most noteworthy 85-meter-wide that tumbles from a 700-meter height. It is a lovely sight with blue ponds, cliffs, and greenery that one will remember for a lifetime. Many people like to visit in October and November as well, and the weather is perfect in that season for your outing.
If you love winters, you can visit in winter to enjoy icy waterfalls. The temperature of water decreases rapidly in winter. You may not be able to swim in such cold water, but it is a perfect family picnic point.
Recommended Gears
You can keep an extra pair of shoes and a dress for the day tour. If you are camping in the mountains or near the waterfall, keep your camping gear in order. Some people also trek in the nearby mountains. It is not an easy trek; hence, keep your hiking boots and stick ready.
Attractions at Neela Wahn Waterfall
Neela Wahn Waterfall Kalar Kahar is famous for its blue water pond and waterfall, the biggest attraction. Bring your picnic along and spend your day in the calm aura.
One of the popular attractions is Kalar Kahar Lake, which people like to visit once they visit the waterfall. There are boating options available at the lake, which includes pedal boat and motor boat options. One can choose as per their preference and book the water sports activities on the spot.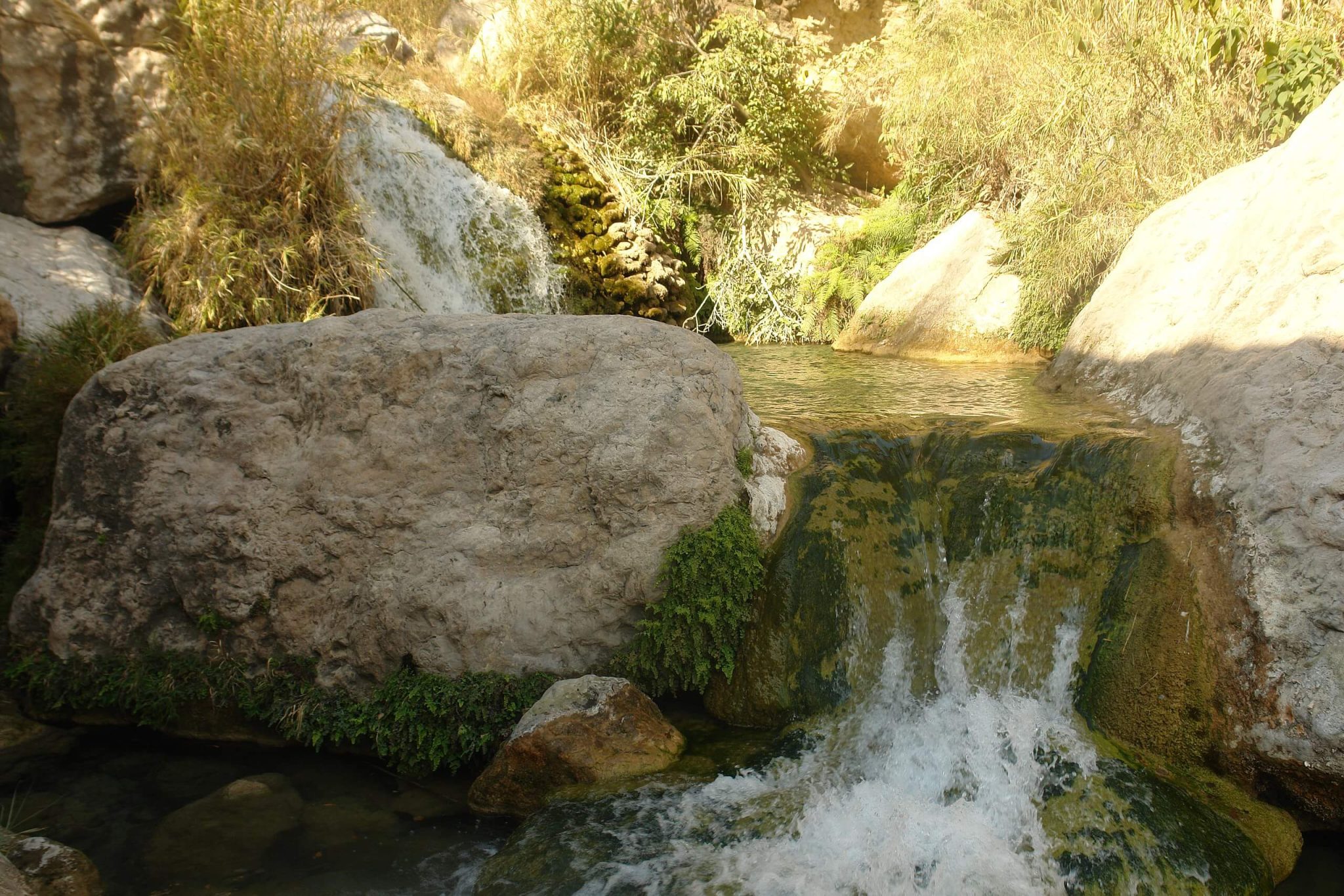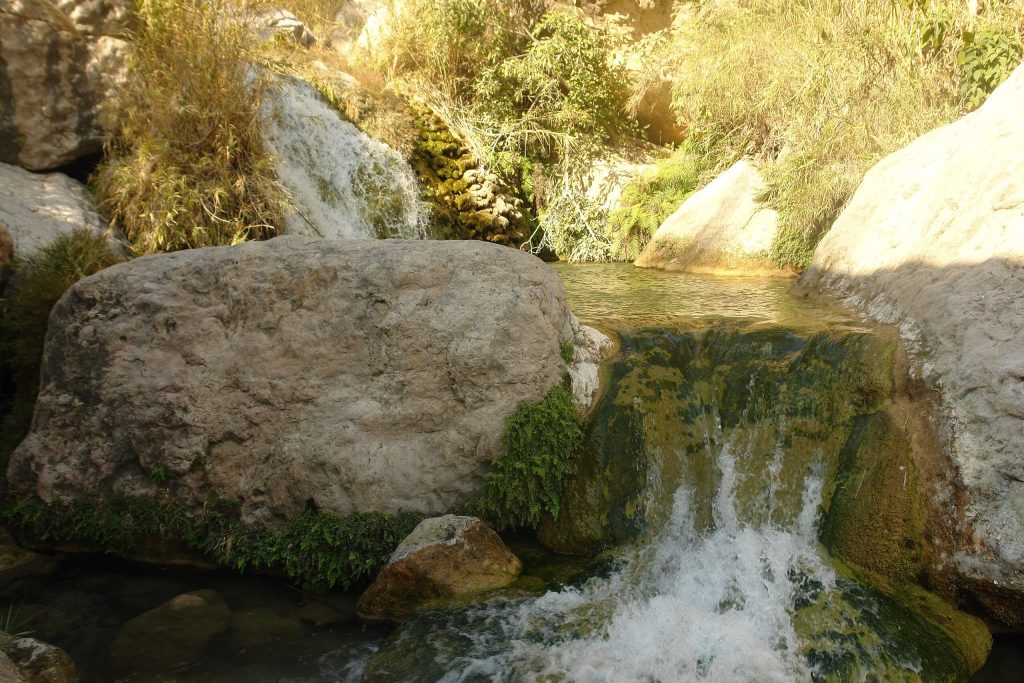 The outing to Neela Wahn is ideal for people needing a minor holiday and calm away from the hurrying around of the city life. If you love hiking and trekking, it is the best option.
Things to Do at Neela Wahn Waterfall
People love to camp near the waterfall and enjoy sunset and night stars. Bring your camping gear, tents, and eatables if you plan to camp. One should be well-equipped for camping and activities.
The terrain is very rocky and consists of huge mountains. If you are hiking, ensure you have all the necessary items for a trek or hiking experience. Firstly you should wear strong grip shoes which are comfortable enough for hiking. It would be best if you carried a hiking stick which is very helpful for every hiker. Make sure you have enough water and snacks for the way.
Make sure to bring your essentials as no shopping options are available. If you are traveling with family, get enough stuff for the day. You can also enjoy swimming in the clear blue waters of the waterfall.
How to Reach Neela Wahn Waterfall?
If you are driving, You can take the Lahore-Islamabad Motorway M2 course, which is around a 3-hour brief drive. From Kallar Kahar, it would require about 40 minutes to reach the parking area. Remember that you will have to hike for an hour or so to arrive at the Neela Wahn waterfall.
You can also book day tours with your local tour company, with a one-day package including pick and drop off from your house. It is a rather suitable option depending upon your location. Neela Wahn Waterfall Kalar Kahar is a popular place for one-day tours from Lahore and nearby regions.
Facilities at Neela Wahn Waterfall
Neela Wahn is located at a remote location, and there are no restaurants and hotels nearby. All the visitors must come prepared once they are planning for the visit. If you are trekking, carry enough water, drinks, and food to avoid bad experiences.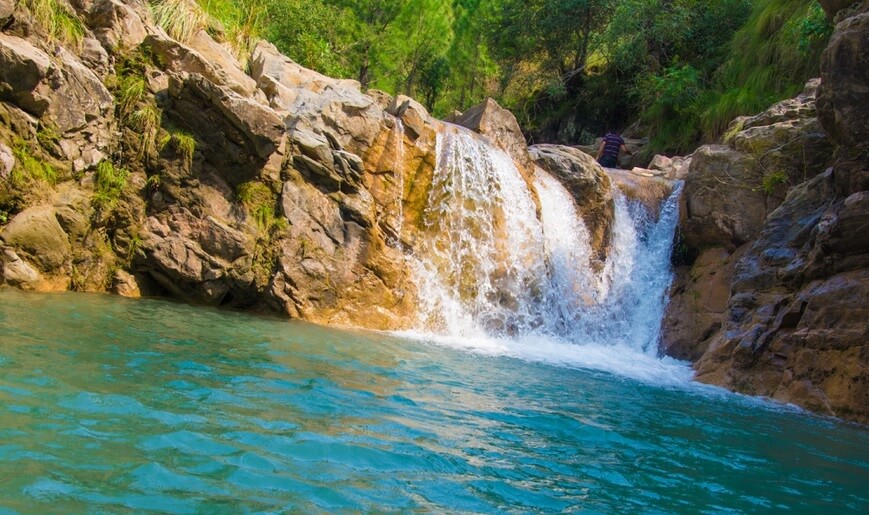 How much is the Distance to Reach Neela Wahn from Lahore?
If you are traveling on the M2 Lahore-Islamabad motorway, it will take around 3 hours to reach Kalar Kahar. From there, it takes about 45 minutes to get Neela Wahn waterfall Parking spot; further, it is a trek to the waterfall. It would take about a four-hour total drive and then a brief hike to the waterfall.
Location of Neela Wahn Waterfall Kalar Kahar
Neela Wahn waterfall is 30 km from Kalar Kahar Lake on Khushab road, located in the Chakwal region of Punjab province. Kalar Kahar lies on the banks of one famous river Jhelum. You can enjoy and explore through lavish green fields, where you can see cows, goats, and lambs grazing. You can feel the fresh and clean air and hear the birds chirping, which is very pleasant for visitors from far-off areas.
Be ready to do some walking and trekking, as Neela Wahn is a hidden spot, and it is located amid the mountains. To arrive at Neela Wahn valley, you must go through a rough, uneven, rocky path. Make sure you are wearing good quality shoes for the excursion. The way will bring you down to the forest area, and you should climb downhill to see the stunning views and the best spot of Neela Wahn Lake.
Conclusion
If you are exploring a budget-friendly option, you must add Neela Wahn Waterfall to your plan. It can be explored in one day and doesn't feel heavy on the pocket. Make sure you plan your trip well and keep your necessary stuff for a smooth tour experience. It is an unexplored area that needs a lot of work to welcome more tourists and boost regional tourism.