Kutton Waterfall Jagran
When we think of a peaceful vacation, we think of mountains, green meadows, quiet places, beautiful running water, and clear skies. Pakistan is blessed with beautiful landscapes and hidden gems like small valleys or new waterfalls. Kashmir is known as 'Paradise on Earth because of its beauty and enigma, and the Kutton Waterfall Neelum Valley depicts such beauty. It is blessed with beautiful landscapes, which are huge attractions for people from all over the world. You can find all sorts of fruit and pine trees around Azad Kashmir, which only adds to the mesmerizing views. The locals also take great care of their plantations and fruit trees; hence it's always pleasant and clean.
Every region of the country has something different to offer, and most such places have not been set up for tourists. Many mountain valleys are still untouched and undiscovered by tourists and travelers; Kutton Waterfall Jagran is also a gem in Neelum valley. There are countless streams, lakes, and waterfalls that tourists have not discovered yet. Pakistan's natural beauty is impeccable and raw, making it stand out in tourism.
As tourism can bring a considerable boost to a country's economy, Tourism in Pakistan is slowly picking up and boosting, encouraging visitors from all over the world to explore Pakistan. People across the country are now more open to traveling and exploring northern areas. Many resorts, hotels, and restaurants are being established in the north and Kashmir region to accommodate more tourists. Many roads in the north need to be upgraded and repaired for smooth transportation. Pakistan is encouraging the growth of the tourism sector in the country. Hence many projects are in the pipeline. This will boost tourism in Pakistan. Travelers from all over the world will explore Pakistan's hidden gems.
Introduction
Like many beautiful waterfalls, streams, and lakes in Pakistan, Kutton Waterfall Azad Kashmir is one of the most famous waterfalls in Azad Kashmir. Kutton area is also known as Jagran valley. Hence some people may see this waterfall by the name of Jagran Waterfall or Kutton Waterfall Jagran.
As Kashmir is known for its mesmerizing and untouched beauty, there are many waterfalls in the region. Still, the Kutton Waterfall is one of the most famous in the Azad Kashmir region. It is located in the Neelum valley, which is 80 Km away from the capital Muzaffarabad.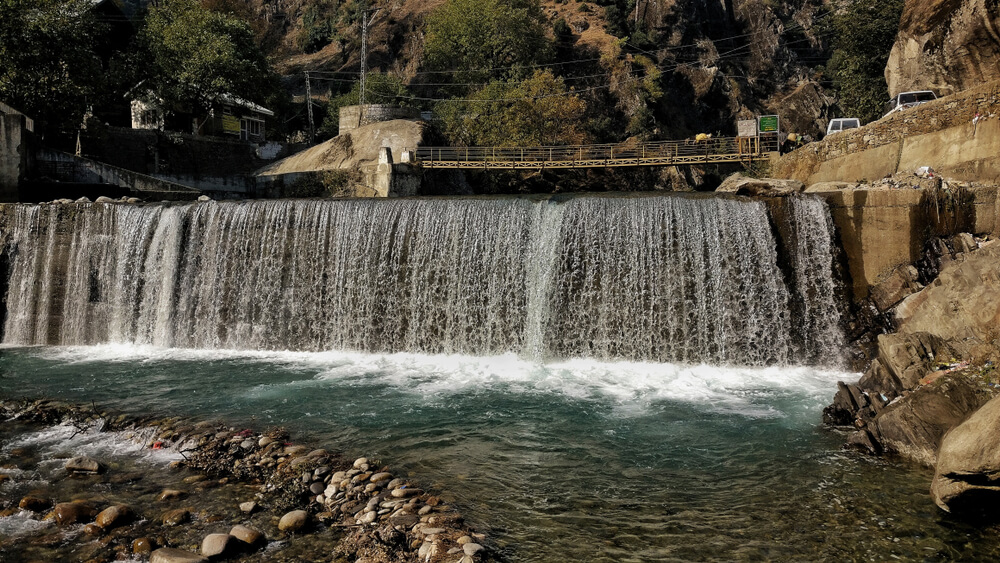 There are many small villages and towns in the Neelum Valley, and each village has a serene and peaceful atmosphere, fruit trees, lush green meadows, and huge mountains. Neelum valley has many beautiful waterfalls and streams, and the Kutton Waterfall is the region's third most popular tourist attraction.
Kutton Waterfall Jagran Attractions
Kutton Waterfall Neelum Valley is a beautiful place, a dream tourist destination. If you want a getaway, check out Kutton Waterfall Azad Kashmir. The waterfall is the biggest Attraction of the area, along with lush green mountains and beautiful Walnut trees all along the Jagran valley. There are several streams in the Jagran area, which the tourist equally loves. It is one of the famous picnic resorts for families. On holidays or long weekends, families prefer to visit the Kutton Waterfall and spend their day away from the hustle and bustle of cities.
There are various rest houses and lodgings that are accessible for the convenience of travelers. A rich, notable rest place of Neelam valley named Kutton Rest House is likewise accessible for tourists in Kutton Village. A portion of the inns close to Kutton Village is Green Village Resorts.
Timings & Location of Kutton Waterfall
The Kutton Waterfall is located in Neelum Valley in Azad Kashmir, and It is about 80 km away from Muzaffarabad. Kutton is also known as Jagran valley, So the waterfall derives its name from it. You can hire a vehicle with a professional driver or use public transport to reach the destination. There is no specific time slot to visit the waterfall; however, due to the narrow roads in the mountains, travelers prefer to see it during the day and return to their accommodation or hotel before dark.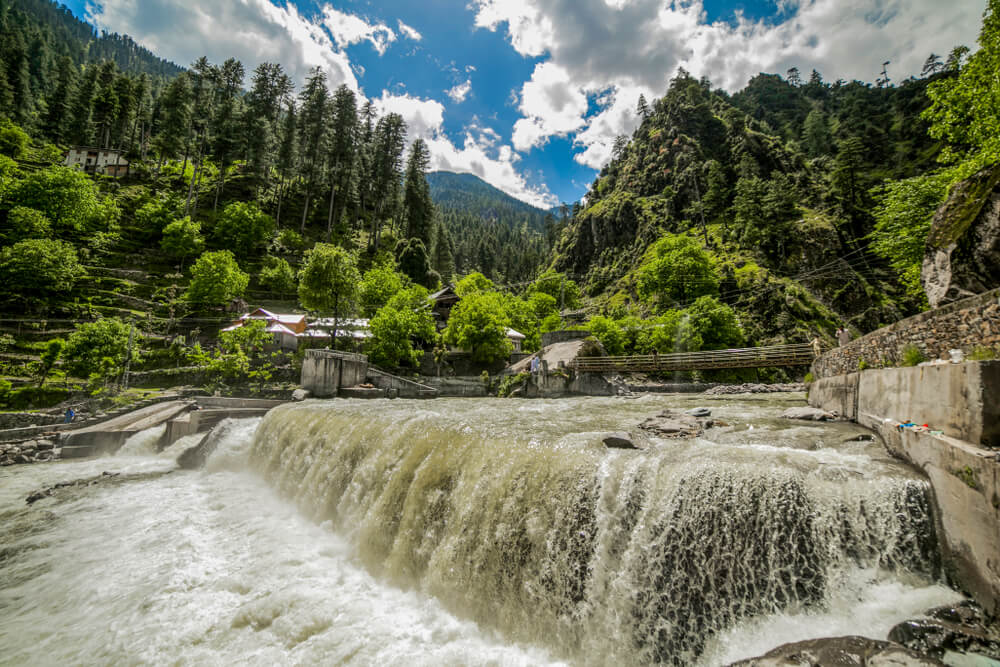 Why is It called Kutton Waterfall?
Kutton is a small and peaceful village in Neelum Valley, and this waterfall originates from the town; hence it is widely known as Kutton Waterfall. The waterfall is also known as Kundal Shahi waterfall as it is located in the Kundal Shahi Village. Once you are visiting Kutton Waterfall Azad Kashmir, don't be confused because of the names. The valley is known by the name Kutton or Jagran valley, and the waterfall is known as Kundal Shahi Waterfall or Kutton Waterfall. In Neelum valley, there are multiple small villages through which many streams and waterfalls originate. Hence they are named accordingly. It is one of the famous places for leisure and recreation for all visitors due to its natural and spellbound beauty.
Recommended Gears
If you are planning your trip to northern areas, you must do your research before leaving. As weather changes abruptly, one must be fully prepared to cope with weather changes. If you plan to camp in the mountains, you should carry your tents and the required gear with you as it is a tiny town with limited shopping options. If you are traveling with a group, plan your trip well and carry all the necessary items. Warm clothes, enough layering, and robust shoes are compulsory. Always keep a pair of shoes and extra warm clothes.
It is always cold in the Neelum valley, make sure to keep enough thick clothes, socks, and rain jackets. If traveling with family and children, you should keep their needs in check as the central city and markets are far away from the valley. It could be a hassle to travel far to buy stuff. There are small eateries and restaurants around the town where you can eat. If you are booking the hotel for your stay, you can dine in; if you are not staying at the hotel, you can check out restaurants for some delicious meals.
When is the best time to visit Kutton Waterfall?
The best time to visit Kutton the Waterfall in Neelum valley is summer. In winter, there is snow, and the temperature is unbearable for outdoor activities. Roads are also blocked in the winter because of land sliding and snowfall. Huge groups and tourists visit the Kutton Waterfall in Azad Kashmir. Even in the summers, the temperature is delightful, as the waterfall has a shallow temperature. You can plan your trip between May to July as the temperature is pleasant during these months.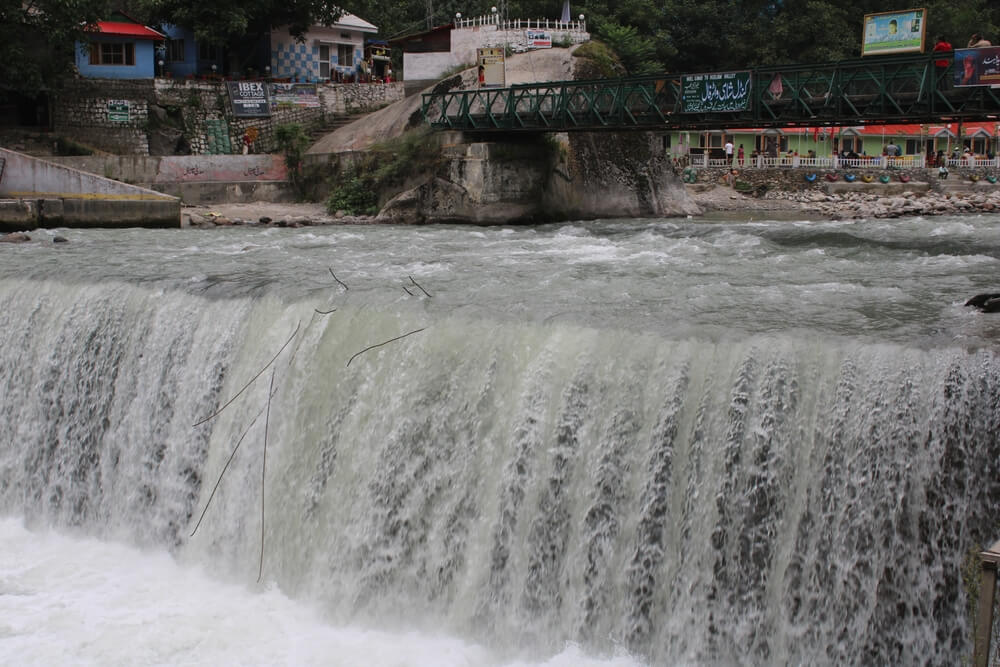 There are excellent facilities for tourists, and many hotels are under construction. Midway Lodges Neelam Valley, Jagran Resort, and Pine Park Lodges are the most available accommodation options in the area. The typical expense for a constant stay at Kutton Rest House, Jagran Resort, is about 50 US Dollars. Prices may vary per season as per hotel policies. If you stay at the resort, you can enjoy sports and swimming facilities. There are a few attractions at Kutton Rest House, for example, a gym, swimming pool, and tennis court. Sports and the gym can be practical activities after a busy outdoor day.
How to reach Kutton Waterfall?
Reaching the Kutton Waterfall depends on which part of the country you are traveling from to Neelum valley. You can get public transport options from Islamabad, which take you to Muzaffarabad city. You can hire a vehicle to reach the Kutton Waterfall Azad Kashmir or use public transport. Public transport is more time-consuming compared to your private vehicle.
If you rent a vehicle, Make sure you hire a professional driver for your journey as the road situation is not good in the Neelum valley. The roads are rocky and narrow towards the valley; hence an experienced driver is a must. You can also drive directly from your city to Muzaffarabad and head towards your final destination. There are signboards on the way to guide you along, and you can also use maps to navigate your way if you are driving yourself. You can always ask local shopkeepers or passersby for the track and guidelines, as locals can give the best advice.
Conclusion
If you are looking for a peaceful getaway from your busy and monotonous routine life, you must visit Kutton Waterfall Azad Kashmir. The Jagran valley is known for its striking beauty, which attracts many travelers. Make sure to plan your trip and have your accommodation booking ready along with transportation, as it gets crowded in the peak season. Flocks of people travel to enjoy the beauty of Azad Kashmir and its small villages. Make sure you are well prepared to travel to the towns and valleys of Azad Kashmir to enjoy the weather and cool breeze truly.
FAQ
How is the road to reach Kutton Waterfall?
The streets in the Neelum valley are narrow and not paved, and the roads are scary slender and thin. Make sure an experienced person is driving your vehicle.
Can we swim at Kutton Waterfall?
You can swim in the water, but it is cold even in the summer.