Kanrach Waterfalls
Kanrach is a beautiful place of lush greenery and crystal clear water, but it was unknown to outsiders in the past. Now, it has become a popular tourist destination in the area. The locals believe that Kanrach is some heaven on earth. They think that Kanrach waterfalls is a gift of God for the people. The locals also believe that Kanrach's water purifies all their sins and evils on contact.
The locals have been celebrating Eid ul-Fitr for decades at Kanrach valley. Some people go there to get a glimpse of God's creation and attend prayers at the mosque there, while others enjoy nature's beauty or go fishing or hiking.
Kanrach valley is a beautiful valley with cloud-high mountains that is not only a beautiful site but also a monumental point of interest in Pakistan. The valley has an unusual and majestic terrain not found anywhere in Pakistan. In the valley, where two mountains practically meet, at their crossing point, there's the popular Tubko Chashma; with its turquoise variety of water, it becomes compelling, and one can't resist the urge to take a dip in the spring. A pool with a view.
Kanrach Waterfalls Karachi Attractions and Location
Balochistan is an ideal destination for people who can't get enough of the wilderness. The province has a lot to offer with its incredible natural beauty and some of the world's best beaches. Located in southwestern Pakistan, it was formerly known as Baluchistan.
The waterfall is one of the most visited and breathtaking destinations, with lush green forests and a waterfall at its immediate base. The province is exceptionally blessed with sandy beaches, hidden oases, milky waterfalls, and mysterious plateaus. The pathway to Kanrach is quite possibly the best waterfall in Pakistan.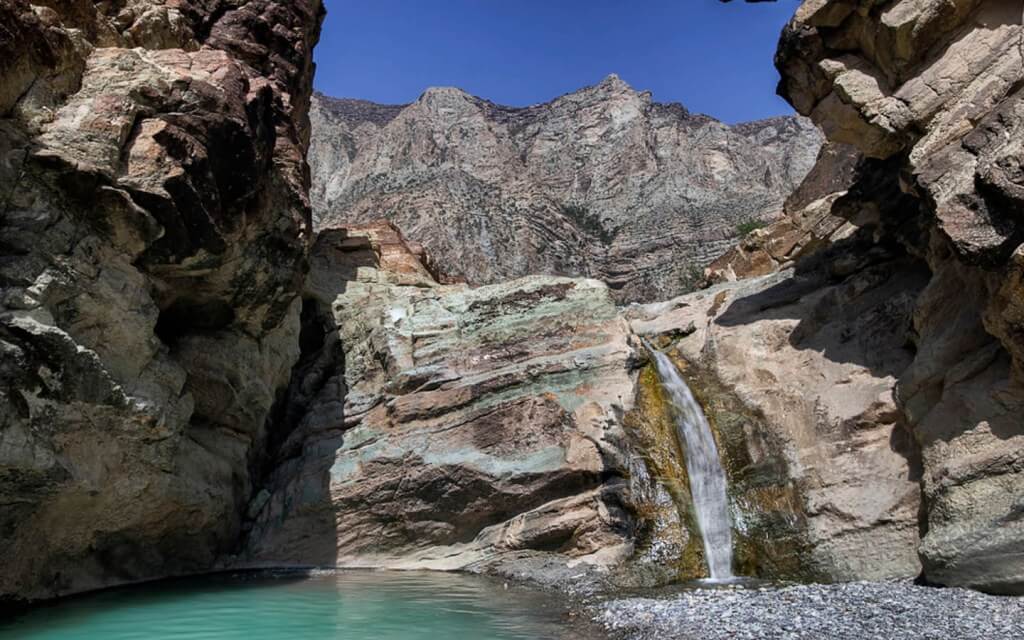 There is no specific time to visit the Kanrach Waterfall. However, it is advised to reach early hours and leave before sunset to avoid inconvenience. Kanrach waterfall Karachi is located at a drive of around 3 to 4 hours from Karachi and in the vicinity of Lasbella. Kanrach is secret heaven in Balochistan that only nature lovers can see. It just takes a genuine traveler and pioneer to make an outing to a spot like this.
When is the Best Time to Visit Kanrach Waterfalls?
The best time to visit is in spring or autumn when the temperature is pleasant in Balochistan. Usually, the temperature is unbearable in summer and unsuitable for tours. You should plan your trip once the weather is nice and suitable for a visit to enjoy the waterfall to the fullest.
Recommended Gears
If you plan to visit, ensure you are well prepared. Keep an extra pair of shoes and clothes. Keep your hiking gear and camping equipment handy if you like to camp and hike in the mountains. It is advised to keep snacks and water with you; if you are camping, you can keep food for the night. Hiking boots are compulsory for hiking to the waterfall, as regular shoes are not strong enough for the rocky terrain.
The campers should keep a first aid kit with them for emergencies Near the Kanrach Waterfalls, and no such facility is available. You should keep enough food and water along as the waterfall is in a remote area of Balochistan, and facilities are not available readily.
Attractions at Kanrach Waterfalls
The Kanrach waterfalls are the biggest attraction of the area. Drive to Kanrach is very complicated for skilled drivers. The turning and twisting road goes through multi-shaded and incredibly etched mountains, some with pre-historic landmark carvings and a few lovely nurseries. There are no jungles or forests in Balochistan, as massive watercourse valleys unfurl between the giant mountains. The drive offers such fantastic grand perspectives you have never witnessed before.
You are ensured to see antique cottages made of dried bamboo on the side of the road. While you're up to speed in the magnificence of mountains with curious developments, little lakes with clear water and natural marine life will force you to stop your vehicle and stand there in esteem.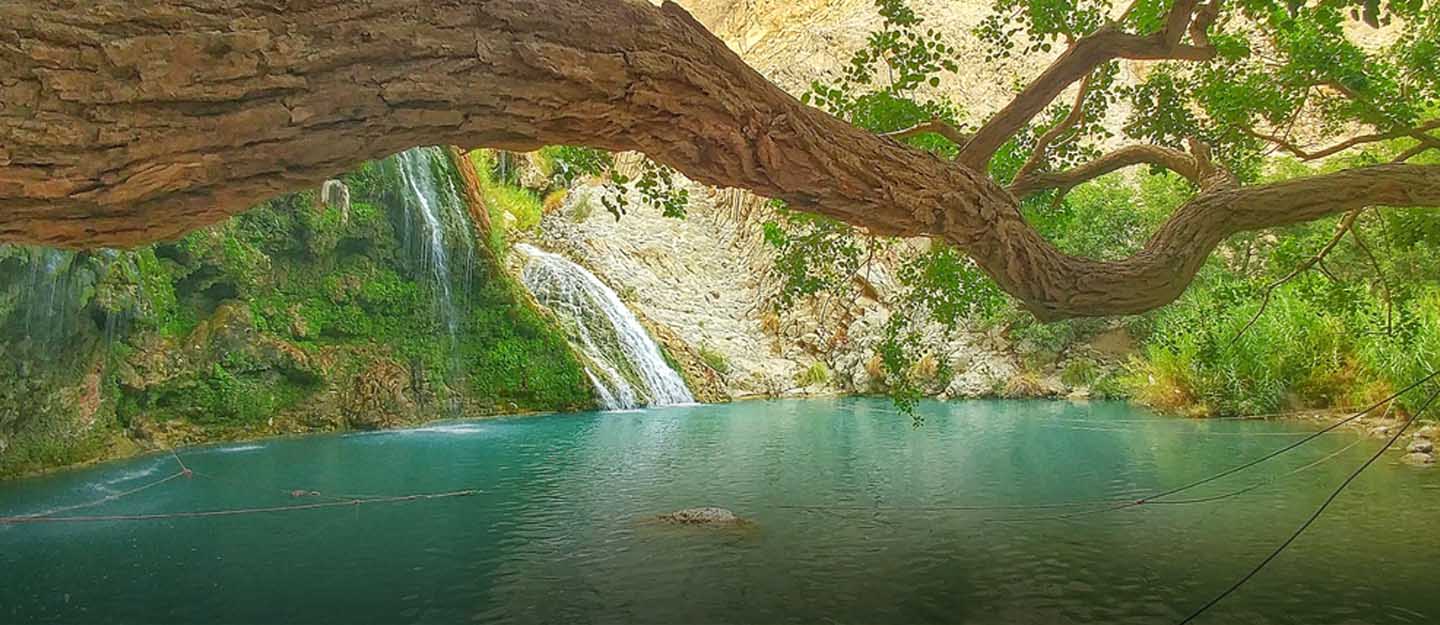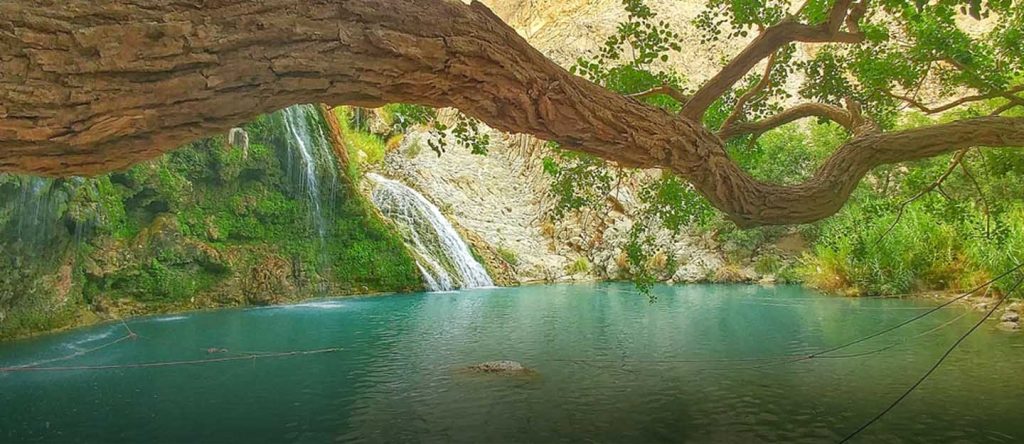 The view before you will change every hour, and you will feel a calm wind that makes certain to send a chill down your spine. If you end up in a spot with a bunch of streams concealed in stones and encompassed by green bushes, that's Kanrach Waterfalls for you.
Things to Do at Kanrach Waterfalls
Many travelers wonder about the blue and clear waters of Kanrach waterfalls and get very impressed, while others are confused by the magnificence of the waterfall. It is considered a hidden gem.
With countless options in a single spot, Kanrach is becoming one of the most loved spots for locals, visitors, and water sports fanatics. What's more, one can ask for in little heaven in Balochistan. It is one of the best places for solo travelers.
You can enjoy picnics with your family and friends; visitors and tourists prefer to bring their picnic and food to enjoy the scenic waterfall. Many people like camping near the waterfall and enjoy their night in the open sky and a refreshing environment. Visitors also enjoy swimming at the waterfall and relaxing near the water.
How to Reach Kanrach Waterfalls?
Kanrach waterfalls are in Dudur Bela district Balochistan, 100 Kms a head of Winder. The waterfall is Tubko which the local people of Kanrach Town are utilizing. It is around 200km west of Karachi, and a glorious astonishing spot in Balochistan exists, a jewel of land ready to be explored in Pakistan.
The roads from Karachi to Kanrach are perfect, impeccable, and all around cleared thus, and you can take your vehicle and drive without concern. Access in Kanrach is confined and just permitted by exceptional grant because of Duddar mining Task, a uber minerals mining project by a Chinese organization, and because of limited hunting nearby.
How much is the Distance to Reach Kanrach Waterfalls from Karachi?
It is situated 200km away from Karachi. Thus, a few tours, trips, and organizations offer comprehensive and selective bundles for a one-road trip to Kanrach waterfalls. You can join their gathering or orchestrate one for your family or companions on a unique solicitation. You should enter a tour of 10-12 individuals for budget-friendly options.
The arrangements generally include transportation (to and from your objective), a local guide, food, and camps (for short-term visits).
Mostly, individuals start their outings from Karachi on a Saturday or Sunday morning. Following a couple of hours' drive from Karachi, they stop at Winder for breakfast and then drive further up north to Duddur Task – which is arranged around 100 km from Winder. You will then go along Khurkhera-Kanraj Street until you arrive at your objective.
Tourists widely use both options. Friends are more likely to take group tours, and a person with children and family usually opts for the private vehicle or self-drive to the Kanrach waterfalls in Karachi.
Location of Kanrach Waterfall
The Kanrach Valley brags an impressive set of waterfalls available at various stretches. Ensure you have found every one of them when you're there. Let a local follow along, or a companion who has proactively been there to assist you with investigating this spot to its fullest potential, is ideal. It is around 200km west of Karachi and 100km away from Winder. You can leave early morning to reach the exact location.
The roads are well made and precise. You can use the navigation on your phone to reach the Kanrach waterfall. The roads have enough sign boards to guide the drivers along the way. However, you can always seek help from locals.
FAQ
Can Families Visit Kanrach Waterfalls?
Yes, families can visit the waterfalls.
Is the Hiking Path easy to reach the waterfall?
Hiking is not easy. Make sure to carry hiking boots for the rocky terrain.
Conclusion
The Kanrach waterfall is one of its kind and one of the most beautiful waterfalls in Pakistan and the Balochistan province. It is about a three to four-hour drive from Karachi, Which is always a getaway. People from Karachi and nearby areas like to visit this wonderful waterfall. If you are tired of the city's hustle and bustle, plan your next trip to Kanrach waterfalls; the drive is scenic, and the majestic mountains make the journey attractive.
Upon reaching the beautiful waterfalls, one forgets the tiredness from the long drive. If you like adventure, you can camp near the waterfall and spend the night in the quiet valley. You will wake up to the sound of water, and fresh air will greet you. It is a surreal feeling, and one should keep such activities on schedule. Keep food, snacks, water, and other necessary items, as the waterfall is located in a remote area.