Panjpeer Rocks
Are you awestruck by the natural wonders? Do you wish to see majestically magical rock formations in Pakistan? If yes is your answer, Panjpeer rocks in Pakistan is a must-visit place.
Panjpeer Rock Location
Panjpeer rocks is a popular tourist destination in the district of Rawalpindi, Pakistan. It is a beautiful area 70 km away from the capital and lies in the tehsil Kahuta. The rocks are a natural formation and a popular spot for hiking, picnicking, and photography.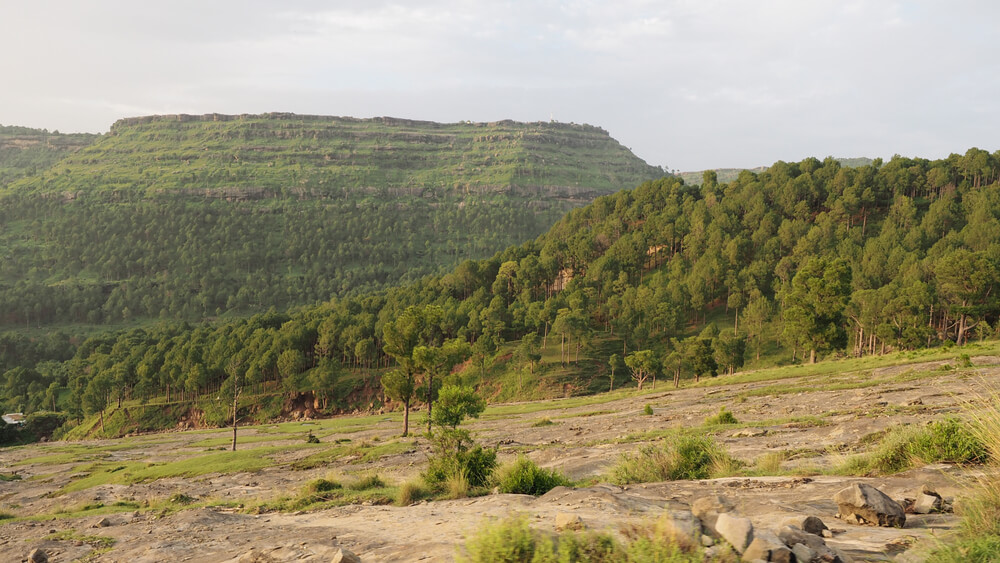 Getting to Panjpeer Rocks from Islamabad will take about two and a half hours to reach the base of the rocks. Once you're there, you'll need to hike about half a mile (40-45 minutes). The terrain is rocky, so make sure you wear appropriate shoes. When you arrive at Panjpeer Rocks, take a moment to explore the area. Make sure you bring plenty of food and water with you, as there are no stores nearby.
Panjpeer Rock Attractions
There are plenty of attractions inside the Panjpeer Rock to keep you busy. From scenic valley views surrounded by rocks to lush greenery and lovely streams, there's something for everyone. The rock formation is a beautiful attraction with panoramic views. The view from the top of the Panjpeer rocks is simply breathtaking. You can see for miles in all directions. It is an experience that you will never forget.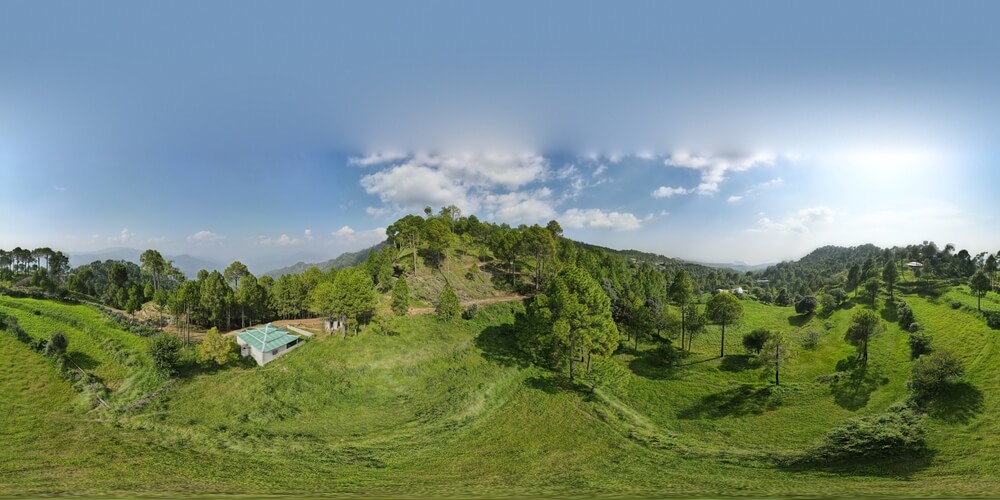 If you're looking for an adrenaline rush, you can try your hand at rock climbing. Or, if you want to relax, the Narar waterfall is one of the most popular attractions near the Panjpeer rocks in Pakistan. It is a beautiful spot where you can relax and enjoy the natural beauty. There's a seating area in the streams where you can put your toes in the river and destress.
Endlessly camping options are available for those who want to spend the night under the stars. If you are not a camping enthusiast, you can book a room in a nearby hotel. No matter what you're looking for, Panjpeer Rock has something to offer.
Best time to visit Panjpeer Rocks
There are two main times to visit the Panpeer Rocks: in the morning and the evening. The morning is the best time to see the sunrise, and the evening is the best time to see the sunset. If you want to see both, you can always come back for another visit! This place is ideal for visiting from June to September.
Toe in River
Are you looking to enjoy a toes-in-the-river experience? Look no further than the seating area by the streams in Panjpeer. This is the perfect spot to relax and take in the natural beauty of your surroundings. There are plenty of chairs and swings available, so you can take your time and enjoy the experience. If you're looking for a truly relaxing experience, put your toes in the water and let the water soothe you. It's an unforgettable experience that you'll be sure to enjoy.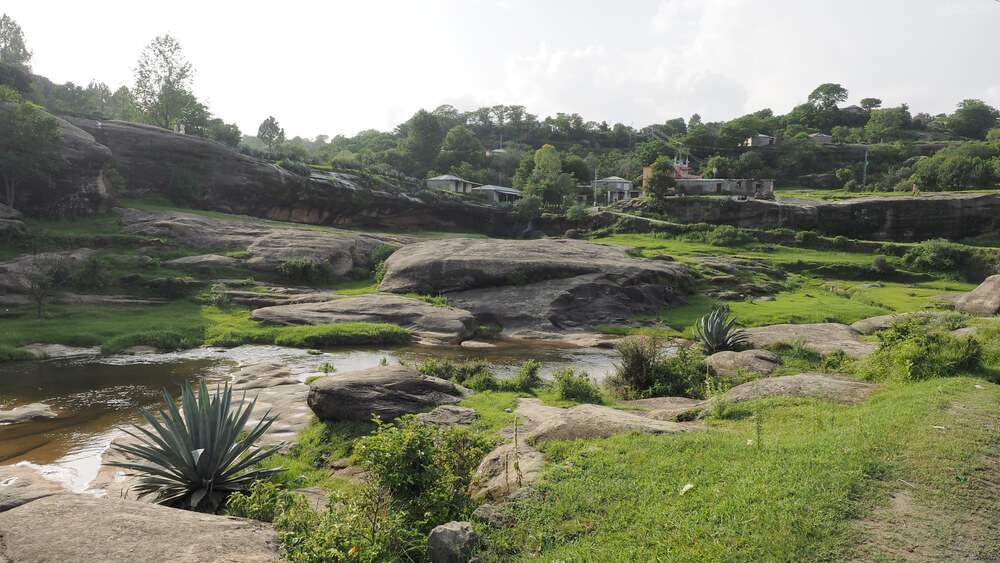 Scenic Valley Surrounded by Rocks
There is no denying that the natural beauty of Panjpeer Rocks is simply mesmerizing. Towering over the landscape, these natural wonders are a sight to behold. And while they may be best known for their picturesque views, there is so much more to these rocks than meets the eye.
For starters, the geology of Panjpeer Rocks is unique. Comprised of sandstone, the rocks have been weathered over time to create their distinct look. Moreover, the rocks are home to various plants and animals, making them a natural habitat for wildlife.
But it's not just the rocks themselves that are worth exploring. The surrounding area is full of natural beauty, from the lovely streams to the lush greenery that makes you want to admire it wholeheartedly.
Narar Waterfall
Narar waterfall is one of the most beautiful and famous waterfalls in Panjpeer Rocks, Pakistan. It is located in the northern part of the country, near the town of Kotli Sattian. Narar waterfall is a great place to visit for a family vacation. The waterfall is surrounded by lush vegetation, and there are plenty of things to do in the area. Narar waterfall is a great place to enjoy the outdoors, go for a swim, or relax and take in the scenery. Narar waterfall is also a popular spot for photography enthusiasts. The surrounded by mesmerizing view makes for some stunning photos. If you're looking for a breathtaking natural wonder to add to your Pakistan itinerary, be sure to check out Narar waterfall near Panjpeer Rocks Kahuta.
Camping
If you're looking for a unique camping experience, consider pitching your tent at Panjpeer Rocks Kahuta. This camping spot is located near water, making it ideal for swimming and fishing. And, of course, the views are stunning. So, Panjpeer rocks is a great camping spot for friends and family. Here are some tips on how to camp in Panjpeer rocks: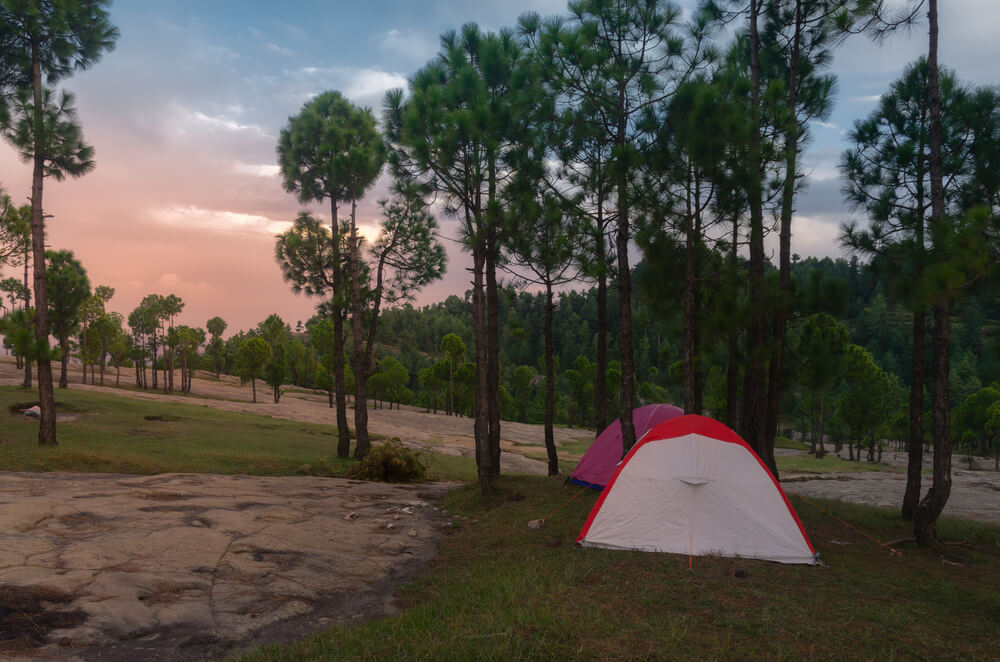 – Choose your camping spot wisely. Make sure to pick a place that is flat and level, away from steep slopes or cliffs.
– If you are camping in the summer, make sure to bring plenty of water and sunscreen.
– In Panjpeer rocks, there are many different kinds of camping spots. You can camp in a tent, or you can camp in your car.
– If you are camping in a tent, set it up properly, so it does not blow away in the wind.
– If you are camping in your car, make sure to park it in a spot that is not too close to the cliff's edge.
– Make sure to put all of your trash in the garbage bags provided by the camping site. Do not leave any trash behind. Enjoy your camping trip!
Rock climbing
Have you ever wanted to try rock climbing but weren't sure where to start? Panjpeer rocks are the perfect place to begin your adventure. Panjpeer rocks offer the perfect introduction to rock climbing with its stunning scenery and easy-to-follow routes.
Rock climbing is a sport that involves scaling a rock face using your hands and feet. It's an excellent workout for your whole body and also good for your mental health. Climbing can be a great way to destress and clear your head. It's also a great way to meet new people and make friends.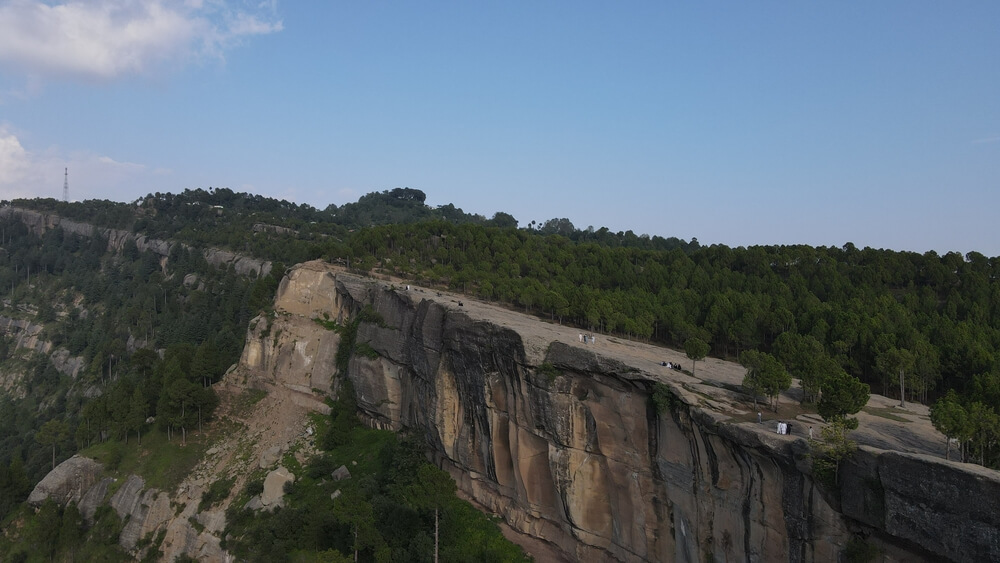 Panjpeer rocks have a long rock climbing history, dating back to the early 20th century. The first climbers were attracted to the area by its unique geology, which includes various rock types and formations. The rocks are tall and offer a challenge for climbers of all levels. Today, Panjpeer rocks are a popular destination for both beginner and experienced climbers. The area provides various climbing routes, from easy to challenging, making it the perfect place to learn or improve your skills. Panjpeer rocks is also a great place to climb with a group, as there are many different options for group tours and lessons.
For a successful rock climbing adventure, all you need to go rock climbing is a pair of comfortable shoes and some chalk for your hands. If you're starting, investing in a climbing harness and some belay devices is also a good idea. These will help you stay safe while you're climbing.
Before trying Panjpeer rock climbing, the best way to get started is to take a class or join a group. This way, you'll have someone experienced there to show you the ropes (literally!). Once you've learned the basics, you can start climbing on your own or with friends.
Location of Panjpeer Rocks
Panjpeer rocks are located in the Rawalpindi district and tehsil Kahuta of Pakistan. The 1800-meter-high rocks are 70 Km away from Islamabad.
Panjpeer Rocks Timing
They are best visited during the summer months, from June to September. During this time, the weather is mild, and the rocks are dry, making them ideal for climbing.
The best time of day to visit the Panjpeer Rocks depends on what you want to see. If you're going to see the sunrise, come in the morning. If you want to see the sunset, come in the evening.
The timing of your visit also depends on where you're coming from. If you're coming from the city, it's best to visit in the morning or evening to avoid the day's heat. If you're coming from the mountains, it's best to visit in the afternoon to avoid the cold of the night.
FAQs
Where is Panjpeer Rock Located?
It is located 70 km from Islamabad in Tehsil Kahuta and district Rawalpindi.
How big is Panjpeer Rock?
It has a towering height of 1800 meters.
Opening hours of Panjpeer Rock?
It can be visited any day, anytime. There is no restriction on time to visit Panjpeer rocks.
Conclusion
Whether you're looking for a place to relax or an adventure, Panjpeer Rocks is the perfect destination. You can enjoy camping, hiking, rock climbing, and picnicking at this place. So, next time you're looking to escape the hustle and bustle of everyday life, be sure to check out the scenic beauty of Panjpeer Rocks. You won't be disappointed.