Joyland Rawalpindi
There are many fantastic ways to spend a week or holiday no matter where you are. Every place has its own set of unique activities, but something almost every location offers is a theme park or a fantastic amusement park. And when they say it is a good weekend getaway for the whole family, it is not simply to get you to spend money, but it is true considering the number of activities and ambiance offered there.
Pakistan has always been an exceptional tourist hotspot for people around the world. In the past decade, many exciting and visually pleasing theme parks have been developed in the country, such as Joyland Rawalpindi, Pakistan. Rawalpindi is famous for its diverse culture and delicious cuisine and because it provides a variety of exhilarating activities that are best for you and your family. You get to enjoy the park's stunning vibes and shout your lungs out from the exciting rides and swings offered here.
Attractions at Joyland Amusement Park Rawalpindi
There are many attractions at Joyland amusement park in Rawalpindi that will keep you entertained for hours. From rides to food, there is something for everyone at the park. Here are just some attractions you can find at Joyland park. There are many different rides available at Joyland park, ranging from thrill rides to more family-friendly options. Whether you want to go on a roller coaster or take a leisurely ride through the park, it is up to you. In addition to the outdoor rides, there are also several indoor fun-filled rides.

If you are out and about with children, there is no fun without eating. There are also many different restaurants available at Joyland park, so you can grab a bite to eat in between attractions. Visitors can also find stalls of other items and souvenirs.
If this was not enough, Joyland Rawalpindi Park enjoys a spot close to other famous attractions in Rawalpindi, such as the Army golf course, Ayub National Park, and Topi Rakh auditorium. It is an excellent opportunity to visit all these places that are within walking distance of each other. You can also hire a cab or local rickshaw to visit these places. Unlike many other amusement Parks, Joyland Rawalpindi Pakistan has two spacious Parking lots to accommodate the vehicles quickly.
Exciting rides
There are many exciting and attractive rides at the theme park in Rawalpindi. All kinds of rides are available for adults, children, and adventure seekers. There are also a lot of rides indoors. Keep reading to know all the spectacular and mind-blowing rides at Joyland Rawalpindi Park.
Suppose you're looking for some fun rides to enjoy while at Joyland park; you're in luck! There are plenty of great options to choose from. Here are just a few of the most popular rides:
Pirate Boat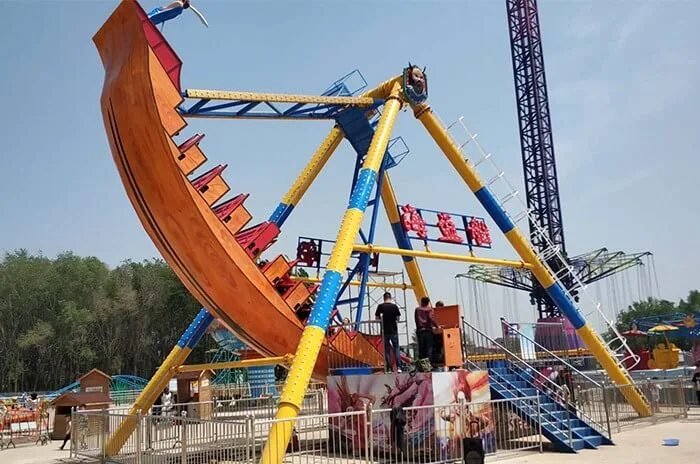 A pirate ship is an amusement attraction with an open, seated gondola that goes up and down as a swing while you are tossed and turned due to angular velocity. A pirate boat is a variation where you must pull on ropes to swing the ride.
Discovery
All visitors of Joyland Rawalpindi, Pakistan, can experience a life-changing thrill on this pendulum ride. Discovery riders feel the excitement of land and sky merging into one as they fly head over heels through the twin swinging and spinning motions while suspended from an overhead axis. The deck collapses, Discovery unleashes its wrath, and thrill-seekers are taken on the trip of their lives.
To ensure the safety of riders, they are fastened using over-the-shoulder safety harnesses. Riders are whirled in a never-ending circle while the entire ride is pushed back and forth, producing feelings that must be felt to be believed.
Horror House
This classic ride is perfect for those who love a good scare. Board on the buggy and explore the spooky house, encountering ghosts, ghouls, and other eerie surprises along the way. The horror house is so terrifying because of the dim lighting, shadows, and long lengths of darkness; riding it is about as scary as going for a stroll in the graveyard.
XD Adventure
The XD Dark Ride transports you on an immersive trip. It is another classic ride that takes you on a swashbuckling adventure with a 3D screen, laser guns, other interactive features, and plenty of twists and turns. You may experience the wind in your hair and the earth moving beneath you as up to 8 riders can battle for the highest score.
Mini Train Rides for Kids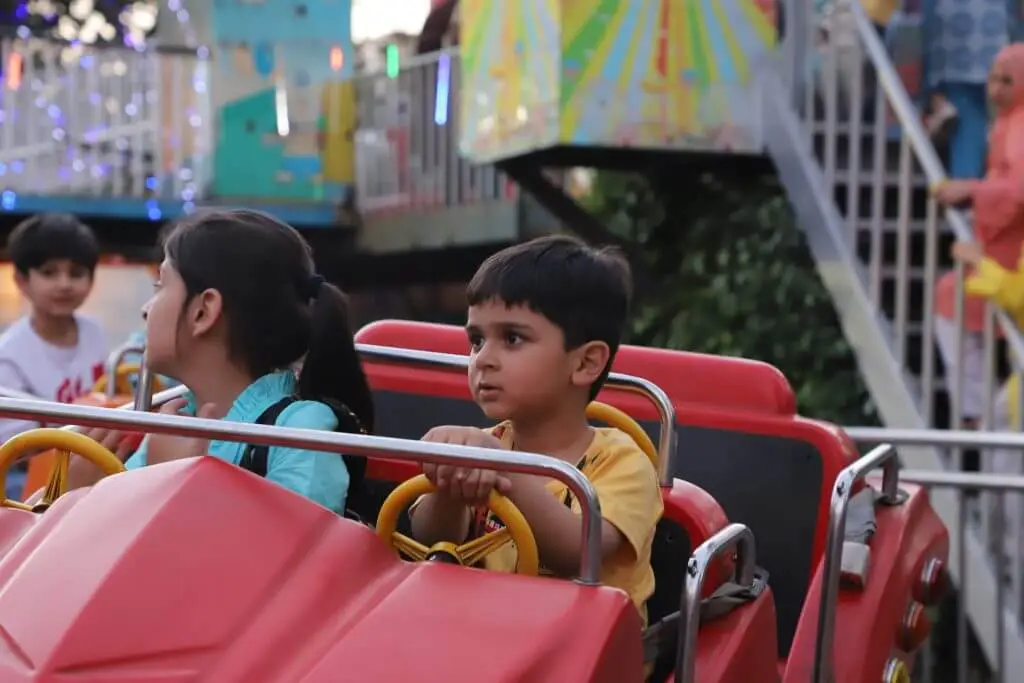 The train rides for kids are also a very appealing attraction in Joyland. It takes the young riders through the park and lets them enjoy all that is available in the park. It is kid-friendly because it maintains a slow speed suitable for kids. This ride is perfect for families with small children. Hop aboard a boat and journey through different scenes around the park.
Mini Roller Coaster
The mini roller coaster in the park is a small amusement ride. Roller coasters are scary, but they are very safe amusement rides popular with many young tourists in Joyland.
Kids Car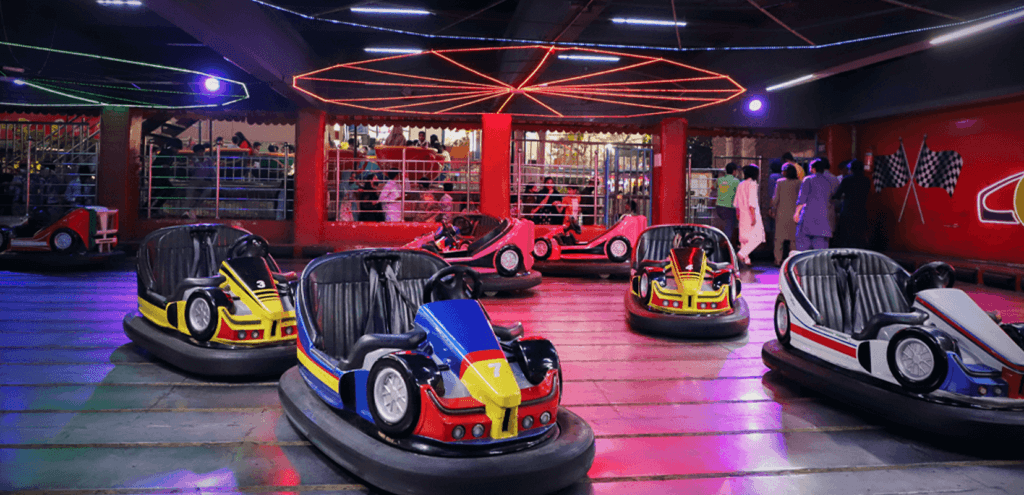 Crazy car rides, called Magic car rides, are popular kid-friendly amusement park rides in Joyland Park that provide a beautiful perspective and an enjoyable experience.
Free Fall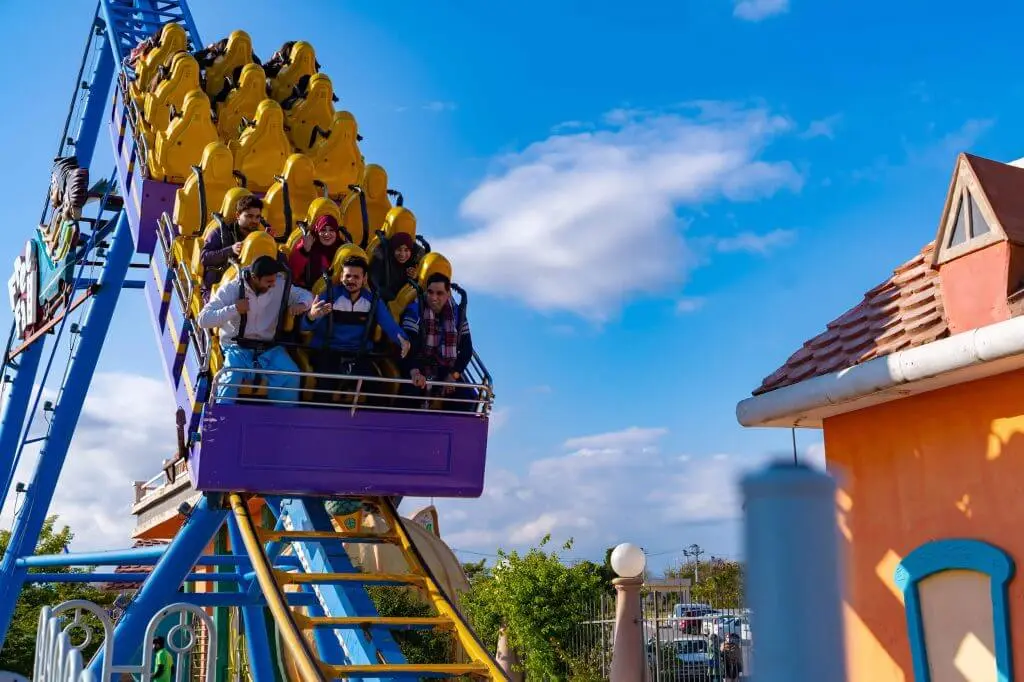 The Free Fall in the park fulfills every child's desire to pilot their aircraft. The six classic-style planes can each accommodate two adults and two or four children.
This kid-friendly attraction boasts a smooth octopus-like motion. Just like in the movies, each plane takes off one at a time. The planes then accelerate upward and descend toward the earth. Children of all ages enjoy and find this ride exciting because of its incredibly smooth motion.
Octopus Ride
This ride has twenty little orange cabins at the ends of five arms of the octopus, joined to a central axis and rotating freely. The arms also move up and down randomly. Riders can fully immerse themselves in the excitement of the spins, ups, and downs on this ride, which appears like a joyful octopus in the ocean.
Frisbee Ride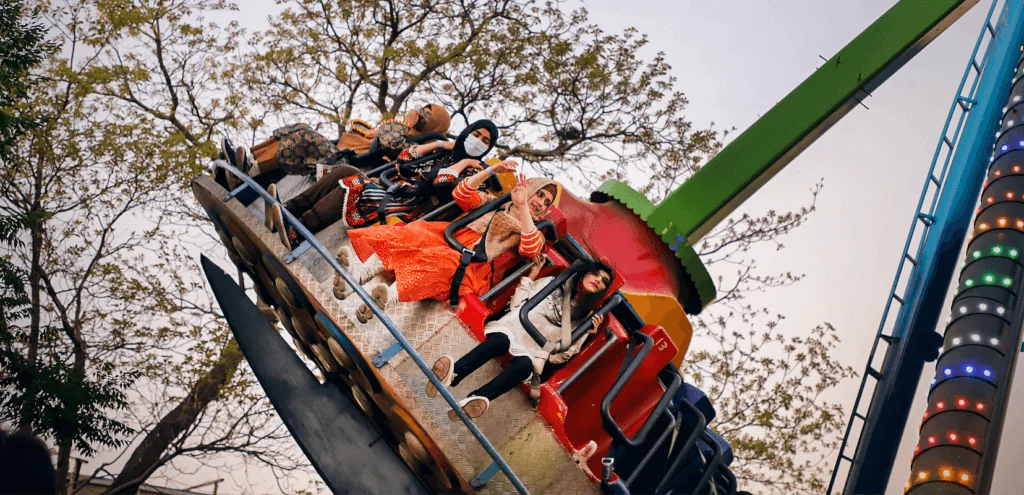 The Frisbee ride is another fantastic addition to the long list of thrilling rides at Joyland amusement park Rawalpindi. It is a particular kind of pendulum amusement ride with a rotatable, circular gondola that swings back and forth. Riders are seated on the gondola facing outward and enjoy the thrill of a lifetime.
Jumping Castle
A bouncy castle, bouncing house, or inflatable bouncer has become a very well-liked draw at occasions like fairs, charitable events, and special activity days. It's a must-try for every kid who adores leaping about on the inflated floor of a bouncy castle or sliding down an inflatable slide.
Tagada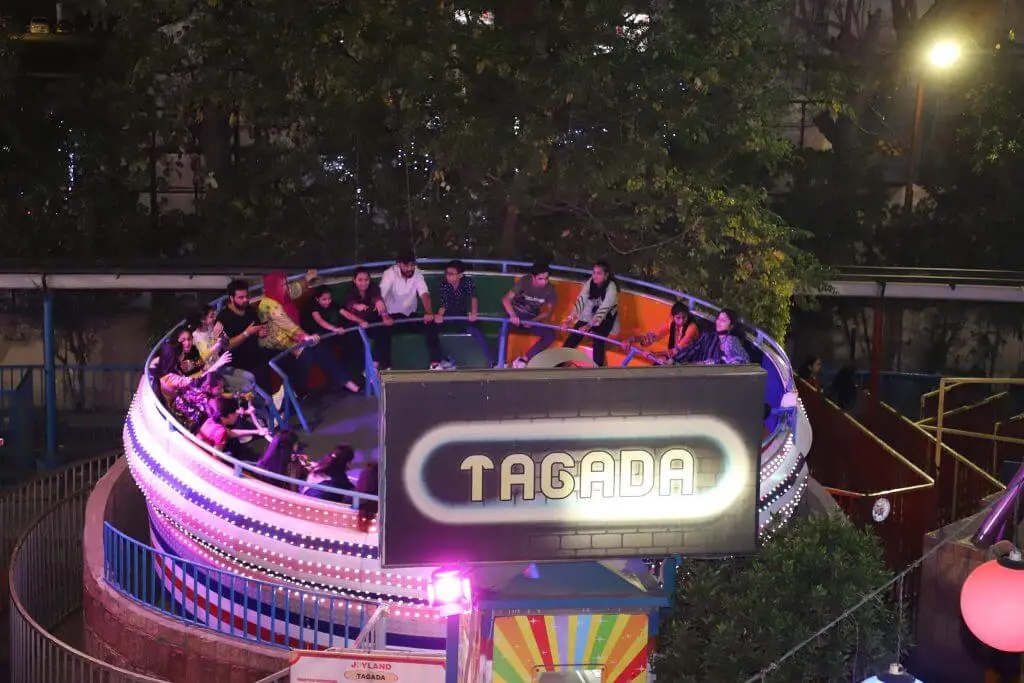 A tagada is a type of amusement ride available in many parks. Without seatbelts or other restraints, you sit in a round bowl. You have to grab onto bars that are behind you. The riders go up and down as the rollercoaster begins to rotate and play music.
Tornado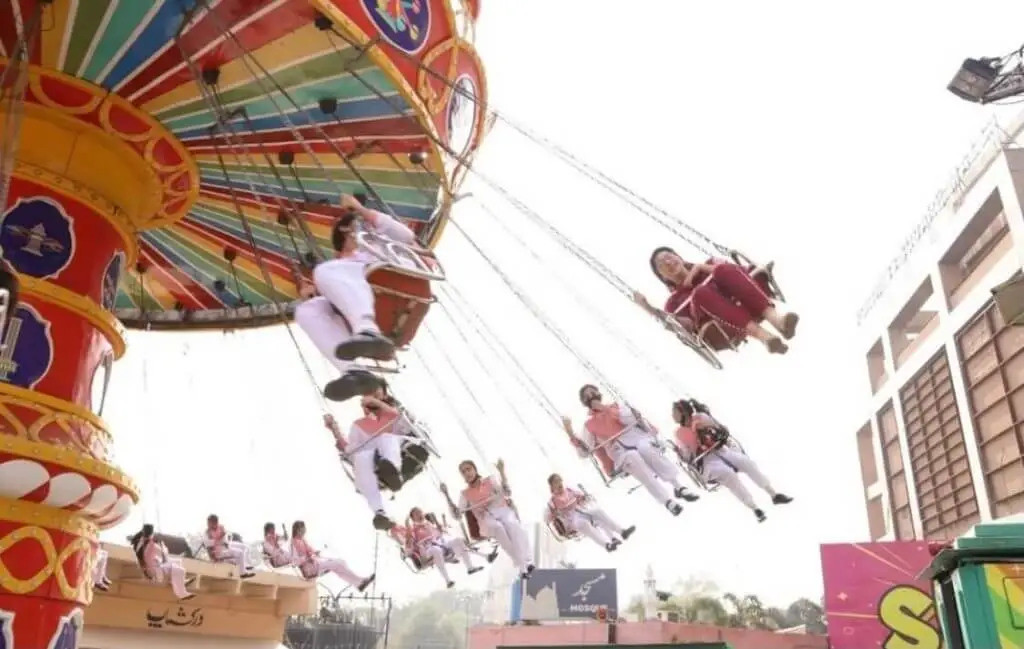 It is a Merry-go-round on swiftly moving baskets suspended on cables. Be careful with your cell phones when you are on the rides that tumble. On a track that slopes upward on both sides, they also have a miniature roller coaster that bounces back and forth.
The Capital Eye
This ride is a sizable Ferris wheel that slowly revolves, giving you a bird eye perspective of Rawalpindi and Islamabad. People from both cities come here in huge numbers to experience the spectacular view.
You will also find the swings, mini-golf course, rowing boats, and evading autos to be pleasant low-intensity pastimes.
Indoor Games for Kids
There are many indoor fun activities in Joyland Rawalpindi that you can participate in for added entertainment, such as
5D Movies
XD Adventure
VR Roller Coaster
Joy Ride
Games
Clean Environment
The epic location of the park and its cleanliness is what make you come back again and again. There are dustbins all over the park to ensure no trash in the walking or sitting area. The washrooms and hand washing area are also nice and clean. Now it is your responsibility to use it properly and keep it clean so that others can also use it easily.
Food street
Whether you want a quick snack or a sit-down meal, there is something for everyone at the park. Several food express locations are located throughout Joyland Rawalpindi. The best cuisines are just what your spirit needs to be restored for a beautiful experience after the adrenaline-pumping rides. Joyland has it all in one place for whatever taste you're craving—spicy, sour, savory, or those mouthwateringly sweet flavors. It's time to double your enjoyment!
Big Space for Parking
Although the park is located in the center of the city, it still has a large parking area. The park has a large parking lot accommodating cars and 4×4 vehicles. The park has enough space to organize small parties and get-togethers. Make sure you park wisely and let others park their vehicles comfortably.
Joyland Ticket Price
There are three kinds of tickets for Joyland Rawalpindi. At the entry gate, you must pay Rs. 30 per person. To enjoy all the outdoor rides, you must get a wristband of Rs 450; or, if you want to enjoy all the indoor and outdoor rides, except a few video games and screens, the wristband costs Rs. 700.
They also have school, birthday, and business packages with reduced cost, so email them early to avail of these opportunities.
Joyland Timings
The park is open for visitors from 09:00 AM To 10:00 PM. During this time, families, students, and everybody can come and enjoy the attraction in the park.
Joyland Location & Contact Info
To get to Joyland Rawalpindi, you must drive to Ayub Park, cross the main gate and turn left where Ayub Park's boundary ends.
Contact them now to get the best services and rides in the city. +923488801545 /+92 51 5144280
You can also contact them via email. The website is http://www.Joyland.com.pk/, in case you want to check if they are open.
FAQs
How much is the ticket for Joyland Rawalpindi?
In Joyland Rawalpindi, you must pay an entry ticket of Rs. 70. The price of every ride is different and usually lies between Rs. 80-150. You can also buy a wristband to enjoy all the rides as many times as you like. To get the band, you need to pay 700 Rs.
How old is Joyland?
Joyland Rawalpindi Pakistan is a new addition to the list of parks in the city. But you will be amazed to see the park's variety of rides and uniqueness.
Does Joyland accept cards?
Yes, it accepts cards as well as cash payments.
Conclusion
Joyland is a great place to spend a day with family and friends. It has many attractions for people of all ages to enjoy, such as; the capital eye, the tagada, the tornado, the horror house, the pirate's boat, and much more. There are also a few restaurants and shops located within the park. Whatever your interests, there will surely be something for you at Joyland amusement park Rawalpindi. So come on down and enjoy all that the park has to offer!