MOTION GATE THEME PARK
Motiongate Dubai Parks and Resorts is an exciting and immersive theme park. Motiongate Dubai spans over 1.9 million square feet. It combines the beauty of Hollywood with the excitement of great movie franchises, providing guests with a one-of-a-kind and memorable entertainment experience. When you enter Motiongate Dubai, you are immediately transported to the Blockbuster cinema. The Motiongate Theme Park is separated into themed zones, each devoted to a particular film studio. You'll be immersed in the realms of renowned films and characters, from Columbia Pictures to DreamWorks Animation and Lionsgate. It is one of the most popular Things to do in Dubai.
Motiongate
Motiongate™ Dubai's outstanding range of rides and attractions is one of its highlights. Exhilarating roller coasters await thrill seekers, including the high-speed Capitol Bullet Train inspired by The Hunger Games and the exciting Madagascar Mad Pursuit ride. For a more family-friendly experience, attractions such as Smurfs Village Playhouse and Green Hornet: High-Speed Chase provide interesting and exciting excursions. Motiongate™ Dubai also has enthralling live entertainment presentations and performances in addition to the attractions. These events bring the glamour of Hollywood to life, showing the skill and innovation behind the scenes, with everything from high-energy musicals to acrobatic exhibitions. Dubai Parks and Resorts Motiongate also provides memorable food experiences, with restaurants and cafés catering to various tastes and preferences. You'll find many alternatives to refuel and rejuvenate, whether you want exotic cuisine, themed dining experiences, or fast snacks. The attention to detail and immersive theming that extends beyond the rides and attractions is one of the most impressive features of shopping at Motiongate Dubai. Each store is meticulously created to suit the park's overall theme, creating an ambiance that transports you into the movies themselves. It's a chance to purchase while immersing yourself in your favorite flicks' charm and nostalgia.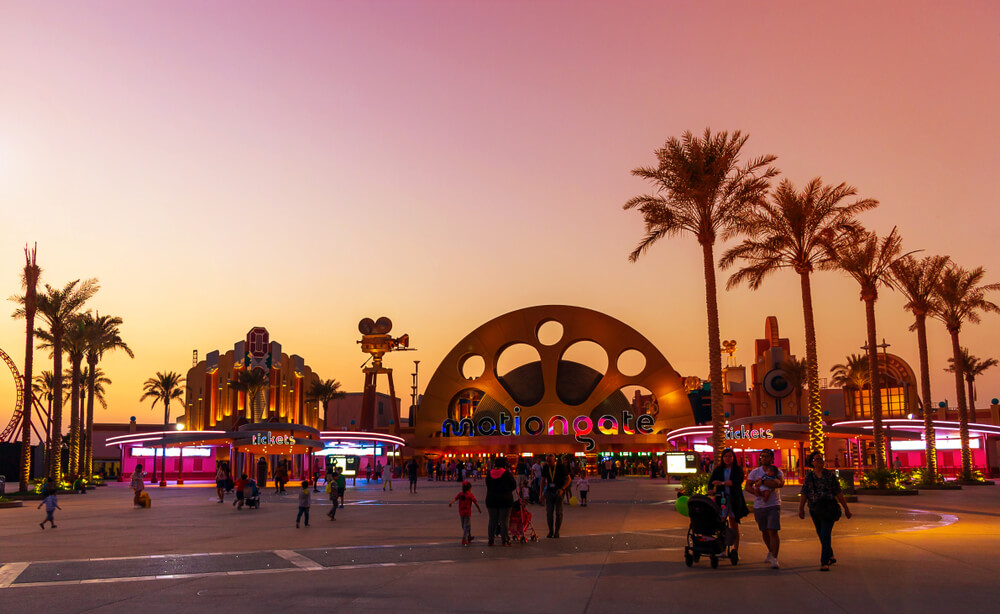 Motiongate™ Dubai has a variety of retail stores for people who want to take some souvenirs back home with them. You'll find a broad choice of things to memorialize your vacation and keep the memories alive, from movie merchandise to themed souvenirs. Motiongate Dubai is intended for guests of all ages, with designated spaces for youngsters and family-friendly activities. The Motiongate Theme Park is dedicated to delivering a fun and safe atmosphere, with well-trained employees assuring guest happiness and comfort.
Motiongate Rides and Attractions
Motiongate Dubai is an enthralling theme park that features a variety of exhilarating rides and attractions inspired by famous films and iconic franchises. Check out some of the unique experiences available at Motiongate Dubai:
Smurfs Village Playhouse – Enter the magical world of the Smurfs and explore their whimsical village. This interactive playhouse offers a variety of engaging activities, including climbing, sliding, and interactive games, all themed around these lovable blue creatures.
The Hunger Games: Capitol Bullet Train – Travel across Panem on a high-speed roller coaster ride. This fantastic adventure takes you on a thrilling tour through the Capitol, inspired by the film series The Hunger Games.
Madagascar Mad Pursuit – Go on a wild and amusing roller coaster journey with your favorite Madagascar characters. Speeding through the jungle with Alex, Marty, Gloria, and Melman, you'll encounter twists, turns, and surprising shocks.
How to Train Your Dragon: The Ride – Soar through the skies on a thrilling dragon-themed roller coaster based on the popular DreamWorks Animation film. Join Hiccup and Toothless as they navigate an exhilarating journey filled with twists, turns, and awe-inspiring moments.
Ghostbusters: Battle for New York – Embark on an epic interactive dark journey with the Ghostbusters squad. Armed with a proton pack, you'll help defend New York City from demonic perils as you travel through legendary Ghostbusters sites.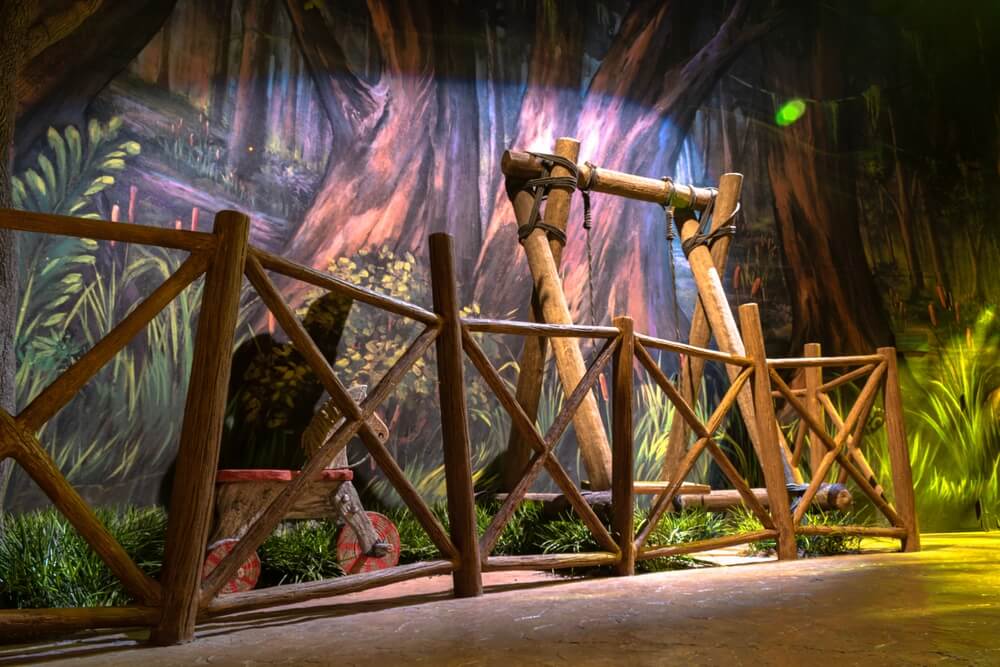 Kung Fu Panda: Unstoppable Awesomeness – Join Po and the Furious Five on an action-packed journey. This spectacular 4D motion simulator experience combines breathtaking images, motion, and special effects to send you on a daring mission to save Kung Fu from the terrible baddies.
Shrek's Merry Fairy Tale Journey – Enter Shrek's fairy tale land and embark on an exciting adventure. This dark journey brings classic Shrek franchise moments and characters to life, immersing you in a whimsical and amusing experience. Motiongate Rides allow adults and children to mix in and have fun alongside their favorite themed rides based on popular pop culture idols and movie franchises. Motiongate Rides brings the experience to a personal level by making people interact with their famous fictional world In real time.
These are just a handful of the thrilling rides and attractions available at Motiongate™ Dubai. The park provides various experiences for people of all ages and interests, guaranteeing something for everyone to enjoy. Motiongate™ Dubai offers thrilling live entertainment performances, interactive experiences, and opportunities to meet your favorite characters in addition to the rides. There's always something new to discover and enjoy, whether attending a live musical event, exploring immersive places, or posing for selfies with your favorite movie stars.
Motiongate™ Dubai offers an extraordinary trip that will take you into the worlds of your favorite films, thanks to its attention to detail, immersive theming, and the best modern technology. Prepare to be amazed, delighted, and engaged in a magnificent movie experience. Motiongate Dubai elevates the shopping experience, one of the main attractions, by providing a diverse selection of items and an immersive setting that embodies the soul of famous films. Each store in the park has been deliberately created to take guests into their favorite worlds, offering a compelling shopping experience.
As you walk through the Studio Central Store, things inspired by legendary movie franchises surround you. The store features various products that allow fans to express their enthusiasm for their favorite films, from action-packed adventures to sentimental tales. Whether you love Ghostbusters or The Hunger Games, you'll find t-shirts, hats, toys, and memorabilia to show your support.
From the lovable Shrek to the hilarious Madagascar crew, this store offers a wide selection of merchandise that captures the magic and charm of these animated worlds. Whether you're looking for a Kung Fu Panda plush toy or a Shrek-themed mug, you'll find many items that will bring a smile. The Smurf Village Market transports you to the magical world of the Smurfs. Its lovely displays and variety of Smurf-themed products make it a fascinating location to explore. From cuddly plush toys to items that offer a whimsical touch to your everyday life, this store is a sanctuary for Smurf fans of all ages. Exploring the shelves and choosing the suitable Smurf keepsake to treasure is a thrill. The brilliant colors and iconic characters from DreamWorks Animation flicks greet you as you enter the DreamWorks Animation Zone Store.
Take your time to browse through the colorful displays and discover hidden gems. The Lionsgate Films Store is geared towards fans of exciting film series, including products inspired by The Hunger Games and Step Up. Browse through gear, accessories, and collectibles that pay respect to the iconic characters and tales to immerse yourself in the world of these compelling films. This site is a gold mine for Lionsgate fans looking to acquire a piece of their favorite movies. Plaza de Fiesta is a busy place to soak up the mood while browsing numerous businesses and kiosks. It's the ideal location to locate one-of-a-kind things and presents that show your passion for films. The variety of alternatives will thrill you, from character-themed keychains and magnets to unique gifts.
Motiongate Shopping
MotiongateTM Dubai is a place for exhilarating rides and attractions and an engaging shopping experience for moviegoers of all ages. When you enter the park, you'll be immersed in a world of items and souvenirs based on your favorite films and characters. The Studio Central Store, located at the park's entrance, is your first stop for various items. This business sells things from iconic properties such as Ghostbusters, The Hunger Games, and others, ranging from t-shirts and hats to toys and memorabilia. It's the ideal spot to find something unique to remember your visit and bring a little of the magic movie home. The Smurf Village Market is a fanciful sanctuary for Smurfs aficionados. Enter this themed store to find a delightful variety of Smurf-related items. The range of goods will thrill you, from cuddly toys and garments to accessories and creative Smurf-themed presents. It's an excellent chance to locate the ideal Smurf memento for yourself or a loved one. The DreamWorks Animation Zone Store's products are committed to bringing the wonder of DreamWorks Animation films to life. Dive into the worlds of Shrek, Madagascar, and Kung Fu Panda by browsing a variety of merchandise featuring your favorite characters. This business offers various items ranging from plush toys to clothes, stationery, and home décor. From plush toys to apparel, paper, and home décor, this store offers a wide selection of merchandise to capture the essence of these beloved films.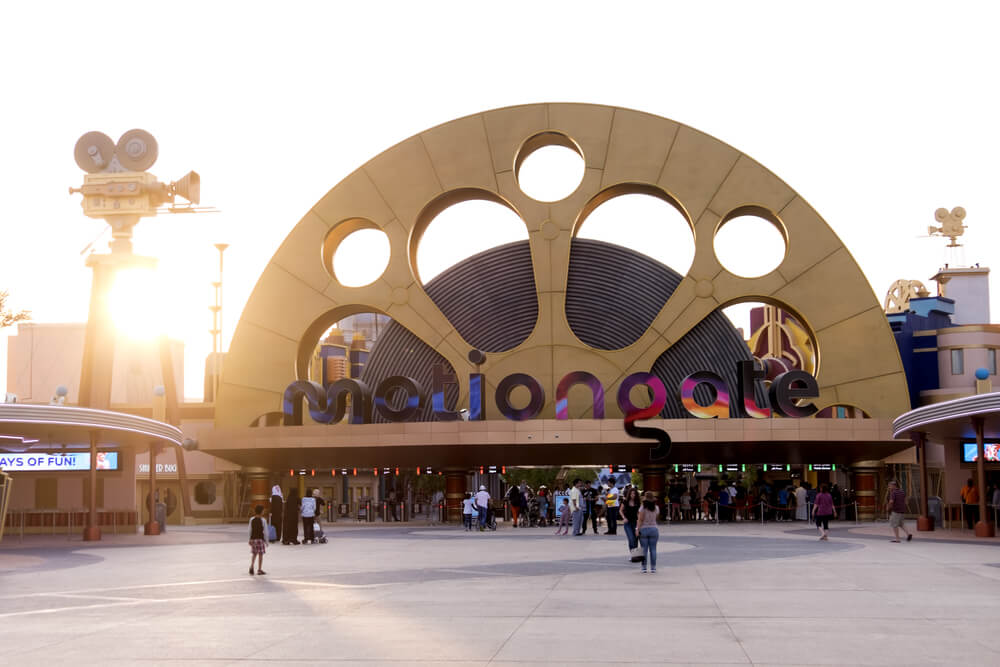 The Lionsgate Films Store is a must-see for fans of Lionsgate film series such as The Hunger Games and Step Up. You'll find stuff here that pays respect to these classic flicks. From garments and accessories to memorabilia, this store offers a one-of-a-kind shopping experience for moviegoers looking to possess a piece of their favorite films. Take advantage of the lively Plaza de Fiesta, where you'll discover a variety of stores and kiosks selling unique souvenirs and presents. This vibrant section is full of character-themed products and specialty souvenirs, making it an ideal place to browse and purchase souvenirs. Take your time wandering through Plaza de Fiesta and discovering the hidden gems. Additional goods stores are located throughout the park to enhance ease and accessibility. These stores provide various merchandise inspired by many films and characters, giving unlimited purchasing choices. You'll be spoiled for choice as you browse the many boutiques, with anything from superhero stuff to animation character-themed delicacies.
It is worth mentioning that select Motiongate Dubai retailers may sell unique products that can only be obtained at the park. This adds to the thrill and distinctiveness of your shopping experience. So, take your time exploring each store, browsing the shelves, and discovering the hidden jewels waiting to be uncovered. Whether searching for a little gift for a loved one or a personal remembrance of your vacation, the shopping experience at Motiongate Dubai is sure to please. The extensive retail selection, immersive theming of each store, and unique sale items ensure you'll discover the ideal movie-themed gift to remember your stay by. Prepare to go shopping and bring home a bit of Motiongate Dubai's charm.
Motiongate Dining
Motiongate Dubai provides thrilling rides, intriguing attractions, and various eating alternatives to suit every taste. Whether you want lunch or a full sit-down supper, the park guarantees a beautiful culinary experience to complement your adventure. Various restaurants, cafés, and snack kiosks are strategically situated around the park to meet your dining needs. Let's look at some of the eating alternatives at Motiongate Dubai:
The Candy Apple: At The Candy Apple, you may treat your taste senses to a world of delicious bliss. This colorful candy shop provides many sweets, chocolates, and other sugary treats. It's a candy lover's delight, with everything from colorful lollipops to delectable fudge.
Dragon Flame Grill: If you're craving grilled delights, head to Dragon Flame Grill. This restaurant specializes in flame-grilled dishes that are sure to satisfy your appetite. From succulent skewers to juicy burgers, you can enjoy a flavorful meal while immersing yourself in the ambiance of the How to Train Your Dragon franchise.
Mr. Ping's Noodle House: Mr. Ping's Noodle House, inspired by the iconic character from the Kung Fu Panda franchise, serves customers a delectable assortment of Asian-influenced cuisine. You may savor the flavors of the East in a bright and immersive atmosphere, from noodle bowls to steamed dumplings.
King Julien's Side Show Café: At King Julien's Side Show Café, you may immerse yourself in the world of Madagascar. This vibrant restaurant serves various cuisines, such as sandwiches, burgers, salads, and more. It's the ideal area to refuel and rejuvenate before continuing your excursion.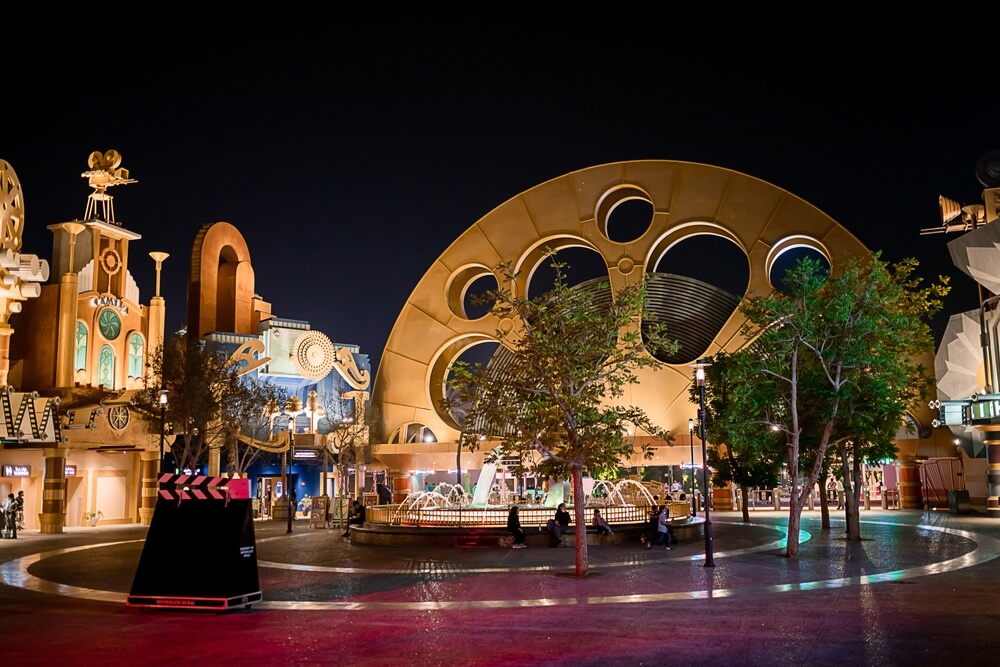 Baby Brent's Luncheonette: Named after the amusing character from Cloudy with a Chance of Meatballs, Baby Brent's Luncheonette serves a wide range of fast-food favorites. Enjoy burgers, hot dogs, fries, and other classic comfort foods while immersing yourself in the whimsical ambiance of this unique diner.
So, Motiongate Dubai is not just a destination of exhilarating rides and exciting attractions but also a foodie's paradise. You'll find various culinary options around the park to fulfill your appetites and enhance your entire experience. Motiongate Dubai provides a broad choice of culinary pleasures that appeal to every desire, from fast snacks to complete sit-down dinners. The themed restaurants and cafés that transport you into the world of your favorite films are one of the pleasures of dining at Motiongate Dubai. Each eating location has been meticulously created to provide an immersive experience, allowing you to dine amidst the ambiance and charm of the films that have caught your imagination. Indulge your sweet tooth at The Candy Apple, a whimsical confectionery store that offers an array of mouthwatering candies, chocolates, and sugary treats. From colorful lollipops to delectable fudge, this sweet haven will surely delight kids and adults alike. Mr. Ping's Noodle House, inspired by the iconic character from the Kung Fu Panda franchise, serves Asian food. You may indulge in tasty noodle meals, steamed dumplings, and other Asian-inspired cuisine here. The bright scenery contributes to the immersive experience, bringing you to Po and his buddies' animated world.
As enumerated above, King Julien's Side Show Café is an excellent alternative for a family-friendly eating experience. This colorful cafe embodies the atmosphere of Madagascar and provides a varied cuisine to suit a variety of preferences. There's something to enjoy for everyone in the family, from sandwiches and burgers to salads and exotic cuisines. The lively ambiance and character-themed design make it a memorable eating experience for everyone. Dragon Flame Grill is ideal for individuals who prefer flame-grilled cuisine. This restaurant, inspired by the How to Train Your Dragon franchise, has a variety of tasty grilled selections. You may have a wonderful lunch while immersing yourself in the realm of dragons and Vikings, with everything from luscious skewers to juicy burgers. Fans of Cloudy with a Chance of Meatballs will enjoy Baby Brent's Luncheonette. This eccentric restaurant delivers fast-food favorites in a lively and humorous setting. Enjoy burgers, hot dogs, fries, and other classic comfort foods while enjoying the amusing ambiance inspired by the film.
Motiongate Dubai also has several snack shops and these themed eating options around the park. These kiosks provide a quick and easy way to satiate your appetites on the road. As you continue your exhilarating trip, grab a bucket of popcorn, cool off with an ice cream cone, or quench your thirst with a refreshing beverage.
Whether you're looking for a thematic dining experience or a quick bite to eat, Motiongate Dubai has a broad range of alternatives to tempt your taste buds. Plenty exists, from delicious desserts to diverse cuisines and fast-food favorites. Take a break from the action, relax in the environment, and savor the flavors of Motiongate Dubai's gastronomic choices.
FAQs
How much is the Motiongate ticket
Motiongate ticket's price is 295 AED per head. Children under three can enter for free.
What time does Motiongate close
Motiongate timings are as follows:
Sunday 11 am–8 pm
Monday 11 am–8 pm
Tuesday 11 am–8 pm
Wednesday 11 am–8 pm
Thursday 11 am–8 pm
Friday 11 am–9 pm
Saturday 11 am–9 pm
When did motion gate Dubai open?
December 16, 2016
Which is better, IMG or Motiongate?
Both theme parks are unique, and it depends on your personal preference.
Conclusion
Motiongate Dubai is a genuinely unique destination that mixes the enchantment of films with exhilarating rides, enthralling attractions, and exceptional eating experiences. Motiongate Dubai, with its immersive theming, attention to detail, and varied entertainment options, caters to guests of all ages and interests. You are taken into cinematic wonder the instant you enter the park. The painstakingly constructed zones, inspired by major film series, offer an atmosphere where you may immerse yourself in the tales and characters you enjoy.
Motiongate Dubai's rides and attractions provide thrilling experiences for thrill seekers and those looking for more mild excursions. There's no shortage of thrill and adrenaline-pumping moments, from high-speed roller coasters to interactive dark rides. The attention to detail in each attraction's theming and storyline is extraordinary, further enhancing the immersive experience and leaving a lasting impact. Motiongate Dubai goes beyond the rides and attractions with its presentations, live performances, and character meet-and-greets.
As brilliant performers bring iconic characters to life, delighting guests and creating unforgettable moments, the park comes alive excitedly. Whether you're dancing with Madagascar characters or seeing a live performance inspired by Step Up, the entertainment options at Motiongate Dubai are guaranteed to please. Whether you're a movie enthusiast, an adrenaline junkie, a fan of live entertainment, or simply seeking a memorable experience with friends and family, Motiongate™ Dubai is a must-visit destination. It's where fantasy meets reality, adventure awaits at every corner, and lifelong memories are made.