MIRACLE GARDEN
Miracle Garden Dubai is an enthralling floral wonderland celebrating nature's beauty and inventiveness. This fantastic garden in urban Dubai is a remarkable marvel with an astonishing display of brilliant flowers, unusual patterns, and gorgeous scenery. Dubai miracle garden spans a broad area and is home to over 50 million blossoming flowers, becoming one of the planet's most extensive natural flower gardens. As they enter this floral heaven, a mesmerizing mix of colors meets visitors and smells that enchant the senses. The centerpiece of the Dubai miracle garden is a magnificent array of flower arrangements skillfully crafted into complicated patterns and forms. These floral sculptures, which range from pyramidal structures and hearts to arches and towers, demonstrate creative genius and attention to detail. A panorama of blooms greets visitors in every direction as they walk around the Dubai miracle garden. The flower beds have been deliberately organized to create attractive paths and themed gardens, each with a distinct charm. The variety of flowers on exhibit is astonishing, ranging from daffodils and petunias to marigolds and roses.
Miracle Garden ticket for people above 12 is AED 55, approximately 15 USD. Miracle Garden ticket for kids under 12 and above 3 is 40 AED, about 10 – 11 USD. For children under 3, the miracle garden ticket is free; the miracle garden ticket is likewise free of cost for any disabled person. Prices and timings are subject to change every year. Miracle garden timings are very convenient for people of all types of schedules. Miracle garden timings are as follows:
Wednesday 9 am–9 pm
Thursday 9 am–9 pm
Friday 9 am–9 pm
Saturday 9 am–11 pm
Sunday 9 am–11 pm
Monday 9 am–9 pm
Tuesday 9 am–9 pm
It is necessary to remember that there are no concerning miracle garden ticket offers; the prices are fixed for adults and kids, as mentioned above.
Dubai miracle garden also has thematic parts that contribute to the magic of the experience. Visitors to the Butterfly Garden may marvel at the exquisite beauty of butterflies flitting over vivid blossoms. With its aromatic herbs and plants, the Aromatic Garden takes you on a sensory trip, providing a peaceful and calming ambiance. Dubai's miracle garden undergoes seasonal transformations throughout the year, ensuring a different experience with each visit. From stunning displays during the cooler months to themed decorations for festive occasions, the garden never fails to surprise and delight its visitors.
Miracle Garden Dubai's dedication to sustainability may be seen in its innovative watering systems and environmentally friendly practices. Efforts are taken to conserve water and reduce trash, ensuring the garden's beauty is in harmony with environmental concerns. Miracle Garden Dubai, in addition to the floral delights, provides a variety of facilities to improve guests' experience. Eating alternatives allow tourists to unwind and enjoy a light meal surrounded by natural beauty. Souvenir stores sell one-of-a-kind products and keepsakes to commemorate the visit and prolong Miracle Garden Dubai's memories beyond its walls. Miracle Garden Dubai is a monument to human ingenuity and nature's awe-inspiring beauty. It is a sweet paradise for nature lovers, photographers, and families looking for a peaceful and intriguing respite from the hustle and bustle of daily life. The magnificent flower displays, thematic sections, and commitment to sustainability make the park a must-see destination for travelers worldwide.
Dubai Miracle Garden Attractions
Miracle Garden Dubai is famous for its beautiful floral displays and intriguing attractions, providing a magical touch to the whole experience. These attractions enrich the visitor's journey through the garden, giving one-of-a-kind and memorable moments within the flowery splendor. The Emirates A380 Floral Structure is one of the primary attractions in Miracle Garden Dubai. This famous sculpture, which resembles a full-scale Emirates Airbus A380 jet covered with brilliant flowers, is a monument to human ingenuity and inventiveness. This fantastic flower display is a magnificent centerpiece, attracting guests' attention and appreciation.
Another enthralling sight in the park is the Heart Passage. As they stroll through this tunnel, visitors are engulfed in a romantic mood produced by heart-shaped arches covered with cascading blossoms. This lovely site is popular with couples and photographers, as it provides a beautiful backdrop for capturing memorable moments. The Umbrella Passage is a must-see site for anyone looking for a quirky experience. A quirky canopy of colorful umbrellas draped over the pathway casts brilliant light colors and provides a delightful refuge from the sun. This creative piece not only looks good, but it also produces a lively and joyous mood. Another enthralling sight in the park is the Heart Passage. Visitors are engulfed in a romantic mood created by heart-shaped arches covered with cascading blossoms as they stroll through this tunnel. This lovely site is popular with couples and photographers, as it provides a beautiful backdrop for capturing memorable moments.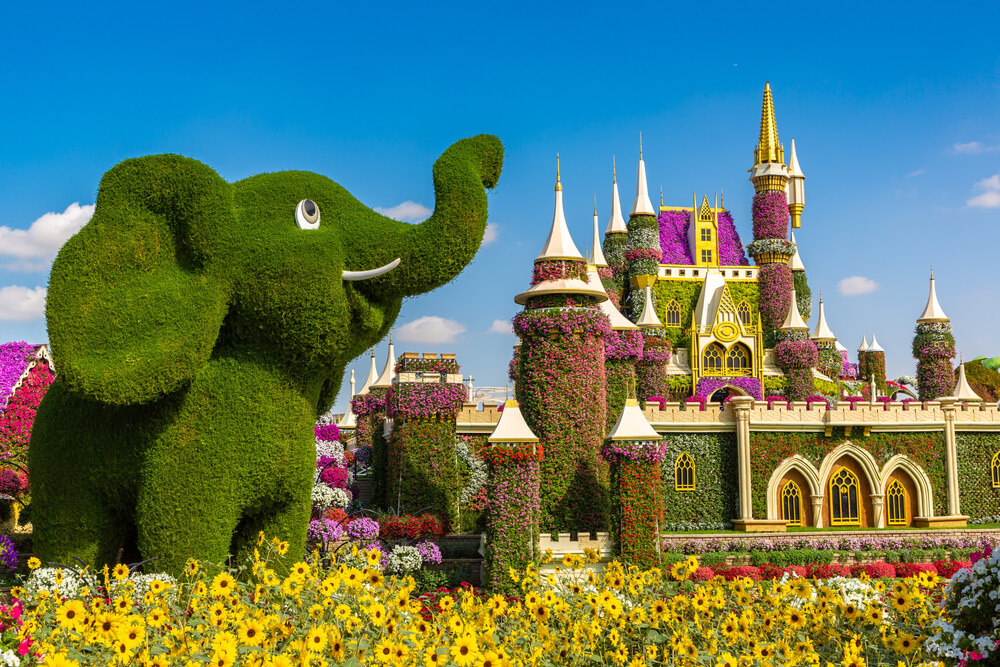 The Umbrella Passage is a must-see site for anyone looking for a quirky experience. A quirky canopy of colorful umbrellas draped over the pathway casts brilliant light colors and provides a delightful refuge from the sun. This creative piece not only looks good, but it also produces a lively and joyous mood.
The Floating Lady sculpture is a one-of-a-kind and engaging attraction that piques visitors' interest. This floral sculpture depicts a lady floating in mid-air, surrounded by a colorful explosion of flowers. This installation's illusion leaves viewers in amazement, providing a stunning sight. The Butterfly Passage is a fascinating sight that whisks tourists to a world of exquisite beauty. Visitors may see many butterflies flitting over colorful blossoms as they go through this part. This immersive experience allows for up-close experiences with these enthralling species, creating a greater connection to nature. Visitors may also explore themed gardens and exhibits that display imaginative ideas and arrangements around the park. Throughout the year, Dubai Miracle Garden presents various entertainment and cultural events, giving visitors an added layer of excitement. These activities may include live performances, musical presentations, and cultural exhibitions, which provide additional entertainment and help create a festive garden environment.
Dubai Miracle Garden's attractions are deliberately developed to complement the flower displays and give guests an immersive and wonderful experience. Each attraction provides a distinct perspective, grabbing the imagination and leaving lasting impressions. Whether wandering beneath the umbrella canopy or admiring the beautiful sight of the Emirates A380 building, these attractions boost the whole experience of a visit to Dubai Miracle Garden, making it a spectacular place.
Miracle Garden Dubai Entertainment
Miracle Garden Dubai is not only a visual feast with its gorgeous flower arrangements and enthralling sights, but it also provides a variety of entertainment alternatives to improve the visitor's experience. The garden includes entertainment that compliments the grandeur of its surroundings, from live performances to interactive activities. The live music concerts are one of Miracle Garden Dubai's entertainment attractions. Talented artists and bands take the stage throughout the year, filling the air with delightful sounds and giving a vibrant mood to the garden. Visitors may unwind and enjoy the music while admiring the stunning floral panoramas, resulting in a beautiful combination of sights and sounds. Aside from live music, Miracle Garden Dubai presents various cultural and entertainment events that honor diverse traditions and art forms. These events may include dance performances, theatre performances, and cultural exhibitions highlighting the region's rich tradition and talent. Visitors may immerse themselves in the colorful cultural tapestry, which adds depth and complexity to their garden experience.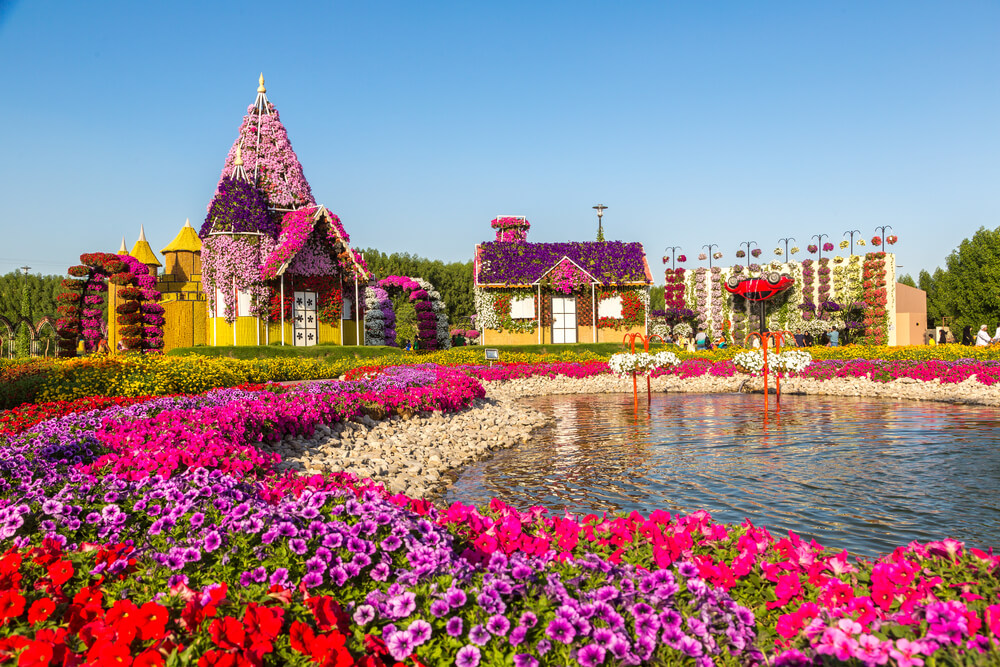 Miracle Garden Dubai provides hands-on activities that interest guests of all ages searching for engaging entertainment. These activities include workshops where guests may learn floral arrangement methods and gardening ideas or even build their tiny floral creations to take home as keepsakes. These interactive activities allow visitors to actively engage in the garden's beauty while learning about flowers and horticulture. When it comes to entertainment, children are remembered at Miracle Garden Dubai. The park has a separate Kids Zone where young visitors can participate in age-appropriate activities. It may include face painting, arts and crafts, and interactive games to spark their imagination and creativity. The Kids Zone provides a playful and educational environment for children, ensuring they have a memorable and enjoyable visit.
Furthermore, Miracle Garden Dubai frequently partners with artists, designers, and creative minds to provide one-of-a-kind installations and art shows. These temporary exhibits bring an element of surprise and amazement to the landscape, creating a dynamic and ever-changing ambiance. Visitors may marvel at the performance of imagination and brilliance, which provides a new and thrilling experience with each visit. There are also specific spaces around the garden where people may relax and unwind. These spots offer sitting, shade, and frequent refreshments, allowing visitors to rest, absorb the beauty of the surroundings, and enjoy tranquility amidst the bright floral sceneries. The entertainment offerings at Miracle Garden Dubai aim to create a multi-dimensional experience, combining visual delight with auditory and interactive elements. Whether it's enjoying live music performances, engaging in hands-on activities, or immersing oneself in cultural celebrations, the entertainment options at Miracle Garden Dubai cater to a wide array of interests and preferences.
Miracle Garden Dining
Miracle Garden Dubai dazzles tourists with its stunning flower displays and engaging attractions, but it also provides a variety of culinary alternatives to satiate their tastes. Visitors may enjoy a gourmet trip amidst the natural splendor with several food outlets and eating places dispersed throughout the park. Visitors may discover kiosks and snack booths strategically situated around Miracle Garden Dubai for a quick nibble or a refreshing beverage. These locations sell light snacks, ice cream, and drinks, making them a quick and easy choice for people wishing to fill their appetite or quench their thirst while visiting the garden. For a more substantial dining experience, Miracle Garden Dubai features restaurants and cafes that offer a variety of cuisines to cater to different tastes. From local Arabic delicacies to international favorites, visitors can find various dining options to suit their preferences.
Many of the restaurants in Miracle Garden Dubai have outdoor seating spaces, allowing tourists to eat while taking in the beauty of all floral sceneries. These outdoor locations provide a tranquil and gorgeous backdrop, resulting in a one-of-a-kind dining experience that blends delectable food with a visual feast. In addition to the garden's restaurants and cafés, there are dedicated picnic spots where guests may bring their food and enjoy a leisurely lunch amidst the brilliant blossoms. These picnic areas offer a peaceful ambiance, ideal for families and parties to congregate and savor their culinary creations while taking in the scenery. Miracle Garden Dubai also caters to special dietary requirements, with some dining outlets offering vegetarian, vegan, and gluten-free options. It ensures that visitors with specific nutritional needs can still find delicious and satisfying meals to enjoy during their visit.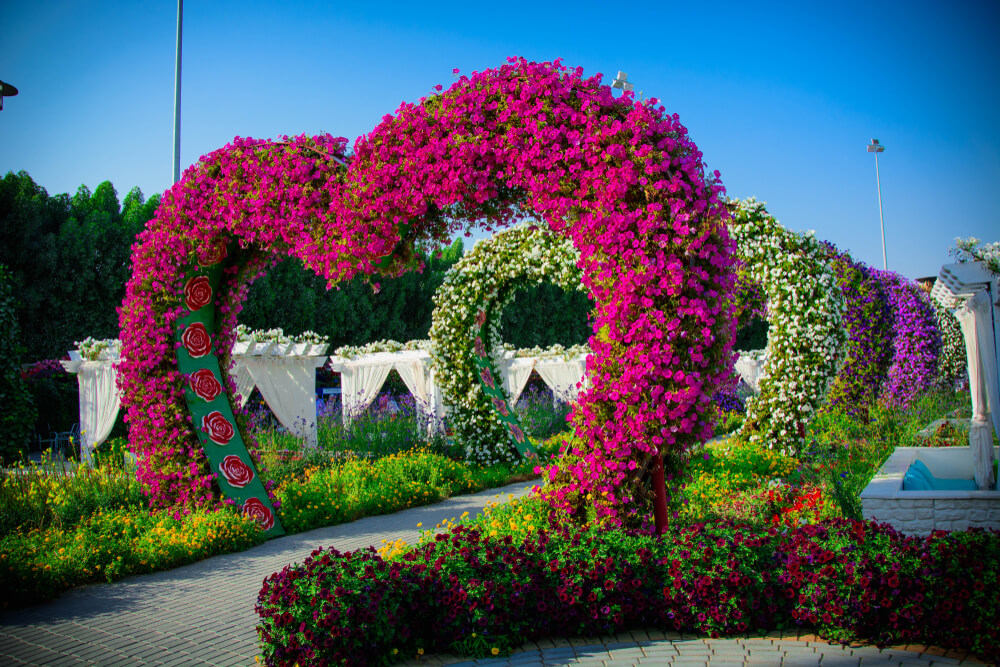 Furthermore, the dining portions of the garden are built to suit families and big parties, with numerous seating arrangements that may accommodate various party sizes. This allows tourists to dine together and share great moments while enjoying the garden's colorful environment. Miracle Garden Dubai provides dessert selections to satiate any sweet needs to round off the dining experience. Visitors may indulge in delicious sweets like pastries, cakes, and ice creams to round off their gastronomic adventure.
Miracle Garden Dubai recognizes the value of culinary delights and provides various eating alternatives to appeal to its tourists' interests. Visitors may have a great eating experience that compliments the garden's beauty, whether grabbing a fast snack, enjoying a leisurely dinner at a restaurant, or having a picnic amidst the blossoms. Miracle Garden Dubai assures that every guest may fulfill their appetite and have a great culinary trip by offering a range of cuisines, outdoor seating, and alternatives for specific dietary needs.
Miracle Garden Booking
Visiting Miracle Garden Dubai is a quick and straightforward process that allows guests to secure their access and arrange their visit ahead of time. The reservation system offers a smooth experience for all guests, whether buying online or through authorized ticket dealers. The official website is one of the simplest methods to schedule a visit to Miracle Garden Dubai. Visitors may go through the various options and choose their chosen day and time of stay using the website's user-friendly layout. The online booking system provides guests with ease and flexibility by allowing them to select from numerous ticket categories, such as individual tickets, family packages, and group bookings.
Authorized ticket vendors and travel agencies also offer the option to book Miracle Garden tickets. These vendors ensure that visitors have access to tickets and can assist with any additional travel arrangements or inquiries. It is essential to choose reputable vendors to confirm the validity of the keys and avoid any inconvenience. Visitors should check Miracle Garden Dubai's operating hours before making a reservation. Miracle Garden is open during particular times, generally from November through May, with different hours depending on the season. Check the official website or contact the ticket vendor to confirm the operating hours and availability on the intended day of the visit. Booking ahead is strongly advised, especially during peak seasons or holidays when the garden gets many people. This guarantees that tourists gain entrance and prevent last-minute disappointment or huge lines. Visitors may also organize their schedule properly with advanced reservations, ensuring they have enough time to explore the garden and appreciate its attractions.
The payment methods for booking Miracle Garden tickets may vary depending on the platform or vendor. Online bookings typically offer secure payment options, including credit cards, debit cards, and online payment platforms. Securing and protecting the payment process is essential to safeguard personal information. After completing the booking procedure, guests will get a reservation confirmation via email or a digital ticket. It is critical to maintain the assurance or access, whether printed or digital, accessible since it will be required for admission into Miracle Garden Dubai.
Visitors should refer to the terms and conditions published by the booking platform or vendor if there are any modifications or cancellations to the booking. Because rules differ, examining the cancellation and refund policies before booking a reservation is critical. Visiting Miracle Garden Dubai is a simple process that may be completed online through the official website or authorized ticket dealers. A trouble-free experience that allows people to appreciate the beauty and magnificence of the garden completely. Advanced booking is recommended to secure entry and plan the visit accordingly.
FAQs
How many flowers are in the miracle garden
Miracle Garden has over 150 million real flowers.
Where is the miracle garden located?
Street 3 – Al Barsha – Al Barsha South – Dubai – United Arab Emirates
When does miracle garden reopen
Miracle Garden opens from October to April.
Conclusion
In conclusion, Dubai Miracle Garden is a remarkable destination that captivates visitors with its stunning floral displays, captivating attractions, and a wide range of entertainment options. The garden offers a mesmerizing experience where nature's beauty blends seamlessly with human creativity, resulting in a magical and enchanting environment. With its vast collection of flowers, meticulously arranged in intricate patterns and designs, Dubai Miracle Garden showcases the beauty and diversity of nature breathtakingly. It is a testament to the ingenuity and vision of the creators who have transformed an ordinary space into an extraordinary floral paradise. The sheer scale and variety of the floral displays are awe-inspiring, leaving visitors in a state of wonder and admiration.
The attractions within Dubai Miracle Garden further enhance the visitor's experience, providing unique and memorable moments. From iconic structures like the Emirates A380 Floral Structure and the Floating Lady sculpture to the whimsical installations of the Umbrella Passage and the Butterfly Passage, each attraction adds a touch of magic and intrigue to the garden. These attractions offer visual delight and interactive and immersive experiences, ensuring visitors are engaged and entertained throughout their journey. Moreover, Miracle Garden Dubai understands the importance of catering to different interests and preferences, providing a range of entertainment options for visitors of all ages. There is something for everyone: enjoying live music performances, exploring the Kids Zone, participating in interactive workshops, or attending cultural events. The garden creates an inclusive and vibrant atmosphere where families, friends, and individuals can come together, create memories, and immerse themselves in the beauty and joy of the surroundings.
Additionally, the dining options available at Miracle Garden Dubai ensure visitors can satisfy their hunger while enjoying the scenic surroundings. Whether indulging in quick snacks from kiosks and snack stalls or dining at the garden's restaurants and cafes, visitors have various choices to suit their tastes and preferences. The dining areas, often featuring outdoor seating, provide a unique and picturesque setting where visitors can savor delicious food amidst the floral wonderland.
Booking a visit to Miracle Garden Dubai is convenient and straightforward, allowing visitors to secure entry and plan their visit. Whether booking online or through authorized ticket vendors, the reservation system ensures a seamless experience for all visitors. Advanced booking is recommended, especially during peak seasons, to avoid any last-minute inconvenience and ensure a smooth garden entry. Dubai Miracle Garden is a testament to nature's beauty, creativity, and resilience. It offers a sanctuary of natural splendor where visitors can take a break from the hustle and bustle of the big city and immerse themselves in a world of vibrant colors, enchanting scents, and captivating sights. Whether it's strolling through the floral pathways, admiring the iconic structures, or participating in the various entertainment offerings, a visit to Dubai Miracle Garden is a truly unforgettable experience that leaves a lasting impression on all who enter its gates.