Love Lake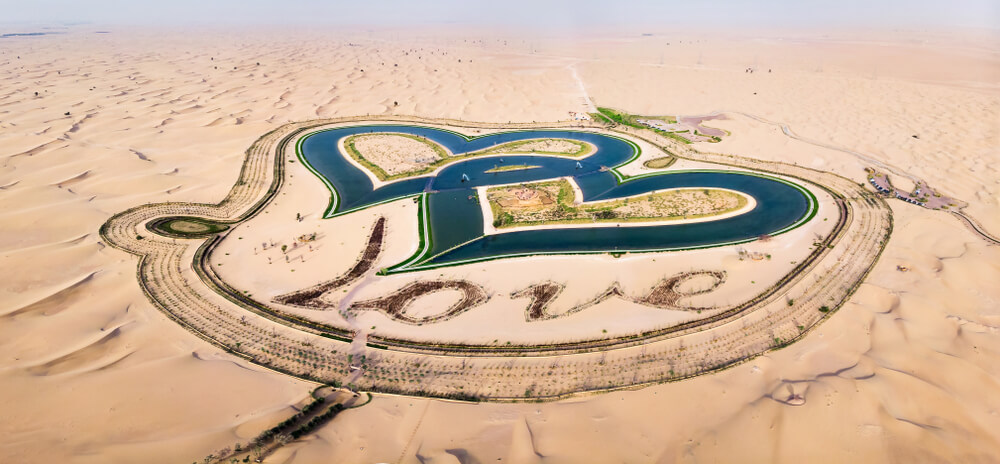 This place is a valentine's paradise 24 X 7! Little ahead of the Al Qudra Lakes complex, you will find the truest expression of love and romance in terms of huge water bodies entwined together in the shape of two hearts. It is not only a set of two lakes, but the surrounding park, a miniature desert forest, and a beautiful island; all are part of this wonderful ecosystem, so famously known as the Love Lake.
Love Lake Al Qudra is part of the Al Qudra Lakes system, an artificial wetland created by the Dubai Government to bring eco-tourism to Dubai and raise the bar of how nature-based tourism is possible in a desert. The entire wetlands of Al Qudra, of which Dubai Love Lakes is a part, have become nesting and breeding ground for more than 150 local and migratory bird species. The desert animals like Fox, gazelles and Oryx call it their home. The Love Lakes is the largest part of the artificial wetland created by the government and is visited by thousands of tourists annually.
Al Qudra Love Lake – How to Reach
Use Public transport to reach Love Lake Al Qudra – The Al Qudra Love Lakes complex is located in the Ak Marmoon Conservation and is part of the Siah al-Salam desert of Dubai. It is close to Endurance city and can be reached from the City's Al Ghubaiba Bus station through Route No. 67. Mind you, it is almost 85 kilometers from the Ghubaiba Bus Stand and takes almost 3 hours to reach the Endurance City Terminus, and from there you have to walk almost 20 minutes to reach to the Love Lakes. Since you have come this far, you would spend a lot of time doing various activities in and around Love Lakes, and you need to carry a few essentials. This would make your backpack heavy and walking very difficult. So we suggest that you hire or rent a car and drive it yourself or make a group and go for a picnic.
Reach Love Lake Dubai by own car – The road trip from Dubai city can be great fun too. It passes via Sheikh Zayed Road, Al Kail Road, and then takes any exit that goes towards Lahbab Road. The best thing to do is to keep the navigation system pointed to Al Qudra, which will do the trick. Start early to catch the sunrise and exotic birds in the park as well as on the lake waters.
Where is Love Lake Dubai
Love Lake AL Qudra is located in the Al Marmoon Desert Conservatory and is part of the Al Qudra Lake complex. It is on Dubai Al Ain Road and very close to the Last Exit. Al Qudra is also known for the Last Exit Foodtainment area. This is a unique development by Meras. Located right at the end of Al Qudra street at the roundabout that goes to Al Ain on one side and Endurance City on the other, this place is full of food trucks and a cool, relaxing area. If you have come early, then you could have a quick breakfast before heading out to the Love Lakes/You may also check the bicycle hiring company known as Track Bicycle rentals. You may like to hire a bicycle later for an evening of biking.
The Last Exit of Al Qudra has an outdoor activities shop called Zod, where you can buy your barbeque fuel, firewood, and various other items that you could use during your camping and cycling. Do check out the stuff they have. There are many things we forget when we go out camping, and Zod is your last-minute shopping place so that your camping experience in Al Qudra Love Lakes becomes a memorable affair. In case you are returning from Love Lakes Al Qudra and decide not to go camping, then you have Spice Village, which serves tasty Asian food at a reasonable price. So, you never run out of options as far as food is concerned as you have Western/ Italian cuisine in the Last Exit and Arabic/ Asian/ Indian Cuisine in the Spicy Village. You also have a small grocery store in the same location as part of the Fuelling station.
Love Lakes – the first impression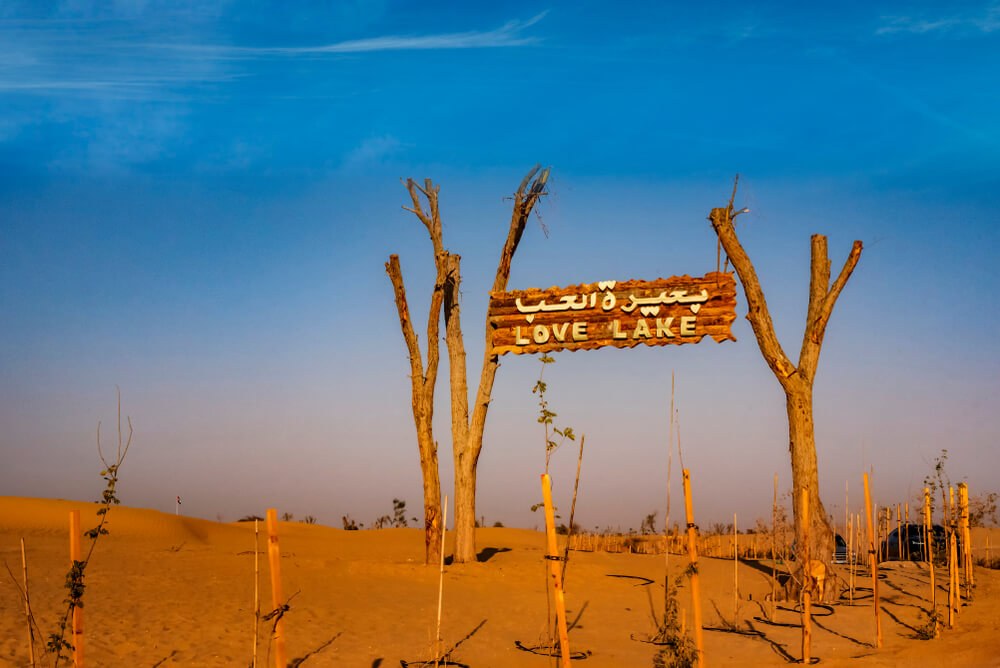 Your vehicle will go past a dirt track and reach a parking place a la ranch. Do not expect paved roads as the idea is to have an experience of complete wilderness and outback. From parking to the Lakes, you will see plenty of foliage to ensure the complete bio0diversity of the place. There are some fountains and a huge board specifying "Dos and Don'ts." Past that, you will see a vast lake. This is the first lake of the two, and after quite a bit of walking, you will see another lake. There is an island where the two lakes entwine with each other. The lake water is deep, and you can easily cross it and go to the island, which is very green and has a lot of desert trees where birds nest. The entire perimeter of the Love Lakes is almost 7 km long. There is a rubber track that runs throughout the perimeter for joggers and walkers. Apart from the jogging track, there is a park atop a hill from where you can see the entire construct of the Love Lakes with its heart-shaped water body and in between green island that gives it the exact heart shape. The entire love Lake is spread over 550,000 square meters, big enough to be clearly visible from space. The Love Lakes is full of colorful fish that are a part of sustainability efforts. The lakes are fully eco-friendly as the water of the lake is treated and purified sewerage water pumped from the Jabel Ali Sewerage treatment plant run by the Dubai Municipality. The same water is used to keep the entire area around the lakes green. The Al Qudra Love Lakes is blessed with a location that is far from the hustle and bustle of the City, far from the noise, and very close to your aspiration of spending time in seclusion, wilderness, and with the basic elements of mother earth; water, soil, wood, and pure air. Love Lakes Al Qudra has LOVE written everywhere, and the whole atmosphere comes together to celebrate love. This is the only outdoor place in the whole of the middle east that is built to spread love and joy.
What can you do at Al Qudra Love Lake – Activities?
Take plenty of Selfies in Love Lake Dubai.
The first and foremost thing people do is to take stunning selfies against many backdrops. There could be sunrise selfies and sunset selfies. There could be equally stunning selfies atop the hill keeping the whole heart-shaped lakes in the background.
You will never get tired of clicking until your hands/ fingers will start aching. We suggest that you come here early in the morning and bring camping gear, food, and water supply. Take a vantage point and put up your camp. Make a cup of tea or coffee, and have breakfast, looking at the sunrise and listening to the breeze and quaking of birds. Pick up your mobile and start walking on the rubber track. Spot fish or an exotic bird and try more selfies with these surprises to create an ideal Instagram story. Walk further and cross over the water either through a small wooden bridge or simply amble through the shallow water and reach the small artificial hillock. There are interesting shapes, including heart-shaped carved on wood, and the rustic charm of these shapes invites you to have more selfies with your friends and partners. Apart from selfies, you can really enjoy the walk around the promenade. There are many species of birds you can see. You can jog, but you can swim in the waters of Love Lake. Once you go around the Love Lake and take selfies and do site seeing, you may come back to your camp and prepare for the sunset, a truly mesmerizing sight. The whole place bathes in the hue of the setting sun, giving it a beautiful red tinge. This is also one of the best selfie times.
Barbeque in Love Lake
This is almost night, and if you decide to stay longer, it is the best time to start firing up the grill for a yummy bar-be-que. A night under the stars, good friends, music, and great food is what a paradise is all about. If you are more adventurous, then you can go biking around the 86-kilometer biking track, which is fully concretized, and you will come across many other bikers during the winter season.
Camping at Al Qudra Love Lake
Love Lake Dubai has areas designated for camping barbeque. Night camping next to the calm waters of Love Lake Dubai gives you a serenity that you generally don't get in city life. The night sky is amazing, and it is deeply satisfying to get up with the rising sun, chirping of birds, and fresh air. The water element adds to its overall charm. While deciding to camp, you MUST carry all the essentials like a sleeping mat, blankets (it gets very chilly in the winter), torch, burner/grill for barbeque dinner and breakfast, tea/ coffee, etc. Remember that any food you buy is a bit far, and your breakfast with the sunrise gets ruined if you are gone searching for food. Be well prepared and enjoy the delights of camping at Al Qudra Love Lake.
Jogging at Al Qudra Love Lake
There is a rubberized jogging track around the Love Lake Al Qudra. It is a fantastic activity to jog around Love Lake among the beautiful elements of nature, i.e., calm water, fresh air, and greenery. You can jog any time of the day without any restriction. Be sure to take jogging gear with you, and even if you don't, all you need is an adventure in you. You can just jog a short distance to experience the freshness. The jogging track around the Love Lake Al Qudra is 7 km long.
Washrooms at Al Qudra Love Lake
One good thing about Love Lake Dubai is the availability of washrooms. These are washrooms right at the entrance gates of Dubai Love Lakes. Unlike Al Qudra Lakes, where there are no washrooms, the facilities at Dubai Love Lakes are top-notch. The washrooms are well maintained and have all the amenities. We advise you to carry your own sanitizers when you visit Love Lakes Dubai.
Love Lake Dubai – Facilities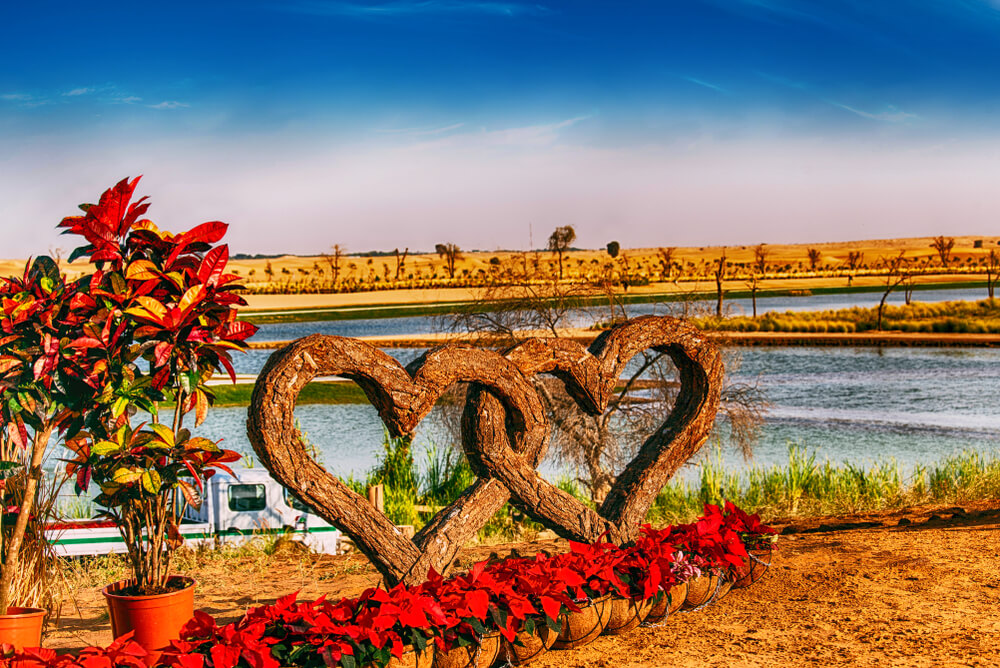 Parking facilities in two different zones
Washrooms x 6
Special Bar-be-Que purpose-built pits
An Information Centre
Round-the-clock security
Constant visits by Dubai Police to increase the sense of security
Mobile data – always available
Transportation – Bus stand 15 minutes away by walk
There is plenty of parking, and we advise you not to get into any dispute related to parking. In case of any issues, please speak to the appointed security guards or park authorities
Ensure that your vehicle has sufficient gasoline and is well maintained. Getting stuck in the wilderness could be very stressful.
Love Lakes Dubai – Dos and Don'ts
Do not litter
Do not do any water-based activities like swimming
Do not catch fish found in the lake
Do not feed or disturb the birds and animals
Do not walk your dog, and it is illegal to bring pets
Do not make grills directly on the sand
Do follow pandemic-related rules like wearing masks and keeping hands sanitized.
Avoid loud music
Carry plenty of water and food
Always wear respectful clothing and demonstrate respectful behavior that is acceptable to society.
Do not consume alcohol – It is strictly prohibited to consume alcohol in public places in Dubai.
Always clean up before you go and put the trash in the designated bins. Do not throw your trash in the lack of water or anywhere randomly.
Some FAQ regarding Love Lakes Al Qudra
What should you wear when going to Love Lakes Al Qudra?
In winter, it gets chilly, so you are advised to wear woollies.
Can I drive my sedan or saloon car to Love Lakes Al Qudra?
You may. However, the dirt track sometimes becomes very loose, and there is a chance of skidding.
Do we get Dubai City Cabs direct to Love Lakes?
No, no RTA cabs go up to the Love Lakes. They will drop you at Last Exit Al Qudra.
Is Camping allowed in Al Qudra Lakes?
Yes, Camping is allowed in Al Qudra Love Lakes, and you can do overnight camping also.
Are we allowed to have a bonfire in the Love Lakes Dubai?
No, Bonfires are not allowed anywhere in the Al Qudra Lakes and Al Qudra Love Lakes.
What are the timings to visit Al Qudra Love Lakes?
There are no specific timings to visit Al Qudra Love Lakes. In winter, the weather is pleasant, and you can be there at any time of the day.
Is there any ticket to visit Al Qudra Love Lakes?
No! It is absolutely free to visit Al Qudra Love Lakes in Dubai.
Which bus number goes to Al Qudra from the CityCity, and what is its frequency?
Bus no. 67 goes to Al Qudra from Al Ghubaiba, and there are four services. The last service from Endurance city terminus that closes to Al Qudra Lakes complex is 8.30 pm. If you miss that bus, then you have no other option but to use Kareem/ Uber to get you to the CityCity.