HATTA DAM
Hatta Water Dam, located in Dubai's craggy Hajar Mountains, is a tranquil and attractive site that provides a welcome respite from the frenetic city life. Hatta Water Dam, surrounded by breathtaking scenery and crystal-clear turquoise waters, is a favorite destination for outdoor enthusiasts, nature lovers, and those seeking tranquility and natural beauty. As you approach Hatta Water Dam, you'll be welcomed by stunning views of towering mountains and harsh terrain. The contrast between the tranquil waters and the craggy backdrop provides a lovely scene that captivates visitors. The reservoir of the Hatta Dam Dubai, fed by the neighboring mountains, provides a tranquil and scenic environment for various recreational activities. Boating and kayaking are popular activities at Hatta Dam Dubai. Visitors can rent boats or kayaks and traverse the calm waters while enjoying the quiet and natural splendor. Gliding across the beautiful reservoir with the mountains as a backdrop is incredibly revitalizing and provides a unique perspective of the region.
There are dedicated picnic sites around Hatta Dam Dubai where tourists can rest and spend a pleasant day amidst nature for those who prefer a more comforting experience. These shady areas are ideal for a picnic with family and friends, allowing you to savor excellent food while admiring the spectacular vistas. Hiking and mountain biking paths wind across the neighboring mountains, making Hatta Dam a doorway to adventure. Exploring these routes allows you to immerse yourself in the raw beauty of the Hajar Mountains, with the possibility to find secret valleys, interact with local species, and take in breathtaking panoramic vistas. The area surrounding Hatta Dam is rich in biodiversity, and birdwatchers will be delighted to see a variety of bird species. The peaceful and undisturbed atmosphere provides a safe habitat for various avian animals, making it a haven for bird watchers and wildlife photographers. Hatta Dam, in addition to its natural wonders, has lately undergone development to improve visitor experiences. New facilities and amenities such as covered lounging spaces, food trucks, and public restrooms have been introduced to enhance guests' comfort and convenience. Whether you're looking for adventure, relaxation, or a closer relationship with nature, Hatta Dam has it all. It's a location where you can get far from the hustle and bustle of a busy city, enjoy the beauty of nature, and refresh your mind and spirit. Respect the environment and surroundings and leave no trash when visiting Hatta Dam. This beautiful paradise should be maintained for future generations to enjoy. So pack your bags, bring your camera, and prepare for a tranquility and natural splendor tour at Hatta Dam, a hidden gem in the heart of Dubai.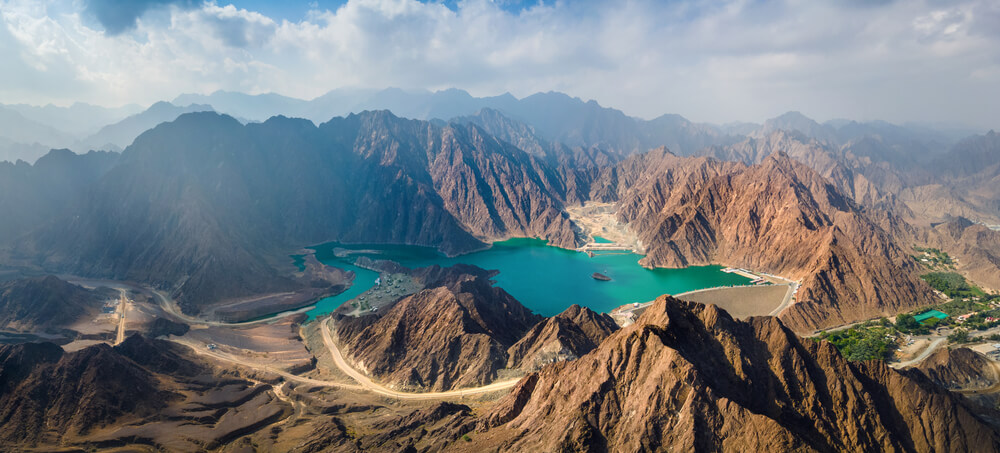 As you explore the Hatta Dam area more, you'll uncover many recreational possibilities and attractions that will enrich your experience. The Hatta Dam Wall, a unique structure that runs across the valley, is one of the highlights, offering critical water storage and a gorgeous backdrop for extraordinary images. Standing atop the dam wall, you'll be given panoramic views of the vast reservoir and surrounding mountains, producing a spectacular vision highlighting the natural landscape's grandeur. Hatta Dam also has the Hatta Dam Resort, a lovely refuge along the reservoir's banks for visitors looking for luxury and leisure. The resort offers excellent accommodations with breathtaking views, allowing you to wake up to the serene serenity of the dam and its surroundings. It's the perfect spot to relax, revitalize, and thoroughly enjoy yourself in the tranquil environment of the area.
To understand the region's cultural past, visit the adjacent Hatta Past Village. This open-air museum shows traditional Emirati architecture, allowing visitors to return in time and experience the local community's rich history and traditions. Explore the tiny alleyways, see the restored houses, and step back in time with exhibitions of traditional artifacts and handicrafts. Hatta Mountain Conservation Reserve, a protected region near Hatta Dam, will also appeal to nature lovers. This natural reserve includes a variety of ecosystems, such as mountains, wadis (dry riverbeds), and desert landscapes. Explore the region's natural treasures, encounter distinctive flora and fauna, and learn about the environment on a guided tour or self-directed walk.
Hatta Dam Activities are innumerable when you get immersed in any of them. The scenery enthralls a person while one is engaged in any activity, e.g., Hiking. Hatta Dam Activities are provided as much by nature as by artificial means. As you explore Hatta Dam and its surroundings, indulge in local cuisine and experience the flavors of Emirati culture. Several restaurants and cafes in the area offer a taste of traditional Emirati dishes, allowing you to savor authentic flavors while enjoying the picturesque setting. Whether you're seeking adventure, relaxation, cultural immersion, or simply a connection with nature, Hatta Dam is a destination that will leave a great impression. It offers a nice blend of natural beauty, recreational activities, and cultural experiences, making it a must-visit place for anyone looking to escape the city and immerse themselves in the serene tranquility of Dubai's hinterland.
Overview
Hatta Dam in Dubai provides a fantastic setting for kayaking and Hiking and offers a range of additional activities for visitors to enjoy. Whether you're seeking adventure, relaxation, or cultural experiences, Hatta Dam has something for everyone. Nature enthusiasts can take advantage of the diverse ecosystem surrounding the dam. The area is home to a wide array of species of birds, making it a top spot for birdwatchers. Keep an eye out for the Arabian wheatear, blue rock thrush, and hooded wheatear, among others. Capture stunning photographs of these beautiful creatures in their natural habitat as they flutter and soar through the clear blue skies. For those who enjoy a leisurely outing, Hatta Dam offers opportunities for picnicking and unwinding amidst nature. You can find shaded spots along the dam's edge or set up a picnic on the grassy areas nearby. Relax, breathe in the fresh mountain air, and savor a delicious meal while soaking up the tranquility and natural beauty of the surroundings.
Another exciting activity at Hatta Dam is fishing. Fishing enthusiasts can cast their lines into the reservoir's clear waters to catch freshwater fish, such as tilapia and catfish. Enjoy the peacefulness of the surroundings as you wait for a bite and relish the thrill of reeling in a catch. Visiting the nearby Hatta Heritage Village is necessary for those interested in exploring the region's cultural heritage. This charming village offers a glimpse into traditional Emirati life with its restored mud-brick houses, fort, and mosque. Immerse yourself in Emirati culture, learn about traditional crafts, and witness live demonstrations of local artisans showcasing their skills.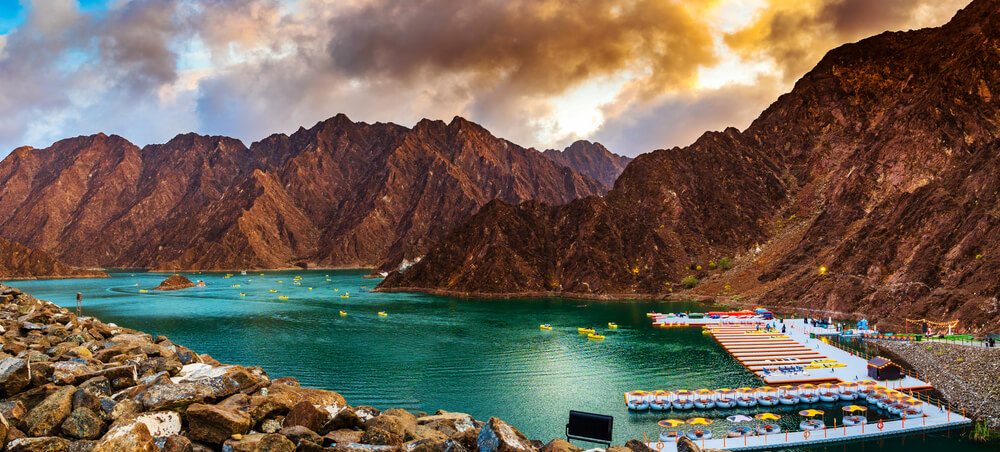 Adventure enthusiasts can also drive off-road and explore the rugged terrain surrounding Hatta Dam. Hop into a 4×4 vehicle and navigate the winding mountain roads, taking in the breathtaking views and experiencing an adrenaline rush as you conquer challenging terrains. With its stunning natural landscapes, cultural attractions, and a range of activities, Hatta Dam in Dubai is a destination that caters to all interests. Whether you're seeking adventure, relaxation, or cultural exploration, this hidden gem offers a wealth of opportunities to create unforgettable memories and connect with the beauty of nature.
Hatta Dam Location
The Atta Dam is located in the Hatta district of Dubai, UAE. It is located roughly 115 kilometers southeast of Dubai in the magnificent Hajar Mountains. Hatta is famous for its mountainous mountains, scenic valleys, and breathtaking natural beauty. To get to Hatta Dam, you'll have to travel a picturesque route away from the rush and bustle of Dubai. The drive to Hatta is an adventure in and of itself, as you wind along twisting roads surrounded by harsh mountains and rocky landscapes. You'll see spectacular vistas of the arid terrain morphing into verdant valleys and beautiful oases along the journey. You'll notice a shift in environment when you approach the Hatta Dam area. The dry surroundings give way to a lively oasis, with the dam as the focal point of this peaceful refuge. The juxtaposition of the towering mountains and the tranquil blue seas provides a stunning, awe-inspiring, and soothing image.
Hatta Dam's location within the Hajar Mountains allows visitors to appreciate the region's natural beauty. The mountains provide a lovely backdrop and add to the area's attractiveness. The surrounding terrain features rugged hills, deep canyons, and hidden valleys waiting to be explored. The position of the Hatta Dam also allows easy access to other sites in the Hatta region. The Hatta Heritage Village, an open-air museum showcasing the traditional Emirati way of life, is nearby. This cultural attraction provides information on the region's history, architecture, and traditions.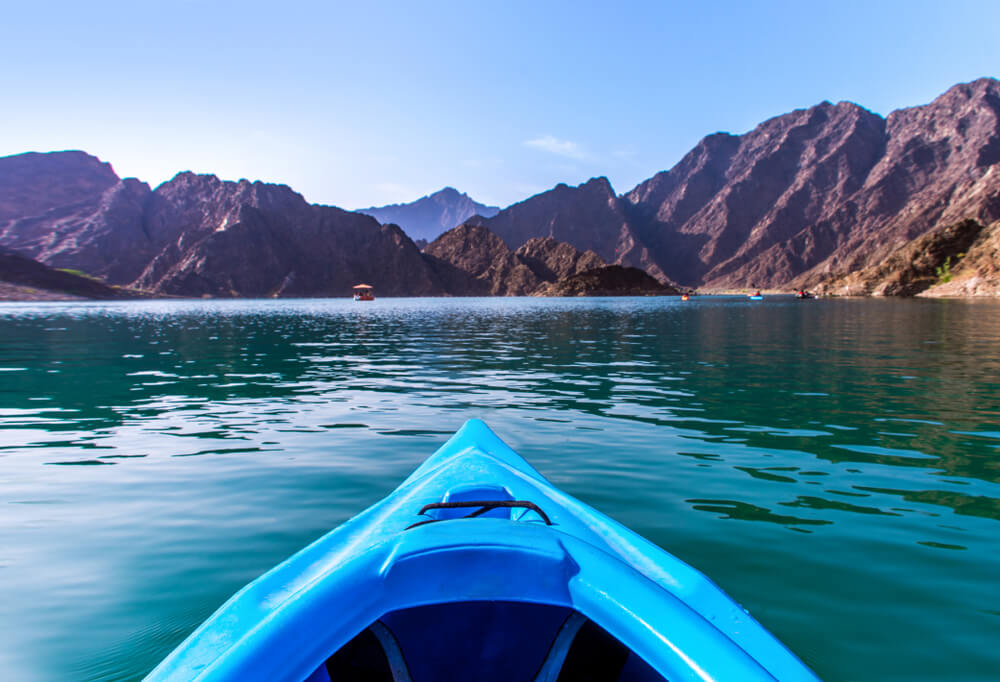 Additionally, the Hatta Mountain Conservation Reserve is located near the dam. This protected area is a haven for outdoor enthusiasts and nature lovers, offering opportunities for Hiking, mountain biking, and exploring the diverse ecosystems that make up the Hatta region. While Hatta Dam may be far from Dubai's city center, the journey to reach this hidden gem is well worth it. The scenic drive and the sense of serenity you'll experience upon arrival make it a perfect destination for those seeking a peaceful retreat amidst nature's wonders. Hatta Dam's position gives a doorway to experience the rugged beauty and natural wonders of the Hatta region, whether you're a nature enthusiast, an adventure seeker, or simply searching for a calm vacation. Prepare to be enchanted by the stunning landscapes and serene atmosphere that await you at this extraordinary place.
Hatta Dam Kayaking
Hatta Dam's position gives a doorway to experience the rugged beauty and natural wonders of the Hatta region, whether you're a nature enthusiast, an adventure seeker, or simply searching for a calm vacation. Be prepared to be charmed by the breathtaking scenery. Hatta Dam also provides a one-of-a-kind and spectacular kayaking experience, allowing tourists to explore this scenic reservoir's pure waters and stunning surroundings. Hatta Dam Kayaking is a popular activity in Hatta Dam that mixes adventure, tranquility, and a close connection with nature. When you go kayaking at Hatta Dam, you'll be given all the essential equipment, including a kayak, paddle, and safety equipment. The calm and clear waters of the reservoir offer an ideal setting for Hatta Dam Kayaking, whether you're a novice or an experienced paddler. As you glide across the smooth surface of the dam, you'll be surrounded by breathtaking views of the Hajar Mountains, which serve as a dramatic backdrop. The rugged terrain, with its rocky slopes and towering peaks, creates a mesmerizing scene that adds to the sense of adventure and exploration. Hatta Dam Kayaking allows you to access otherwise inaccessible areas on foot, discovering hidden coves, secluded beaches, and secluded corners of the reservoir. You can paddle at your own pace, taking in the serenity of the surroundings and immersing yourself in the area's natural beauty. Beautiful landscapes and a sense of tranquility await you at this remarkable place.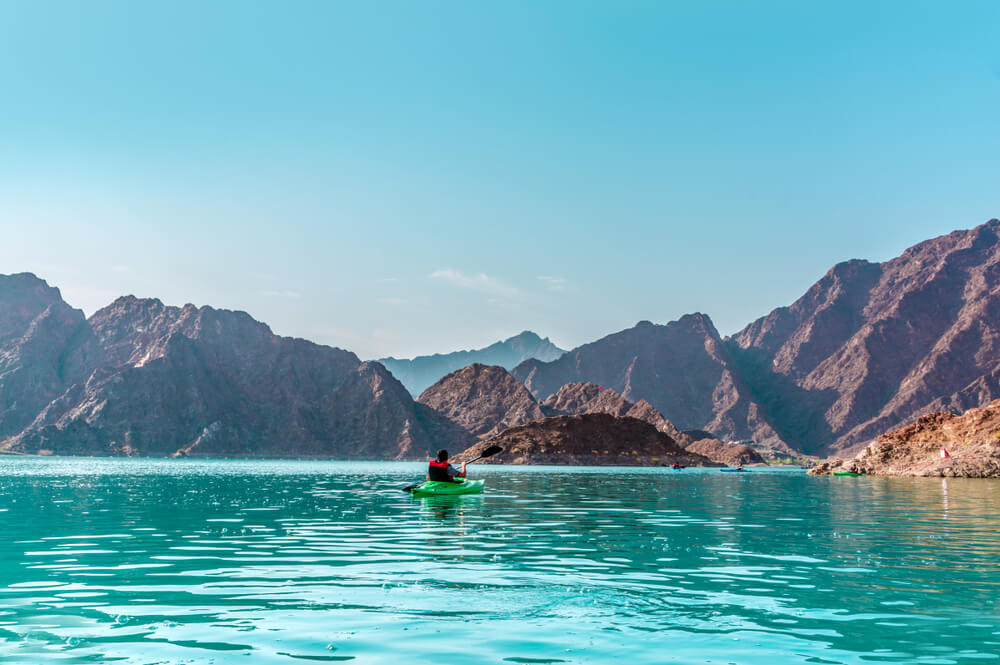 Kayaking hatta dam also provides the opportunity to relax and enjoy the tranquility for those looking for a more leisurely experience. You can paddle around the beach, soak up the sun, and enjoy the spectacular vistas. The quiet ambiance created by the peaceful ambiance and the absence of city noise allows you to detach from the outside world and find consolation in nature. Kayaking hatta dam provides a safe and fun environment for this water activity, whether you prefer to go out alone or join a guided kayaking excursion. Because of the calm waters and lack of motorized boats, it is an excellent site for kayaking, ensuring a pleasant and undisturbed experience. Besides, Kayaking Hatta Dam is a perfect opportunity to interact with nature, enjoy the majesty of the Hajar Mountains, and make lifelong memories. It provides a unique view of the reservoir and its environs, allowing you to enjoy this Dubai hidden gem's raw beauty thoroughly. So grab a paddle, board a kayak, and embark on an incredible kayaking trip at Hatta Dam. Explore the calm waters, marvel at the breathtaking scenery, and bask in the tranquillity of this beautiful site. Whether looking for adventure, leisure, or a deeper connection with nature, kayaking at Hatta Dam will leave you with cherished memories and a newfound appreciation for the natural world's treasures.
Hatta Dam Hiking
Hatta Dam in Dubai is a utopia for water fans and a haven for hikers. The rocky and gorgeous scenery surrounding the dam provides a plethora of hiking trails for people of all skill levels and interests. Exploring the routes that wind through the Hajar Mountains, affording spectacular views of the surrounding valleys, wadis (dry riverbeds), and rugged terrain, is a popular trekking choice. You'll be immersed in the raw beauty of the Hatta region as you lace up your hiking boots and head off on the trails. The hiking trails at Hatta Dam vary in difficulty, allowing both beginners and experienced hikers to find a suitable route. You can embark on strolls along well-marked paths or challenge yourself with more strenuous hikes that take you to higher elevations, rewarding you with stunning panoramic vistas.
The trails meander through rugged mountainsides, offering a chance to observe the unique flora and fauna of the region. You might encounter indigenous plants, like the desert acacia and the ghaf tree, as well as various bird species and small mammals that inhabit the area. One of the notable hiking routes is the Hatta Heritage Village Trail, which leads you through the historic village and surrounding landscapes. This trail allows you to immerse yourself in the local culture, explore traditional Emirati architecture, and learn about the rich heritage of the Hatta region. For those seeking a more adventurous hiking experience, the Hatta Mountain Conservation Reserve provides an opportunity to explore unspoiled natural beauty. You can follow the trails that wind through the reserve's diverse ecosystems, ranging from rocky mountain slopes to lush Valleys. These hikes allow you to witness nature's resilience and appreciate the desert environment's intricate balance.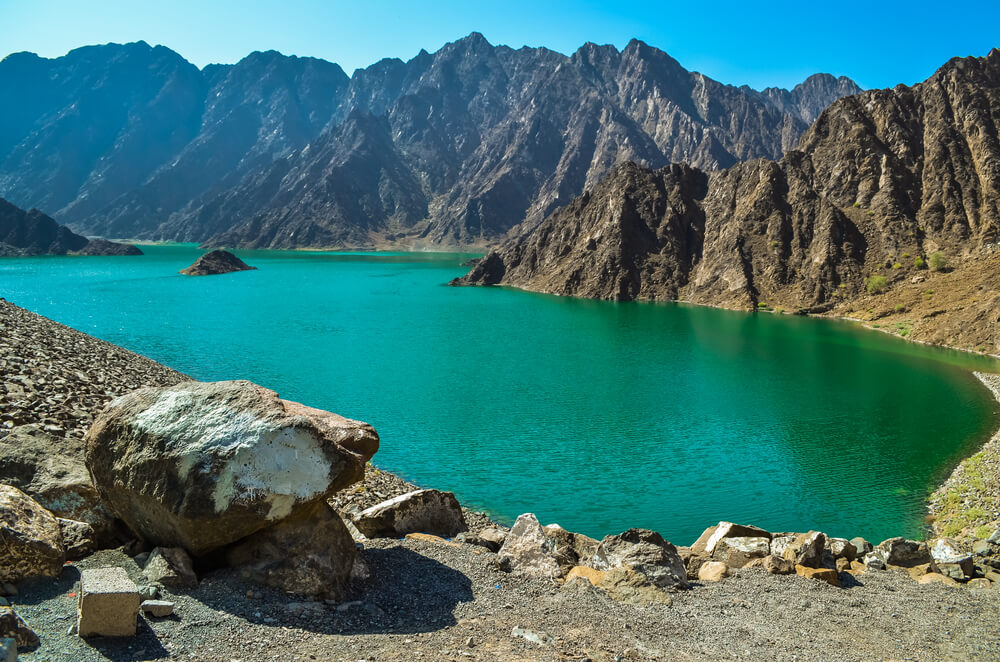 Hiking at Hatta Dam offers physical activity and a chance to connect with nature and find solace in the tranquil surroundings. The silence of the mountains, the gentle breeze, and the untouched landscapes create an atmosphere of serenity and peace, allowing you to escape the bustling city life and rejuvenate your mind, body, and soul. Before embarking on a hike, it is essential to ensure you have proper hiking gear, including comfortable shoes, sun protection, and plenty of water. It is also recommended to check weather conditions and trail information beforehand to maximize your hiking experience.
FAQs
Where is Hatta Dam
Hatta Dam Direction is straightforward to get once perused, located at Q4M7+FM3 – Dubai – United Arab Emirates.
Is Hiking allowed at hatta dam
Yes, Hiking is allowed at Hatta Dam.
how deep is hatta dam
The massive water body is about 15 meters deep.
How to go to hatta dam from Dubai
Concerning Hatta Dam Direction, Getting to Hatta from Dubai is easy. One has to take the E44 from Dubai, which leads through the border straight to Hatta.
Conclusion
Hatta Dam in Dubai is a true treasure that provides a wide selection of activities and experiences for tourists of all ages and interests. Whether you're looking for adventure, nature, or culture, Hatta Dam has something to captivate and delight you. The calm waters of Hatta Dam are ideal for kayaking, allowing you to immerse yourself in the tranquil surroundings while admiring the spectacular grandeur of the Hajar Mountains. Hiking routes provide stunning vistas, enabling you to interact with nature, explore the harsh landscapes, and find hidden gems. Aside from recreational activities, Hatta Dam also has cultural attractions, such as the Hatta Heritage Village, where you can learn about the region's rich history and traditions. Through its well-preserved structures and intriguing exhibitions, the village provides insights into Emirati culture and a glimpse into the past. The closeness of Hatta Dam to other sites, such as the Hatta Mountain Conservation Reserve, adds to its charm. The reserve allows one to explore pristine landscapes, watch wildlife, and admire nature's harmony with rugged terrain. Whether you're in Dubai for a quick trip or an extended holiday, Hatta Dam is worth visiting. It offers a welcome respite from the hustle and bustle of city life, allowing you to reconnect with nature, make lasting memories, and discover the allure of a hidden paradise.
To summarise, Hatta Dam is a destination of adventure, tranquillity, and cultural exploration. It invites you to embark on daring adventures, immerse yourself in nature's splendor, and enjoy the region's rich past. So pack your bags, leave the city behind, and embark on an incredible vacation that will leave you with cherished memories and a sense of amazement and wonder.