Dubai Safari Park
Dubai Safari Park is a stunning wildlife attraction that provides guests of all ages with a one-of-a-kind and immersive experience. This sprawling Park in the heart of Dubai encompasses over 1,200 hectares and is home to a broad range of animal species, highlighting the beauty and marvels of the animal kingdom. When you enter Safari Park Dubai, you are immersed in a world of natural ecosystems, beautiful landscapes, and breathtaking animal interactions. The Park is separated into zones, each representing a particular ecosystem and home to unique animal species flourishing in those habitats. Every zone, from the African savannah to the Arabian desert, offers a look into the incredible diversity of animals. Dubai safari park offers are very affordable for everyone. Dubai safari park offers to Begin from only 50 AED for adults. Dubai safari park offers free entry for kids under 3. Dubai safari park ticket price for kids above 3 is just 20 AED. Prices are subject to change as per management, varying for different zones.
Dubai Safari Park
The Safari Village, where guests may go on an exhilarating safari trip, is one of the attractions of Dubai Safari Park. Take a safari vehicle across the open landscapes, getting up close and personal with spectacular wildlife like lions, giraffes, elephants, and zebras. It's a once-in-a-lifetime chance to see these creatures in their native surroundings and learn more about their behaviors and conservation efforts. As Safari Park Dubai is extensive, the Dubai safari park map is available online and at guest service counters in Park. You can get your map so you can explore the Park easily.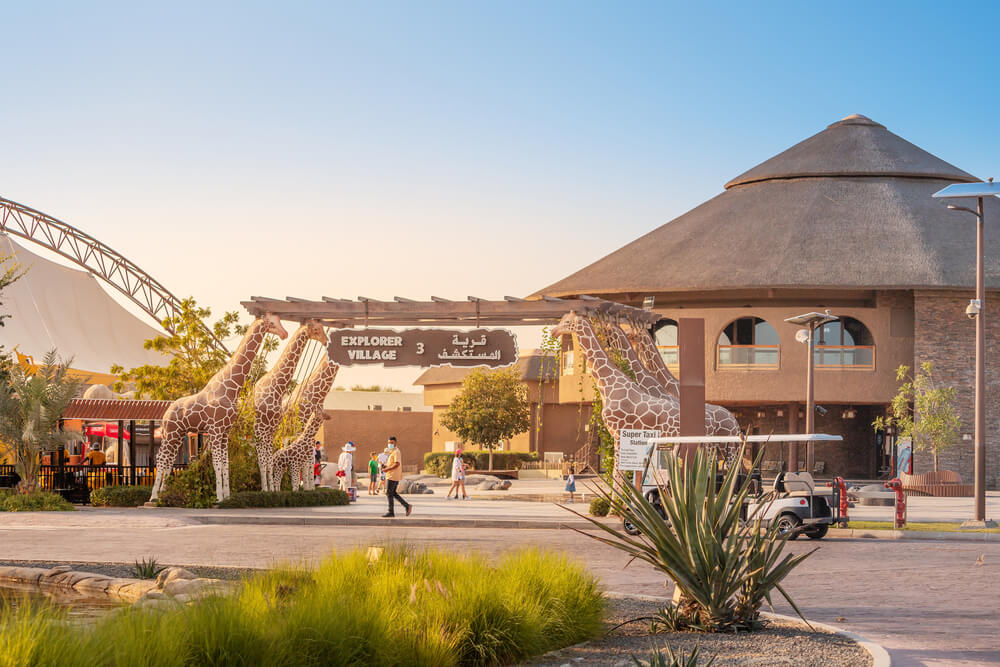 The Safari Park Dubai also has themed zones with interactive activities and educational opportunities. The Children's Farm is popular with younger tourists since it allows them to pet and feed gentle creatures such as goats and bunnies. The Reptile House has an outstanding collection of reptiles, including snakes, lizards, and turtles, and visitors may learn about them. The Bird of Prey shows offer thrilling demonstrations by trained falcons, eagles, and owls for those seeking an adrenaline rush. These beautiful displays showcase these magnificent birds' unique hunting skills and agility, leaving spectators in awe of their grace and power. Dubai Safari Park is not just about animal encounters; it's also dedicated to conservation and raising awareness about wildlife preservation. The Park actively participates in breeding programs, rehabilitation efforts, and educational initiatives to promote the importance of protecting endangered species and their habitats.
To enhance the visitor experience, Dubai Safari Park offers a range of facilities and amenities. Various dining options allow visitors to refuel and enjoy a meal amidst the stunning surroundings. Souvenir shops offer a selection of gifts, toys, and souvenirs to commemorate your visit and support conservation efforts.
Eat and Drink at Dubai Safari Park
Dubai Safari Park offers an enthralling animal experience and a choice of food alternatives to suit the tastes and preferences of tourists. After exploring the Park and observing the beautiful creatures, you can refuel and rest at one of the Park's eating venues, assuring a memorable and rewarding gastronomic experience. Various food options are available at Dubai Safari Park, ranging from informal cafés to full-service restaurants. These eateries are carefully placed around the Park, allowing you to enjoy a meal without interfering with your tour. Various kiosks and snack bars offer a variety of light refreshments and snacks for a fast and straightforward bite. These kiosks serve sandwiches, salads, hot dogs, and drinks, making them ideal for a quick snack while trekking through the Park. If you want a more substantial dinner, the Park has full-service restaurants with a broad menu for different tastes and dietary concerns. These restaurants offer a friendly and peaceful atmosphere to sit, relax, and have a great dinner.
In addition to the dining establishments within the Park, there are designated picnic areas where visitors can bring their food and enjoy a picnic surrounded by the Park's serene atmosphere. These areas provide a convenient option for those who prefer to get their meals or have dietary restrictions. The dining options at Dubai Safari Park aren't just about the cuisine; they also add to the whole experience by creating a distinct atmosphere. Some restaurants include outdoor seating spaces with views of the Park's stunning surroundings, allowing you to dine in nature while spending time with family and friends. Dubai Safari Park considers its clients' dietary needs and preferences like any other dining establishment. Select dining venues offer vegetarian and vegan options, ensuring everyone can find something they appreciate. It's important to note that outside food and beverages are not allowed within the Park to ensure the safety and well-being of the animals. However, with the variety of dining options available within Dubai Safari Park, you can find something delicious and satisfying to suit your appetite.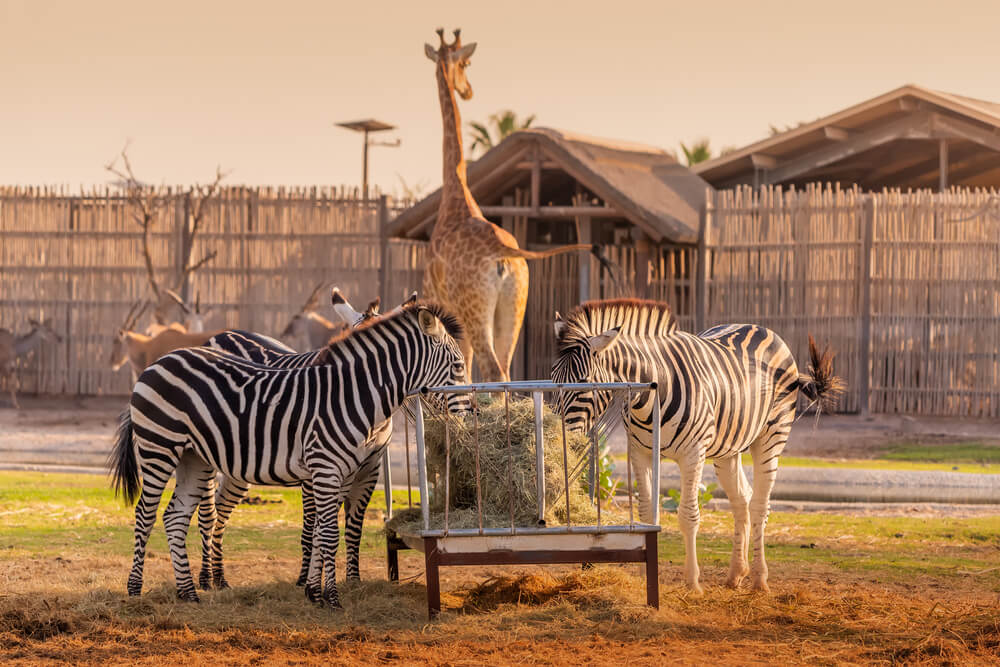 Dubai Safari Park provides a delectable eating experience to accompany your animal excursion. Whether looking for a fast snack, a leisurely dinner, or a picnic, the Park's eating options appeal to various tastes and provide a simple and pleasurable way to refuel and recharge during your visit. So, while immersed in the wonders of the animal kingdom at Dubai Safari Park, savor the gastronomic delights and make lasting memories over a delicious lunch. In this captivating wildlife destination, enjoy the blend of flavors, the unique ambiance, and the sense of fulfillment that comes from nourishing both your body and your soul.
Live Shows at Dubai safari park
Dubai Safari Park has various enthralling live events that will bring enjoyment and excitement to your visit. These performances allow viewers to experience animals' unique capabilities and behaviors, exhibiting their instincts and outstanding abilities. The live events at Dubai Safari Park are meant to entertain and delight visitors of all ages, from thrilling acts to instructive displays. The Bird Show is one of the most popular events in the Park, where you can marvel at the intelligence and skill of many bird species. Trained birds of prey, such as falcons and eagles, take the stage in a series of exhilarating flying demonstrations to demonstrate their extraordinary hunting abilities. The presentation shows these amazing birds' natural skills and educates spectators about their conservation and the need to protect their habitats.
The Dolphin and Seal Show is a must-see for everyone interested in marine life. Dolphins and seals perform on stage, enthralling spectators with their elegance, skill, and playful interactions. These clever creatures exhibit the profound link between humans and animals while offering insight into their natural behaviors through synchronized movements, incredible jumps, and charming antics. Aside from the bird and marine exhibits, Dubai Safari Park has educational demonstrations encouraging wildlife conservation and environmental awareness. These shows provide essential information about the necessity of safeguarding threatened animals and their habitats. They hope to motivate tourists to take action and help preserve the natural environment. Dubai Safari Park's live shows are not only entertaining but also instructive. They provide an opportunity to learn about diverse animal species' behaviors, adaptations, and conservation activities. Each program is carefully crafted to captivate the audience by blending compelling performances with educational commentary offered by qualified specialists.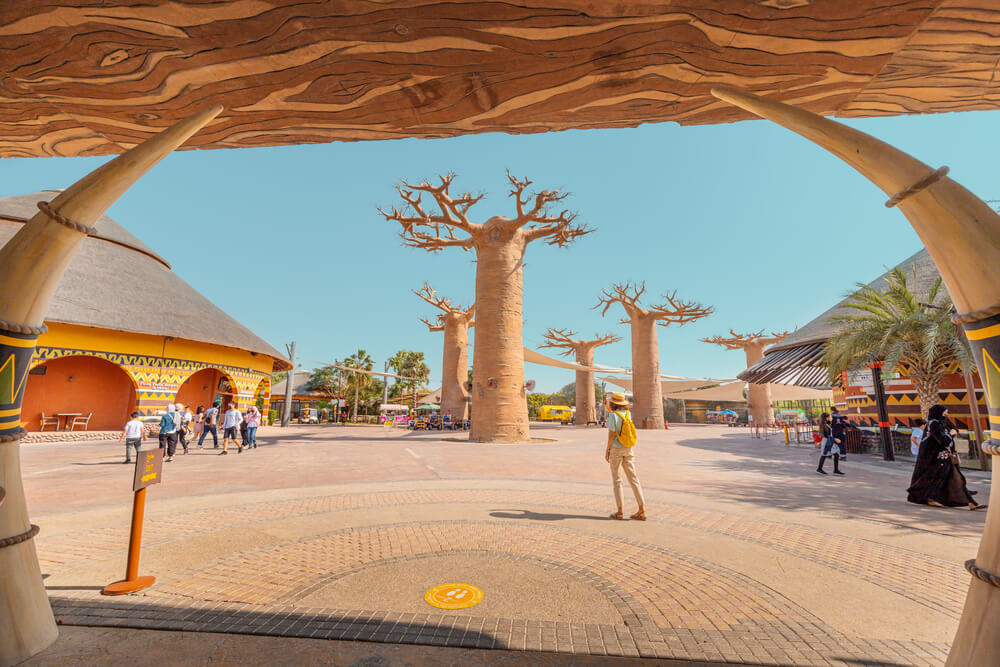 The Park includes distinct display sections furnished with comfortable seating to ensure a seamless experience, letting guests enjoy themselves and fully submerge themselves in the spectacle. The show schedules are posted throughout the Park to ensure you get all thrilling shows. The live performances at Dubai Safari Park are an excellent way to round up your wildlife excursion. They offer an up-close and personal encounter with animals while encouraging awareness and respect for their unique characteristics. The live presentations at Dubai Safari Park will leave you with lasting memories, whether you're astonished by the acrobatics of birds, fascinated by the playful antics of dolphins and seals, or inspired by the educational demonstrations.
The live events at Dubai Safari Park provide a broad selection of experiences catering to various interests and inclinations. The Predator Show, for example, allows spectators to watch the power and agility of spectacular predators up close. Expert handlers demonstrate the natural hunting instincts and abilities of cheetahs, lions, and hyenas in exhilarating exhibitions. This thrilling spectacle offers a once-in-a-lifetime opportunity to see these predators in action, highlighting their strength, speed, and precision. The Parrot Show is a fascinating experience for people who enjoy the wonders of the avian world. Colorful parrots take the stage, displaying intelligence and the capacity to mimic human speech. Visitors can marvel at the parrots' bright plumage, interact with them, and experience their extraordinary talents in a lively and engaging performance.
The Reptile Show is a must-see if you're interested in reptiles and fascinated by their distinctive traits. Expert handlers exhibit a wide range of reptiles, including snakes, lizards, and turtles, and offer unique insights into their biology, behavior, and conservation. This informative show addresses myths and misconceptions about reptiles while encouraging a greater understanding and appreciation for these remarkable species. Aside from animal-focused entertainment, Dubai Safari Park has seasonal and thematic acts that bring a touch of magic and excitement to the overall experience. These shows may include theatre productions, musical performances, or cultural exhibitions highlighting the region's rich tradition and variety.
Furthermore, the live shows at Dubai Safari Park are designed to entertain audiences of all ages. Families can bond over the excitement of the performances, the wonder of the animal kingdom can inspire children, and adults can indulge in the beauty and complexity of nature. The shows create a sense of awe and appreciation, fostering a lifelong love for wildlife and a commitment to conservation. Attending live events at Dubai Safari Park allows guests to interact with nature, better understand the animal kingdom, and realize the need for wildlife conservation. It offers a fun and interactive approach to learning about various species, their habitats, and the issues they encounter in the wild. Visitors who see these presentations become champions for preserving biodiversity and safeguarding our planet's valuable ecosystems.
Dubai Safari Park's live shows truly elevate the visitor experience, offering entertainment, education, and conservation. They provide a unique opportunity to witness animals' natural abilities, connect with their stories, and be inspired to protect and preserve their habitats. Whether you're captivated by the aerial prowess of birds, fascinated by the power of predators, or enchanted by the intelligence of dolphins and parrots, the live shows at Dubai Safari Park promise an unforgettable journey into the animal kingdom. When planning your vacation to Dubai Safari Park, check the show schedules and make time to see these enthralling live performances. Immerse yourself in the enchantment of the animal kingdom, watch magnificent displays of talent and skill, and leave with a renewed sense of wonder and admiration for the amazing creatures with whom we inhabit this planet.
Dubai Safari Park Adventures
Dubai Safari Park is a refuge for adventure seekers, offering a variety of thrilling activities and experiences that immerse guests in the excitement of the wild. This exciting resort has something for every adventurer's taste, from wildlife encounters to adrenaline-pumping rides.
The Safari Drive is one of the most popular activities at Dubai Safari Park, where guests may embark on a fantastic tour across the Park's enormous wildlife reserves. Board a specially equipped safari vehicle and go deep into the garden, where you can watch animals in their native habitats. From delicate gazelles to majestic giraffes, you'll go near a wide range of wildlife, capturing stunning images and creating lifelong memories. For those looking for a more involved journey, the Animal Encounters events provide a fantastic opportunity to interact with the Park's inhabitants. Meet fascinating creatures like meerkats, lemurs, and even cheetahs with the help of a skilled guide. Learn about their behaviors, participate in feeding sessions, and better understand the animal kingdom's beauties. Dubai Safari Park boasts exhilarating rides and attractions that will leave you mesmerized if you're looking for an adrenaline rush. The Park provides a zip-lining experience that allows you to soar above the Park's sceneries, providing you with a birds-eye perspective of the beautiful species and surroundings. Feel the wind in your hair as you zoom around the lines, taking in the stunning scenery below. Nature Walks in the Park allow you to explore designated routes and immerse yourself in the splendor of the natural environment for those who want a more relaxing trip. These walks are led by knowledgeable professionals who give information about the Park's vegetation and fauna. It's an opportunity to reconnect with nature, understand the delicate balance of ecosystems, and learn the value of conservation.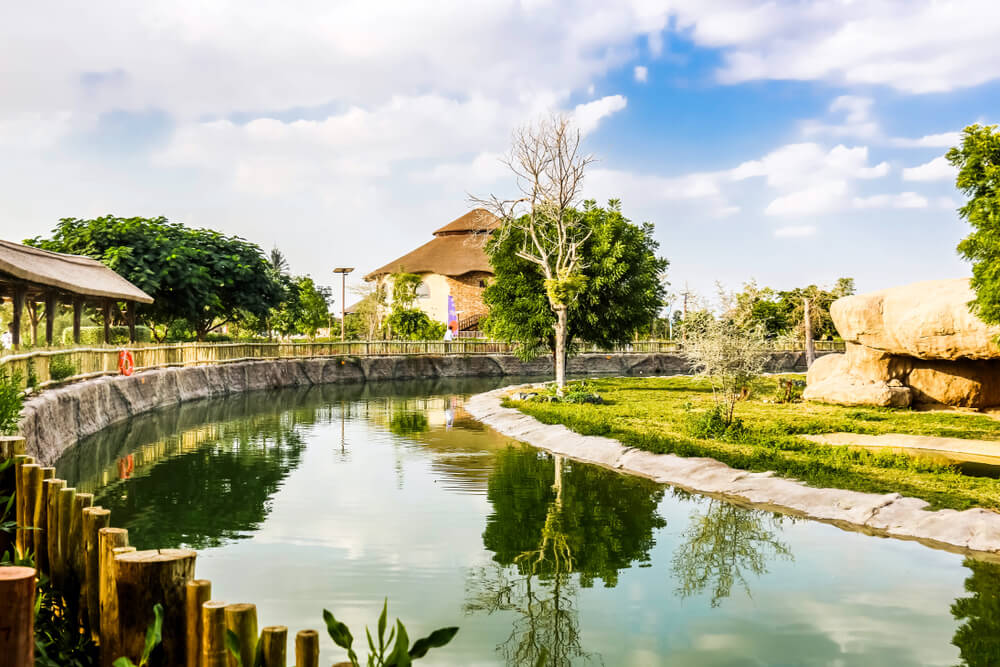 Dubai Safari Park also provides spectacular wildlife presentations and exhibitions highlighting diverse animals' extraordinary abilities and intellect. These presentations offer a unique combination of entertainment and education, ranging from awe-inspiring bird exhibitions showcasing raptors in flight to interactive demonstrations by cheetahs and other carnivores.
As you plan your visit to Dubai Safari Park, check the availability and timings of the various adventure activities. Whether you embark on a safari drive, engage in animal encounters, soar through the air on a zip line, or enjoy a leisurely nature walk, each adventure promises to be a unique and unforgettable experience. Dubai Safari Park features well-maintained facilities and skilled staff who prioritize tourist safety and well-being to provide an excellent adventure. Adventurers may feel confident that all activities and experiences are designed to meet the highest safety and animal welfare requirements. Dubai Safari Park has something for everyone, whether you're looking for an adrenaline-fueled adventure or a more calm exploration of nature. It's a place that inspires adventure, exploration, and a closer relationship with nature. Dubai Safari Park's experiences offer excitement, education, and immersion in the natural world. It's an opportunity to embrace your adventurous spirit, appreciate the wonders of wildlife, and create memories that will last a lifetime. So, get ready to unleash your inner explorer and embark on a thrilling journey at Dubai Safari Park.
Shopping at Dubai Safari Park
Visitors can enjoy an exciting wildlife adventure and a pleasant shopping experience at Dubai Safari Park. Thanks to various shop outlets throughout the Park, you can indulge in retail therapy while experiencing the fascinating world of wildlife. The Park has multiple shops and boutiques catering to various tastes and interests. Whether you're looking for souvenirs to remember your trip, unique gifts for loved ones, or goods showcasing your favorite animals, you will find something you like. The Safari Park Gift Shop is a must-visit destination for souvenir hunters. Here, you'll discover many items that showcase the Park's wildlife, including plush toys, keychains, t-shirts, caps, and postcards. It's the perfect place to find a souvenir to remind you of your incredible safari adventure. If you want to support local artisans and craftspeople, the Park has boutique boutiques selling handcrafted items inspired by the region's rich cultural past.
These shops offer a one-of-a-kind shopping experience, with everything from intricately created jewelry to traditional handicrafts. Aside from souvenir stores and boutiques, Dubai Safari Park has a bustling market area where local vendors and artisans sell their wares. Here, you can peruse stalls selling various products such as artwork, textiles, accessories, and more. Interacting with local talent and learning about the region's colorful culture is a fantastic opportunity.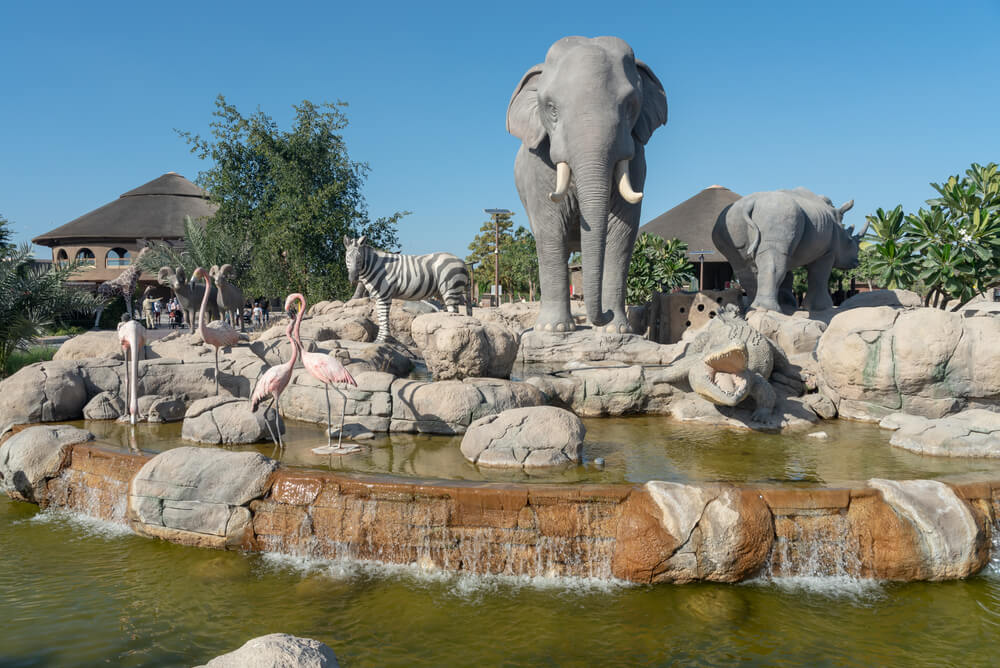 As you shop in Dubai Safari Park, you'll notice that many stores prioritize sustainable and eco-friendly products. This dedication to sustainability extends to the items offered, emphasizing ecologically friendly materials and practices. You can support ethical and responsible buying by purchasing from these stores. After a day of excitement and travel, stopping to shop and browse through the many businesses is a pleasant reprieve. You can browse the products, enjoy the ambiance of the shops, and find the right thing to bring home as a treasured remembrance of your visit.
Dubai Safari Park Location and timings
The latest timing of the Safari Park is as follows:
Wednesday 9 am–5 pm
Thursday, 9 am–5 pm
Friday 9 am–5 pm
Saturday 9 am–5 pm
Sunday 9 am–5 pm
Monday 9 am–5 pm
Tuesday 9 am–5 pm
Dubai safari park location is convenient for people residing in Dubai and Travellers. The Part was opened in December 2017 and is located at 5CCW+H5 – Al Warqa 5 – Dubai – United Arab Emirates.
FAQs
What time does the Dubai safari park close?
The Part Closes at 5 pm each day.
What can you buy at Old Souk Dubai?
Traditional fabrics, perfumes, textiles, etc, can be found here. Traditional Spices and Antiques also draw in a considerable amount of people.
How to get to Old Souk Dubai by public transportation?
The Old Souk is near metro stations, e.g., Al Fahidi Metro Station and Al Ghubaiba Metro Station. It is easy to either walk from there or take a taxi.
Conclusion
Dubai Safari Park is a compelling site that provides an unparalleled wildlife experience and a view of the world's natural beauties. The Park perfectly balances education, conservation, and enjoyment with animal interactions, exciting attractions, and exhilarating adventures.
Visitors to Dubai Safari Park can embark on an unforgettable safari adventure, touring substantial wildlife reserves and seeing an astounding assortment of animals in their natural habitats. The Park's dedication to animal welfare and conservation is evident in the vast and well-designed enclosures that mirror the animals' natural environments. The Park's educational programs and interactive experiences allow visitors to understand better wildlife conservation and the importance of preserving biodiversity.
From close encounters with animals to informative presentations, Dubai Safari Park aims to inspire a sense of stewardship and respect for the natural world. The dining options at Dubai Safari Park provide a delightful culinary experience, with various restaurants and cafes offering a range of cuisines to satisfy every palate. Visitors can enjoy a delicious meal while taking in the beautiful surroundings and reflecting on the wonders they've experienced throughout the day. The Park's commitment to providing excellent services and facilities further enhances the visitor experience. From easily accessible amenities to the knowledgeable and friendly staff, every aspect ensures guests have a comfortable and enjoyable visit. Whether you're a nature lover, an adventure seeker, or simply searching for a unique and instructive experience, Dubai Safari Park provides an unparalleled opportunity to interact with nature. It's a place where fun meets education, where visitors can make lasting memories while learning more about the planet's incredible biodiversity.