Dubai Garden Glow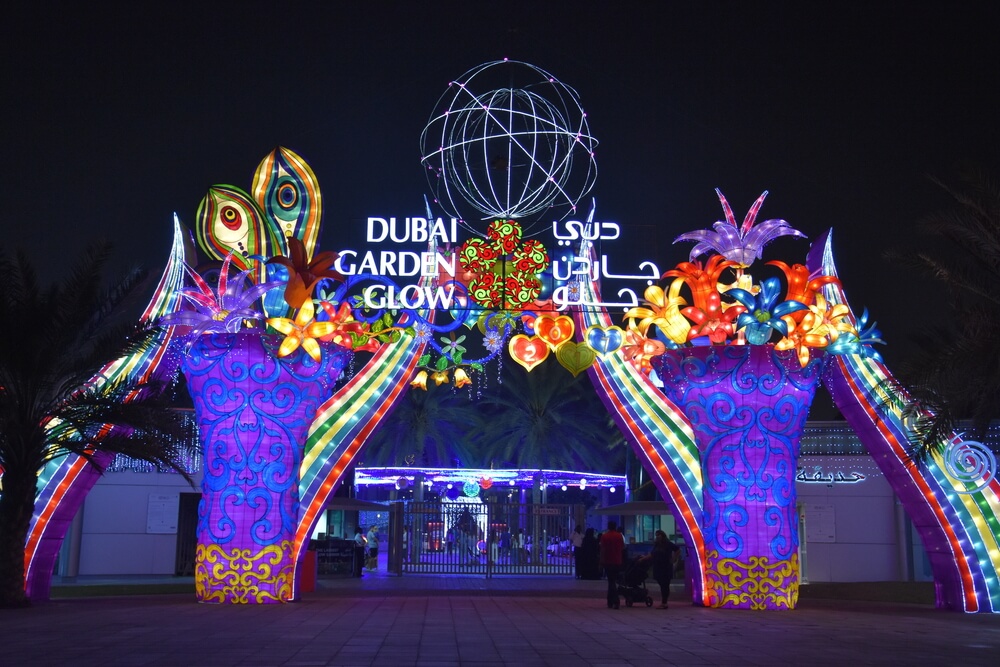 Dubai Garden Glow is an event that takes place at Zabeel Park. It is a celebration of light, art, and nature. Glide through four incredible themes that brighten up the World with sparkling hues and unique art. It has four fantastic themed parks, including Glow, Dino, Ice, and Art. The park's brilliant displays and sculptures by artists from all over the World are illuminated brightly in the dark thanks to more than 10 million energy-saving light bulbs and yards of recycled bright materials. This stunning park offers some of the most beautiful sculptures and installations, which are brightly illuminated, making it a magical experience. There are more than 100 life-size animatronic dinosaurs and an ice park where you can feel sub-zero temperatures in the middle of a desert landscape! It is the World's most significant and only one of its kind theme park, with innovative ideas and a distinctive setting. It is truly one of the best things to do in Dubai.
Aside from its glorious displays, the museum has musical shows and live performances, a unique educational zone for kids, and a vast food pavilion that serves foods from all across the World.
What are the things to do at Dubai Garden Glow?
Take fascinating pictures at the Magic Park!
The Magic Park at Dubai Garden Glow is where you can have all sorts of fun. It's an amusement park with plenty of games and rides to keep you entertained for hours. From bumper cars and swings to a haunted house and roller coaster, there's something for everyone. Younger children will love the small rides, while thrill-seekers can test their limits on the more extreme ones. There's also a trampoline park, so you can literally bounce off the walls. If you feel a little competitive, participate in the Glow Golf tournament. It's a nine-hole mini golf course set up in the dark. With all sorts of obstacles and challenges, it's a fun way to test your skills. The best part is that you can win prizes if you manage to score a hole-in-one.
If you're looking for a place to capture your next Instagrammable moment, Dubai Garden Glow has everything you need, from optical illusions to 3D pieces of art. Take photos of you climbing up the walls of the upside-down room. Alternatively, take a picture of yourself in a mirror, looking out at yourself. Or snap a photo of you standing at a 45-degree angle in the living room. You might pretend to be scaling a skyscraper next to the World's tallest building, fleeing from King Kong at Burj Al Arab, or fending off a vicious dinosaur attack. Let your creativity run wild. Experiment with various options to create intriguing pictures you'd like to share with the entire World. Don't be concerned if you're unsure where to begin. There are people on hand to assist you in preserving the precious moments for posterity.
Watch your jaw drop as you explore the fantastic wonders of Glow park!
The lights are the first thing you notice about Dubai Garden Glow, and they're undoubtedly what drew you to the park – such is their power. The perfect backdrop for a family night out is 500 beautifully lit artistic sets, each containing more than 10 million LEDs created by hand with recycled fabric. Stroll through the park and enjoy the new features, from peacock sets to panda installations, which are based around the subject of nature.
Go back in time to the Dinosaur Park!
The Dinosaur Park is one of the four main themes of Dubai Garden Glow. It's a place where you can go back in time and explore more than 100 life-size animatronic dinosaurs. There are also several educational exhibits where you can learn about the dinosaurs and their history. There's even a simulation that allows you to experience what it would be like to be in the presence of these prehistoric beasts.
Experience sub-zero temperatures at the Ice Park!
The Ice Park is one of the four main themes of Dubai Garden Glow. It's where you can experience sub-zero temperatures in the middle of a desert landscape. The Dubai garden glow's ice park is a massive attraction that covers over 10,000 square meters of land. Within this area, you can find all sorts of activities to partake in, from skating to hockey. The ice is so well made that it's possible to experience temperatures below freezing – perfect for cooling off during those hot Dubai days!
Experience fascinating pieces of work at the Art Park!
The art park in Dubai glow garden is a place where you can explore fascinating pieces of work. With more than 10 million LEDs, the art park is a sight to behold. The installations and sculptures are brightly illuminated and provide the perfect backdrop for pictures. You can find exciting things at the art park, from peacocks to pandas. The art park is also home to various educational exhibits where you can learn about the history of the Dubai garden glow and its sculptures.
What to eat at Dubai Garden Glow?
The park has a wide range of food outlets that will tantalize your taste buds and leave you wanting more. There are more than 30 restaurants, cafes, and food trucks to choose from. You can find everything from fast food to fine dining. And with cuisines from all over the World, there's something to suit everyone's taste. If you're looking for a quick snack, stop by one of the many food trucks. There are options like burgers, pizza, tacos, and more. For something more substantial, sit down at one of the restaurants for a meal. There are Asian, Italian, Lebanese, and Indian options, to name a few. If you have a sweet tooth, there are also several dessert places. You can get your fix of ice cream, candy floss, crepes, and waffles.
When is the best time to visit Dubai Garden Glow?
It is open every day from 5 p.m. until 10 p.m., and the loveliest season to visit is between October and May, when the nighttime temperatures are pleasant. Since the Garden's goal is to showcase light and beauty, nighttime is when it's at its most gorgeous.
How to reach Dubai Garden Glow?
If you're coming by car to reach Dubai Garden Glow. The location offers plenty of parking! Keep in mind that the car park will fill up quickly, especially on weekends. If you don't obtain a parking spot near the gate, you may have a really long walk ahead of you.
If traveling through the metro, Al Jafiliya is the nearest metro station to Dubai Garden Glow, after which there is a 16-minute walk.
You can board one of the following buses depending on where the visitor is coming from and what bus routes are accessible: 21, 27, 55, 88, 98E, and X28.
Or you can book a ride through taxis that will lead you directly to the venue.