Al Qudra Lake
Dubai has created many manmade attractions that have become well known for their touristic interest. Of late, as part of its sustainability commitments, the government of Dubai has initiated a series of eco-tourism projects, including Dubai Safari and Al Qudra Lakes.
Where is Al Qudra Lake
Al Marmoon Desert Conservation Reserve is the UAE's first unfenced nature conservation reserve. It is located in the desert area of Saih Al Salam in the emirate of Dubai. It comprises approximately 10% of the total land area of Dubai, including the extensive manmade desert wetlands and Al Qudra Lakes. It is on the Dubai Al Ain Road and situated in the District of Endurance City, A home for horses, stables, and the world-famous Dubai Endurance race.
Al Qudra – A Conservatory par excellence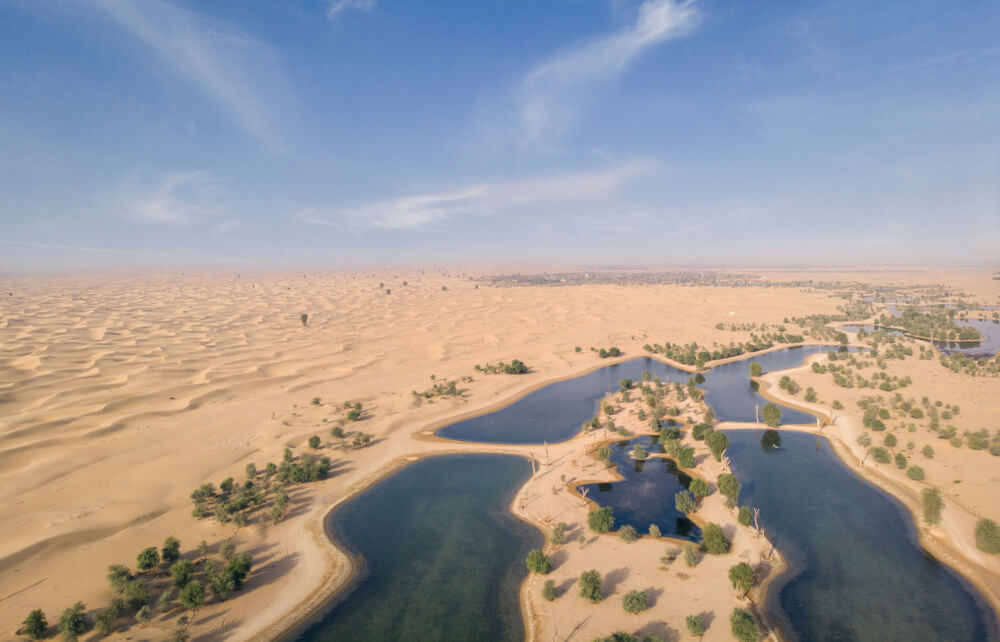 These lakes are completely artificial. This means that amidst the barren desert, the government of Dubai has designed, built, and successfully operated lakes. Desert-specific plants and bushes surround each lake. Since the lakes were constructed in 2012, more than 150 species of birds (migratory and local) have started calling them home. Local exotic animals like the elusive desert fox, oryx, gazelles, owls, and rabbits can all be seen in Al Qudra.
This conservation has become a favorite bird spotting place for ornithologists as well as picnickers. The fauna has been on the rise ever since. Migratory birds have started calling Qudra Lake their home, and new species show up every year. Initially, residents would come here on their own vehicles, but the addition of Bus Number 67 drops you at Endurance City Bus terminus makes this place easier to reach. Many tourists have started adding this destination as part of their itinerary.
This place is a pure joy during the winter, starting from October and lasting until March. After that, the heat starts beating down, and the plants around the lake start wilting. In the summer months, al Qudra goes under maintenance, so it is not advisable to go.
Public Transport to Al Qudra
RTA BUS 67 goes from various city locations to Endurance city bus terminus. From the bus terminus to the lake complex is a walk of around 15 minutes. The public transport, though available, is not very convenient for those who have difficulty walking and carrying loads of picnic goodies on their back. The walk will become more strenuous during the summer season.
How to get to Al Qudra Lake
Taking a cab will be your better option if you carry all the picnic equipment. However, the best option is to have your vehicle or a friend's vehicle that can reach up to the parking of Al Qudra Lake. To reach there from anywhere in Dubai is very easy. Take exit no. 12 and head out straight towards Al Qudra street. The navigation map will help you a lot. However, do remember that once you reach the Last Exit, stop there, check your kit for essentials, and then head out to where everyone else is going. The map from here could often get confusing due to the rough terrain. Your vehicles should also be ready. Tires, front and back lights, and wipers should be in perfect order. In order to avoid a revisit to buy essentials, it is advisable to keep plenty of water stocked up.
The Last Exit Al Qudra
The Last Exit is also where you could find all the camping essentials, lest you forget something. The Zod shop has everything, from firewood to barbeque pit to fuel and burner. You must note that open sand pit-based grills for barbeque are not allowed in the Al Qudra Lakes. You may also buy other essentials like battery charge bulbs for your camp, camp mattress, bedsheets, etc. Pack up well and top up well here for your night camp expedition or a simple camping experience. There is also a restaurant called "The Spice Village," in case you have started too early and need to whet your appetite.
How to get to Al Qudra Lake from the Last exit
The lake complex starts immediately once you hit the dirt track. The drive from here becomes a lot more fun. Very soon, you will see exotic birds all around the island of each lake. Each lake is given a specific alphabet to understand where you are.
Choose your campsite close to the lake, among the shrubs. You may also note that night sight is as stunning as the evening sight when the red sun above gets reflected on the lakes below.
Different lakes of Al Qudra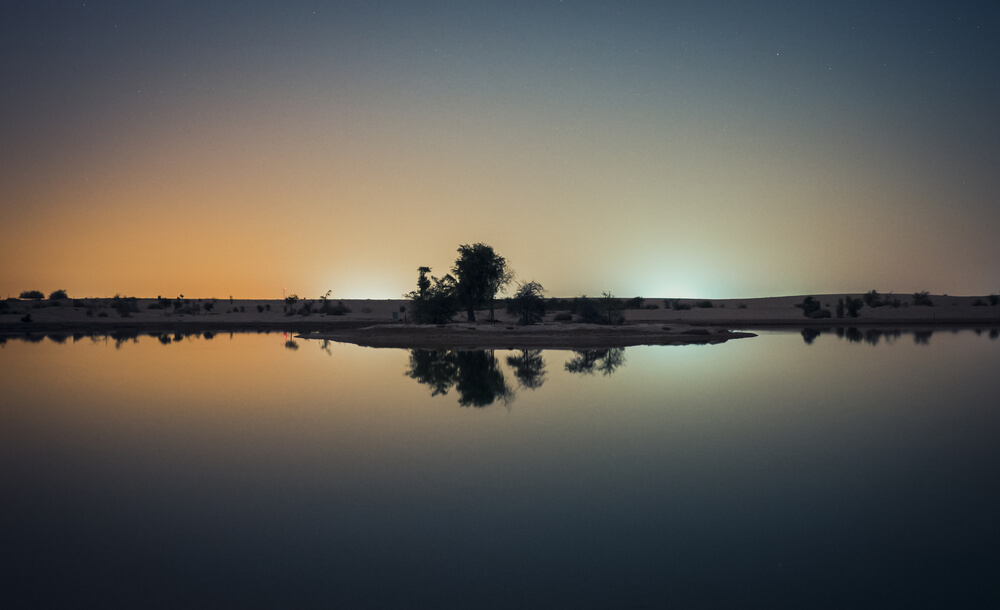 A new attraction of lakes has been added to commemorate EXPO 2020 called the EXPO 2020 lake system. Counting, we now have Flamingo lake, Love Lake, and EXPO lake in the system. The Al Qudra Lake system is spread over 40 hectares and 10 kilometers of lakes.
Al Qudra Lake has some interesting details.
Located almost 40 km from the city, Al Qudra is created in the wilderness of the desert, far away from the city's hustle and bustle. In order to make it eco-friendly, water is pumped into the manmade lakes from the Jabil Ali sewerage treatment plant, the biggest sewerage treatment plant in the northern emirates. For the whole ecosystem to function well, various kinds of fish are bred in the lakes so that visiting birds do not have food shortages. Greening the lakes' perimeters with desert-friendly plants ensure that birds can nest. Many lakes have beautiful islands in them, which are photogenic. The animals who inhabit this area are primarily herbivores who survive on the desert plants or small carnivores who pose no threat to humans.
Near the Last Exit, you will have a petrol station with all the necessary amenities. The Dubai Tourism authority has developed the entire area as an integrated tourism destination.
The results of these efforts are nothing less than stunning. Thousands flock to the Al Qudra Lakes complex every year to enjoy this paradise.
Al Qudra – A Day out for a date with exotic birds, lakes, and fish
You should reach early in the morning to Al Qudra if you are a day visitor. Your first stop has to be the "Last Exit" on the Al Ain-Dubai Road. This is the best place to gather and prepare for the trip. The Last Exit has a lot of food options. Nearby is the famous Trek Bicycle shop where you can rent a bicycle. The government has laid out an 86 kilometers cycle track for cycle enthusiasts. The ride could be exhilarating as you may encounter some exotic desert animals that roam freely in this conservation. Of course, hunting them is prohibited with severe penalties.
Sunrise at Al Qudra Lake
If you arrive just at sunrise, you will see the true beauty of Al Qudra lakes. Thousands of different species of birds would also be waking up and chirping for their food. There would be fauna such as Egyptian Goose, Grey Francolin, Little Grebe, Common Moorhen, a variety of Dove's, Magpie Goose, Brown-decked Raven, Ruff, Common Pheasant, Cormorant, various owls, Pipits, spotted sandgrouse, etc. A patient bird watcher would get to see many more species. The secret is keeping your eyes on the lake waters and the small islands within the lake complex.
There is also the flamingo lake with many flamingos that come in the winter season for breeding. The Qudra Lake planners have created a unique habitat for them to feel protected. There are bird towers from where you can watch not only flamingos but also other birds of the conservation like black and white swans.
Sunset at Al Qudra Lake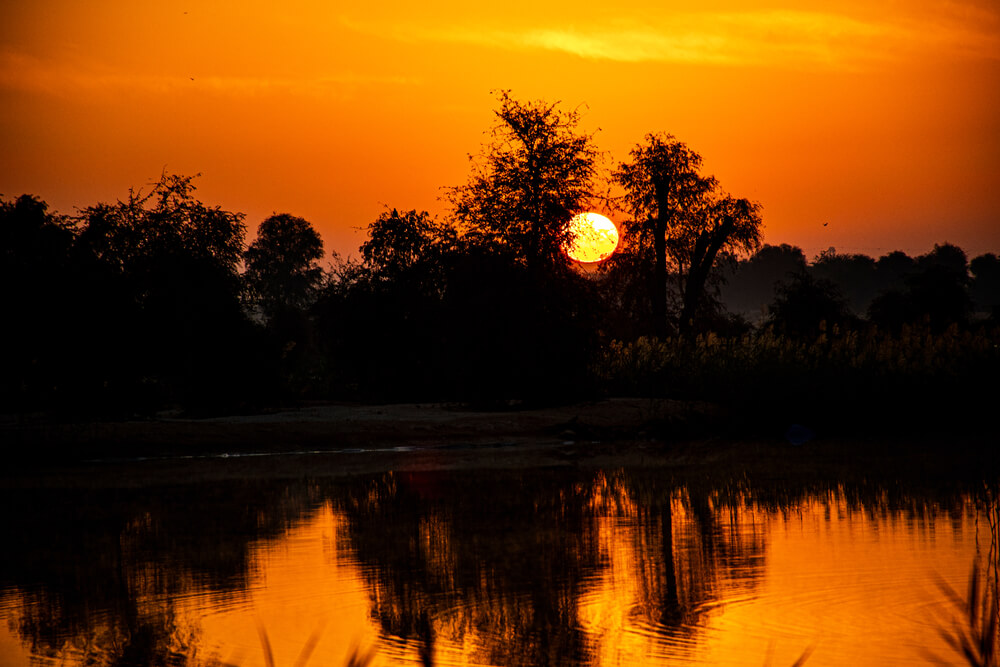 As the pleasant morning gives into sunny noon, you can settle down in your camp for a lovely afternoon siesta. We strongly recommend you bring your supplies as you could get hungry very soon, and there won't be anything to eat around the entire stretch of Qudra Lakes. Either get it from home, your hotel (if you are a tourist) or buy it from the Zod shop/ Spicy village. The food trucks at Last Exit could also give you some fantastic options if you are not on a budget! We must advise you that reaching the Qudra lake complex on foot and without food could be pretty unnerving as the long walk around the perimeters of the lakes could make you exhausted and dehydrated. Always keep plenty of water with you. Once again, remember that there is no water or food supply in Al Qudra.
Once you finish your siesta, you may proceed with more discoveries. There are many lakes within the Qudra lake complex. You may continue bird watching or enjoy nature. We recommend that you drive around the lakes and let them see and enjoy the varied species of colorful birds if you have kids along. In fact, Al Qudra could be a great educational tour for them about nature.
Love Lake Al Qudra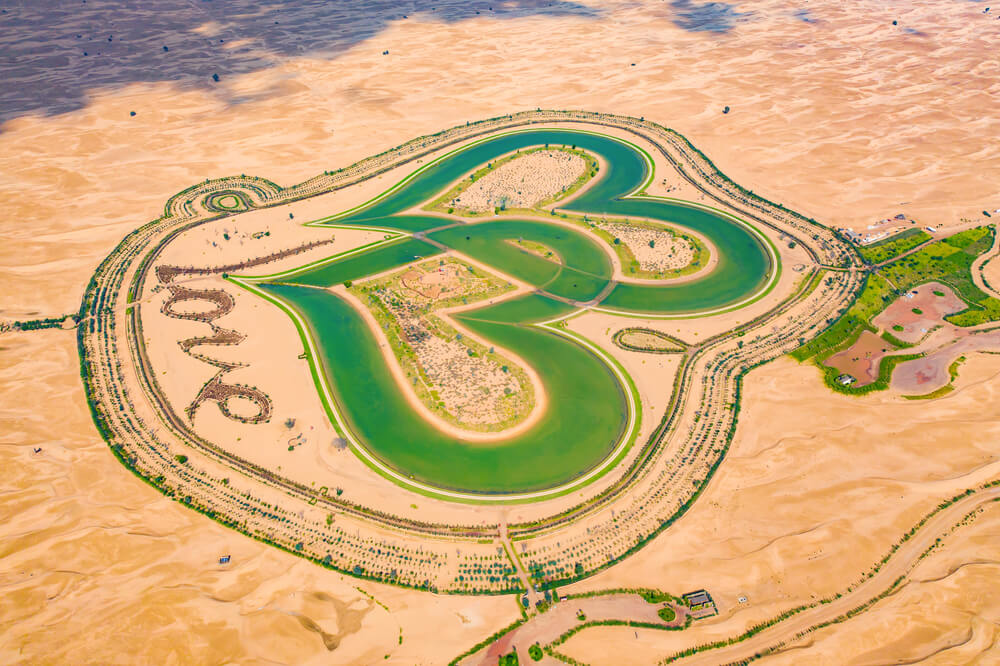 As the sun sets, you may trek to love the lake at the end of the Qudra Lake complex, hardly a five-minute drive. It has two different parking areas for the vehicles, and all these parking places are sandy to keep with the local environment. The path leading to the Love Lake complex also has attractive selfie options. At the entrance of the Love Lake complex, you will have washrooms. The Love Lake is actually two lakes designed in a heart shape and intertwined. Love Lake is huge and has a lot of other attractions, like an island where the lakes intertwine, a hillock to take 3600 views of the lakes, as well as various selfie points. You can even dip your feet into the water of the lakes and let the fish give you excellent foot therapy. The colorful fish are huge and fully protected from any fishing activities and are a part of the Qudra Lakes ecosystem.
The Love Lake system has a beautiful walking area along the perimeter. The breeze is full of oxygen, pure and calm. You would see hundreds of families setting up campsites for the night, kids running around, etc. A walk around Love Lake during the sunset is truly romantic. You may also choose a nice place to sit and watch the red sun going down amidst beautiful greenery, mellow waters of the lakes, and the whispering breeze.
Cycling in Al Qudra
If you are not doing night camping, then you should head back to Last Exit for a Bicycling tour around the 86-kilometer bicycle track. The track is entirely purpose-built to give the pleasure and joy of bicycling in the wilderness and yet on the concretized road. This activity takes you around the Qudra Lakes ecosystem. Keep your eyes peeled for a chance encounter with fauna. Stop, breathe, inhale, and enjoy nature. The cycle track of Al Qudra is 86 km.
The best time to bicycle in Al Qudra is early morning or sunset. You can also bring your bicycle, go for a night bicycling expedition, and return to your own camp. In the winter season, you will have scores of bicycling enthusiasts, but in summer, it gets lonely. However, it is very safe, and there is constant monitoring of cyclists during the entire route.
Camping at Al Qudra
Night camping in Al Qudra is an experience to behold. There are very few places in UAE where you can do night camping for the entire night. For this, you need good camping gear, BBQ equipment (Open sand pit bar-be-que grilling is no longer allowed in Al Qudra), and your favorite grilling items. The night sky here is full of stars, and hundreds around do the same with their families and friends. Bonfire is not allowed as it will disturb the local animals, fish, and night birds. You are advised to follow these pointers to have a pleasant experience. Also, please leave your beloved pet home, as bringing and walking your pets in the Qudra Lakes complex is strictly prohibited. However, you could do a lot with music, lights, and plenty of freshly grilled food. Again, one more note: please do not spoil and pollute the lake waters by throwing objects into the lake. The ecosystem is very delicate and could be damaged easily. The night under the sky is the safest place on Earth. All you need is to enjoy the oneness with nature. The only disturbance here is the constant calls of night birds like owls. After a restful night, the cool breeze and the soft sunrise would wake you up for a perfect tea and breakfast. Be prepared to bring some simple breakfast items that you can quickly make like bread, eggs, some fresh leaves, and of course, tea/ coffee. After breakfast, you can say goodbye to nature, birds, and animals and head out.
During the peak season, you may also hear music played by picnickers and vehicles that keep on entering the Al Qudra Lake complex. However, the night is still more beautiful and calming here than in the city.
Dos and Donts when you camp in Al Qudra
• You can do a BBQ grill with your equipment
• You cannot do open sand pit grilling
• You cannot bring pets
• You cannot swim in the waters of the lake
• You cannot litter the area as well as the Qudra Lakes
• You cannot hunt or disturb the birds, fish, and the animals
• You cannot do a bonfire
• You can take plenty of selfies
• You can do night camping
• You cannot consume alcohol in the open
• You don't need a passport or id card to visit Al Qudra
• Please do not litter
• Please do not feed the birds or animals of the conservation
• No kayaking in the lakes
What to wear and how much time to spend in Al Qudra Lake
For a daytime visit, you should wear something comfortable and casual. Your footwear should be good enough for walking on sandy surfaces. Eyewear would help. As winter is very dry, you should always take sunscreen and moisture. Remember to take some woolen clothes with you in winter.
The night becomes super chilly. The ground also becomes very cold. If you are camping at night, you must carry proper sleeping gear to have a good night's sleep. Your camping gear should have a torch, lighter, own bar-be-que pit, small first aid kit, soft blanket, tea/ coffee making pot, a waste collection bin, fuel for bar-be-que, Swiss knife, marinated items for bar-be-que, and plenty of water.
Also, remember that in the entire Qudra Lake complex, there are very few washrooms, so you should identify them. The one near Love Lakes and one near the Last Exit complex are easy to locate.
Why do we recommend Al Qudra Lake?
If you are an eco-tourist and want to see how wastewater can be used for a more meaningful purpose and if you love wilderness with its most natural elements, then this could be a trip that you should never miss. We all long for a trip to artificial conservation that fully mimics the nature around it. The beauty lies in this unification and integration. The planners, conservationists, ornithologists, recycling experts, engineers, and biologists have put their minds together to demonstrate to the world that we could create a unique biodiversity ecosystem where lives can flourish. It would be best if you also visited this place to understand that we can make similar efforts in many different parts of the world and create the right balance between humans and nature. However, you could visit this place to enjoy a few moments with birds, animals, plants, and water, all living in perfect harmony.
FAQ on Al Qudra Lake
How far is Al Qudra Lake from Last Exit Al Qudra?
Al Qudra Lake is around 6 km from the Last Exit Al Qudra.
How long is the cycle track in Al Qudra?
The total length of a fully concretized Cycle Track is 86km.
Do we need to carry our own Cycle/ bike for the bike riding?
No, you need not! You can hire a bike from the Trek Bike shop in the Last Exit in Al Qudra.
What is the best time to visit Al Qudra?
The best time to visit Al Qudra Lakes is in winter, i.e., from November to March.
Is bonfire allowed in Al Qudra lake camping?
No, the bonfire is banned in Al Qudra night camping at the Al Qudra Lake site.
Can we take pets with us when we go to Al Qudra Lake?
No pets are strictly banned from Al Qudra Lake.
Can we swim in the waters of Al Qudra Lake?
No Swimming is not allowed in Al Qudra Lake.
How many species of birds can we see in Al Qudra Lake?
In the winter, you may get to at least 70 to 80 species of birds around Al Qudra Lake.
What is the best time to watch the elusive Desert Fox, Oryx, and Gizelle in Al Qudra?
The best time to watch or see them is at night when they visit the lakes for drinking water.
Is hunting allowed in Al Qudra and Al Qudra Lake?
No, hunting is strictly prohibited in Al Qudra and Al Qudra Lake.
How secure is night camping in Al Qudra Lake?
It is very safe to do night camping in Al Qudra. You will always feel protected due to the constant patrolling of Al Qudra camping sites by Dubai Police throughout the night.
Do I need to carry firewood for my barbeque from the city when going to Al Qudra Lake?
No, you will get plenty of small vendors selling firewood on the way to Al Qudra Lake, and you can stop, bargain, and buy the firewood.